Fruitables Information
Fruitables is a pet food brand that specializes in dog and cat treats. They are a relatively young brand, and they focus on products that use fruits, pumpkin, and "superfoods".
Fruitables treats are easy to acquire and are sold at a huge number of retail pet food stores like PetSmart and Walmart. Also, they are sold at many of the large online pet food sellers like Chewy and Petflow.
It is not clear where Fruitables produces its products, but we believe this is within a facility in the United States. This production may take place in a shared facility, which is common in the industry.
Fruitables Product Range
Dog Food
Fruitables produce a wide range of dog treats, which includes multiple varieties.
This range includes crunchy treats, low-calorie treats, yogurt flavored treats, jerky treats, and biologically active treats.
Cat Food
Fruitables produces a small range of cat treats. This range includes crunchy treats and limited ingredient treats.
Fruitables do not produce any jerky style or yogurt treats for cats like they do within their dog food range.
Fruitables Nutrition
Given that Fruitables only produces pet treats and not pet food, the nutrition provided by their products of reduced importance as it will not make up the bulk of a pet's diet.
Despite this, many Fruitables treats do offer impressive nutrition that is high in protein and fat, which could help boost your pet's overall consumption if their dry or wet food is not sufficient.
In addition, Fruitables produces some low-calorie treats. These have a minimal proportion of fat and carbohydrates and can be appealing to dogs who are looking to avoid weight gain or lose weight.
Fruitables Ingredients
High-Quality Meat & Fish Ingredients
Bison
Duck
Turkey
Salmon
Pork
Fruitables Jerky Treats make use of high-quality and nutritious meat and fish ingredients. These ingredients are high in protein, fat, and other important nutrients.
Some of the meat ingredients used in Fruitables recipes, like Bison and Duck, are less common additions that your pets may not be familiar with. These are sometimes used in foods aimed at dogs with severe allergies or sensitivities. You can learn more about these in the below articles.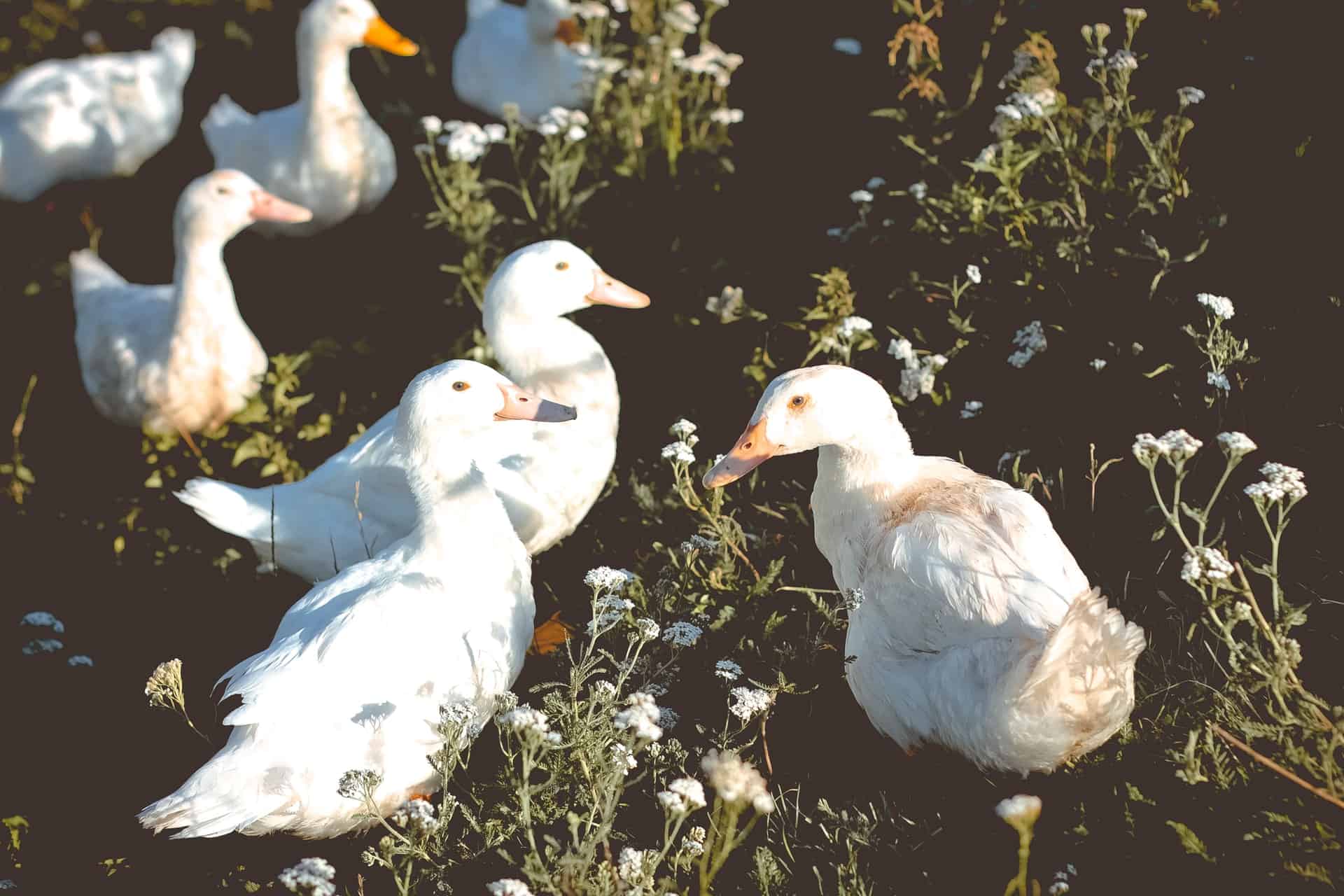 Other Notable Ingredients
Pumpkin is a common addition to pet food treats for dogs and cats. It contains many nutrients and can be appealing to eat. Most notably, it contains a high proportion of fiber, which can aid a dog's digestion system and ensure their stools are regular and consistent.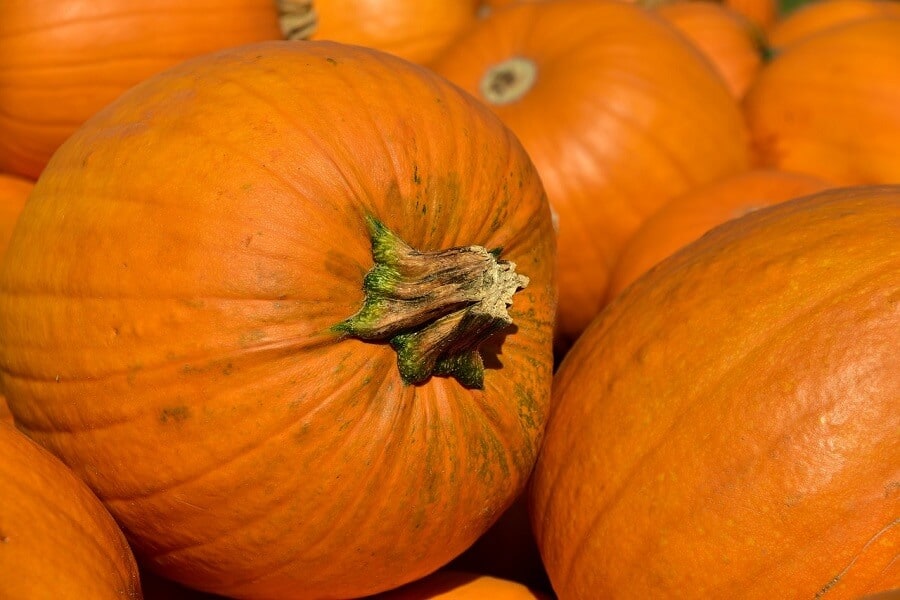 Some Fruitables Treats use grains such as Oats, Pearled Barley, Brown Rice. These grain ingredients provide carbohydrates, fiber, and some other nutrients. Grain ingredients are a controversial addition to pet food, with many pet owners being against their use.
However, the grains used by Fruitables are considered by some to be superior to others, such as Corn or Wheat, because they are less processed.
Many of the Fruitables treats use fruit ingredients such as Blueberries, Apples, and Bananas. These are sweet ingredients that can be very appealing to dogs. In addition, they provide some vitamins and minerals that traditional dog food ingredients lack.
Fruitables Animal Testing
At this time, we have no information on what type of testing Fruitables participates in and whether any of this is laboratory-based or invasive.
We strongly believe that laboratory or invasive testing of animals is a cruel and outdated practice and one which needs to be eliminated.
Fruitables Recalls
Based on our research (FDA, AVMA, DogFoodAdvisor), Fruitables dog and cat treats have never been recalled.
This is a positive trait as there are many dog and cat food treat brands that have had to issue recalls in the past.
Despite this, we always encourage pet owners to be vigilant of any future recalls from Fruitables or any other pet food brand.
Fruitables Features Articles
Fruitables is not currently featured in any of our articles.
Best of Fruitables
Alaskan Salmon & Pear Whole Jerky Bites Review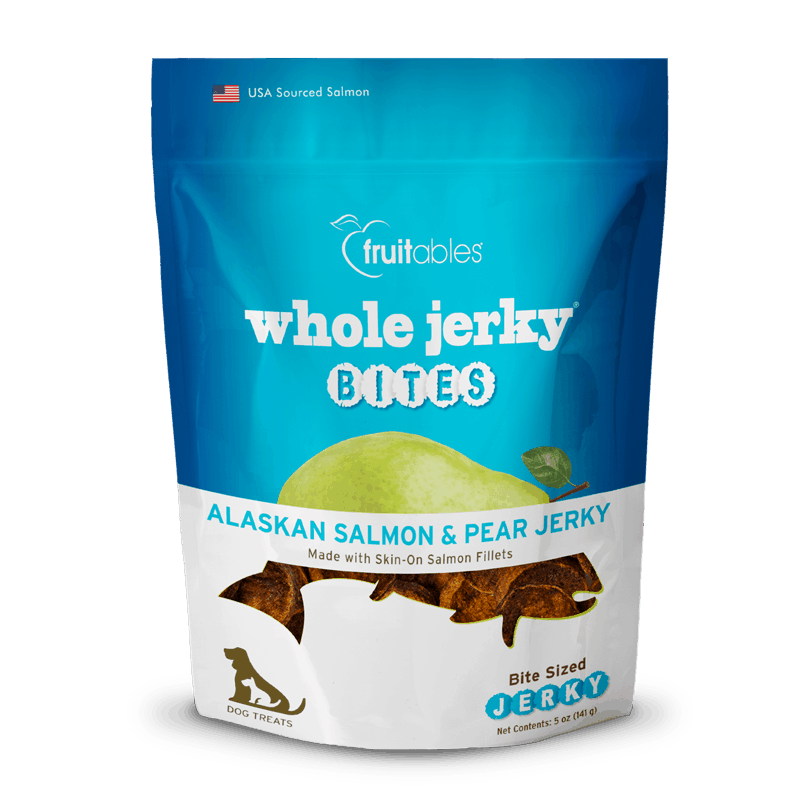 Salmon is an excellent addition to any dog's diet and can provide large portions of protein and fat to drive their activity and growth. This is one of the reasons why the above Alaskan Salmon & Pear Jerky is one of our favorites from Fruitables.
What puts Salmon above many other meat and fish ingredients is the high level of the Omega 3 Fatty Acids it can provide. These fatty acids are believed to provide several health benefits, such as an improvement in the health of a dog's skin and coat and a reduction in the risk of certain health concerns.
The inclusion of Pear is also interesting as it is rarely seen in pet food treats or food. It can create a unique flavor and texture as well as provide a small portion of carbohydrates and select vitamins and minerals.
Fruitables Full Product Range
Dog Treats
Baked Treats
Crispy Bacon & Apple
Pumpkin & Blueberry
Pumpkin & Apple
Pumpkin & Banana
Sweet Potato & Pecan
Pumpkin & Cranberry
Skinny Minis
Apple Bacon
Pumpkin & Mango
Pumpkin & Berry
Rotisserie Chicken
Grilled Bison
Watermelon
Pumpkin Spice
Spooky Pumpkin Spice
Greek Yogurt
Coconut Yogurt
Vanilla Yogurt
Strawberry Yogurt
Vanilla Snowflake
Whole Jerky Bites
Grilled Bison & Apple Whole Jerky Bites
Duck & Sweet Potato Whole Jerky Bites
Turkey & Sweet Potato Whole Jerky Bites
Alaskan Salmon & Pear Whole Jerky Bites
Bacon & Apple Whole Jerky Bites
Bioactive
Tiny Dental
Small Dental
Medium Dental
Hip & Joint
Cat Treats
Wildy Natural
Chicken Cat Treats
Tuna Cat Treats
Salmon Cat Treats
Fruitables
Chicken Flavor With Blueberry.
Salmon Flavor With Cranberry
Tuna Flavor With Pumpkin