Carnilove Information
Carnilove is a longstanding brand that has been producing pet food for over 20 years. Carnilove is primarily sold in the United Kingdom.
Carnilove prides itself on its use of wild-origin meats such as reindeer and duck. We will discuss the advantages of these unique ingredients later.
In addition, Carnilove is a grain-free and potato-free brand, which is a controversial topic, especially in recent years.
Carnilove is manufactured in the Czech Republic, which is a member of the European Union. While Carnilove does not explicitly state this, it is likely that all the ingredients they use are also sourced from the European Union.
They do mention some examples of this in their brochures, such as meat being sourced from Germany, Scotland, Sweden, and more.
Carnilove Product Range
Dog Food
Carnilove have a moderate dog food product range with a high number of dry dog food formulas, and a limited selection of wet and fresh dog food recipes.
It is not exactly clear what criteria Carnilove uses to define "fresh meat," but it appears to more from more premium sources.
However, while Carnilove may lack as large a variety of product types, they do provide much more variety in the recipes themselves, with a large selection of core meat and fish ingredients. Many other brands stick to a select few, but this is not the case with Carnilove.
Cat Food
Carnilove's cat food product range is very similar to their dog food range and consists of a larger number of dry food recipes combined with some wet and fresh recipes.
Carnilove Nutrition
Dog Food
Carnilove dog food recipes provide excellent nutrition. Their nutritional profile consists of significantly above average proportions of protein and fat and a significantly below-average proportion of carbohydrates.
This excellent nutrition is consistent throughout its product range is and is not unique to a few recipes like some other brands. See the below example of the nutrition provided by a Carnilove recipe.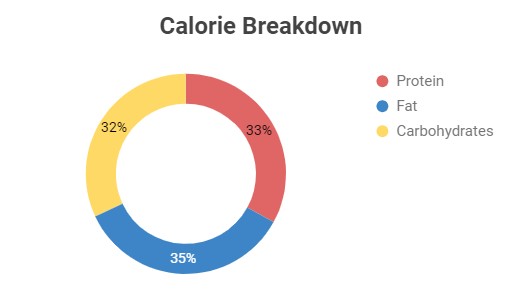 Cat Food
The nutrition provided by Carnilove cat food is similar to their dog food products and is significantly above average. This is important as cats are obligate carnivores, and their digestive system is not designed to consume large proportions of carbohydrates.
Carnilove Ingredients
High-Quality Meat & Fish Ingredients
Turkey
Chicken
Duck
Lamb
Rabbit
Salmon
Trout
Reindeer
Pheasant
Ostrich
Carnilove uses a wide range of meat and fish ingredients, including the above. These meat and fish ingredients can provide high-quality and easily digestible animal-based protein and fat. Ingredients such as these should be at the center of all pet food recipes.
Some of these, such as Rabbit and Reindeer, are less commonly found in dog food. Some people would call these recipes novel meat recipes. Learn more about why these ingredients are used and their advantages in our articles Best Hypoallergenic Dog Foods Guide & Best Dog Foods With Rabbit.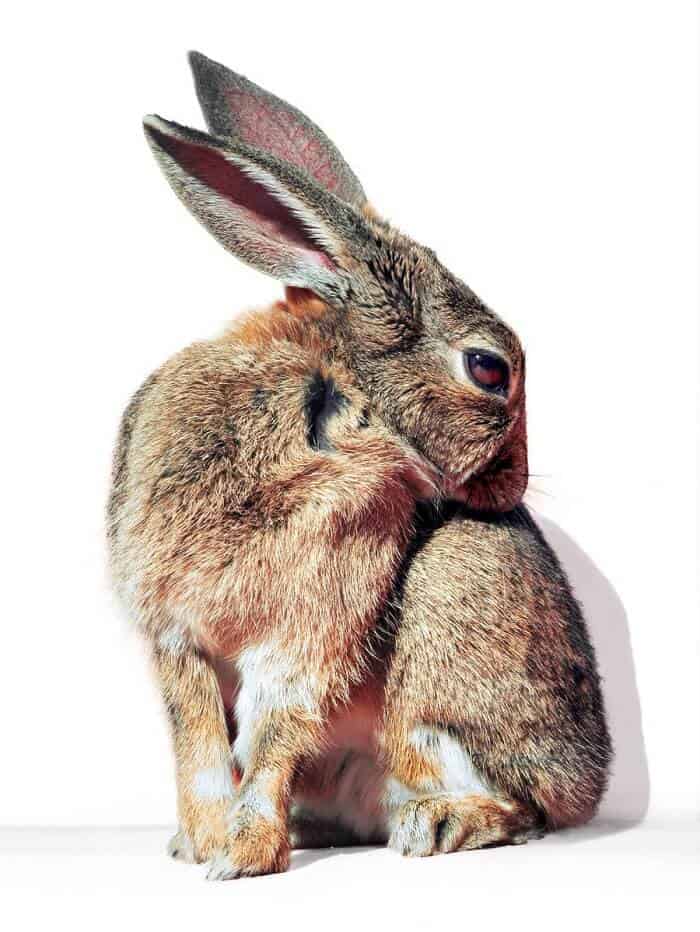 Carnilove makes use of small amounts of organ meat such as Chicken Liver. Organ meat such as this can be beneficial to a pet's diet and includes vitamins and minerals in high levels that may be absent from traditional meat cuts.
Other Notable Ingredients
Carnilove recipes include Chicken Fat. Chicken Fat is used to improve the flavor and taste of pet food recipes and add additional animal-based fat. Learn more about the use of Chicken Fat in our article, Chicken Fat In Dog Food.
Flaxseed is a regular addition to premium dog food. This is as it is probably the best and most reliable plant-based source of the Omega 3 Fatty Acid. This fatty acid can provide a range of health benefits, including improving the condition of a dog's skin and cat, and improved brain function. Learn more about the use of Flaxseed in dog food in our article Flaxseed In Dog Food.
Tapioca is a starchy vegetable that is similar to Potatoes or Sweet Potatoes. It is commonly found in dog food that is designed for dogs with allergies or sensitivities. Read more about the nutrition of Tapioca in our article Tapioca In Dog Food.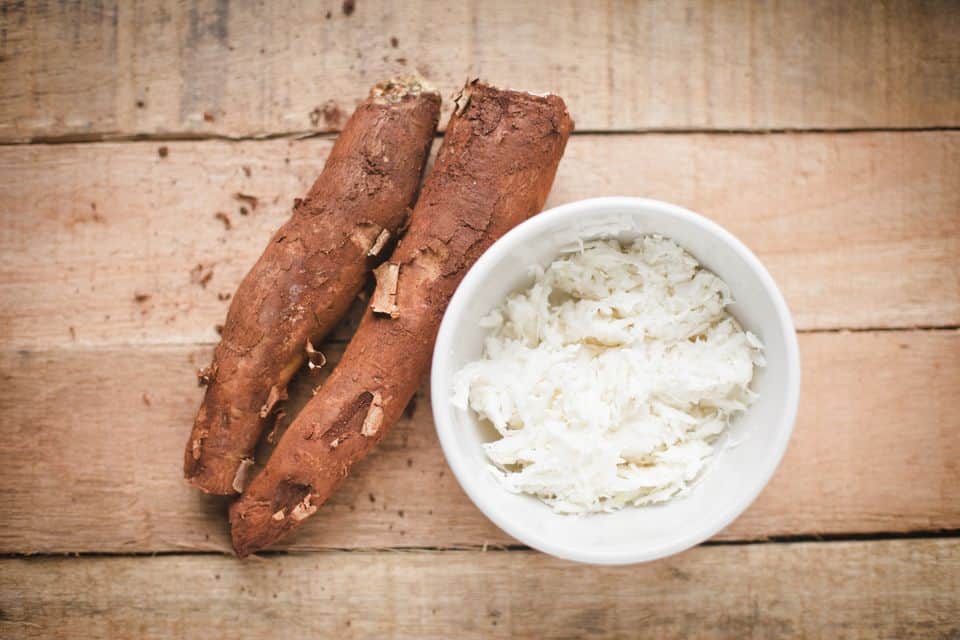 Carnilove Animal Testing
At this time, we have no information on what type of animal testing Carnilove participates in.
We strongly believe that invasive or laboratory-style testing of animals is a cruel and outdated practice and one which we hope will see a significant decline.
Carnilove Recalls
To the best of our knowledge and research (FDA, AVMA, DogFoodAdvisor), Carnilove has no history of product recalls. This would suggest that they are recall-free.
This is a strong sign that Carnilove takes the safety and quality of their manufacturing processes seriously.
Despite this recall-free history, we strongly suggest that pet owners are vigilant of any future recalls from Carnilove or any other pet food brand.
Carnilove Featured Articles
At this time, Carnilove has not been featured in any of our articles.
Best of Carnilove
Fresh Carp and Trout Review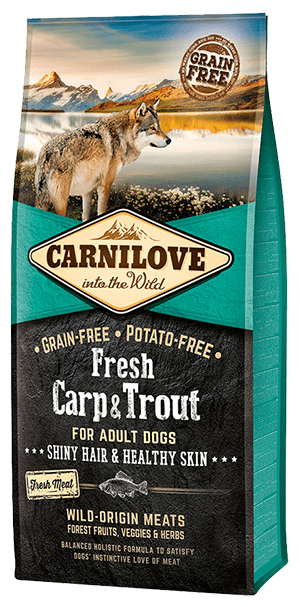 Carnilove's Fresh Carp and Trout recipe uses an extremely impressive proportion of fresh ingredients. This includes Carp, Trout, and Salmon. All three of these fish ingredients can provide high-quality and easily digestive protein and fat.
In addition, fish ingredients such as these are excellent sources of the Omega 3 and 6 Fatty Acids.
The recipe also uses small portions of Pumpkin, Chickpeas, and Peas to provide a modest proportion of carbohydrates and dietary fiber.
Wild Origin Real Meat Lamb & Wild Boar Review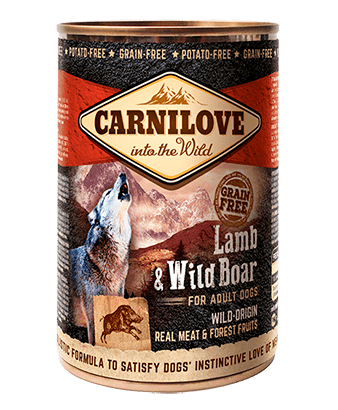 Carnilove's wet dog food recipes are made up of almost entirely meat ingredients, and the above-mentioned Lamb & Wild Boar does not buck this trend. 
It contains 35% Lamb and 32% Wild Boar. The vast majority of the remaining composition is moisture (water) with minor quantities of beneficial fruits such as blueberries, cranberries, and raspberries. These can provide vitamins and minerals that meat ingredients lack.
Salmon For Adult Cats Review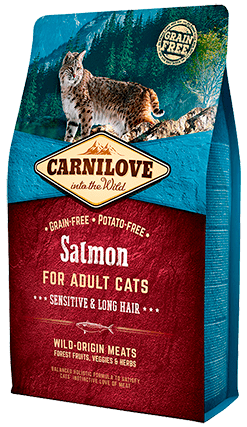 Fish is a well-known favorite of my cats, and Carniloves Salmon recipe provides it in plentiful portions. The recipe primarily makes use of Salmon ingredients such as Salmon Meal and Deboned Salmon but also uses some other fish such as Herring.
The combination of these fish ingredients allows the formula to provide a whopping 36% protein and 17% fat.
The non-fish ingredients present consist of a moderate portion of Peas, and very small portions of some other plant-matter such as Tapioca, Apples, and Carrots.
Turkey & Salmon Review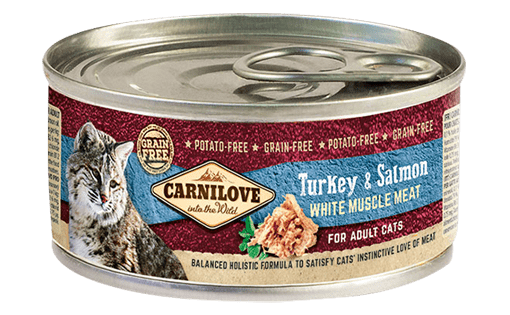 Many cats go crazy over wet food, and there is no doubt Carniloves recipes will have such an effect.
The Turkey and Salmon recipe is as described and contains as little as 2% non-meat ingredients when moisture is excluded.
However, it doesn't just use traditional cuts of Turkey and, in fact, uses some organ meat such as Turkey Liver and Turkey Hearts. These organ meat ingredients often contain a higher level of some vitamins and minerals and can also be more appealing and enjoyable.
Carnilove Full Product Range
Dog Food
Dry Dog Food
Salmon & Turkey For Puppies
Salmon & Turkey For Large Breed Puppies
Salmon & Turkey For Large Breed Adult
Duck & Pheasant For Adult
Lamb & Wild Boar For Adult
Reindeer For Adult
Salmon For Adult
Wet/Canned Dog Food
Wild Origin Real Meat Salmon & Turkey For Puppies
Wild Origin Salmon & Turkey For Large Breed Puppy
Wild Origin Real Meat Venison & Reindeer For Adult Dogs
Fresh Dog Food
Fresh Carp & Trout
Fresh Chicken & Rabbit
Fresh Ostrich & Lamb Adult Small Breed
Cat Food
Dry Cat Food
Salmon & Turkey For Kittens
Duck & Pheasant For Adult Cats
Salmon For Adult Cats
Lamb & Wild Boar For Adult Cats
Reindeer For Adult Cats
Duck & Turkey For Large Breed Cats
Wet/Canned Cat Food
Turkey & Salmon Wet Kitten Food
Chicken & Lamb Wet Cat Food
Turkey & Salmon Wet Cat Food
Chicken, Duck & Pheasant Wet Cat Food
Turkey & Reindeer Wet Cat Food
Fresh Cat Food
Fresh Carp & Trout
Fresh Chicken & Rabbit