Fish4Dogs Information
Fish4Dogs is a UK based dog food brand that first launched in 2007. Over time Fish4Dogs has increased their presence worldwide and is now available in a limited capacity in the USA and a number of other countries.
One of the key motivations behind Fish4Dogs was to make use of fish and fish products that are not used or human consumption. As much as 50% of the fish that is harvested is wasted and Fish4Dogs believe that dog food is a fantastic opportunity to help stem this waste.
Fish4Dogs Nutrition
Sadly, the nutrition provided by Fish4Dogs formulas is not as satisfactory as some of its competitors.
The proportion of protein and fat present within their formulas is not above average and should be higher to better reflect a dog's natural diet.
Fish4Dogs Ingredients
It will come as a surprise to nobody that fish ingredients are heavily utilized in Fish4Dogs products. Some examples include:
Salmon
Trout
Catfish
Krill
Ocean White Fish
Sardines
These are all fantastic additions to any dog food recipe. Fish such as this are high in protein and fat which should be at the core of any dogs diet.
In addition, fish, especially certain fish such as trout, are very high in the Omega Fatty Acids. The Omega Fatty Acids can provide a range of health benefits including improved skin and coat health and improved cognitive function.
Fish4Dogs Animal Testing
To the best of our knowledge, Fish4Dogs does not participate in Animal Testing for its products which is a fantastic trait.
Animal testing for the purposes of testing dog food can be cruel and stressful for dogs and is a practice that we believe should be eliminated.
Fish4Dogs Recalls
At this time, we have no evidence or reason to believe that Fish4Dogs has been recalled in the UK, USA or any other country.
Given that the brand has been active for over a decade, this is a great sign of safe and careful production facilities and processes.
Fish4Dogs Featured Articles
At this time, Fish4Dogs has not been featured in any of our articles.
Best of Fish4Dogs
Fish4Dogs Superior Freshwater Fusion Review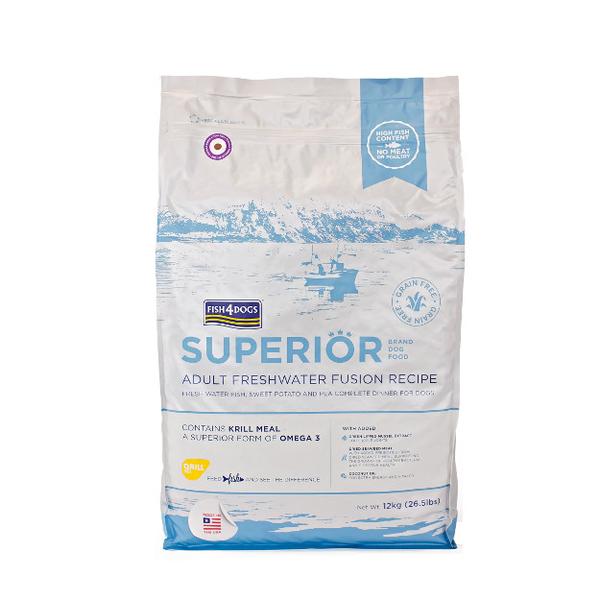 Fish4Dogs Full Product Range
USA
Superior Salmon
Superior Freshwater Fusion
Superior Salmon Puppy
UK