Forthglade Information
Forthglade is a dog food brand based in the United Kingdom that focuses on producing premium wet dog food. The quality and nutrition of these recipes is reflected in their high price.
Their products are produced at multiple facilities. The wet food products are produced by Forthglade's own facility in Devon, England. The cold-pressed recipes are produced in an unspecified country in the EU, and lastly, their treats are produced at a bakery near Southampton, England.
Forthglade can be purchased at their own online store, at large online retailers like PetsAtHome, and in regular physical stores.
Forthglade Product Range
Forthglade has a relatively large product range. However, its product range is not typical. This is as they have a very small range of dry dog food products and a very large range of wet/canned dog food products. Most other dog food brands have more dry food recipes or a balanced mix.
The small range of dry dog food products are very similar, and the only noticeable difference is their core poultry ingredient.
However, there is a significant variation in wet/canned products. This includes a large variety of meat and fish ingredients, as well as a large variety of vegetables and grains.
Forthglade does not have any niche recipes at this time, such as puppy food or senior dog food. However, their products are suitable for dogs of all ages which is likely why they have not created age-specific products.
Forthglade Nutrition
While the nutrition provided by Forthglade varies, it is generally above-average to significantly above-average.
This correlates to extremely high proportions of protein and fat which should rightly be at the heart of any dog food recipe.
Some Forthglade recipes also include an impressive level of the Omega 3 Fatty Acids.
Forthglade Ingredients
High-Quality Meat & Fish Ingredients
Chicken
Duck
Turkey
Lamb
Beef
Salmon
Forthglade uses a moderate range of meat and fish ingredients in its recipes. This includes the most common industry favorites such as Chicken, Beef, and Salmon
These ingredients are so widely used because they are easy to source, relatively inexpensive, and can provide excellent nutrition to dogs.
Other Notable Ingredients
Sweet Potatoes are a starch ingredient and feature in some Forthglade recipes. They are a very dense source of carbohydrates which is why it's important their portion size is not too large.
Peas are the most popular addition to grain-free dog food across the industry. Their popularity is thanks to their relatively low cost and high nutritional value. However, there are currently concerns about a link between high legume consumption and canine heart disease. Read more about this in our article Best Dog Foods Without Peas.
Beet Pulp is added to dog food to provide fiber. Fiber can be very important to some dogs who struggle with irregular digestion and stools. Beyond its fiber content, Beet Pulp provides little to no nutrition. Read more about Beet Pulp in our article Dried Beet Pulp In Dog Food.
Chicken Fat is added to dog food to increase the proportion of animal-based fat present and improve flavor. Chicken Fat is chosen over alternative animal fats as it is the least expensive. Read more about Chicken Fat in our article Chicken Fat In Dog Food.
Brewers Yeast
Forthglade Animal Testing
At this time, we have no information on what type of animal testing that Forthglade participates in if any.
We strongly believe that invasive or laboratory-style testing of animals is a cruel and outdated practice and one which we hope will see a significant decline.
Forthglade Recalls
We have no information that any Forthglade products have ever been recalled.
This is a positive trait of the brand and shows that they take their safety and quality practices seriously. Also, Forthglade has a brief mention of its safety credentials on their site.
They say the following "Our pet foods are tested by a number of independent pet food authorities and independent nutritionists. We receive SALSA accreditation for our pet food manufacturing and are regularly audited by the APHA, who were previously known as DEFRA.".
However, we encourage all pet owners to be vigilant of future recalls from any brand of products they feed their pets.
Forthglade Featured Articles
Forthglade is not currently featured in any of our articles.
Best of Forthglade
Cold Pressed Duck With Vegetables Review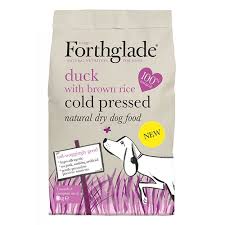 Lamb With Butternut Squash & Vegetables Review
Forthglade Full Product Range
Dry Dog Food
Cold Pressed Chicken With Vegetables
Cold Pressed Duck With Vegetables
Cold Pressed Turkey With Brown Rice & Vegetables
Wet/Canned Dog Food
Sardines With Sweet Potato & Vegetables
Chicken & Liver With Sweet Potato & Vegetables
Gourmet Chicken & Duck With Chickpeas & Pear
Chicken With Butternut Squash & Vegetables
Lamb With Butternut Squash & Vegetables
Turkey With Sweet Potato & Vegetables
Turkey With Butternut Squash & Vegetables
Duck With Potato & Vegetables
Duck With Sweet Potato & Vegetables
Salmon With Potato & Vegetables
Gourmet Beef & Wild Boar With Root Vegetables & Apple
Gourmet Duck & Venison With Green Beans & Apricot
Gourmet Turkey & Goose With Pumpkin & Cranberries
Chicken With Tripe, Brown Rice & Vegetables
Chicken With Brown Rice & Vegetables
Chicken With Liver, Brown Rice & Vegetables
Lamb With Brown Rice & Vegetables
Turkey With Brown Rice & Vegetables
Ocean Fish With Brown Rice & Vegetables
Just Chicken
Just Chicken With Tripe
Just Chicken With Heart
Just Chicken With Liver
Just Lamb
Just Turkey
Just Duck
Just Beef
Dog Treats