Harringtons Information
Harringtons, the pet food brand, was founded in the 1980s in Yorkshire, England. Since then, they have grown substantially and are one of the largest pet food brands in the United Kingdom.
They are owned by the parent company known as IPN or Inspired Pet Nutrition. This brand also produces the pet food brand Wagg, which is not to be confused with Wag. Wag a brand that is produced and sold by Amazon.
Harrington's recipes are produced in the United Kingdom in facilities owned by IPN. We believe these manufacturing facilities are in Yorkshire, but we can not confirm their exact location.
You can purchase Harrington's pet food at many pet food stores and large supermarkets in the United Kingdom. Examples of this include Asda, Tesco, Morrisons, and Sainsbury's.
You can also purchase their recipes online from some of the most popular pet food websites in the United Kingdom, such as Pets At Home and Amazon.
Harringtons Product Range
Dog Food
Harringtons have a large range of dog food recipes within its range. This is split between dry dog food and wet/canned dog food.
Within their range, they have recipes aimed at dogs of all ages, including puppies, adult dogs, and senior dogs. Also, they cover off recipes for large and small breed dogs.
Lastly, they also produce some grain-free recipes and a range called Just 6, which uses a limited number of ingredients.
Cat Food
Harringtons' cat food range is notably smaller than its dog food range and contains six unique recipes. Four of these recipes are dry cat food recipes, and the remaining two are wet cat food recipes.
Despite its small size, there are some specialty recipes in the range, including one for indoor cats and another for senior cats.
Harringtons Nutrition
Dog Food
The nutrition offered by Harringtons' recipes varies but is generally average. This includes average proportions of protein and fat and high proportions of carbohydrates.
This nutritional profile is often not ideal for a dog, especially those who are more active. These dogs would be better suited to a diet higher in protein and fat.
Below is an example of the nutrition provided by a Harringtons' dry grain-inclusive recipe.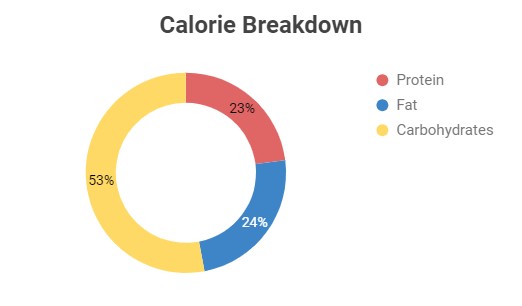 Cat Food
The nutrition offered by Harringtons' dry cat food is similar to their dog food range and is generally average.
This average nutrition consists of moderate proportions of protein and fat and excessive proportions of carbohydrates.
Cats are obligate carnivores, which means they thrive best on a diet high in animal and fish-based protein and fat. They do not need to consume a significant portion of plant-based ingredients. You can learn more about this in our Cat Food Guide.
Harringtons Ingredients
High-Quality Meat & Fish Ingredients
Chicken
Turkey
Duck
Beef
Lamb
Salmon
Harrington's uses a staple range of meat and fish ingredients in its recipes. Most of these ingredients are industry favorites and are used by the majority of brands. Examples include Chicken, Turkey, Beef, and Salmon.
These ingredients are so popular because they are relatively affordable while providing excellent nutrition, high in animal-based protein, and fat.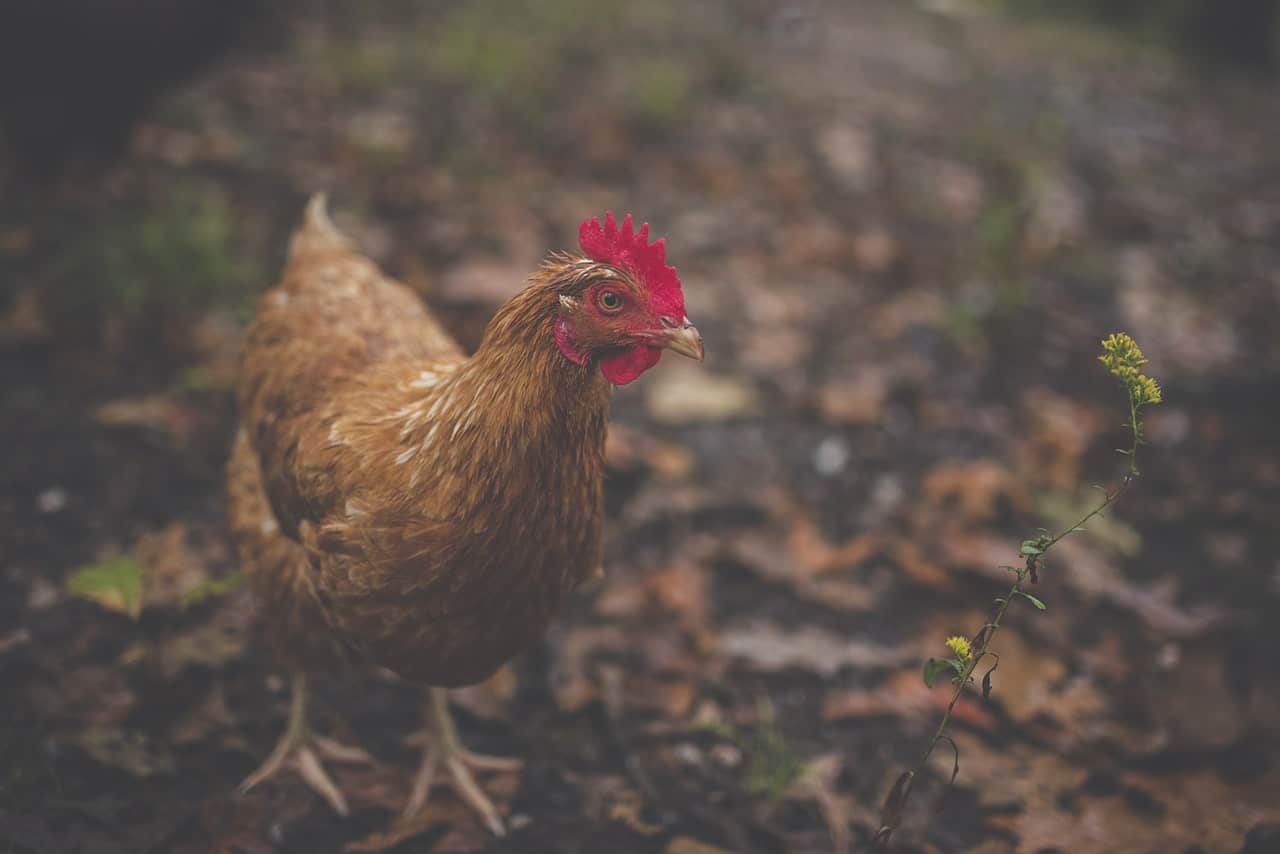 Other Notable Ingredients
Harringtons uses a mix of grain ingredients in its recipes, including Maize, Rice, and Barley. Grain ingredients are controversial additions to pet food recipes, with many pet owners refusing to feed their pets grain-inclusive food.
However, there are just as many strong supporters of grains who would argue that they are a nutritious ingredient that can provide carbohydrates, plant-based protein, and fiber.
You can read more about Barley in our article Barley In Dog Food.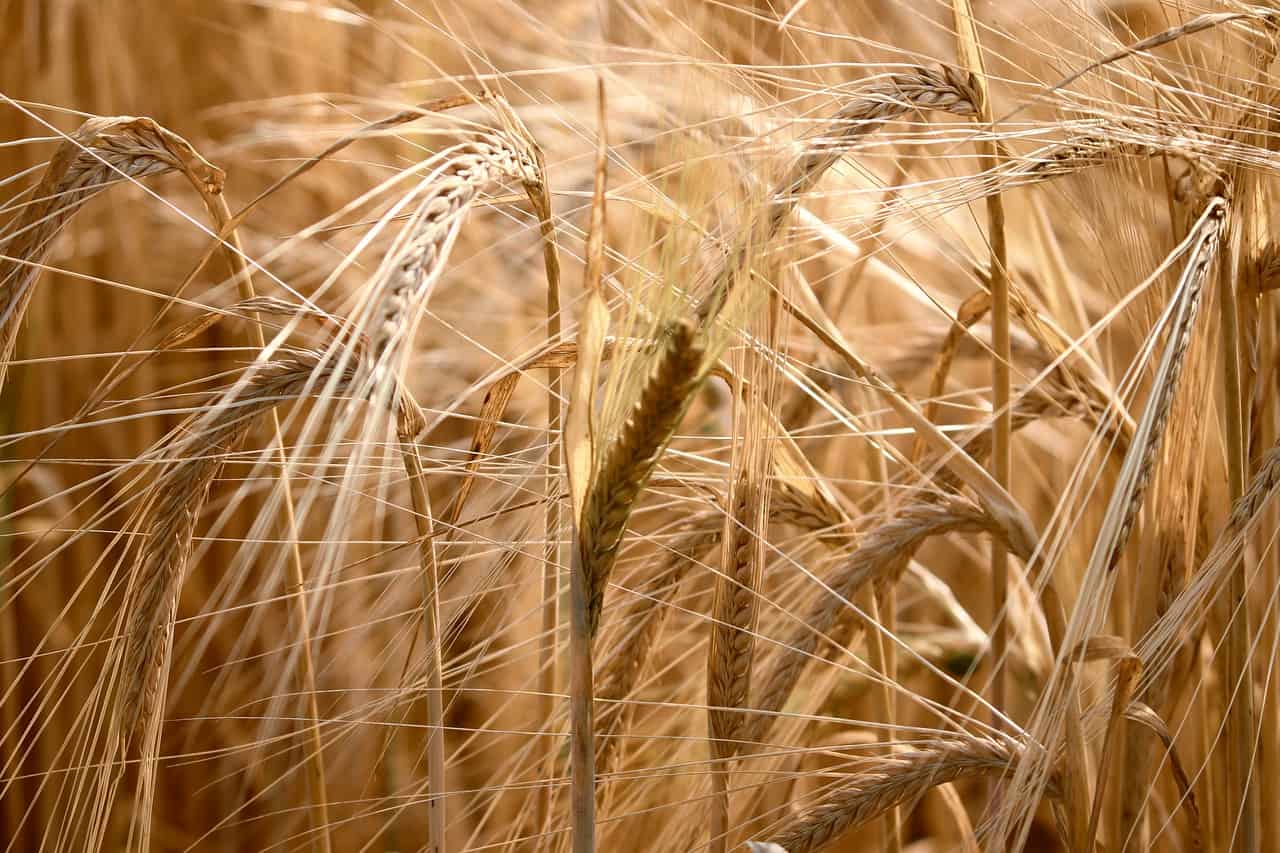 Some of Harringtons' grain-free recipes utilize Sweet Potatoes & Potatoes as an alternative to grain ingredients. Starch ingredients like these are popular in pet food but are extremely dense sources of carbohydrates.
This means that the portion size must be tightly controlled in order to prevent an unsatisfactory nutritional profile.
Select Harringtons recipes use Peas as a minor ingredient. Peas are the most popular legume ingredient to be used in dog food and are so popular as they are low-cost and high in plant-based protein.
However, in recent years there have been links between the high use of legumes, such as Peas, and an increased rate of Canine Heart Disease. You can read more about this here.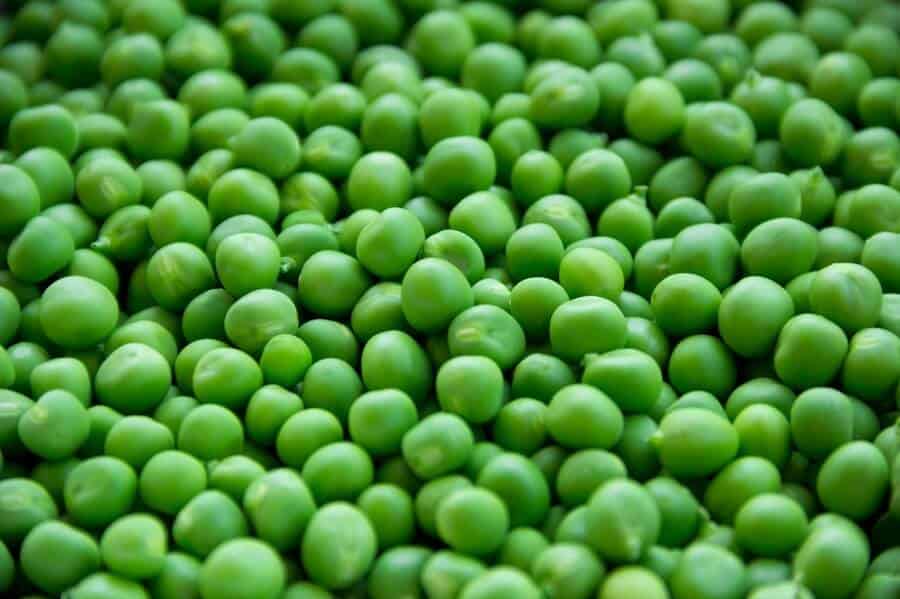 Chicken Fat is a popular addition to many pet food brand recipes. It is added to boost the flavor of recipes as well as increase the proportion of animal-based fat overall. Chicken Fat is chosen over alternatives as it is easy to source and affordable.
Beet Pulp is one of the two popular fiber-providing ingredients that are commonly found in pet food recipes. Soluble fiber, such as that provided by Beet Pulp, can be critical to some dogs to ensure they have regular digestion and stools. You can read more about Beet Pulp in our article Dried Beet Pulp In Dog Food.
Sunflower Oil is not found in the majority of dog food recipes but is used by some brands. It is added as a low-cost source of fat and is also sometimes used as a binding agent to produce consistent texture. You can learn more about Sunflower Oil in our article Sunflower Oil In Dog Food.
Harringtons Animal Testing
We can not find any information on whether Harringtons participates in animal testing for its products.
We strongly believe that laboratory or invasive testing of animals is a cruel and outdated practice. We hope that in the future, it will be eliminated.
Harringtons Recalls
Based on our research (FDA, AVMA, DogFoodAdvisor), we have no information that Harringtons has ever been involved in a recall.
Nevertheless, consumers should always be vigilant of any future recalls of Harrington or any other brand.
Harringtons Features Articles
At this time, Harringtons have not been featured in any of our articles.
Best of Harringtons
Just6 Salmon & Vegetable Review

The Just6 range from Harringtons is relatively new and focuses on using a limited number of ingredients compared to their other recipes. There are three recipes in this range – Salmon, Chicken, and Lamb.
We've chosen to highlight the Salmon recipe as we are huge fans of the use of Salmon in pet food. Along with being an excellent source of protein and fat, Salmon is one of the best sources of the Omega 3 Fatty Acids, which are believed to provide several health benefits.
The recipe uses a mix of Salmon and Salmon Meal, which is common.
The recipe then uses a mix of Sweet Potatoes, Peas, and White Potatoes as its plant-based ingredients. These provide a mix of carbohydrates and fiber.
Naturals Duck With Potato & Vegetables Review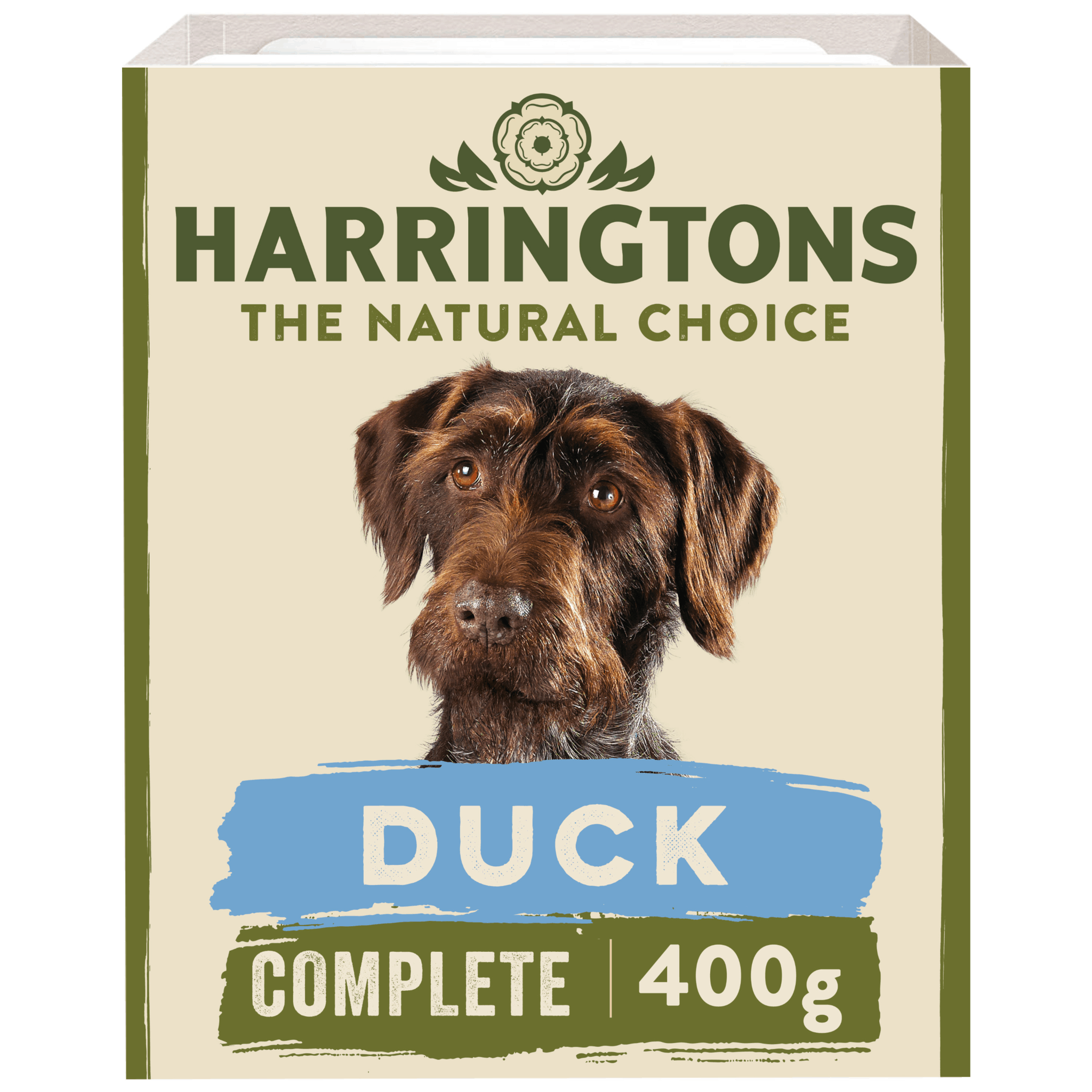 While Harrington's is best known for its dry dog food, they have some impressive wet dog food recipes, including the above Duck recipe.
The recipe's two primary ingredients are Duck and Chicken, which are both excellent additions and great sources of animal-based protein and fat.
Duck is much less commonly used in dog food than Chicken, which may mean that your dog will be unfamiliar with it, and it can provide them with a unique taste.
There is then a small portion of Potatoes, Peas, and Carrots, which add a modest proportion of carbohydrates and fiber to the recipe.
Naturals Adult With Fresh Chicken Review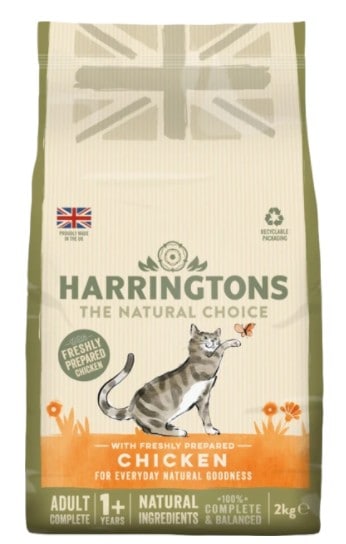 Harrington's dry cat food range is much smaller than their dog food range, which limits choice. There are two standard recipes, one with Chicken (above) and another with Salmon.
The Chicken recipe provides the best nutrition with 30% protein. This is thanks to a portion of Chicken and Meat Meal.
Wholegrain Rice, Maize, and Oats are also present and provide a portion of carbohydrates and fiber that is notable.
Naturals Fillets With Salmon In Gravy Review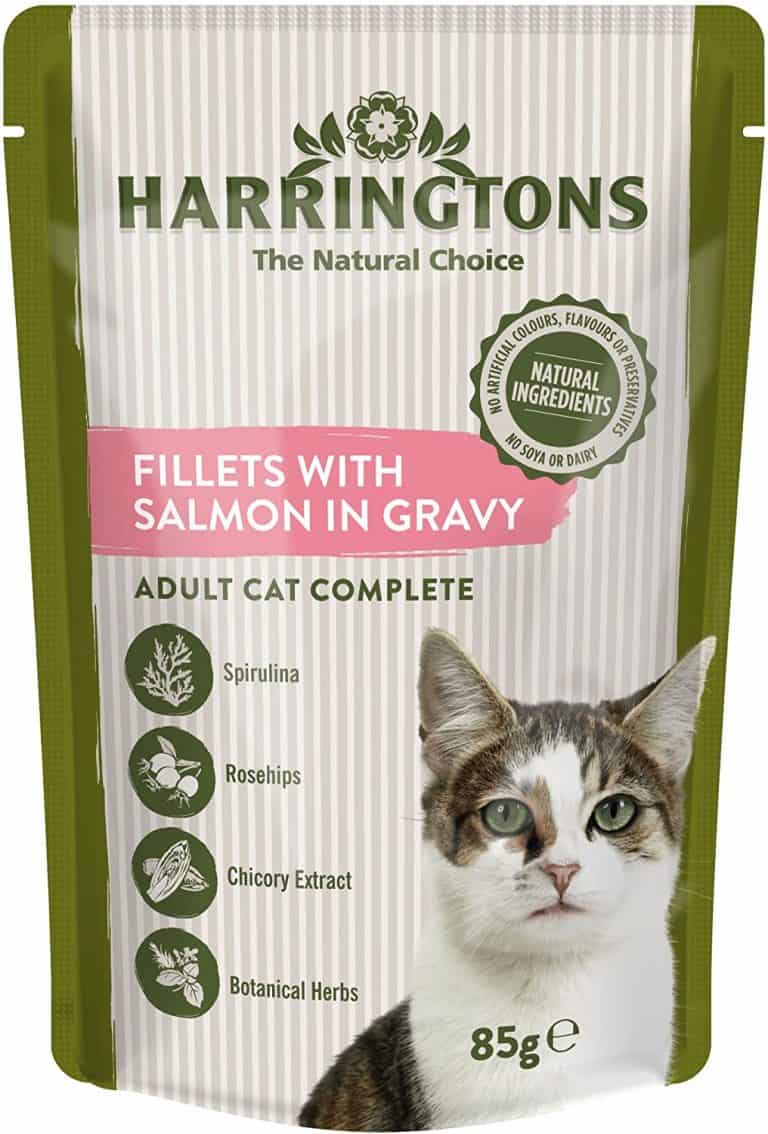 Harrington's wet cat food range is even smaller than their dry cat food range and only has two recipes. One of these recipes is the above Fillets With Salmon In Gravy.
Despite the name, the core ingredients of the recipe are actually Chicken and Pork Liver, with there only being 5% Salmon present. Chicken is a staple ingredient to provide protein and fat, but Pork Liver is more unique.
Organ meat such as Pork Liver are excellent additions to pet food recipes and can enhance flavor and provide vitamins and minerals that traditional meat cuts lack.
There are very few plant-based ingredients present, but there is a small portion of Wheat Gluten. However, we do not believe this is present to provide significant nutrition and is instead used as a binding agent.
Full Harringtons Product Range
Dog Food
Dry Dog Food
Naturals Rich In Lamb & Rice
Naturals Rich In Turkey & Vegetable
Naturals Rich In Salmon & Potato
Naturals Rich In Beef & Rice
Naturals Rich In Chicken & Rice
Naturals Puppy Complete Rich In Turkey & Rice
Naturals Senior Complete Rich In Chicken & Rice
Naturals Light Chicken And Rice Dinner
Naturals Small Complete Rich In Lamb & Rice
Naturals Small Complete Rich In Chicken & Rice
Grain Free Chicken & Sweet Potato
Grain Free Turkey & Sweet Potato
Grain Free Salmon & Sweet Potato
Just 6 Salmon & Vegetable
Just 6 Chicken & Vegetable
Just 6 Lamb & Vegetable
Wet Dog Food
Naturals Duck With Potato & Vegetables
Naturals Salmon With Potato & Vegetables
Naturals Turkey With Potato & Vegetables
Naturals Chicken With Potato & Vegetables
Cat Food
Dry Cat Food
Naturals Adult With Fresh Chicken
Naturals Adult Rice In Salmon
Naturals Senior With Fresh Chicken
Naturals Indoor With Fresh Chicken
Wet Cat Food
Naturals Fillets With Chicken In Gravy
Naturals Fillets With Salmon In Gravy