Naturo Information
Naturo is a dog food brand based in the United Kingdom but is also available in the Netherlands. The food has been produced on the mackle family farm in Northern Ireland for over 40 years
They aim to source all of their ingredients locally and their packaging is 100% recycle, which is becoming a more common feature of premium brands.
Naturo pride themselves on the fact that they use a high proportion of meat in their recipes which is up to 60% in their dog food products and up to 80% in their cat food products.
Naturo Product Range
Dog Food
Naturo has a moderately sized product range. This includes just two dry food recipes and just under twenty wet food recipes.
This is unusual as most dog food brands tend to focus on dry dog food with a smaller wet food range.
This range also includes specialised formulas for niches such as puppies and small breed dogs.
Cat Food
Naturo has a very small cat food range which consists of four wet cat food recipes. Each of these recipes uses a different meat or fish ingredient but is otherwise very similar.
Naturo Nutrition
Dog Food
The nutrition provided by Naturo dog food recipes is above average. In particular their wet dog food recipes contain a very high proportion of protein and fat and a negligible proportion of carbohydrates. An example is shown below.
However, with such a high proportion of fat, dog owners must be careful not to overfeed Naturo dog food. If portions are not carefully controlled, it could lead to a dog becoming overweight or obese.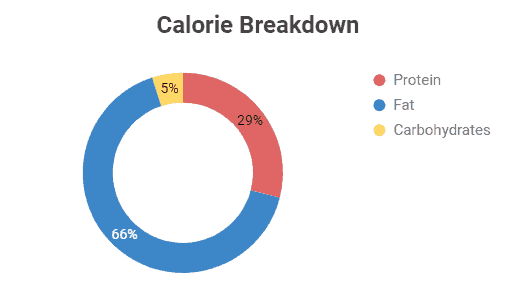 Cat Food
Naturo cat food recipes provides similar nutrition to Naturo's dog food recipes. This includes an above average proportion of protein and a very high proportion of fat.
This ratio of nutrients is even more suitable to cats than dogs. This is as they are obligate carniovres and do not require any plant-based food in their diet.
Naturo Ingredients
High-Quality Meat & Fish Ingredients
Turkey
Chicken
Duck
Lamb
Salmon
Naturo uses many of the common dog food meat ingredients such as Chicken, Turkey, and Salmon. These ingredients are commonplace thanks to their affordable cost and high nutritional value. Their nutritional profile is high in protein and fat which is ideal for a dogs diet.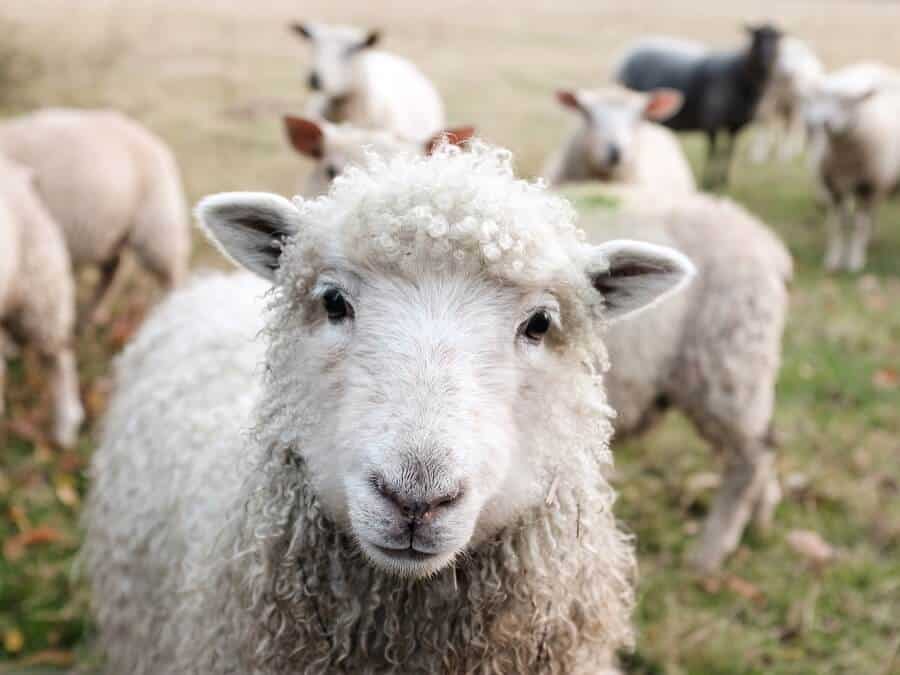 Naturo chooses not to use less common and unique meat and fish ingredients such as Venison, Rabbit, and Kangaroo. Recipes with these meats are often designed for dogs with severe allergies and sensitivies. Learn more about this kind of dog food in our article Best Hypoallergenic Dog Foods Guide.
Other Notable Ingredients
Some Naturo recipes make use of Brown Rice which is a grain ingredient. While some consumers do not agree with the inclusion of grains in dog food, there are others who believe they are suitable. Brown Rice is considered to be one of the best grains thanks to the Dietary Fiber, vitamins, and minerals it can provide in addition to its carbohydrate content.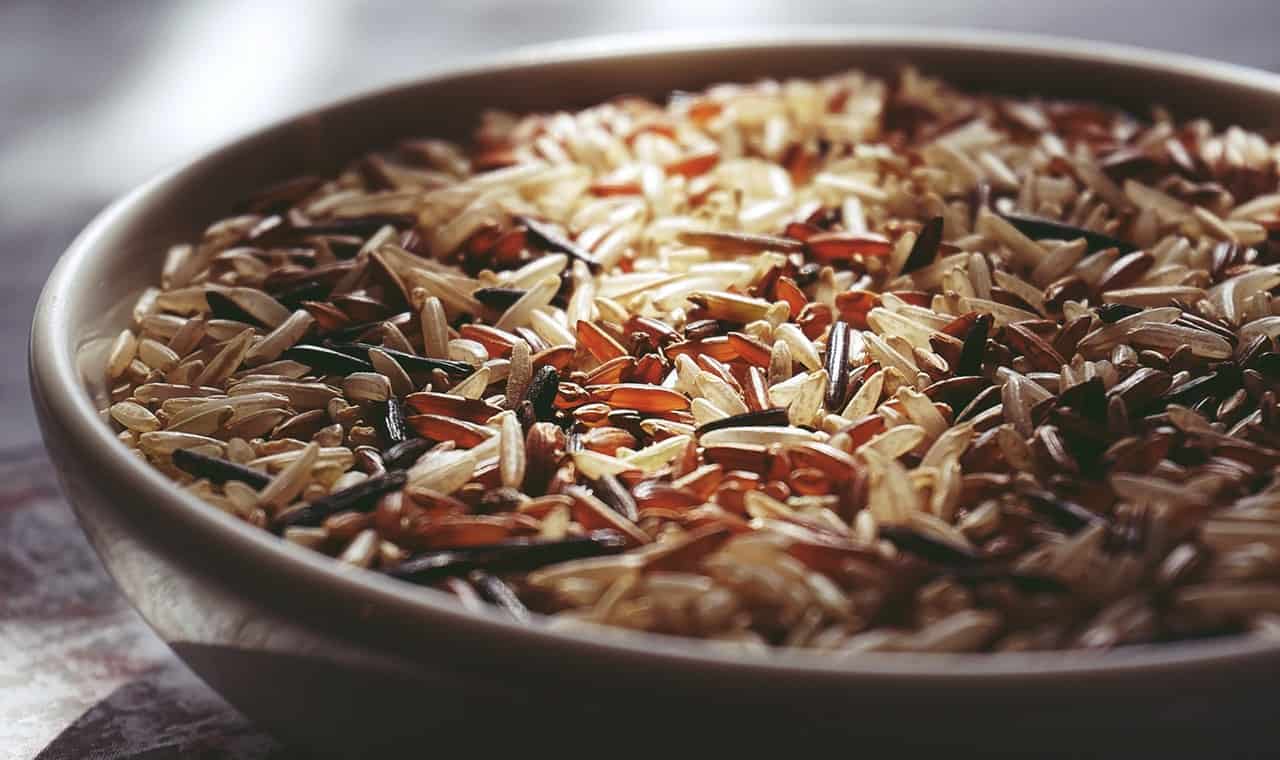 Naturo recipes that do not use grain ingredients often contain Chickpeas or Peas which are legumes. Legumes are contraversial and there has been some links between them and canine heart disease. Learn more in our article Best Dog Foods Without Peas.
Sweet Potatoes & Potatoes are starch ingredients and are common in dog food. They provide a dense and cost effective source of carbohydrates and are also very effective at binding the ingredients of dog food together. Sadly, they do not provide significant nutrition outside of their carbohydrate content.
Cranberries & Blueberries
Naturo Animal Testing
We have no information on what type of animal testing, if any, that Naturo participates in.
We strongly believe that invasive or laboratory style testing of animals is a cruel and outdated practice and one which we hope will see significant decline.
Naturo Recalls
Based on our research (FDA, AVMA, DogFoodAdvisor), Naturo is in a very select club of pet food brands that have yet to be recalled.
Despite this, we encoarage all pet owners to be vigilent of any future recalls of Naturo or any other pet food brand.
Naturo Featured Articles
At this time, Naturo has not been featured in any of our articles.
Best of Naturo
Adult Chicken With Potatoes and Vegetables Review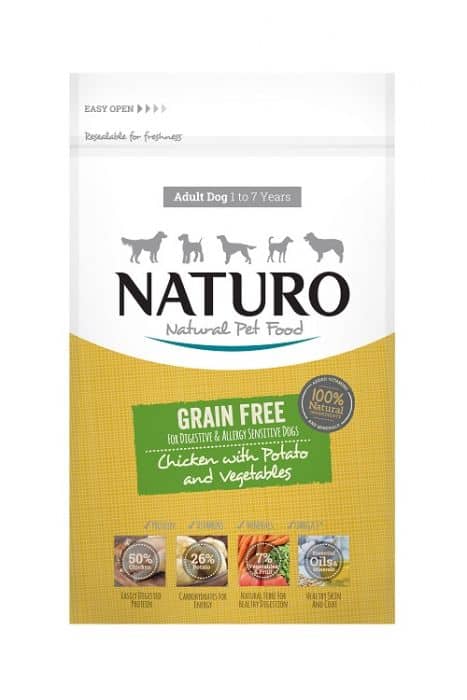 Adult Grain Free Lamb With Chickpeas, Mixed Peppers, Blueberries, & Cidar Vinegar Review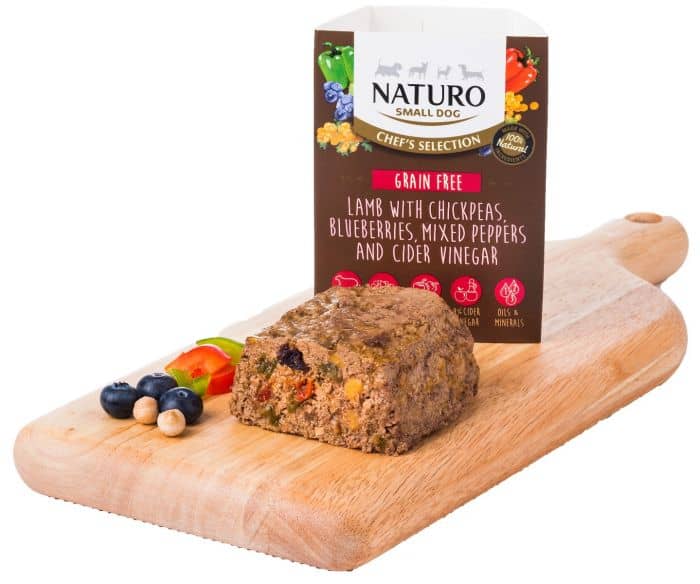 Adult Cat Salmon Mousse Review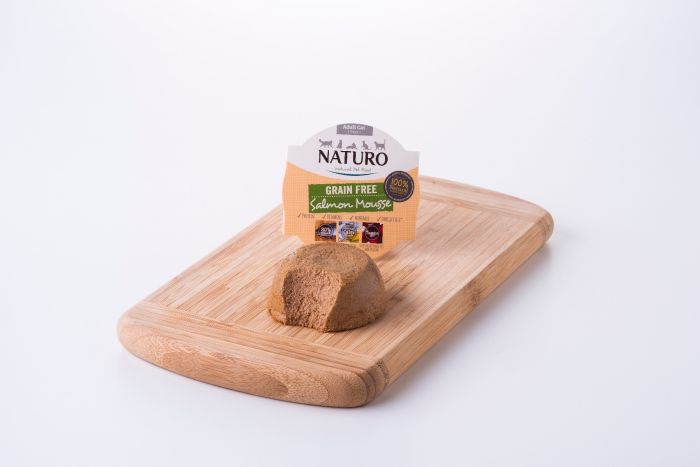 Naturo Full Product Range
Dry Dog Food
Adult Turkey With Potatoes and Vegetables
Adult Chicken With Potatoes and Vegetables
Wet Dog Food
Adult Grain Free Turkey With Quinoa, Sweet Potato, Cranberries, & Cidar Vinegar
Adult Grain Free Chicken With Coconut, Goji Berries, Kale & Cidar Vinegar
Adult Grain Free Lamb With Chickpeas, Mixed Peppers, Blueberries, & Cidar Vinegar
Chirstmas Turkey Dinner With Rice, Vegetables, and Cranberries
Puppy Grain Free Chicken and Potato With Veg
Adult Grain Free Turkey In A Herb Gravy
Adult Grain Free Duck In A Herb Gravy
Adult Grain Free Chicken In A Herb Gravy
Small Breed Adult Duck & Rice With Vegetables
Small Breed Adult Salmon & Rice With Vegetables
Small Breed Adult Lamb & Rice With Vegetables
Adult Light Chicken & Rice With Vegetables
Adult Grain Free Salmon & Potato With Vegetables
Adult Duck and Rice With Vegetables
Adult Salmon & Rice With Vegetables
Adult Chicken, Lamb & Rice With Vegetables
Adult Lamb & Rice With Vegetables
Wet Cat Food
Adult Cat Salmon Mousse
Adult Cat Tuna Mousse
Adult Cat Turkey Mousse
Adult Cat Chicken Mousse