AvoDerm Information
AvoDerm was founded in 1982 and aimed to aid dog owners in improving their dog's skin and coats.
They are best known for being one of the only pet food brands to include Avocado in its recipes.
Since its founding, AvoDerm has significantly expanded its offers to include cat food and a wide range of dog food.
For those interested in their backstory, they are owned and operated by Breeders Choice, which is based in Irwindale, California.
Breeder's Choice has been operating and producing pet food for even longer than the AvoDerm brand, going back to the late 1940s.
The manufacturing of AvoDerm in Irwindale makes Avoderm a made-in-the-USA brand which is a popular trait for many.
Avoderm is widely available, especially in California. The brand is sold at hundreds of retail pet food stores across the country.
Their recipes are also sold at select online retailers like the pet food giants Amazon and Chewy.
AvoDerm Product Range
Dog Food
AvoDerm's dog food range is broad and consists of a mix of dry and canned dog food.
This product range includes a number of speciality recipes, such as those for large breed dogs and puppies. They also produce a mix of grain-free and grain-inclusive recipes to appeal to both sides of the spectrum.
AvoDerm does not produce any dog food for specific breeds like some of the larger brands do.
Cat Food
AvoDerm's cat food range is also significant in size and consists of a combination of dry and canned cat food.
While there are fewer niche recipes available in the cat food range, there are some for indoor cats, cats looking to achieve weight management, and kittens.
AvoDerm Nutrition
Dog Food
The nutrition offered by AvoDerm varies significantly. Despite this, the nutritional profile of their recipes is typically average to above average.
This nutritional profile includes average or above-average proportions of protein and fat and average or below-average proportions of carbohydrates.
Sadly, this nutritional profile sometimes equates to notably large portions of carbohydrates, which is a poor reflection of a dog's natural diet. They would be better suited to a diet higher in animal or fish-based protein and fat.
However, it is worth noting that a few of AvoDerm's recipes provide very high proportions of fat, which is unusual in dog food recipes.
This may not suit certain dogs, especially those prone to weight gain. Because of this, we recommend you check the guaranteed analysis of any recipe you are considering.
Below is an example of the nutrition offered by an Avoderm grain-free dog food recipe.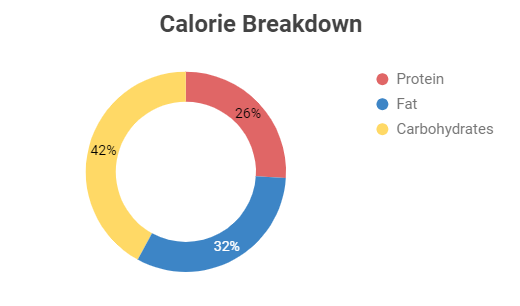 If you'd like to learn more about canine nutrition, we would highly recommend you check out our Dog Food Guide for a detailed discussion.
Cat Food
AvoDerm's cat food recipes offer similar nutrition to their dog food recipes and are usually average when compared to other brands.
This average nutrition includes proportions of carbohydrates that are significant.
Cats are obligate carnivores and so do not need to consume large portions of carbohydrates in their diet. Instead, they would be better off with a diet that is higher in protein.
The reality of this is that the nutrition offered by AvoDerm cat food recipes is not ideal.
If you'd like to read more about what it means to be an obligate carnivore or other relevant information on feline nutrition, head over to our Cat Food Guide.
AvoDerm Ingredients
High-Quality Meat & Fish Ingredients
Chicken
Turkey
Duck
Beef
Lamb
Salmon
Herring
AvoDerm recipes feature most of the common meat and fish ingredients used in pet food.
This includes staples like Turkey, Beef, and Salmon, which are chosen thanks to their relatively low cost and high availability.
These ingredients should be at the center of any dog or cat food and can provide them with high-quality animal-based protein and fat.
Some AvoDerm recipes make use of meat meal ingredients like Beef Meal or Turkey Meal. These meat meals are often feared by some pet owners, but they shouldn't be.
Meat Meals are simply meat that has been processed to remove its moisture. Without this moisture, they are incredibly dense sources of nutrition compared to non-meal meat.
Other Notable Ingredients
Many of AvoDerm's grain-free recipes use Peas as their primary plant-based ingredient.
Peas are the most popular legume ingredient to feature in pet food and are chosen as they are a very cost-effective source of carbohydrates and plant-based protein.
However, there have been developing links between the high use of legumes, like Peas, in dog food, and an increased rate of Canine Heart Disease.
We recommend you check out our discussion of the topic here.
Sadly, AvoDerm makes use of pea by-products like Pea Protein and Pea Flour. These are processed ingredients and can be incredibly dense sources of carbohydrates or protein.
Some brands use Pea Flour in conjunction with Peas in a technique known as Ingredient Splitting.
This technique is designed to mislead consumers about the portion size of peas present in a pet food recipe. You can learn more about this and why it's a problem in Ingredient Splitting in Pet Food – Exposed.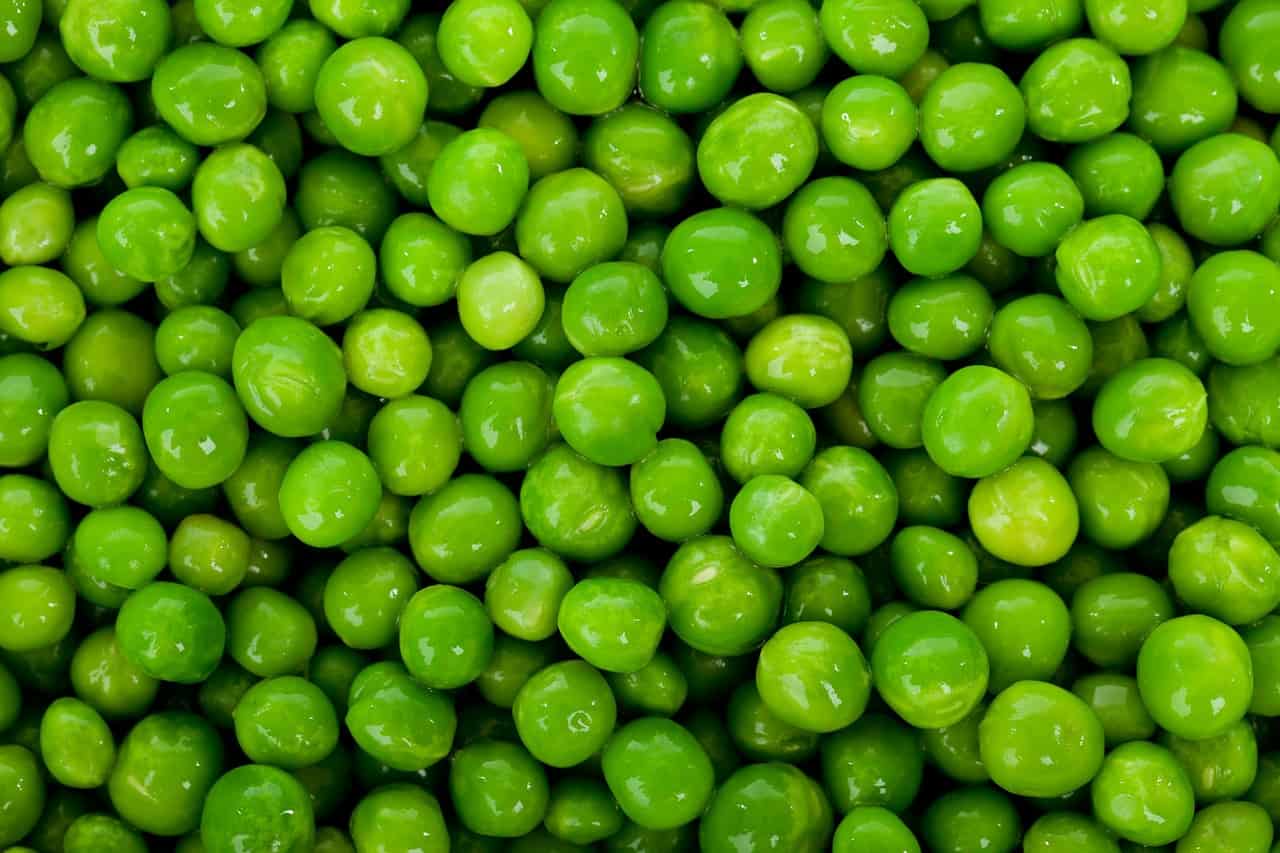 AvoDerm makes use of several grain ingredients in their grain-inclusive recipes. Examples of these include Brown Rice, White Rice, and Oatmeal. Grain ingredients are sources of carbohydrates, fiber, and select micronutrients.
However, grain ingredients are controversial additions to pet food recipes, with many pet owners being strongly against their use. However, there are also many pet owners who strongly believe in the use of grains.
What is clear is that whole-grain ingredients like Brown Rice and Oatmeal can be positive additions to pet food and should be preferred to processed-grain ingredients like White Rice or Rice Bran.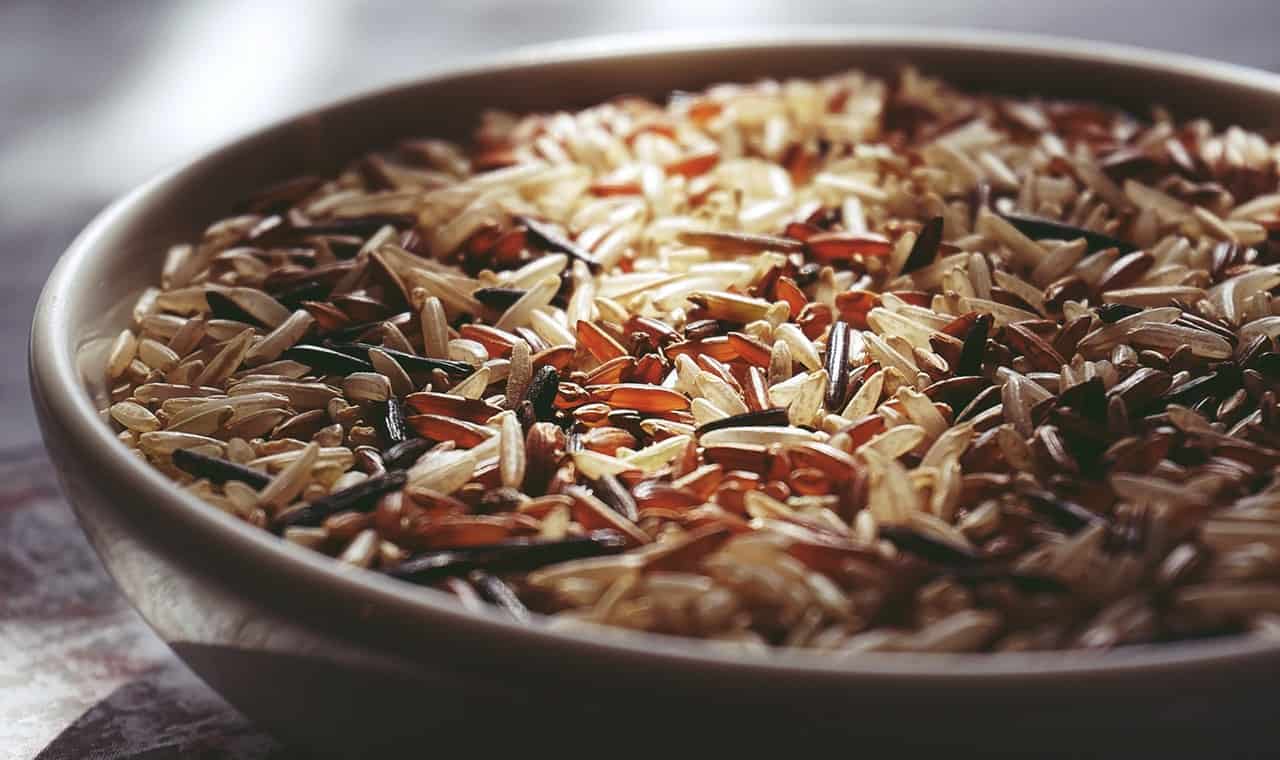 While many of AvoDerm's recipes use legumes or grain ingredients, some feature starch ingredients like Potatoes.
Starch ingredients are incredibly dense sources of carbohydrates, which is why their portion size must be tightly controlled. If it isn't, then the overall proportion of carbohydrates can be excessive.
Chicken Fat is a regular feature on the ingredient list of many pet food recipes. Its purpose in pet food is to enhance the flavor and boost the overall levels of animal-based fat.
It is chosen for this task thanks to its low cost and high availability. Learn more about Chicken Fat in Chicken Fat In Dog Food.
Avoderm makes use of Tomato Pomace in some of its recipes. Tomato Pomace is popular among manufacturers as a source of soluble fiber.
Soluble fiber can be crucial to some dogs to ensure they keep regular digestion and stools. Outside of its fiber content, Tomato Pomace provides little nutritional value.
Read more about Tomato Pomace in Tomato Pomace as a Pet Food Ingredient?.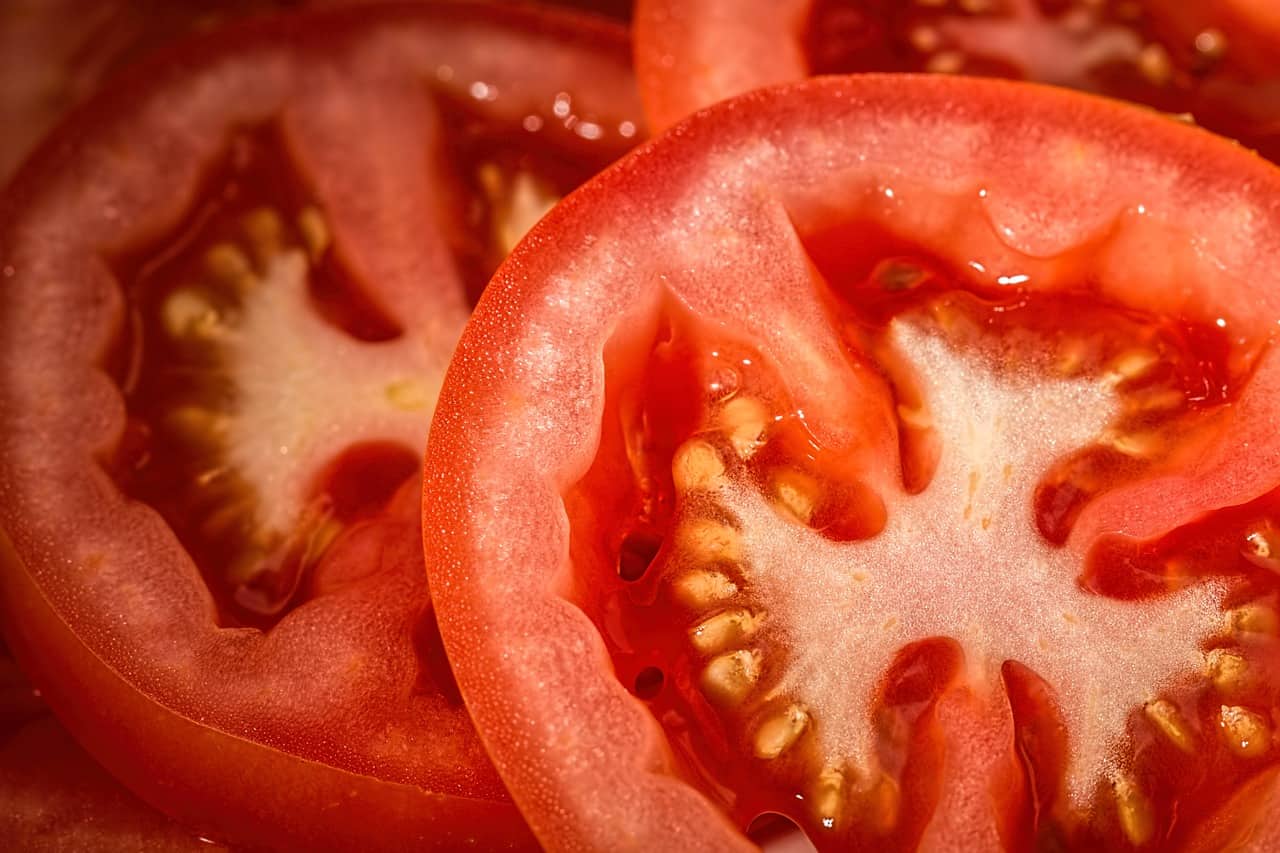 Avoderm is one of a tiny number of pet food brands to make use of Avocado in its recipes. Avocado is a fruit and so provides a mix of carbohydrates, fats, vitamins, and minerals.
It can be a costly ingredient, which is why few pet food manufacturers would choose to utilize it.
Flaxseed is best known for its high levels of the Omega 3 Fatty Acids, which is why pet food brands choose to include it.
These fatty acids are strongly believed by many to provide health benefits. While all of these benefits have not been proven, there is a widespread belief in Flaxseed. Read more in Flaxseed In Dog Food.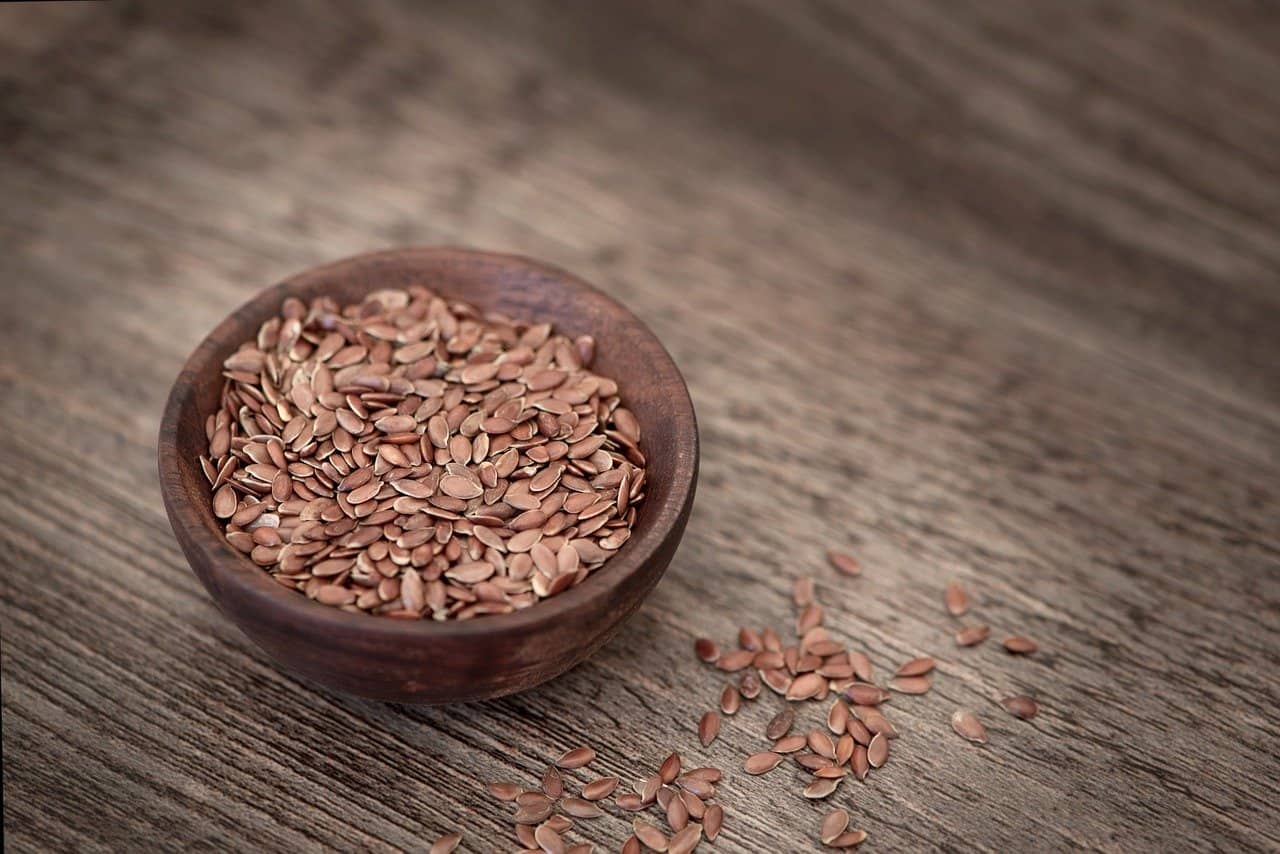 Alfalfa is found in pet food recipes in tiny quantities, usually far down the ingredient list. It is an ingredient that is included for its health benefits and micronutrients.
Many believe the vitamins and minerals found in Alfalfa can be beneficial to dogs and cats. However, these benefits have not been conclusively proven.
AvoDerm Animal Testing
At this time, we have no information on whether AvoDerm participates in animal testing.
We strongly believe that invasive or laboratory-style testing of animals is a cruel and outdated practice. We hope it will be eliminated in the near future.
AvoDerm Recalls
Unfortunately, based on our research (FDA, AVMA, DogFoodAdvisor), AvoDerm has issued recalls in the past and is, therefore, not a recall-free pet food brand.
September 2012 – Potential Salmonella Contamination – This recall affected AvoDerm's Natural Lamb Meal & Brown Rice Adult Dog Food Recipe.
This is disappointing and shows there must have been lapses in their safety and quality process.
Salmonella is considered to be a serious risk as it can affect humans and pets. Learn more about the risks of Salmonella in dog food in this article by Banfield Pet Hospital
Regardless, we encourage all pet owners to be vigilant of any future recalls from AvoDerm or any other pet food brand to ensure their pets remain healthy and safe.
Best of AvoDerm
Grain Free Salmon & Vegetables Recipe Review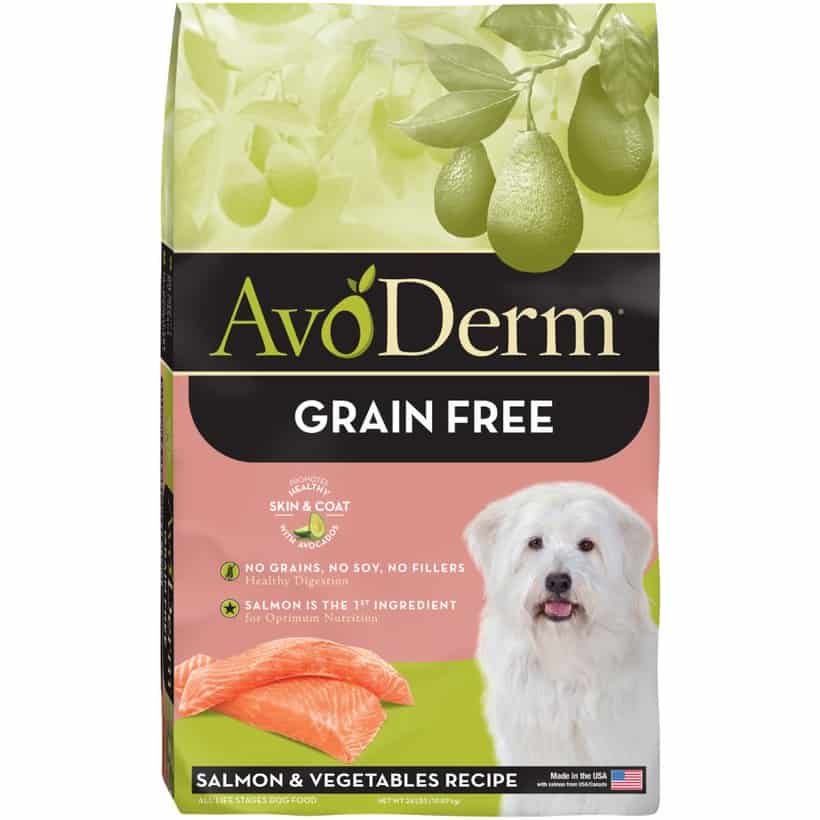 ㅤ
The above recipe from AvoDerm is one of their best dry dog food recipes. While some AvoDerm recipes have very high proportions of fat, this one has a more standard ratio with protein.
This is thanks to a generous portion of Salmon and Herring Meal, which are lean fish ingredients.
These fish ingredients are combined with a mixture of Peas, Chickpeas, and Potatoes. These three ingredients provide carbohydrates, fiber, and some micronutrients.
As always, there is a small portion of Avocado present, which provides some additional carbohydrates, fat, vitamins, and minerals.
Revolving Menu Lamb Recipe Review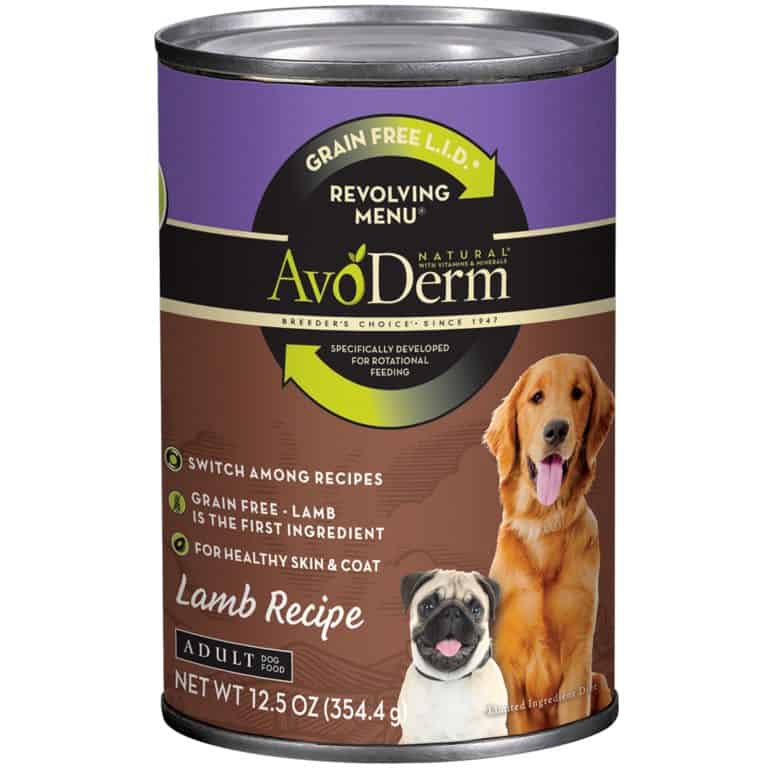 ㅤ
The above Lamb recipe from AvoDerm is sure to be appetizing to dogs thanks to its excellent nutrition. The recipe has 8.5% protein and fat, which is extremely high for a wet dog food recipe.
This nutrition is thanks to a generous portion of Lamb and Lamb Liver. Organ meat ingredients like Liver are excellent additions to pet food recipes and enhance flavor and provide vitamins and minerals that traditional meat cuts lack.
There is a minor portion of Peas, Carrots, and Flaxseed also present, which provide a modest proportion of carbohydrates and some fiber.
Grain Free Salmon With Tuna Meal Review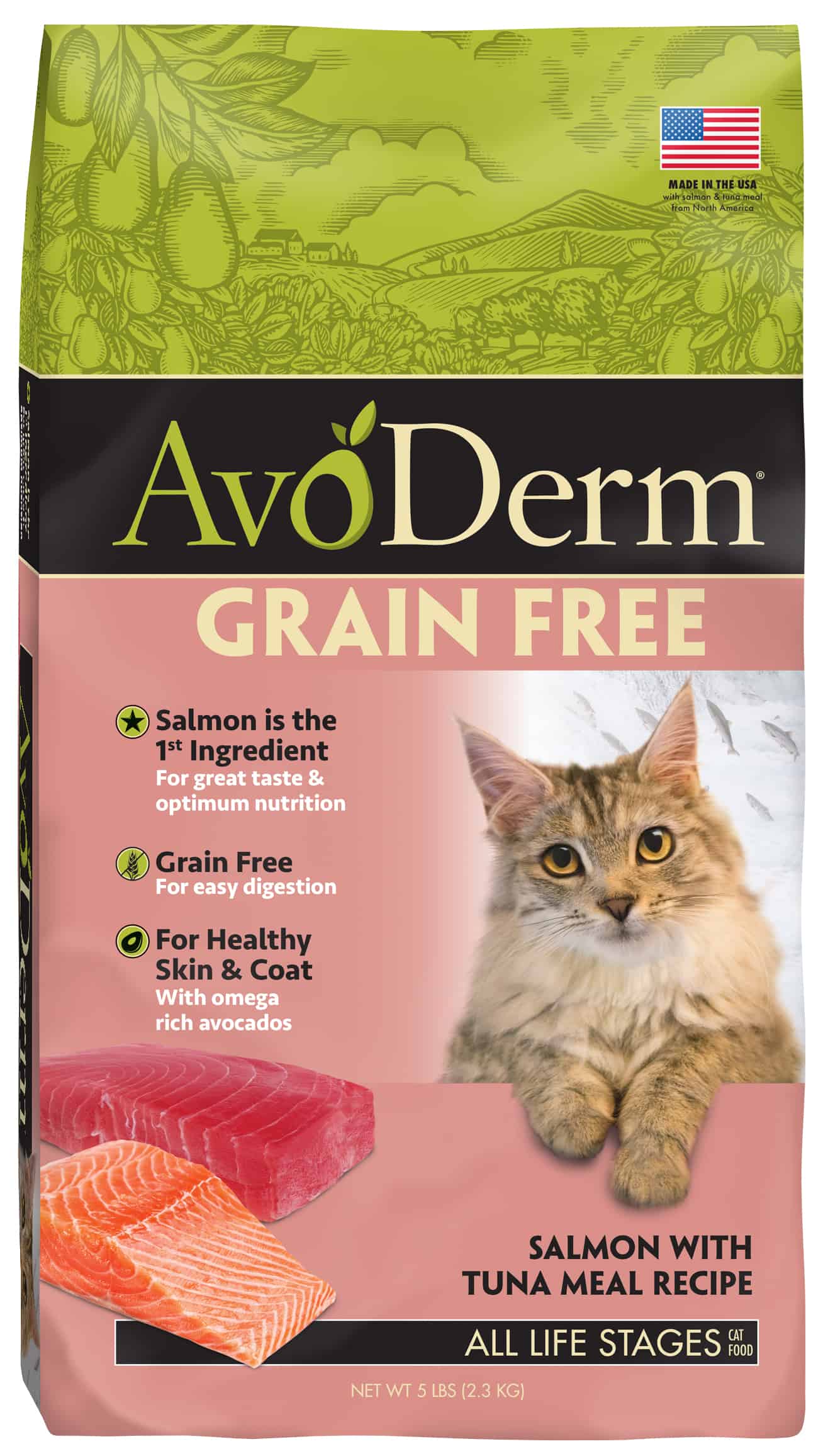 ㅤ
Grain Free Chicken Chunks In Gravy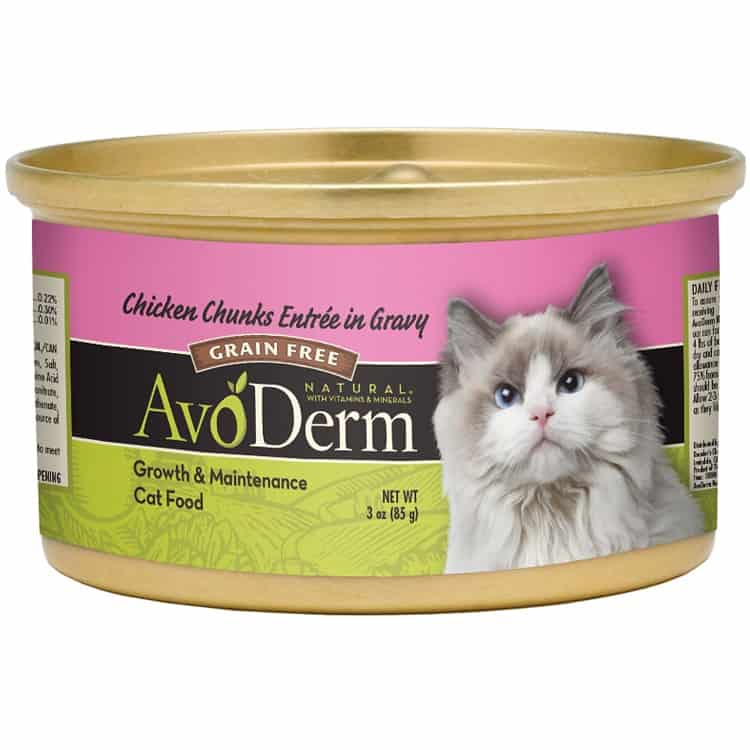 ㅤ
AvoDerm Featured Articles
At this time, AvoDerm has not been featured in any of our articles.
AvoDerm Full Product Range
Dog Food
Dry Dog Food
Lamb Meal & Brown Rice Formula
Grain Free Beef & Vegetables Recipe
Adult Chicken Meal & Brown Rice Formula
Joint Health Grain Free Chicken Meal Formula
Grain Free Limited Ingredient Revolving Menu Duck Recipe
Grain Free Salmon & Vegetables Recipe
Advanced Senior Health Grain Free Lamb & Chicken Meal Formula
Small Breed Grain Free Limited Ingredient Diet Revolving Menu Lamb Recipe
Weight Control Brown Rice & Chicken Meal Formula
Healthy Weight Grain Free Turkey Meal Formula
Small Breed Grain Free Limited Ingredient Diet Revolving Menu Turkey Recipe
Large Breed Chicken Meal & Brown Rice Formula
Senior Chicken Meal & Brown Rice Formula
Grain Free Limited Ingredient Diet Revolving Menu Turkey Recipe
Puppy Chicken Meal & Brown Rice Formula
Triple Protein Meal Formula
Small Breed Grain Free Limited Ingredient Diet Revolving Menu Beef Recipe
Revolving Menu Trout & Pea Recipe
Grain Free Chicken & Vegetables Recipe
Grain Free Limited Ingredient Diet Revolving Menu Lamb & Sweet Potato Recipe
Small Breed Adult Chicken Meal Brown Rice Formula
Wet Dog Food
Grain Free Limited Ingredient Diet Revolving Menu Beef Recipe
Grain Free Salmon & Potato Stew Recipe
Revolving Menu Lamb Recipe
Grain Free Turkey & Vegetable Stew Recipe
Grain Free Chicken & Vegetable Stew Recipe
Weight Control Chicken & Rice Formula
Vegetarian Formula
Original Formula Lamb Chicken And Herring Meals
Chicken & Rice Formula
Grain Free Beef & Potato Stew Recipe
Grain Free Limited Ingredient Diet Revolving Menu Turkey Recipe
Puppy Chicken & Rice Formula
Adult Lamb Meal & Brown Rice Formula
Cat Food
Dry Cat Food
Grain Free Chicken & Duck Recipe In Gravy
Indoor Weight Control Formula With Hairball Relief
Grain Free Ocean Fish & Chicken Meal Formula
Grain Free Duck With Turkey Meal
Chicken & Herring Meal Formula
Indoor Hairball Care Formula
Grain Free Turkey Meal Formula
Salmon & Brown Rice
Kitten Chicken & Herring Meal Formula
Grain Free Salmon With Tuna Meal
Grain Free Tuna With Lobster and Crab Meals
Wet Cat Food
Grain Free Chicken & Duck Entree In Gravy
Grain Free Salmon & Chicken Entree In Gravy
Grain Free Tuna Recipe In Gravy
Wild By Nature Chopped Sardines In Consomme
Salmon Formula
Grain Free Tuna & Crab Entree In Gravy
Grain Free Sardine, Shrimp & Crab Entree In Gravy
Wild By Nature Tuna With Prawns
Wild By Nature Salmon In Salmon Consomme
Chicken Formula
Grain Free Chicken Chunks Entree In Gravy
Grain Free Tuna & Chicken Entree With Vegetables
Indoor Weight Control Formula
Ocean Fish Formula
Grain Free Salmon Recipe In Gravy
Grain Free Ocean Fish Recipe In Gravy