Burns Information
Burns is an established pet food brand based in the United Kingdom. The brand was founded by Veterinary Surgeon John Burns in 1993.
Burns pet food is aimed at pets with common health problems such as allergies and intolerances.
Burns produces their recipes in the United Kingdom in a facility in Burry Port in Wales. Burns do not outsource production of any of their products to 3rd parties.
Burns is widely available in the United Kingdom at thousands of pet food stores across the country. Their recipes are also exported all across the world. If you do not have a local stockist of Burns recipes, you can purchase online directly from Burns or from some of the large pet food websites like Amazon and Pets At Home.
Burns Product Range
Dog Food
Burns has a relatively large range of dog food recipes, most of which are dry dog food recipes. However, they do have a smaller range of wet dog food recipes.
Within their range are some specialty recipes such as those for large or small breed dogs and some for specific age ranges such as puppies or for dogs with dietary allergies or sensitivities.
Cat Food
Burns has a very small range of cat food recipes, which consists of three dry cat food formulas.
Despite its tiny size, this range does include a recipe for Kittens and a recipe for cats with dietary sensitivities.
Burns Nutrition
Dog Food
The nutrition provided by Burns recipes varies somewhat but is generally similar. When compared to other dog food brands, it would best be described as average or below-average.
This average nutritional profile consists of average proportions of protein and fat and large proportions of carbohydrates.
Sadly, this nutrition is not ideal, especially for dogs who are more active. Many dogs would be better suited to a diet higher in animal or fish-based protein and fat.
Below is an example of the nutrition provided by a Burns dry dog food recipe.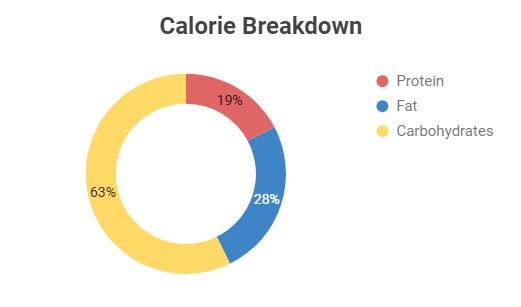 Cat Food
The nutrition offered by Burns cat food recipes is similar to their dog food range and would be described as average to below average.
Many Burns recipes contain very high proportions of carbohydrates. Cats are obligate carnivores and do not need to consume a high proportion of carbohydrates in their diet. They would be better off with a diet higher in animal or fish-based protein and fat.
You can read more about cat nutrition in our Cat Food Guide.
Burns Ingredients
High-Quality Meat & Fish Ingredients
Chicken
Turkey
Duck
Lamb
Pork
Burns uses a moderate range of meat ingredients in its recipes. Some of these are industry favorites like Chicken and Turkey.
These ingredients are so popular among manufacturers as they are easy to source, affordable, and can provide excellent nutrition that is high in animal-based protein and fat.
It is interesting to note that Burns uses Pork in some of its ingredients. Pork is rarely seen in pet food recipes.
It is also worth noting that Burns does not use any fish ingredients in any of its recipes.
Other Notable Ingredients
Burns uses a large range of grain ingredients in its recipes, including Brown Rice, White Rice, Oats, Buckwheat, and Maize. This range is far larger than most other pet food brands.
Grain ingredients are a controversial addition to pet food recipes for many, with some pet owners refusing to feed their pets food that contains grain ingredients. However, there are other pet owners who will only feed their pets grain-inclusive recipes.
Regardless of your opinion, grain ingredients such as Rice and Oats can provide a mix of carbohydrates, fiber, and select vitamins and minerals.
Buckwheat is an uncommon grain ingredient that only a few select brands utilize. You can read more about it in our article Buckwheat In Dog Food.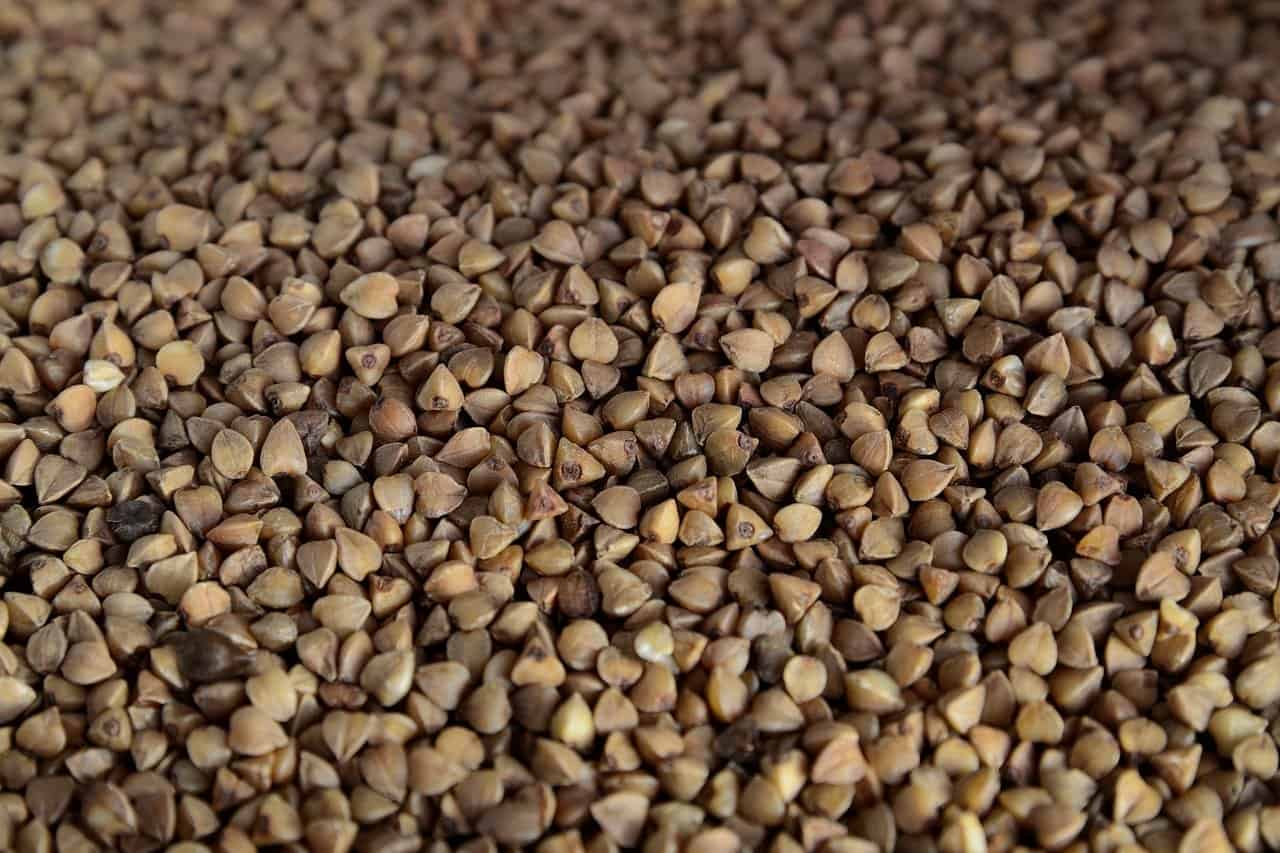 While most Burns recipes use grain ingredients exclusively, some do include a portion of Peas. Peas are a legume ingredient and the most popular alternative to grains. They can provide a mix of carbohydrates, fiber, and plant-based protein.
However, there have been concerns in recent years because of a link between the use of legumes in dog food and an increased rate of Canine Heart Disease. You can read more about this link here.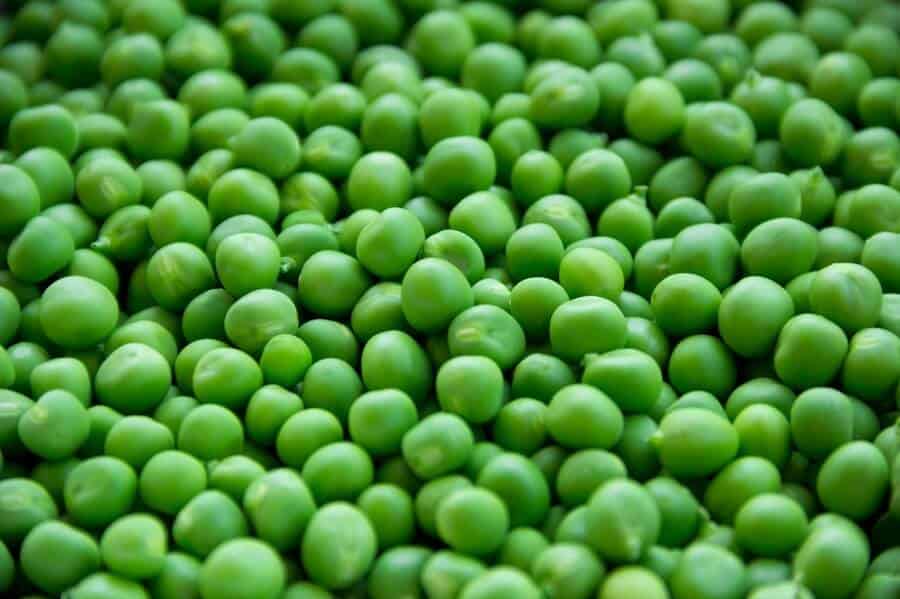 Sunflower Oil is a plant-based oil that is added to some pet food recipes. It provides additional fat to a recipe and can improve its flavor. In addition, some brands use Sunflower Oil as a binding agent to help give the food a consistent texture.
Read more about Sunflower Oil in our article Sunflower Oil In Dog Food.
Burns Animal Testing
We can not find any information on whether burns participates in animal testing for its products.
We strongly believe that laboratory or invasive testing of animals is a cruel and outdated practice. We hope that in the future, it will be eliminated.
Burns Recalls
Based on our research (FDA, AVMA, DogFoodAdvisor), we have no information that Burns has ever been involved in a recall.
Nevertheless, consumers should always be vigilant of any future recalls of Burns or any other brand.
Burns Features Articles
At this time, Burns has not been featured in any of our articles.
Best of Burns
Active Chicken & Rice Review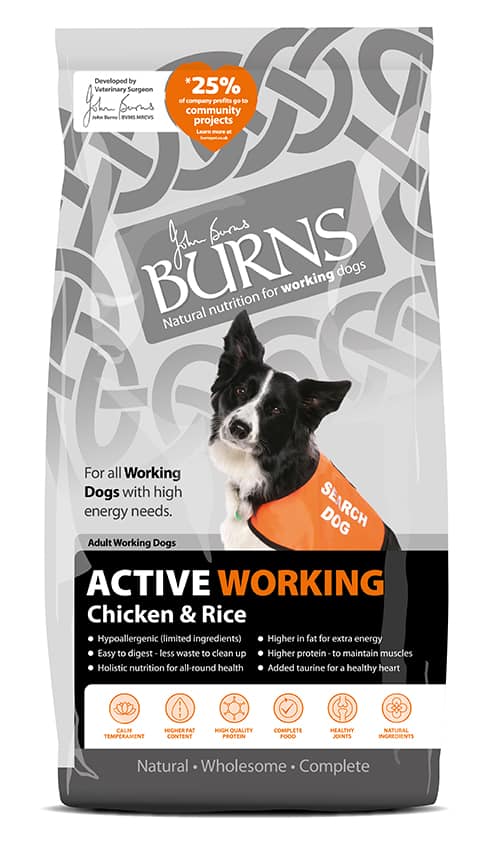 As we mentioned earlier, most Burns recipes do not provide satisfactory nutrition and have an overly large proportion of carbohydrates.
Thankfully, Burns does produce an "Active" recipe which is aimed at dogs that are more active or who are working dogs. Despite its name, we would recommend this recipe to most dogs, excluding those that are very inactive.
This is as it has a nutritional profile that is more in line with a dog's optimal nutrition.
The recipe contains a large portion of Chicken Meal, which is a welcome addition and provides the bulk of the protein and fat. Chicken Meal has already had its moisture removed, which means it's far more dense than Chicken.
The recipe also utilizes a mix of White Rice, Oats, and Peas. This mix of grain and legume ingredients provides carbohydrates and fiber.
Penlan Farm Lamb, Vegetables & Brown Rice Review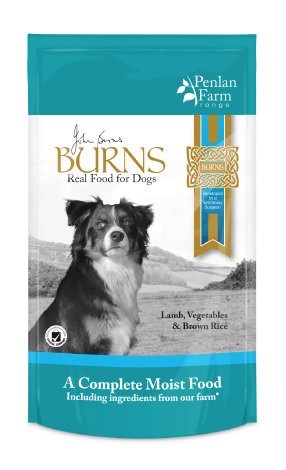 Burns wet dog food recipe's offer more consistent nutrition than their dry counterparts. The above Lamb recipe is a prime example of this.
The formula's primary ingredient is Lamb Hearts, which is an excellent choice. Organ meat such as this is flavorful and often contains levels of vitamins and minerals higher than traditional meat cuts.
The recipe then uses a mix of Seasonal Vegetables and Brown Rice to provide carbohydrates and fiber. While vague, we are confident that you should not be afraid of these vegetables.
Original Cat Chicken & Brown Rice Review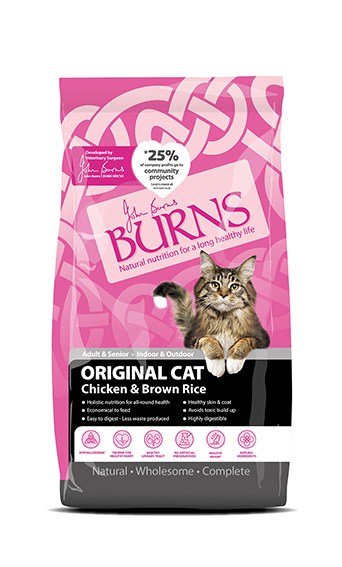 Given that Burn's cat food range is extremely small, we had a very limited choice when selecting a recipe to recommend. However, we went with the above Chicken and Rice recipe as it is the most consistant.
The recipe contains a large portion of Chicken Meal, which makes up 38% of the formula. While this does not seem significant, Chicken Meal has already had its moisture removed, which means it is equivalent to a far larger portion of Chicken.
There is also a small portion of Chicken Liver present. While not significant in size, this may enhance the recipe's flavor.
The recipe then uses a mix of Brown Rice and Wholegrain Maize to provide carbohydrates and fiber.
Full Burns Product Range
Dog Food
Dry Dog Food
Original Chicken & Brown Rice
Original Lamb & Brown Rice
Original Fish & Brown Rice
Toy & Small Breed Chicken & Rice
Large & Giant Breed Chicken & Brown Rice
Weight Control Chicken & Oats
Free From For Adults Duck & Potato
Free From For Adults Turkey & Potato
From From Toy & Small Breed Duck & Potato
Free From For Puppies Duck & Potato
Sensitive Duck & Brown Rice
Sensitive Pork & Potato
Sensitive Fish & Wholegrain Maize
Sensitive Chicken & Wholegrain Maize
Puppy Original Chicken & Rice
Puppy Original Lamb & Rice
Puppy Mini Chicken & Rice
Hypoallergenic Mixer
Alert Chicken & Brown Rice
Alert Lamb & Brown Rice
Active Chicken & Rice
Wet Dog Food
Penlan Farm Chicken, Vegetables & Brown Rice
Penlan Farm Lamb, Vegetables & Brown Rice
Penlan Farm Fish, Vegetables & Brown Rice
Penlan Farm Egg, Vegetables & Brown Rice
Cat Food
Dry Cat Food
Original Cat Chicken & Brown Rice
Original Kitten Chicken & Rice
Free From Cat Duck & Potato