Eden Information
Eden Pet Food is a family-owned company and was formed in 2011 with the aim of producing nutritious pet food products that accurately mimic pets' ancestral diets.
Since then, Eden has become very popular and is one of the leading premium pet food brands in the UK.
As we just mentioned, Eden Pet Food strongly believes in feeding dogs and cats food that is similar to their ancestral diets.
This correlates to a diet low in grains, and other plant-matter and high levels of meat and fish ingredients. Eden also aimed to be open and transparent and avoid misleading consumers in order to make a profit.
Eden supports a number of animal charities, including Moorlands Dog Rescue, Huskies In Need, and the Rottweiler Welfare Association.
All three of these organizations focus on rescue, rehabilitation, and rehoming of dogs, which is a great and vital cause.
Eden Pet Food is made in the UK at a facility owned and operated by the brand. However, it isn't clear exactly where this production facility is.
Eden Pet Food can be purchased at hundreds of smaller pet food stores across the United Kingdom. You can find a list of all stockists on Eden's website.
Some online pet food websites also sell Eden recipes, however, this is somewhat inconsistent. It is noteworthy that you can find most Eden recipes on Amazon UK.
Eden Product Range
Dog Food
All of Eden's ranges have three dog food ranges that have distinct themes. An "Original" themed recipe, which focuses on Chicken and Salmon. Next up, a fish-themed formula that contains Herring and either Salmon or Turkey.
Finally, each range also has a "country" themed formula that contains less common meat ingredients like Rabbit, Venison, and Duck.
This trifecta covers most of the typical pet food themes, and there should be at least one recipe that your pet will enjoy, regardless of how picky or fussy they are.
Cat Food
Eden Pet Food's range of cat food products is slightly smaller than its dog food range but still contains some diversity and variety. The same trio of Original, Fish, and Country themed recipes are present within the cat food recipes.
Perhaps the only weak point of Eden Holistic Pet Food is that it has a relatively small range of products.
However, of all the traits that could be considered negative for a pet food brand, a small product range is not one you should be overly concerned about.
Eden Nutrition
Dog Food
Overall the nutrition offered by Eden's range of Dog food is superb and significantly above average. Both Protein and Fat are in abundance, and the carbohydrate proportions are moderate and satisfactory.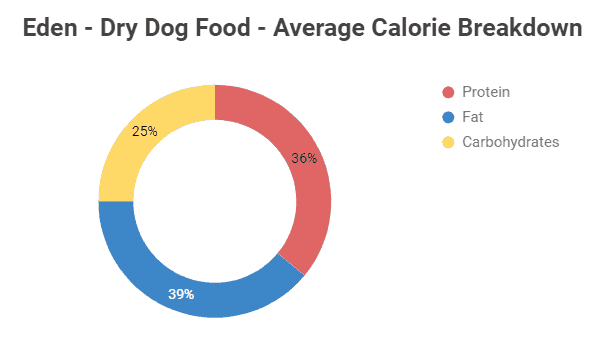 The proportion of protein in Eden's dry dog food products is suitable for dogs of all activity levels, including those who are very active.
The proportion of fat is also suitable for dogs that are very active and could be utilized as a dense source of energy.
However, dogs who are relatively inactive may gain weight from the high levels of fat if portion control is not enacted.
The Omega Fatty Acids are also in high proportions in Eden's formulas. In particular, their fish themed formulas contain levels of the Omega 3 Fatty Acids that are as much as two or three times as high as Eden's competitors.
This level of the Omega 3 Fatty Acids would undoubtedly have a very positive effect on the health of a dog or cat, in particular, their skin, fur, and coat.
Cat Food
Eden Ingredients
Eden provides a clear ingredient list, which includes the percentage of the total food that each ingredient provides. This is an extremely transparent approach and one that isn't done by any none UK dog food brand.
The majority of brands from the US or Canada would choose not to do something similar as they are not required. An example of this is displayed below.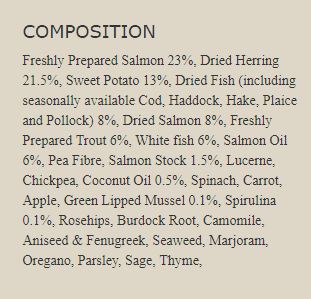 The inclusion of percentages removes any doubt about quite how much meat or fish ingredients are present and disproves any claims of techniques like Ingredient Splitting, where a single ingredient is broken down into a number of sub-ingredients, being used.
Find out more about Ingredient Splitting in our article Ingredient Splitting in Pet Food – Exposed.
High-Quality Meat & Fish Ingredients
Turkey
Duck
Wild Boar
Venison
Salmon
Trout
Herring
Whitefish
All of the meat and fish ingredients used in Eden formulas are deemed fit for human consumption but are deemed surplus to the human food chain.
What this means is the cuts of meat used in their pet food products are less favorable or aesthetic but are still safe and high-quality.
Other Notable Ingredients
All of Eden's dog and cat food products are free of low-quality vegetable by-products such as Pea Protein or Potato Protein. These ingredients inflate the overall level of protein in dog and cat food recipes.
Find out more about Pea Protein and Potato Protein in our articles Peas, Pea Protein, Pea Flour, and Pea Fiber in Dog Food and Potatoes, Potato Protein & Potato Starch in Dog Food.
In addition to Eden's transparency around the quantity of ingredients present in its formulas, they also provide a master list of all of the ingredients used in their products on their website.
This list is clear and offers an easy to understand picture for each ingredient to avoid confusion and allow pet owners to quickly recognize them.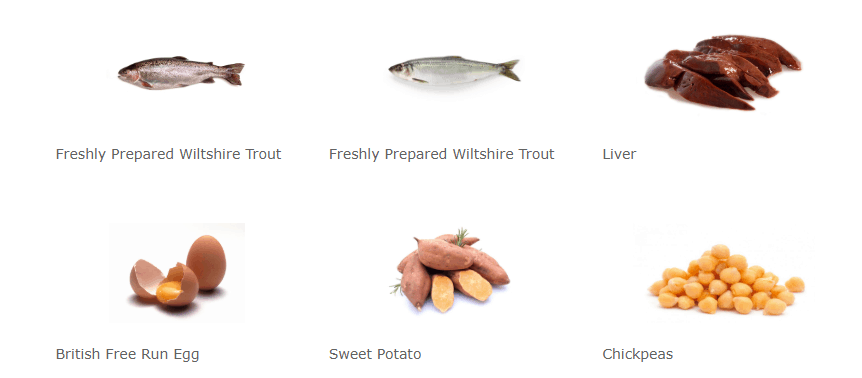 Eden's formulas include prebiotics. These prebiotics are added to Eden's formulas to help aid and promote healthy digestion.
Many people believe prebiotics to be nonsense and a buzzword, but they can have a positive effect, albeit limited.
Eden Animal Testing
Eden proudly states that it does not participate in animal testing. This is unsurprising as the majority of premium pet food brands now avoid direct animal testing as it is considered a cruel and outdated practice.
Eden's alternative methodology to animal testing involves testing new recipes on the owners and their friend's pets.
If the owner of the brand is willing to let their own pets taste these new recipes, you need not be overly concerned with their safety.
We hope that other brands follow Eden's lead and eliminate or severely reduce animal testing in the near future.
Eden Recalls
Based on our research (FDA, AVMA, DogFoodAdvisor), Eden is a recall-free brand.
A lack of recalls shows that Eden has taken it's the safety and quality of its manufacturing process seriously for the seven years of its existence.
However, consumers should be on the lookout for any future recalls to ensure that their pets remain happy and healthy.
Eden Featured Articles
Best Dog Food In The UK – In this article, we discuss in-depth the differences between UK dog food and dog food from other parts of the world as well as individually review a huge range of dog food brands available in the UK.
Eden earns itself a well-deserved place in our recommendations thanks to its ingredient quality and nutrition.
Best Cat Food In The UK – In an identical manner to the article above, here we discuss cat food sold in the UK including many of the same brands we discussed in regards to dog food. Eden features once again as a high-quality premium option for UK-based cat owners.
Best of Eden
Dry Dog Food
Fish Cuisine Review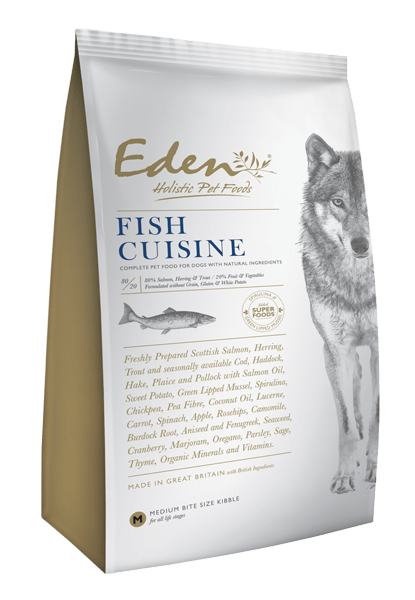 As we mentioned earlier, Eden dog food comes in three distinct flavors, and while they all offer relatively similar nutrition, the fish variety comes out on top because of the high levels of the Omega 3 Fatty Acids it contains.
It contains a whopping 3.1% of these fatty acids. In most other dog food formulas, a level above 1% would be considered high, so the level in this particular recipe is monumental. Many formulas that do not focus on fish have as little as 0.4%.
This high level of the Omega Fatty Acids is thanks to the large portion of fish ingredients present. This includes Salmon, Herring, Trout, and more. These fish ingredients also provide a satisfactory proportion of protein.
The formula is rounded off with a moderate portion of Sweet Potatoes, which provide carbohydrates and fiber.
The remaining ingredients are in very small proportions are likely included to provide vitamins and minerals.
Wet Dog Food
Country Cuisine Review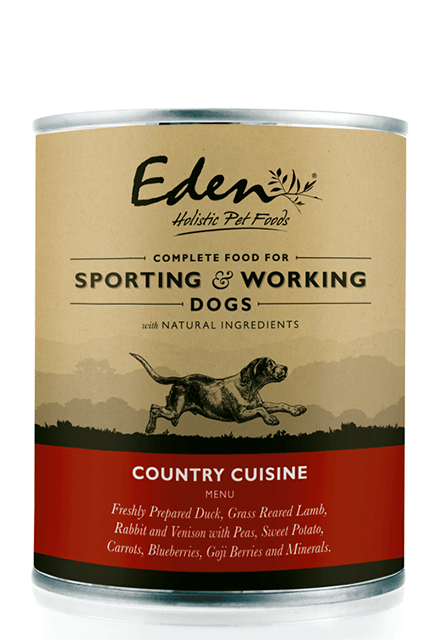 While it may have been tempting for us to also recommend Eden's canned recipe with fish, we thought we would instead display a unique formula.
What makes country Cuisine unique is the large variety of uncommon meat ingredients it contains
Examples include Duck, Venison, Rabbit, and Venison. While it is not too uncommon to see some of these ingredients by themselves or as secondary ingredients, a formula that contains all four is exceedingly rare and maybe one of a kind.
These ingredients provide a plentiful supply of protein and fat and could be advantageous for dogs who have severe allergies or intolerances to more traditional meat ingredients like Chicken and Beef.
Other than these four meat ingredients, the formula only contains very small portions of some vegetables. These portions are so small that they could be considered negligible.
Original Cuisine Review

Eden's dry cat food range is a little smaller than their dry dog food range and doesn't include a fish-based recipe. However, the above Original Cuisine is still an excellent choice and worth considering.
The recipe includes a mix of Chicken, Salmon, and Herring as its primary ingredients. This mix of poultry and fish ingredients provides cats with an extremely satisfactory proportion of protein and fat.
These protein and fat levels are far above the levels seen in most dry cat food recipes and align closely with an obligate carnivore diet.
A small portion of Potatoes is also present which acts as the recipe's core plant-based ingredient. These Potatoes contribute to a small proportion of carbohydrates and fiber, which closely aligns with a cat's natural diet.
Wet Cat Food
Country Cuisine Review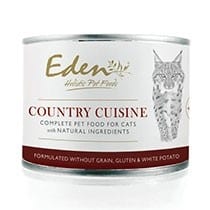 All cat owners know that cats go crazy for good wet food and the options from Eden will increase this desire.
The above Country Cuisine recipe from Eden is very similar to the wet dog food equivalent. It uses a mix of high-quality meat ingredients like Lamb, Venison, Duck, and Rabbit.
These ingredients are certain to provide a game-like taste and something much different from the typical recipes that cats eat which include ingredients like Chicken, Turkey, or salmon.
Given the large portion size of these ingredients, the nutrition they provide is fantastic and significantly above-average.
There is little to no plant-matter in this recipe outside of some tiny portions of Peas, Sweet Potatoes, and Carrots. Even so, these do not contribute to a notable portion of carbohydrates or fiber.
Eden Full Product Range
80/20 Dried Dog Food
Original Cuisine
Fish Cuisine
Country Cuisine
Semi-Moist Dog Food
Wild Boar and Pheasant
Duck and Tripe
80/20 Working and Sporting Dog Food
Original Cuisine
Fish Cuisine
Country Cuisine
Wet Dog Food
Original Cuisine
Turkey & Herring
Country Cuisine
Cat & Dog Treats
Duck & Game
Whitefish & Game
Salmon & Game
Venison & Game
Lamb & Game
Supplements
Digestive Support Supplement
Joint Support Supplement
Skin and Coat Supplement
85/15 Dry Cat Food
Original Cuisine
Country Cuisine
Wet Cat Food
Original Cuisine
Turkey & Herring
Country Cuisine