Gentle Giants Information
Gentle Giants is a non-profit charitable organization owned by tv star Burt Ward. Burt Ward is famous for playing Robin in the Batman tv series during the 1960s.
Burt Ward and his wife run a dog shelter and have saved the lives of more than fifteen thousand dogs since they began.
After seeing many large and giant dogs die early in their lives, they created a dog food recipe designed to lengthen the life of these dogs.
While the scientific proof that their formulas can extend the life of dogs is disputed, there are a large number of dog owners who swear by it and feed it to their dogs regardless of their size.
In fact, while carrying out research for another review, we discovered that Gentle Giant's dry dog food recipe is the 25th bestselling on Chewy.com, which is impressive given what other massive dog food brands are available on the site.
Burt and his dog food have been featured on The Ellen Show (you can check out the clip below) and have been discussed on popular news sites.
For those looking to get ahold of Gentle Giants, it is now available across thousands of stores, but mainly in California, and at online retailers like Chewy, Walmart, and Amazon.
Lastly, we can't discuss Gentle Giants without mentioning their unique and eye-catching packaging. They display a huge amount of information, text, and pictures. Some consumers are a fan of this packaging, while others are not.

Gentle Giants Product Range
Dog Food
Gentle Giant's product range is quite small and consists of a mix of dry dog food and canned dog food.
When we first reviewed the brand, there were only two dry food recipes, both of which are very similar and only vary by their primary ingredient. However, since then, they have added a third recipe to the range.
The canned range from Gentle Giants is slightly larger than the dry range and contains four recipes. Once again, these recipes are quite similar, and they each use unique meat or fish ingredients.
Cat Food
For those who have used Gentle Giants for a long period, it may come as a surprise to you that Gentle Giants has recently expanded into cat food.
This expansion is almost certainly related to their massive success selling dog food. The cat food range from Gentle Giants is slightly smaller than the dog food range and contains a single dry cat food recipe and four wet cat food recipes.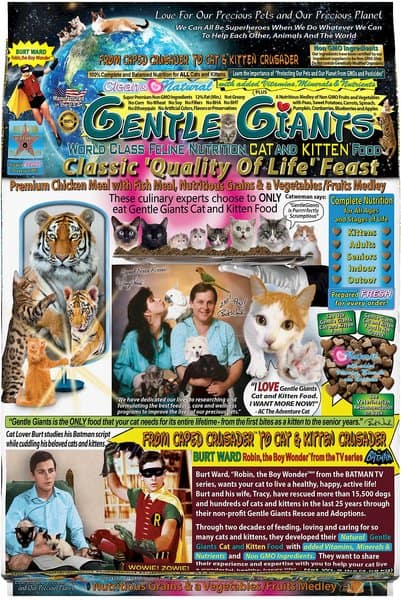 Gentle Giants Nutrition
Dog Food
One of the most important talking points of Gentle Giants dog food is the low proportion of fat they contain. Gentle Giants claim that this is one of the reasons that dogs who consume the recipes live longer and healthier lives.
To put it in context, Gentle Giant's dry dog food contains only 9% Crude Fat, whereas many commercial dog food recipes can contain between 20-40% Crude Fat.
However, the benefits of this reduced-fat diet are disputed, and there is no scientific evidence to support that it can extend the life of dogs. Dogs who are very active can effectively utilize fat as a source of energy.
Less active dogs can still make use of fat but may need portion control to avoid weight gain or obesity.
The portion of protein in Gentle Giants dry dog food recipes is not extremely low, like their fat proportion. However, this proportion of protein is still not that high and would not be considered above average.
Cat Food
Gentle Giants Ingredients
High-Quality Meat & Fish Ingredients
Chicken
Chicken Meal
Turkey
Beef
Salmon
Despite Gentle Giant's small product range, they do have some variety in high-quality meat and fish ingredients, which is shown above.
These ingredients are ideal for a dog's diet and provide them with high-quality and easily digestible protein and fat. This can be used to fuel their growth, repair, and activity.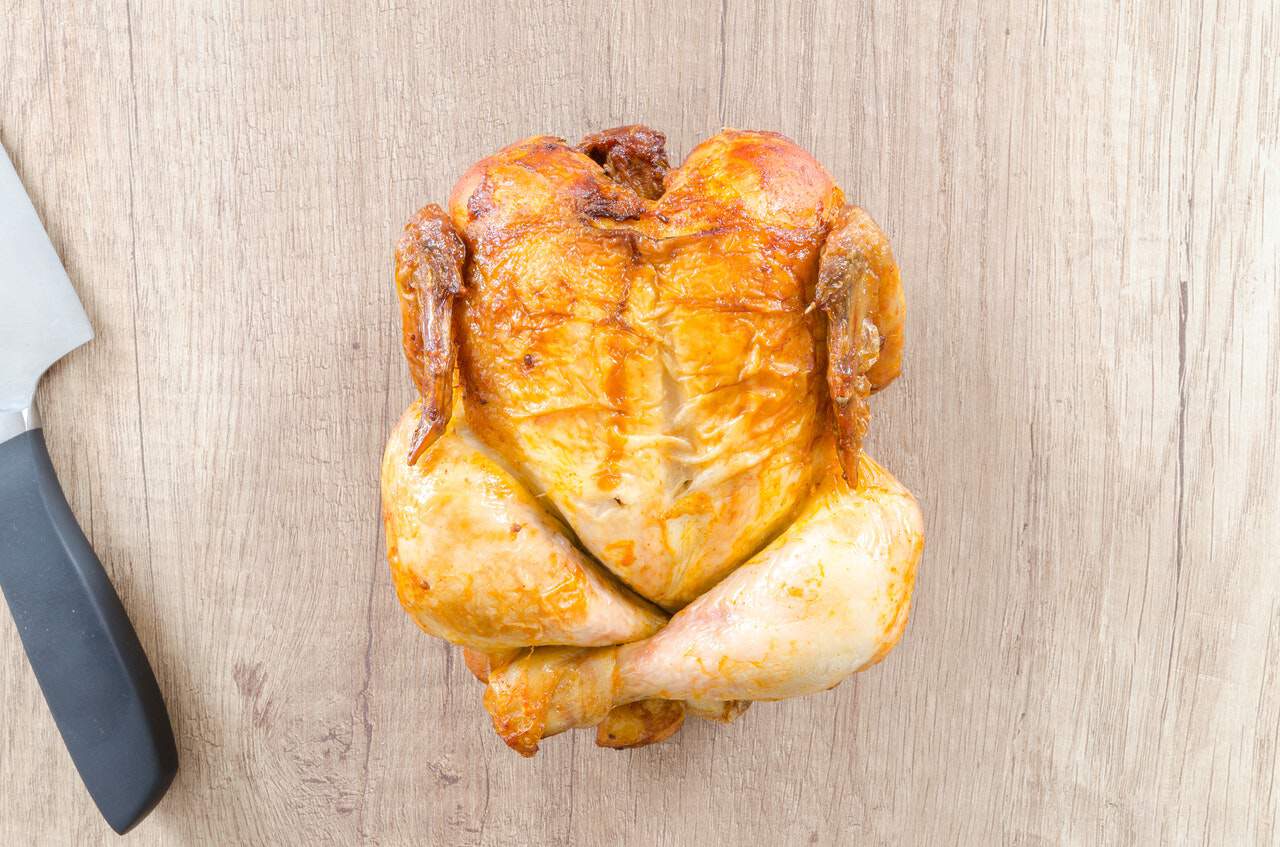 Other Notable Ingredients
Gentle Giants makes use of the grains Barley, Oatmeal & Brown Rice. While many are strongly against the use of grains, they can be viable ingredients.
Some grains are preferred to others. This includes Oatmeal and Brown Rice. They are preferred because they can provide additional nutrition beyond their carbohydrate content. This includes vitamins, minerals, and dietary fiber.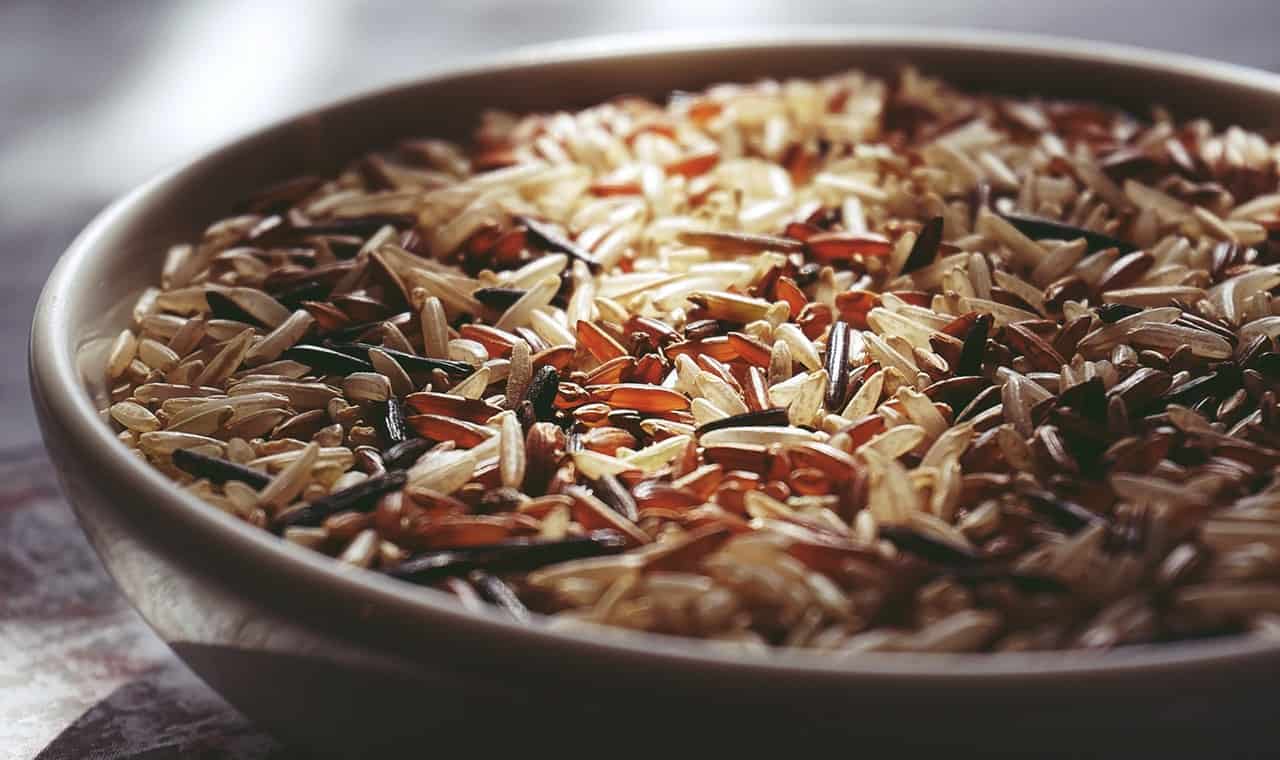 Menhaden Fish Meal sees increasing use in dog food. It is the remains of small oily fish that have had their oil removed for other purposes.
It is an affordable source of fish protein and fat and would be preferred to plant-based sources. Learn more in our article Menhaden Fish Meal in Dog Food.
Chicken Fat is most commonly added to dog food to improve its palatability and flavor.
Animal fat, such as Chicken Fat, is very appealing to dogs, so it can make a recipe irresistible to dogs. Read more about Chicken Fat in our article, Chicken Fat In Dog Food.
Dried Beet Pulp is added to dog food as a source of dietary fiber. It is a by-product of the sugar beet industry that has had all its sugar removed.
As a consequence of this, it adds very little nutrition beyond its fiber content.
The portion of Beet Pulp in Gentle Giants is quite high when compared to other brands that use it. Learn more about Dried Beet Pulp in Dried Beet Pulp In Dog Food.
Flaxseed has been featured in human diets for thousands of years. It is known to provide a number of health benefits.
The most well-known of these is that it is probably the best plant-based source of the Omega 3 Fatty Acids.
As we regularly discuss, these fatty acids can provide dogs with a number of health benefits. Learn more about Flaxseed's use in dog food in Flaxseed In Dog Food.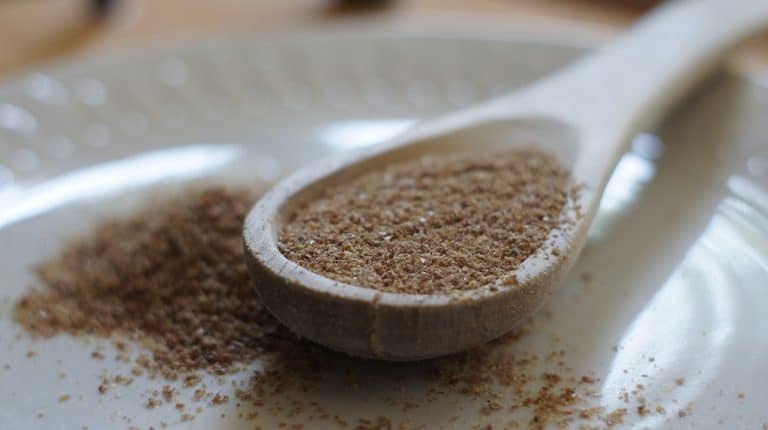 Chicory Root is rising in popularity as a supplement to dog food. Supporters believe it can provide vitamins, minerals, and other health benefits.
However, the evidence to support this is so far limited. Read more about Chicory Root and its use in dog food in our article Dried Chicory Root In Dog Food.
Tomato Pomace is present in dog food for a similar reason to Dried Beet Pulp. It is a fantastic source of soluble fiber, which means it absorbs water to make stool less hard.
However, some are concerned about the levels of pesticides in Tomato By-products such as Tomato Pomace. Learn more in our article, Tomato Pomace as a Pet Food Ingredient?.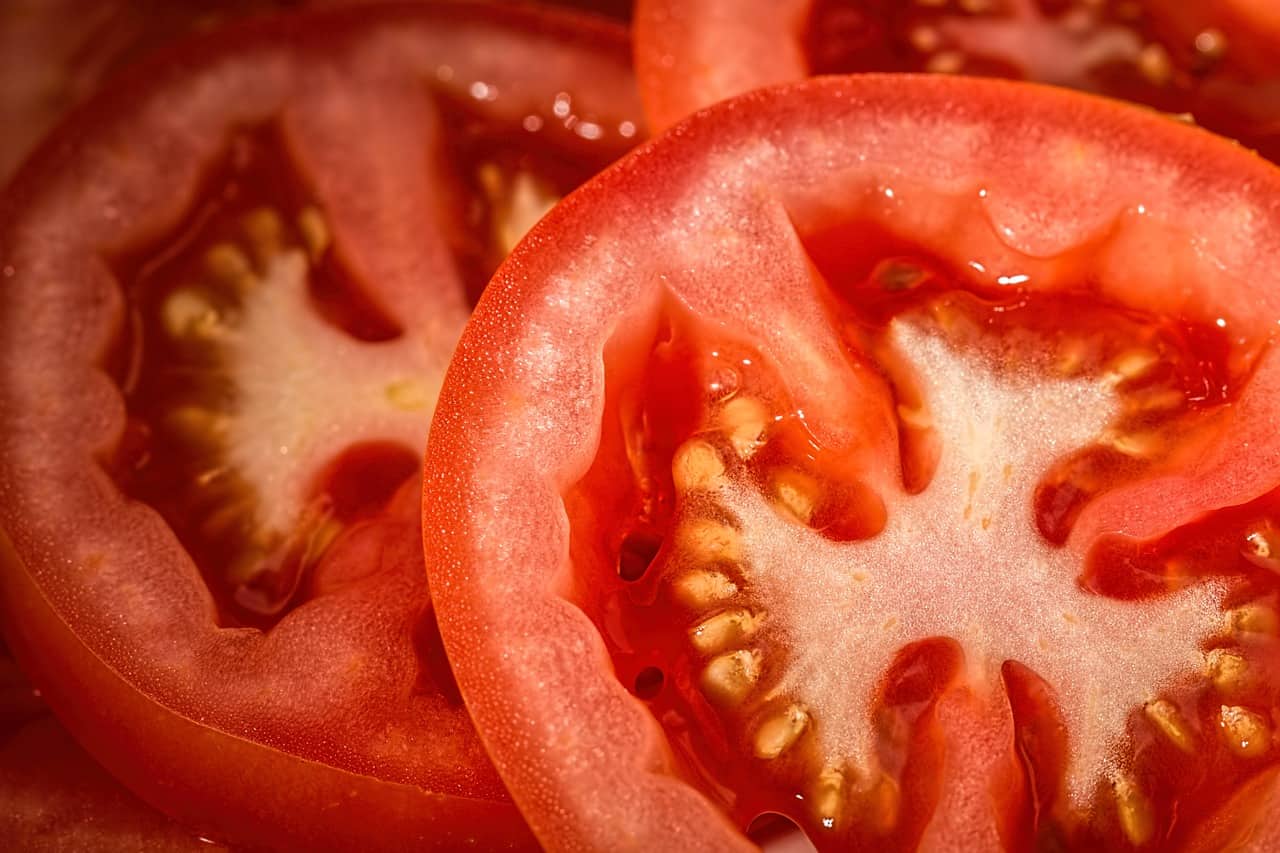 Gentle Giants Animal Testing
Gentle Giants proudly state that they do not participate in any invasive or laboratory testing of its products on animals. Instead, they have been fed to hundreds of dogs in their shelter for over a decade.
We strongly believe that laboratory or invasive testing on animals is a cruel and outdated practice and which we hope will see a significant decline.
While this type of testing may not be entirely scientific, the sheer volume of dogs that have consumed the food without ill effects can be interpreted as a positive sign.
Gentle Giants Recalls
Based on our research (FDA, AVMA, DogFoodAdvisor), Gentle Giants has no history of recalls in any of its product lines which means that Gentle Giants is a recall-free dog food brand.
Given the length of time that Gentle Giants has been operating, this is a good indication that they take the quality and safety of their products seriously.
We hope that they can continue this flawless recall-free record in the coming years, ensuring that their customer's dogs remain healthy and safe.
However, we encourage all pet owners to be vigilant of any future recalls of Gentle Giants or any other dog food brands.
Best of Gentle Giants
Salmon Feast Review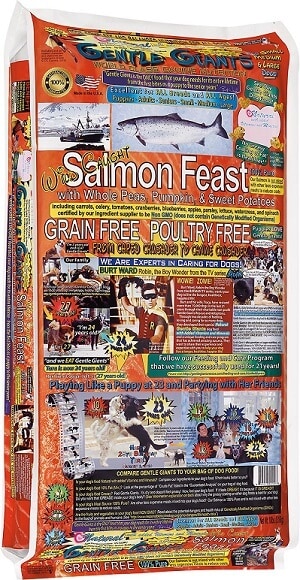 ㅤ
While Gentle Giant's Chicken Feast is the more popular of their two dry dog food recipes, we prefer their Salmon Feast recipe.
The primary reason behind this preference is the higher level of the Omega 3 Fatty Acids that are provided by the Salmon.
The Omega 3 Fatty Acids can provide a number of health benefits such as improving the condition of a dog's skin and coat and reducing the risk of heart disease.
In addition, the overall proportion of protein and fat in the Salmon recipe is superior to the Chicken recipe. However, the proportion of fat is still very low when compared to most dog food formulas.
The formula is rounded off with a range of starches and legumes. This includes White Potatoes, Peas, Sweet Potatoes, and Tapioca.
This is drastically different from the Chicken recipe, which uses grains primarily. These ingredients provide carbohydrates and dietary fiber.
90% Beef Review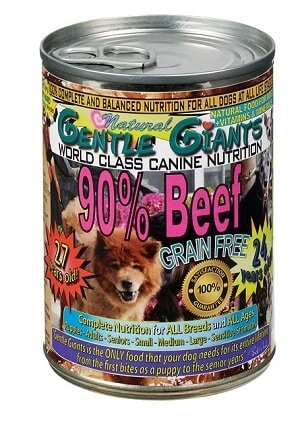 ㅤ
The canned recipes from Gentle Giants are a lot simpler than their dry counterparts and contain far fewer ingredients. While all four of the recipes are very similar, we have chosen to showcase the Beef formula.
Beef is the primary ingredient and provides a satisfactory proportion of protein and fat.
The only other two major ingredients are Sweet Potatoes and Chickpeas. These can provide a modest portion of carbohydrates and some dietary fiber.
Gentle Giants Featured Articles
Gentle Giants is currently not featured in any of our articles.
Gentle Giants Full Product Range
Dry Dog Food
Chicken Feast
Beef & Bacon Feast
Salmon Feast
Canned Dog Food
90% Chicken
90% Beef
90% Turkey
90% Salmon
Dry Cat Food
Chicken & Fish Feast
Wet Cat Food
90% Chicken
90% Beef
90% Salmon
90% Tuna