Hound & Gatos Information
Hound & Gatos is an ultra-premium pet food brand that specializes in wet/canned pet food. They are independently owned, which means they are not part of one of the large pet food conglomerates.
The brand was founded in the United States in approximately 2003. Their food is produced at a facility in South Dakota.
You can purchase Hound & Gatos food at all the popular online pet food retailers, such as Chewy, Amazon, and PetSmart. Their products are also available at select physical pet food stores.
Hound & Gatos Product Range
Dog Food
Hound & Gatos has a moderately sized product range of dog food products. This range includes both dry and wet dog food. However, there are significantly more wet food recipes available than dry.
Hound & Gatos does not produce specialty recipes such as those for large/small breed dogs or puppies. Instead, they choose to offer recipes with a huge variety of meat and fish ingredients, many of which are quite rare to see in dog food.
Cat Food
The product range of cat food recipes from Hound & Gatos is similar to their dog food range. There are notably more wet recipes available than dry food recipes.
Hound & Gatos Nutrition
Dog Food
The nutrition provided by Hound & Gatos recipes is some of the best in the industry. This impressive nutrition is especially true for their wet dog food recipes, which are often made up of almost entirely meat and fish ingredients.
This results in massive proportions of protein and fat, enough for any dog.
Cat Food
The nutrition offered by Hound & Gatos cat food is equally as impressive as their dog food recipes. It includes awe-inspiring proportions of protein and fat, which are far above average.
This nutritional makeup is doubly essential for cat food as cats are obligate carnivores and do not require significant plant-based content in their food.
Hound & Gatos Ingredients
High-Quality Meat & Fish Ingredients
Chicken
Turkey
Duck
Lamb
Pork
Beef
Rabbit
Salmon
Trout
As you can see above, Hound & Gatos uses an extensive range of high-quality meat and fish ingredients. Some of these ingredients are staples of the industry, like Chicken and Beef; however, others are rare additions, such as Rabbit and Trout.
Despite their varying popularity, all of these ingredients can provide excellent nutrition to dogs and cats, high in protein and fat.
Other Notable Ingredients
Eggs regularly feature in Hound & Gatos recipes. Eggs are a fantastic addition to pet food and are incredibly nutritious. In addition, the nutrition that Eggs provide is extremely digestible, which means very little is wasted.
Sweet Potatoes and Tapioca are both starch ingredients. They are very dense sources of carbohydrates, and they provide some nutrition in addition to this. Thankfully the portion size of these ingredients in Hound & Gatos recipes is quite small.
Hound & Gatos chooses to use some quite unusual grain ingredients in its grain-inclusive recipes. These include Spelt, Quinoa, and Oats. Some believe that grains such as these are superior to others, such as wheat and corn, as they can provide additional nutrition and are less processed.
Flaxseed
Agar-Agar is exclusively used in wet/canned pet food. It is used as a binding agent which keeps the food together and uniform. However, the are some who disagree with its use and avoid it.
Sunflower Oil is a vegetable oil that is added to dog food to improve its flavor, texture, and the proportion of fat present. Read more about Sunflower Oil in our article Sunflower Oil In Dog Food.
Hound & Gatos Animal Testing
At this time, we have no information on what type of animal testing, if any, that Hound & Gatos participates in.
We strongly believe that laboratory and invasive testing of animals is a cruel and outdated practice and one which should be eliminated.
Hound & Gatos Recalls
Based on our research (FDA, AVMA, DogFoodAdvisor), Hound & Gatos products have never been recalled.
Given that the brand has been operating for over fifteen years, this is an impressive feat. It shows that Hound & Gatos takes safety and quality in their production processes seriously.
In spite of this, we encourage all pet owners to be careful and vigilant of any future recalls of Hound & Gatos or any other pet food brand.
Hound & Gatos Featured Articles
The 10 Most Expensive Dog Foods
Best of Hound & Gatos
Ancient Grain Grass Fed Lamb Review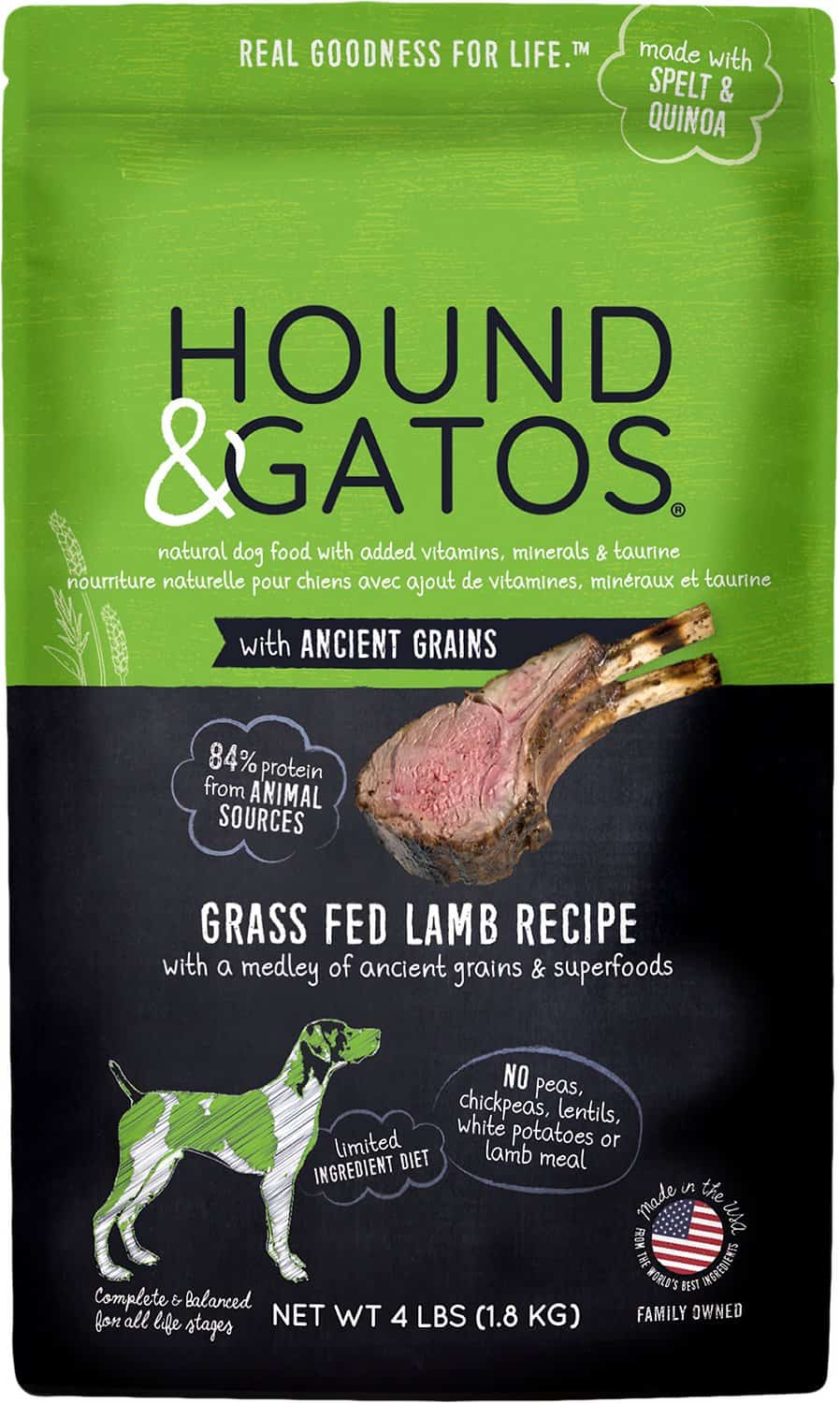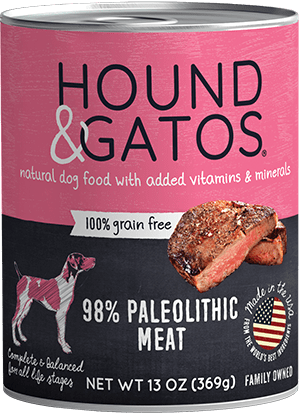 Wild Caught Salmon Review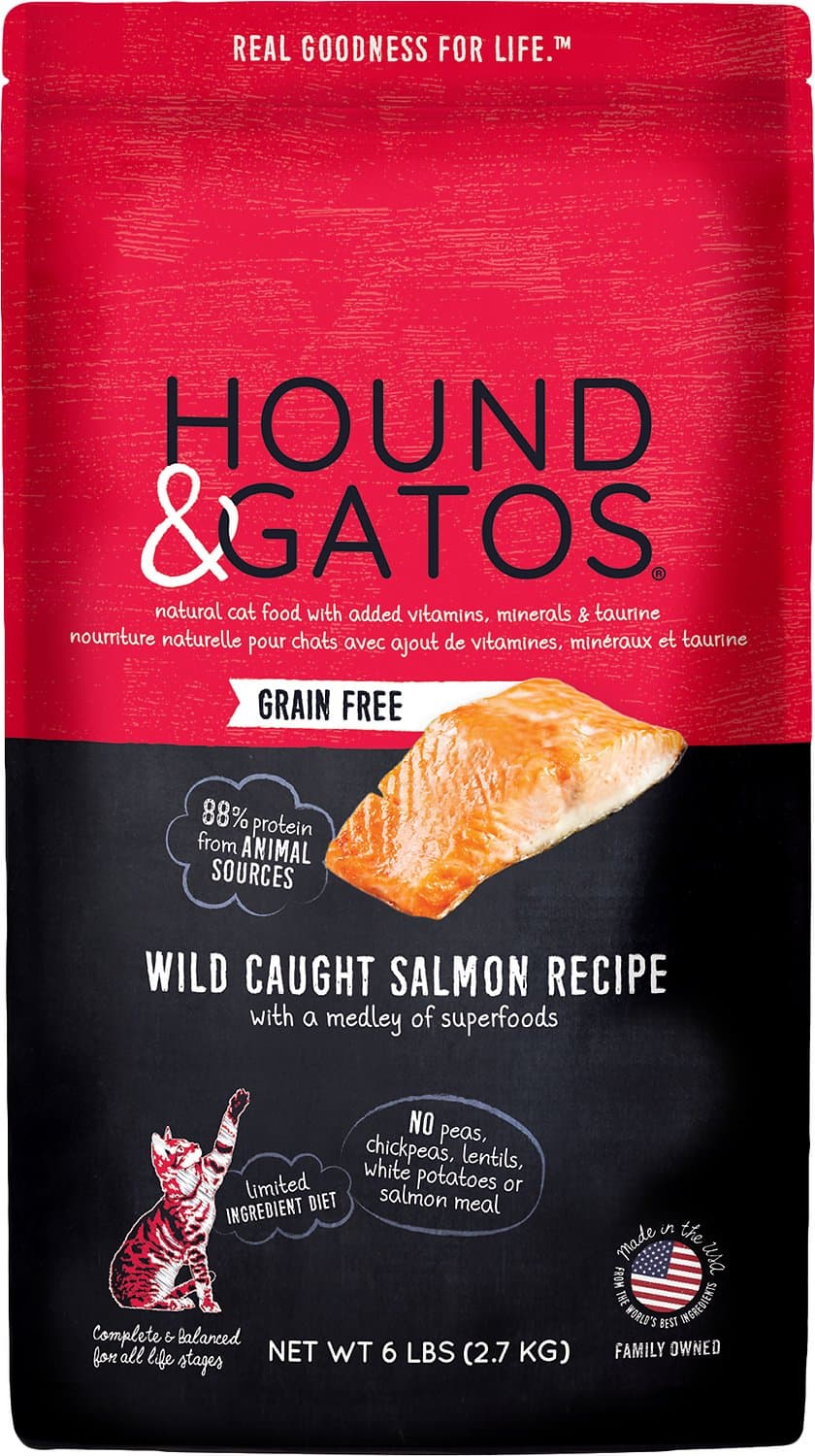 Salmon, Mackerel & Sardine Review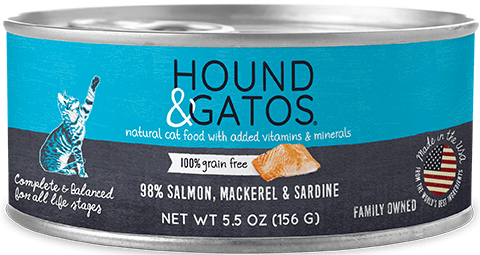 Hound & Gatos Full Product Range
Dry Dog Food
Ancient Grain Grass Fed Lamb
Ancient Grain Cage Free Chicken
Cage Free Turkey
Grass Fed Lamb
Cage Free Chicken
Wet Dog Food
Beef
Chicken & Liver
Duck & Liver
Gamebird Poultry
Lamb & Liver
Lamb, Chicken & Salmon
Pork & Liver
Rabbit
Salmon & Lamb Liver
Turkey & Liver
Dry Cat Food
Wild Caught Salmon
Cage Free Turkey
Cage Free Chicken
Wet Cat Food
Beef
Chicken & Liver
Duck & Liver
Gamebird Poultry
Lamb & Liver
Lamb, Chicken & Salmon
Paleolithic Meat
Pork
Rabbit
Salmon
Salmon, Mackerel & Sardine
Trout & Duck Liver
Turkey & Liver