While most dog owners are content feeding their pups with standard kibble, some are on the hunt for something more.
Premium and Ultra-Premium dog food is a growing market, fueled by demand for the best and highest-quality recipes available.
Whether it's fresh dog food, raw dog food, freeze-dried dog food, or dehydrated dog food, they still come in at an eye-watering price.
What Makes Dog Food Expensive?
The number one factor in the price of dog food is the ingredients used within the recipe. The more expensive the ingredients are, the more expensive the dog food recipe will be.
In particular, high-quality meat and fish ingredients can inflate the cost of a dog food recipe significantly. Many lower-cost dog food recipes choose to use cheap cuts of meat that wouldn't be consumed by Humans.
But there are some dog food brands out there using the same meat cuts we enjoy if not better. Moreover, there are some brands out there using Organic ingredients. These can often cost two or three times as much as their non-organic equivalent.
The type of dog food is a significant contributing factor in the price. Traditional dry dog food, also known as kibble, tends to come in quite cheap, but other types of dog food, such as fresh dog food, can be drastically more expensive.
This cost difference is especially true for brands taking advantage of the latest trend – fresh home-delivered dog food. This variety of dog food is freshly prepared, frozen, and then shipped directly to consumer's doors. Examples of Brands in this space include The Farmer's Dog, NomNom, Spot & Tango, and Ollie.
If you are interested in learning more about fresh home-delivered dog food, we recommend checking out our Best Fresh Home Delivered Dog Food article.
Lastly, it is not just the quality of meat ingredients used but also precisely what meat is essential. The most prominent example of this is Venison.
There is currently a worldwide shortage of Venison meat, which has caused the price of Venison to skyrocket, and this increased cost is passed on to consumers who want to purchase Venison dog food. As a consequence, a large bag of Venison kibble can easily cost more than 100 USD.
Read more about Venison in our article Best Dog Foods With Venison.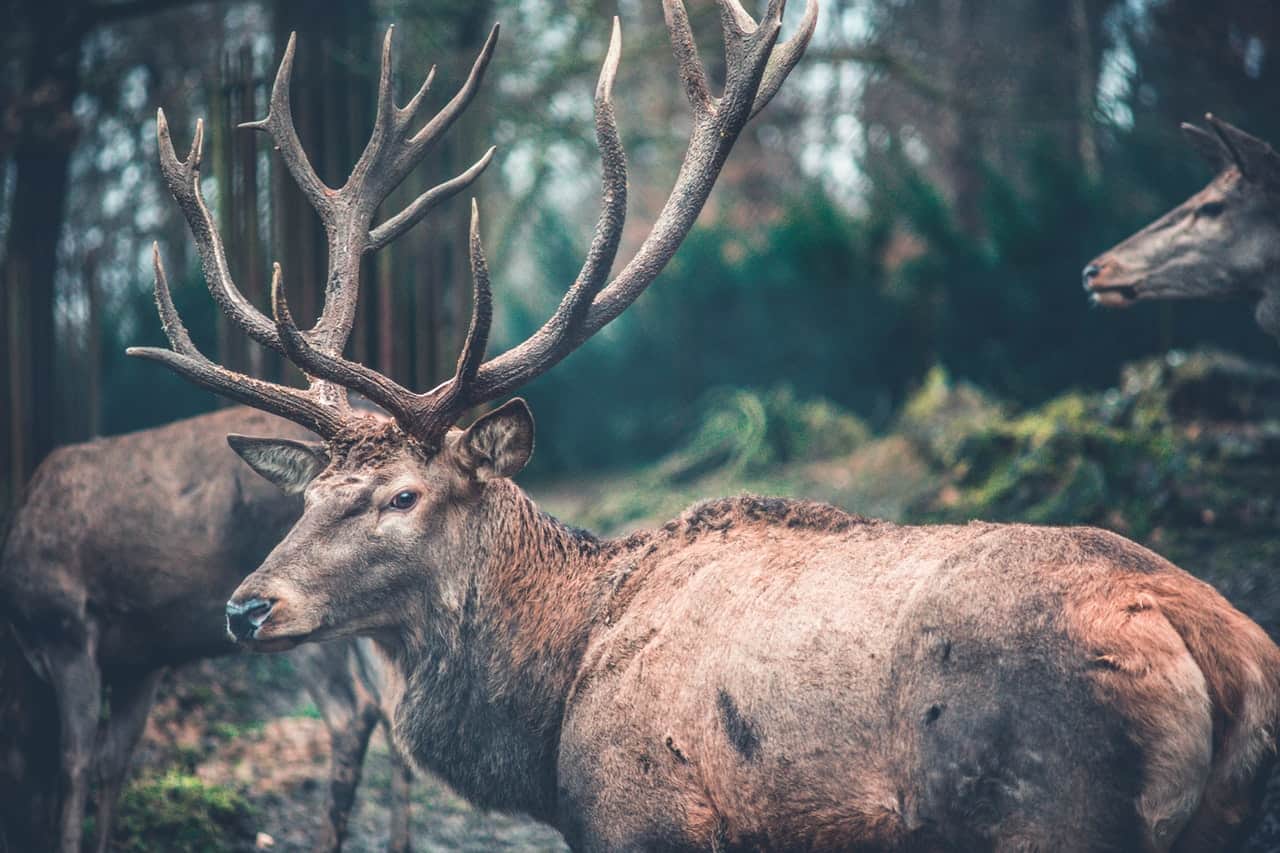 Is Expensive Dog Food Worth It?
For the average dog owner, many of these recipes are simply out of reach and would put significant strain on their budget. This budget constraint is especially true for dog owners with large dogs or multiple dogs. The reason behind this is that dog owners with large or multiple dogs need to purchase vast quantities of dog food on a regular basis to keep their canine friends well fed.
However, for those with cash to burn and who want to spare no expense, these recipes are sure to keep dogs in fantastic health, not to mention the happy thanks to these recipes delicious tastes.
Most dog foods use lower-quality cuts of meats than is used in food for human consumption, and many individuals aren't willing to tolerate this. These ultra-premium brands can offer a more sustainable and ethical source, which, for some, is worth every penny.
That being said, there are plenty of high-quality dog food brands and recipes that are only slightly inferior to these ultra-premium brands and come at a fraction of the cost.
The Most Expensive Dog Foods
Ziwi Peak is a New Zealand based company and world header in the freeze-dried/air-dried dog food market. The quality of their ingredients and the nutrition they provide is second to none.
The primary advantage of air-dried dog food is that it is almost entirely made up of meat and has no significant vegetable, grain, or fruit ingredients.
As we mentioned earlier, there is a worldwide shortage of Venison, which makes Ziwi Peak's Venison formula the most expensive offering.
However, if the above-mentioned Venison formula doesn't appeal to your dog, alternatives such as Air Dried Lamb, Air Dried Beef, or Air-Dried Mackerel and Lamb are also available. While not quite as pricey as the Venison recipe, these alternatives are still very expensive.
The weight of the packaging that these recipes are sold in is very low, which may confuse some consumers. But it is important to remember that air-dried dog food has had its moisture removed. If you re-add this moisture, then the total weight is more reasonable.
Despite the enormous cost of Ziwi Peak Air-Dried dog food, if you considered feeding your dog a mixture of Air Dried Dog Food and fresh ingredients, the cost can be a lot more realistic.
Ingredients such as fresh fruit and vegetables are ideal to combine with a diet of air-dried dog food. This would also enable you to feed your dog specially selected vegetables that do not cause allergies or contribute to other health concerns.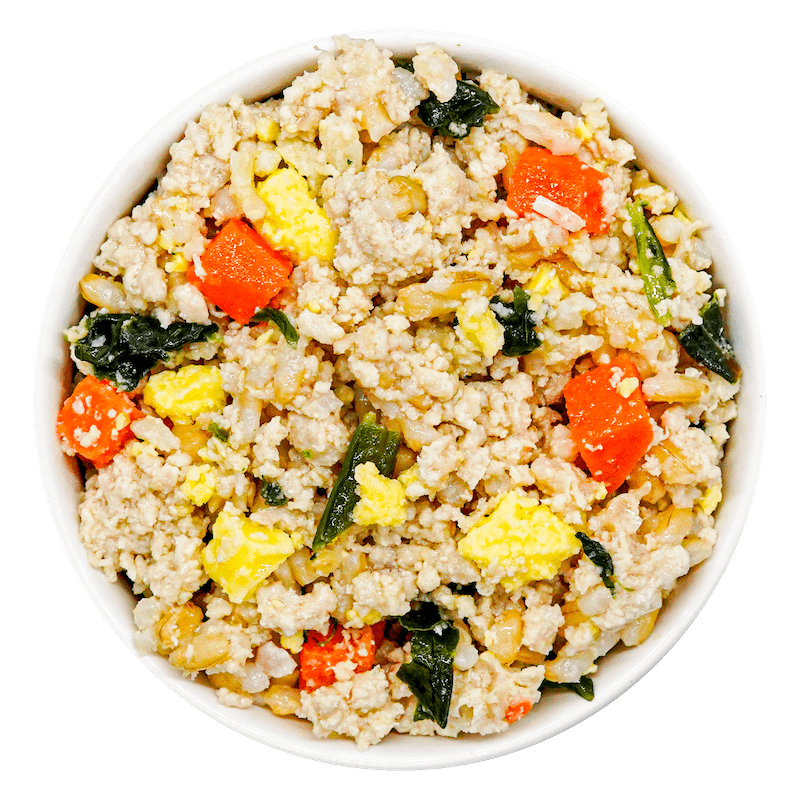 As we mentioned briefly earlier, "Fresh Home Delivered" dog food has seen a surge in popularity. This style of dog food is drastically different from traditional kibble or canned food. It is prepared fresh, pre-portioned, frozen, and then delivered straight to a customer's door.
NomNom, formerly known as NomNomNow, is one of the most popular providers of this service and is available in all 48 of the contiguous states. We'd recommend checking out their FAQ page for the full rundown on how the service works.
NomNom currently has four fresh dog food recipes available and allows dog owners to subscribe to a specific recipe or a mix. The above-mentioned Turkey recipe is one of our favorites, thanks to its excellent nutritional profile.
The recipe makes use of Brown Rice and some unusual vegetable ingredients such as Carrots and Spinach. This combination of ingredients could be an ideal mix for dogs who do not enjoy legumes or for those dog owners who are concerned about the link between legumes and canine heart disease (which you can read about here).
However, these aren't the only ingredients present, and as you might have guessed, Turkey takes center stage. It is joined by a generous proportion of Eggs, which are one of the most bioavailable sources of protein.
If you want more information about NomNom, we'd recommend checking out our full review, which you can find here.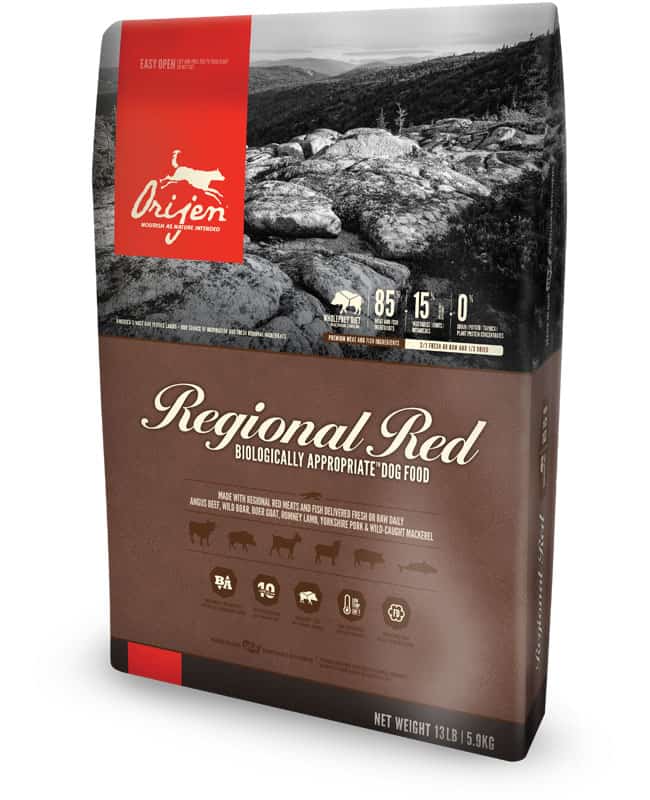 While many of the brands featured in this article are relatively unknown, Orijen is certainly not unknown, and its inclusion in this article will come as no surprise.
Orijen is the best-known premium dog food brand and produces some of the highest quality and most nutritious dry dog food available.
Despite many of their competitors being the opposite, Orijen has a wide range of dog food formulas containing a wide variety of meat and fish ingredients. Each recipe is guaranteed to contain at least ten meat or fish ingredients, which is unprecedented in the commercial dog food world.
While not quite their most expensive dry dog food recipe, we've chosen to highlight Regional Red, which, as the name would suggest, has a focus on red meat ingredients such as Beef, Pork, and Lamb.
While many dog owners try to limit their intake of red meat, it is perfect for an energetic and hungry dog and can provide them with a plentiful supply of protein and fat. The high-quality red meat ingredients are combined with an extensive range of fruits and vegetables such as Beans, Pumpkin, Spinach, and Carrots.
Tundra is the formula by Orijen that tops out the price range. Tundra uses less common red meat ingredients such as Goat, Wild Boar, and Char. While these ingredients make the formula more costly, they may be a pleasant surprise for some dogs who enjoy the variety of never before tasted meat ingredients.
However, we've chosen to highlight Regional Red as the Tundra recipe from Orijen is often harder to purchase or source.
NRG The Raw One Free Wild Caught Salmon Dehydrated Raw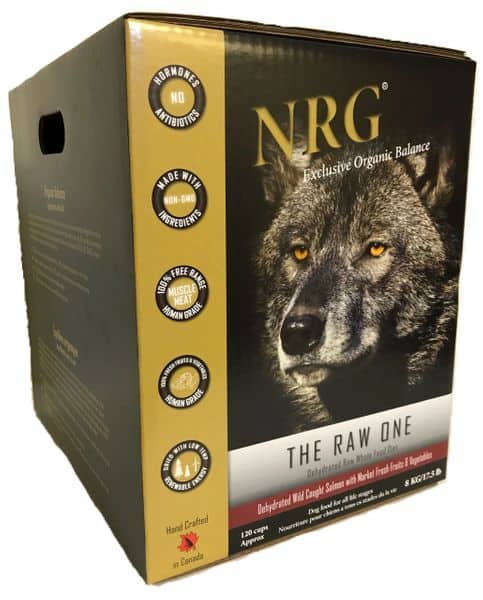 An article on expensive dog food wouldn't be complete without mentioning dehydrated dog food. Most dog owners aren't aware of dehydrated dog food, but it has a small group of hardcore fans, many of which choose to purchase their food from premium brands.
The basics of dehydrated dog food are simple. The food comes with its moisture removed, much like dry dog food. Dog owners then add water to the food and mix. While dehydrated dog food is expensive, once the weight of water is taken into account, it isn't quite as eye-watering as it first seems.
NRG is one of the leading brands in the Dehydrated Dog Food niche. While most of the recipes in this article contain unique or expensive ingredients like Venison or other Red Meats, NRG focuses on quality and uses many staples of the industry, such as Salmon. The Salmon used is Wild Caught Alaskan Salmon, and it is in plentiful supply.
However, the recipe also uses a wide range of plant-based ingredients, including Squash, Carrots, Pumpkin, Pineapple, Broccoli, and Kale. This huge mix is sure to provide an unbeatable balance of micronutrients.
Spot & Tango Lamb & Brown Rice Review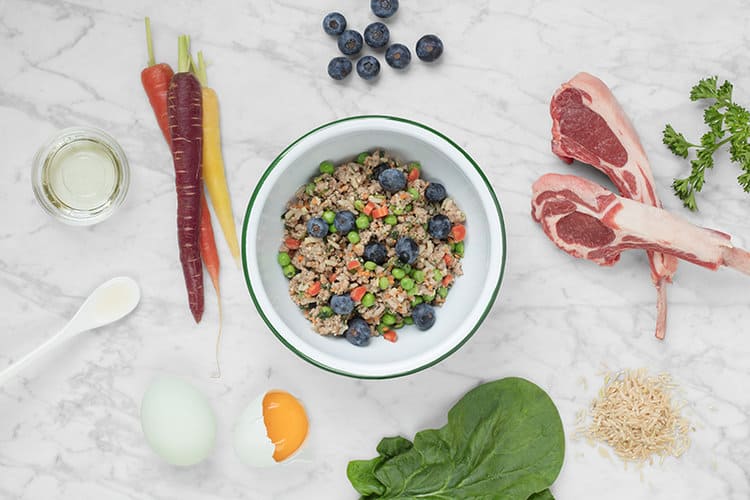 Spot & Tango is another provider of fresh home-delivered dog food similar to NomNom. Spot & Tango chooses to freeze their recipes after production and ships them with dry ice. This technique ensures that they stay fresh and safe for consumption.
Spot & Tango offers three fresh food recipes, and it was hard to pick between them, but we quickly chose to go with their Lamb & Brown Rice recipe.
The recipe provides an excellent overall nutritional profile with a finely tuned balance of protein, fat, and carbohydrates. This balance is thanks to the generous portion of Lamb, which will not only be enjoyable for your dog but can provide them with the nutrition they require.
The recipe also makes use of a broad range of plant-based ingredients, including Brown Rice, Spinach, Carrots, Peas, and Blueberries. This mix contains some regulars but also some more unusual ingredients.
The core benefit of this broad mix is the range of vitamins and minerals it can provide, which are sure to ensure your dog remains healthy and active.
K9 Natural Lamb Feast Review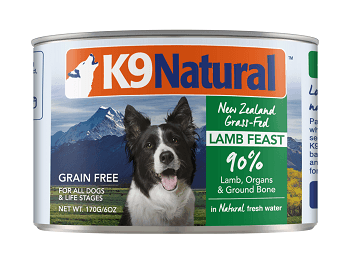 K9 Natural is another New Zealand based brand and could be easily compared or equated to Ziwi Peak. K9 Natural uses very high-quality ingredients that are sourced from New Zealand are suitable for human consumption.
They also use an in-house animal nutritionist to ensure that dogs' nutritional needs are met by their recipes. With these high standards, you can expect their recipes to come at a cost, but for some, it is worth consideration.
K9 Naturals has a small range of canned dog food recipes, including a Lamb Formula, Chicken Formula, and Beef Formula. We've chosen to discuss the Lamb Formula as Lamb is the primary livestock animal of New Zealand and a more unusual dog food ingredient that Beef or Chicken.
The primary ingredient is whole Lamb, but there are also a number of Lamb organ meats present, including Lamb Liver, Lamb Heart, and Lamb Kidneys. As we often mention on this site, these organ meats can provide a unique cocktail of vitamins and minerals.
However, K9 Naturals recipes include some ingredients that Ziwi Peak does not. Examples of these include Lamb Blood, Eggs, and a small range of vegetables such as Pumpkin, Broccoli, Cauliflower, and Cabbage.
Eggs are incredibly nutritionally dense and an excellent addition to any dog food formula. The vegetables will provide additional vitamins and minerals, as well as a very modest portion of carbohydrates and fiber.
Farmina N&D Cod, Spelt, Oats & Orange Review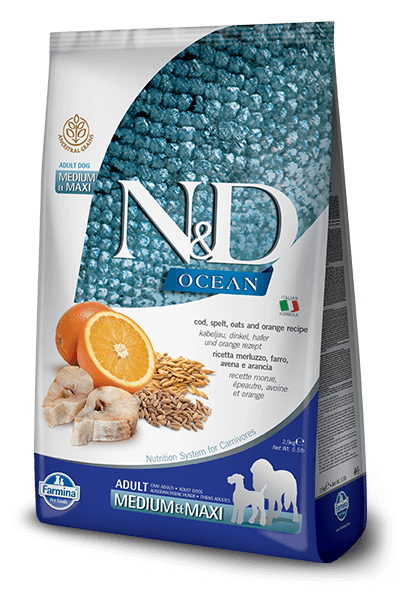 Farmina is a premium dog food brand, and its N&D range contains some extremely high-quality and nutritious formulas. Across the board, their recipes tend to come in towards the top of the price range. We are particular fans of their puppy recipes (which we discussed in our Best Puppy Food post), but their adult recipes are not to be brushed aside.
They make use of a select few meat and fish ingredients, including Chicken, Cod, Duck, and Lamb, and we've chosen to highlight the Cod recipe as it is very rarely seen in dog food. The Cod formulas use a mix of whole Cod and dehydrated Cod to ensure that the total proportion is significant. This Cod provides an ample portion of protein and fat that is significantly above average.
Many of Farmina's recipes tend to go with the safety of legume ingredients, but this particular recipe from Farmina is Pea and Legume-free. Instead, it makes use of a range of grain ingredients, including Spelt and Oats. These grains are less common than others but can easily provide carbohydrates and fiber.
Almost all Farmina recipes also contain much smaller portions of a broad range of fruit and vegetables. Examples include Blueberries, Carrots, Apples, and Pomegranate. These could give the kibble a unique flavor and provide some less abundant micronutrients.
The Honest Kitchen Limited Ingredient Diet Duck Recipe Grain-Free Dehydrated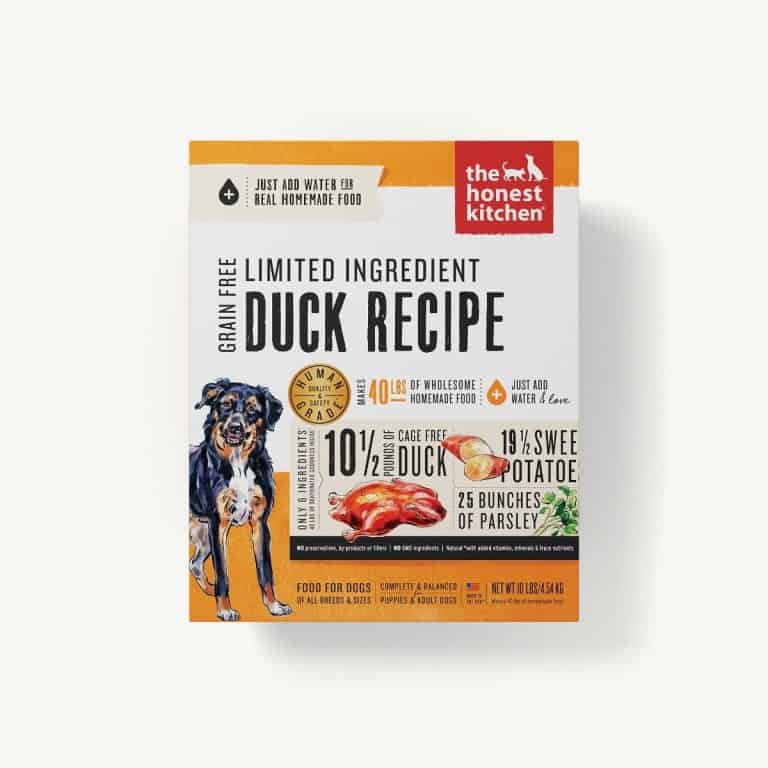 NRG isn't the only dehydrated recipe to get a mention in this article as we could not help ourselves but feature The Honest Kitchen. The Honest Kitchen is a well-known brand in the premium space, and fans of dehydrated dog food will be well versed in its recipes.
As one would imagine, the above recipe uses Duck as its primary ingredient. While Duck is undoubtedly not as scarce or pricey as others like Venison and Rabbit, it could be considered to be the premium poultry ingredient when compared to Chicken or Turkey.
However, when compared to NRG, The Honest Kitchen's recipe has a much smaller variety of plant-based ingredients. The only significant contributors are Sweet Potatoes, Navy Beans, and Flaxseed.
The simple combination could make this recipe appealing to those dogs whose stomach is easily upset or who have allergies or sensitivities.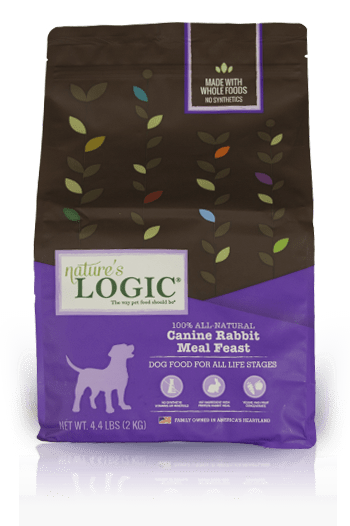 Nature's Logic is a lesser-known dog food brand, but that doesn't diminish its strengths. Nature's Logic produces a range of formulas, including some less common meat and fish ingredients such as Sardine, Venison, Lamb, and Rabbit. Many of these are considered Novel Meat ingredients, which can make Nature's Logic very appealing to those dogs with severe allergies.
One of the most significant advantages of Nature's Logic is that they very clearly display a vast range of nutritional and Ingredient information on their website, which is far more than their competitors. The information provided includes accurate levels of a wide variety of micronutrients, vitamins, and minerals.
They also show you exactly where their ingredients are sourced on an easy to distinguish map. This level of transparency is unheard of and shows they are passionate about dog nutrition and not ashamed of the nutrition their formulas provide or the source of their ingredients, which is something that many other dog food brands could not say with confidence.
Their Rabbit Formula is one of their most costly. However, this high price comes with many advantages, and the recipe provides a very high proportion of protein, which, as we discuss regularly, should be at the core of every dog's diet. The formula also contains a small portion of Turkey and Pork Liver. Pork Liver can provide unique minerals and vitamins that traditional meat cuts can not.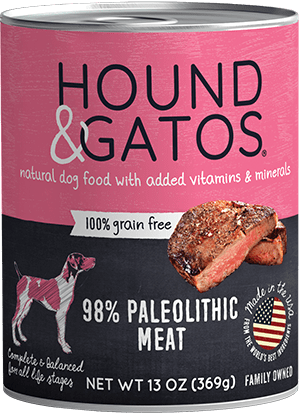 Hound & Gatos is a notable brand in the Premium Canned Dog Food world. The cost of their recipes might make some wince, but behind that price tag is some excellent dog food formulas.
Hound & Gatos comes into its own with the quality of its meat ingredients. This quality is, without a doubt, why their recipes are so costly.
They use cuts and sources that are very comparable with meat found in your local butchers or meat store, and in some cases, the meat may be of an even higher-quality than most of us are used to, which is unheard of in the dog food industry.
Their Paleolithic Meat formula is one of our favorites; it offers a wide range of nutritious red meat ingredients, including Beef, Pork, Lamb, and Deer. This variety of meat ingredients will produce an excellent flavor and provide a reliable range of minerals and vitamins to keep your canine friend in good health.
The only other ingredients are Agar-Agar, which is used to help maintain a consistent texture, and preservatives such as Salt.