While it is still dwarfed by traditional kibble or wet/canned dog food, Dehydrated dog food is growing in popularity, with a number of niche brands entering the space.
However, these dehydrated dog food recipes are often poorly understood, with many dog owners struggling to understand what makes a high-quality recipe.
Combine this with a lack of availability and poor knowledge of dehydrated dog food among pet food stores and other retailers, and it can be exceptionally difficult to select the correct recipe.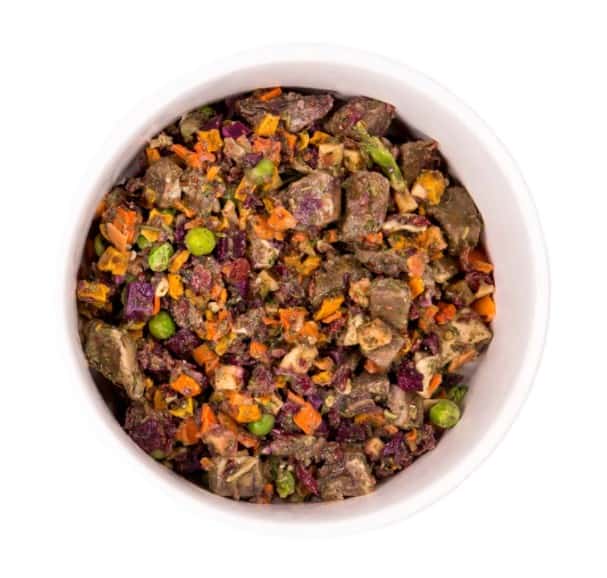 Dehydrated Food vs. Freeze-Dried
Many people misunderstand the difference between Dehydrated Dog Food and Freeze-Dried/Air-Dried Dog Food which is why we want to clarify before we continue.
Outside of the obvious difference in how these foods are produced and have their moisture removed (lowering to extremely cold temperatures vs. cooking), these tend to contain very different ingredients.
Dehydrated dog food tends to be a balanced mix of several ingredients, similar to dry dog food recipes. This could include meat ingredients, like Chicken and Beef, vegetable ingredients, like Peas and Potatoes, as well as grain ingredients, like Oats and Barley.
However, freeze-dried/air-dried dog food tends to be a super-premium product that consists of almost entirely meat ingredients. A perfect example of this would be Ziwi Peak's recipes which are made up of 98% meat ingredients (usually Lamb). You can read more about Ziwi Peak here.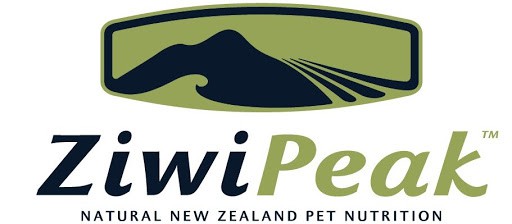 While the above is the general rule of thumb, many brands mix these terms and muddy the waters. We'd always recommend checking out the ingredient list of a recipe to understand if it's just a meat-based product or if it has a range of ingredients present.
We are going to be discussing the former in this article, but if you are interested in freeze-dried or air-dried dog food, we'd recommend checking out our article Best Freeze-Dried Dog Food.
Best Dehydrated Dog Food
The Honest Kitchen Whole Grain Beef Recipe Review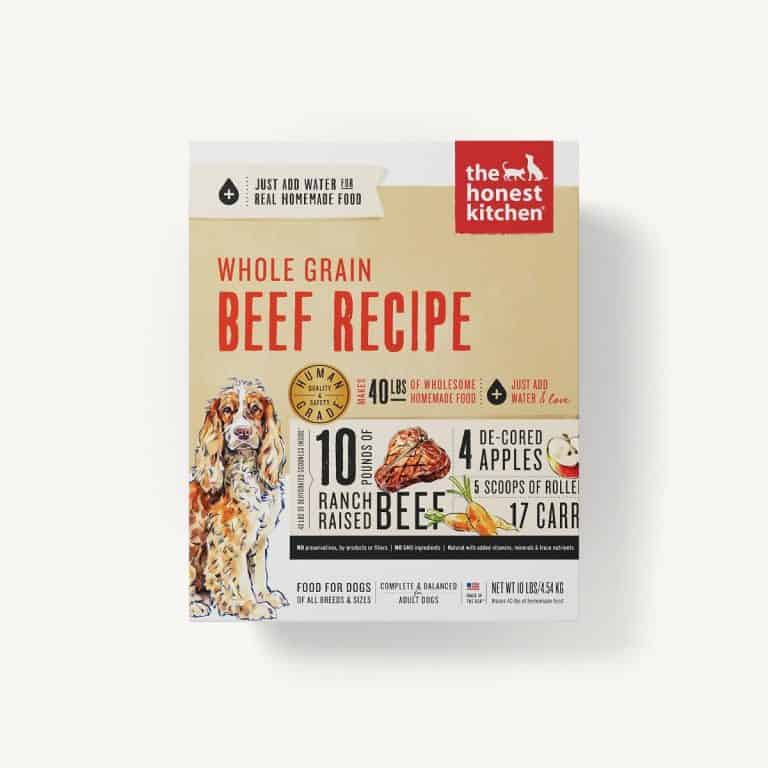 The Honest Kitchen is probably the best-known dehydrated dog food brand and has a range much larger than their competitors. This range includes grain-free dehydrated food, grain-inclusive dehydrated food, and even limited ingredient dehydrated food.
This gives a huge range of choices for dog owners to choose a recipe that best suits their dog's needs and tastes. The above Whole Grain Beef Recipe is one of the grain-inclusive recipes and is one of our favorites.
A large portion of Beef is the recipe's primary ingredient and provides a moderate proportion of high-quality animal-based protein and fat.
Outside of this Beef content, the recipe uses a mix of grains and Potatoes to provide a portion of carbohydrates, plant-based protein, and fiber. The grain included in this recipe are Oats and Barley, which are some of the most popular grains in premium dog food recipes.
Lastly, the recipe includes smaller portions of flaxseed, cranberries, and other minor ingredients, which provide some much-needed vitamins, minerals, and other beneficial micronutrients.
If you'd like to learn more about the Honest Kitchen brand, you can find our review of the brand here.
Sojos Complete Lamb Recipe Review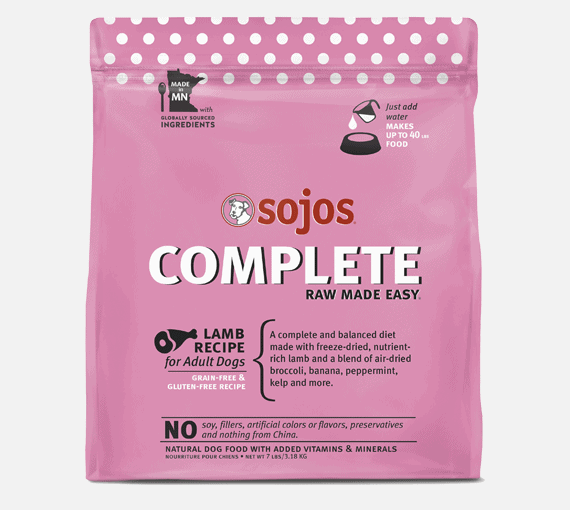 Sojos may not be as large as brands like The Honest Kitchen but they are still known in the dehydrated dog food industry.
What makes Sojos stand out in comparison to other brands is its use of raw meat ingredients. While many dog owners are afraid of the concept of raw food, it is growing in popularity, and there are strict procedures around production and storage.
The Lamb recipe from Sojos is one that stands out to us compared to others that use typical meat ingredients. Lamb is extremely nutritious and has a distinct rich flavor that many dogs will enjoy. This Lamb provides the bulk of the recipe's protein and fat content.
Outside of this Lamb, the recipe utilizes many of the popular plant-based ingredients that are used in grain-free dog food. Examples include Sweet Potatoes and Peas. But there are also other less common inclusions like Broccoli and Celery.
Regardless, this unusual combination provides a moderate proportion of carbohydrates, plant-based protein, and fiber.
To learn more about Sojos, take a read of our Sojos Brand Review Page.
Only Natural Pet EasyRaw Chicken & Sweet Potato Recipe Review
Only Natural Pet is a less well known brand of pet food but lack of popularity doesn't change the fact that their recipes are impressive.
The brand has three dehydrated dog food recipes which utilize Turkey, Beef, or Chicken. We've chosen to highlight the Chicken recipe thanks to its impressive protein proportion.
The recipe contains a whopping 32% protein which is far above most dog food brands, especially dehydrated recipes. This proportion of protein would be suitable for dogs of all activity levels, including those that are very active.
However, the fat proportion is quite low at 8%, which means that this recipe may be a good fit for dogs who are susceptible to weight gain.
If the protein proportion were not impressive enough, the recipe includes a large portion of Chicken Liver. Organ meat ingredients like Chicken Liver are excellent additions to dog food recipes and can provide additional protein and fat, enhance flavor, and boost the levels of beneficial vitamins and minerals that are lacking in traditional meat cuts.
Outside of the Chicken content, Only Natural Pet utilizes plant-based ingredients like Sweet Potatoes and Carrots. These provide a modest proportion of carbohydrates that is in line with other brands.
I and Love And You Stir & Boom Raw Raw Turk Boom Ba Dinner Review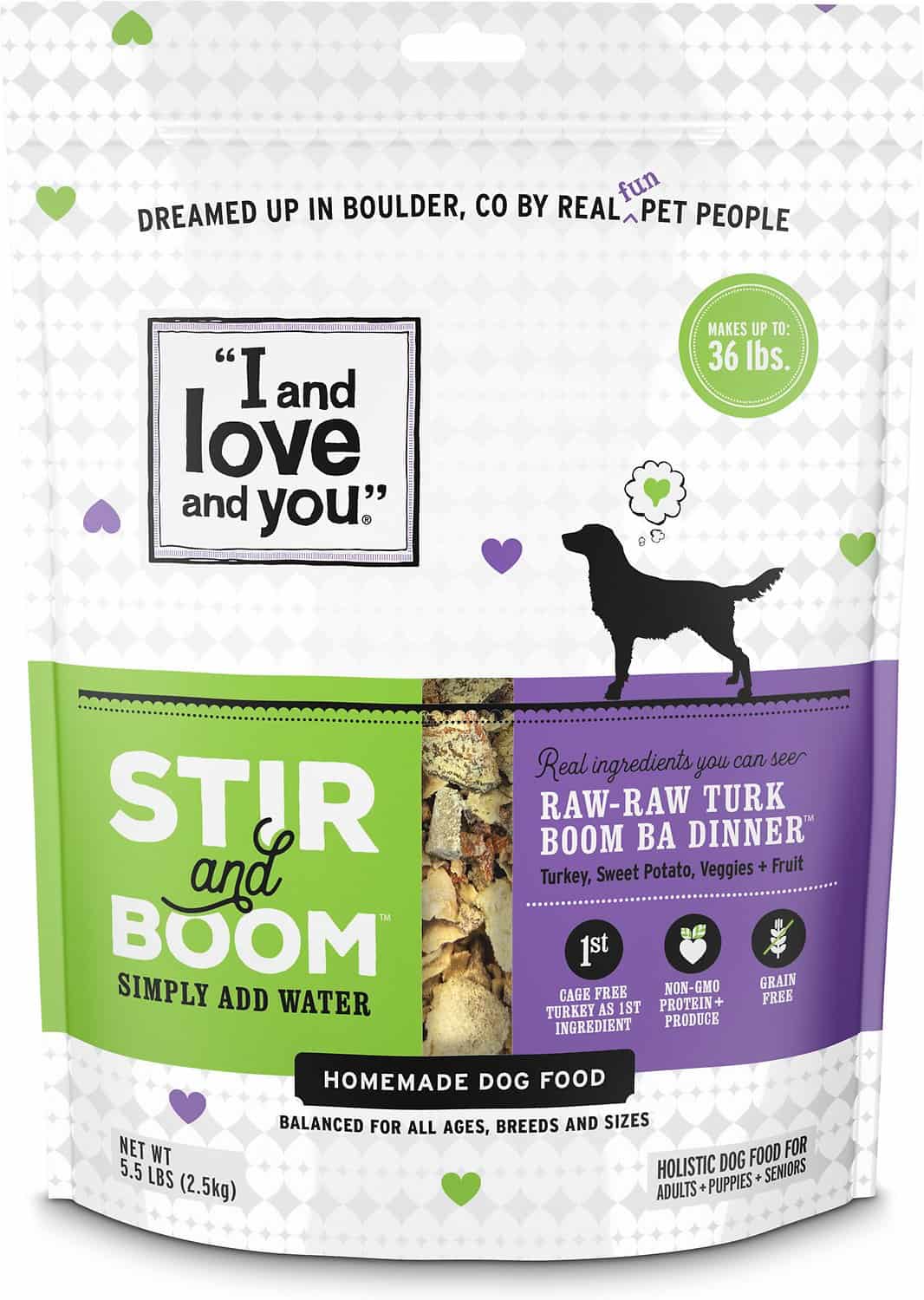 I And Love And You is a well-known pet food brand for both dog and cat food, however, they are best-known for their wet/canned recipes which feature unique and amusing names.
Many fans of the brand are unaware that they have a small selection of dehydrated dog food to offer, including the above Turkey-based recipe. These dehydrated recipes are similar to Sojos and utilize raw meat ingredients over cooked ones.
While the recipe may be named as if it contains a large portion of Turkey, the primary ingredient is actually Chicken. Regardless, Chicken is an excellent addition to any pet food recipe and can provide high-quality animal-based protein and fat.
This Chicken is joined by then joined by a smaller portion of Turkey which, when combined, provide a reasonable proportion of protein and fat.
This recipe from I And Love And You is the first discussed to heavily utilize Peas as many grain-free dry dog food recipes do. Pea Flour and Pea Starch are the two Pea-based ingredients found in the recipe, both of which are discussed heavily in our article Peas, Pea Protein, Pea Flour, and Pea Fiber in Dog Food.
Lastly, the recipe includes a smaller portion of Tapioca and Sweet Potatoes, which are both starch ingredients. They both act as a dense source of carbohydrates as well as providing some additional nutrition.
Be to sure to read our I And Love And You Brand Review, for an in-depth look at the brand.
Addiction Homestyle Venison & Cranberry Dinner Recipe Review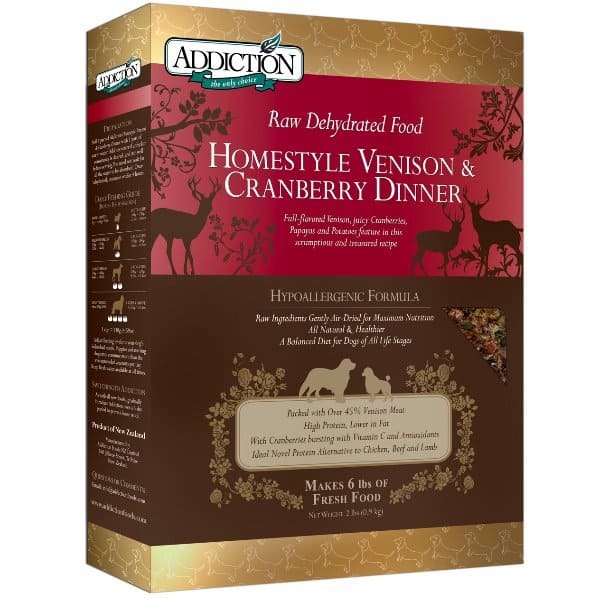 Addiction is a smaller dog food brand that is based in Australia. The brand is best-known for its use of exotic or uncommon meat ingredients like Kangaroo and the above-included Venison.
These meat ingredients are often suggested for dogs with severe allergies or sensitivities as they are less likely to have been previously exposed to them. You can read more about this concept in our Best Hypoallergenic Dog Foods Guide.
A large portion of Venison is the recipe's primary ingredient and provides it with a moderate proportion of protein and fat. Venison has a distinct game-like taste that many dogs enjoy.
Outside of this Venison, the recipe utilizes a mix of Oats and Potatoes as its primary plant-based ingredients. Both of these are dense sources of carbohydrates and can also provide some plant-based protein and fiber.
Lastly, Addiction recipes include smaller portions of some uncommon fruit and vegetable ingredients like Papayas, Spinach, and more. These ingredients provide additional carbohydrates, vitamins, and minerals as well as a unique flavor.
If you want to learn more about Addiction, including their Kangaroo-based dog food, be sure to visit our Addiction Brand Review.