Wellness Information
Wellness Pet Food is a major pet food brand in the United States was founded in 1997 and is owned and produced by WellPet LLC.
WellPet LLC is a large pet product conglomerate that owns several other pet food brands. Examples include Old Mother Hubbard, Eagle Pack, Holistic Select, and Sojos.
The company's headquarters are in Tewksbury, Massachusetts, and they have several manufacturing facilities across the United States, including Mishawaka, Indiana. Decatur, Arkansaw, and South St. Paul, Minnesota.
They also have a facility in Europe which is located in Veendam in the Netherlands.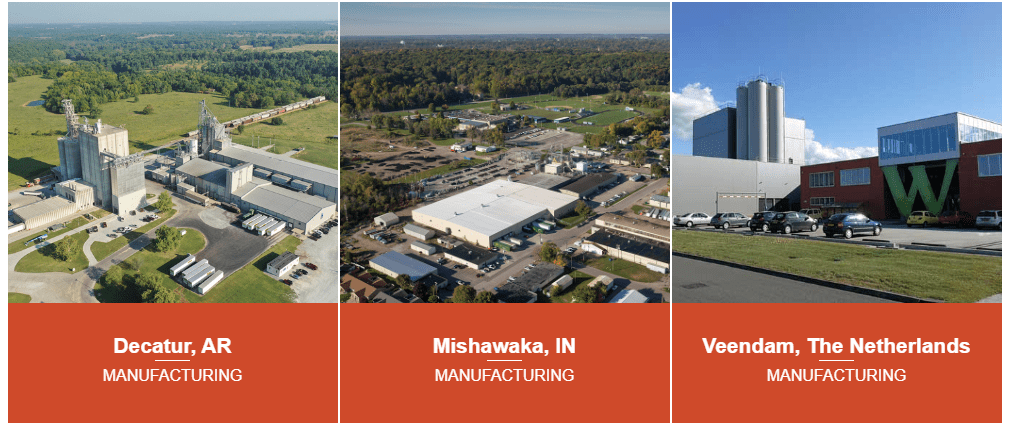 Like several other prominent pet food brands, Wellness also has a charitable organization known as the Wellness Foundation.
This charitable organization distributes funding to several pet-related causes across the United States, and you can learn more about it here.
Wellness Pet Food is one of the most available brands in the United States and would be found at almost all large pet retailers, such as PetSmart and Petco, as well as many small independent retailers.
If you can't find Wellness from a local store, it is also available from many of the large online sellers, such as Chewy and Amazon.
Wellness Product Range
Dog Food
Wellness has an extremely large range of dog food products, one of the largest in North America.
This Product range includes almost every niche and sub-variety you could imagine, and it would be impressive to find a dog who couldn't be fed Wellness food.
Examples of some of the different food types Wellness produces include puppy food, senior dog food, dog food for small and large breeds, raw dog food, wet dog food, and more.
We will also mention that Wellness dog food recipes are split into several sub-brands like CORE, Complete Health, and Simple.
The CORE recipes are the most premium choices and have more impressive nutritional value where, whereas some of the other sub-brands are the most cost-effective.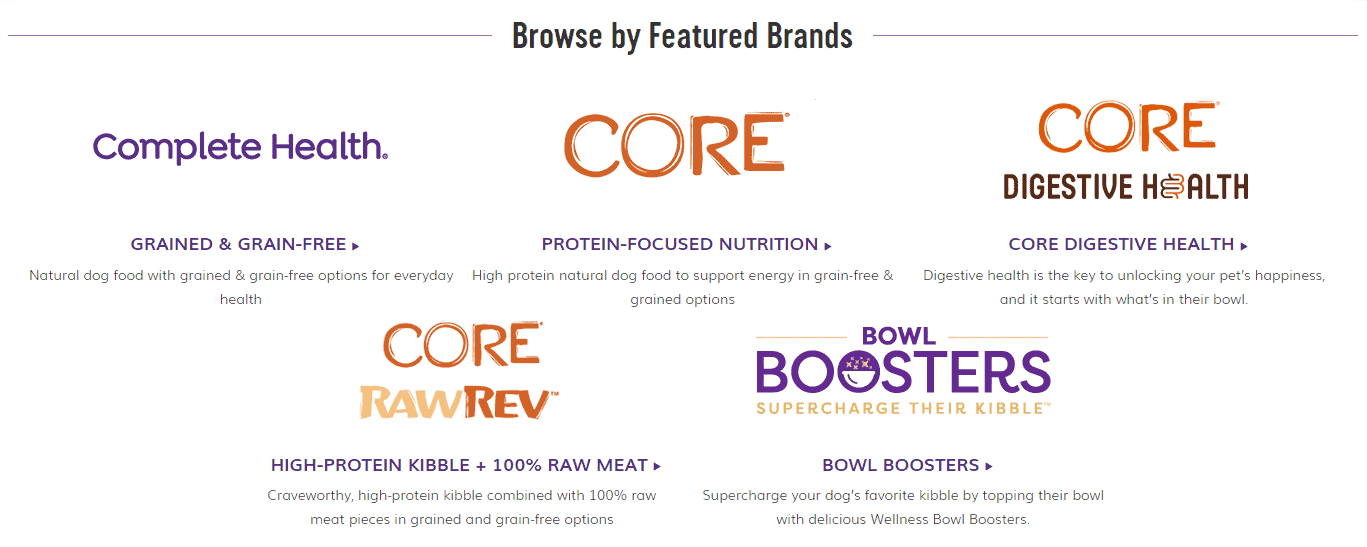 Cat Food
While some brands have an uneven balance between their dog food range and their cat food range, Wellness has a huge range of both.
This includes many of the same niche recipes for cats, such as kitten food, senior cat food, indoor cat food, and food for cats with health issues.
Wellness cat food range also includes many of the same sub-brands available for dogs, such as CORE and Complete Health.
Wellness Nutrition
Dog Food
Given the extremely large range of dog food products that Wellness produces, the nutrition they provide varies dramatically.
However, despite this variety, the nutrition provided by Wellness dog food recipes is usually above-average when compared to other similar brands.
However, there are some recipes that could be described as below-average or average, and there are others that could be described as significantly above average.
For this reason, it's important to evaluate the nutrition of the recipe you are considering and not the brand as a whole.
Below is an example of a Wellness recipe that provides above-average nutrition.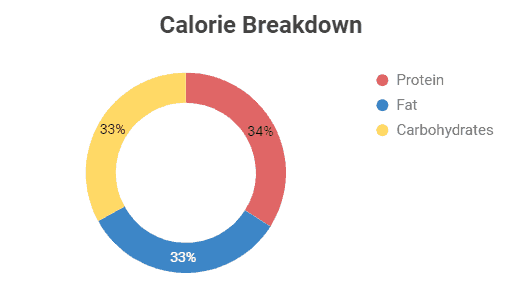 As you can see, the sum of protein and fat in this recipe makes up almost 70% of its nutritional content, whereas carbohydrates are just above 30%.
If you'd like to learn more about canine nutrition, we'd highly recommend you read our Dog Food Guide for a detailed overview and discussion.
Cat Food
Similar to their dog food range, the nutrition provided by Wellness cat food recipes varies significantly between their different product ranges and recipes.
Despite this, most Wellness cat food recipes provide above-average nutrition when compared to other brands.
You can see an example of the nutrition provided by a Wellness dry cat food recipe below.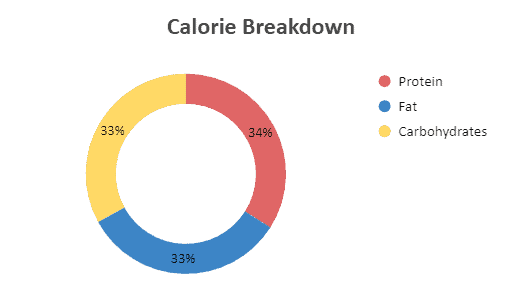 As you can see above, the sum of protein and fat in this recipe is 67%, which is a significant sum, whereas the carbohydrate proportion is 33%.
While far from high compared to other options, it is still notable, and given that cats are obligate carnivores, it is far higher than ideal.
To learn more about feline nutrition and what it means to be an obligate carnivore, check out our Cat Food Guide.
Wellness Ingredients
High-Quality Meat & Fish Ingredients
Chicken
Turkey
Duck
Lamb
Beef
Venison
Whitefish
Salmon
Herring
Given Wellness's extremely large product range, it will come as no surprise that they use a huge variety of meat and fish ingredients in their recipes. Some of these are listed above.
While each ingredient has its advantages, they are all excellent sources of animal or fish-based protein and fat. This should be at the core of every dog's and cat's diet.
Other Notable Ingredients
Wellness has a large number of grain-inclusive recipes, and they choose to use a variety of grains within these recipes. Examples of grains that can be found in Wellness recipes include Oatmeal, Barley, and Quinoa.
While the popularity and nutrition provided by grains vary, most of the grains used by Wellness are considered to be some of the best available.
This is because they are not heavily processed and include additional nutrition such as fiber and micronutrients. For example, read more about Barley in our article Barley In Dog Food.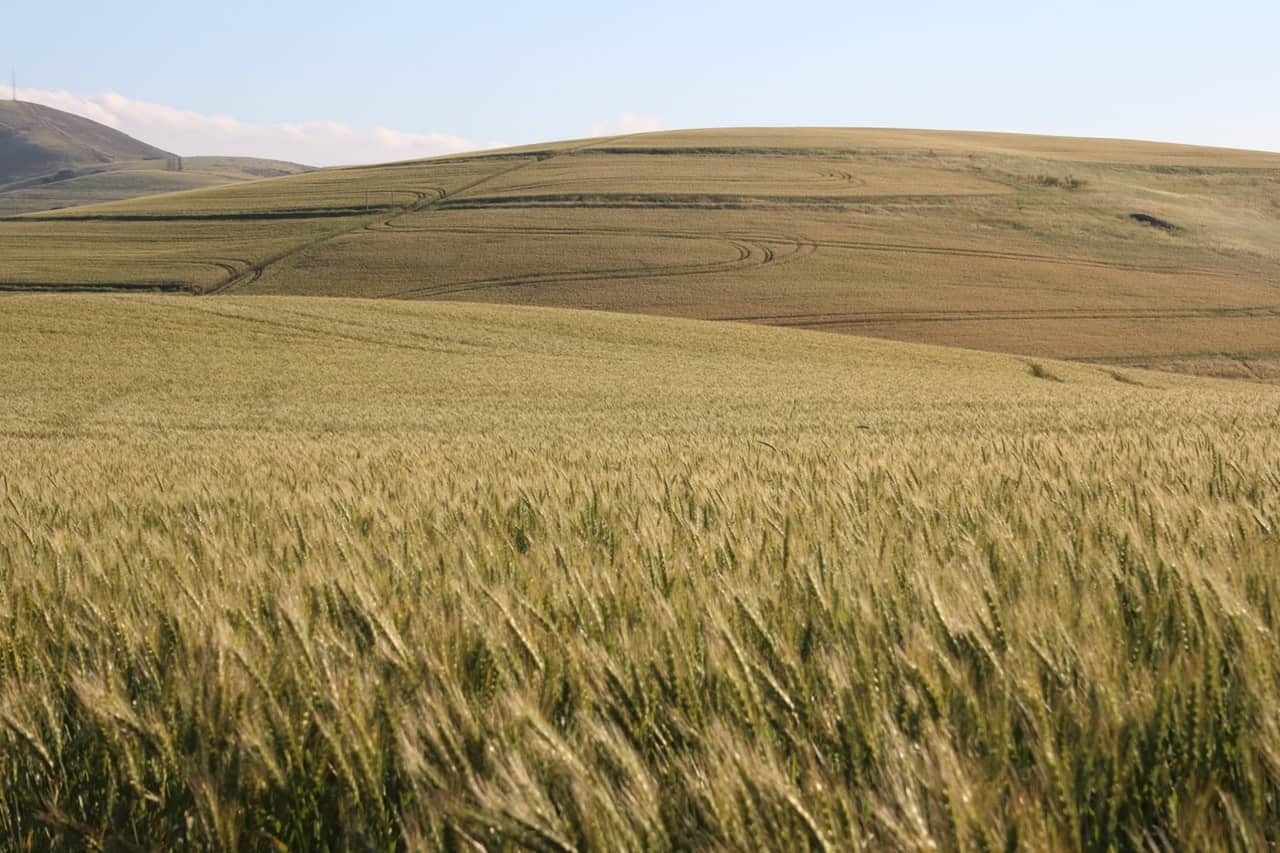 Peas, Chickpeas, and Lentils are all legumes and are some of the most common plant-based ingredients found in pet food.
This is because they are relatively inexpensive and can provide high levels of nutrition, including plant-based protein.
However, there has been growing concern about a link between increased rates of canine heart disease and high legume use in dog food.
You can read more about this in our article Best Dog Foods Without Peas.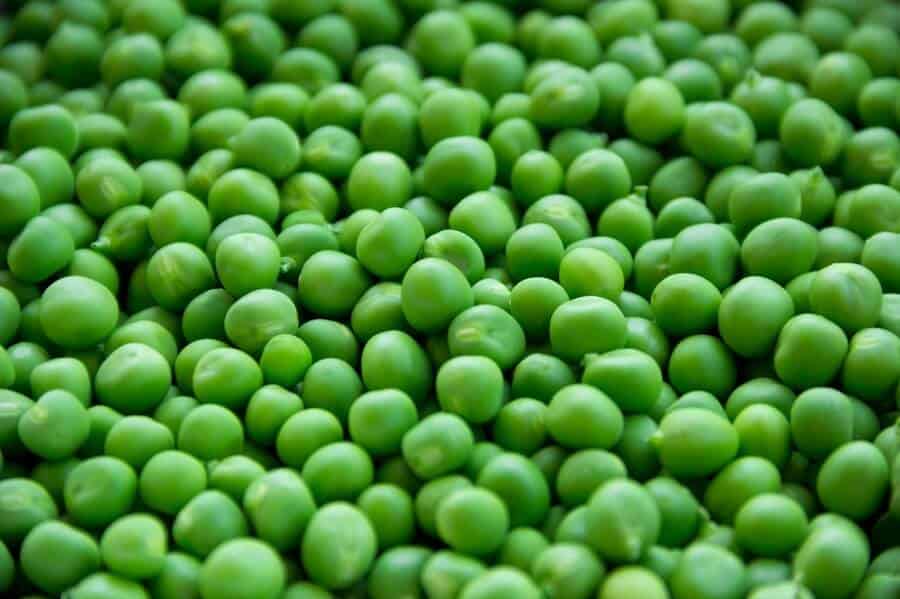 Sadly, Wellness also uses some legume by-products in its recipes, including Pea Protein.
By-products like Pea Protein are often used in pet food recipes to boost the overall level of protein without splashing out on higher-cost animal-based ingredients.
For this reason, many in the industry do not approve of its use, especially in higher quantities.
You can learn more about Pea Protein and other Pea By-Products in our article Peas, Pea Protein, Pea Flour, and Pea Fiber in Dog Food.
Tomato Pomace is added to pet food to provide soluble fiber. Soluble fiber can be important to some pets to ensure they have regular digestion and stools.
Tomato Pomace provides little nutrition beyond its fiber content. Learn more about Tomato Pomace in our article, Tomato Pomace as a Pet Food Ingredient?.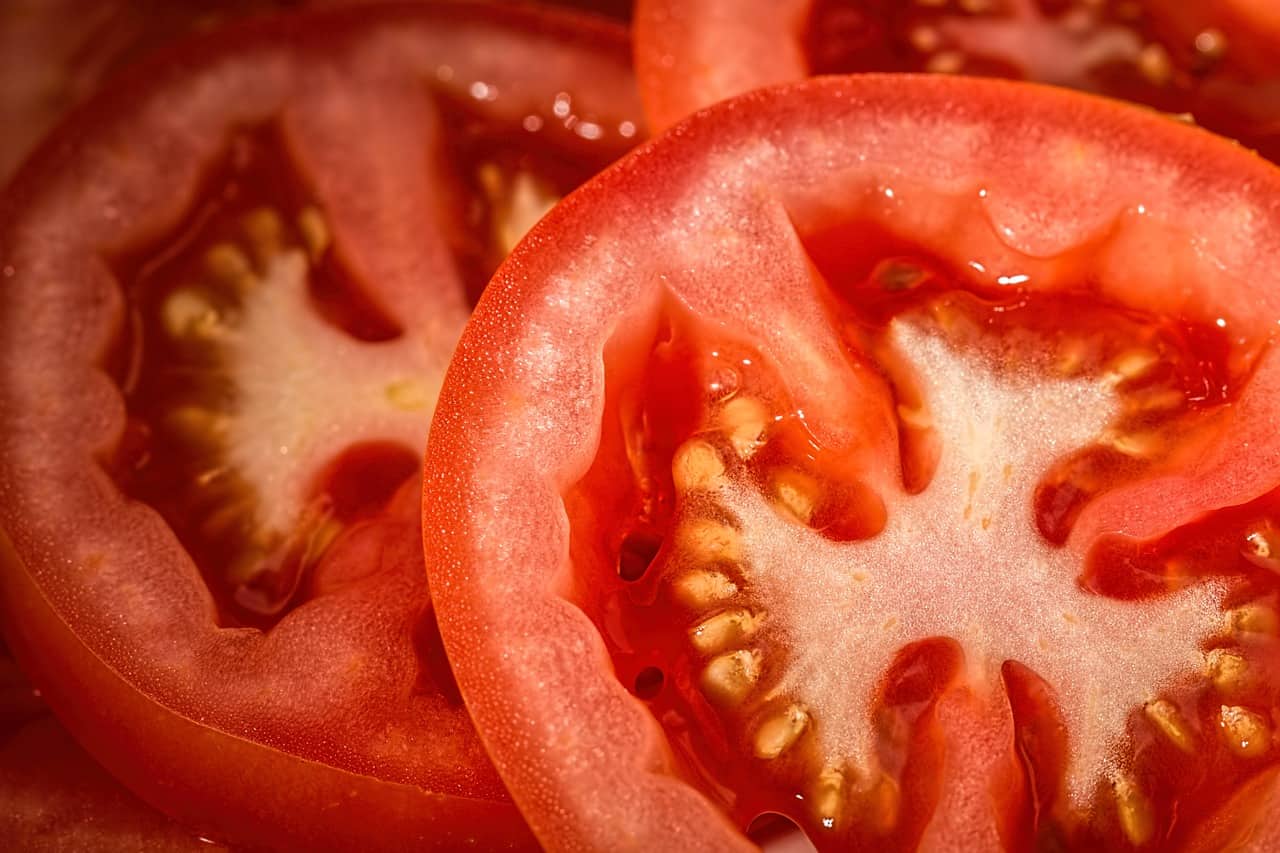 Chicken Fat is a regular addition to pet food recipes, and its primary purposes are to boost the overall level of animal-based in a recipe and to improve palatability and flavor.
While many focus on nutrition and ingredients, palatability is also incredibly important; if a pet does not eat the food, it can not benefit from its contents.
Chicken Fat is highly effective at this task and is a relatively cost-effective option. You can read more about Chicken Fat in our article Chicken Fat In Dog Food.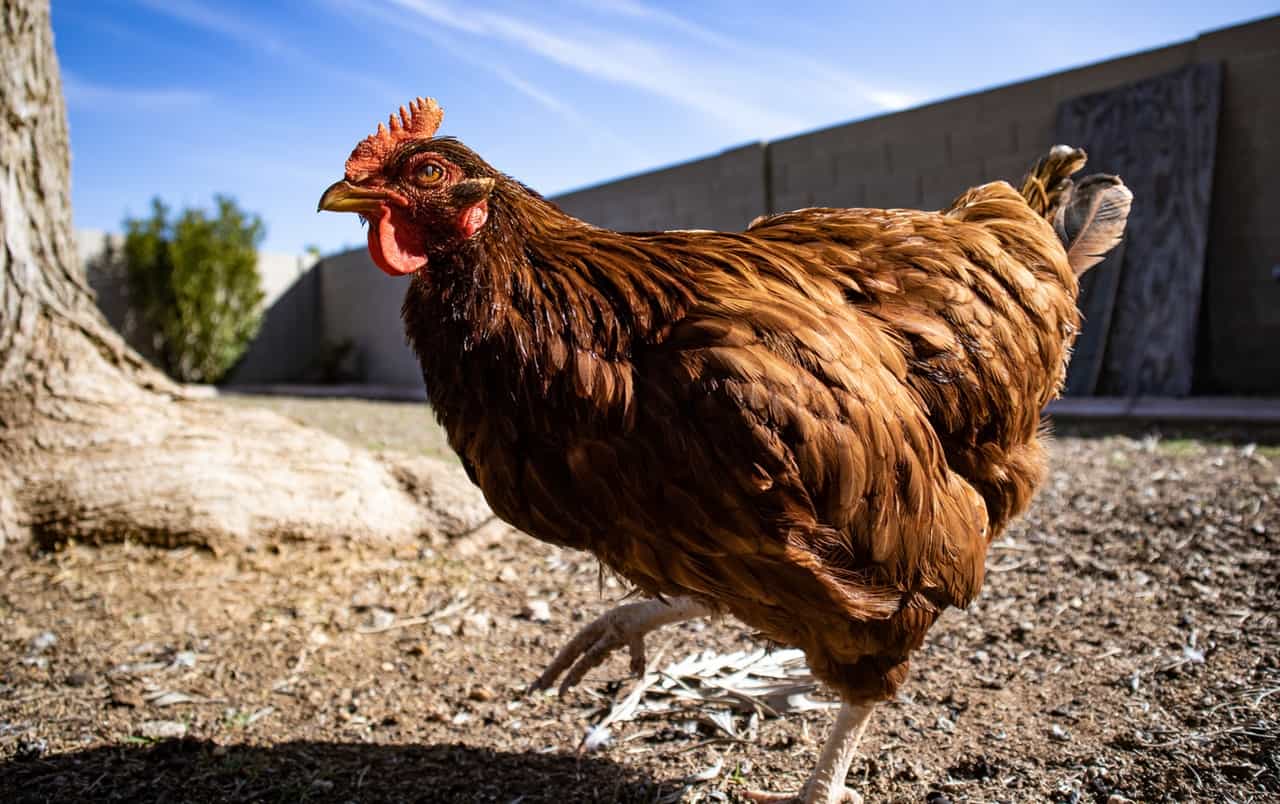 Flaxseed is another extremely common ingredient and is found throughout the industry, from smaller to massive brands.
Flaxseed is best known for being a dense plant-based source of the Omega 3 Fatty Acids. These fatty acids are well-known and can provide several benefits to pets, such as improving the condition of their skin, coat, and fur.
However, Flaxseed has some additional health benefits that are less well-known, and you can read about these in our article Flaxseed In Dog Food.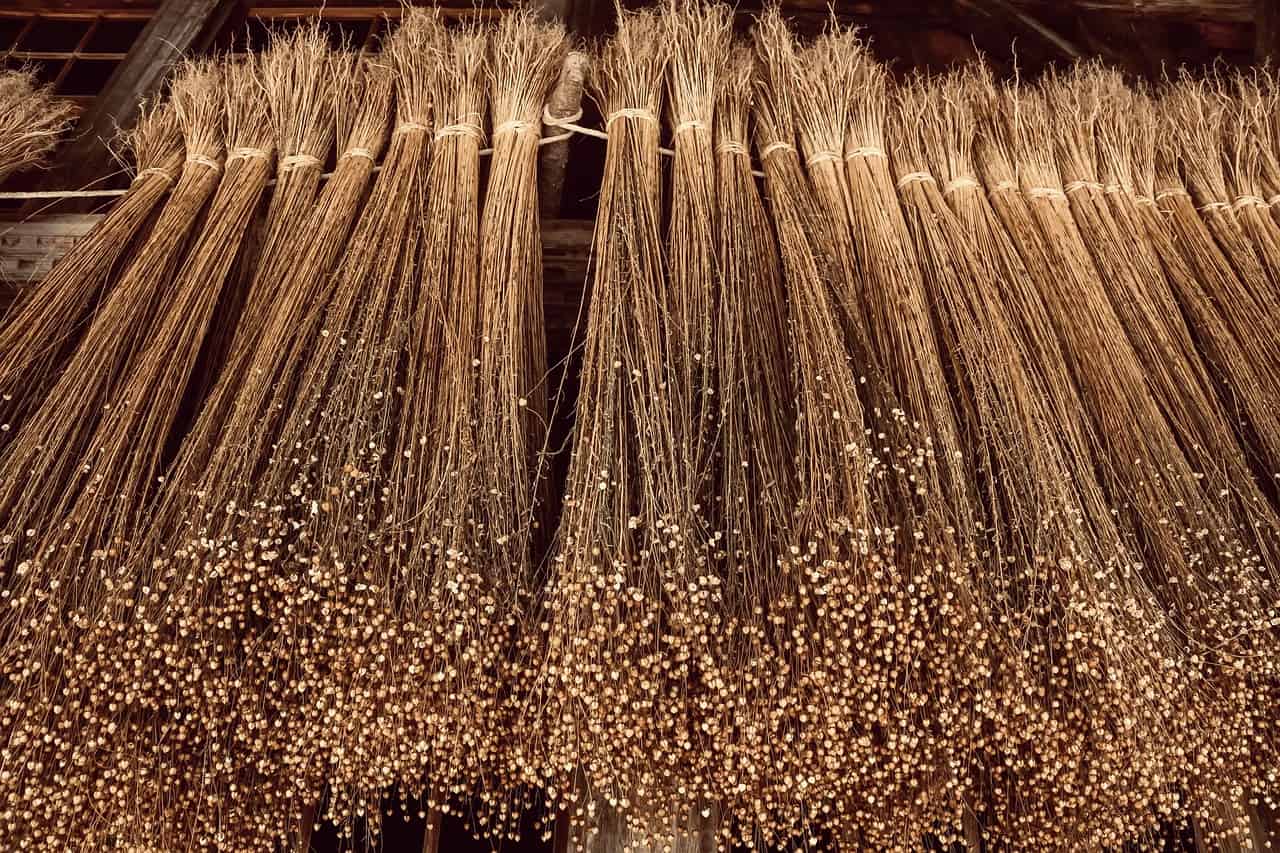 Lastly, some Wellness recipes contain a small portion of Canola Oil which is a common vegetable oil used in human foods.
While the Canola Oil does add some fat content to the recipe, it's likely that its purpose is as a binding agent to aid in holding the ingredients of the recipe together.
While this may not sound important, without binding agents, pet food will not be in uniform shapes and sizes and may be more difficult to eat.
You can read more about the use of Canola Oil in pet food recipes in our article Canola Oil In Dog Food.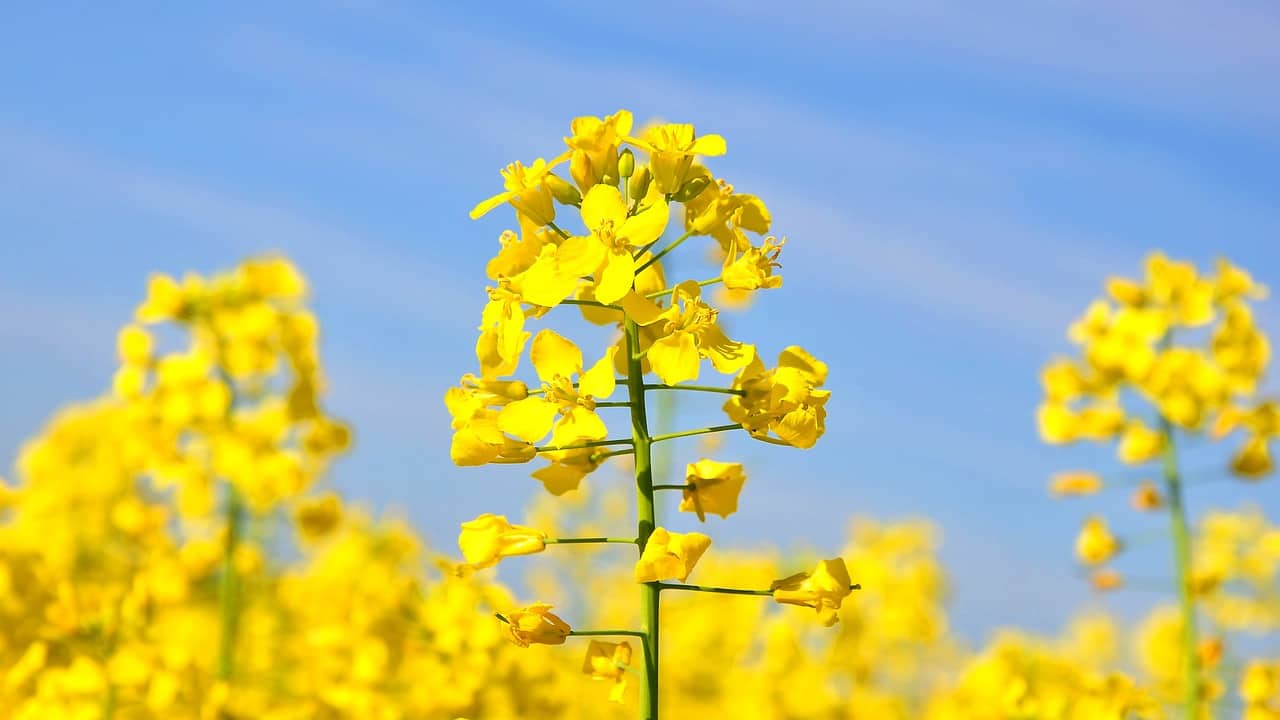 Wellness Animal Testing
We have no information on whether Wellness participates in invasive or laboratory-style testing of animals.
However, given the size and age of the brand, it's likely that they perform some form of feeding trials to test their products.
Many pet food brands do not disclose what type of testing they participate in, largely because they fear backlash or questions from their customers.
We strongly believe that invasive or laboratory-style testing of animals is a cruel and outdated practice and one which we hope will see a significant decline in the coming years.
Wellness Recalls
Based on our research (FDA, AVMA, DogFoodAdvisor), we have information that leads us to believe that Wellness products have been recalled multiple times and are, therefore, not a recall-free pet food brand.
In total, we could find information on five separate instances where Wellness products were recalled. Please see below for more details.
March 17, 2017 – The most recent of Wellness's recalls were in relation to elevated levels of a naturally-occurring beef thyroid hormone. The recipe in question for this recall was Wellness 95% Beef Topper.
This was an extremely unusual recall, and it is true that most consumers would not be familiar with the effects of a high level of beef thyroid hormones.
Despite this, Wellness displayed caution to their customer base in issuing a recall and warned them to be vigilant for symptoms such as increased thirst or urination and weight loss.
You can read the FDA's announcement of this recall here.
February 10, 2017 – The second most recent recall from Wellness concerned the presence of foreign material in some non-WellPet products manufactured in the same facility as Wellness canned cat food.
Foreign material is a concerning and serious issue, and Wellness did the right thing by recalling all related products.
If this material is large enough, it could cause a choking hazard or other damage to a cat's digestive system. It may not also be adequately sanitized and could introduce pathogens.
This recall included quite a few wet/canned cat food recipes, including the ones below.
Wellness Canned Cat 12.5 oz Chicken & Herring 04 AUG 2019
Wellness Canned Cat 12.5 oz Chicken 03 AUG 2019 & 04 AUG 2019
Wellness Canned Cat 12.5 oz Chicken & Lobster 04 AUG 2019
Wellness Canned Cat 12.5 oz Turkey & Salmon 05 AUG 2019
Wellness Canned Cat 12.5 oz Turkey 04 AUG 2019 & 05 AUG 2019
Wellness Canned Cat 12.5 oz Beef & Chicken 05 AUG 2019
Wellness Canned Cat 12.5 oz Beef & Salmon 05 AUG 2019
Wellness has a dedicated update page on its website regarding this recall which you can find here.
October 30, 2012 – Going much further back in Wellness's history, we found evidence of another recall in 2012, and this recall was due to the moisture content in a dog food recipe that was higher than expected.
While wet dog food recipes have huge portions of moisture, dry dog food recipes tend to be far lower and at typically only 8-12% moisture.
The main risk of high moisture content in dry dog food is that it can cause mold and other dangerous growth.
This mold could then lead to illness if consumed by the dog, especially in large enough quantities. While most dog owners would notice this while portioning their dog's food, some may not, especially if it isn't hugely visible.
Thankfully this particular recall only affected a single small breed dog food recipe.
Wellness Small Breed Adult Health – 12 lbs – Best By August 18, 2013
May 4, 2012 – Just a few months prior, in 2012, Wellness issued another voluntary recall related to possible Salmonella contamination.
While some of Wellness's other recalls have been for far more obscure reasons, Salmonella contamination is one of the most common causes.
The recall was by the discovery of Salmonella in another brand's recipe produced at the same facility.
Recalls due to possible Salmonella contamination are one of the most common types of recall. This is because almost all dog food is tested for Salmonella before it is distributed.
Thankfully, the scope of this recall was small and only affected a single large-breed dog food recipe.
Wellness Complete Health Super5Mix Large Breed Puppy – 15 lbs, 30 lbs, & 5oz sample bags – Best By Jan 9, 2013 – Jan 11, 2013.
February 28, 2011 – Lastly, the earliest Wellness recall we could find information on for Wellness regarded insufficient levels of Thiamine in some of their cat food recipes.
While the majority of recipes tested with sufficient levels of Thiamine, some did not, and Wellness did a voluntary recall as a precaution.
Thiamine is a critical component of a cat's diet, and consuming low levels of it for a sustained period can cause adverse effects such as decreased appetite, vomiting, and weight loss.
Wellness Canned Cat Food (all sizes) – Best By 14 April 2013 – 30 September 2013
Wellness Canned Cat Food Chicken & Herring (all sizes) – Best By 10 November 2013 or 17 November 2013
Best of Wellness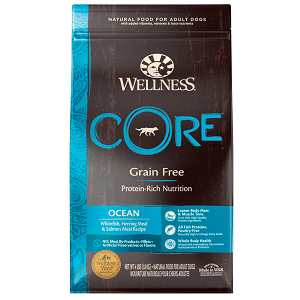 ㅤ
From Wellness's core range, there are several high-quality dry dog food recipes worth considering, but the above Ocean recipe has been our favorite for some time.
Thanks to a large portion of several fish ingredients, including Whitefish, Herring Meal, Salmon Meal, and Menhaden Fish Meal, the recipe provide a huge proportion of high-quality protein and fat.
The levels present are a minimum of 34% protein and 15% fat which are far above the average for a dry dog food recipe.
The recipe then uses a small portion of several plant-based ingredients, including Peas, Lentils, and Ground Potatoes, and these ingredients provide a modest proportion of carbohydrates and fiber.
Core Pate Beef, Venison & Lamb Review
ㅤ
The Core range from Wellness isn't just limited to dry dog food. There is also a wide selection of wet dog food recipes to choose from, including the above Beef, Venison, & Lamb Formula.
This unusual mix of red meat ingredients is sure to make this recipe extremely appealing to many dogs.
The inclusion of organ meat ingredients such as Beef Liver and Pork Liver will also amplify the taste further.
This combination of meat and organ ingredients combine to an impressive 12% protein and 8% fat which is extremely high for a wet dog food recipe.
Outside of these meat ingredients, the recipe only contains a very tiny portion of plant-based ingredients, including Carrots, Sweet Potatoes, Kale, Broccoli, and more.
Original + 100% Raw Turkey Review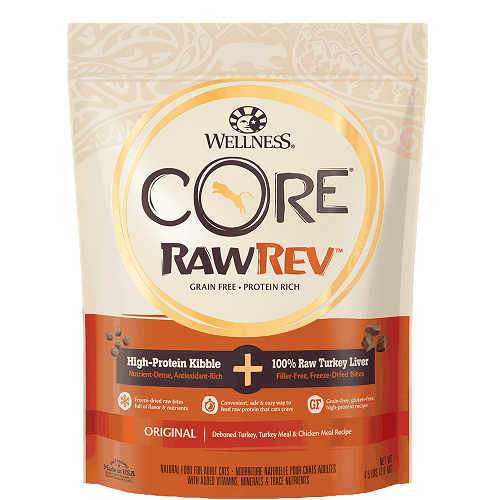 ㅤ
Core 95% Chicken & Salmon Review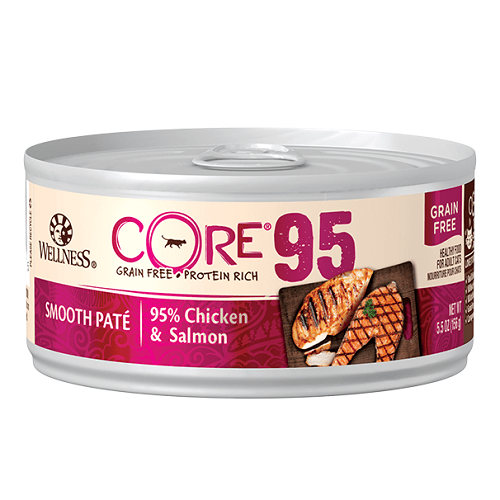 ㅤ
Wellness Featured Articles
Best Dog Food At Tractor Supply
Wellness Full Products Range
Dry Dog Food
Complete Health
Lamb & Barley
Whitefish & Sweet Potato
Senior
Deboned Chicken & Oatmeal
Healthy Weight
Puppy
Turkey & Oatmeal
Small Breed Puppy
Small Breed Healthy Weight
Small Breed Senior
Toy Breed
Small Breed Whitefish, Salmon Meal, & Peas
Large Breed Adult
Large Breed Puppy
Complete Health Grain Free
Deboned Chicken & Chicken Meal
Whitefish & Menhaden Fish Meal
Lamb & Lamb Meal
Puppy
Small Breed
Large Breed
Core
Original
Wild Game
Lamb
Reduced Fat
Senior
Small Breed Original
Small Breed Puppy
Small Breed Healthy Weight
Large Breed
Large Breed Puppy
Core RawRev
Original + 100% Raw Turkey
Small Breed + 100% Raw Turkey
Wild Game + 100% Raw Lamb
Puppy Original + 100% Raw Turkey
Healthy Weight + 100% Raw Turkey
Core Wholesome Grains
Original
Ocean
Small Breed
Puppy
Core RawRev Wholesome Grains
Original + 100% Raw Turkey
Ocean + 100% Raw Fish
Small Breed + 100% Raw Turkey
Puppy + 100% Raw Turkey
Core Six
Cage Free Duck
Free Range Lamb
Sustainably Sourced Salmon
Small Breed Sustainably Sourced Salmon
Complete Health Limited Ingredient
Salmon & Potato
Deboned Turkey & Potato
Simple
Duck & Oatmeal
Lamb & Oatmeal
Simple Grain Free
Salmon & Potato
Turkey & Potato
Small Breed
Healthy Weight
Core Air-Dried
Original
Ocean
Puppy
Wet Dog Food
Complete Health Pate
Chicken & Sweet Potato
Lamb & Sweet Potato
Duck & Sweet Potato
Just For Puppy
Senior
Turkey & Sweet Potato
Complete Health Limited Ingredient
Turkey & Potato
Homestyle Stews
Grain Free Beef Stew With Carrots & Potatoes
Grain Free Chicken Stew With Peas & Carrots
Turkey Stew With Barley & Carrots
Grain Free Turkey & Duck Stew With Sweet Potatoes & Cranberries
Lamb & Beef Stew With Brown Rice And Apples
Venison & Salmon Stew With Potatoes & Carrots
Petite Entrees
Roasted Chicken, Carrots & Red Peppers in Gravy
Tender Turkey, Green Beans & White Sweet Potatoes in Gravy
Roasted Beef, Carrots & Red Peppers in Gravy
Roasted Chicken, Beef, Carrots & Green Beans in Gravy
Tender Chicken, Green Beans & Carrots
Roasted Turkey, Duck, Carrots & Peas
Braised Beef, Salmon, Green Beans & Red Peppers
Roasted Lamb, Peas & White Sweet Potatoes
Braised Lamb, Venison, White Sweet Potatoes & Carrots
Roasted Chicken, Beef, Green Beans & Red Peppers
Tender Chicken, Turkey, Carrots & Green Beans
Roasted Chicken, Duck, Peas & Carrots
Core Pate
Turkey, Chicken Liver, And Turkey Liver
Whitefish, Salmon, & Herring
Puppy
Beef, Venison & Lamb
Weight Management
Turkey, Pork Liver & Duck
Core Hearty Cuts
Beef & Venison
Turkey & Duck
Whitefish & Salmon
Chicken & Turkey
Core Chunky Centers
Beef, Lamb and White Sweet Potato
Chicken, Chicken Liver and Spinach
Turkey, Duck and White Sweet Potato
Salmon, Tuna and Spinach
Lamb, Turkey and Kale
Tuna, Chicken and Kale
Core 95%
95% Chicken with Broccoli
95% Turkey with Spinach
95% Beef with Carrots
Core Small Breed Mini Meals
Pâté Chicken Entrée
Shredded Chicken & Turkey Dinner in Gravy
Shredded Chicken & Lamb Entrée in Gravy
Chunky Chicken & Chicken Liver
Chunky Chicken & Tuna
Pate Beef & Chicken Dinner
Simply Pate
Turkey & Potato
Duck & Oatmeal
Lamb & Oatmeal
Dry Cat Food
Complete Health Grain Free
Adult Deboned Chicken & Chicken Meal
Kitten Deboned Chicken & Chicken Meal
Indoor Salmon & Herring
Indoor Deboned Chicken & Chicken Meal
Indoor Healthy Weight Chicken
Adult Salmon & Salmon Meal
Senior Recipe Deboned Chicken & Chicken Meal
Complete Health With Wholesome Grains
Adult Salmon & Salmon Meal
Adult Deboned Chicken, Chicken Meal & Rice
Indoor Deboned Chicken & Chicken Meal
Hairball Chicken Meal & Rice
Core
Original Deboned Turkey, Turkey Meal & Chicken Meal
Kitten Deboned Turkey, Turkey Meal & Deboned Chicken
Adult Turkey, Turkey Meal & Duck
Indoor Deboned Chicken, Turkey and Chicken Meals
Indoor Salmon & Herring
Core RawRev
Original + 100% Raw Turkey
Indoor + 100% Raw Turkey
Wet/Canned Cat Food
Complete Health Pate
Chicken & Herring
Turkey & Salmon
Chicken
Beef & Chicken
Turkey
Chicken & Lobster
Salmon & Trout
Kitten
Beef & Salmon
Complete Health Gravies
Chicken Dinner
Turkey Dinner
Tuna Dinner
Salmon Dinner
Complete Health Minced
Tuna Dinner
Turkey Entree
Chicken Dinner
Salmon Dinner
Turkey & Salmon Entrée
Complete Health Sliced
Turkey Entree
Salmon Entree
Chicken Entree
Turkey & Salmon Dinner
Complete Health Morsels
Tuna Entrée
Turkey & Salmon Entrée
Turkey Dinner
Salmon Dinner
Chicken Entree
Healthy Indulgence
Chicken & Turkey
Tuna & Shrimp
Chicken & Chicken Liver
Tuna
Chicken & Salmon
Salmon & Tuna
Turkey & Duck
Chicken & Turkey
Chicken & Turkey
Tuna & Mackerel