Wellness Information
Wellness Pet Food was founded in 1997 and is owned and produced by WellPet LLC. The company's headquarters are in Massachusetts, and some of their products are manufactured in Mishawaka, Indiana.
WellPet LLC is a large pet product conglomerate that owns several other pet food brands. Examples include Old Mother Hubbard, Eagle Pack, and Holistic Select.
Wellness Pet Food is found at almost all large pet retailers, such as PetSmart and Petco, small independent retailers, and massive online sellers such as Chewy and Amazon.
Wellness Product Range
Dog Food
Wellness has an extremely large range of dog food products, one of the largest in North America.
This range includes almost every niche and sub-variety you could imagine. Examples include puppy food, senior dog food, dog food for small and large breeds, raw dog food, wet dog food, and more.
Cat Food
Wellness Nutrition
Dog Food
Given the extremely large range of dog food products that Wellness produces, the nutrition they provide varies dramatically.
However, despite this variety, the nutrition provided by Wellness dog food recipes is usually above-average.
However, there are some recipes that could be described as below-average or average, and there are others that could be described as significantly above-average. For this reason, it's important to evaluate the nutrition of the recipe you are considering and not the brand as a whole.
Below is an example of a Wellness recipe that provides above-average nutrition.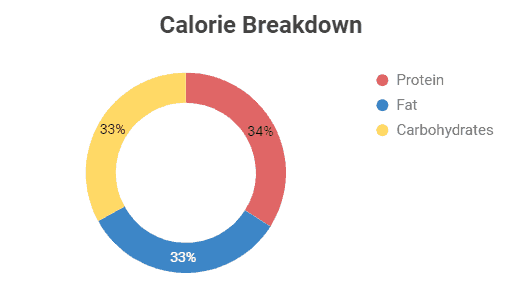 Cat Food
Wellness Ingredients
High-Quality Meat & Fish Ingredients
Chicken
Turkey
Duck
Lamb
Beef
Venison
Whitefish
Salmon
Herring
Given Wellness's extremely large product range, it will come as no surprise that they use a huge variety of meat and fish ingredients in their recipes. Some of these are listed above.
While each ingredient has its advantages, they are all excellent sources of animal or fish-based protein and fat. This should be at the core of every dog's and cats' diet.
Other Notable Ingredients
Wellness has a large number of grain-inclusive recipes, and they choose to use a variety of grains within these recipes. Examples of grains that can be found in Wellness recipes include Oatmeal, Barley, and Quinoa.
While the popularity and nutrition provided by grains vary, most of the grains used by Wellness are considered to be some of the best available. This is as they are not heavily processed and include additional nutrition such as fiber and micronutrients. For example, read more about Barley in our article Barley In Dog Food.
Peas, Chickpeas, and Lentils are all legumes and are some of the most common plant-based ingredients found in pet food. This is as they are relatively inexpensive and can provide high levels of plant-based protein.
However, there has been growing concern at a link between canine heart disease and high legume use in dog food. You can read more about this in our article Best Dog Foods Without Peas.
Pea Protein
Tomato Pomace is added to pet food to provide soluble fiber. Soluble fiber can be important to some pets to ensure they have regular digestion and stools. Tomato Pomace provides little nutrition beyond its fiber content. Learn more about Tomato Pomace in our article, Tomato Pomace as a Pet Food Ingredient?.
Chicken Fat
Flaxseed
Canola Oil
Wellness Animal Testing
We have no information on whether Wellness participates in invasive or laboratory-style testing of animals.
We strongly believe that invasive or laboratory-style testing of animals is a cruel and outdated practice and one which we hope will see a significant decline in the coming years.
Wellness Recalls
Based on our research (FDA, AVMA, DogFoodAdvisor), we have information that leads us to believe that Wellness products have been recalled multiple times.
In total, we could find information on five separate instances where Wellness products were recalled. Please see below for more details.
March 17, 2017 – The most recent of Wellness's recalls was in relation to elevated levels of a naturally-occurring beef thyroid hormone. The recipe in question was Wellness 95% Beef Topper.
Many consumers would not be familiar with the effects of a high level of beef thyroid hormones, but they can include increased thirst or urination and weight loss.
February 10, 2017 – The second most recent recall from Wellness concerned the presence of foreign material in some non-WellPet products manufactured in the same facility as Wellness canned cat food.
Foreign material is a concerning and serious issue, and Wellness did the right thing to recall all related products. This included quite a few wet/canned cat food recipes, including the below.
Chicken & Herring Canned Cat Food
Chicken Canned Cat Food
Chicken & Lobster Canned Cat Food
Turkey & Salmon Canned Cat Food
Turkey Canned Cat Food
Beef & Chicken Canned Cat Food
Beef & Salmon Canned Cat Food
October 30, 2012 – This recall was due to moisture content in a dog food recipe that was higher than expected. The main risk of high moisture content in dry dog food is that it can cause mold and other growth. This could lead to illness if consumed.
Thankfully this recall only affected a single small breed dog food recipe.
May 4, 2012 – This recall was related to possible Salmonella contamination and only effected a single large breed dog food recipe. The recall was voluntary and was prompted by the discovery of Salmonella in another brand's recipe produced at the same facility.
Recalls due to possible Salmonella contamination is one of the most common types of recall. This is as almost all dog food is tested for Salmonella before it is distributed.
February 28, 2011 – The earliest Wellness recall we could find information on regarded insufficient levels of thiamine in some of their cat food recipes. While the majority of recipes tested with sufficient levels, some did not, and Wellness did a voluntary recall as a precaution.
Thiamine is a critical component of a cat's diet, and consuming low levels of it for a sustained period can cause adverse effects such as decreased appetite, vomiting, and weight loss.
Best of Wellness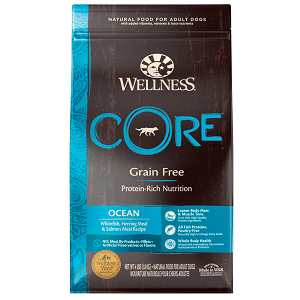 ㅤ
Core Pate Beef, Venison & Lamb Review
ㅤ
Original + 100% Raw Turkey Review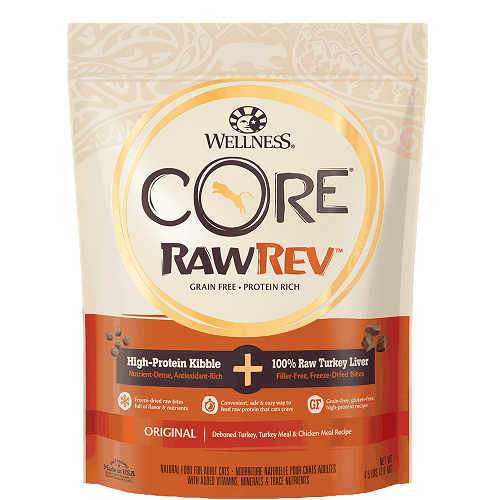 ㅤ
Core 95% Chicken & Salmon Review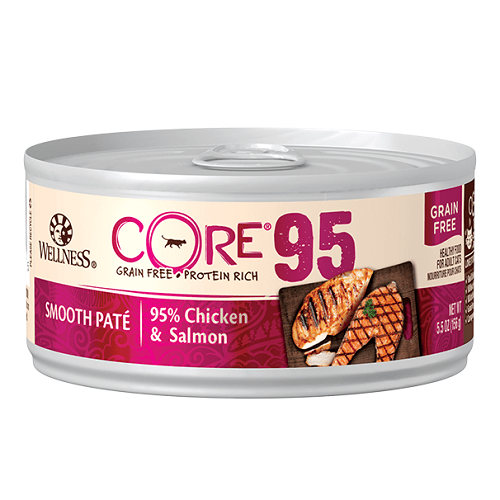 ㅤ
Wellness Featured Articles
Best Dog Food At Tractor Supply
Wellness Full Products Range
Dry Dog Food
Complete Health
Lamb & Barley
Whitefish & Sweet Potato
Senior
Deboned Chicken & Oatmeal
Healthy Weight
Puppy
Turkey & Oatmeal
Small Breed Puppy
Small Breed Healthy Weight
Small Breed Senior
Toy Breed
Small Breed Whitefish, Salmon Meal, & Peas
Large Breed Adult
Large Breed Puppy
Complete Health Grain Free
Deboned Chicken & Chicken Meal
Whitefish & Menhaden Fish Meal
Lamb & Lamb Meal
Puppy
Small Breed
Large Breed
Core
Original
Wild Game
Lamb
Reduced Fat
Senior
Small Breed Original
Small Breed Puppy
Small Breed Healthy Weight
Large Breed
Large Breed Puppy
Core RawRev
Original + 100% Raw Turkey
Small Breed + 100% Raw Turkey
Wild Game + 100% Raw Lamb
Puppy Original + 100% Raw Turkey
Healthy Weight + 100% Raw Turkey
Core Wholesome Grains
Original
Ocean
Small Breed
Puppy
Core RawRev Wholesome Grains
Original + 100% Raw Turkey
Ocean + 100% Raw Fish
Small Breed + 100% Raw Turkey
Puppy + 100% Raw Turkey
Core Six
Cage Free Duck
Free Range Lamb
Sustainably Sourced Salmon
Small Breed Sustainably Sourced Salmon
Complete Health Limited Ingredient
Salmon & Potato
Deboned Turkey & Potato
Simple
Duck & Oatmeal
Lamb & Oatmeal
Simple Grain Free
Salmon & Potato
Turkey & Potato
Small Breed
Healthy Weight
Core Air-Dried
Original
Ocean
Puppy
Wet Dog Food
Complete Health Pate
Chicken & Sweet Potato
Lamb & Sweet Potato
Duck & Sweet Potato
Just For Puppy
Senior
Turkey & Sweet Potato
Complete Health Limited Ingredient
Turkey & Potato
Homestyle Stews
Grain Free Beef Stew With Carrots & Potatoes
Grain Free Chicken Stew With Peas & Carrots
Turkey Stew With Barley & Carrots
Grain Free Turkey & Duck Stew With Sweet Potatoes & Cranberries
Lamb & Beef Stew With Brown Rice And Apples
Venison & Salmon Stew With Potatoes & Carrots
Petite Entrees
Roasted Chicken, Carrots & Red Peppers in Gravy
Tender Turkey, Green Beans & White Sweet Potatoes in Gravy
Roasted Beef, Carrots & Red Peppers in Gravy
Roasted Chicken, Beef, Carrots & Green Beans in Gravy
Tender Chicken, Green Beans & Carrots
Roasted Turkey, Duck, Carrots & Peas
Braised Beef, Salmon, Green Beans & Red Peppers
Roasted Lamb, Peas & White Sweet Potatoes
Braised Lamb, Venison, White Sweet Potatoes & Carrots
Roasted Chicken, Beef, Green Beans & Red Peppers
Tender Chicken, Turkey, Carrots & Green Beans
Roasted Chicken, Duck, Peas & Carrots
Core Pate
Turkey, Chicken Liver, And Turkey Liver
Whitefish, Salmon, & Herring
Puppy
Beef, Venison & Lamb
Weight Management
Turkey, Pork Liver & Duck
Core Hearty Cuts
Beef & Venison
Turkey & Duck
Whitefish & Salmon
Chicken & Turkey
Core Chunky Centers
Beef, Lamb and White Sweet Potato
Chicken, Chicken Liver and Spinach
Turkey, Duck and White Sweet Potato
Salmon, Tuna and Spinach
Lamb, Turkey and Kale
Tuna, Chicken and Kale
Core 95%
95% Chicken with Broccoli
95% Turkey with Spinach
95% Beef with Carrots
Core Small Breed Mini Meals
Pâté Chicken Entrée
Shredded Chicken & Turkey Dinner in Gravy
Shredded Chicken & Lamb Entrée in Gravy
Chunky Chicken & Chicken Liver
Chunky Chicken & Tuna
Pate Beef & Chicken Dinner
Simply Pate
Turkey & Potato
Duck & Oatmeal
Lamb & Oatmeal
Dry Cat Food
Complete Health Grain Free
Adult Deboned Chicken & Chicken Meal
Kitten Deboned Chicken & Chicken Meal
Indoor Salmon & Herring
Indoor Deboned Chicken & Chicken Meal
Indoor Healthy Weight Chicken
Adult Salmon & Salmon Meal
Senior Recipe Deboned Chicken & Chicken Meal
Complete Health With Wholesome Grains
Adult Salmon & Salmon Meal
Adult Deboned Chicken, Chicken Meal & Rice
Indoor Deboned Chicken & Chicken Meal
Hairball Chicken Meal & Rice
Core
Original Deboned Turkey, Turkey Meal & Chicken Meal
Kitten Deboned Turkey, Turkey Meal & Deboned Chicken
Adult Turkey, Turkey Meal & Duck
Indoor Deboned Chicken, Turkey and Chicken Meals
Indoor Salmon & Herring
Core RawRev
Original + 100% Raw Turkey
Indoor + 100% Raw Turkey
Wet/Canned Cat Food
Complete Health Pate
Chicken & Herring
Turkey & Salmon
Chicken
Beef & Chicken
Turkey
Chicken & Lobster
Salmon & Trout
Kitten
Beef & Salmon
Complete Health Gravies
Chicken Dinner
Turkey Dinner
Tuna Dinner
Salmon Dinner
Complete Health Minced
Tuna Dinner
Turkey Entree
Chicken Dinner
Salmon Dinner
Turkey & Salmon Entrée
Complete Health Sliced
Turkey Entree
Salmon Entree
Chicken Entree
Turkey & Salmon Dinner
Complete Health Morsels
Tuna Entrée
Turkey & Salmon Entrée
Turkey Dinner
Salmon Dinner
Chicken Entree
Healthy Indulgence
Chicken & Turkey
Tuna & Shrimp
Chicken & Chicken Liver
Tuna
Chicken & Salmon
Salmon & Tuna
Turkey & Duck
Chicken & Turkey
Chicken & Turkey
Tuna & Mackerel