PetSmart is one of, if not the most significant pet retailer in the United States and Canada. It sells a vast range of pet food products, as well as pet toys and equipment. PetSmart also usually has pets within its stores that visitors can adopt.
However, for many pet owners, PetSmart represents the commercialization of the modern pet food market and should be avoided at all costs.
But for those who do support it and enjoy their wide range of products, what is the best formula to be feeding to your precious puppy? Let's break down all the facts on PetSmart and then highlight our favorite formulas.

PetSmart's Acquisition Of Chewy.com
What many consumers do not know is that PetSmart recently acquired the popular online pet food store Chewy. While this might not seem like an important note, it had quite a significant impact on the range of products stocked and sold by Chewy.
For those who are not familiar with Chewy, it is an entirely online retailer and provides a means for consumers to purchase a huge range of pet food individually or as part of a subscription. Before Chewy, getting pet food delivered was an unfamiliar concept to the majority.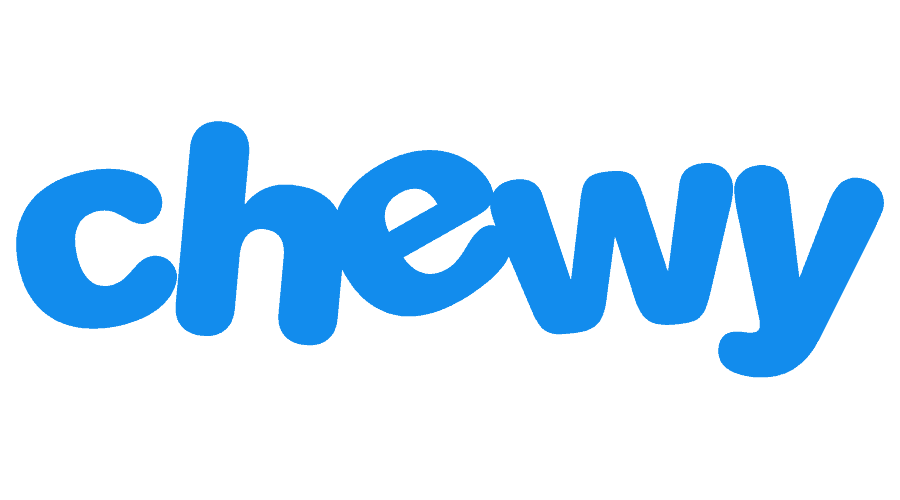 Back on the topic at hand, quite a number of the pet food brands that were previously sold on Chewy pulled their product ranges after PetSmart's acquisition—citing that they wanted to support independent and smaller chain pet food stores and not massive retail behemoths like PetSmart.
One example of a brand that withdrew from Chewy was Champion Pet Foods, who produce the Orijen and Acana branded products.
They cited that after Chewy's acquisition by PetSmart, they were no longer a "specialty" pet retailer and that they were disappointed at the sale.
This is a strong statement from Champion Pet Foods and one that almost certainly had financial repercussions for them. Nevertheless, they were willing to take this action to cement their position and stand up for independent and specialty pet food stores.

Other examples of brands that withdrew their ranges from Chewy include Fromm and Nutri Source. While PetSmart and Chewy were likely disappointed by this decision, one could argue that the vast majority of their customers were unlikely to purchase these premium products and that the impact may be minimal.
Does PetSmart Sell High-Quality Dog Food?
Despite a number of the premium and well known high-quality brands boycotting or avoiding PetSmart as a distributor, there are still quite a few brands that produce very high-quality dog food.
As a consequence, whether you shop with PetSmart online or in one of their retail stores, there should be a selection of dog food recipes and brands available to purchase that we would consider high-quality.
The key features that define a high-quality dog food are its nutritional profile and its ingredients.
High-Quality dog food will contain an appropriate balance of the three core nutrients, protein, fat, and carbohydrates. A formula with excessive levels of carbohydrates and unsatisfactory levels of protein and fat should not be considered high-quality.
Also, formulas should make use of named meat and fish ingredients. These should be easily recognizable and understandable by the average consumer. The best examples of this are whole meat ingredients like Chicken, Beef, Salmon, and Pork.
We highly recommend that you take a close look at a dog food formulas Guaranteed Analysis and ingredient list before you consider purchasing it. If you aren't sure of any of the ingredients, then give them a quick google, and you'll be sure to find information on that ingredient from a site like ours.
What Dog Food Should I Avoid At PetSmart?
PetSmart stocks a vast range of products, including some that are at the very low-cost area of the market. As a consequence, many of these inexpensive brands and recipes are less than favorable. That being said, these products are likely a step up from many of those stocked at grocery stores.
These brands tend to contain low-quality, and filler ingredients are unlikely to provide your dog with adequate nutrition.
There is a strong correlation between price and quality, and it goes without saying that any product sold at PetSmart that is exceedingly affordable is likely to contain low-quality and filler ingredients like grains and vegetable by-products.
While we are not going to name and shame brands in this article, we will provide a few key pointers for you to consider when assessing a potential dog food formula.
Avoid any dog food recipes that contain unnamed or specified meat ingredients such as Meat By-products or Meat Meal. This is an extremely unreliable and vague description, and the meat is almost certainly low-quality and could even be from diseased animals or roadkill.
Ensure that meat features prominently in the first five ingredients, and ideally, there is a meat or fish ingredient as the first listed ingredient. Formulas that list multiple vegetables, starch, or grain ingredients at the top of their ingredient list are almost certainly very carbohydrate-heavy, which is not appropriate nutrition for a dog.
See below example of what a low-quality ingredient list could look like.

Watch out for multiple similar sounding ingredients. This could be an attempt at Ingredient Splitting. This technique involves deceiving the consumer by splitting a single ingredient into various by-products or sub-ingredients in an effort to mislead consumers into believing it is less abundant and features lower down on the ingredient list.
Find out more about this concept in Ingredient Splitting in Pet Food – Exposed.
Should I Buy My Dog Food At PetSmart?
This is a tough question to approach and could have a multitude of answers. There is a significant minority of consumers who believe that large chain pet stores such as PetSmart are the enemy and should be avoided at all costs.
Sadly, this may be a futile approach as the dominance and strength of large and online retailers such as PetSmart continues to grow. Just as Amazon now dominates the literature industry, online retailers will continue to make headway into the pet food industry.
Also, there is the average consumer who wants to quickly and affordably purchase high-quality food for their pets. While many would be willing to buy their pet food from a specialty store, large stores such as PetSmart offer convenience and reliability.
A study by the Association for Pet Obesity Prevention has an interesting infographic on where pet owners purchase their pet food from most often. This study shows that 20.1% purchase from large retails like PetSmart, but 23% choose to purchase from specialty pet stores, which proves their strength.
The percentage of consumers buying online comes out in the lead by a slither at 23.7%. This is almost certainly thanks to the success of online retailers like Chewy.
If price is particularly important to you, we'd recommend checking out our Best Cheap Dog Food guide to see the best affordable recipes available on the market from Petsmart and other retailers.
Lastly, the bottom line is that PetSmart does stock many high-quality brands as we are about to explore. Your dog's health and happiness should come first, and if you must shop at PetSmart to achieve this, then it is a small price to pay.
Best Dry Dog Foods At PetSmart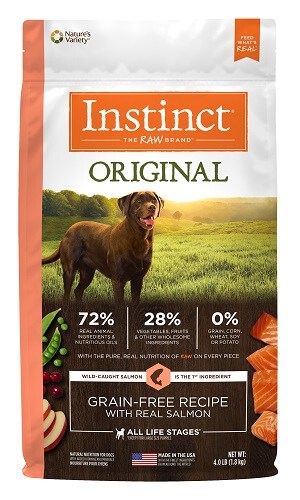 .
Nature's Variety Instinct is a reliable brand and suitable for the vast majority of dogs. Nature's Variety features prominently in many PetSmart stores, and they stock most if not all of their products.
While the brand may be better known for its selection of raw and semi-raw formulas, their traditional dry food recipes provide excellent nutrition at an affordable price.
The Original range offers a satisfactory balance of different meat and fish ingredients, we have taken a particular shine upon the Salmon Recipe due to the high levels of the Omega Fatty Acids that it contains. The Omega Fatty Acids are a fantastic nutrient that can help prevent Heart Disease as well as maintain healthy skin and coat.
Along with Salmon, the recipe also contains some other fish ingredients such as Herring and Menhaden. Finally, these are combined with a small portion of vegetables such as Peas and Tapioca.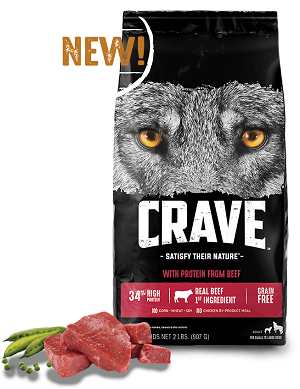 .
Many dog owners will be unfamiliar with the Crave brand. It was launched in 2017 by Mars Petcare, who owns some other pet food brands such as Pedigree and Whiskas.
Crave is a perfect example of dog food manufacturers creating a new brand to appeal to more knowledgeable consumers who demand higher-quality ingredients and more appropriate nutrition. While Crave didn't feature on PetSmart shelves immediately upon release, it has started to see prominence and is now a regular feature.
Crave formulas contain a very satisfactory proportion of protein and fat without excessive carbohydrates. This type of nutrition could be compared to other brands that are far more costly, which is one of the reasons that Crave is fast becoming popular. The majority of this protein and fat is provided by high-quality meat ingredients such as Lamb, Chicken, and Venison.
Sadly, there is one downside to Crave's dog food in that it contains vegetable by-products such as Potato Protein or Pea Protein. These are used to increase the overall proportion of protein in dog foods without splashing out on more expensive meat ingredients.
They are also often used in a sinister technique known as Ingredient Splitting. Despite this, there isn't a significant quantity of these ingredients present, and overall the ingredient quality is still high.
Nulo Freestyle Salmon & Peas Recipe Review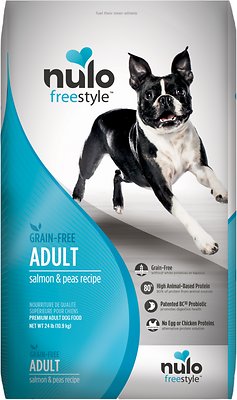 .
Nulo is a younger brand than many of the others mentioned, as they were only founded in 2009. Despite this, they have made great strides and have a large and varied range of high-quality recipes.
The formula shown above is from the freestyle range, and its primary meat or fish ingredient is Salmon. In addition to Salmon, it also contains Menhaden Fish Meal and Turkey.
As expected, these named meat and fish ingredients are highly nutritious and provide valuable protein and fat to help your dog maintain their health and energy.
The regulars of Peas, Sweet Potatoes, and Chickpeas are present in reasonable proportions. These provide a fair proportion of carbohydrates and dietary fiber.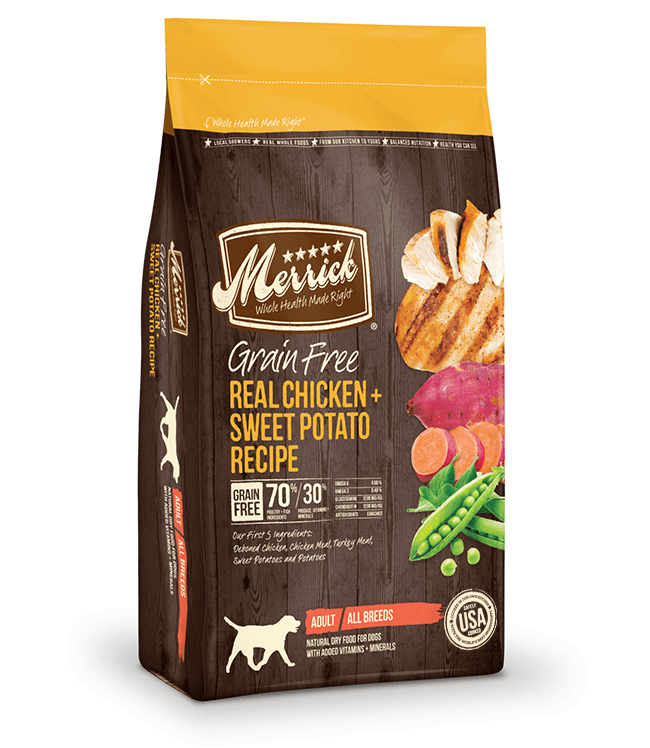 .
For those of you who have read some of our other best of articles, you'll know that Merrick's Grain-Free range is one of our favorites. The majority of the formulas in this range provide excellent nutrition from a range of high-quality ingredients.
Ingredients used within this range include common meat and fish ingredients such as Chicken or Beef, but it also includes less common meats such as Rabbit or Venison.
Their Chicken formula is one of their best and includes a mix of Chicken and Turkey ingredients. These poultry ingredients are combined with Sweet Potatoes, Potatoes, and Peas.
The proportions of Potatoes and Sweet Potatoes, are far higher than the proportion of legumes and make up the bulk of the satisfactory carbohydrate proportion. Sweet Potatoes, in particular, are considered the best starch ingredient to be in dog food and can provide a number of micronutrients that traditional white potatoes can not.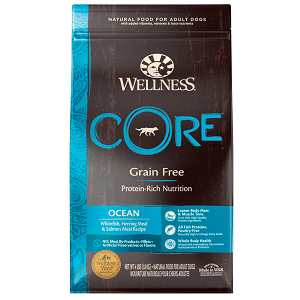 Wellness is a reputable brand that has featured on shelves for decades, and despite a lot of its competitor's brands moving away from large retailers like PetSmart, Wellness has stuck around and, as a consequence, reaps the benefit. The Core range is one of their most popular and features a variety of formulas for adult dogs and puppies.
Their Ocean Formula is one of our favorites and features a variety of fish ingredients. This includes Whitefish, Salmon Meal, Herring Meal, and Menhaden Fish Meal.
These Fish ingredients provide an ample portion of protein and fat, in particular, the Omega 3 Fatty Acids, which provide a number of health benefits.
Many of you may not be familiar with Menhaden Fish Meal. It is a small oily fish from the Atlantic Ocean that is low-cost yet rich in protein and is used by manufacturers as an alternative to low-quality and low-cost vegetable by-products like Pea Protein.
Find out more about this in our article, Menhaden Fish Meal In Dog Food.
Wild Frontier Wild Prey Diet With Chicken Review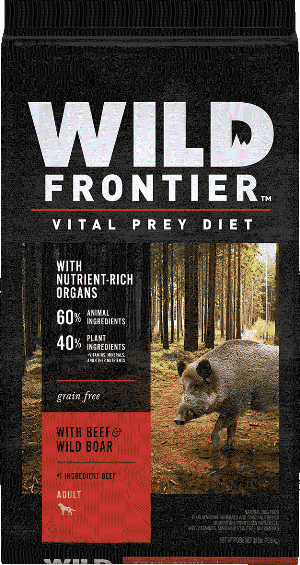 Wild Frontier is another brand owned by the Mars Petcare alongside brands like Crave, Royal Canin, Eukanuba, and Iams. However, Wild Frontier is probably the most premium of all the brands offered by Mars with the exclusion of niche and specialized veterinary diets.
Wild Frontier's product range is relatively small but includes a variety of dry and canned dog food as well as a formula with large breeds and for puppies.
Our favorite dry recipe from Wild Frontier is the Beef and Boar formula. Beef and Wild Boar are both high-quality meat ingredients that can provide a plentiful supply of protein and fat, which is crucial in a dog's diet.
In addition, this recipe makes negligible use of Pea By-products like Pea Protein, which do feature more prominently in some other Wild Frontier recipes.
Other notable ingredients included are Chicken Fat, Tapioca, Fish Meal, Alfalfa, and Turkey Liver. Chicken Fat is often used to enhance the flavor and palatability of a recipe without the use of artificial flavors. Find out more about the use of Chicken Fat in our article, Chicken Fat In Dog Food.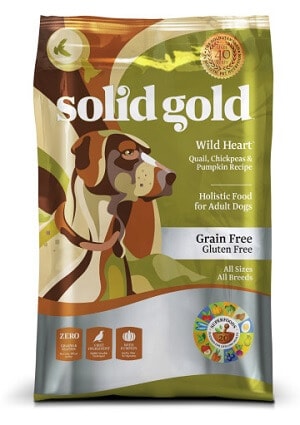 Solid Gold is a brand that doesn't feature as regularly in our articles as the others mentioned in this article. However, they are one of the better brands that is available at PetSmart, and they have many high-quality formulas.
While some may find Solid Gold's naming conventions a little confusing, nothing is confusing about their Wild Heart with Quail formula. Quail is quite an unusual ingredient, but it is very similar to Chicken and provides excellent nutrition. The formula also makes use of Turkey and Pork, which combined offer a satisfactory proportion of protein.
The formula also makes use of a substantial number of vegetable and starch ingredients of varying quality. While some such as Peas and Chickpeas are considered high-quality by many, others such as vegetable by-products like Pea Protein are unanimously considered lower-quality.
Lastly, the formula also makes use of Pumpkin, which is a particularly beneficial ingredient and provides a mix of fiber, carbohydrates, and vitamins.
Best Canned Dog Food At PetSmart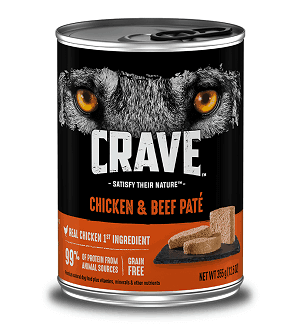 As we discussed earlier in this article, Crave is a relative newcomer to the pet food market and is owned by Mars Petcare. The brand was launched to cater to the higher-quality pet food market fueled by smarter and more aware consumers. Crave is available at PetSmart, Walmart, and other large retail pet stores.
While we praised Craven's dry food range, Crave's Pate range is also worth discussing. Each formula within the Pate range contains both traditional meat cuts alongside organ meat. This organ meat provides beneficial Vitamins and Minerals that standard meat cuts lack.
This combination of meat ingredients offers fantastic nutrition, high in protein and fat. Finally, none of their Pate recipes contain a significant amount of vegetable ingredients, let alone frowned upon by-products or grains.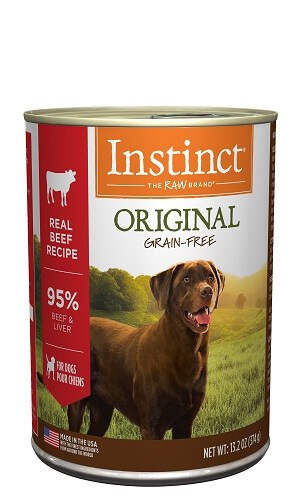 Nature's Variety Instinct is another brand that features twice in this article and for a good reason. You'd struggle to find a single formula in their vast product range that could be classed as low-quality.
Their Wet Dog Food range shares many of the qualities of its dry food range that we discussed earlier. The very satisfactory proportion of both protein and fat very accurately mimics a dog's natural diet.
The percentage of carbohydrates is so low in their Original Real Beef formula that we would consider it negligible. This is likely to make this formula extremely appealing to a hungry dog and unlikely to last more than a few minutes.
While Instincts Wet Dog is far from cheap, it isn't out of this world and should be considered for those looking to provide their dogs with an excellent quality formula.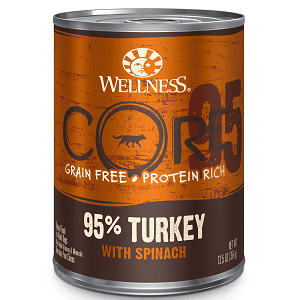 Wellness also produces a range of high-quality Wet Dog Foods alongside more traditional dry food recipes. They have three unique formulas with a choice of meat ingredients, including Beef, Chicken, and Turkey.
While other wet dog food formulas only contain meat ingredients, these Wellness formulas also contain a small amount of a less commonly used vegetable. In the case of the above Turkey formula, it includes Spinach. Spinach can provide a wide range of Vitamins and Minerals, including Vitamin A, B, C, and K, as well as high levels of Iron.
Other formulas make use of vegetables such as Broccoli and Carrots, and all three varieties are entirely pea and legume-free, which can be advantageous to those dogs with legume allergies.
It is important to reiterate that wet dog food is significantly more costly than dry food. This is the case for this recipe and the other formulas mentioned above.
However, some dog owners use a mix of dry and wet food as a consequence of the higher price in an attempt to make it more affordable. This can provide your canine friend with the best of both worlds without breaking the bank.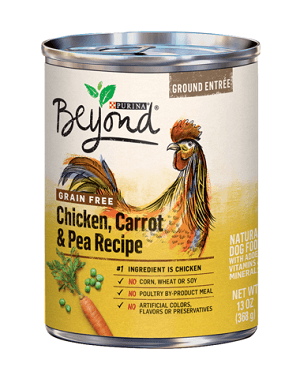 Purina Beyond is one of the many brands associated with Purina that we will all be well equated with. While some of the Purina brands have been around for years, Purina Beyond is a more recent addition and appeals to more knowledgeable consumers in the same way other new brands like Crave do.
The above formula caught our eye and is a fantastic option for those who want to provide canned dog food on a tight budget. Chicken, Carrot, & Pea Recipe is extremely simple and contains a concise ingredient list.
It will come as no surprise that Chicken is the main ingredient and provides the bulk of the protein and fat. The three ingredients mentioned in the name are joined by Liver, which can provide minerals and vitamins that usual meat cuts can not.
While Peas may feature in nearly all dog food recipes, Carrots certainly do not, and that does make this formula unique. While Carrots are not going to provide anything revolutionary, they can be considered a beneficial addition.