Nulo Information
Nulo was founded in 2009 by Michael Landa after he discovered high rates of obesity and weight issues among pets at his pet care business.
Michael found that most pet food brands were overloaded with carbohydrates, which were contributing to obesity and weight gain.
Since then, Nulo has built upon its success to create an expansive pet food brand offering recipes to dogs and cats of all shapes and sizes.
Their focus on excellent nutrition has not been dropped and their recipes offer some of the best nutrition in the industry for their price range.
Nulo has engaged and worked with many famous athletes to promote their brand including Olympic Swimmer Michael Phelps.
To the relief of many, Nulo is manufactured in several facilities in the United States and is not produced abroad.
These manufacturing facilities are located in Kansas, Nebraska, and South Dakota. While we have not been able to confirm, we believe these manufacturing facilities are not operated by third-party companies.
Nulo pet food recipes are widely available for purchase across the United States and can be seen in many retail pet food stores like PetSmart. The brand is also available at all of the large online pet food retailers like Chewy, PetFlow, and Amazon.
Nulo Product Range
Dog Food
Nulo's range of dog food is broad and varied when compared to many other dog food brands. They produce traditional dry dog food, limited ingredient dog food, freeze-dried dog food, canned or wet dog food, and dog treats.
They do have some age-specific recipes within these ranges, such as those for puppies and senior dogs. However, they do not produce breed-specific recipes.
Nulo has also recently branched out into Grain Inclusive dog food like many of its competitors. This is almost certainly a response to the links between the high use of legumes and Canine Heart Disease, which you can read about here.
However, despite this product launch, Nulo staunchly defends its use of legumes and the production of grain-free dog food. You can read their thoughts here.
Cat Food
Nulo's range of cat food is almost as expansive as its dog food range. It consists of dry cat food, limited ingredient cat food, canned cat food, and cat treats.
In particular, Nulo's canned cat food is very varied and has several varieties and textures, like "In Gravy", "In Broth", "Minced", and "Flaked", which is sure to suit every cat's taste.
Once again, Nulo does not produce any age-specific cat food such as recipes for Kittens or Senior cats. However, the majority of their recipes are suitable for all life stages.
Nulo Nutrition
Dog Food
Nulo's dry dog food recipes offer satisfactory nutrition that is above average and, in many cases, significantly above average when compared to other dog food brands.
The nutritional profile of Nulo recipes often consists of high proportions of protein and fat alongside a modest proportion of carbohydrates.
This kind of nutritional profile is ideal for dogs, especially those who are more active. It allows them to easily maintain their bodies while having the energy to fuel their activity.
Below is an example of the nutritional profile offered by one of Nulo's best dry food recipes.
While comparison is more difficult, Nulo's freeze-dried and wet dog food recipes also offer very satisfactory nutrition that consists of significantly above-average protein and fat proportions and tiny quantities of carbohydrates.
If you'd like to learn more about canine nutrition, we'd highly recommend reading our Dog Food Guide.
Cat Food
The nutrition offered by Nulo cat food recipes is similar to their dog food range and is satisfactory when compared to other cat food brands.
Nulo recipes often have very high proportions of protein and fat and modest proportions of carbohydrates.
A diet such as this is crucial for cats who are obligate carnivores and thrive best on a diet low in plant-based material.
Despite this, Nulo recipes often include a high proportion of plant-based protein which while still valuable is not as beneficial as animal-based protein.
If you'd like to learn more about feline nutrition, you should head over to our Cat Food Guide for a detailed rundown of obligate carnivores, cat food types, and more.
Nulo Ingredients
High-Quality Meat & Fish Ingredients
Chicken
Turkey
Duck
Lamb
Beef
Salmon
Cod
Trout
Above are some of the high-quality meat and fish ingredients used in Nulo recipes. All of these ingredients are excellent additions and can provide high-quality protein and fat to fuel dogs or cats' growth, repair, and activity.
In particular, fish ingredients such as Salmon are wise choices and can provide high levels of the Omega 3 Fatty Acids alongside traditional protein and fat.
Many believe that these fatty acids can provide several health benefits, such as improving the condition of skin, coats, and fur and preventing or reducing the risk of heart disease.
While some of Nulo's meat and fish ingredients are less common, such as Duck or Trout, these are unlikely to be classed as Novel Meats.
Novel Meats are a lifeline for dogs with severe allergies who do not cope well with traditional meat and fish ingredients. The best examples of novel meats that are used in the industry include Venison, Rabbit, and Kangaroo.
If you are interested in learning more about Novel Meat diets, check out our Best Hypoallergenic Dog Foods Guide.
You can also see some specific information about these ingredients in the below articles.
Other Notable Ingredients
Nulo uses a mix of legume ingredients in its grain-free recipes, such as Peas and Lentils. These legume ingredients are prevalent among pet food manufacturers as they are low-cost, easy to source, and provide favorable nutrition high in protein.
However, as we mentioned earlier, there are links between the high use of legumes in pet food and Canine Heart Disease.
If you are interested in learning more about this, we discuss it in depth in our article Best Dog Foods Without Peas.
As we mentioned in the product range section, Nulo has recently expanded its range to include some grain-inclusive recipes. These recipes include grain ingredients such as Oats, Barley, and Spelt.
These ingredients can provide a mix of nutrition in the form of carbohydrates, fiber, and select vitamins and minerals.
While grain-ingredients are controversial among some pet owners, the grains used by Nulo are some that are favored by many as they are deemed to be less processed and more nutritious.
However, others dispute this and claim that all grains, including Corn and Wheat, are suitable for dogs.
You can learn more about Barley's use in dog food in our article Barley In Dog Food.
Sweet Potatoes are featured in some Nulo recipes. Starch ingredients such as Sweet Potatoes are an extremely dense source of carbohydrates, which means their portion size needs to be tightly controlled.
Thankfully, the portion size of Sweet Potatoes in Nulo recipes is usually modest and not worthy of concern.
Menhaden Fish Meal is a common feature in premium dog food brand recipes. Menhaden Fish are harvested from the oceans for the oil but once this processing has taken place, a nutritious by-product remains.
Its popularity is thanks to the high proportion of animal-based protein and fat that can add to a dog food recipe at a low cost. An ingredient like this is preferred by many to plant-based alternatives like Pea Protein.
You can learn more about Menhaden Fish Meal in our article Menhaden Fish Meal in Dog Food.
Chicken Fat is one of the most popular additions to pet food recipes and is used in dog food as a nutritious method of improving kibble palatability and flavor.
Animal fat such as Chicken Fat is very appealing to dogs, making previously uninteresting recipes irresistible.
Also, Chicken Fat can be utilized as a dense source of energy for very active dogs. You can read more about its use in our article, Chicken Fat In Dog Food.
Flaxseed is a very popular addition to pet food recipes due to the fact it is one of the best plant-based sources of the Omega 3 Fatty Acids.
These fatty acids are believed to provide several health benefits to dogs, such as an improvement in the condition of a dog's skin and coat and a reduction in the risk of certain diseases.
However, these aren't the only health benefits that Flaxseed can provide. You can learn more about the other benefits of Flaxseed in our article Flaxseed In Dog Food.
Chicory Root is a semi-common ingredient that is added to pet food recipes to provide beneficial vitamins and minerals.
It is one of many ingredients that consumers would not normally be familiar with that is often used in pet food recipes.
While some of its nutrition is proven, its supposed health benefits are not and many doubt them.
You can learn more about Chicory Root and exactly what nutrition it can provide in our article Dried Chicory Root In Dog Food.
Nulo Animal Testing
At this time, we have no definitive information on whether Nulo participates in Animal testing or what kind of testing/feeding trials they do for their recipes.
Many pet food brands avoid disclosing detailed information related to animal testing or feed trials as they fear customer backlash.
Animal testing for the purposes of testing dog food is a cruel and outdated practice. We hope that it will be eliminated or severely reduced in the coming years as more consumers become aware of it.
Nulo Recalls
Based on our research (FDA, AVMA, DogFoodAdvisor), we have no information that leads us to believe that Nulo has been recalled which therefore makes it a recall-free pet food brand.
Given that Nulo is almost a decade old, this is a sign that they have taken their manufacturing and safety standards seriously.
We hope that can maintain these high production standards to maintain their recall-free record in the years ahead.
However, no matter how good a brand's production controls are, it is important to be vigilant of any future issues or recalls, as there is no guarantee that Nulo will not be recalled in the future.
Best of Nulo
Nulo Freestyle Salmon & Peas Recipe Review
ㅤ
The formula shown above is from Nulo's freestyle range and is one of our favorites thanks to the fact that it features Salmon as its primary ingredient.
Salmon is one of our favorite fish ingredients because it is an excellent source of the Omega 3 Fatty Acids in addition to acting as a reliable source of protein and fat. These fatty acids can provide dogs with several health benefits.
The recipe also contains a smaller portion of Menhaden Fish Meal, which we discussed earlier, and Turkey.
As expected, these named meat and fish ingredients are highly nutritious and provide valuable protein and fat to help your dog maintain their health and energy. The ratio of protein and fat is well above average when compared to most other dog food brands.
The industry regulars of Peas, Sweet Potatoes, and Chickpeas are present in reasonable proportions.
These legume and starch ingredients provide a fair proportion of carbohydrates and dietary fiber that is not overly large.
Frontrunner Beef, Barley & Lamb Recipe Review
ㅤ
The above Frontrunner Beef, Barley & Lamb recipe is one of Nulo's new grain-inclusive recipes, which is almost certainly a response to the growing concerns between the use of legumes in dog food and Canine Heart Disease.
The recipe contains a generous portion of Beef and Chicken and a small portion of Lamb.
This combination of red meat and poultry ingredients ensures that the majority of the recipe is meat-based, and the proportion of protein and fat is satisfactory for the vast majority of dogs.
The recipe then uses a mix of the grain ingredients Oats, Barley, and Brown Rice to provide carbohydrates, fiber, and some select vitamins and minerals.
All three of these grain ingredients are satisfactory inclusions and should not be feared. In fact, these grains are preferred by many to alternatives like Corn or Wheat.
Lastly, the recipe contains small portions of Flaxseed and Brewers Yeast which boost the levels of some beneficial micronutrients.
Nulo Freestyle Puppy With Turkey, Cod & Sweet Potatoes Review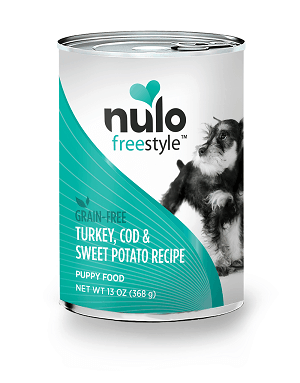 ㅤ
Nulo's product range includes two canned puppy foods, Turkey, Cod & Sweet Potatoes and Chicken, Salmon & Lentils.
Both of the recipes are very similar, but we have chosen to highlight the Turkey, Cod, and Sweet Potatoes recipe.
The primary ingredients are Turkey, Turkey Liver, Cod, and Turkey/Salmon Broth. This combination of Poultry and Fish provides a satisfactory proportion of bioavailable animal protein and fat and a unique taste.
The recipe also contains small portions of some vegetable and starch ingredients, including Sweet Potatoes, Peas, and Lentils. These provide a small proportion of carbohydrates and dietary fiber.
Chicken & Cod Recipe Review
ㅤ
Nulo's dry cat food recipes provide excellent nutrition when compared to some of their competitors, with the above recipe providing 40% protein and 20% fat at a minimum.
This nutrition is thanks to a generous portion of Chicken, Turkey, and Cod. This mix of poultry and fish ingredients are high-quality sources and will provide a consistent texture and taste.
The recipe then uses a modest portion of Peas and Lentils to provide carbohydrates and fiber. This proportion of plant-based ingredients is higher than ideal but far lower than most other cat food recipes.
Shredded Beef & Rainbow Trout Recipe In Gravy Review
ㅤ
Wet/Canned cat food can be a lifeline to some cats as it can provide them with much-needed moisture.
However, the above recipe from Nulo doesn't just provide moisture and also includes excellent nutrition, high in protein and fat.
Beef, Beef Liver, Eggs, and Trout all contribute to this protein and fat proportion. Trout is a unique addition that is rarely seen in pet food.
The portion of plant-based ingredients in this recipe is tiny and is made up of a small portion of Peas and Spinach.
Nulo Featured Articles
Best Senior Dog Food – Many dog owners choose not to transition their dogs to senior dog food, but for those who do, there is a growing range of recipes on offer that is tailor-made to suit senior dog's needs. A recipe from Nulo takes a well-deserved place in this article.
Best Puppy Food – Ensuring your puppy has the appropriate nutrition is vital to ensure they grow up to be healthy, happy, and strong.
This article digs into everything you need to know and suggests some of our favorite puppy recipes on offer, including one from Nulo.
Best Canned Dog Food – Canned or wet dog food is a regular treat or addition to many dog's diets, but what is the difference between dry and canned food, and what should dog owners be on the lookout for?
This article answers all the questions and suggests some extremely nutritious formulas for your dog, including one from Nulo.
Best Dog Food For Border Collies – Border Collies are a well-recognized breed and thought to be one of the most intelligent.
Their combination of high intelligence and activity means they need a diet tailor-made to their needs. In this article, we discuss Border Collie's needs and suggest recipes that could best meet these.
Best Dog Food With Salmon – Regular readers of our site will know that we are huge fans of Salmon as a dog food ingredient.
It provides a plentiful supply of protein and fat and some of the highest levels of the Omega 3 Fatty Acids.
This article discusses Salmon and suggests some fantastic quality Salmon focused formulas, including one from Nulo.
Nulo Full Product Range
Dry Dog Food
Freestyle Range
Adult Trim Cod & Lentils
Adult Lamb & Chickpeas
Adult Salmon & Peas
Puppy Salmon & Peas
Small Breed Salmon & Red Lentils
Senior Trout & Sweet Potatoes
Adult Turkey & Sweet Potato
Puppy Turkey & Sweet Potato
FrontRunner Range
For Puppies Chicken, Oats & Turkey Recipe
For Small Breeds Turkey, Whitefish & Quinoa Recipe
Chicken, Oats & Turkey Recipe
Beef, Barley, & Lamb Recipe
Pork, Barley & Beef Recipe
Turkey, Trout & Spelt Recipe
Challenger Range
Duck, Turkey & Guinea Fowl Recipe
Haddock, Salmon & Redfish Recipe
For Large Breed Puppies Beef, Lamb & Pork Recipe
For Small Breeds Haddock, Salmon & Redfish Recipe
Beef, Lamb & Pork Recipe
Medal Series Range
Senior Chicken & Lentils
Adult Chicken & Peas
Puppy Chicken & Sweet Potato
Weight Management Chicken & Sweet Potato
Adult Lamb & Lentils
Adult Salmon & Sweet Potatoes
Small Breed Turkey & Chickpeas
Large Breed Turkey & Peas
Medal Series Ancient Grains
Puppy Turkey, Oats & Guinea Fowl Recipe
Adult Beef, Barley & Lamb Recipe
Adult Turkey, Oats & Guinea Fowl Recipe
Adult Salmon, Oats & Haddock Recipe
Limited Ingredient Range
Puppy & Adult Turkey Recipe
Puppy & Adult Alaska Pollock Recipe
Puppy & Adult Chicken Recipe
Puppy & Adult Salmon Recipe
Puppy & Adult Salmon Recipe
Puppy & Adult Turkey Recipe
Small Breed Turkey Recipe
Freeze Dried Dog Food
Freeze Dried Raw Beef Recipe With Apples
Freeze Dried Raw Duck Recipe With Pears
Freeze Dried Raw Lamb Recipe With Raspberries
Freeze Dried Raw Salmon & Turkey Recipe With Strawberries
Freeze Dried Raw Turkey Recipe With Cranberries
Pate Recipes (Canned)
Freestyle Range
Adult Beef, Peas, & Carrots
Adult Chicken, Carrots, & Peas
Puppy Chicken, Salmon, & Lentils
Small Breed Duck & Chickpeas
Adult Lamb & Lentils
Small Breed Lamb & Sweet Potato
Adult Trim Turkey & Cod
Small Breed Turkey & Lentils
Adult Turkey & Sweet Potato
Puppy Turkey, Cod, & Sweet Potato
Adult Turkey, Salmon, & Chickpeas
Medal Series Range
Adult Beef, Peas, & Carrots
Adult Chicken, Carrots, & Peas
Puppy Chicken, Salmon, & Lentils
Small Breed Duck & Chickpeas
Adult Lamb & Lentils
Adult Weight Management Turkey & Cod
Small Breed Turkey & Lentils
Adult Turkey & Sweet Potato
Adult Turkey, Salmon & Chickpeas
Limited Ingredient Range
Adult Chicken
Adult Turkey
Challenger Range
Savory Chicken Stew
Homestyle Beef Stew
Harvest Turkey Stew
Dog Treats
Protein Sticks (Treats)
Chicken Recipe
Chicken Recipe
Salmon Recipe
Salmon Recipe
Turkey Recipe
Turkey Recipe
Dry Cat Food
Freestyle Range
Chicken & Cod Recipe
Trim Salmon & Lentils Recipe
Indoor Cat Duck & Lentils Recipe
For Seniors Alaska Pollock, Duck & Sweet Potato Recipe
Turkey & Duck Recipe
MedalSeries Range
Indoor Cat Duck & Cod Recipe
Indoor Cat Trout & Duck Recipe
Indoor Cat Turkey & Chicken Recipe
Limited Ingredient Diet Turkey Recipe
Weight Management Salmon & Sweet Potato Recipe
Limited Ingredient Diet Chicken Recipe
Turkey & Cod Recipe
Salmon & Lentils Recipe
Chicken & Peas Recipe
For Seniors Turkey, Alaska Pollock & Red Lentils Recipe
Canned/Wet Cat Food
Freestyle Range
Turkey & Chicken Recipe
Salmon & Mackerel Recipe
Duck & Tuna Recipe
Shredded Chicken & Duck Recipe In Gravy
Shredded Turkey & Halibut Recipe In Gravy
Shredded Beef & Rainbow Trout Recipe In Gravy
Beef & Lamb Recipe
Chicken & Herring Recipe
Trout & Salmon Recipe
Silky Mousse Chicken & Salmon Recipe
Silky Mousse Yellowfin Tuna & Shrimp Recipe
Silky Mousse Chicken & Duck Recipe
Silky Mousse Beef & Sardine Recipe
Chicken & Mackerel In Broth Recipe
Yellowfin Tuna & Shrimp In Broth Recipe
Chicken & Salmon In Broth Recipe
Chicken In Broth Recipe
Yellowfin Tuna & Duck In Broth Recipe
Perfect Puree Tuna & Scallop Recipe
Perfect Puree Chicken Recipe
MedalSeries Range
Minced Turkey & Duck Recipe In Gravy
Minced Salmon & Turkey Recipe In Gravy
Minced Beef & Mackerel Recipe In Gravy
Limited Ingredient Diet Turkey & Turkey Liver Recipe
Limited Ingredient Diet Chicken & Chicken Liver Recipe
Limited Ingredient Diet Salmon Recipe
Perfect Puree Chicken & Salmon Recipe
Perfect Puree Chicken Recipe
Perfect Puree Tuna & Scallop Recipe
Perfect Puree Tuna & Crab Recipe
Perfect Puree Beef & Sardine Recipe
Freeze-Dried Cat Food
Freestyle Freeze-Dried Raw Turkey & Duck Recipe
Freestyle Freeze-Dried Raw Chicken & Salmon Recipe
Cat Treats