Nulo Information
Nulo was founded in 2009 by Michael Landa after he discovered high rates of obesity and weight issues among pets at his pet care business. Michael found that most pet food brands were overloaded with carbohydrates, which were contributing to obesity and weight gain.
Nulo is manufactured in a number of facilities in the United States. This includes locations in Kansas, Nebraska, and South Dakota.
Nulo Product Range
Dog Food
Nulo's range of dog food is broad and varied. They produce traditional dry dog food, limited ingredient dog food, freeze-dried dog food, canned or wet dog food, and dog treats.
Cat Food
Nulo's range of cat food is almost as expansive as its dog food range. It consists of dry cat food, limited ingredient cat food, canned cat food, and cat treats. In particular, Nulo's canned cat food is very varied and has a number of varieties and textures to suit every cat's taste.
Nulo Nutrition
Dog Food
Nulo's dry dog food recipes offer satisfactory nutrition that is above average and, in many cases, significantly above average. This nutrition consists of high proportions of protein and fat alongside a modest proportion of carbohydrates.
Cat Food
Nulo Ingredients
High-Quality Meat & Fish Ingredients
Chicken
Turkey
Duck
Lamb
Beef
Salmon
Cod
Trout
Above are some of the high-quality meat and fish ingredients used in Nulo recipes. These can provide high-quality protein and fat to fuel a dog or cat's growth, repair, and activity.
In particular, fish ingredients such as Salmon can provide high levels of the Omega 3 Fatty Acids. These fatty acids can provide a number of health benefits such as improving the condition of skin, coats, and fur and preventing heart disease.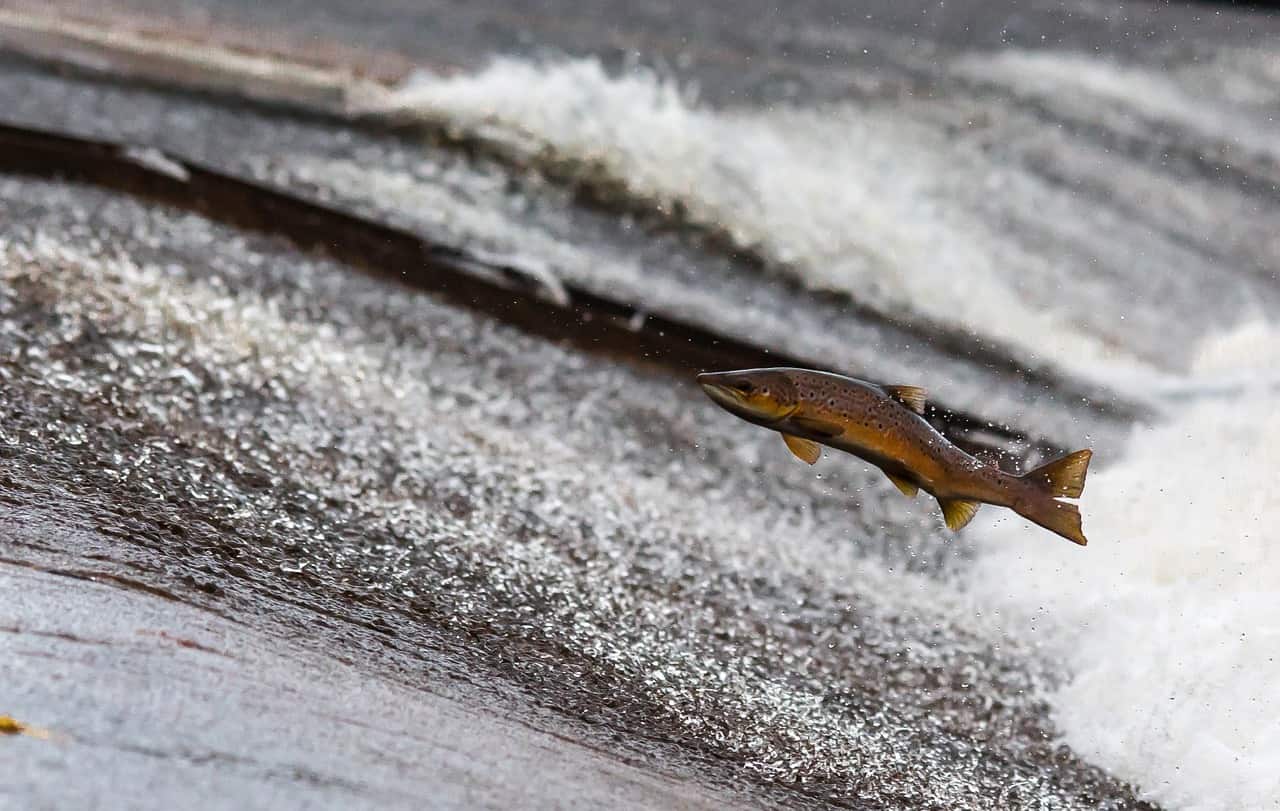 While some of Nulo's meat and fish ingredients are less common, such as Duck or Trout, these are unlikely to be classed as Novel Meats. Novel Meats are a lifeline for dogs with severe allergies who do not cope well with traditional meat and fish ingredients. Examples could include Venison, Rabbit, and Kangaroo.
Learn more about Novel Meat diets in our Best Hypoallergenic Dog Foods Guide.
Other Notable Ingredients
Menhaden Fish Meal is a common feature in premium dog food brand recipes. Its popularity is thanks to the high proportion of protein and fat that it can add to a dog food recipe at a low cost.
An ingredient like this is preferred to plant-based alternatives like Pea Protein. Learn more about Menhaden Fish Meal in our article Menhaden Fish Meal in Dog Food.
Chicken Fat is added to dog food as a nutritious method of improving the palatability and flavor of kibble. Animal fat such as Chicken Fat is very appealing to dogs, which can make previously uninteresting recipes irresistible.
In addition, Chicken Fat can be utilized as a dense source of energy for dogs who are very active. Learn more in our article, Chicken Fat In Dog Food.
Chicory Root
Nulo Animal Testing
At this time, we have no definitive information on whether Nulo participates in Animal testing.
Animal testing for the purposes of testing dog food is a cruel and outdated practice. We hope that it will be eliminated or severely reduced in the coming years as more consumers become aware of it.
Nulo Recalls
To date, based on our research (FDA, AVMA, DogFoodAdvisor), we have no information that Nulo has been recalled.
Given that Nulo is almost a decade old, this is a sign that they have taken their manufacturing and safety standards seriously.
However, it is important to be vigilant of any future issues or recalls, as there is no guarantee that Nulo will not be recalled in the future.
Nulo Featured Articles
Best Senior Dog Food – Many dog owners choose not to transition their dogs to senior dog food, but those who do there is a growing range of recipes on offer that is tailor-made to suit senior dogs needs. A recipe from Nulo takes a well-deserved place in this article.
Best Puppy Food – Ensuring your puppy has the appropriate nutrition is vital to ensure they grow up to be healthy, happy, and strong. This article digs into everything you need to know and suggests some of our favorite puppy recipes on offer, including one from Nulo.
Best Canned Dog Food – Canned or wet dog food is a regular treat or addition to many dog's diets, but what is the difference between dry and canned food, and what should dog owners be on the lookout for? This article answers all the questions and suggests some extremely nutritious formulas for your dog, including one from Nulo.
Best Dog Food For Border Collies –
Best Dog Food With Salmon – Regular readers of our site will know that we are huge fans of Salmon as a dog food ingredient. It provides a plentiful supply of protein and fat, as well as some of the highest levels of the Omega 3 Fatty Acids. This article discusses Salmon and suggests some fantastic quality Salmon focused formulas, including one from Nulo.
Best of Nulo
Nulo Freestyle Salmon & Peas Recipe Review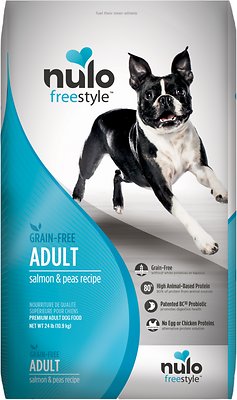 The formula shown above is the freestyle recipe that features Salmon. It also contains Menhaden Fish Meal and Turkey.
As expected, these named meat and fish ingredients are highly nutritious and provide valuable protein and fat to help your dog maintain their health and energy.
The regulars of Peas, Sweet Potatoes, and Chickpeas are present in reasonable proportions. These provide a fair proportion of carbohydrates and dietary fiber.

Nulo's puppy range is relatively small, but the recipes that they do produce align with all the principles of a high-quality puppy recipe.
Turkey & Sweet Potato is our favorite of the bunch due to it's significantly above average nutritional profile, which is high in protein and fat. The protein, in particular, is extremely important in a puppies growth period.
The recipes include a mix of poultry and fish ingredients such as Turkey and Salmon. Also, the formula also contains a range of vegetable ingredients, including Chickpeas, Peas, and Sweet Potatoes. These will provide a modest portion of carbohydrates and dietary fiber to aid digestion.
Nulo Freestyle Puppy With Turkey, Cod & Sweet Potatoes Review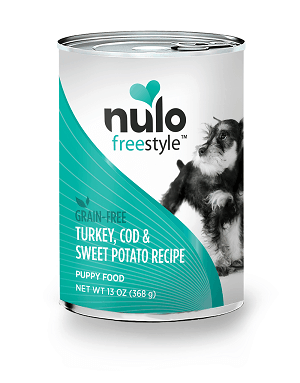 Nulo's product range also includes two canned puppy foods, Turkey, Cod & Sweet Potatoes and Chicken, Salmon & Lentils.
Both of the recipes are very similar, but we have chosen to discuss the Turkey, Cod, and Sweet Potatoes recipe. The primary ingredients are Turkey, Turkey Liver, Cod, and Turkey/Salmon Broth. This combination of Poultry and Fish provides a satisfactory proportion of bioavailable animal protein and fat.
The recipe also contains small portions of some vegetable and starch ingredients, including Sweet Potatoes, Peas, and Lentils. These provide a small proportion of carbohydrates and dietary fiber.
Nulo Full Product Range
Dry Dog Food
Freestyle Range
Adult Trim Cod & Lentils
Adult Lamb & Chickpeas
Adult Salmon & Peas
Puppy Salmon & Peas
Small Breed Salmon & Red Lentils
Adult Turkey & Sweet Potato
Medal Series Range
Senior Chicken & Lentils
Adult Chicken & Peas
Puppy Chicken & Sweet Potato
Weight Management Chicken & Sweet Potato
Adult Lamb & Lentils
Adult Salmon & Sweet Potatoes
Small Breed Turkey & Chickpeas
Large Breed Turkey & Peas
Limited Ingredient Range
Puppy & Adult Turkey Recipe
Puppy & Adult Alaska Pollock Recipe
Puppy & Adult Chicken Recipe
Puppy & Adult Salmon Recipe
Puppy & Adult Salmon Recipe
Puppy & Adult Turkey Recipe
Small Breed Turkey Recipe
Freeze Dried Dog Food
Freeze Dried Raw Beef Recipe With Apples
Freeze Dried Raw Duck Recipe With Pears
Freeze Dried Raw Lamb Recipe With Raspberries
Freeze Dried Raw Salmon & Turkey Recipe With Strawberries
Freeze Dried Raw Turkey Recipe With Cranberries
Pate Recipes (Canned)
Freestyle Range
Adult Beef, Peas, & Carrots
Adult Chicken, Carrots, & Peas
Puppy Chicken, Salmon, & Lentils
Small Breed Duck & Chickpeas
Adult Lamb & Lentils
Small Breed Lamb & Sweet Potato
Adult Trim Turkey & Cod
Small Breed Turkey & Lentils
Adult Turkey & Sweet Potato
Puppy Turkey, Cod, & Sweet Potato
Adult Turkey, Salmon, & Chickpeas
Medal Series Range
Adult Beef, Peas, & Carrots
Adult Chicken, Carrots, & Peas
Puppy Chicken, Salmon, & Lentils
Small Breed Duck & Chickpeas
Adult Lamb & Lentils
Adult Weight Management Turkey & Cod
Small Breed Turkey & Lentils
Adult Turkey & Sweet Potato
Adult Turkey, Salmon & Chickpeas
Limited Ingredient Range
Adult Chicken
Adult Turkey
Dog Treats
Protein Sticks (Treats)
Chicken Recipe
Chicken Recipe
Salmon Recipe
Salmon Recipe
Turkey Recipe
Turkey Recipe
Dry Cat Food
Canned/Wet Cat Food
Cat Treats