You are browsing the shelves of your local pet store or scrolling through your go-to pet supplies website, and you come across a Kangaroo-based dog food formula.
You haven't ever tried Kangaroo yourself, but somehow it's available to your dog. Why does Kangaroo dog food exist, and is it something I should consider for my dog? Let's answer all these questions and more.
Why Is Kangaroo Meat Used In Dog Food?
The primary use of Kangaroo meat in dog food is for Novel Meat and Limited Ingredient dog food formulas.
The basic idea behind novel meat formulas is that a dog is less likely to be allergic or intolerant of an ingredient that it has never encountered.
Unusual or unique meat and fish ingredients such as Kangaroo are a perfect example of this. While there is no guarantee that the dog will react well to the unique ingredient, it does give them better odds.
Other examples of Novel Meat ingredients are Rabbit and Venison. Check out our articles Best Dog Food With Rabbit and Best Dog Food With Venison for more information on these ingredients.
Limited Ingredient dog food formulas are similar to novel meat formulas but move their focus to contain a very slim list of ingredients.
The logic behind this is that the fewer ingredients the formula contains, the less chance there is that one of them could cause issues.
This approach allows dog owners to narrow down which ingredients are causing their dogs issues and then provide them with a formula that lacks these ingredients. This approach can take time and multiple limited ingredient formulas to perfect, so patience is vital.
Learn more about Hypoallergenic Dog Food, including Limited Ingredient and Novel Meat formulas, in our article – Best Hypoallergenic Dog Food Guide.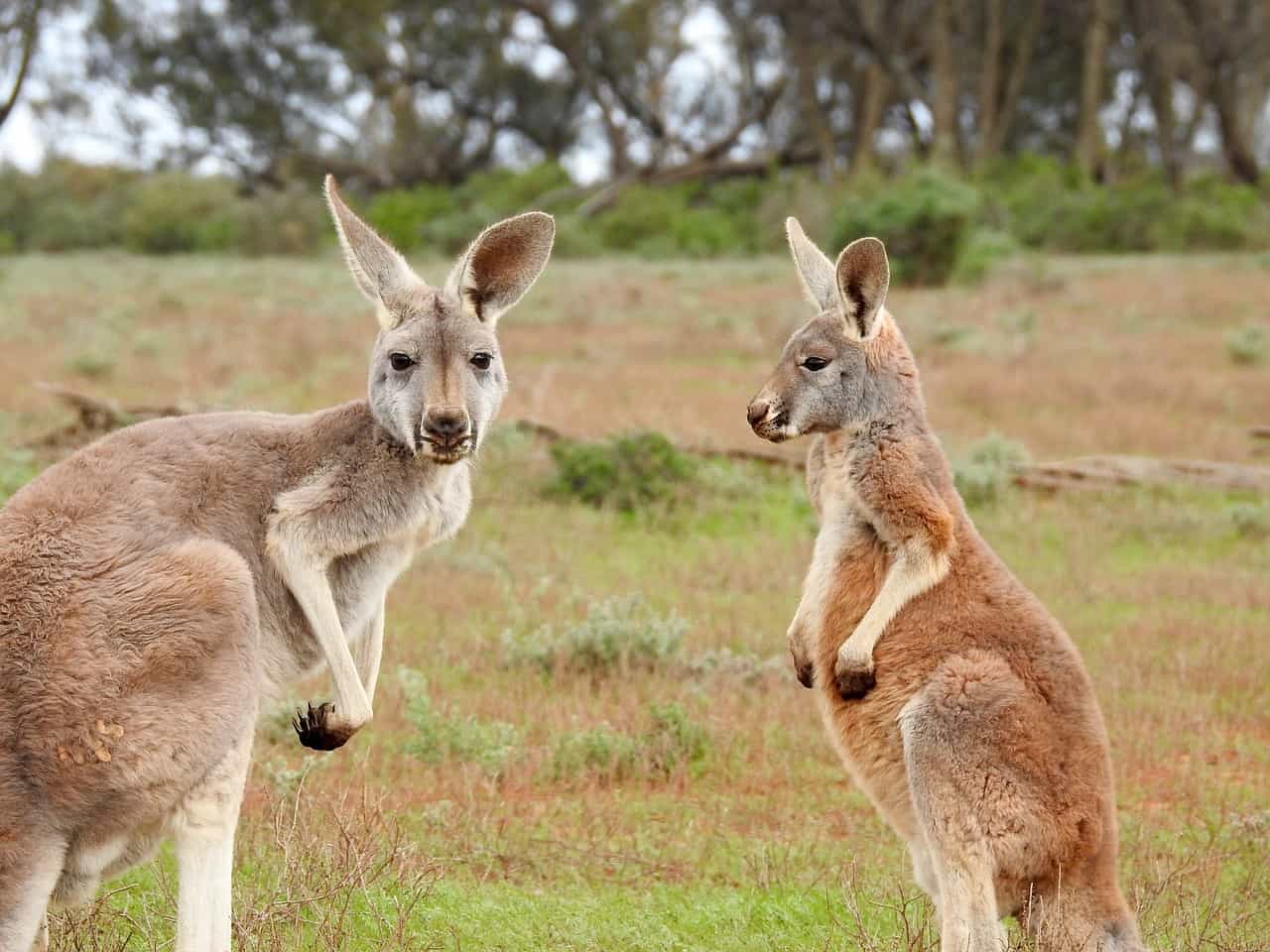 Kangaroo Meat Nutrition
Kangaroo meat contains very low-fat levels compared to other meat and fish ingredients commonly used in dog food. While it is true that dogs can and should consume a healthy portion of fat, some dogs will benefit from lower levels.
Examples could include those dogs who are attempting weight loss or hoping to prevent weight gain and dogs whose digestive system does not cope well with higher fat levels.
In addition to this, the type of fat in Kangaroo meat is advantageous as it is very low in saturated fat. Once again, there is nothing intrinsically wrong with saturated fats, but high levels of them have been proven to cause health concerns in humans and dogs, such as Heart Disease or Strokes.
Another benefit to Kangaroo meat is that it is one of the best non-fish sources of the Omega 3 Fatty Acids.
We are big fans of dog food recipes that contain high levels of these fatty acids and for a good reason. They can provide a range of health benefits and improve bodily systems such as the heart, brain, and skin.
Due to containing a meager portion of fat, Kangaroo meat is one of the densest sources of protein of any meat used in dog food.
Animal-based protein should be at the core of every dog's diet. Therefore, a recipe with a high portion of Kangaroo meat will easily satisfy this requirement.
Kangaroo meat contains a variety of beneficial vitamins and minerals, including high levels of Iron, Zinc, Vitamin B6, and Vitamin B12.
Iron is essential because it is required to produce red blood cells, and a lack of iron in dogs or a human's diet can have serious health consequences. Zinc is vital for healing wounds and maintaining a healthy immune system.
Vitamin B12 is also needed to maintain healthy blood as well as being critical in nerve function, while Vitamin B6 is important to help release energy from the protein that dogs consume.
You can read a comprehensive list of benefits of a range of vitamins and minerals in this pamphlet by the National Academy of Sciences.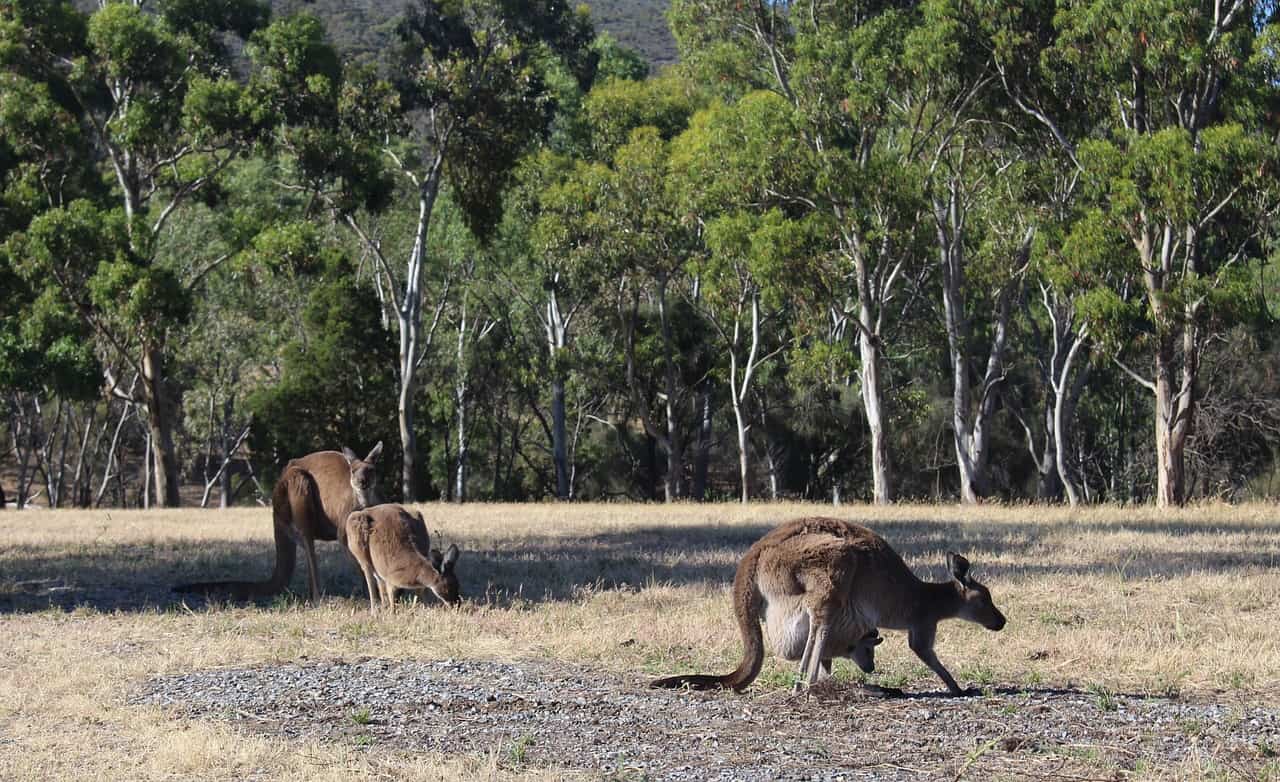 Other Benefits To Kangaroo Meat
Kangaroos are one of the few animals used for food that are not intensively farmed like Chicken or Cows are. Instead, they are sourced from their natural environment through hunting and population control.
This lack of farming means that Kangaroos should enjoy a high quality of life and not have to endure the cruel or inhumane conditions that many other animals do during their short lives.
Most meat found in dog food is not from free-range or organic sources, which means the animals it comes from are unlikely to have lived fulfilling lives, which is why Kangaroo really stands out.
Also, the fact that they are harvested from their natural environment means that Kangaroo meat will be free of any antibiotics, steroids, or other human intervention.
While it's not clear what effect these can have when meat is consumed, you will never need to concern yourself with Kangaroo meat.
Best Dry Dog Food With Kangaroo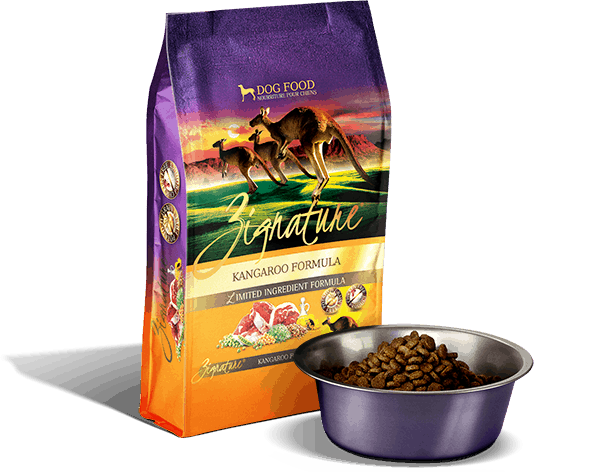 ㅤ
It will come as no surprise which formula has come first in our listing of Kangaroo-based dog food formulas.
Zignature really brought Kangaroo into the limelight and has been the most popular Kangaroo dog food provider ever since they first released the recipe.
However, Zignature isn't just popular because of its use of Kangaroo. It is also one of the leading providers of limited-ingredient dog food. They have a vast range of recipes that make use of meats such as Goat and Venison.
You can check out our in-depth review of the Zignature brand here.
When this pedigree and experience in limited ingredient formulas are combined with meat like Kangaroo, an extremely versatile and unique novel meat formula is born.
Kangaroo is often thought of as very exotic and expensive. However, the Kangaroo formula from Zignature is not particularly more expensive than any of its other formulas that they produce and could be a realistic and affordable option for many dog owners.
In addition to Kangaroo meat, the formula includes a mix of legume ingredients like Peas, Chickpeas, and Lentils. These are used as the recipe's primary sources of carbohydrates and dietary fiber.
Sadly, the formula also includes a small portion of Pea Flour and Pea Protein, which some consider being lower-quality ingredients. Find out more about them in our article Peas, Pea Protein, Pea Flour, and Pea Fiber in Dog Food.
Billy + Margot Single Protein Dog Food – Wild Kangaroo & Superfood Blend Review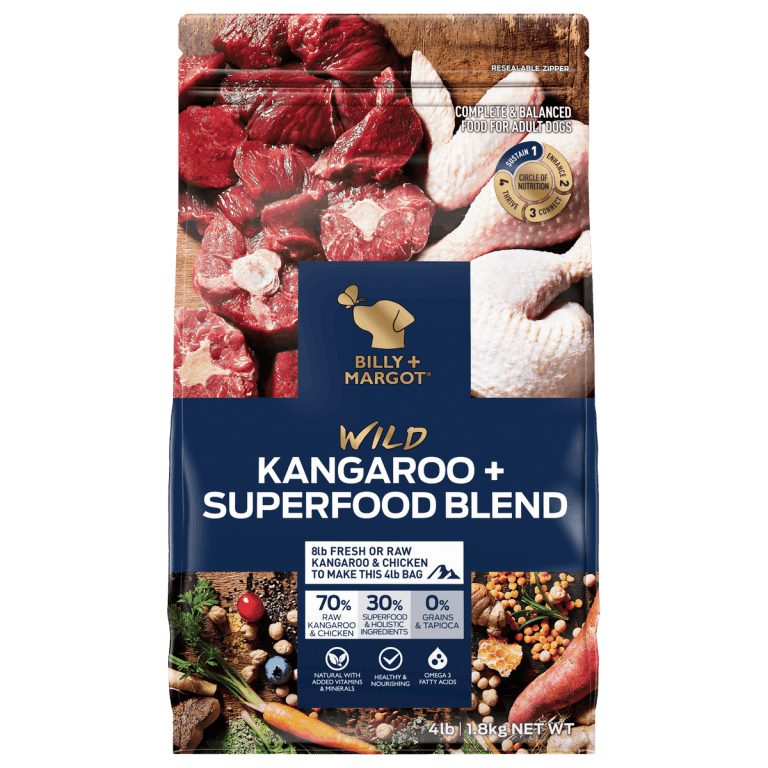 ㅤ
Please note that this recipe was part of a minor recall in September 2020 because of potential Salmonella contamination. Because of this, the recipe may not be available for purchase. You can read more about this in our in-depth review of the brand here.
The brand Billy And Margot is named after its founder's dogs. The first products they produced were frozen treats that resembled ice cream, but their product range has expanded over the years and now includes traditional dry and canned dog food. They are available for sale in the UK, USA, and Australia.
The above Kangaroo + Superfood Blend contains Kangaroo and Chicken. While we have no objections with Chicken and believe it is a high-quality ingredient, this may make the formula unsuitable for those with severe allergies and sensitivities.
Chicken is one of the most common allergens, and many dog owners feed Kangaroo formulas to avoid Chicken.
However, the advantage of this mix of Kangaroo and Chicken is that it provides an extremely satisfactory proportion of protein, which would be suitable for the vast majority of dogs, regardless of their activity levels.
The level of fat in the formula is below average, but this is understandable given that Kangaroo meat is naturally very low in fat.
This lack of fat may make the formula appealing to dogs attempting weight loss or looking to avoid weight gain, as we mentioned earlier.
The formula makes use of the usual legume ingredients such as Peas, Lentils, and Chickpeas to provide carbohydrates and dietary fiber. Sadly, this recipe also includes Pea Protein, which, as we discussed, some consider to be a low-quality ingredient.
PureVita Kangaroo & Green Lentils Grain-Free Entree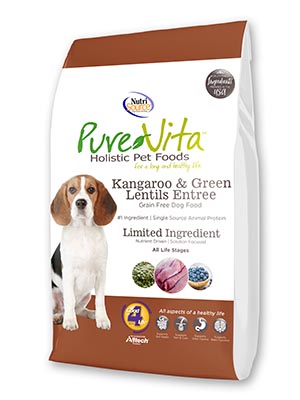 ㅤ
You may not be familiar with PureVita, but they are owned by the same company as Nutrisource. Nutrisource acquired some recognition from us for their pea-free formulas, and PureVita is similarly advantageous for dogs with allergies.
PureVita focuses heavily on Limited Ingredient formulas, and Kangaroo meat is the perfect ingredient for these.
The formula mentioned above makes use of both Kangaroo and Kangaroo Meal. This mix provides a large portion of Kangaroo meat, which in turn provides a reasonable proportion of protein and fat.
While adequate, the protein and fat proportion are not tremendously high and, therefore, may not be sufficient for those dogs who are very active and require additional protein.
The formula has very few other ingredients outside of its core Kangaroo ingredients and utilizes a select number of legumes. This selection includes two types of Lentils and Chickpeas, with a notable absence of Peas.
This mix of a novel meat ingredient in Kangaroo and a select number of vegetable ingredients could make this formula very viable for those with severe allergies.
Learn more about PureVita and what other recipes they offer in our review of the brand here.
Natural Planet Pet Food Kangaroo & Venison Entree Review
ㅤ
Natural Planet is another brand closely related to Nutrisource. This close relationship is likely why they also produce a dog food formula with Kangaroo Meat.
However, Natural Planet does not have the same focus or concentration on limited-ingredient dog food that PureVita does.
What makes this formula unique is that it doesn't just contain Kangaroo meat, as it also makes use of Venison. Venison is another common meat ingredient in Limited Ingredient and Novel Meat formulas.
Find out more about Venison in dog food in our article Best Dog Foods With Venison.
Your dog is unlikely to be familiar with either of these meats, which bodes well for its chances of success.
The nutrition provided by this formula from Natural Planet isn't quite as satisfactory as the recipe from PureVita but is still reasonable for most dogs who are not overly active.
The formula utilizes a range of legumes and legume by-products to provide carbohydrates and fiber. This range includes Peas, Chickpeas, Pea Flour, Chickpea Flour, and Pea Protein.
Sadly some of these ingredients, like the vegetable by-products, are considered low-quality additions by many and may inflate the overall protein level in the formula.
Addiction Grain-Free Wild Kangaroo & Apples Review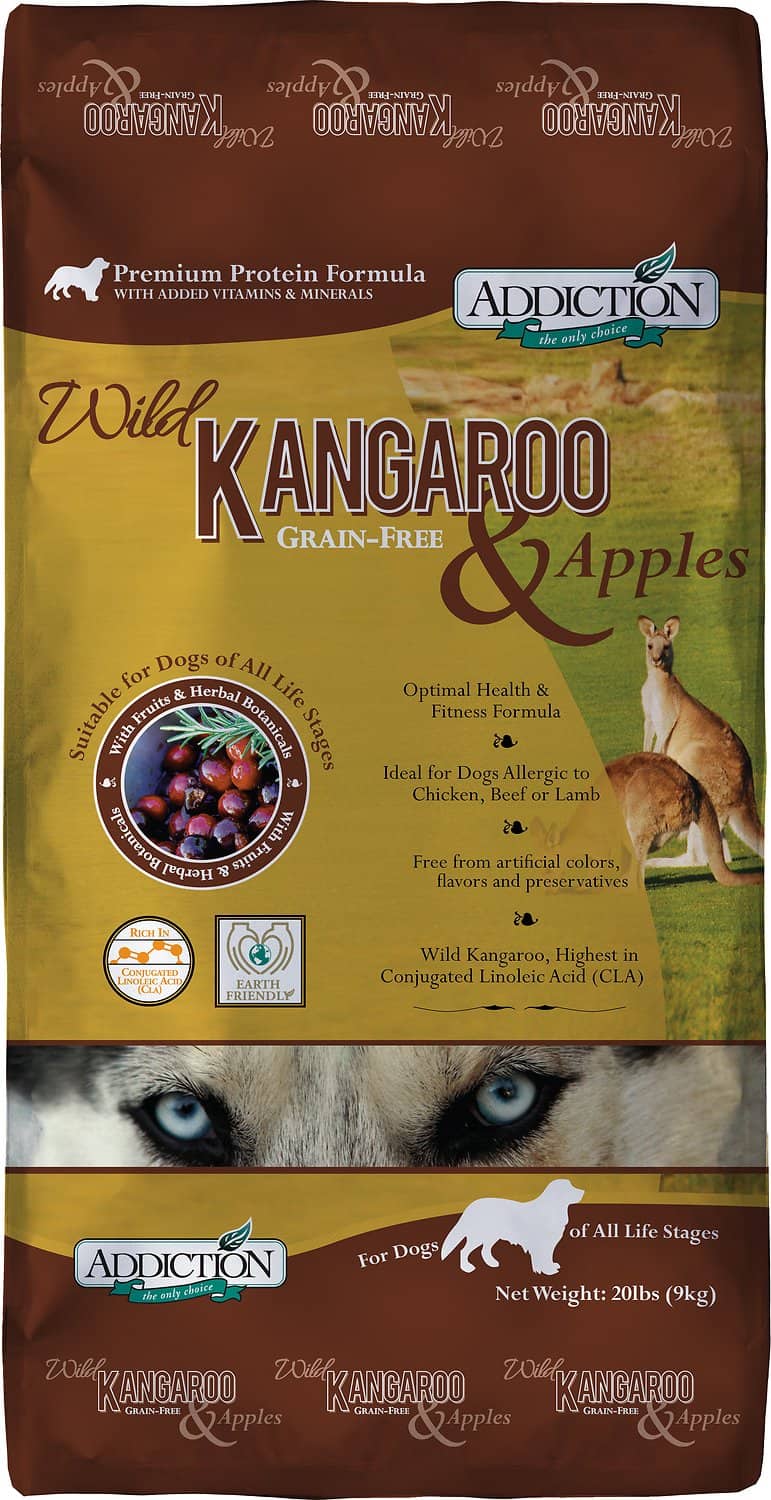 ㅤ
Addiction is a brand that believes itself as a leader in the Hypoallergenic dog food space. They are based in New Zealand, which explains their ability to use Kangaroo meat.
The use of Kangaroo meat follows this hypoallergenic ideology very well as it has fantastic potential for use in Limited Ingredient and Novel Meat formulas.
The brand produces a mix of traditional dry dog food and air-dried dog food. Air-dried dog food has been popularized by brands like Ziwi Peak (also from New Zealand) and can be considered one of, if not the most, premium type of dog food available.
We recommend you check out our review page of Ziwi Peak, which you can find here if you want to know more about air-dried dog food.
The above-mentioned formula is one of their dry food recipes and makes use of dried kangaroo meat. This type of meat is slightly different from whole Kangaroo or Kangaroo Meal.
Dried Kangaroo has had most of its moisture removed, just like Kangaroo Meal but won't have been reconstituted, which means it will still physically resemble Kangaroo Meat.
The formula makes use of a lot of sources of carbohydrates, including vegetables, starches, and fruit. Examples include Potatoes, Peas, Tapioca, Apples, Blueberries, and more.
While most of these ingredients could be considered high-quality, the sheer volume of them is overwhelming and sums up a substantial proportion of carbohydrates.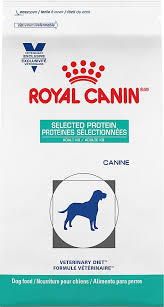 ㅤ
Royal Canin is a brand that almost any dog owner will be familiar with. It fills the shelves of all major pet retailers and had a genuinely immense product range.
One type of niche formula that Royal Canin produces and most other brands do not is Veterinary Formulas.
These are designed to be prescribed by vets for dogs with severe dietary problems such as allergies and sensitivities.
It was a wise decision to make use of Kangaroo meat in one of these formulas as it a lifeline for many dogs with severe allergies. The formula contains no other meat or fish ingredients that conflict with its aim.
The formula uses Oat Groats and Canola Meal as its plant matter. These are unconventional ingredients but are present to help keep a dog's digestive system stable and are not because they are highly nutritious ingredients. Unfortunately, these ingredients provide a substantial proportion of carbohydrates.
However, as we mentioned already, this is a veterinary formula, and in cases where a vet must prescribe food, ideal nutrition often goes out the window in favor of a dog's overall health.
While you may be able to source this recipe without interacting with a Veterinary professional, we'd recommend you do so first, as this formula is not designed for the majority of dogs.
Best Wet Dog Food With Kangaroo
KOHA Wild Kangaroo Entree Review
ㅤ
Koha is a super premium brand that specializes in canned dog food. They have a range of recipes that use uncommon ingredients, such as Kangaroo, Venison, and Guinea Fowl.
To add to this, Koha uses only the best sources for their ingredients that are often superior to some that are used for human consumption.
Sadly, this comes at a cost, and Koha recipes are extremely expensive, some of the highest per can in the industry. But for many, this cost is worth it to ensure excellent nutrition and high-quality ingredients.
We put hours of research into our full review of Koha, so we highly recommend you check it out – Koha Brand Review.
Koha's Wild Kangaroo Entree contains a minimal number of ingredients making perfect for those dogs with allergies or sensitivities.
The primary ingredient is whole Kangaroo, and this provides an extremely satisfactory proportion of protein and fat, which would be suitable for dogs of all activity levels.
The carbohydrate proportion is extremely low and is from tiny portions of ingredients like Blueberries and Pumpkin.
These ingredients will provide a small portion of dietary fiber and an extensive range of beneficial vitamins and minerals. They could also give the recipe a unique flavor.
Another unique ingredient is Olive Oil. Many dog owners add Olive Oil to dog food and believe it can provide a range of health benefits. Some of these claims are backed up by evidence, but some are yet to be conclusive.
However, it is important to note that if you do like the idea of adding Olive Oil to your dog's food, you only add small amounts. If you add too much Olive Oil, you could disrupt your pet's digestion or cause weight gain.
Zignature Kangaroo Formula Wet Dog Food Review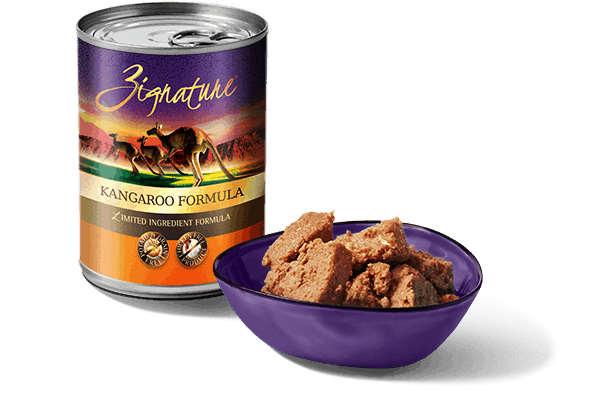 ㅤ
It wasn't in question that Zignature's canned dog food with Kangaroo would also feature in our article on Kangaroo meat in dog food.
While not as popular as their dry range, Zignature's canned food recipes share many of their dry food traits and are very suitable for dogs with severe allergies or sensitivities.
There is no need for meat meals in canned dog food, which means that whole Kangaroo takes center stage and provides a very satisfactory portion of protein and fat.
While not as high as some of Zignature's other canned dog food recipes, it is still very satisfactory and suitable for most dogs.
The formula only contains a few other ingredients, such as Peas, Sunflower Oil, Carrots, and Chickpeas. Peas and Chickpeas are incredibly familiar and provide a small portion of carbohydrates and dietary fiber.
Carrots are a less common vegetable ingredient in dog food but can provide high levels of some vitamins and minerals that other vegetables lack.
Both Zignature's dry and canned recipes include a flowering plant called Alfalfa. Alfalfa's use in dog food is growing, and it can supposedly provide a range of health benefits.
Find out more about Alfalfa in our article Alfalfa In Dog Food.
Billy And Margot Kangaroo Casserole With Superfoods Review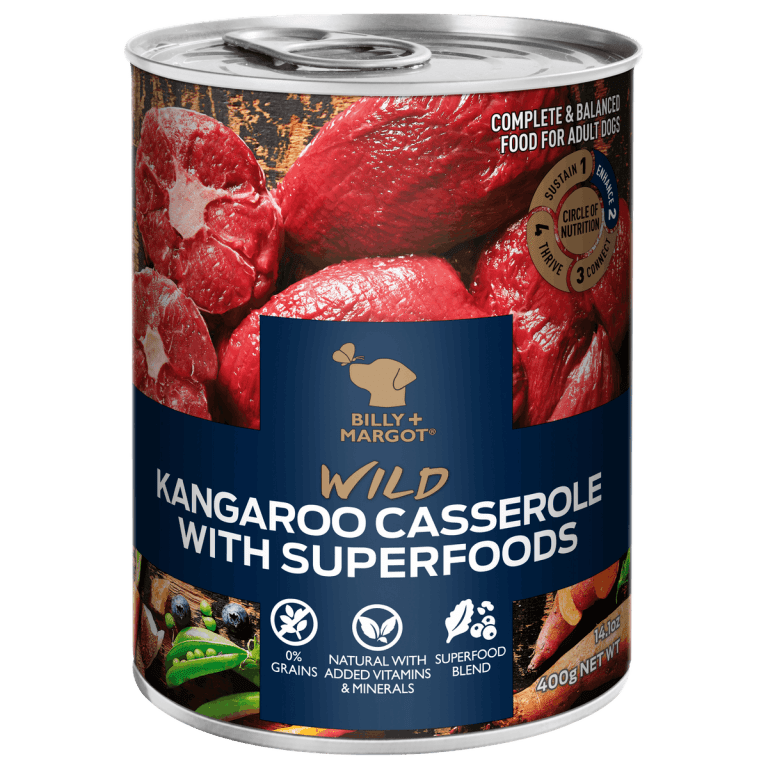 ㅤ
Billy And Margot also gets a second mention in this article as they produce canned foods that match their dry range.
Billy and Margot's recipes aren't commonly available to buy from many of the popular online retailers, but they are available at PetSmart and Chewy.
However, their kangaroo dog food's canned variant is a little different from other Billy And Margot recipes showcased in this article. It doesn't just use Kangaroo or other Novel Meat ingredients and includes Chicken and Beef Liver.
Chicken and Beef are very high-quality ingredients, full of protein, fat, and micronutrients. Unfortunately, they are two of the most common meat allergens, which may cancel out the novelness of Kangaroo in this recipe.
One thing about the recipe that may throw potential buyers off is the fact that meat isn't the first listed ingredient.
Water is the first listed ingredient, and while this may sound inefficient, it is a vital part of any canned dog food, with most recipes being over 80% moisture.
The formula also makes use of Peas, Carrots, and Sweet Potatoes. This a nice mix between legumes, starches, and other vegetables that many formulas lack as they tend to focus on a single category.
Sadly, the formula also uses Pea Flour, which we frown upon and could be considered a low-quality ingredient.
You can read more about Pea Flour and why we are concerned at its use in our article Peas, Pea Protein, Pea Flour and Pea Fiber in Dog Food.
Best Alternative Dog Food With Kangaroo Meat
Addiction Outback Kangaroo Feast Raw Grain-Free Dehydrated Dog Food Review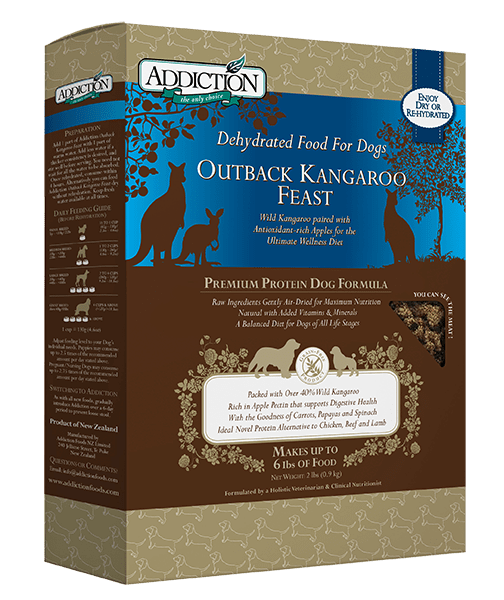 ㅤ
Not only does Addiction produce a traditional dry dog food recipe with Kangaroo, but it also produces a dehydrated and raw recipe.
Dehydrated dog food is often overlooked but can be a more affordable solution to feed dogs moist food without splashing out on expensive canned dog food.
Raw is another variety of dog food that is overlooked but is fast gaining support and popularity.
Once again, Kangaroo is the primary ingredient and provides the bulk of the formula's protein and fat content.
Just like the dry food recipe, the proportions of protein and fat in this formula are not particularly impressive but should be sufficient for a dog who is relatively inactive.
The formula also uses a large portion of starches such as Potatoes and Tapioca. Sadly these ingredients do not provide much nutrition beyond their carbohydrate and fiber content. Find out more about Tapioca in our article Tapioca In Dog Food.
The formula does include some more unique ingredients other than starches and Kangaroo. Examples include Papaya and Spinich, which are rare inclusions in commercial dog food and could provide unique vitamins and minerals.