What Is Whitefish?
Whitefish is a term used to describe several species of ocean fish. Examples include Cod, Haddock, Whiting, Hake, and Pollock. Whitefish does not include oily fish like Salmon or Herring.
Whitefish is very popular for human consumption and is present in traditional dishes like "Fish N Chips" as well as processed foods like Fish Sticks.
Whitefish is also a popular ingredient in dog food. It is affordable, nutritious, and palatable.
While we generally dissuade from vague ingredients such as this, Whitefish has a good reputation and usually contains a mix of high-quality fish ingredients. However, this is not guaranteed, and quality will vary from brand to brand.
Some brands have more information about which fish are present in the Whitefish they use. This transparency is admirable and will help consumers better understand what their dogs are consuming.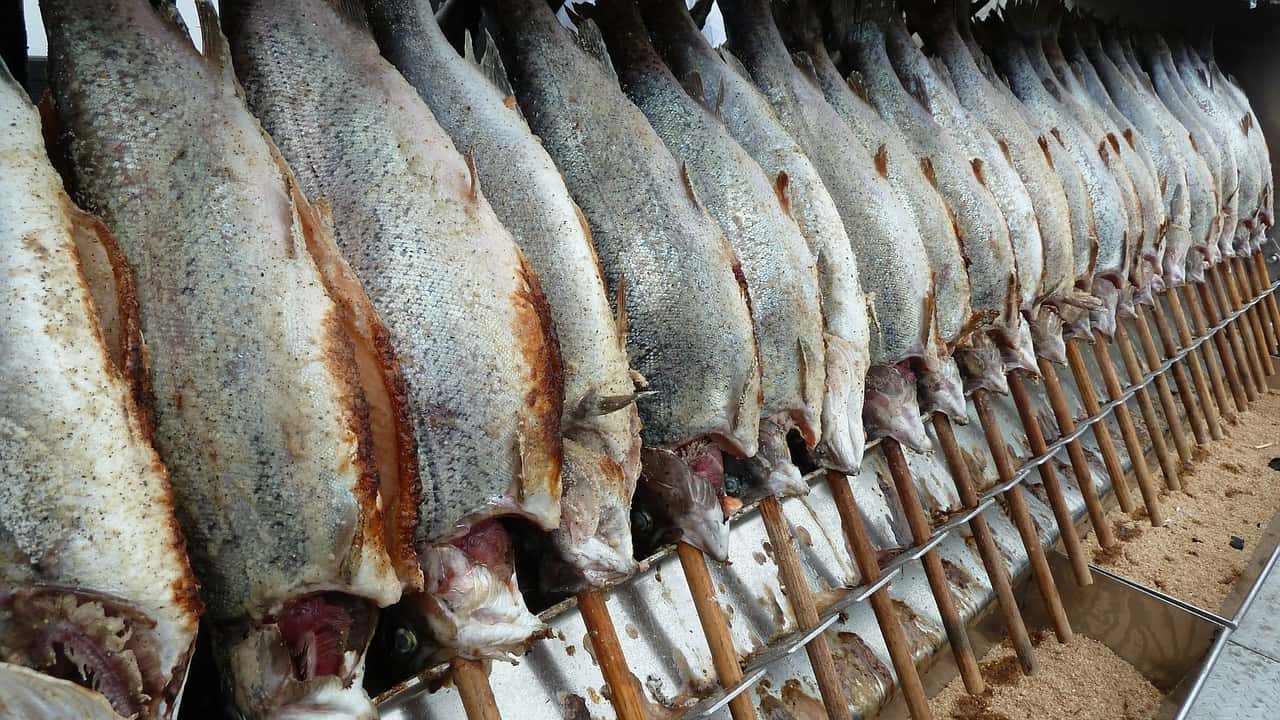 Whitefish In Dog Food
Whitefish does not serve any distinct purpose in dog food. Some ingredients, such as Rabbit or Venison, are used to help counter allergies.
While some dogs with allergies may react well to allergies, it is not its primary use. Instead, it is a reliable and cost-effective fish ingredient.
Another essential factor worth discussing with Whitefish is its palatability or its taste. Whitefish has been shown to be an ingredient that a large portion of dogs enjoy eating, thanks to its high-quality protein and fat.
Some dogs do not react well to fish ingredients. While this usually isn't as serious as an allergy, it can put owners off from feeding their dogs fish.
However, many dogs react better to Whitefish in comparison to other common fish found in dog food. While it isn't clear why this is the case, this could put Whitefish in an advantageous position for those dogs.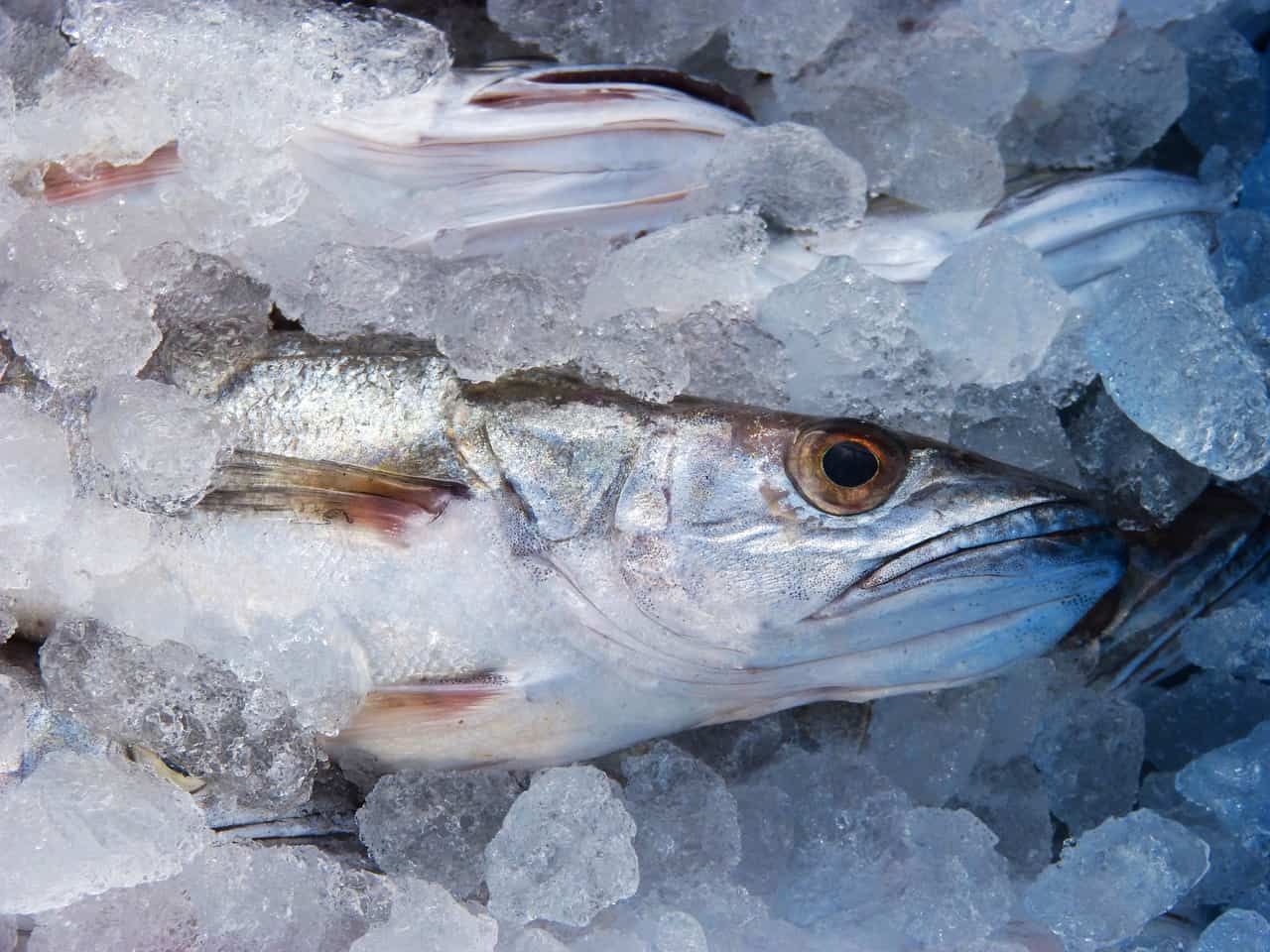 Whitefish Nutrition
Protein
As one would imagine, Whitefish is high in protein. Protein is essential for dogs and is used to maintain, repair, and grow a dog's muscles and tissues.
Also, protein from fish ingredients such as Whitefish is considered to be superior to protein from plant-based ingredients like legumes or grains.
This superiority is thanks to the full range of amino acids that Whitefish and other fish ingredients contain, as well as the fact that this protein is more easily absorbed by a dog's digestion system.
This will result in a dog requiring less protein in their diet than if they eat mostly plant-based protein.
Omega Fatty Acids
Unfortunately, Whitefish does not contain as much of the Omega Fatty Acids as oily fish like Salmon, Mackerel, and Herring.
However, the level of the Omega Fatty Acids found in Whitefish is still higher than most meat ingredients, such as Chicken or Beef. This level of the Omega Fatty Acids means that dogs who are eating Whitefish based formulas can still benefit from this increased level.
These Omega Fatty Acids have a variety of proven benefits. These include improved cognitive function, a reduction in heart disease, and a noticeable improvement in a dog's skin and coat.
Vitamins & Minerals
Exactly which vitamins and minerals are present in Whitefish depends on which Whitefish are present. However, there are some common micronutrients.
Cod, for example, contains high levels of Vitamin B3 and B12 as well as Phosphorus. These can reduce cholesterol, improve brain function, and maintain healthy bones.
Haddock provides similar micronutrients to Cod but also includes very high levels of Selenium. This Selenium can act as an antioxidant and help prevent heart disease.
You can read a comprehensive list of benefits of a range of vitamins and minerals in this pamphlet by the National Academy of Sciences.
Best Dog Food With Whitefish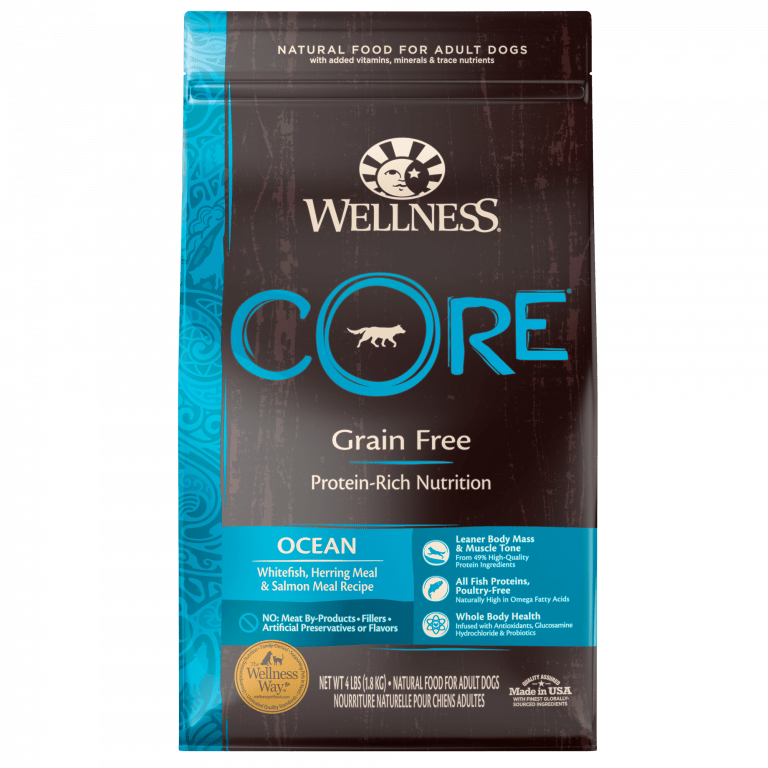 Wellness is a reputable brand that has featured on shelves for decades. While some premium brands have moved away from large retail stores or websites, Wellness has stuck around and is readily available. Their Core range is one of their most popular and features a variety of formulas for adult dogs and puppies.
Their Ocean Formula is one of our favorites and features a variety of fish ingredients, but the most prominent of these is Whitefish. Other fish ingredients present include Salmon Meal, Herring Meal, and Menhaden Fish Meal. The combination of Whitefish and oily fish ingredients provides an ample portion of protein and fat, in particular, the Omega 3 Fatty Acids, which, as we know, can provide several health benefits.
Many of you may not be familiar with Menhaden Fish Meal. It is a small oily fish from the Atlantic Ocean that is low-cost yet rich in protein and is used by manufacturers as an alternative to low-quality and cheap vegetable by-products like Pea Protein. Find out more about this in our article, Menhaden Fish Meal In Dog Food.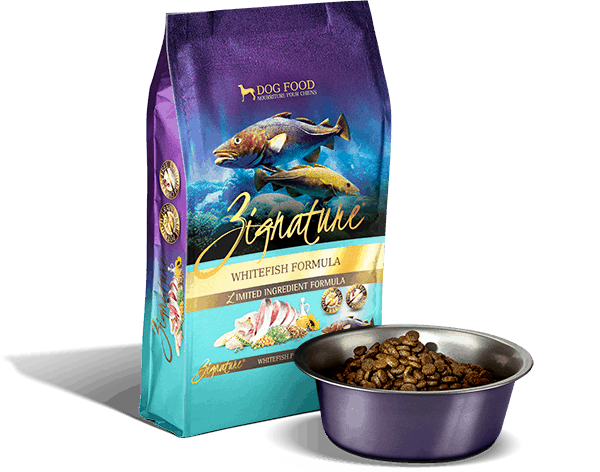 Zignature is a market leader in the Limited Ingredient space and produces many formulas that could be classified as novel meat formulas. The most well known of these is their Kangaroo Formula, which was the first Kangaroo based dog food recipe to become popular.
While Zignature has some other unusual or uncommon meat or fish ingredients based formulas, such as Goat or Guinea Fowl, they also produce recipes with some more common ingredients. Examples include Pork, Lamb, Turkey, Salmon, and Whitefish.
The Whitefish formula uses the same mold as its sister recipes. A mix of Whitefish and Whitefish Meal are the only fish ingredients present and supply the bulk of the formulas protein and fat.
The level of the Omega 3 Fatty Acids is very admirable, considering the formula only contains Whitefish and no oily fish.
These fish ingredients are combined with a mix of legumes, including Chickpeas and Peas. Sadly the formula also uses Pea Flour, which is a vegetable by-product. Pea Flour is considered inferior to whole Peas. Find out more about Pea Flour in our article Peas, Pea Protein, Pea Flour, and Pea Fiber in Dog Food.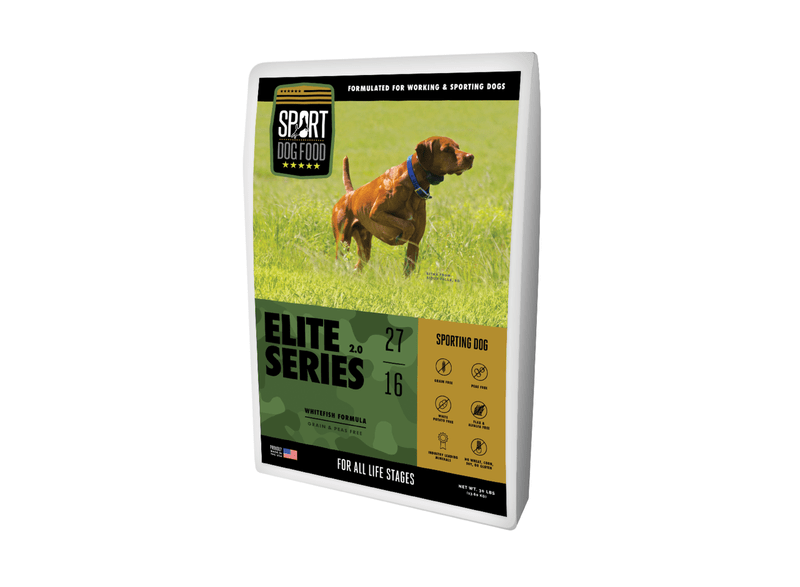 Sport Dog Food is a dog food brand that many of you will not be familiar with. The brand aims to fill the sporting and working dog food niche. Examples of such dogs include K9 dogs, sled dogs, and tracking dogs. As a consequence, many of Sport Dog Food's formulas provide very satisfactory nutrition, which is a necessity to ensure that working dogs can perform to the peak of their ability.
However, non-working dogs can still purchase their products, and many will not enjoy them but also excel on them thanks to their nutrition and quality.
A few of Sport Dog Food's recipes make use of Whitefish. An example of one is Sporting Dog – Whitefish Formula. It contains a minimal number of ingredients, including a single core fish ingredient in Whitefish Meal. This lack of other fish ingredients could make this an ideal formula for those dogs with allergies.
Once again, the portion of protein and fat in this formula is very satisfactory and suitable to the vast majority of dogs, including those that are very active. The level of the Omega Fatty Acids is also high in this formula and much higher than other Sport Dog Food recipes.
The formula also contains a large portion of starches like Sweet Potatoes and Tapioca. These starch ingredients can provide carbohydrates and dietary fiber. Tapioca is a lesser-known ingredient in the western world but is popular in South America. Learn about Tapioca in our article Tapioca In Dog Food.
I And Love And You Limited Ingredient Whitefish & Sweet Potato Recipe Review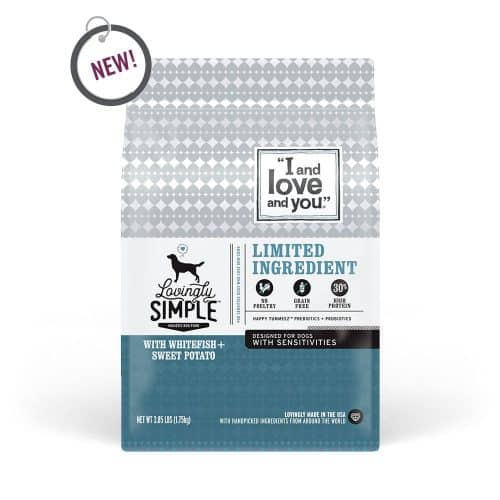 I And Love And You have one of the most unusual brand names, but that isn't stopping them, and they are growing their range of pet food thanks to their popularity. They produce traditional dry food, limited ingredient food, canned food, and treats.
One of their best formulas is Whitefish & Sweet Potato, which has Whitefish as its first listed ingredient. This large portion of Whitefish provides a very satisfactory proportion of protein and fat. Sadly the portion of the Omega 3 Fatty Acids is not overly impressive.
Despite having Sweet Potatoes in its name, Sweet Potatoes are not the primary carbohydrate ingredient. Instead, the recipe uses Peas and Chickpeas and a small portion of Sweet Potatoes.
Sadly the formula includes a small portion of Pea Starch and Pea Protein which are lower-quality Pea By-products.
Blackwood Large Breed Whitefish Meal & Oatmeal Recipe Review
Blackwood describes itself as a super premium pet food brand. One of the unique traits of Blackwood is that they slow cook their dog food recipes, which is not something that the majority of dog food brands do. They claim that this slow cooking process maintains more of the ingredients nutrition than traditional cooking, although others would question this.
Blackwood has a small range of recipes, but they do have a grain-free recipe that focuses on Whitefish. The only other meat or fish ingredients present are a small portion of Chicken Fat and Duck Meal. This Chicken Fat is added for flavor. Find out more about the use of Chicken Fat in our article, Chicken Fat In Dog Food.
The bulk of the recipes plant matter is in the form of whole grains such as Oatmeal, Brown Rice, and Pearled Barley, While we generally dissuade from formulas high in grains, these particular grains are some of the better ones. They can provide additional nutrition beyond their carbohydrate content.
However, there are smaller quantities of some less common vegetables, such as Celery, Carrots, and Lettuce. While the portion size of these ingredients means they will provide little nutrition, they could provide some vitamins and minerals that the grains will not.
Diamond Naturals Whitefish & Sweet Potato Recipe Review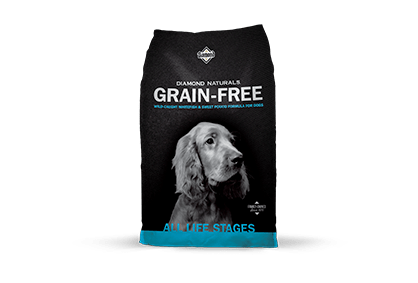 Diamond is a well-known brand and is a popular choice for those on with little cash to spare. One of the reasons for this is that Diamond formulas are sold in enormous quantities such as 35lb or 40lb bags. Buying in bulk is more cost-effective as long as your dog(s) will consume all of the food within a reasonable time frame so that it does not go bad or stale.
Diamond Naturals is the sub-brand of Diamond and contains a recipe that uses Whitefish. All the formulas within this range make use of named meat or fish ingredients, which are then combined with vegetables, starches, or grains.
The fish ingredients present are Whitefish and Fish Meal. While we find the vagueness of Whitefish to be acceptable, the phrase Fish Meal is a little concerning as it's not at all clear what it contains. Despite this, it is likely to contribute beneficial nutrition to the recipe still.
Many Diamond formulas make use of grains such as Brown Rice. However, this particular formula does not, and instead uses Sweet Potatoes, and legumes like Peas and Lentils.
The formula is finished off with some minor ingredients such as Tomato Pomace and Canola Oil. Tomato Pomace is added for its soluble fiber and Canola Oil to add additional fatty acids. Find out more about these two ingredients in our articles Tomato Pomace as a Pet Food Ingredient? and Canola Oil In Dog Food.