Sport Dog Food Information
Sport Dog Food is a premium dog food brand that specializes in the production of dog food for sporting and working dogs. Examples include hunting dogs, K-9 dogs, and sled dogs.
Sport Dog Food has recently added some impressively detailed information on its website about its ingredients.
It explains the reasoning behind the inclusion of all of the ingredients in their recipes as well as where they are sourced from. This is extremely transparent and a trait that many other brands could learn from.
You can check out this information here.
Sport Dog Food Product Range
Sport Dog Food has a moderately sized product range. Their range consists of exclusively dry dog food.
However, they do have specialization within this range including recipes for puppies and varying levels of activity.
Sport Dog Food Nutrition
Given that Sport Dog Food's recipes are designed for working and sporting dogs, it will come as no surprise that they provide excellent nutrition.
All of Sport Dog Food's recipes have an abundance of animal and fish-based protein and fat. This should be at the core of every dog's diet, including those who are not sporting or working dogs.
However, some of Sport Dog Food's recipes have extremely high levels of protein and fat, for example, the recipe designed for sledding dogs. It is important to note that a recipe like this, while impressive, is likely not suitable for in-active dogs as they may gain weight if it isn't properly portioned.
Sport Dog Food Ingredients
High-Quality Meat & Fish Ingredients
Whitefish
Buffalo
Chicken
Turkey
Pork
Catfish
Sport Dog Food has a moderate range of high-quality meat and fish ingredients in its recipes. It uses some of the industry favorites, like Chicken and Turkey, but avoids others.
In addition, it uses some less common ingredients like Buffalo. While ingredients like this might be intimidating, they shouldn't be. They can provide similar nutrition and unique flavor that your dog may enjoy. Learn more about Buffalo in our article Best Dog Food With Bison.
Other Notable Ingredients
Due to their legume free stance, Sport Dog Food makes extensive use of starch ingredients such as Sweet Potatoes, Potatoes, and Tapioca. These ingredients are extremely dense sources of carbohydrates.
They do include some other nutrition beyond this carbohydrate content but it is relatively minor. Thankfully the portion size of these ingredients isn't large.
Some of Sport Dog Food's recipes include grain ingredients such as Oatmeal, Millet, and Sorghum. These grain ingredients are believed to be superior to others, such as Corn and Wheat, by many in the industry. This is as they can provide additional nutrition and are less processed. You can read more about these ingredients in our articles Millet In Dog Food & Sorghum In Dog Food.
Chicken Fat
Coconut
Sport Dog Food Animal Testing
At this time, we have no information on what type of animal testing, if any, that Sport Dog Food participates in.
We strongly believe that laboratory and invasive testing of animals is a cruel and outdated practice and one which should be eliminated.
Sport Dog Food Recalls
Based on our research (FDA, AVMA, DogFoodAdvisor), Sport Dog Food products have never been recalled.
We encourage all pet owners to be careful and vigilant of any future recalls of Sport Dog Food or any other pet food brand.
Sport Dog Food Featured Articles
Best Dog Food Without Flaxseed
Best of Sport Dog Food
Elite Series Sporting Dog Whitefish Formula Review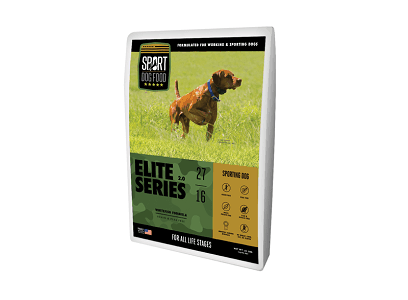 Sport Dog Food Full Product Range
Dry Dog Food
Active Series Cub Buffalo & Oatmeal Formula
Elite Series Herding Dog Buffalo & Sweet Potato Formula
K-9 Series Police Dog Chicken & Fish Formula
Active Series Dock Dog Buffalo & Oatmeal Formula
Elite Series Working Dog Turkey Formula
K-9 Series Project Dog Hero Multiple Protein Formula
Active Series Field Dog Chicken & Sweet Potato Formula
Active Series Tracking Dog Buffalo & Oatmeal Formula
Active Series Bird Dog Whitefish Formula
Elite Series Sporting Dog Whitefish Formula
Elite Series Sled Dog Buffalo & Sweet Potato Formula