What Is Flaxseed?
Flaxseeds are the seeds of the Flax plant, which has been farmed for human consumption for as long as five thousand years. The seeds are tiny and have a distinct nut-like flavor. They are often found in human foods that focus on health and wellness.
They have been produced for so long because they can provide excellent nutrition; in particular, they are an excellent source of the Omega 3 Fatty Acids.
Typically, the only ingredients to provide significant levels of these fatty acids are fish or meat ingredients. But Flaxseeds are probably the best plant-based source that is readily available and cost-effective.
If you want more information on the use of Flaxseed in dog food and its advantages, be sure to check out our article, Flaxseed In Dog Food.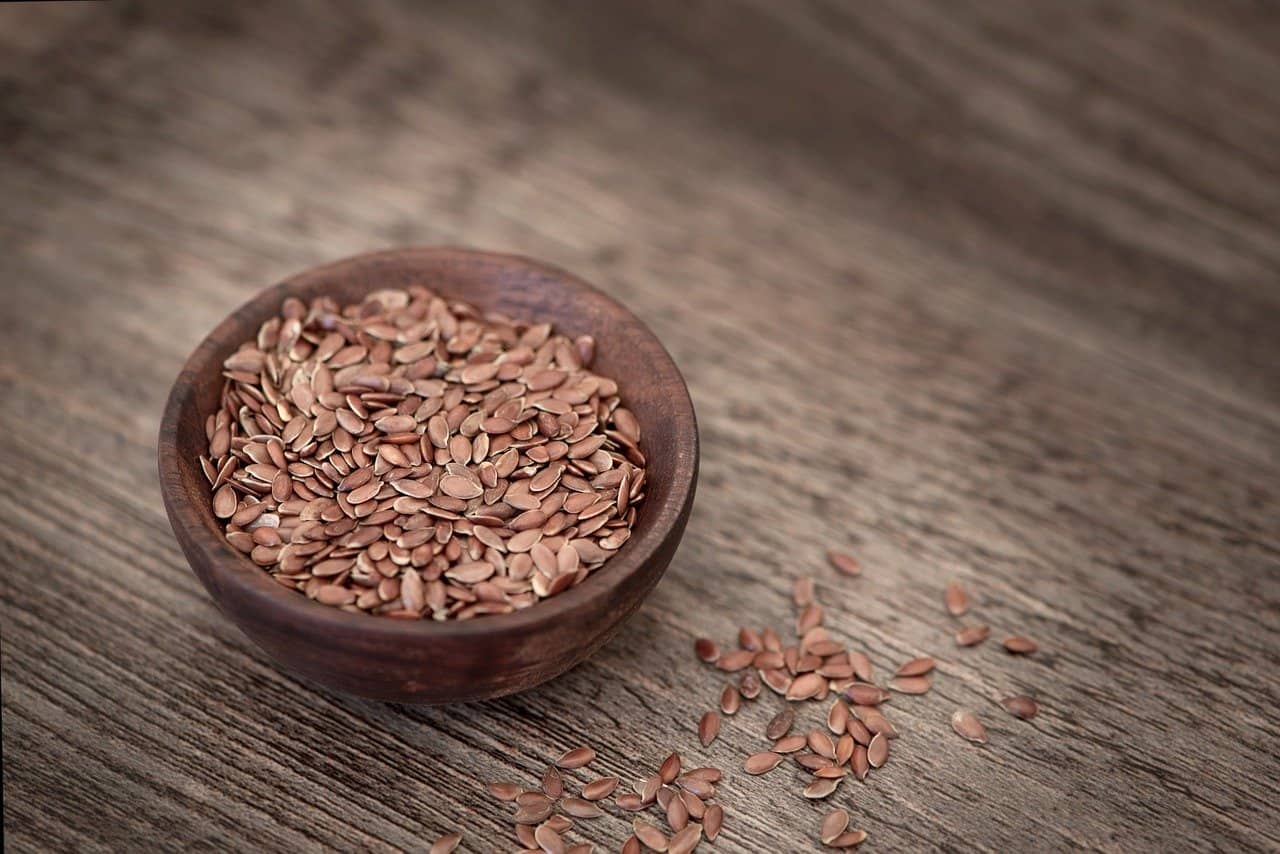 Why Might Some Dogs Need To Avoid Flaxseed?
Just like all ingredients and foods, sometimes they don't react well with certain individuals. This intolerance is the case with some dogs and Flaxseeds.
They can cause adverse effects such as an upset stomach, diarrhea, or even noticeable differences in the condition of a dog's skin or coat.
What makes Flaxseed even more problematic for these dogs is that many dry dog food recipes contain small quantities of Flaxseed.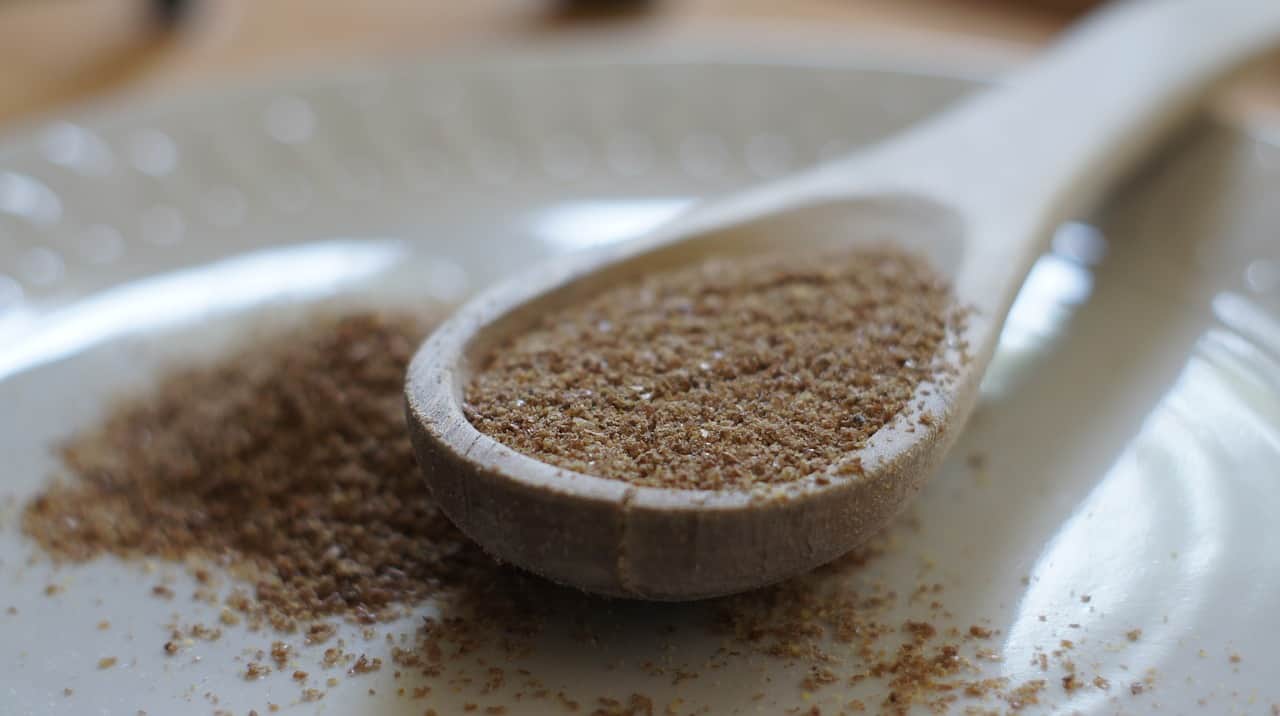 Because the quantities of Flaxseed are small, and many consumers aren't aware of the exact ingredients in their dog's food, the adverse effects the Flaxseed are causing can go unnoticed for months or years.
Even once they are noticed, it can take even longer to narrow down that they are from Flaxseed.
If you want to learn more about how to narrow down allergens in your dog's diet and about the best solutions to allergies and sensitivities, check out our article Best Hypoallergenic Dog Foods Guide.
Best Dog Foods Without Flaxseed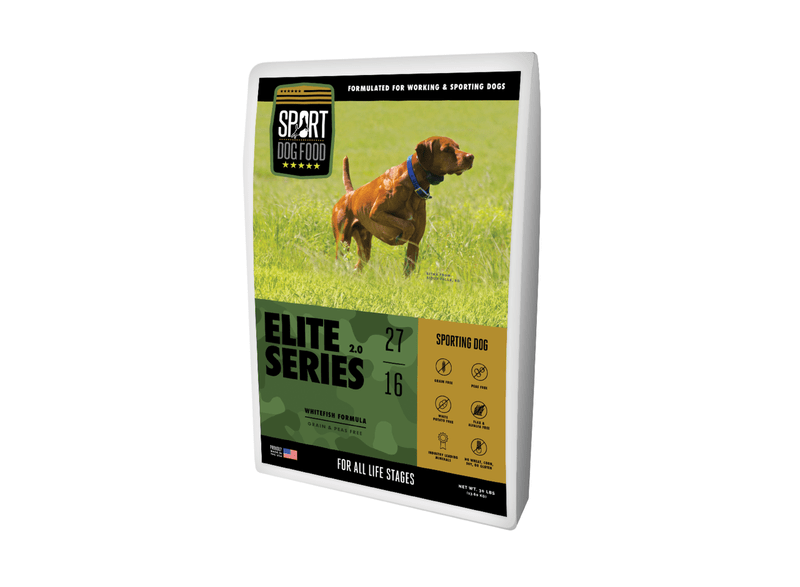 Sport Dog Food is a dog food brand that many of you will not be familiar with. The brand aims to fill the sporting and working dog food niche. Examples of working dogs include K9 dogs, sled dogs, and tracking dogs.
As a consequence of the high levels of activity that these dogs experience, many of Sport Dog Food's formulas provide adequate nutrition. This high protein and fat centric diet is a necessity to ensure that working dogs can perform to the peak of their ability.
However, non-working dogs can still purchase their products, and many will not just enjoy them but also excel with them thanks to the nutrition provided and quality of the ingredients.
As a brand, Sport Dog Food chooses not to include any Flaxseed in any of its recipes. It proudly advertises this on its site and its packaging. It's not entirely clear why Sport Dog Food is so adamantly against Flaxseed, but this is a massive advantage for those dogs who do not cope well with Flaxseed.
The above mentioned Whitefish Formula is one of our favorites. The portion of protein and fat in this formula is very satisfactory and suitable to the vast majority of dogs, including those that are very active. The Omega Fatty Acids level is also high in this formula and much higher than other Sport Dog Food recipes.
The formula also contains a large portion of starch ingredients like Sweet Potatoes and Tapioca. These starches can provide carbohydrates and dietary fiber. Tapioca is a lesser-known ingredient, and many readers will likely be unfamiliar with it. Learn about Tapioca in our article Tapioca In Dog Food.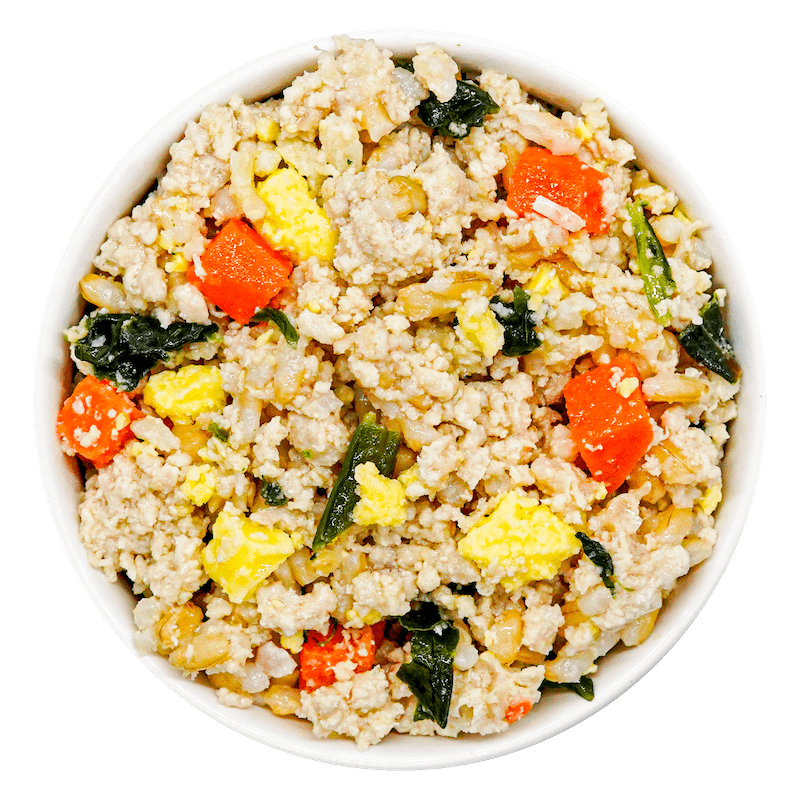 Over the previous few years, "Fresh Home-Delivered" dog food has seen a surge in popularity in the United States. This new style of dog food is drastically different from dry or canned food. It is freshly prepared, pre-portioned, and then delivered straight to a customer's door.
Nom Nom, formerly NomNomNow, is one of the most popular providers of this service and is available in all 48 of the contiguous states. We'd recommend checking out their FAQ page for the full rundown on how the service works.
Nom Nom currently has four fresh dog food recipes available, and all four of these are flax-free. We've chosen the above-mentioned Tasty Turkey Fare to discuss as it is our favorite, but you can choose one of their other recipes or a mix of multiple.
Turkey takes center stage as the recipe's primary meat ingredient. While not as popular as Chicken, it provides extremely similar nutrition, high in protein and fat. It is joined by a generous proportion of Eggs, which are one of the most bioavailable sources of protein.
The recipe makes use of Brown Rice and some unusual vegetable ingredients such as Carrots and Spinach. Brown Rice is a safe bet for dogs with easily upset stomachs and can provide an ample portion of carbohydrates and fiber.
This mix of Turkey, Eggs, and plant-based ingredients ensures that the nutritional profile of the formula is balanced, and it provides an above-average proportion of protein and fat.
If Nom Now doesn't appeal to you, but you are still interested to learn more about freshly prepared home-delivered dog food brands then check out our reviews of PetPlate, Ollie, A Pup Above, and The Farmer's Dog.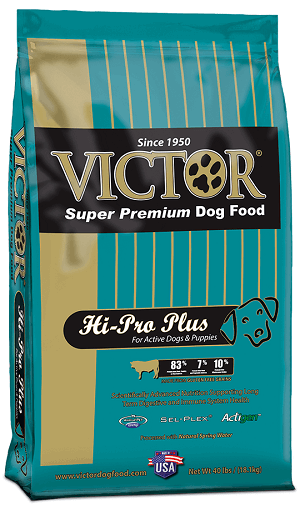 Victor is a widely successful brand that we feature in several of our articles and discussions. Victor is found in local or large pet food stores and at a myriad of online retailers like Chewy and Petflow.
One of Victor's most significant advantages is that they sell their dog food recipes in huge bags. This takes advantage of economies of scale and allows Victor to be more affordable than some of its competitors. This may appeal to owners of large dogs or multiple dogs who purchase more dog food than normal.
The above Hi-Pro Plus is our favorite Victor recipe and is one we've discussed numerous times. While it isn't a hypoallergenic recipe or one specifically advertised as Flax-free, it does not contain any Flaxseed ingredients making it a great option for those looking to avoid Flaxseed.
The recipe contains a substantial variety of meat and fish ingredients, all of which are meat meals. While meat meals may sound unappealing at first, they are, in fact, very nutritionally dense. This nutritional density is as they have had their moisture removed before being manufacturing.
A general rule of thumb is that as long as the meat meal is named, it is considered a satisfactory and beneficial ingredient. Examples of meat meals used in Hi-Pro Plus include Beef Meal, Chicken Meal, Pork Meal, and Menhaden Fish Meal.
The formula uses two primary sources of carbohydrates, Grain Sorghum and Millet. Grain ingredients are a controversial addition as some dog owners disagree with their use but these grain are not be feared.
Besides, the sum of carbohydrates provided by the portion of these two ingredients is modest and satisfactory for the vast majority of dogs.
Farmina N&D Ancestral Grain Adult Chicken & Pomegranate Review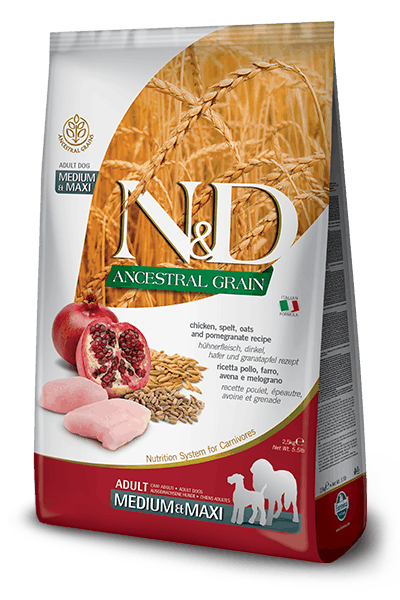 Farmina's N&D is one of the premier dog food brands, and with that comes excellent nutrition and the use of higher-quality ingredients, fit for human consumption. Sadly, for many dog owners, formulas such as those from Farmina may not be affordable, but for those who want the very best for their pups, Farmina should not be ignored.
Farmina is one of the very few brands that make little to no use of Flaxseed in their extensive product range. Many brands have select recipes that are Flax free, but its widespread absence is unusual.
One of the reasons for this is that Farmina does not need to rely upon Flaxseed to provide the Omega Fatty Acids as some other brands do. This lack of reliance is as their recipes contain plentiful portions of animal and fish ingredients such as Chicken and Herring.
Both of these ingredients are ideal for a dog's diet and can provide a plentiful supply of protein and fat. The Omega Fatty Acids, which are provided by these meat and fish ingredients, can help improve the health of a dog's skin and coat along with improved cognitive function.
In addition to Chicken and Herring, the formula makes use of a small selection of grain ingredients, including Oats and Spelt. Higher-quality grains such as these have been gaining popularity since the links between legumes and canine heart disease have been thrust into the limelight (you can read about that news here)
American Natural Premium Triple Protein With Ancestral Grains Review

Triple Protein Recipe With Ancestral Grains is one of American Natural Premium's new "legume-free" recipes and was made to appeal to consumers considered about the recently discovered connection between legumes and canine dilated cardiomyopathy. You can read more about this link in our article Best Dog Foods Without Peas.
However, on top of being legume-free, the recipe is also flaxseed-free. Compared to some of the recipes suggested above, American Natural Premium is far more affordable, especially for larger dogs or families with multiple dogs.
As the name gives away, the recipe uses three meat sources, which are Chicken, Turkey, and Pork. These ingredients provide a reasonable portion of animal-based protein and fat. While not as high as others, this is to be expected, given its lower price point.
The recipe then uses a mix of grain ingredients to provide carbohydrates and dietary fiber. Examples include Sorghum, Oat flour, Barley, and Quinoa. You can learn more about some of these grain ingredients in our articles Sorghum In Dog Food & Barley In Dog Food.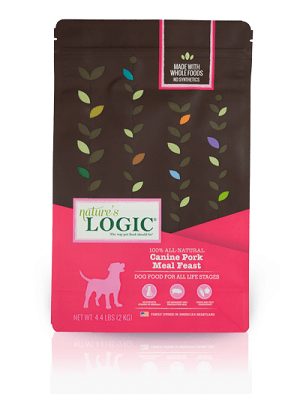 Nature's Logic is a less well-known dog food brand, but that doesn't mean they should be dismissed. Nature's Logic produces a wide range of formulas, including some that use less common meat and fish ingredients such as Sardine, Venison, Lamb, and Rabbit. Some of these ingredients could be considered Novel Meat formulas (which you can read about here).
Our favorite trait of Nature's Logic is that they very clearly display a vast range of nutritional and ingredient information on their website. The depth of this information is far more than most of their competitors are willing to make public.
To give you some examples of this information, it includes accurate levels of a wide variety of micronutrients, vitamins, and minerals. They also show you exactly where their ingredients are sourced on an easy to understand, visual map. This approach shows they are passionate about dog nutrition and not ashamed of the nutrition their formulas provide or the source of their ingredients.
The primary reason most consumers choose Nature's Logic over other brands is their use of Millet. Some do not consider Millet to be as favored as some other grains such as Brown Rice or Oatmeal, but we believe it is a vast improvement on others such as Corn or Wheat.
Grains such as Millet can be a vital lifeline for those dogs with severe allergies to vegetable and starch ingredients like Peas and Potatoes and should therefore not be immediately dismissed.
Like many other recipes discussed in this article, Nature's Logic manage to hit two birds with one stone as their recipes are also flaxseed-free.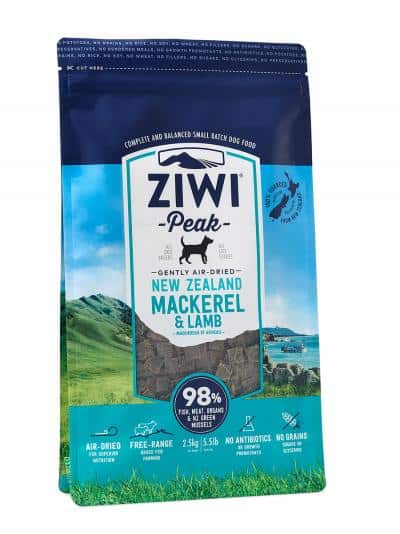 Ziwi Peak produces air-dried dog food, which is similar to freeze-dried dog food and is one of the leaders in this niche market. The brand is based in New Zealand, so it will come as no surprise that Lamb features prominently in their recipes. However, they do have some non-Lamb recipes, including a recently launched Chicken recipe and the above recipe, which features a mix of Lamb and Mackerel.
The most notable advantage of air-dried dog food is that it consists entirely of meat and has no significant vegetable, grain, or fruit ingredients. This lack of plant material includes a lack of Flaxseed, which means that for dogs looking to avoid Flax, Ziwi Peak could be the solution.
The other core advantage of air-dried dog food is that it can provide excellent nutrition. Thanks to a lack of plant-based material, the portion of protein and fat is immense and sufficient for dogs of all activity levels.
Also, air-dried dog food is extremely dense, which means a dog will need a relatively small portion when compared to traditional kibble.
The unfortunate disadvantage of Air Dried Dog Food is that it is costly and, therefore, might not a realistic solution to the majority of dog owners.
However, there are creative ways around this high cost. You could consider feeding your dog a mixture of Air Dried Dog Food and fresh ingredients. Ingredients such as fresh fruit and vegetables are ideal to combine with a diet of air-dried dog food and would allow you to ensure a completely Flax free diet.