Ollie Information
Ollie is a provider of fresh home delivered dog food. Their recipes are prepared and pre-portioned before being delivered frozen straight to customer's doors.
This food is then designed to be stored in the fridge or freezer to ensure it remains safe to eat. Ollie has invested a significant amount of time and energy into producing space-efficient packaging to ensure your dog's food does not take up half your fridge space. Their deliveries also come with a scoop to help you serve the food.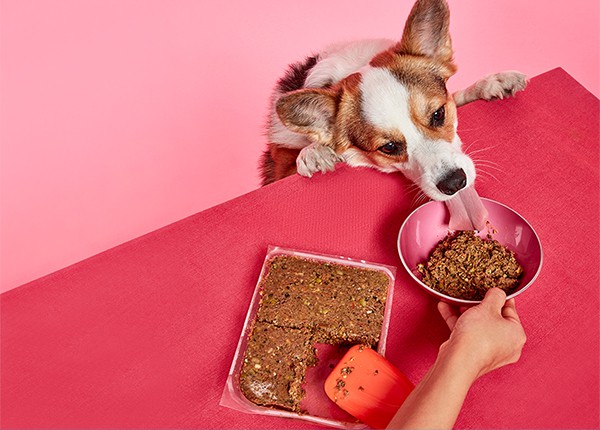 Ollie base the portion size of their deliveries on a number of factors that you enter when you sign up for their service. This includes a dog's age, weight, and breed, among others.
While fresh home delivered food services such as Ollie are more expensive than traditional dry kibble, they are not as expensive as many would imagine.
The home-delivered dog food market has grown significantly in recent years with some of Ollie's competitors, such as Nom Nom, A Pup Above, Pet Plate, and The Farmer's Dog, seeing growth as high as 500% year on year.
Ollie Product Range
Dog Food
Ollie currently has a range of four dog food recipes. Each recipe makes use of a unique meat ingredient, which ensures that there should be at least one formula that appeals to the majority of dogs.
This range is consistent in comparison to some of Ollie's competitors, such as Nom Nom or Pet Plate.
One of Ollie's unique selling points is they offer "topper" plans. This allows dog owners to provide their dogs with some fresh Ollie food while still maintaining their existing kibble diet. This also appeals to owners who can not afford to exclusively feed their dogs Ollie food.
Cat Food
Ollie does not currently sell any cat products or recipes. However, it is likely that Ollie or other fresh dog food companies will soon expand into the cat market, just as Nom Nom has done.
Ollie Nutrition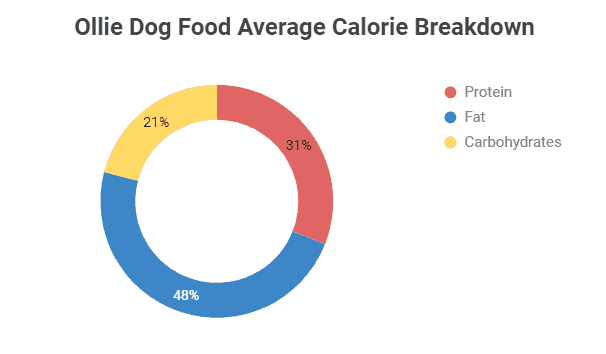 Please note, the above chart is based on Ollie's Guaranteed Analysis. This is an estimate, and the true values are likely to include a slightly higher proportion of protein and fat.
As shown above, the average nutrition provided by Ollie formulas is satisfactory. It includes significantly above average proportions of protein and fat and a significantly below-average proportion of carbohydrates.
This nutritional profile would be suitable for the majority of dogs, including those that are more active.
Ollie recipes include a much higher proportion of fat than some of their competitors. Normally a high proportion of fat may be a concern to certain dogs, such as those susceptible to weight gain. However, the portioning provided by Ollie should help prevent this.
If you want to know the nutrition of individual Ollie recipes, check out Ollie's recipe page, which includes their Guaranteed Analysis. The page can be found here.
Ollie Ingredients
High-Quality Meat & Fish Ingredients
Turkey
Chicken
Beef
Lamb
Eggs
As shown above, Ollie makes use of a range of high-quality meat ingredients. These ingredients are the primary ingredient in each recipe and provide a plentiful supply of animal protein and fat.
Ollie does not make use of Meat Meals such as Chicken Meal or Beef Meal. While we do not believe Meat Meals are low-quality ingredients, some dog owners prefer whole meat cuts such as those used by Ollie.
Other Notable Ingredients
Ollie makes use of all three of the most popular legume ingredients, which are Chickpeas, Peas, and Lentils. Legumes are high in plant-based protein and are affordable.
However, there is concern about the effects of high portions of legumes. Learn more in our article Peas, Pea Protein, Pea Flour, and Pea Fiber in Dog Food.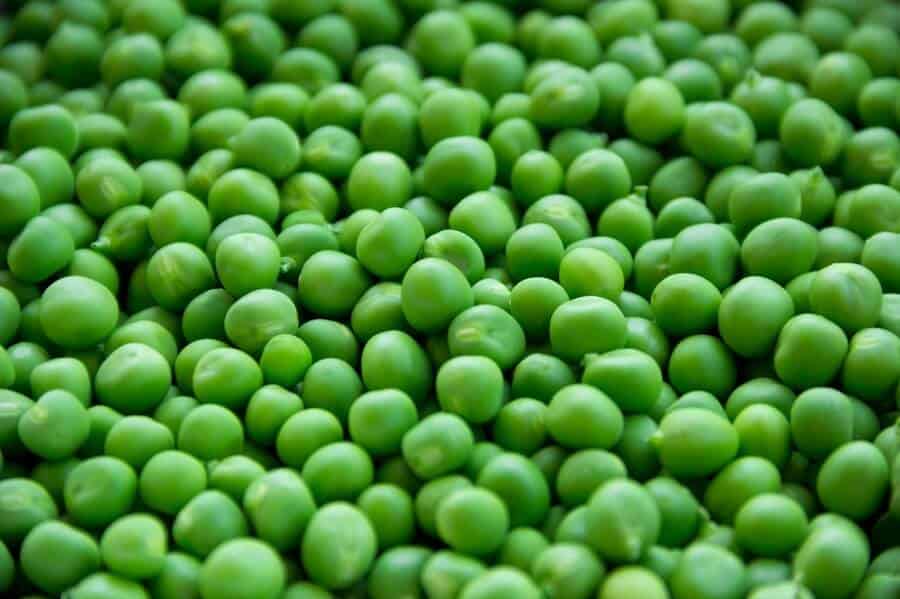 However, Ollie does not just make use of legumes, and they also use the two most popular starch ingredients in their recipes. These would be White Potatoes and Sweet Potatoes.
It is important that excessive portions of Potatoes or Sweet Potatoes are not used as they are very dense sources of carbohydrates. Thankfully, in Ollie recipes, the portion is modest and satisfactory.
Squash vegetables are far less commonly found in dog food, but Ollie has managed to include two in Butternut Squash and Pumpkin. Squash is renowned for aiding digestion thanks to the high levels of fiber they contain.
Learn more about Pumpkin in our article Best Dog Food With Pumpkin.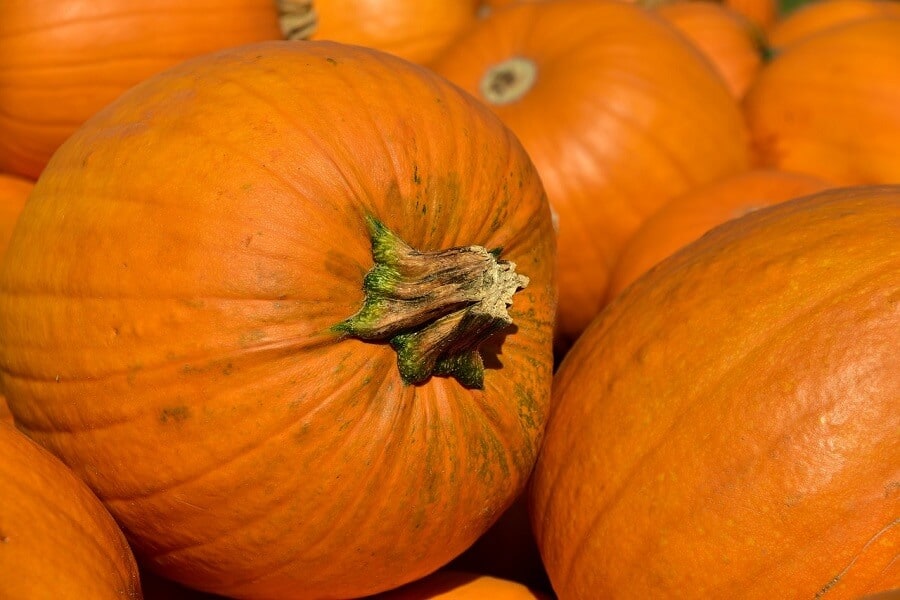 Carrots and Spinach are unusual in traditional dry kibble, but they are a more common ingredient in fresh dog food. They can provide carbohydrates, fiber, and some vitamins and minerals that aren't present in the most common vegetables like Legumes.
The last ingredient worthy of discussion that is found in Ollie recipes is Rice. Rice is a grain ingredient that some dog owners and brands are not fond of.
However, whole grain rice or Brown Rice can be nutritious and provide additional nutrition beyond its carbohydrate content. The portion of Rice found in Ollie recipes is very small and not worthy of concern.
Ollie Animal Testing
We have limited information on what kind of testing Ollie participates in, but to the best of our knowledge, they do not participate in invasive or laboratory testing of animals.
We strongly believe that laboratory testing of animals is a cruel and outdated practice that should be eliminated or severely reduced.
Ollie Expertise
Many fresh dog food companies employ the services of veterinary nutritionists. This is important to ensure that their recipes can provide dogs with complete nutrition and avoid issues.
However, at this time, we have no information on who Ollie works with to formulate and develop their recipes.
Ollie Recalls
To the best of our knowledge and research (FDA, AVMA, DogFoodAdvisor), Ollie has no history of product recalls.
However, many in the industry consider fresh food to garner a higher risk of contamination or other health concerns. This is as it must be stored in cooled appropriately, whereas traditional dry kibble has far fewer restrictions.
To combat this, Ollie test every single batch of food they produce to ensure it is not contaminated or dangerous and will be safe for dogs to consume.
Despite this, we will always encourage you to be vigilant of any future recalls of Ollie or any other fresh dog food products.
Ollie Featured Articles
Best Fresh Home Delivered Dog Food – This article discusses all the major brands currently competing within the fresh home-delivered space. We discuss their ingredient choices, product range, and nutrition.
Best Dog Food With Pumpkin – This article details the use of Pumpkin in dog food, including its health benefits and nutrition. Ollie is one the only Fresh Home-Delivered dog food brand to make major use of Pumpkin, which earns it a place in our favorites.
Best Dog Food Without Potatoes – Similar to our Best Dog Food Without Peas article, this piece discusses the concerns around Potatoes and what the best alternatives are. Ollie's use of Pumpkin as an alternative carbohydrate ingredient is the primary reason that they feature here.
Best Dog Food With Lamb – Lamb is an underrated and highly nutritious ingredient, and this article highlights that and much more. Ollie has a recipe with lamb at its center, which earns it a spot.
Best of Ollie
Healthy Turkey Feast Review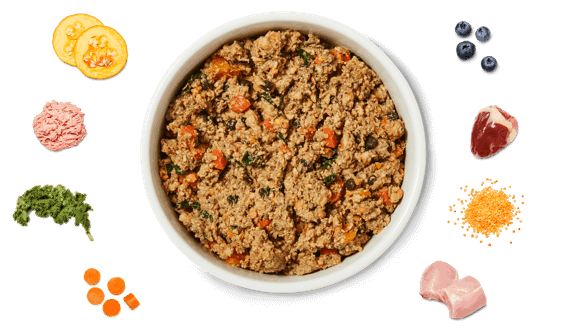 We are fans of all four of Ollie's current recipes, but we had to pick one, and Healthy Turkey Feast came out as the winner.
The recipe uses a large variety of turkey ingredients, including Ground Turkey, Turkey Thigh, Turkey Liver, Turkey Heart, and Turkey Gizzards. This mix of ingredients provides a very large and satisfactory proportion of protein and fat.
In addition, the organ meat ingredients such as Turkey Liver and Turkey Heart can provide additional vitamins and minerals that traditional meat cuts lack.
The core vegetable ingredients of the recipe are Pumpkin, Carrots, and Lentils. The large portion of Pumpkin is unusual when compared to most dog food recipes but could be beneficial to dogs who need assistance with their digestion. However, other, more sensitive dogs may need to be wary.
For a full list of ingredients and the recipes Guaranteed Analysis, check out Ollie's recipe page, which can be found here.
Ollie Full Product Range
Healthy Turkey Feast
Hearty Beef Eats
Chicken Goodness
Tasty Lamb Fare