Kabo Information
Kabo is a Canadian Fresh Home Delivered dog food brand. It is available in select cities and provinces, including Ontario, British Columbia, Montreal, Winnipeg, and Calgary.
They recently featured on season 15 of the popular TV show – Dragons Den. On the show, Vino Jeyepalan and Vijay Jeyeplan, who are the founders of the brand, showcase their offering and attempt to get the investment they need to get the brand moving forward.
You can check out the full Dragon's Den segment below.
Their food is shipped frozen directly to consumers in pre-portioned packaging. This methodology ensures that the food remains safe to eat, and no excess food is wasted. Also, Kabo, along with many other Fresh dog food companies, use fully recyclable packaging to remain environmentally friendly.
For more information about Kabo, such as how it costs, how it is delivered, and how it is prepared, we recommend checking out their FAQ page, which you can find here.
Fresh Home Delivered dog food is not understood by most dog owners but has taken off in the United States with brands like The Farmer's Dog, Nom Nom, and Ollie. The subscription-style arrangement is prevalent when combined with high-quality ingredients and nutrition.
There are very few choices in Canada, and many are only available in a given province or area.
This style of dog food is considerably more expensive than traditional kibble and may be out of reach for some dog owners.
Despite this, Fresh Home Delivered dog food is likely to increase in popularity, and additional providers other than Kabo are certain to appear in the coming years.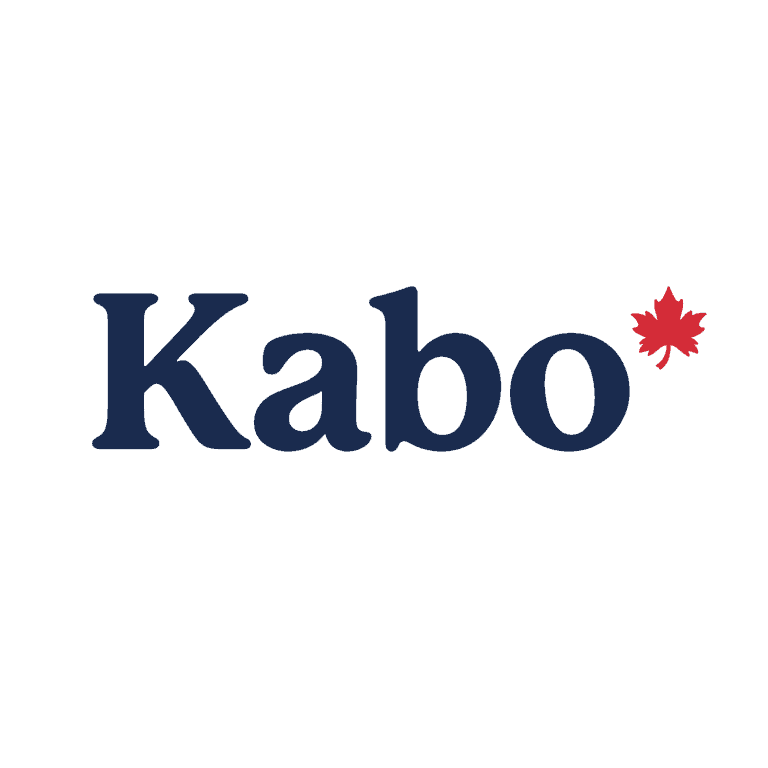 Kabo Product Range
Dog Food
At first, Kabo had a tiny product range that only contains two distinct recipes. Both of these were fresh dog food recipes, each using a different meat ingredient.
Kabo promised to expand its range soon, which would bring it up to three to four recipes, which is a similar size to its US counterparts.
In late 2020, they did exactly as they promised, adding two extra fresh dog food recipes and a dry dog food (kibble) recipe. This brings them up to a grand total of five recipes, which is in line with other brands.

It is surprising that Kabo has released a dry dog food recipe so quickly, given that most of the other home-delivered dog food brands have chosen not to enter this space. The only other brand to release a kibble recipe successfully has been Spot & Tango.
If you want to learn more about Kabo's kibble recipe, check out their page dedicated to it, which can be found here.
Cat Food
At this time, Kabo does not produce any cat food products. Fresh home-delivered cat food is still in its infancy, but there are some US brands exploring the market, including Nom Nom and Smalls.
We strongly believe that other fresh dog food providers will expand into this market in the coming years.
Kabo Nutrition
The nutrition offered by Kabo recipes varies between the four recipes. The nutritional profile is above-average compared to many traditional dry dog food recipes but is below some of their US counterparts that produce fresh dog food.
The proportion of protein in Kabo recipes is satisfactory but would not be classed as extraordinary by most.
Both the Chicken and the Turkey recipes have meager proportions of fat compared to typical dog food recipes. This could appeal to dogs looking to achieve weight loss or looking to avoid weight gain.
Below is an example of the nutrition offered by a Kabo recipe (Savoury Beef Recipe).
As you can see, this recipe has a large proportion of fat, which would make it very appealing to dogs but may not be ideal for those looking to avoid weight gain or who are not active.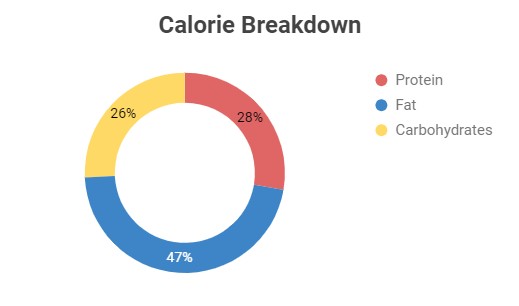 We'd recommend checking out the exact nutritional breakdown of each of Kabo's recipes, which you can do here.
In addition, if you are interested in learning more about canine nutrition, we highly recommend you check out our Dog Food Guide.
Kabo Ingredients
High-Quality Meat & Fish Ingredients
Beef
Beef Liver
Chicken 
Chicken Liver
Turkey
Lamb
Chicken, Turkey, Lamb, and Beef are all high-quality meat ingredients that can provide a plentiful supply of protein and fat, which should be at the core of every dog's diet.
Many of these ingredients are industry favorites and are used by the majority of pet food producers due to their relatively low cost and high availability.
The use of organ meat, such as Liver, is also widespread among premium dog food brands. Organ meat can provide several vitamins and minerals that traditional meat cuts lack, as well as enhance a food's flavor to make it more appealing to dogs.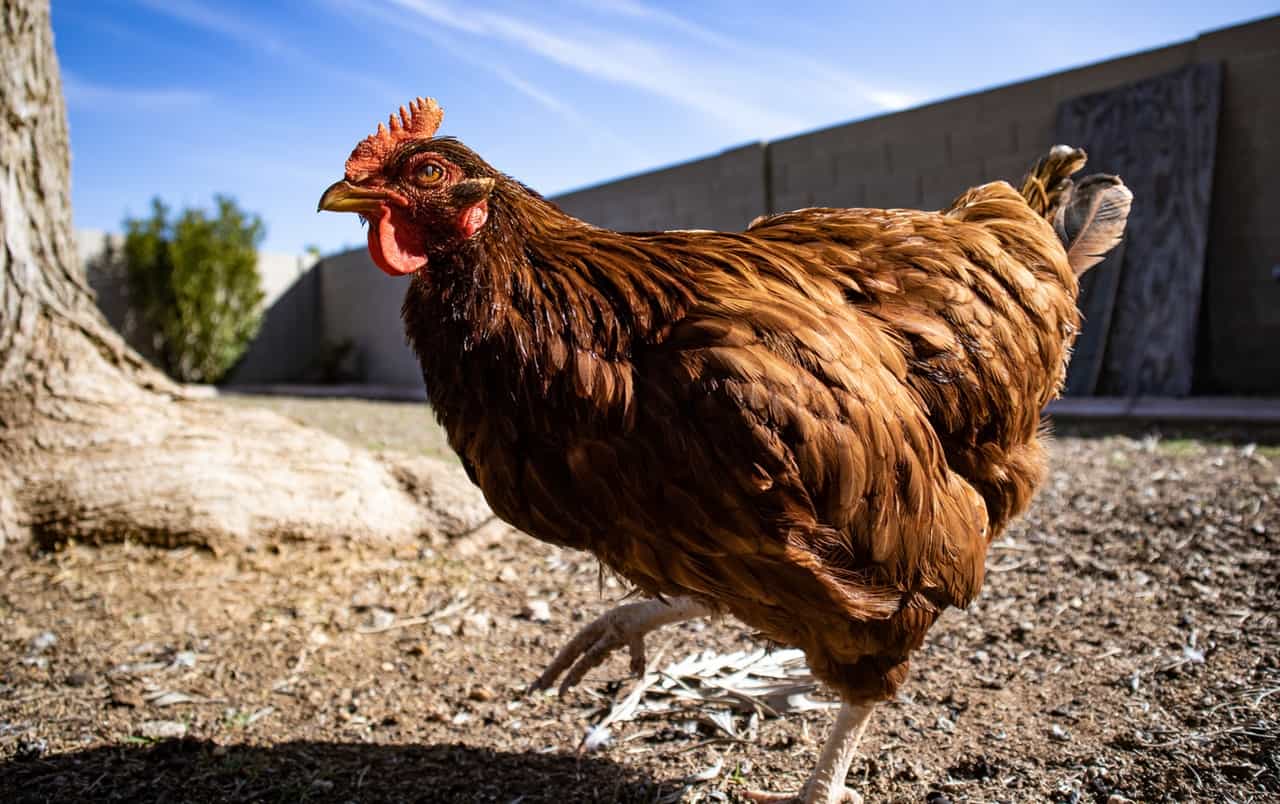 Other Notable Ingredients
Sweet Potatoes & Potatoes are a common addition to dog food. They are classed as starch ingredients, which means that they are very dense sources of carbohydrates.
However, they can provide some additional nutrition beyond this carbohydrate content in the form of fiber and select vitamins and minerals. The key with starch ingredients is that the portion size is tightly controlled to ensure the overall proportion of carbohydrates is not excessive.
Thankfully the portion size used in Kabo recipes is not particularly large.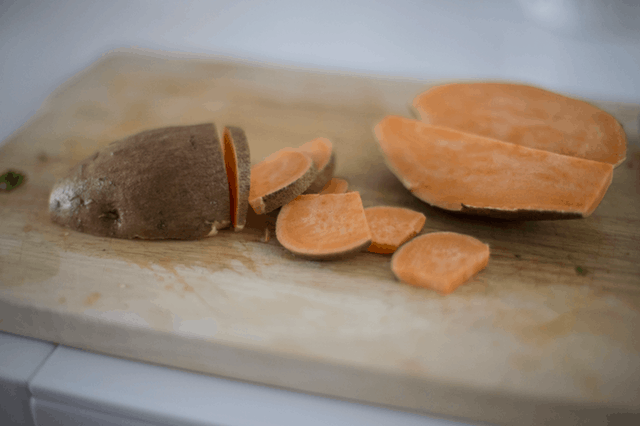 Rice is found in one of Kabo's recipes and acts as a source of carbohydrates. Rice is a grain ingredient, and for that reason, it can be a controversial addition to pet food recipes.
It is not clear whether Kabo uses White or Brown Rice in this recipe. Brown Rice is preferred to White Rice by many thanks to the additional micronutrients and fiber it can provide.
Peas and Chickpeas are the most common plant-based ingredient used in premium and grain-free dog food.
They have a very high proportion of protein for a plant-based ingredient, making them appealing to manufacturers who want to make their recipe appealing.
However, there are links between the use of Peas and other Legumes and increased risk of Canine Heart Disease.
Thankfully the portion of Peas in Kabo recipes is not extreme, but we recommend reading more about this in our article Best Dog Foods Without Peas.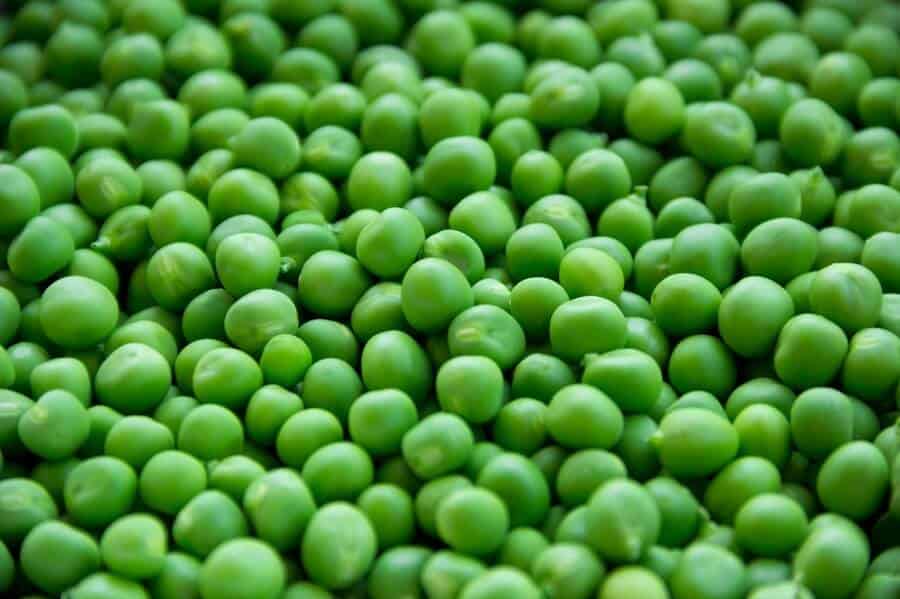 Green Beans & Carrots are two vegetable ingredients that are not commonly found in dog food recipes. Most brands rarely venture outside of the usual suspects of legumes, grains, and starch ingredients.
However, their rarity does not mean that they are negative additions. They can provide carbohydrates, fiber, and select micronutrients. They also offer unique flavors that a dog may not be used to and could enjoy.
Kabo's kibble recipe makes use of a small portion of Pumpkin. Pumpkin is an excellent addition to dog food recipes and is best known for its high-fiber content. It is often prescribed to dogs who struggle with regular digestion and stools.
However, it isn't beneficial just for its fiber content and can also provide carbohydrates and select vitamins and minerals such as Beta Carotene. You can learn more about Pumpkin's use in dog food and some of our favorites recipes in Best Dog Food With Pumpkin.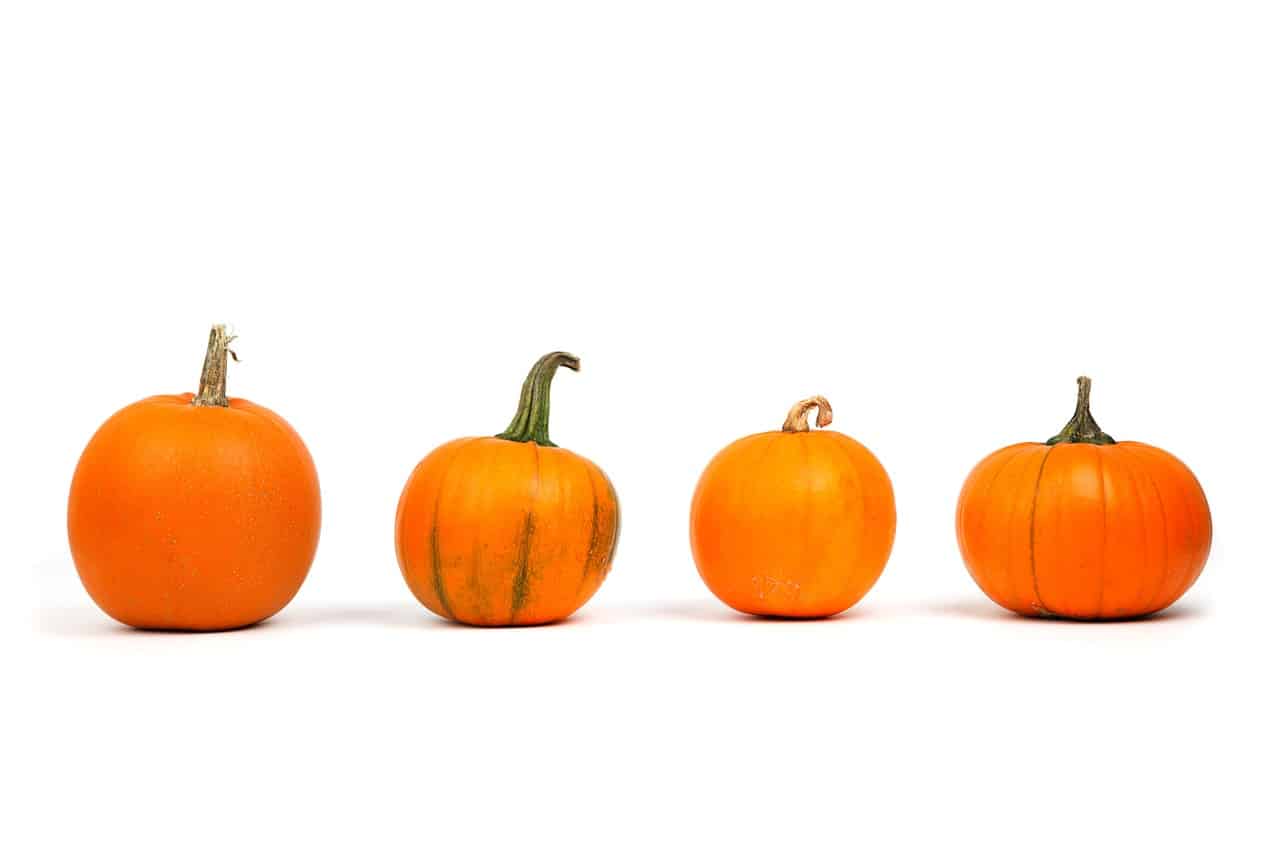 More minor additions to Kabo's kibble recipe include Flaxseed and Brewers Yeast.
Flaxseed is best known as an excellent plant-based source of the Omega 3 Fatty Acids. These fatty acids are believed by many to provide several health benefits to dogs and humans alike, such as an improvement in the skin and coat health and a reduction in the risk of certain health issues.
If you want to learn more about Flaxseed and its benefits, check out Flaxseed In Dog Food.
Brewers Yeast is also present to provide beneficial micronutrients; however, it utilizes vitamins and minerals. The B vitamins are the most prominent to be found in Brewers Yeast, but there are others.
Read more about these health benefits and what vitamins Brewers Yeast contains in our article Brewers Yeast In Dog Food.
Kabo Animal Testing
At this time, we have no information on what type of animal testing, if any, that Kabo participates in.
There are concerns by some that "boutique" brands such as those in the fresh dog food space do not participate insufficient testing of their recipes.
However, we strongly believe that laboratory and invasive testing of animals is a cruel and outdated practice and one which should be eliminated.
Kabo Recalls
Based on our research (FDA, AVMA, DogFoodAdvisor), Kabo products have never been recalled.
However, given this brand is still extremely young, this lack of recalls is not surprising, and Kabo needs to maintain this record in the coming years to be proven as consistent.
In spite of Kabo's recall-free record, we encourage all pet owners to be careful and vigilant of any future recalls of Kabo or any other pet food brand.
Kabo Featured Articles
Best Dog Food In Canada – Many Canadians struggle to learn about Canadian dog food as google searches almost always show results for a US-based audience.
However, our recent article has broken down these barriers and discusses many Canadian brands, including Kabo. Be sure to check it out to learn why Kabo made the cut and to see our other recommendations.
Best of Kabo
Tender Chicken Recipe Review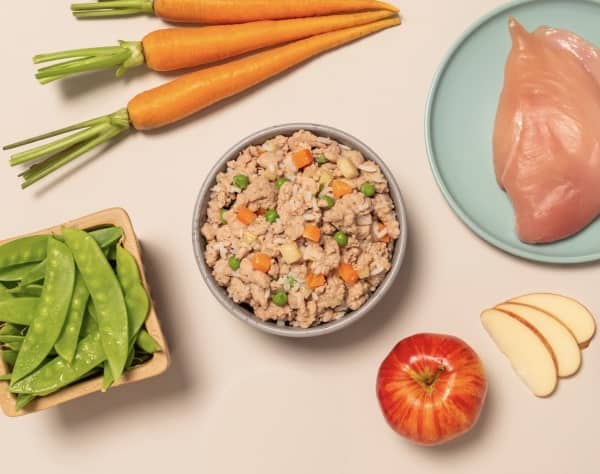 Of the four Kabo recipes currently available, the Tender Chicken Recipe is our clear winner. The recipe is Kabo's take on the classic Chicken and Rice formula that many dogs rely on as a staple. 
Chicken and Rice recipes are often given to dogs who have an easily upset stomach or react poorly to other plant-based ingredients.
The nutrition offered by this recipe may be considered advantageous compared to other Kabo recipes due to the very satisfactory proportion of protein present. This protein proportion will be suitable for most dogs, including those that are more active.
However, Rice isn't the only plant-based ingredient present. The recipe also makes use of Carrots, Peas, and Apples. This mix of vegetables and fruit ingredients adds flavor, additional carbohydrates, fiber, and micronutrients.
Irresistible Chicken Review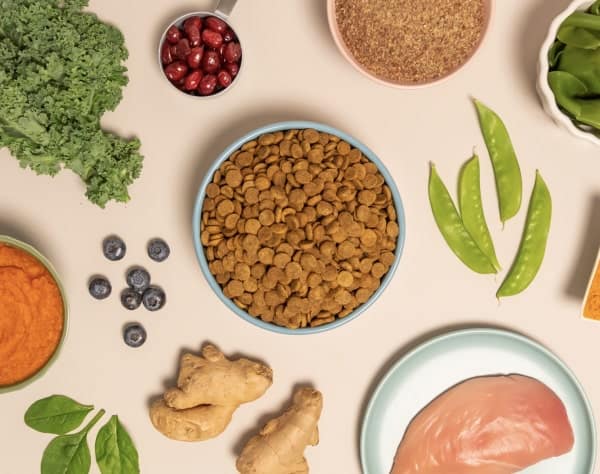 As we mentioned earlier, Kabo recently released a single fresh kibble recipe, which you can see above.
This recipe uses a generous portion of Chicken Meal as its primary ingredient. This Chicken Meal has been processed to remove its moisture in advance, meaning it is an extremely dense source of nutrition.
Kabo then uses a mix of Peas, Sweet Potatoes, and other minor ingredients to provide carbohydrates and fiber. 
Lastly, there are tiny portions of beneficial ingredients such as Flaxseed, Brewers Yeast and Kelp Meal. Many believe these can provide health benefits to dogs, including acting as a source of the Omega 3 Fatty Acids.
Kabo Full Product Range
Fresh Dog Food
Savoury Beef Recipe
Luscious Lamb
Tender Chicken Recipe
Hearty Turkey
Dry Dog Food
Irresistible Chicken Kibble