Pet Plate Information
Pet Plate is a US-based fresh home delivered dog food brand. Pet Plate delivers to all of the 48 contiguous states and does so at regular intervals to ensure that you always have a plentiful supply.
All of Pet Plates recipes are pre-portioned based on the information you provide during their sign up. This allows them to provide the right portion sizes based on your dog's breed and size.
PetPlate has Featured on popular websites such as HuffPost, GoodHouseKeeping, and Fortune.
One important distinction between Pet Plate and some of their competitors is that their containers are very easy to use and store and are completely recyclable.
Users of Pet Plate are also very satisfied with the fact that they are allowed to alter, pause, cancel, and skip their deliveries as required, and the company doesn't make doing so difficult.
Pet Plate Product Range
Dog Food
Pet Plate has a relatively small dog food range consisting of four recipes. Each of these recipes focuses on a different meat ingredient, including Chicken, Turkey, Beef, and Lamb.
Cat Food
At this time, Pet Plate does not produce any cat food products. However, given that other fresh home delivered dog food brands, such as Nom Nom, have expanded to cat food, it is likely that Pet Plate will follow suit.
Pet Plate Nutrition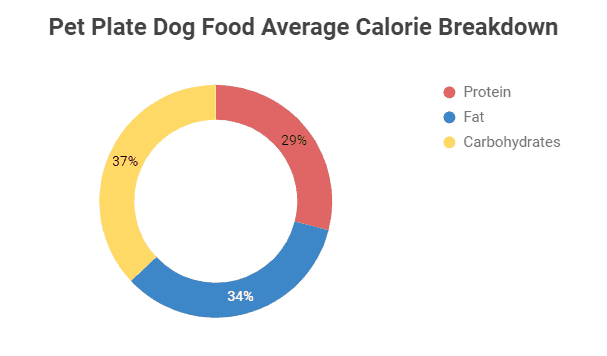 Please note, the above chart is based on Pet Plate's Guaranteed Analysis. This is an estimate, and the true values are likely to include a slightly higher proportion of protein and fat.
As shown above, the average nutrition provided by Pet Plate recipes is satisfactory. It includes above-average proportions of protein and fat. This proportion of protein and fat would be suitable for the majority of dogs, including those that are more active.
However, the portion of carbohydrates present in Pet Plate's recipes is still significant and notably higher than some of their competitors.
For the exact nutrition provided by Pet Plate formulas, be sure to check out the Guaranteed Analysis tabs on their Meals page, which you can find here.
Pet Plate Ingredients
High-Quality Meat Ingredients
Pet Plate features multiple high-quality and nutritious meat ingredients, which are listed above. These can provide a plentiful supply of animal protein and fat, which should be at the core of a dog's diet.
However, at this time, Pet Plate does not have any recipes that contain fish, which is unfortunate. Fish ingredients such as Salmon and Mackerel contain high levels of the Omega 3 Fatty Acids, which can provide a number of health benefits.
Other Notable Ingredients
Pet Plate makes extensive use of the starches Potatoes and Sweet Potatoes. These provide the bulk of the plant content of their recipes and provide carbohydrates and fiber.
Starches such as these are very dense sources of carbohydrates, which is why it is important that the portion is not excessive. The portion used in Pet Plate recipes is modest, which ensures that the carbohydrate proportion remains satisfactory.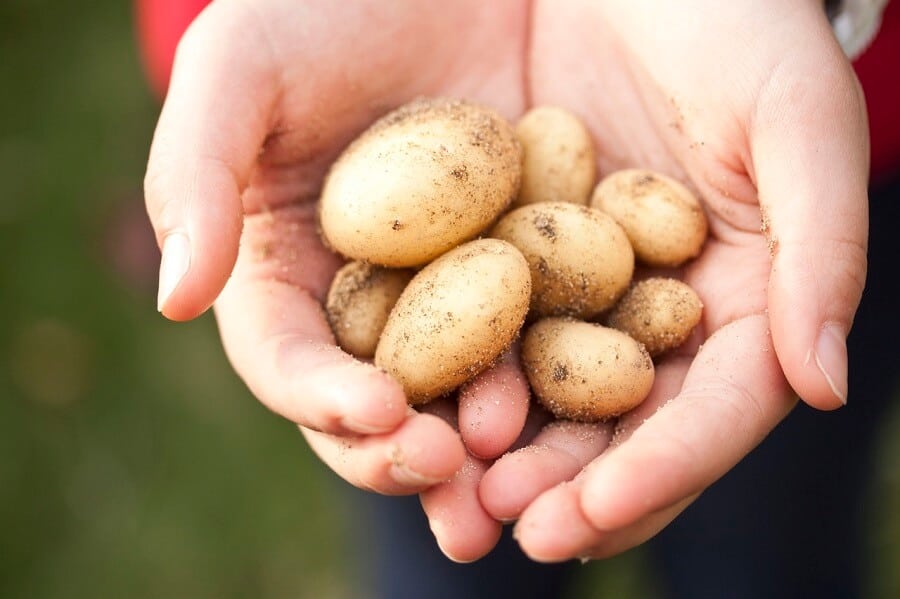 Pet Plate makes use of a small portion of Peas in some of their recipes. Peas are the most common plant ingredient in grain-free dog food. However, recently there have been suggestions between Peas and Heart Disease.
This link has prompted many to look for alternatives to Peas. We discuss this heavily in our Best Dog Food Without Peas article. However, the portion size used in Plate Plate recipes is very small and is not worthy of concern.
Pet Plate doesn't just make use of Starches and Peas, and their recipes include some vegetables that are not frequently found in dog food. Examples of these include Carrots, Broccoli. Squash, and Pumpkin.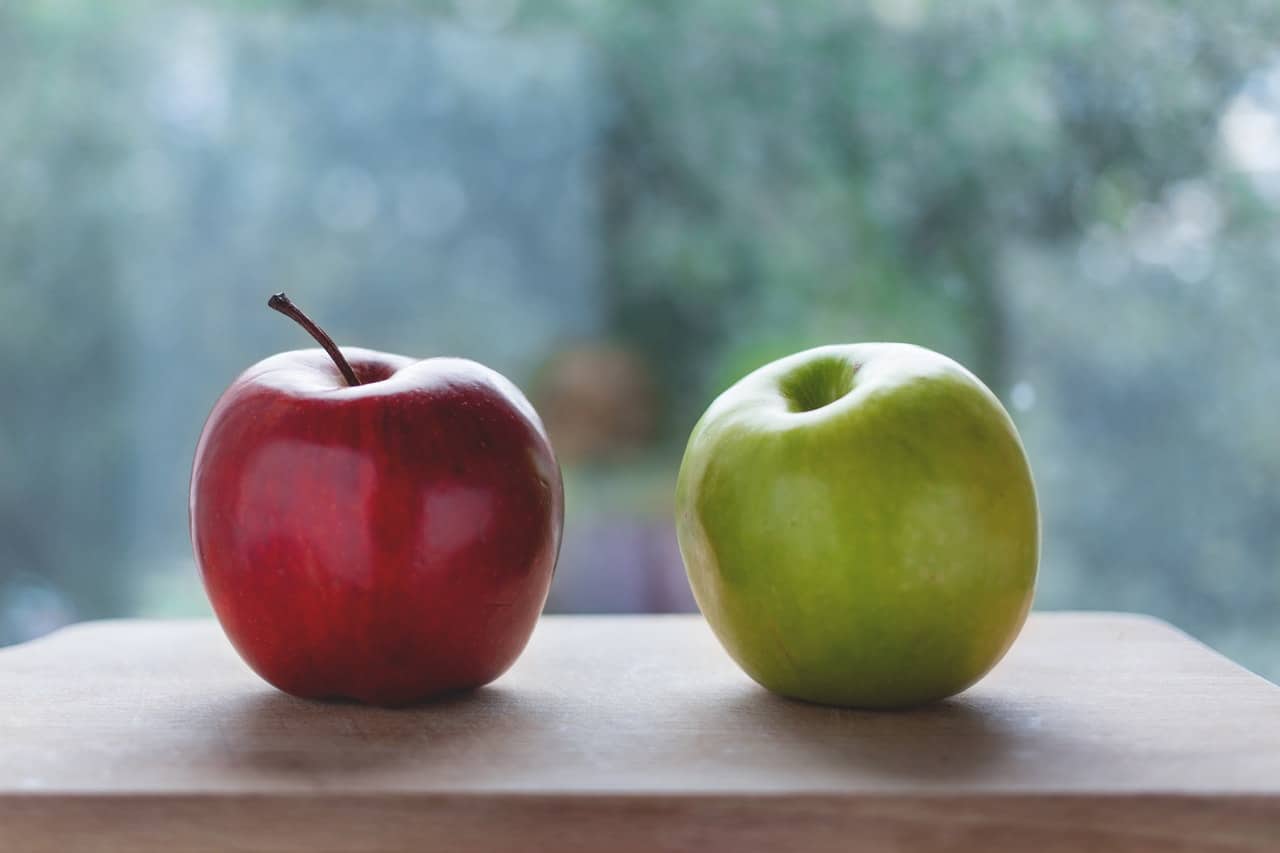 Pet Plate makes consistent use of Apples in their recipes. Apples are only rarely seen in other dog food recipes, which makes them a somewhat unique ingredient. They can provide some carbohydrates in the form of sugar, as well as fiber, vitamins, and some minerals.
Quinoa is present in one of Pet Plates recipes, and it is a unique ingredient to be used in dog food. Quinoa is a pseudocereal, and while it is grown in a similar fashion to grains, it is more closely related to vegetables like Spinach.
For a full list of ingredients used in Pet Plate recipes, check out their Meals page here.
Pet Plate Animal Testing
We have limited information on exactly what kind of testing or trials that Pet Plate participates in. However, at this time, we do not believe they take part in a laboratory or invasive testing program.
Laboratory testing of animals is a cruel and outdated practice and one which we hope will see a significant decline or elimination.
Pet Plate Expertise
Pet Plate has the expertise of Dr. Renee Streeter, DVM, DACVN, Veterinary Nutritionist at their disposal.
It is very important to carefully craft fresh dog food to avoid health issues or malnutrition. Employing an experienced professional is the right approach to resolve these concerns and issues.
Dr. Renee Streeter's involvement in Pet Plate is shown here.
Many traditional dog food brands do not employ a veterinary nutritionist which has caused concern about if their recipes are nutritionally complete or appropriate.
Pet Plate Recalls
Based on our research (FDA, AVMA, DogFoodAdvisor), we have no information that leads us to believe that any Pet Plate products have ever been recalled.
However, many in the industry consider fresh food to garner a higher risk of contamination or other health concerns. As a consequence, we encourage you to be vigilant of any future recalls of Pet Plate or any other fresh dog food products.
Pet Plate Featured Articles
Best Fresh Home Delivered Dog Food – This article discusses all the major brands currently competing within the fresh home-delivered space. We discuss their ingredient choices, product range, and nutrition.
Best of Pet Plate
Tail Waggin' Turkey Review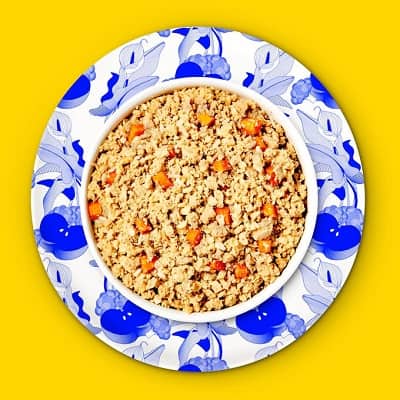 It was a tough choice to decide upon our favorite recipe from Pet Plate, but we settled on Tail Waggin' Turkey. The primary driver behind this was the fantastic nutrition that this recipe provides.
It has by far the highest proportion of protein, of which the vast majority is animal-based. This protein is sourced from Turkey, which is the first listed ingredient. It also includes some Turkey Liver, which can provide additional protein as well as being a dense source of select vitamins and minerals.
The recipe also includes a mix of Sweet Potatoes, White Potatoes, Apples, Peas, and Pumpkin. This variety of vegetables and starches can provide a modest sum of carbohydrates and fiber.
Pet Plate Full Product Range
Dog Food
Chompin' Chicken
Barkin' Beef
Tail Waggin' Turkey
Lip Lickin' Lamb