Looking for information on Canadian dog food brands, but all your searches are returning products from the United States?
Well look no further, we've analyzed and reviewed a huge swathe of dog food products that are available or produced in Canada and chosen out some of the best.
Canadian Dog Food Vs. The Rest Of The World
Dog food sold in Canada tends to be remarkably similar to dog food that is sold in the United States.
Many Canadian dog food brands have their manufacturing facilities in the United States and vice versa.
In addition, many of the ingredients used in US and Canadian dog food tend to be sourced from one of the two countries.
However, despite this constant flow across the borders, there are several canadian exclusive brands. These brand often source their ingredients from local suppliers and support local Canadian pet stores.
How We Chose The Best Dog Food
Dog Food quality is a complicated discussion, but we try to stay consistent with our choices. Factor such as ingredient quality, nutritional ratios (Protein, Fat, Carbohydrates, Omega Fatty Acids), Recall History, Animal Testing, Price, and Country of Origin all play a part.
We recommend you check out our Dog Food Guide for more information on the dog food topic overall.
Best Dog Food In Canada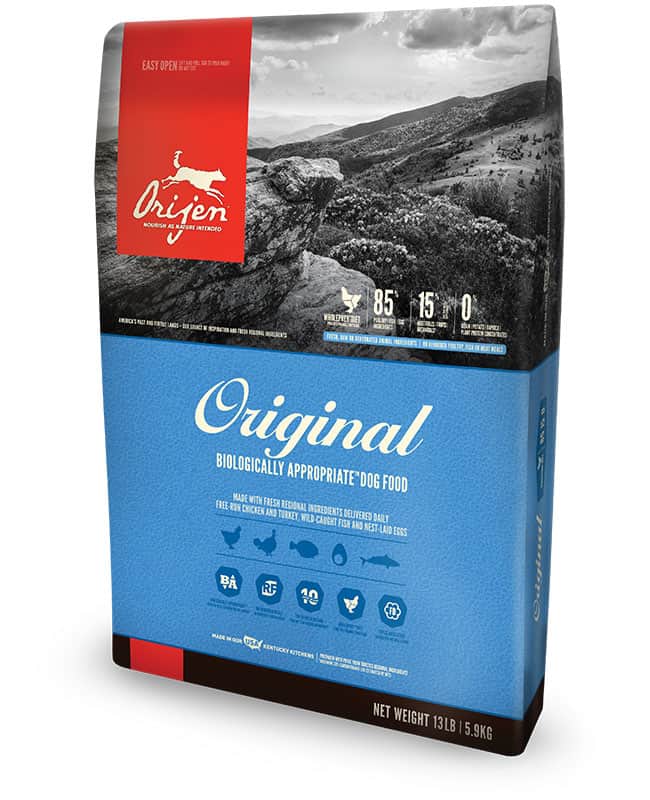 It wouldn't be an article about Canadian dog food without mentioning the most famous Canadian dog food brand of all – Orijen. Orijen is one of the most popular and renowned names in the premium pet food industry.
Its formulas are known to contain a massive variety of high-quality meat and fish ingredients in extraordinarily high proportions. This variety can include as many as 10+ meat or fish ingredients in a single formula.
Orijen's Original Formula is a safe bet and contains a range of meat and fish ingredients, including Chicken, Turkey, Flounder, Eggs, among others. These ingredients are combined with vegetables such as Peas, Beans, Pumpkin, and Squash. All of these ingredients combine to provide a very satisfactory proportion of protein, fat, and carbohydrates that is ideally suited to the vast majority of dogs.
However, if the Original Formula does not appeal to you and your dog, there many other dry dog food recipes available from Orijen, containing Fish, Poultry, and Red Meat. Examples recipes include Six Fish, which, as you might guess, focuses on fish, Regional Red, which focuses on red meat, and Fit and Trim, which aims to be lower in fat and uses poultry and fish ingredients.
Go! Carnivore Grain Free Salmon + Cod Recipe Review

Go! is a large Canadian brand that is based in British Columbia. However, their products aren't just sold in Canada and are also popular in the United States. They are owned by Petcurean, who also own brands such as Gather, Now Fresh, and Summit.
Go! recently rebranded its Fit + Free range, and it is now known as Carnivore. This rebranding has added some recipes, including the Salmon + Cod recipe that is shown above.
Salmon and Cod are both highly nutritious fish ingredients. They contain a high portion of protein and fat that is ideal for a dog's diet. In addition to this protein and fat, Salmon is one of the best sources of the Omega 3 Fatty Acids. Many believe that these fatty acids can provide several health benefits such as a reduced risk of heart disease and improved cognitive function.
The recipe is rounded off with a mix of legume and starch ingredients such as Lentils, Peas, Chickpeas, and Tapioca. These ingredients provide carbohydrates and dietary fiber. However, the portion of these ingredients is small, ensuring that the fish are the formula's focus.
FirstMate Wild Pacific Caught Fish & Oats Formula Review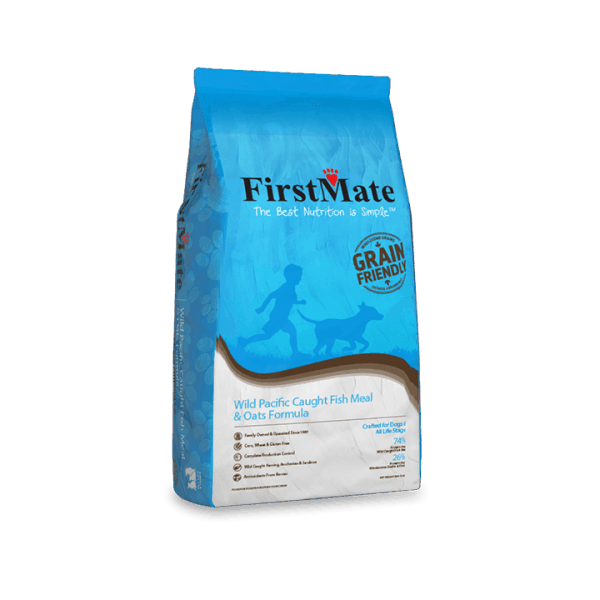 FirstMate is another Canadian brand, and its recipes are produced in British Columbia. First Mate has a broad mix of grain-free and grain-inclusive recipes to appeal to both sides of the spectrum.
The above recipe is one of those that is grain-inclusive. It uses a mix of Oatmeal and Brown Rice. These two grain ingredients are considered to be some of the best that can be used in dog food. This favoritism is as they can offer additional nutrition in the form of fiber and micronutrients that other grains lack.
However, these aren't the primary ingredients, but thankfully, fish is. There is an impressive portion of Ocean Fish Meal found in this recipe. While Ocean Fish Meal sounds somewhat vague, it is a mix of ocean-caught fish which are then processed once onshore. This ingredient is a dense source of protein and fat and should not be feared.
You can read more about Ocean Fish Meal in our article Ocean Fish Meal In Dog Food.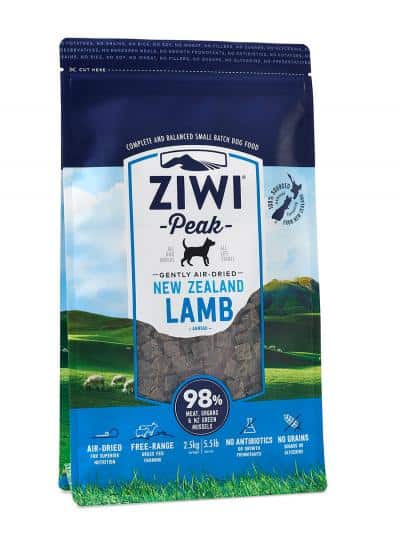 Ziwi Peak is a New Zealand based brand, but its products can be found worldwide, including in Canada. They are best known for producing a fantastic quality air-dried dog food range and is one of the leaders in this niche market. Being a New Zealand brand, it will come as no surprise that Lamb features prominently. However, they do have some non-Lamb recipes, including a recently launched Chicken recipe.
The most notable advantage of air-dried dog food is that it consists entirely of meat and has no significant vegetable, grain, or fruit ingredients. By eliminating these plant-based ingredients, you can reduce the risk of your dog experiencing allergies or sensitivities to plant-based material. This lack of plant-based material can be especiallsignificantnt for dogs who are allergic to multiple plant ingredients.
The other core advantage of air-dried dog food is that it can provide excellent nutrition. Thanks to a lack of plant-based material, the portion of protein and fat is immense and sufficient for dogs of all activity levels.
The somewhat distinct disadvantage of Air Dried Dog Food is that it is extremely costly and, therefore, is unlikely to be a realistic solution to the majority of dog owners. If, however, you are determined to make air-dried food viable, you could consider feeding your dog a mixture of Air Dried Dog Food and fresh ingredients.
This approach could be a lot more realistic in cost. Ingredients such as fresh fruit and vegetables are ideal to combine with a diet of air-dried dog food.
Horizon Legacy Adult Review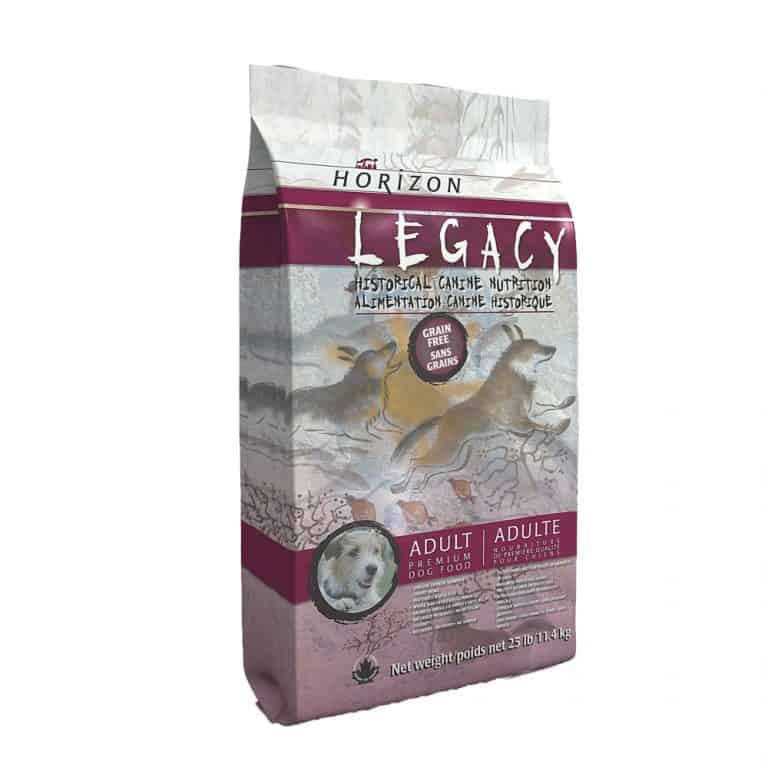 Horizon is another well established Canadian brand that has been in operation for almost fifteen years. Their facility is Saskatchewan, and the brand is still family-owned despite its success.
Horizon has several product lines that vary between protein content and whether they are grain-free or grain inclusive. Their Legacy range is one with a high proportion of animal-based protein, which is ideal.
The above adult recipe from the Legacy range uses a mix of Chicken and Turkey ingredients including Chicken, Chicken Meal, Chicken Fat, Turkey Meal, and Salmon Meal. This mix is the source of the exemplary protein proportion.
As it is one of their grain-free recipes, the formula makes use of legume ingredients like Peas and other minor vegetables. Peas are a staple of the prairies and can be sourced locally. They provide carbohydrates and fiber, along with some additional small nutritional value.
Zeal Air-Dried Beef with Freeze-Dried Salmon & Pumpkin Review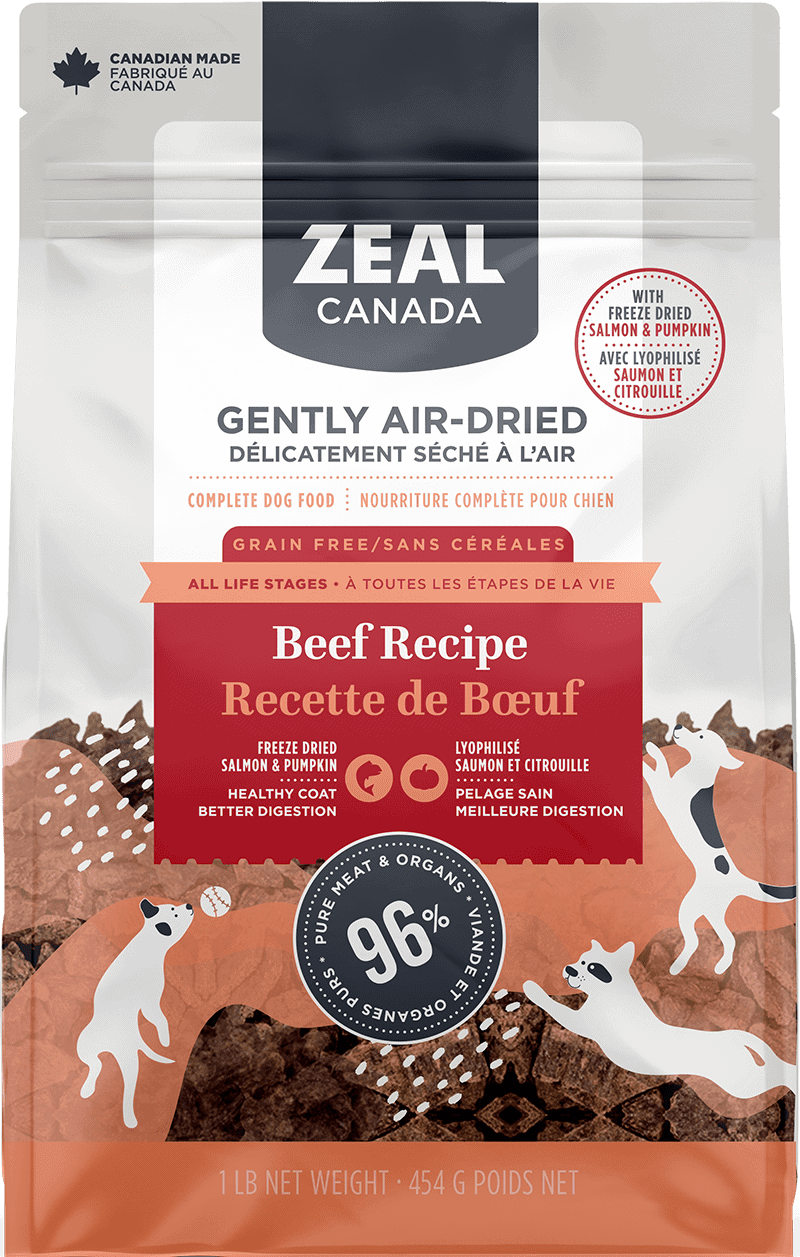 Zeal is a relatively young Canadian brand but is soon gaining popularity. It is very similar to Ziwi Peak, but it has its twist on the Air Dried style of food. Some of their recipes mixes air-dried and freeze-dried food together, which is not something that any other brand does.
While air-dried and freeze-dried dog food offers similar nutrition, they do have a different taste and texture, which may be appealing to some dogs.
The above recipe uses a satisfactory mix of Beef and Salmon. These two ingredients are some of the most popular used in dog food recipes. This popularity is as they are relatively inexpensive but can offer incredible nutrition, high in protein and fat.
The recipe also makes use of some organ meat ingredients like Lung, Heart, Spleen, and Liver. These organ meat ingredients are a fantastic addition and can add additional nutrition, less common vitamins and minerals, and, most importantly, they can seriously enhance the flavor.
Boreal Proper Chicken Meal Recipe Review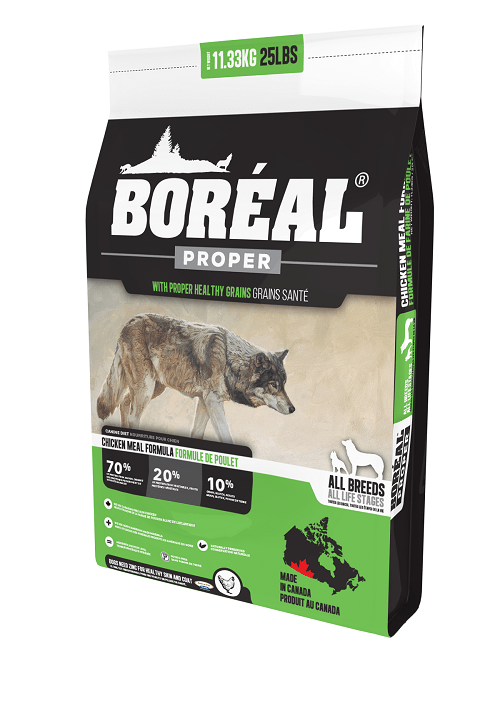 While many of the other brands discussed in this article can be found in the United States and often Worldwide, Boreal is a brand that is exclusively Canadian. It is regularly featured on the shelves of smaller pet stores for over thirty years and sells both dog and cat food.
The above Chicken Meal recipe is one of their most reliable and straightforward. It includes a considerable portion of Chicken Meal, which provides a plentiful supply of protein and fat. Many consumers are freighted at meat meal ingredients like Chicken Meal, but they shouldn't be.
They have had their moisture removed, which means they are a far denser source of nutrition than traditional meat cuts.
However, Chicken isn't the only ingredient present, and the formula also utilizes Barley, Peas, and Oats. This mix of grains and legumes provides carbohydrates and fiber.
The recipe also uses minor ingredients like Flaxseed and Alfalfa. These ingredients are added to provide minor health benefits. You can read more about them in our articles Flaxseed In Dog Food & Alfalfa In Dog Food.
Smack Prairie Harvest Pork Review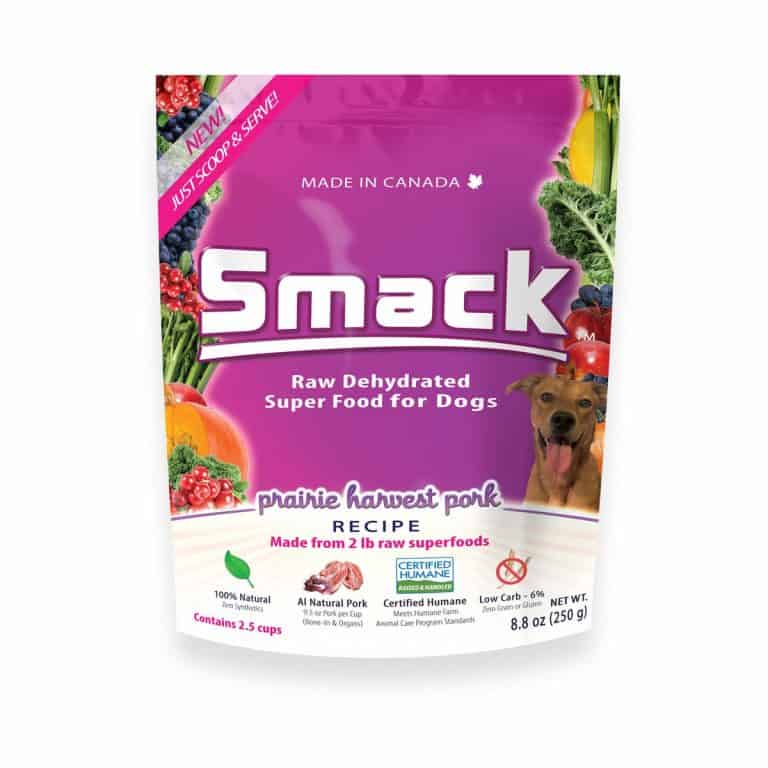 Smack is a Canadian producer of dehydrated dog food. Dehydrated dog food should not be confused with freeze-dried or air-dried dog food as it can be quite different.
Dehydrated dog food is designed to be re-mixed with water before consumption. This added moisture means that a relatively small bag of dehydrated dog food can become quite significant in weight once the water is added. Also, while freeze-dried or air-dried dog food is made up of almost entirely meat and fish ingredients, dehydrated dog food often contains a significant portion of plant-based material.
This partial plant-basec content is valid for Smack's recipes as the above contains a mix of Pumpkin, Kale, Apple, and more. These fruit and vegetable ingredients are beneficial additions and in modest quantities.
As the name gives away, Pork is the primary ingredient. However, like some of the other recipes we discuss in this article, this recipe uses organ meat such as Heart, Liver, and Kidney. These Pork organ meat ingredients will be sure to improve the taste of the food as well as provide vitamins and minerals that traditional meat cuts lack.
Carna4 Grain-Free Duck Review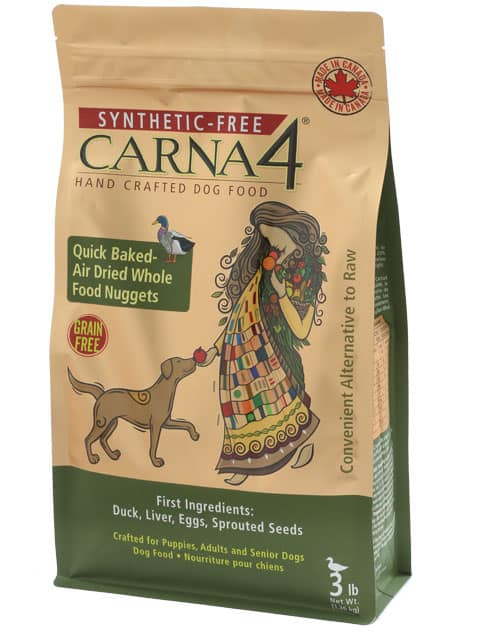 Carna4 is a small Canadian pet food brand. They have a tiny product range, unlike many of their competitors. But this shouldn't put you off as the recipes they do offer are very high-quality and appealing.
Carna4 provide vast amounts of information about their ingredients and the exact nutrition of their recipes on their website. This transparency is leaps and bounds above the vast majority of their competitors and is a precious trait for the ever more conscious consumer.
While most dog food recipes with poultry focus on Chicken and Turkey, Carna4 has a Duck recipe. Duck can still provide similar nutrition to Chicken but tends to contain a higher ratio of fat. However, this higher fat ratio can make it more enticing to dogs.
Alongside Duck, the recipe contains other ingredients like Pork Liver, Eggs, Sprouted Barley Seeds, Herring, Sweet Potato, and more. This extensive mix of ingredients provides a very satisfactory and balanced nutritional profile that is suitable for the majority of dogs.