Acana Information
Acana is one of the world's best-known premium pet food brands. Acana was founded in 1985 by Reinhard Muhlenfeld and is owned by Champion Pet Foods, which is a Canadian company.
Acana has an equally well-known sister brand called Orijen. Orijen produces very similar products to Acana, but Orijen's tend to contain an even higher proportion of meat and fish ingredients, and this results in higher proportions of Protein and Fat.
Check out our detailed review on our Orijen Review Page.

Acana and Orijen pet foods are available for purchase in 70+ countries. In recent years there had been significant interest from Nestle to acquire Champion Pet Foods, which had concerned some fans of the brand.
However, another major pet food player, Mars Petcare, swooped in to seal the deal signing an agreement to acquire Champion Pet Foods in November 2022.
Many of Acana and Orijen's customers chose the brand because of their independence from these large pet food conglomerates, so it will be interesting to see how things unfold in the coming months and years.
One of Acana's primary selling points is that it does not outsource any of its production. This ensures they can maintain high standards of safety and production quality.
All of their pet food production used to take place in Canada, but as recently as 2016, they have shifted some of their production to the United States. They opened a state-of-the-art manufacturing facility in Kentucky after two years of construction.
You can purchase Acana recipes from thousands of retail pet food stores across the United States, Canada, and the rest of the world.
Also, you can purchase Acana recipes online from websites like Chewy, Petflow, and Amazon. Acana was only just re-introduced on Chewy after a lengthy absence.
Acana Product Range
Dog Food
Acana has a large-sized range of dog food products. This range includes three dry food ranges, freeze-dried dog food, and a range of freeze-dried dog treats.
The three dry food ranges are Acana's most popular and can be categorized between Dog, Regionals, and Singles.
The Dog range is Acana's original range, and it has recently been rebranded and revamped.
At first, it included seven recipes with a large variety of ingredients spread among them. However, in late 2019, the range had two additional recipes added that are very similar to existing recipes.
These additionals are among Acana's first grain-inclusive recipes and have swapped their traditional use of legumes for high-quality grains.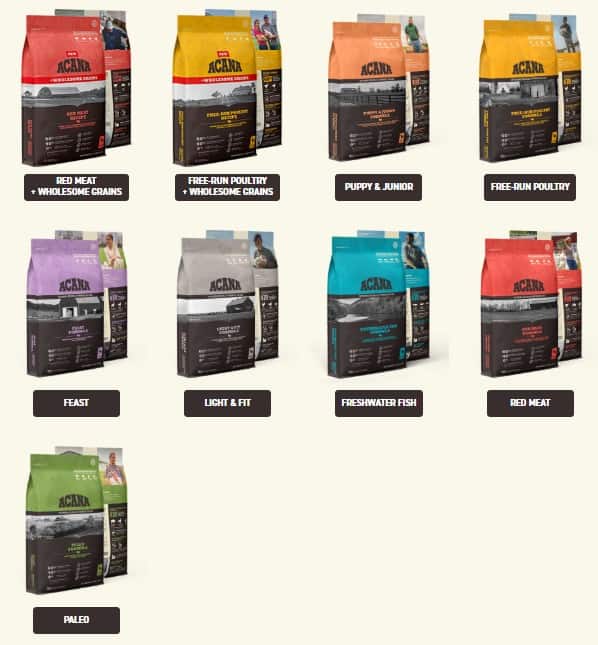 The Regionals Range is a geographically themed range with recipes that focus on areas and environments of the United States.
An example of this could be the Appalachian mountain range. The original four recipes of the range contain common meat and fish ingredients alongside a large range and variety of vegetables.
However, the Regionals range has also gained two additional grain-inclusive recipes like Acana's other ranges.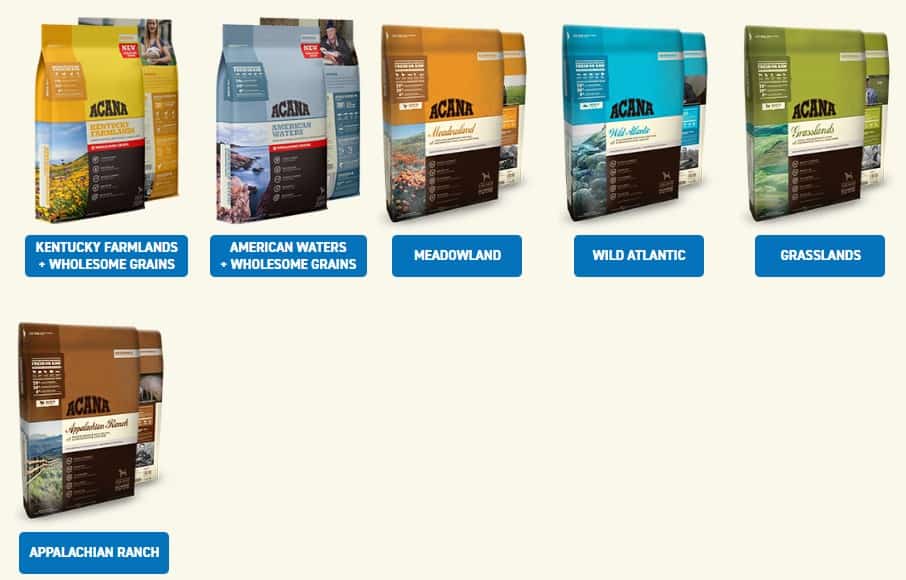 The Singles range is a limited ingredient range, and as a consequence, the recipes only contain a single source of meat or fish. This meat or fish ingredient is then combined with a moderately sized range of vegetable ingredients.
Once again, in late 2019, the singles range gained an additional two recipes grain-inclusive recipes. Limited Ingredient recipes that are grain inclusive are quite rare, so this addition is a welcome one.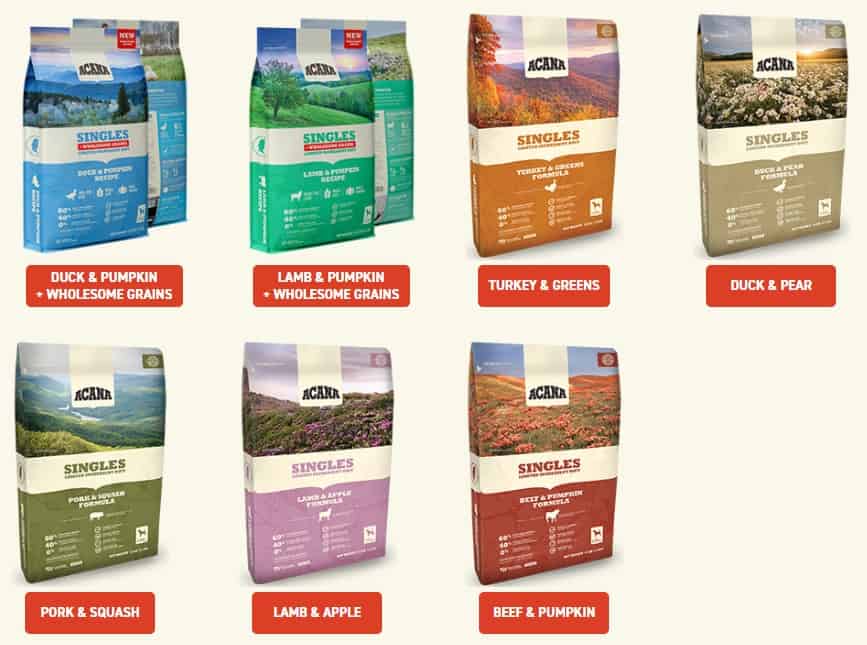 As we briefly mentioned earlier, Acana has a range of Freeze-Dried Dog Food. This range is a relatively new addition and is similar to the freeze-dried food offered by Acana's sister brand Orijen.
This range includes four different versions of their Freeze-Dried Patties, each of which utilizes a different meat ingredient. You can see one of these recipes below.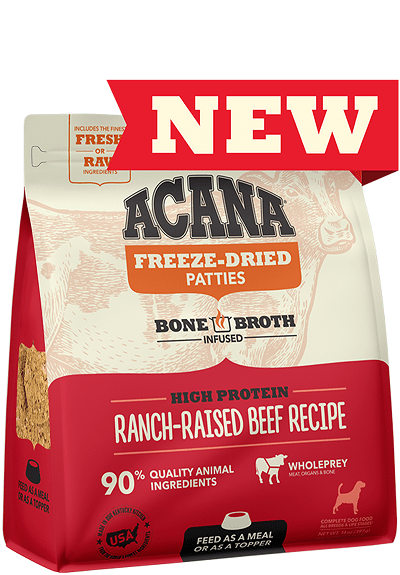 Freeze-Dried food such as this is a premium product and, as such, can provide extremely impressive nutrition. However, this nutrition comes at a cost, and freeze-dried food is often extremely expensive.
Cat Food
Acana's cat food range used to be very small and consisted of a single product range. This product range was named regionals and mirrored the dog food range extremely closely. It uses a variety of common meat and fish ingredients alongside common vegetables like legumes.
In 2020, the range was given a facelift with new packaging and small formulation changes. At this time, the Appalachian Ranch recipe was discontinued.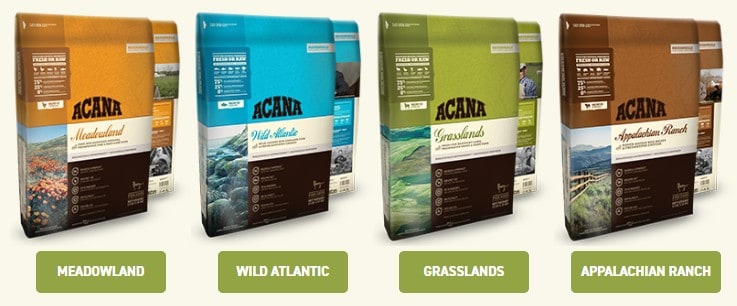 However, in addition to the facelift of the Regions range, Acana released a new set of cat food recipes. This included four dry cat food recipes, including some specialized recipes for kittens and indoor cats.
While Acana's sister brand Orijen has had some age-specific cat food recipes for some time, this is Acana's first expansion into this space.
Acana Nutrition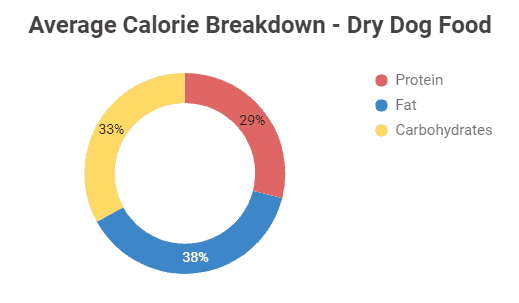 Please note the above chart is based on Acana's Guaranteed Analysis. This is an estimate, and the true values are likely to include a slightly higher proportion of protein and fat.
While Acana's dog food products do not contain extremely high levels of protein and fat, like some other brands, they do provide great overall nutrition. Compared to other dog food brands, their recipes provide nutrition that is above average.
Some could argue that Acana's nutrition could be improved. However, an improvement would only benefit a small subsection of dogs who require an extremely high proportion of protein and fat.
If you'd like to learn more about dog nutrition, we recommend checking out our Dog Food Guide.
However, it is also worth noting that because of Acana's heavy use of legumes and other vegetables, a notable proportion of their recipe's protein content is likely to be from plant-based sources.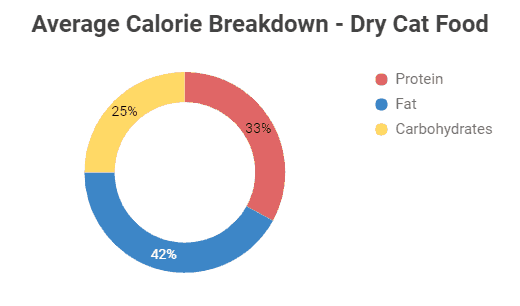 Please note the above chart is based on Acana's Guaranteed Analysis. This is an estimate, and the true values are likely to include a slightly higher proportion of protein and fat.
Acana's cat food range also provides nutrition that, when compared to other cat food brands, would be considered above average. The proportion of animal-based protein and fat is high and comes from high-quality, named ingredients.
However, the proportion of carbohydrates present in Acana cat food recipes is still above what we would consider optimal for cats.
Cats are obligate carnivores, which means that they need a diet high in animal and fish-based protein and fat and do not need to consume a high proportion of plant-based ingredients.
If you are interested in learning more about cat nutrition, we recommend checking out our Cat Food Guide.
Acana Ingredients
Acana ingredients are sustainably and ethically sourced, as well as GMO-free. Consumer awareness and interest in sustainable and ethical farming are increasing, and Acana comfortably puts itself as one of the leaders at this in the pet food space.
All of Acana's meat ingredients are suitable for human consumption, which can not be said for a lot of pet food brands.
While this can be seen as somewhat vague, it does ensure a minimum standard in the ingredients used in their products, as low-quality ingredients would not be suitable for human consumption.
High-Quality Meat & Fish Ingredients
Beef
Pork
Lamb
Goat
Chicken
Turkey
Duck
Trout
Salmon
Mackerel
Rabbit
Herring
Wild Boar
Acana uses an extremely large range of meat and fish ingredients in its recipes, most of which are listed above. All of these ingredients are high-quality additions and can provide a mix of protein and fat.
Ingredients like Goat, Rabbit, and Wild Boar are noteworthy due to their rarity in the vast majority of pet food brands' products.
While these meat ingredients may not provide notably superior nutrition, they can certainly provide pets with some added variety to their diet.
Many of these ingredients are found in recipes for pets with severe allergies or sensitivities. This is because pets are less likely to have been exposed to them in the past and so are less likely to have an adverse reaction.
For more information on these ingredients, which are sometimes known as novel meats, check out the below articles.
Best Hypoallergenic Dog Foods Guide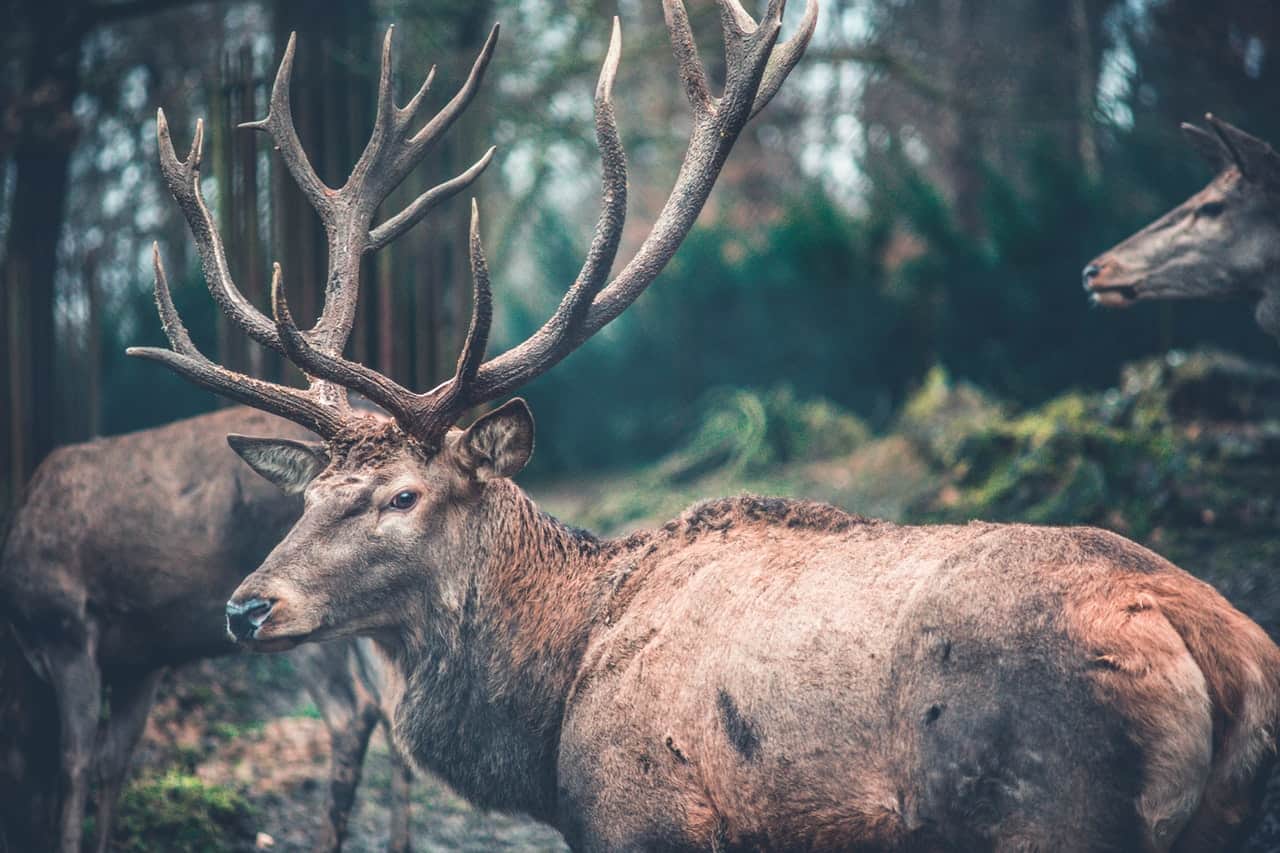 Acana also uses small portions of organ meat ingredients like the Liver and Heart. These organ meat ingredients can be a very dense source of certain vitamins and minerals that are not found in high proportions in traditional meat cuts.
In addition, organ meat ingredients like the Liver can often be extremely flavorful and so enhance the taste of a recipe to make it more appealing.
Other Notable Ingredients
Acana uses whole vegetable ingredients in its recipes, like Peas, Chickpeas, and Lentils. These legume ingredients are reliable sources of carbohydrates, plant-based protein, and fiber.
However, in recent years there have been negative correlations drawn between the high use of legumes in dog food and an increased rate of Canine Heart Disease. We recommend that you scroll down this post to learn more about this and Acana's reaction.
It is worth noting that Acana does not use any vegetable by-products such as Pea Protein or Pea Flour.
These are low-quality ingredients that are often used to inflate the overall level of protein in pet food products or mislead consumers on the overall quantity of a certain ingredient.
You can learn more about what these ingredients are and why they are considered low-quality in our article Peas, Pea Protein, Pea Flour, and Pea Fiber in Dog Food.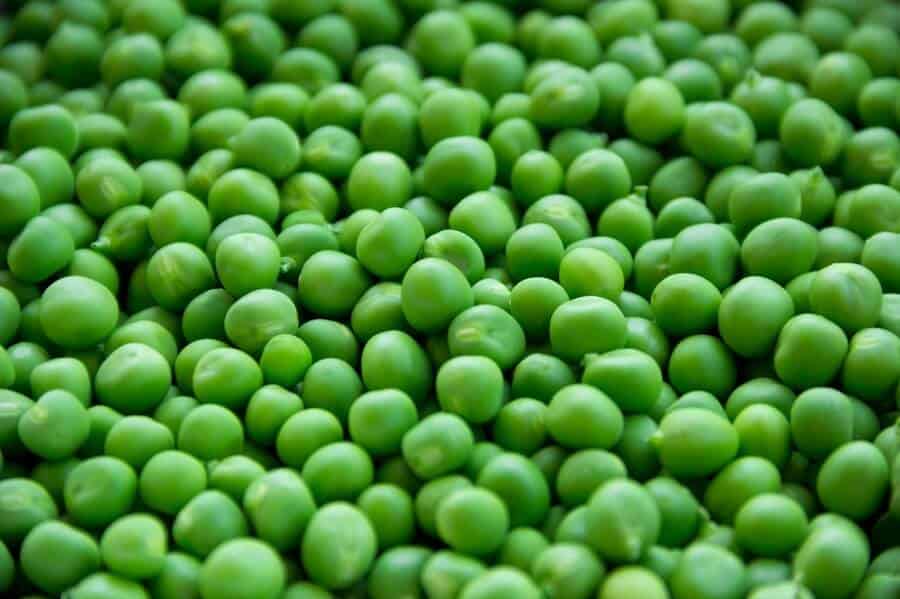 In Acana's newly released grain-inclusive recipes, they have chosen to make use of Oatmeal, Sorghum, and Millet.
Grain ingredients such as these are controversial additions, with many pet owners refusing to feed their pets food that contains grains.
Despite this, these specific grain ingredients are considered by many to be superior to others, such as Corn and Wheat.
This is due to the perception that they are less processed and that they can provide additional nutrition such as fiber, vitamins, and minerals.
If you'd like to learn more about some of these grain ingredients, check out the below articles.
Many Acana recipes utilize Eggs as a primary ingredient. Eggs are an excellent addition to pet food recipes and can provide a mix of protein, fat, and carbohydrates.
The reason that Eggs are considered an excellent ingredient is that they are extremely bioavailable. This means that it is very easy to absorb their nutrients, and very little will be wasted once digested.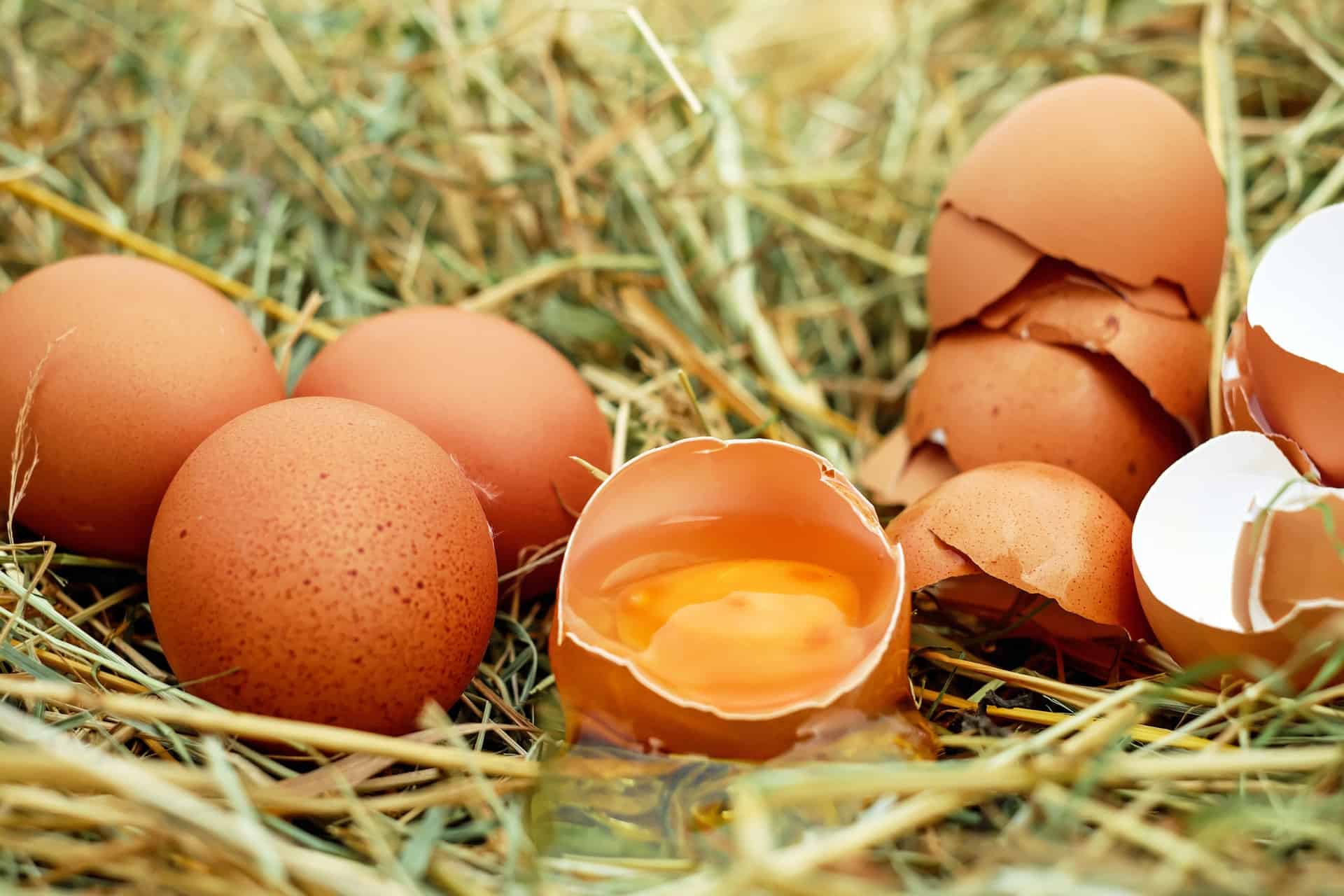 A notable ingredient used in Acana recipes is Chicory Root. Chicory Root is included by many dog food brands as a dietary supplement.
Many believe it can provide health benefits as well as some vitamins and minerals. However, these health benefits are not conclusive, and some doubt if they are significant.
Find out more about Chicory Root in our article Dried Chicory Root In Dog Food.
Many Acana recipes include small portions of Pumpkin. Many pet owners add Pumpkin to their pet's diets as a supplement aimed at improving digestion.
Pumpkin is one of the most reliable ways to improve digestion, thanks to its high fiber content. However, it doesn't just include fiber and also can provide a mix of carbohydrates and beneficial micronutrients like Beta Carotene.
You can learn more about the benefits of Pumpkin and some of the best Pumpkin containing recipes in our post – Best Dog Food With Pumpkin.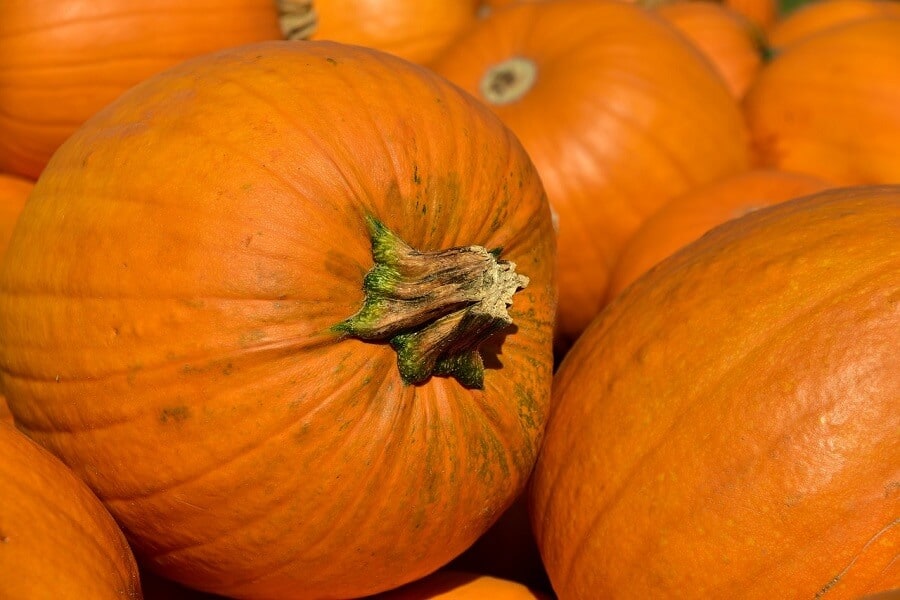 Acana And Dilated Cardiomyopathy
In July 2018, the FDA (the Food and Drug Administration)announced that it had received reports about a type of heart disease called Canine Dilated Cardiomyopathy, which can cause an enlarged, weakened heart and eventual heart failure in dogs.
These reports suggested a link between grain-free dog foods high in Potatoes, Peas, and other Legumes could be the cause.
The heart disease occurred in select breeds such as Golden Retrievers and Labrador Retrievers, Whippets, Shih Tzus, Bulldogs, and Miniature Schnauzers.
None of these dog breeds are genetically prone to the disease, which suggests that there must be another cause, and the reports pointed the finger at legumes like Peas.
Observant dog owners were quick to realize that Acana formulas contain a large variety and portion of legumes such as Peas, Lentils, and Chickpeas.
The portion of legumes found in Acana's formulas is significantly higher than its sister brand Orijen which has as little as 10-15% plant matter.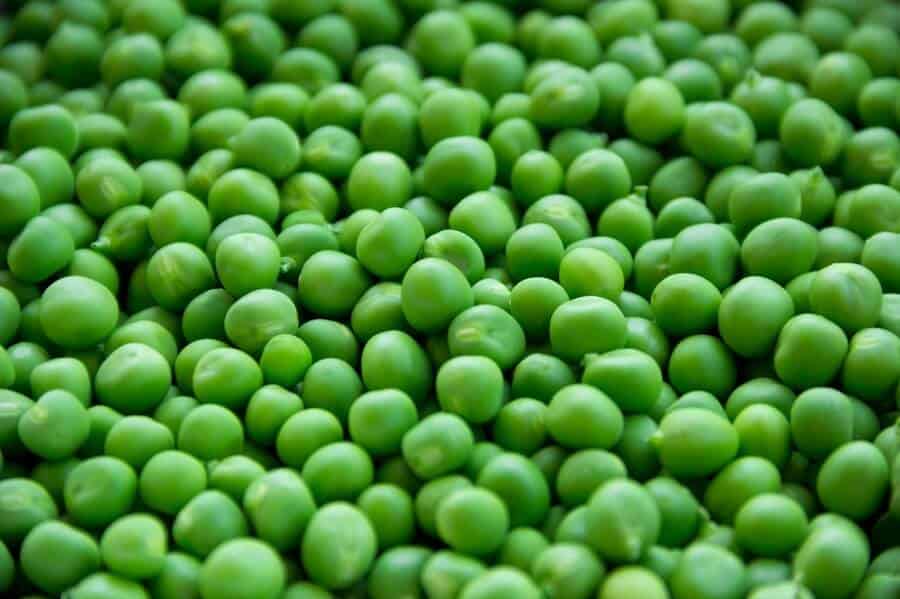 Following this information, some dog owners went as far as to immediately transition their dogs to an alternative recipe that did not use legumes and instead makes use of grains.
Since this initial announcement, enthusiasts and some industry individuals have been trying to narrow down which brands are most strongly linked with Dilated Cardiomyopathy.
Acana, in particular, Acana Singles, has had one of the strongest links between itself and Dilated Cardiomyopathy, with a large number of cases that have been reported by dog owners.
This link was reinforced by an update in June 2019 by the FDA, which highlighted Acana as the top brand linked with DCM.
However, at this time, these links and reports by dog nutrition groups and dog owners have not been officially or scientifically substantiated.
Champion Pet Foods, who own Acana and Orijen, has strongly disputed this link and has made repeated statements in emails and on social media that state that all of its products are carefully formulated to meet industry guidelines.
If this link between legumes and Dilated Cardiomyopathy is substantiated, then there will be serious consequences for Acana and many other brands. This will likely lead to reformulations and ingredient modifications.
Acana has recently taken steps to address this concern by releasing six grain-inclusive recipes.
This is almost certainly a response to the DCM issue and allows them to now appeal to dog owners concerned by legumes as well as put themselves in a safer position if the link between DCM and legumes is proved.
If this concerns you and you think your dog may be at risk, we recommend checking out our Best Dog Food Without Peas article, which showcases some alternatives to traditional legume-focused formulas.
Acana Animal Testing
Acana, along with Orijen, proudly states that it does not perform any testing or trials on animals that they would not feel comfortable being performed on their own pets.
This is an excellent approach to animal testing and shows that they care about the well-being of all animals.
Acana does say that it participates in palatability and digestibility testing, which is vital to ensure that pets can both enjoy and digest Acana's products.
We firmly believe that animal testing in a laboratory environment is a cruel and outdated practice. We hope over the coming years that, it will be significantly reduced or preferably eliminated.
Acana Expertise
With the recent concerns around dog food and Canine Dilated Cardiomyopathy, there have been increasing calls for transparency on formulation and expertise in the dog food industry.
Many believe that all pet food brands should have experienced and qualified pet nutritionists on staff to formulate their recipes and ensure their nutritional balance is well-suited.
On Acana's website, they state – "Champion Petfoods' Research and Innovation team works with a group of animal nutritionists, and consults with Veterinarians who specialize in nutrition, toxicology, and holistic medicine when developing our ACANA diets."
While the above doesn't specifically call out which groups or individuals Acana or Champion Pet Foods works with, it does verify that qualified individuals are involved in the process.
Acana Recalls
Based on our research (FDA, AVMA, DogFoodAdvisor), Acana is in a very select club of pet food brands that have yet to be recalled.
This shows they take their manufacturing process seriously and use high-quality and safe ingredients.
Nevertheless, consumers should always be on the lookout for any future concerns or recalls of Acana or any other pet food brand's products.
In March 2018, a lawsuit was filed against Champion Pet Foods, the manufacturer of Acana and Orijen pet products.
The lawsuit claims that Champion Pet Foods failed to disclose harmful levels of heavy metals and toxins such as Arsenic and Lead in their products.
Champion Pet Foods quickly responded, claiming the lawsuit was meritless and had misrepresented the data.
It is essential to understand this is merely an accusation at this stage and until any conclusive judgment or evidence is made public, we will not advise against any of Champion Pet Foods' products.
Best of Acana
Dry Dog Food
Paleo Review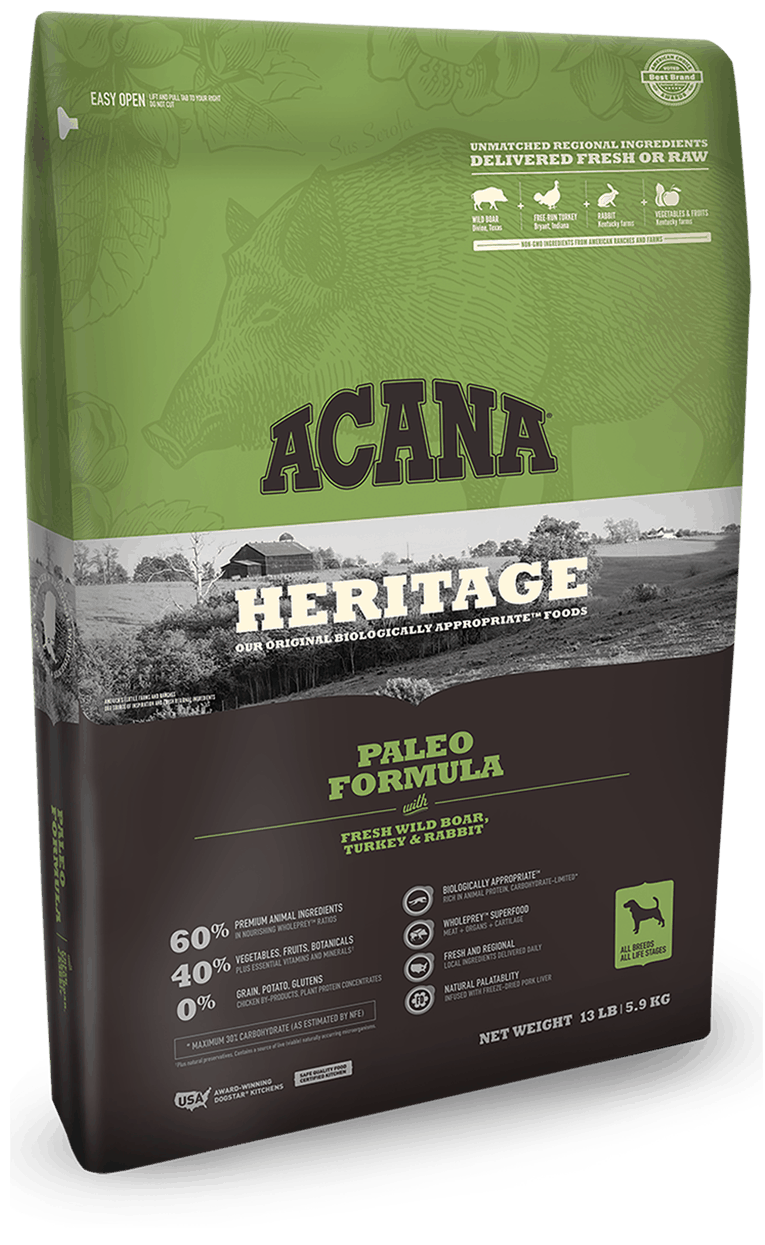 ㅤ
Acana's Heritage range has been recently revamped and given a new lease of life. This product revamp included the addition of four formulas that were not previously available in the United States.
We've chosen to highlight one of the other formulas added, which is Heritage- Paleo. The Paleo formula is interesting because it contains a broad range of unusual meat ingredients.
Examples include Boar and Rabbit, which are then joined by more regular ingredients in Turkey and Pork.
This variety could provide a unique taste for your dog. In addition to its unusual flavor, these ingredients will provide a plentiful supply of protein and fat that is suitable for most dogs, including those that are active.
As is the case with almost all Acana formulas, a range of legumes is present, including Chickpeas, Peas, Lentils, and Beans. These legume ingredients provide a mix of carbohydrates and dietary fiber to aid digestion.
Puppy & Junior Review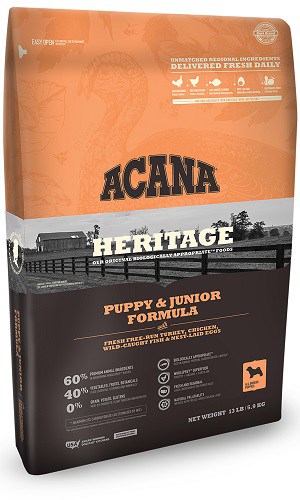 ㅤ
As we mentioned above, the Heritage range from Acana was revamped, and as a consequence, they introduced the above puppy recipe.
Puppy & Junior is very similar to some other Acana recipes like Light & Fit or Free-Run Poultry. This may make the transition from puppy food to adult dog food easier.
The recipe's primary ingredients are a mix of Chicken and Turkey. These two poultry ingredients are the foundation of the industry and are excellent sources of protein and fat.
There are some other meat and fish ingredients present, including Eggs and Flounder. While the portion size of these is small, they help to boost the overall proportion of protein and fat.
Lastly, similar to all Acana recipes, Puppy & Junior utilizes a mix of Peas, Lentils, and Chickpeas as its primary plant-based ingredients. These provide carbohydrates, plant-based protein, and fiber.
Limited Ingredient Dog Food
Singles – Pork and Squash Review
ㅤ
Acana's singles recipes, which are their limited-ingredient brand, maintain the same quality as their non-limited ingredient formulas.
There are five formulas currently available within the range, Lamb and Apple, Duck and Pear, Turkey and Pumpkin, Beef and Pumpkin, and Pork and Squash.
There was a sixth formula within the range, which was probably our favorite. However, the Wild Mackerel formula is now discontinued for reasons unknown.
Instead, we've chosen to highlight the Pork and Squash recipe due to its unusual or uncommon ingredients.
Despite its popularity for human consumption, Pork is a rare sight in dog food, and as such, many dogs may not have an adverse reaction to it.
The portion size of Pork, Pork Meal, and Pork Liver is significant in the recipe and provides a plentiful supply of protein and fat.
Outside of this Pork content, the recipe uses a mix of Sweet Potatoes, Chickpeas, Lentils, and Squash.
This range of plant-based ingredients is large, which may put off some extremely sensitive dogs, but outside of this, they provide a mix of carbohydrates and fiber.
Dry Cat Food
Regionals – Wild Atlantic Review

ㅤ
Acana's original cat food range is perfectly aligned with the Regionals dog food range. However, there have been some recent changes.
The Appalachian Rach recipe has been discontinued, and the other recipes refreshed. Despite these changes, the Wild Atlantic formula is our top pick.
The primary reasoning behind this choice is due to the high levels of the Omega 3 Fatty Acids that this formula can offer.
These fatty acids can provide a range of benefits to cats, such as an improvement in the condition of skin and fur and a reduced risk of heart disease.
An extensive range of fish ingredients is the core of the formula and is the reason the Omega 3 Fatty Acids level is so high.
Examples include Mackerel, Herring, Redfish, and Hake. These ingredients are highly nutritious and will provide a cat with a satisfactory proportion of protein and fat.
However, the nutrition provided by this formula isn't quite as satisfactory as the dog food recipes. Ideally, a cat's diet should have very minimal carbohydrates, and the recipes from Acana do include a modest yet notable proportion.
These carbohydrates are provided by a broad range of legumes such as Peas, Lentils, and Chickpeas. While these ingredients would undoubtedly be considered superior to others, they are still not an ideal addition.
First Feast Review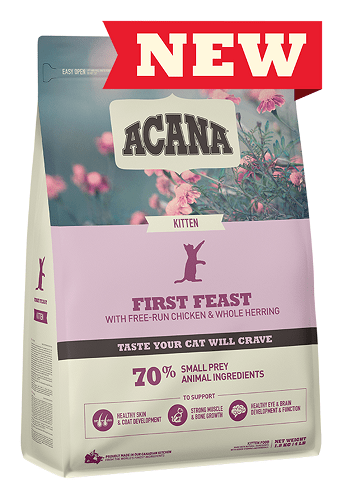 ㅤ
As we mentioned earlier, Acana has recently released some new cat recipes, including the above First Feast recipe. First Feast is Acana's first Kitten recipe, which is an important step towards broadening its range.
First Feast utilizes a mix of poultry and fish ingredients such as Chicken, Herring, Turkey, and Eggs. This mix of ingredients provides a large proportion of animal-based protein and fat, which should be at the core of every cat's diet.
Unlike many of Acana's other recipes, which stick to legumes or grains, First Feast actually uses a mix of the two, including Oatmeal, Peas, Lentils, and Chickpeas. These grain and legume ingredients provide the recipe with carbohydrates, plant-based protein, and fiber.
Acana Related Articles
Taste of the Wild vs. Acana – Dog Food Brand Comparison – This article, which was one of our first, breaks down two of the most popular mid-priced dog food brands.
This analysis includes a look at their product ranges, nutrition, ingredient quality, recall history, along with other factors. Lastly, we recommend our favorite recipes from both brands.
Acana vs. Orijen – Dog Food Brand Comparison – Similar to the above, this article breaks down the two sister brands from Champion Pet Foods.
While it may be obvious which one comes out on top for most factors, it is important nevertheless to lay down the facts and present which brand may be superior for certain dogs and whether the extra cost is worth it.
Best Hypoallergenic Dog Foods Guide – This in-depth guide breaks down the world of Hypoallergenic Dog Food.
This discussion includes the different types of hypoallergenic dog food available, common allergens for dogs, symptoms of allergies, and finally,  we recommend some of the Best Hypoallergenic Dog Food currently available, including one recipe from Acana.
Best High Protein Dog Food – High Protein dog food recipes have become more and more popular in the last decade, but are they worth all the hype?
This article breaks down which dogs need a high protein diet, the positives and negatives of such a diet and which dog food recipes provide the most high-quality meat protein. Once again, an Acana recipe features in this article along with an array of others.
Best Dog Food Without Potatoes – This more specific article related to allergies in dogs focuses on dogs with an allergy or intolerance to Potatoes.
It explores the alternative carbohydrate ingredients to Potatoes that can be used in dog food as well as suggest some of the best Potato Free recipes available. Once again, an Acana recipe features in this list of recommendations.
Best Dog Food Without Chicken – Similar to the above, this article is specific to dogs with allergies to Chicken, which is one of the most widespread allergies.
Chicken is the most common meat ingredient used in dog food, so it is important to filter these Chicken recipes out and display some of the best recipes with alternative meat ingredients. One of Acana's many Chicken-free recipes features here, along with many others.
Best Puppy Food – This incredibly detailed and in-depth guide explains everything you need to know about puppy food.
This article will answer questions such as do puppies need puppy-specific food? What nutrition do puppies need? Do large breed puppies need different nutrition and many more. Acana's only puppy recipe takes a well-deserved place in this guide.
Acana Full Product Range
Dry Dog Food
Meadowland
Wild Atlantic
Grasslands
Appalachian Ranch
Free Run PoultryRed Meat
Free Run Poultry + Wholesome Grains
Red Meat + Wholesome Grains
Sea to Stream Fish & Grains
Wholesome Grains Small Breed Recipe
Wholesome Grains Puppy Recipe
Free Run Poultry, Liver, & Whole Oats Recipe (Rescue Care For Adopted Dogs)
Red Meat, Liver, & Whole Oats Recipe (Rescue Care For Adopted Dogs)
Limited Ingredient Dog Food
Pork and Squash
Beef and Pumpkin
Duck and Pumpkin + Wholesome Grains
Lamb and Pumpkin + Wholesome Grains
Freeze-Dried Dog Food
Beef Recipe Patties
Beef Recipe Morsels
Free Run Chicken Recipe Patties
Free Run Chicken Recipe Morsels
Duck Recipe Patties
Duck Recipe Morsels
Free Run Turkey Recipe Patties
Free Run Turkey Recipe Morsels
Wet Dog Food
Premium Pate Puppy Recipe In Bone Broth
Premium Chunks Poultry Recipe In Bone Broth
Premium Chunks Beef Recipe In Bone Broth
Premium Chunks Lamb Recipe In Bone Broth
Premium Chunks Duck Recipe In Bone Broth
Premium Chunks Pork Recipe In Bone Broth
Dog Treats
Freeze-Dried Treats
Duck and Pear
Lamb and Apple
Beef and Pumpkin
High-Protein Biscuits
Crunchy Beef Liver Recipe
Crunchy Chicken Liver Recipe
Crunchy Turkey Liver Recipe
Dry Cat Food
Wild Atlantic
Grasslands
Meadowland
First Feast
Homestead Harvest
Bountiful Catch
Indoor Entree
Senior Entree
Wet Cat Food
Premium Pate Chicken & Tuna Kitten Recipe
Premium Pate Chicken & Fish Recipe
Premium Pate Beef, Chicken, & Tuna Recipe
Premium Pate Lamb & Lamb Liver Recipe
Premium Pate Tuna & Chicken Recipe
Premium Pate Salmon & Chicken Recipe