Premium dog food brands Taste of the Wild and Acana are analytically compared. We'll be focusing on the nutritional profile, ingredients, and their sources as well as the range of products available.
We're here to give you a comprehensive overview of two brands that are considered to be in the top-tier, 'premier' shelf of dog food. Most articles comparing pet food brands are under-researched by novices. 
Their primary, and often only concern, is with the protein content. The highest protein dog food on the market is king. Or is it? While it's true that there are many health problems associated with a protein-deficient diet for a dog, it is much more complicated than that.
Protein itself is made up of amino acids, and if there is one (or indeed a vitamin needed for the absorption of the amino acids) missing, then the system stops working.
We'll be explaining more about that later, first off we'll give you a little information on the reputation and ethos of both brands. Then we'll reveal how these brands weigh up against each other and which is the better brand for your dog.

Taste of the Wild is a relative newcomer to the pet food market, having launched back in 2007. Despite its youth, this pet food brand has been solidifying its reputation as a producer of high-quality pet food ever since.
Their products are produced by Diamond Pet Foods Inc., which is owned by Schell & Kampeter Inc. Diamond Pet Food Inc has been providing pet food since 1970.
Production of the Taste of the Wild products are based solely in the United States, in five separate facilities, and they make this apparent on their packaging illustrations. As a consequence of this, they decided to base their recipes on the natural diet of regions and ecosystems of the United States. 
I'll make you, the consumer, aware that there is animal testing conducted in an outsourced laboratory in the production of the ranges. However, this testing is considered non-invasive and observational. The animals only have to choose their preference of the two presented formulas.
Acana has a sister brand called Orijen, and both are produced exclusively by Champion Pet Foods. Many pet food manufacturers outsource their production, but because Acana does not. 
Not outsourcing production ensures that their pet food production is tightly monitored. Acana claims its ingredients are sustainably and ethically sourced as well as being GMO-free.
Acana proudly states that all of their meat ingredients are suitable for human consumption. This cannot be said for the majority of other pet food brands, including Taste of the Wild. 
Finally, Acana promises not to conduct any studies on laboratory animals. Instead, they only test pets that are brought in for TasteTaste, stool, urine, and blood analysis from 'loving homes.'
Product Range Comparison
In this section, we will explore the product ranges of both dog food brands to make sure that you can make an informed decision before investing in your dog's diet and health.
Dry Dog Food
Both brands produce a wide and varied selection of dry dog food, which is the staple of most dogs. The main difference between recipes of dry dog food is the meat and fish it contains. Both Acana and Taste of the Wild recipes include a vast selection of meats and fish, which will allow you to find a recipe that your dog enjoys, even if they are super picky.
Also, they both produce Limited Ingredient ranges. Limited Ingredient dog food is designed for dogs that suffer from dietary sensitivities or allergies and contains a very restrictive ingredient list, usually a single source of meat and a limited number of vegetables.
As dry dog food makes up the bulk of the consumer interest, we will break down the nutritional profiles of these ranges in our nutritional comparison. 
Finally, Acana recently launched a lower fat dry dog food formula called Light and Fit. Many compare this formula to one of its sister brands recipes called Fit and Trim.
These formulas offer very high proportions of protein with lower proportions of fat. Unfortunately, this does mean higher proportions of carbohydrates to compensate, but this isn't always a negative.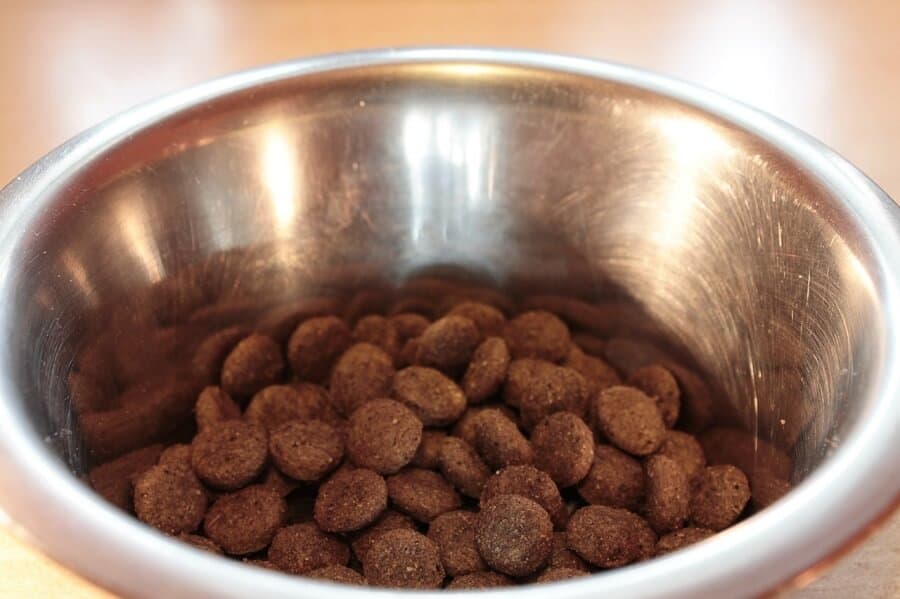 Canned Dog Food
In addition to dry food, Taste of the Wild produces wet dog food. Many believe that wet dog food is superior to dry dog food as the added moisture can keep your dog adequately hydrated, and they more accurately mimic a dog's natural diet of fresh meat and fish.
While that debate is for another day, the fact that Taste of the Wild offers this variety of dog food is a definite benefit.
Find out more about Canned Dog Food in our Best Canned Dog Food Guide.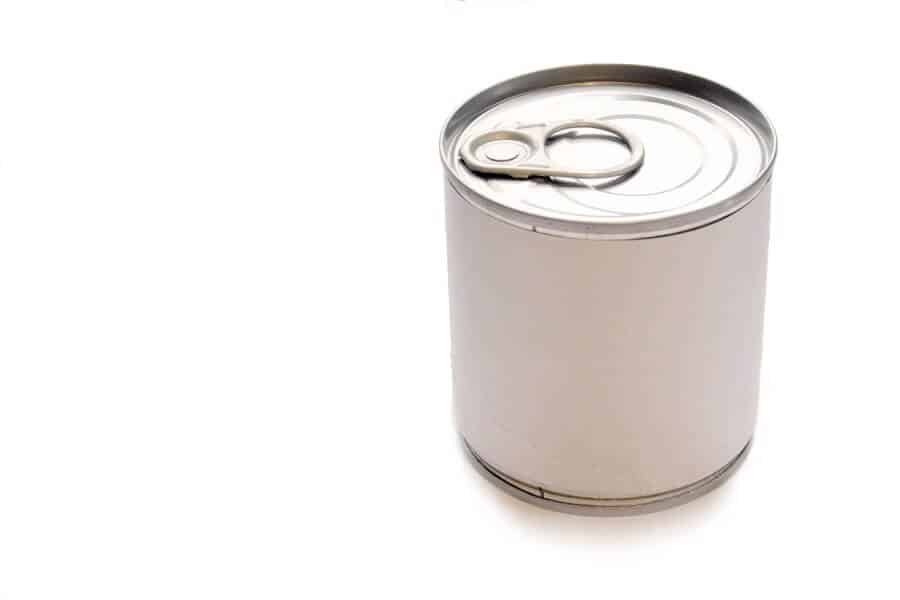 Puppy Food
Taste of the Wild also produces a range of formulas tailor-made for puppies. These puppy feed recipes have equivalents in the adult dry food range, which makes transitioning a puppy to the adult feed a breeze.  Examples of these include High Prairie Puppy Formula and Pacific Stream Puppy Formula.
In the spring of 2018, Acana launched its first dog food recipe aimed at puppies. While Heritage – Puppy & Junior may have been available outside of the USA earlier than this, a specific formula that is tailor-made for puppies has been long overdue by such an established brand such as Acana.
Learn more about Puppy Food in our Best Puppy Food Guide.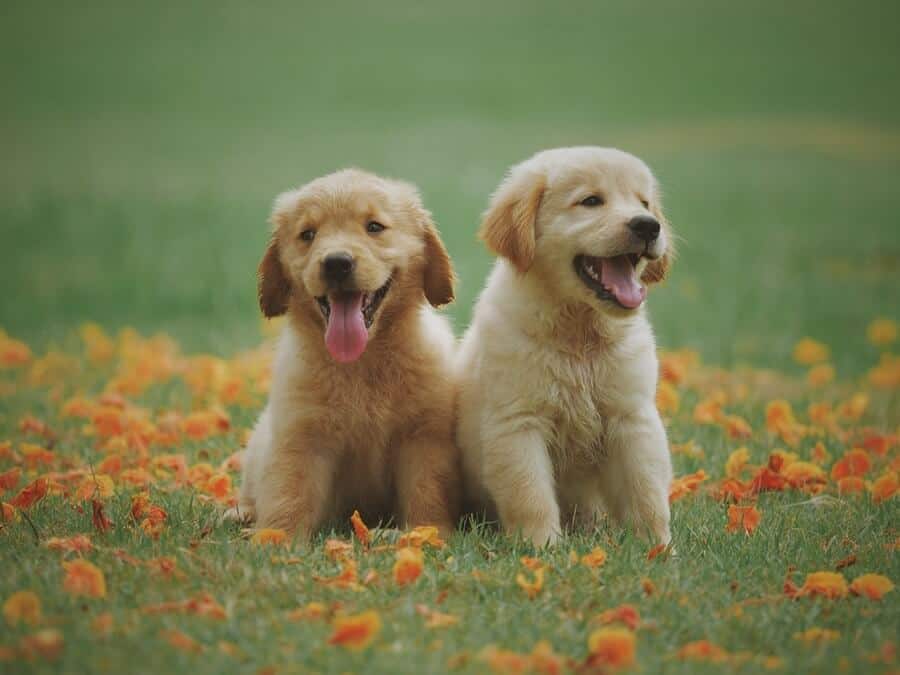 Freeze-Dried Dog Treats
Acana, on the other hand, produces a range of dog treats. These are a powerhouse of nutrition as they are made up entirely of natural ingredients that are freeze-dried. The preservation method used by Acana discards the need for preservatives and locks in the flavor so they can be utilized as a vital tool for training. 
Taste of the Wild vs. Acana – Nutrition Comparison
Before we begin our detailed nutrition discussion, it is fair to say that both brands provide above-average nutrition. But which will come out on top? To make this article concise, we've calculated the average calorie breakdown of all the dry food formulas of both Taste of the Wild and Acana.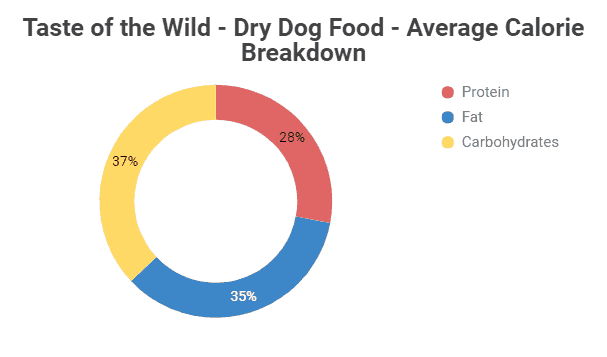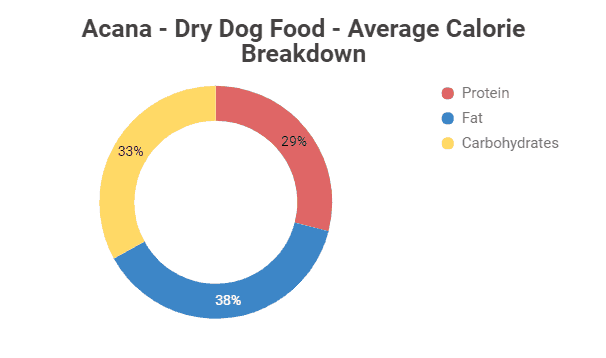 Disclaimer
Before we begin, it is important to note that these proportions are estimates and are calculated based on the guaranteed analysis of Taste of the Wild and Acana products. A guaranteed analysis lists the minimum percentages of protein, fat, fiber, and moisture.
Therefore it likely that these figures mildly underestimate protein and fat content and slightly overestimate carbohydrate content.
Carbohydrates Content Comparison
Carbohydrates are always the nutritional value that we prefer to discuss first and foremost as it can often help separate the wheat from the chaff.
Given the 'no-grain' promise that both brands upkeep across their products, one could be led to believe that the carbohydrate ratio would be relatively stable across all of the lines.
The calorie content of Taste of the Wild products is, on average, 37% carbohydrates, while Acana boasts a noticeably lower 33% average of its calories from carbs.
As a general rule of thumb, for the average active dog who does not have any notable dietary restrictions, the lower the carbohydrate proportion, the better.
However, every dog is different, and some may not cope well with higher proportions of protein and fat. In situations such as this, a higher ratio of carbohydrates can actually be advantageous.
Sources of Carbohydrates
Acana uses an extensive range of vegetables to provide its carbohydrate content, whereas Taste of the Wild tends to stick to a much smaller range in higher quantities.
Now both are brand product ranges offer complete nutrition, which means they contain all the micronutrients that your dog requires. Therefore ingredient-based decisions come down to you and your dog's personal preference.
It is essential to be aware of the use of raspberries and blueberries in many of Taste of the Wild's recipes. These provide wonderful antioxidants for both humans and canines alike.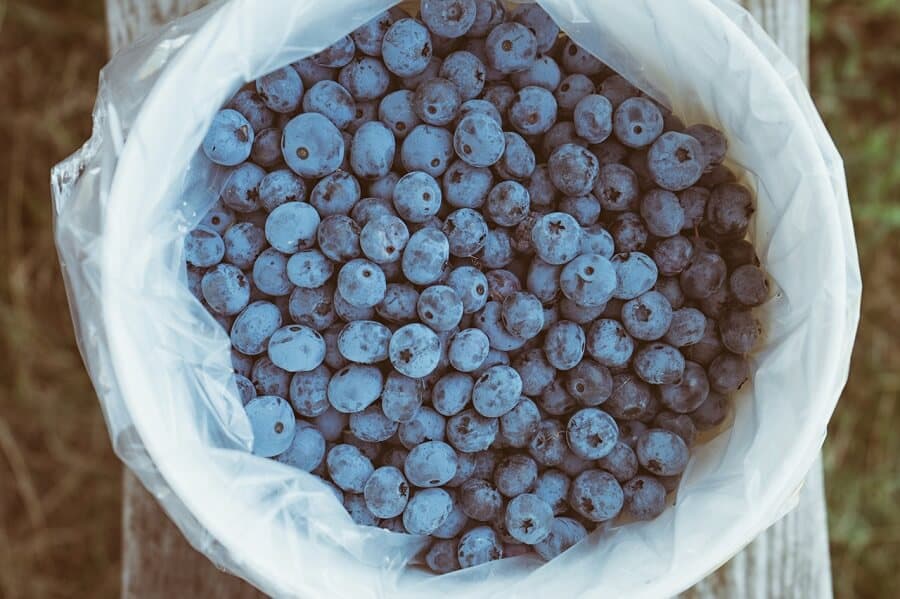 Acana's use of butternut squash and pumpkin helps to aid digestion, stabilize blood sugar levels, and reduce the chance of obesity in your dog.
Without getting too technical, the fiber and beta-carotene in these vibrant vegetables convert to Vitamin A and keeps the dog's stools regular. If your dog is quite sensitive, this simple approach to nutrition is your best bet. 
In essence, both brands have below-average proportions of carbohydrates, and they are sourced from a variety of high-quality ingredients. As both brands use comparable sources, it is clear that Acana comes out on top by containing 6% fewer calories from carbohydrates.
Protein Content Comparison
There is an explicit promise from both competitors that there is no synthetic protein in any of their products. And at first glance, both brands appear to score pretty evenly on this front with Acana having an average of 29% of its calories from protein, where Taste of the Wild is just behind at an average of 28% of its calories from protein.
This difference is negligible at best. However, while the proportions may be very similar, it is important to note the source and quality of this protein.
Acana Protein Quality
Acana is very proud of its high-quality protein content, with each recipe made with a fixed proportion of its claiming title. For example, Acana – Singles – Lamb and Apple recipe contains 50% lamb content.
But again, to be thorough in our analysis, we've delved into the quality of this lamb. The lamb is farmed in Kentucky on local farms. This lamb is grass-fed and raised without the use of antibiotics or hormones.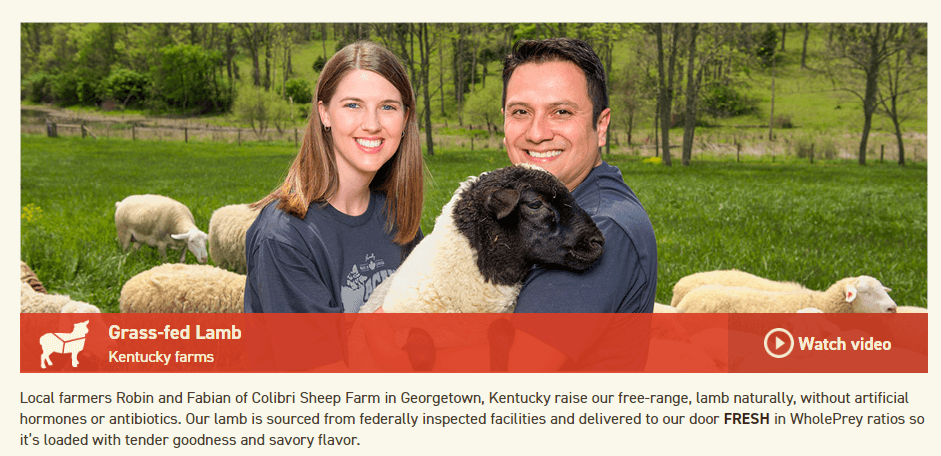 The example mentioned confirms that Acana uses high-quality sources of fresh meat that should be looked upon favorably in the eyes of the consumer. Another point for Acana's range is that all their meat is deemed fit for human consumption. The difference in quality between human and animal regulations is stark, so this is a major selling point of the brand.
In addition to their high-quality meat ingredients, Acana utilizes Eggs as an additional source of protein. This protein contains the full range of amino acids needed for maintenance and growth.
To add to this, Eggs come packed with a huge variety of vitamins and minerals such as Vitamin A, Vitamin D, and Selenium.
If the nutrition of eggs wasn't enough, the eggs used in Acana's recipes are laid by free-run chickens, aren't frozen or preserved, and are fit for human consumption. These eggs are likely higher quality than many of the eggs you may have consumed at home or a restaurant.
Taste of the Wild Protein Quality
We've already established that the protein proportion is just slightly lower for Taste of the Wild, but what of its quality? For fairness, I've chosen the Sierra Mountain Canine Formula, which also contains Lamb ingredients.
Although the lamb used is true and an efficient protein source, there is no traceability of the product. The country of origin is unknown, and although it meets the AAFCO Dog Food Nutrient Profiles for growth and maintenance, these are not stringent standards to have to meet.
However, it's not all bad news for this brand. All of their products claimed protein sources are always listed as their first ingredient. And I'd also like to highlight the Turkey Limited Ingredient Formula.
This formula uses cage-free birds; this is a great sign not only for the nutritional profile of the food but also to see a brand supporting ethical animal treatment within the dog food industry. Furthermore, Turkey is famed as a fantastic and palatable source of protein for dogs.
Again Acana eeks out a slight advantage due to its traceability and the fact that it has been deemed fit for human consumption. Now onto the final macronutrient, we need to discuss to obtain a complete evaluation of both ranges.
Fat Content Comparison
Fats are in every cell membrane of your dog's body. They are the fuel for your dog's heart, and so it is very important for long-term health to get the right amount and the right types of fat for your dog.
Both brands have similar levels of fat, with Taste of the Wild averaging 35% of its calories from fat, and Acana averaging 38%. This percentage doesn't take into account the digestibility of the fat, but since both attain their fat from animal sources, they are likely to be metabolized well by your pet.
Now onto some example products that provide a higher fat content. High-fat dog food may not be suitable for older or sedentary dogs but rather for dogs with above-average activity levels.
Taste of the Wild's High Prairie Canine Formula is made primarily from buffalo, lamb, and chicken and contains a minimum of 39% of its calories from fat. You can check out its price over at Chewy.
Likewise, Acana has high-fat products such as Regionals – Grasslands, with 38% of its calories being derived from fat. Fat gives your canine a much more concentrated source of energy and stamina than the other macronutrients such as carbohydrates or protein.
If regular hikes, rummaging through the foliage, or racing tirelessly through fields is what your dog does best, then the latter recipes are probably an excellent choice.
Tomato Pomace – A Controversial Ingredient
A specific ingredient that is present in Taste of the Wild products is Tomato Pomace. Tomato pomace is the fiber, seeds, and flesh of the tomato after the juice has been extracted for human consumption.
Some do not regard it as a high-quality product as there are most often large amounts of pesticides used to grow tomatoes.
Tomato Pomace contains very little nutritional value and can be used as a bulking agent while still being classified as a natural ingredient.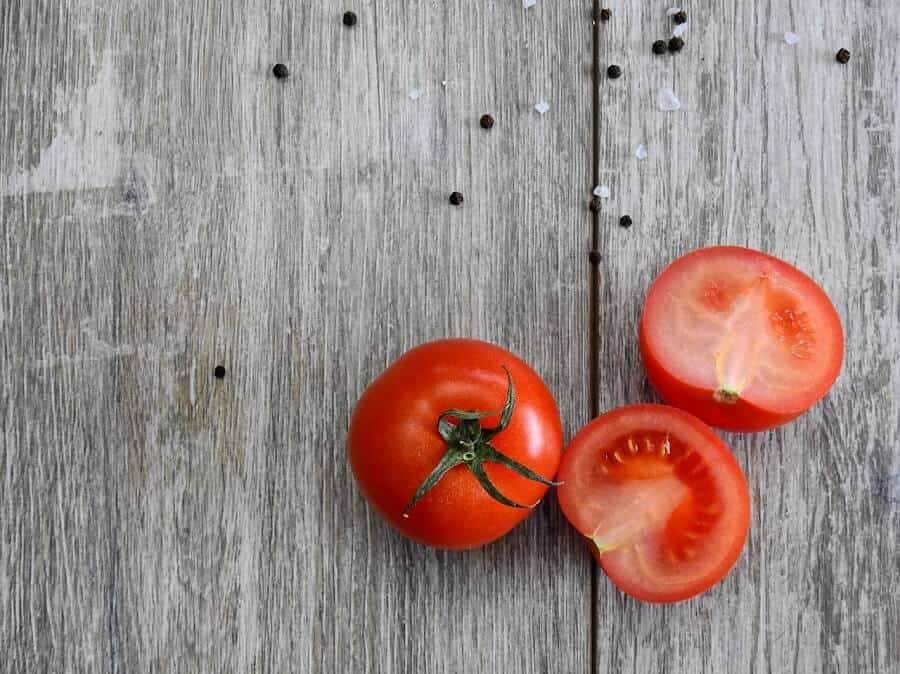 A product containing very high levels of Tomato Pomace would not be considered high-quality. However, it appears that Taste of the Wild is using Tomato Pomace is a source of soluble fiber and is only being added in lower quantities.
Many other high-quality dog food brands like Fromm and Weruva also use Tomato Pomace in this fashion. While some may not approve of this, it appears to be a genuine use. Acana products are free from tomato pomace. Whether this is an essential factor when choosing a dog food is up to you.
Recall History – Taste of the Wild vs. Acana
Standards in dog food can very often slip and go under the radar, which can leave your dog with a severe illness that could have been prevented. Fortunately, both ranges have a very limited or non-existent recall history, which is an excellent sign of their production and ingredient quality.
To date, Taste of the Wild has a single recorded recall, which was for potential Salmonella Contamination in May 2012. A wide range of cat and dog food was recalled as a precaution.
While this recall is undoubtedly worrying, it was over five years ago, and this particular recall should no longer be a concern.  The age of this recall does not mean you should not look out for future recalls of Taste of the Wild products or products of any other pet food brand.
Acana, on the other hand, has no recorded recalls to date.
However, in March 2018, a lawsuit was filed against Champion Pet Foods, the manufacturer of Acana and Orijen pet products. The lawsuit claims that Champion Pet Foods failed to disclose harmful levels of heavy metals and toxins such as Arsenic and Lead in their products.
Champion Pet Foods quickly responded, claiming the lawsuit was meritless and had misrepresented the data. It is essential to understand this is merely an accusation at this stage and until any conclusive judgment or evidence is made public, we will not advise against any of Champion Pet Foods products.
Acana vs. Taste of the Wild Conclusion
It is clear that Taste of the Wild and Acana are both high-quality brands, and each has its merit in the premium dog food market. However, Acana punches a slightly higher weight regarding high-quality ingredients, nutritional ratios, and its provision of high-quality dog treats.
To add to this, Acana's traceability and lack of laboratory animal testing are factors that put it ahead of its competitor.
However, that's not to say that Taste of the Wild is not excellent pet food. It does have a greater variety of recipes, including puppy feed and wet dog food options, which Acana lack.
It also contains very high-quality ingredients, especially protein sources, a 'no-grains' promise, and impressive meat content.
Our Acana and Taste of the Wild Recommendations
At Pet Food Reviewer so review and analyze individual dog foods and not just the brand. Many are unaware that quality and nutrition can vary quite significantly between different products produced by the same brand.
Fortunately, Acana and Taste of the Wild have some products that we have reviewed very highly. Here is a small selection of these. If these formulas don't appeal to you or your dog, a link to our full directory of reviews for each brand is situated just below.
Dry Dog Food
Regionals – Wild Atlantic Review

ㅤ
We believe the Regionals range from Acana to be the most reliable, and Wild Atlantic is the best recipe in the range. What particularly attracts us to the Wild Atlantic formula is the very high level of the Omega 3 Fatty Acids it contains.
The vast majority of dog food formulas have an unimpressive level of these fatty acids, which makes those that do have an impressive level really stand out amongst the crowd.
The Omega 3 Fatty Acids can provide a range of proven health benefits such as improving the conditions of a dog's skin and coat, as well as improved cognitive function.
Wild Atlantic can thank the wide range of fish ingredients it contains for the high level of the omega fatty acids.
Examples include Mackerel, Herring, Redfish, and Hake. These are all high-quality fish ingredients and can provide highly digestible protein and fat, which dogs so badly need.
The formula also makes use of many of the traditional vegetable ingredients found in Acana recipes such as Peas, Chickpeas, Lentils, and Pumpkin.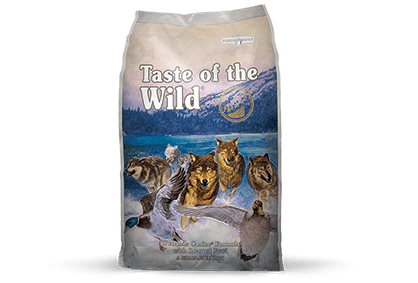 ㅤ
While most of the dry food recipes from Taste of the Wild provide very similar nutrition, the Wetlands Formula edges out the rest due to its superior protein and fat proportions.
The nutrition provided by this formula is ideal for the majority of dogs, including those who are more active.
This satisfactory proportion of protein and fat are sourced from the large range of poultry ingredients present in the formula.
Examples include Duck, Chicken, and Turkey. Chicken and Turkey are staples of dog food, and for a good reason, they are cost-effective sources of these vital nutrients.
The formula also includes a mix of legumes, such as Peas and Sweet Potatoes. These sum to a satisfactory proportion of carbohydrates, which is not overly excessive. These ingredients also offer a modest sum of dietary fiber to aid digestion.
Limited Ingredient Dog Food
Singles – Pork and Squash Review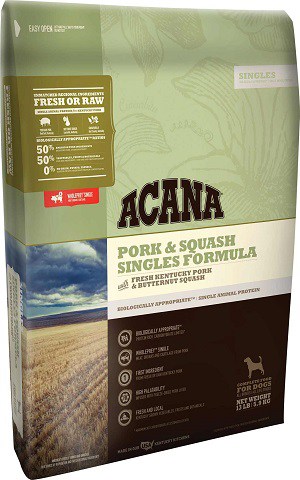 ㅤ
Acana's singles recipes maintain the same quality as their non-limited ingredient formulas. There are five formulas currently available within the range, Lamb and Apple, Duck and Pear, Turkey and Greens, Beef and Pumpkin, and Pork and Squash.
There was a sixth formula within the range, which was probably our favorite. However, the Wild Mackerel formula is now discontinued for reasons unknown. For this reason, we've had to select a different recipe to recommend.
One of the reasons that Acana's Limited Ingredient formulas are unique is they include less commonly used fruit and vegetable ingredients. An example of less commonly used ingredients includes Apples, Pears, Squash, and Spinach.
However, these formulas also tend to contain some of the more common vegetable ingredients, such as Beans, Peas, and Chickpeas.
Unfortunately, this does rule out Acana Singles as a viable solution to those dogs with severe legume or vegetable allergies.
The above-mentioned Pork and Squash recipe provides above-average nutrition that is high in protein and fat.
Prey – Turkey Limited Ingredient Formula Review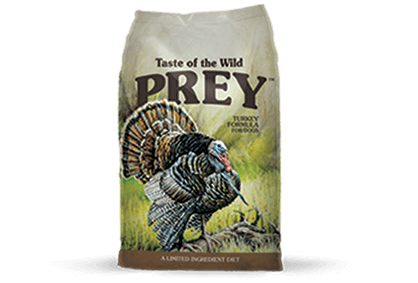 ㅤ
Currently, there are three varieties available, Beef, Turkey, and Trout. Each of these formulas is very similar and contains a simple mix of ingredients. However, of the three, the turkey recipe comes out slightly ahead.
The nutrition offered by Prey formulas is above average, but it is likely that a significant proportion of their protein content is derived from Lentils, which some would argue is inferior to animal protein.
Due to the three different recipes that Prey offers, it could be suitable for dogs that suffer from a range of meat and fish allergies.
However, the dogs must be able to consume a large portion of lentils without suffering an intolerance.