What Is Freeze-Dried Dog Food?
Freeze-drying is a water removal process that is used to preserve food. This process involves lowering the temperature of food and then adjusting its pressure and later raising the temperature.
While this sounds complicated, it is tried and tested and has been proved to preserve more of the nutritional content of food than traditional dehydrating.
Some brands produce similar products through a technique called air drying. This technique is very similar to freeze-drying but doesn't the sub-zero temperatures. As these products are almost identical, we are going to also include them in this article.
The result of this process is food that will not spoil and is an incredibly dense source of nutrients. This density almost means that is is exceptionally flavorful. The best equivalent comparison for humans would be Jerky.
Why Is Freeze-Dried Dog Food So Expensive?
The primary reason that freeze-dried dog food is expensive is that it requires large portions of meat and fish ingredients to produce. Meat and fish ingredients are almost always the most expensive component of dog food.
Not only do freeze-dried dog foods require large portions of these ingredients, but the freeze-drying process reduces the weight of these ingredients substantially, as much as 75%. What may seem like a small 6oz bag of freeze-dried dog food may have required almost two pounds of raw meat and fish.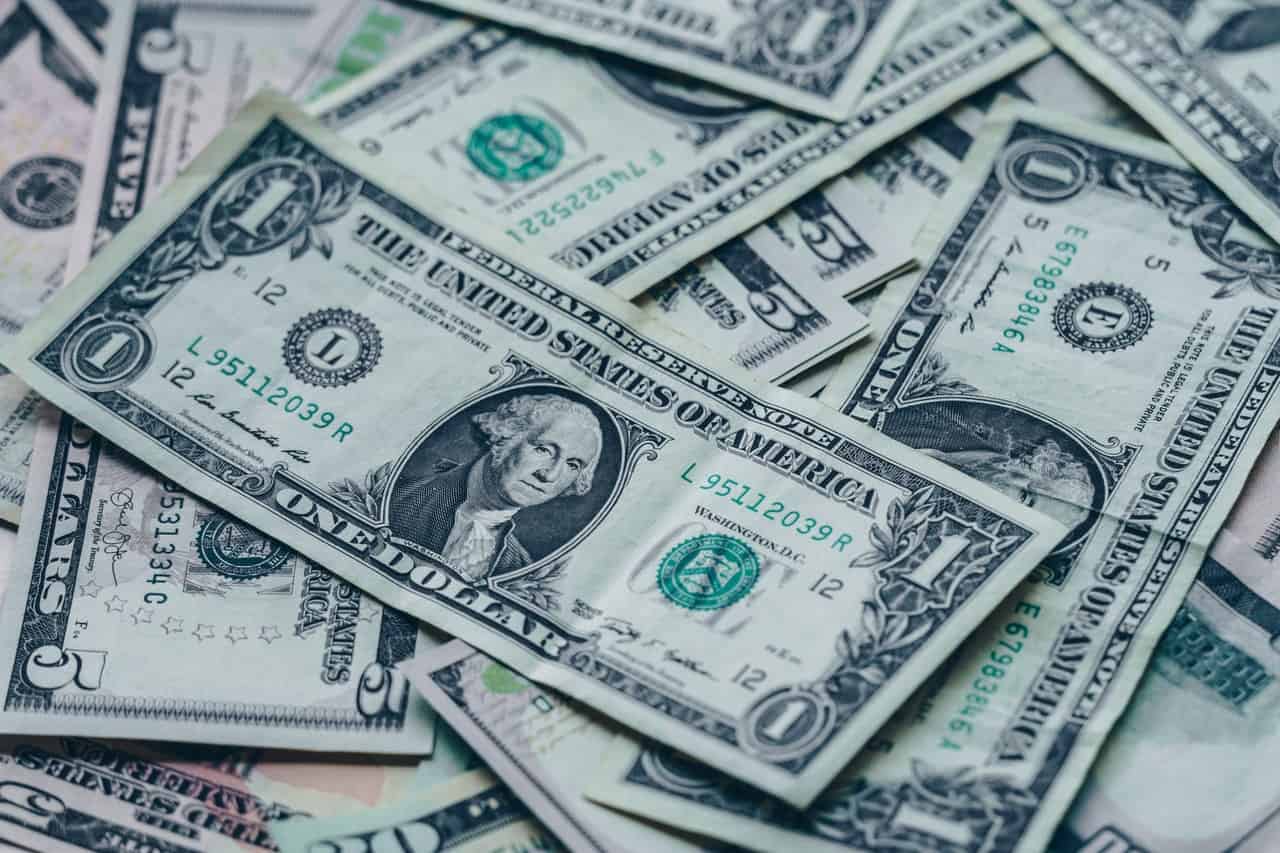 In addition to the above, freeze-dried dog food tends to be produced by the more premium brands. These brands often use better quality ingredients, which tend to come from more expensive sources.
Also, many of these brands often choose to use unusual ingredients or unique ingredients in their recipes. Examples of these types of ingredients include Venison and Lamb. Ingredients such as Venison are particularly expensive and hard to source, which further adds to this high expense.
Best Freeze-Dried Dog Food
Ziwi Peak Air-Dried Lamb For Dogs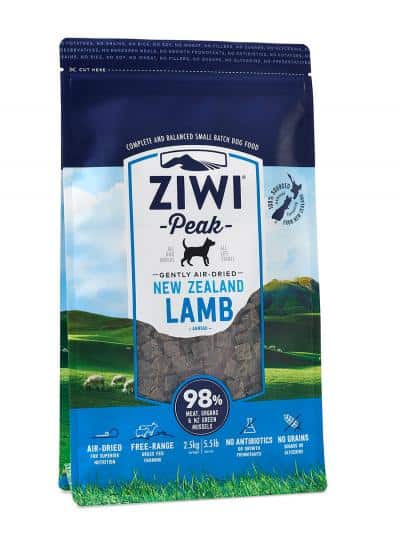 ㅤ
There can not be a discussion of freeze or air-dried dog food without including Ziwi Peak. The New Zealand based brand produces fantastic quality air-dried dog food range and is one of the leaders in this niche market.
Ziwi Peak sources all of its ingredients from humane, ethical, and sustainably managed farms. This is one of the key selling points of a premium brand such as Ziwi Peak, whose customers are informed and concerned about animal welfare.
The brand is based in New Zealand, so it will come as no surprise that Lamb features prominently. However, they do have some non-Lamb recipes, including a recently launched Chicken recipe.
Another consistent trait of their air-dried recipes is the use of organ meat. Organ meat, such as Liver, Heart, and Lungs, is advantageous because it provides vitamins and minerals that are often lacking in traditional meat cuts. In addition, these organ meats add flavor that makes most dogs drool.
Orijen Original Review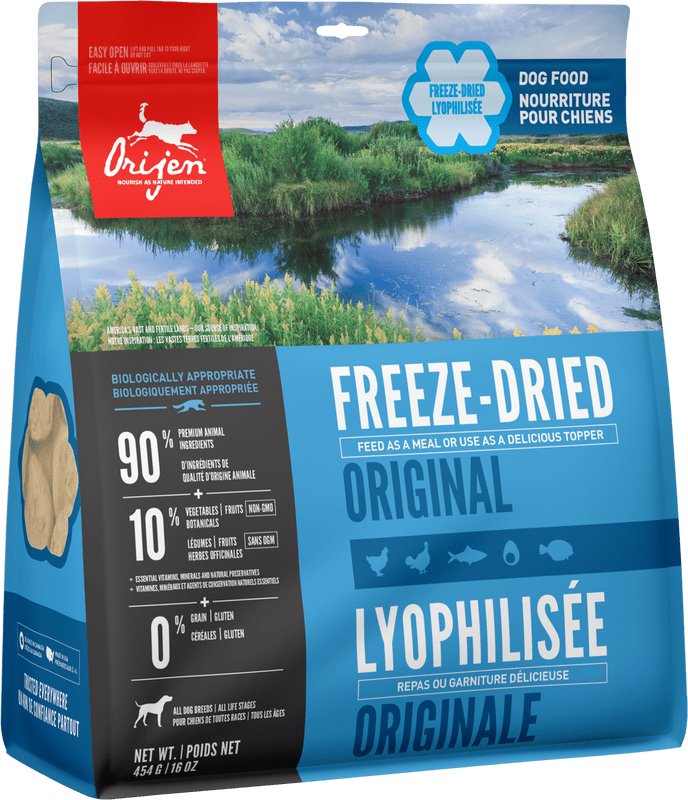 ㅤ
Orijen is one of the best-known players in the premium pet food market. They are based in Canada and are best known for their high-quality ingredients and incredible nutrition. Most of their dry food recipes include 10+ sources of meat and fish, which is unprecedented and translates to excellent proportions of protein and fat.
While the brand has avoided branching out into some varieties of dog food like wet/canned food, it has ventured into freeze-dried dog food, which is no surprise given their premium audience. They have a small range of recipes, including the above Original recipe.
The Original recipe focuses on poultry ingredients such as Chicken and Turkey. However, others are included, such as Herring and Eggs. This mix of poultry and fish may not suit all dogs, but all the ingredients are nonetheless nutritious.
There are some plant-based ingredients in the recipe, whereas other brands have none. This selection includes the use of Pumpkin, Collard Greens, Carrots, and Apples.
Pumpkin can be beneficial to some dogs thanks to its abundance of dietary Fiber. This Fiber can help dogs regulate their digestion and stools.
Instinct Raw Boost With Real Beef Review
ㅤ
Nature's Variety Instinct is a brand that repeatedly features in our reviews and recommendations and for a good reason. Their combination of ingredient quality, nutritional proportions, and price makes them one of our favorites. They can commonly be found at large retail pet food stores as well as large online sellers like Chewy and Amazon.
While we are usually discussing one of Instinct's dry dog food recipes, they are best known for their raw and semi-raw recipes. These recipes are a hybrid between traditional kibble and freeze-dried dog food.
This combination allows dog owners to keep their costs reasonable, have easy access to their dog's food while still allowing them to benefit from the superior nutrition and taste.
The formula contains Beef, Chicken, and Whitefish, which are all high-quality meat and fish ingredients that can provide a plentiful supply of protein and fat.
Also, the formula contains the ever staple Peas and Chickpeas for carbohydrates and Fiber. These legumes are found in almost all of Nature's Variety Instinct's dry dog food recipes.
Finally, the formula also includes Flaxseed to help boost the level of the Omega Fatty Acids.
K9 Natural Beef Feast Review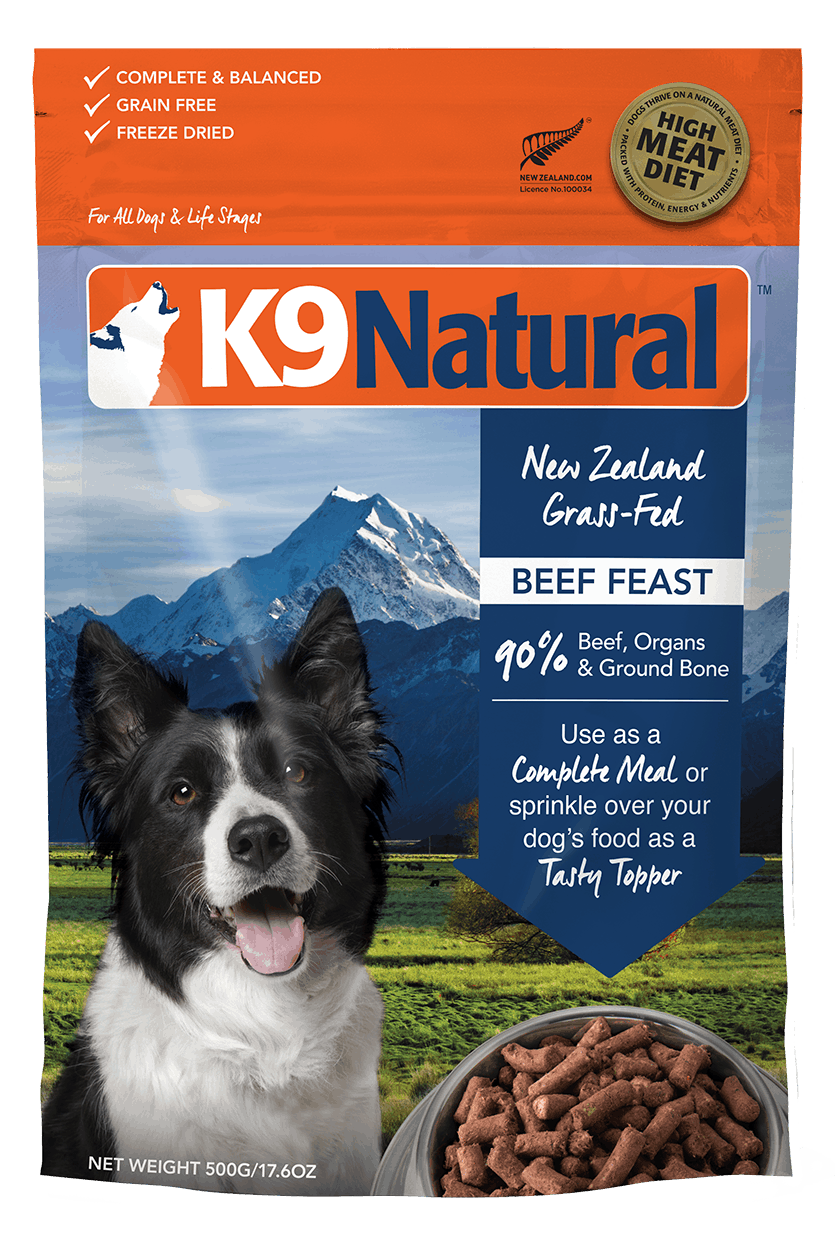 ㅤ
K9 Natural is another New Zealand based brand and could be easily compared or equated to Ziwi Peak. K9 Natural uses very high-quality ingredients that are sourced from New Zealand and are suitable for human consumption.
They also use an in-house animal nutritionist to ensure that their recipes meet dogs' nutritional needs. With these incredibly high standards, you can expect their recipes to come at a high cost, but for some, it is worth the consideration.
Just like Ziwi Peak, K9 Natural makes extensive use of organ meat ingredients. Examples of this in the above recipe include Beef Liver, Beef Tripe, Beef Kidney, Beef Heart, and Beef Spleen.
This mix is sure to contain a vast range of vitamins and minerals in high proportions, as well as a unique and varied flavor.
Sojos Freeze-Dried Lamb Review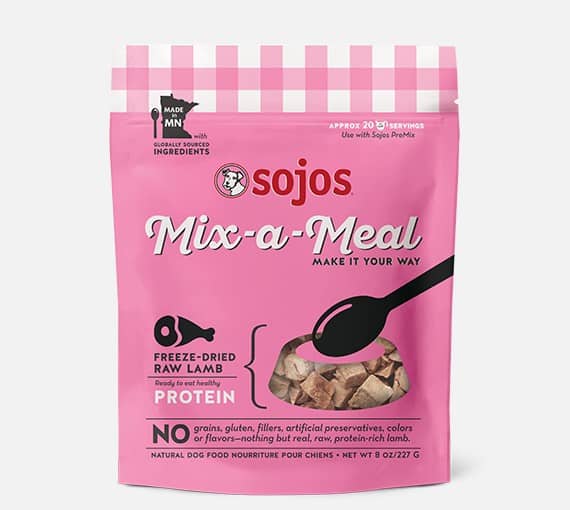 ㅤ
While Sojos may not be a household name, they come from an established source. WellPet LLC owns Sojos along with some more recognizable brands such as Wellness, Holistic Select, and Eagle Pack.
Unlike some of their sister brands, Sojos does not produce traditional dry dog food and instead specializes in freeze-dried and dehydrated dog food. Their Mix-a-Meal recipes are designed to be mixed with a "base".
This base could be traditional dry dog food, or it could be homemade food such as rice or vegetables. However, Sojos also offers a pre-made base that allows you to mix and match as you please as well as fully control the ratio of meat to non-meat ingredients.
There are four freeze-dried meat ingredients available in the range, which are Turkey, Beef, Lamb, and Chicken. All four of these are highly nutritious and packed with protein and fat.
Zeal Canada Gently Air-Dried Salmon Review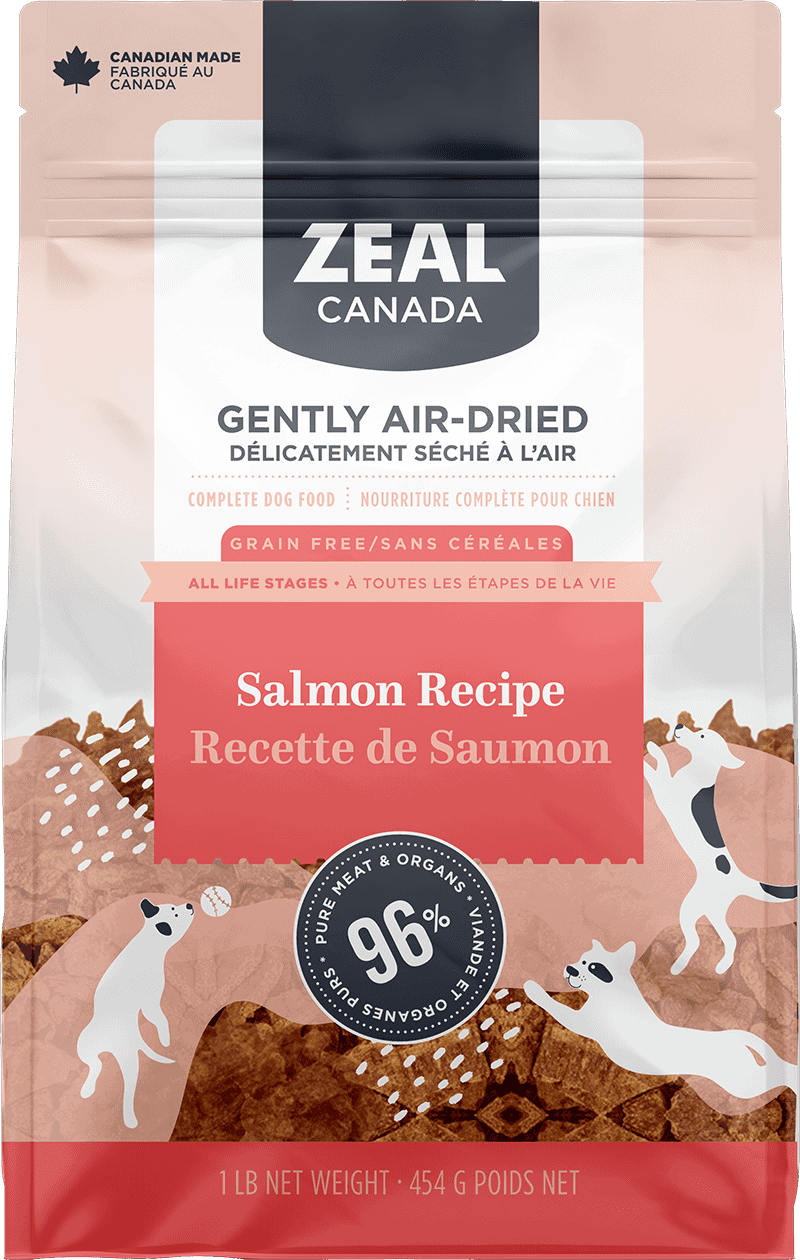 ㅤ
Canada seems to be an incredibly popular spot for freeze-dried dog food, with Orijen not being the only brand to be a player in this market.
Zeal Canada is a relative newcomer, but their offerings are impressive nonetheless. Despite what the name may imply, their products are available in the United States from sites like Chewy.
Their offering of freeze-dried dog food is one of the most straightforward available. The recipes include almost no significant ingredients outside of their primary meat or fish ingredient. While we are big fans of other meat ingredients like organs, some dogs do not enjoy these, which puts Zeal in an excellent spot.
For example, the above Salmon Recipe only includes Salmon, Bamboo fiver, and a few other minor preserving/flavoring ingredients.
A recipe like this may be perfect for a dog who needs a limited ingredient diet thanks to severe allergies or sensitivities.
Nulo Freestyle Grain-Free Duck Recipe With Pears Review

ㅤ
Nulo is a staple brand that has been around since 2009 and is best known for its high-quality dry dog food recipes. However, like many of their competitors, they have branched out into other areas, including raw, freeze-dried dog food.
There are currently five freeze-dried raw recipes on offer, and this range covers off all the regular meat and fish ingredients, such as Beef, Turkey, and Salmon.
While many freeze-dried recipes have tiny ingredient lists, Nulo's offering instead has an extensive list. This ingredient list includes a variety of duck ingredients such as Duck, Duck Necks, Duck Heart, Duck Wings, and Duck Liver.
While a long list of organ meat ingredients in freeze-dried dog food is typical, there is also a large number of plant-based ingredients present in minimal quantities. Examples include Pears, Squash, Green Beans, Carrots, Blueberries, and more.
These ingredients should not cause concern, though. They will add a small portion of carbohydrates, Fiber, vitamins, and minerals.
Rawbble Pork Recipe Review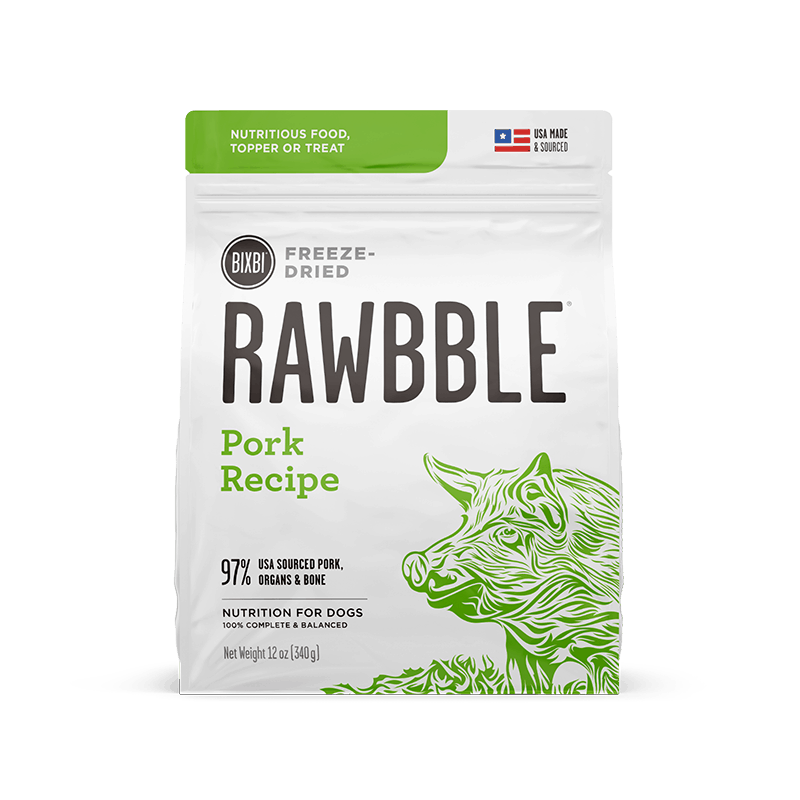 ㅤ
Rawbble which is owned by Bixbi is a new brand in the freeze-dried space, but that does not mean they should be discounted. They have a particularly large range of recipes that utilize ingredients that many other brands miss.
One example of this is the above Pork recipe. Pork is a meat ingredient that is very rarely used in freeze-dried recipes.
The ingredients in the recipe are few, with the primary ingredients being Pork, Pork Liver, and Pork Bone. While Pork Bone may sound intimidating, it is not to be feared and is a natural part of a dog's diet.
There are no notable plant-based ingredients present in Rawbble's freeze-dried recipes, which could make them perfect for those dogs' allergies or for dog owners who want to add their own vegetable or grain ingredients.
If you'd like to learn more about the Rawbble brand, head on over to our review here.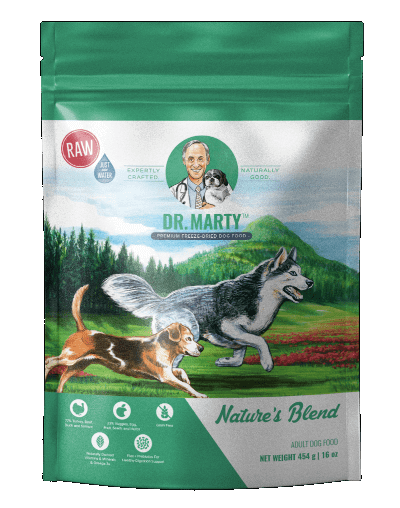 ㅤ
Dr. Marty Pet's is a brand that you will not find on the shelves of your local pet food store. However, you may have seen some of their famous advertisements. The brand is hugely popular thanks to its connection with Dr. Marty, and there are thousands of dog owners who are fanatics.
We recommend you check out our Dr. Marty Pet's review page for more information on the Veterinarian and his brand.
The proportions of protein and fat in this recipe are very satisfactory and would be suitable for dogs of all activity levels. Moreover, the protein and fat are provided by whole meat and fish ingredients, such as Beef, Turkey, and Salmon. These ingredients are an unusual mix, but they are highly digestible and very suited to dogs.
Flaxseed is an excellent plant-based source of the Omega 3 Fatty Acids, which many believe can provide several health benefits. This addition will combine the natural level of these fatty acids from the meat and fish ingredients.
While some might be concerned by the inclusion of Pea Flour, the portion present is very small and is not worthy of concern. The addition of other minor fruit and vegetable ingredients could also prove advantageous thanks to the vitamins and minerals they can provide.
Stewart Raw Naturals Chicken Recipe Review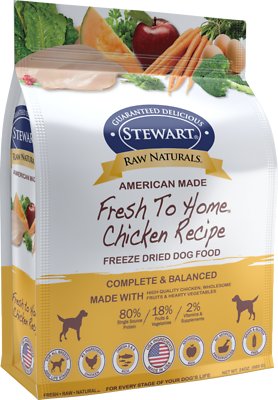 ㅤ
Stewart Raw Naturals is another lesser-known brand but their recipes caught our eye. They are very similar to others in this article with a mix of meat, organs, and minor plant-based ingredients.
They have a moderate range of freeze-dried food that includes Chicken, Beef, Turkey, Lamb, and Salmon recipes. They also have a freeze-dried recipe designed for puppies, which is quite rare.
The above Chicken recipe uses a mix of Chicken, Chicken Bone, Chicken Liver, and Chicken Gizzard as its primary ingredients. Gizzards are often misunderstood and can be a beneficial addition. Read more in our article Giblets in Pet Food, Everything You Should Know.
The minor plant-based ingredients we mentioned are Cantaloupe, Carrots, Broccoli, and Romaine Lettuce. Some of these are unique and are rarely found in dog food. While they may provide some minor nutrition, it will be minor given their portion size.