K9 Natural Information
K9 Natural is a pet food brand based in New Zealand.
K9 Natural Product Range
Dog Food
K9 Natural do not produce traditional dry dog food. Instead, they have a range of freeze-dried and canned dog food, alongside frozen dog food, toppers, and treats.
Cat Food
K9 Natural Nutrition
K9 Natural Ingredients
K9 Natural sources many of their ingredients from New Zealand. This includes the Lamb, Beef, and Chicken that are found in the majority of their recipes.
K9 Natural Animal Testing
K9 Natural Recalls
K9 Natural Featured Articles
Best Canned Dog Food – K9 Natural features in our in-depth look at canned dog food. In this article, we explore the differences between traditional dry dog food and canned dog food. We break down our suggestions into distinct sections and K9 Naturals features in the premium section alongside other brands like Ziwi Peak and Hound & Gatos.
Best of K9 Natural
K9 Natural Lamb Feast Review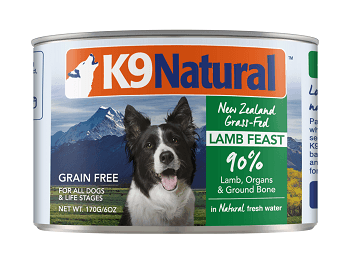 K9 Naturals has a small range of canned dog food recipes including a Lamb Formula, Chicken Formula, and Beef Formula. We've chosen to highlight the Lamb Formula as Lamb is the primary livestock animal of New Zealand and a more unusual dog food ingredient that Beef or Chicken.
The primary ingredient is whole Lamb, but there are also a number of Lamb organ meats present including Lamb Liver, Lamb Heart, and Lamb Kidneys. As we mentioned with discussing Ziwi Peak, these organ meats can provide a unique cocktail of vitamins and minerals.
However, K9 Naturals includes some ingredient that other similar brands like Ziwi Peak do not. This includes Lamb Blood, Eggs, and a small range of vegetables such as Pumpkin, Broccoli, Cauliflower, and Cabbage. Eggs are incredibly nutritionally dense and an excellent addition to any dog food formula. The vegetables will provide additional vitamins and minerals as well as a very modest portion of carbohydrates and fiber.
K9 Natural Full Product Range
Dog Food
Freeze-Dried Dog Food
Freeze-Dried Beef Feast
Freeze-Dried Chicken Feast
Freeze-Dried Lamb Feast
Beef And Hoki Freeze-Dried For Puppies
Canned Dog Food
Beef Feast Can
Chicken Feast Can
Lamb Feast Can
Beef And Hoki Can For Puppies
Frozen Dog Food
Frozen Beef East
Frozen Chicken Feast
Frozen Lamb Feast
Toppers
Beef Feast Topper
Beef Green Tripe Topper
Chicken Feast Topper
Lamb Feast Topper
Lamb Green Tripe Topper
Puppy Topper
Dog Treats
Beef Healthy Bites
Chicken Healthy Bites
Lamb Healthy Bites
New Zealand Healthy Mussels Healthy Snacks
Dog Supplements
Beef Green Tripe Canned Booster
Lamb Green Tripe Canned Booster
Beef Green Tripe Freeze-Dried Booster
Lamb Green Tripe Freeze-Dried Booster
Cat Food
Freeze-Dried Cat Food
Freeze-Dried Beef And Hoki Feast
Freeze-Dried Chicken And Lamb Feast
Freeze-Dried Lamb And King Salmon Feast
Canned Cat Food
Beef And Hoki Feast
Beef Feast Can
Chicken And Lamb Feast Can
Chicken And Venison Feast Can
Chicken Feast Can
Lamb And King Salmon Feast Can
Lamb Feast Can
Cat Supplements
Lamb Green Tripe Freeze-Dried Booster
Lamb Green Tripe Hydration Booster
Cat Treats
Beef Healthy Bites
Chicken Healthy Bites
Lamb Healthy Bites