K9 Natural Information
K9 Natural is a pet food brand based in New Zealand who specializes in free-range ingredients and impressive nutrition.
K9 Natural stand out from the crowd and their competitors by offering recipes that use 90% meat. This is unprecedented in comparison to most other pet food brands, which are likely to have as little as 30% meat in their recipes.
K9 Natural Product Range
Dog Food
K9 Natural do not produce traditional dry dog food. Instead, they have a range of freeze-dried and canned dog food, alongside frozen dog food, toppers, and treats.
Their product range is moderate in size but does have a variety, including a number of core meat and fish ingredients.
Cat Food
K9 Natural's cat food range is a similar size to their dog food range and includes canned cat food and frozen cat food. In addition, it also lacks traditional dry food, just like the dog food range.
K9 Natural Nutrition
Dog Food
The nutritional profile of K9 Natural's dog food products is excellent. It includes significantly above average proportions of protein and fat and a significantly below-average proportion of carbohydrates.
This balance of nutrition is ideal, and dogs of all ages and activity levels could excel from it.
Cat Food
K9 Natural Ingredients
K9 Natural sources many of its ingredients from New Zealand. This includes the Lamb, Beef, and Chicken that are found in the majority of their recipes.
K9 Natural Animal Testing
At this time, we have no information on what type of animal testing that K9 Natural participates in.
We strongly believe that intrusive or laboratory-style testing of animals is a cruel and outdated practice and one which we hope will see a significant decline.
K9 Natural Recalls
To the best of our knowledge and based on our research (FDA, AVMA, DogFoodAdvisor), K9 Natural is a recall-free brand. This shows that K9 Natural takes the safety and quality of its manufacturing process seriously.
Despite this, we encourage pet owners to be vigilant of any future recalls of K9 Natural or any other pet food brand.
K9 Natural Featured Articles
Best Canned Dog Food – K9 Natural features in our in-depth look at canned dog food. In this article, we explore the differences between traditional dry dog food and canned dog food. We break down our suggestions into distinct sections, and K9 Naturals features in the premium section alongside other brands like Ziwi Peak and Hound & Gatos.
Best of K9 Natural
K9 Natural Lamb Feast Review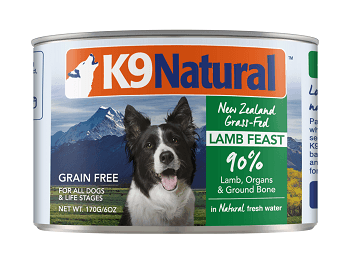 K9 Naturals has a small range of canned dog food recipes, including a Lamb Formula, Chicken Formula, and Beef Formula. We've chosen to highlight the Lamb Formula as Lamb is the primary livestock animal of New Zealand and a more unusual dog food ingredient that Beef or Chicken.
The primary ingredient is whole Lamb, but there are also a number of Lamb organ meats present, including Lamb Liver, Lamb Heart, and Lamb Kidneys. As we mentioned with discussing Ziwi Peak, these organ meats can provide a unique cocktail of vitamins and minerals.
However, K9 Naturals includes some ingredients that other similar brands like Ziwi Peak do not. This includes Lamb Blood, Eggs, and a small range of vegetables such as Pumpkin, Broccoli, Cauliflower, and Cabbage. Eggs are incredibly nutritionally dense and an excellent addition to any dog food formula. The vegetables will provide additional vitamins and minerals, as well as a very modest portion of carbohydrates and fiber.
K9 Natural Full Product Range
Dog Food
Freeze-Dried Dog Food
Freeze-Dried Beef Feast
Freeze-Dried Chicken Feast
Freeze-Dried Lamb Feast
Beef And Hoki Freeze-Dried For Puppies
Canned Dog Food
Beef Feast Can
Chicken Feast Can
Lamb Feast Can
Beef And Hoki Can For Puppies
Frozen Dog Food
Frozen Beef East
Frozen Chicken Feast
Frozen Lamb Feast
Toppers
Beef Feast Topper
Beef Green Tripe Topper
Chicken Feast Topper
Lamb Feast Topper
Lamb Green Tripe Topper
Puppy Topper
Dog Treats
Beef Healthy Bites
Chicken Healthy Bites
Lamb Healthy Bites
New Zealand Healthy Mussels Healthy Snacks
Dog Supplements
Beef Green Tripe Canned Booster
Lamb Green Tripe Canned Booster
Beef Green Tripe Freeze-Dried Booster
Lamb Green Tripe Freeze-Dried Booster
Cat Food
Freeze-Dried Cat Food
Freeze-Dried Beef And Hoki Feast
Freeze-Dried Chicken And Lamb Feast
Freeze-Dried Lamb And King Salmon Feast
Canned Cat Food
Beef And Hoki Feast
Beef Feast Can
Chicken And Lamb Feast Can
Chicken And Venison Feast Can
Chicken Feast Can
Lamb And King Salmon Feast Can
Lamb Feast Can
Cat Supplements
Lamb Green Tripe Freeze-Dried Booster
Lamb Green Tripe Hydration Booster
Cat Treats
Beef Healthy Bites
Chicken Healthy Bites
Lamb Healthy Bites