Ziwi Peak Information
Ziwi Peak is a New Zealand based pet food brand that specializes in air-dried pet food. Many consumers will be familiar with freeze-dried pet food, but not many will have heard of air-dried food or understand the difference.
Ziwi Peak explains Air-dried food, in great detail, on their website, which you can find here and you can also see the below diagram that Ziwi Peak uses to explain their production process.
The brand is 100% New Zealand owned, which places them as one of the few pet food brands not to be swallowed up by larger conglomerates like Purina or Mars.
Ziwi Peak's air-dried dog and cat food contains 96% fresh meat, organs, bone & seafood, which is unprecedented when compared to their competitors and traditional dry dog food.
However, such a high meat content comes at a cost, and Ziwi Peak is one of the most expensive pet food brands in the world, as highlighted in our article The 10 Most Expensive Dog Foods.
For example, a 2.2lb bag of their air-dried Lamb dog food is usually priced around $40-$50 and will not last nearly as long as a similarly priced bag of dry dog food.
A justification for some of Ziwi Peak's high cost is that they source all of their ingredients from humane, ethical, and sustainably managed farms.
This is one of the key selling points of a premium brand such as Ziwi Peak, whose customers are informed and concerned about animal welfare.
All of Ziwi Peak's recipes are also produced at dedicated facilities in New Zealand rather than outsourced to third parties or lower-cost countries.
Lastly, despite being based and produced in New Zealand, Ziwi Peak is widely available across the world from physical pet food stores and is also available from countless online pet food stores such as Chewy, Petflow, and more.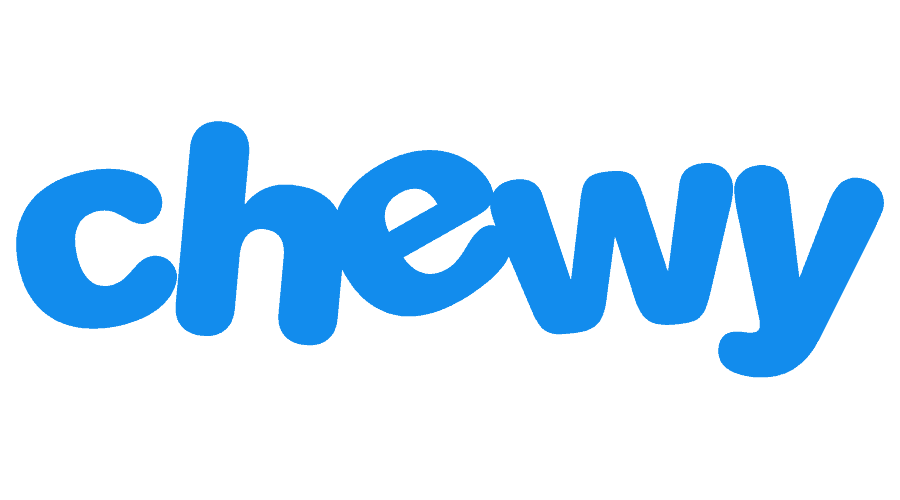 Ziwi Peak Product Range
Dog Food
Ziwi Peak started out with a modest range of air-dried and wet dog food products with a strong focus on traditional New Zealand meat sources like Lamb.
However, like many other dog food brands, Ziwi Peak has steadily expanded and broadened their product range.
This range now includes additional air-dried and moist dog food recipes like Chicken, which caught some by surprise.
In 2020, Ziwi Peak launched its newest product range known as Provenance. Unlike their previous recipes that contained just a single or two meat and fish ingredients, Provenance uses a much broader range of five meat and fish ingredients.
While this may not be unusual for traditional dry dog food, it is unheard of in the air-dried/freeze/dried space and makes Ziwi Peak stand out amongst its competitors. 
The provenance range has three unique recipes of both air-dried food and wet dog food, which are East Cape, Hauraki Plains, & Otago Valley.
These recipes are named after unique areas and ecosystems in New Zealand where the ingredients used are found, and is similar to how Taste of the Wild names their recipes.
Lastly, Ziwi Peak also produces a small range of dog treats. However, these dog treats are some of the most premium in the industry and include some items that some dogs may be unable to resist.
Examples include Venison Shank Bone and Lamb Trachea, along with other similar animal products.
While many dogs wouldn't be able to take their eyes off these, they are extremely costly compared to traditional dog treats and may have to be reserved for an occasional treat.
Cat Food
The cat food range from Ziwi Peak is extremely similar to their dog food range but has slightly fewer recipes.
At first, it had the same red-meat-focused recipes that the dog food range did, like Lamb, Beef, and Venison.
However, the cat food range also expanded over time and now includes recipes like Chicken.
While the air-dried ranges are almost identical to the dog food recipes, Ziwi Peak's cat food range does include some unique recipes, such as one with Rabbit and another with Hoki.
It is not clear why Ziwi Peak only made these formulas for cats and not dogs, but these unique meat or fish ingredients can be very appealing to many.
The Provenance range is also present in Ziwi Peak's air-dried and wet cat food range includes the same three recipes of East Cape, Hauraki Plains, and Otago Valley.
Lastly, Ziwi Peak does not yet produce any cat treats, but if their range continues to grow as it has in previous years, this could soon change.
Ziwi Peak Nutrition
Dog Food
As we mentioned earlier, Ziwi Peak's air-dried recipes contain almost entirely meat and fish ingredients (96% to be exact).
As a consequence of this monumental meat proportion, the nutrition offered by these air-dried recipes is impressive.
The nutritional profile of the air-dried recipes is extremely high in animal-based protein and fat, both of which should be at the core of every dog's diet. Without notable plant matter, the carbohydrate proportion is negligible.
Below is an example of the nutritional profile provided by a Ziwi Peak air-dried dog food recipe.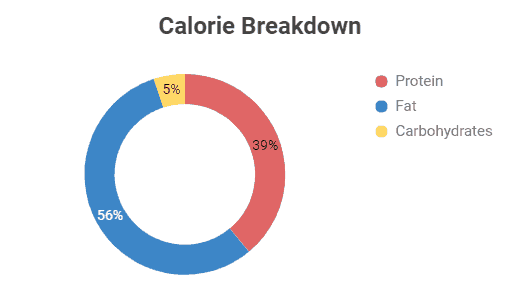 However, some of Ziwi Peak's recipes do contain very high proportions of fat. While this isn't a problem for very active dogs or some younger dogs, it can be troublesome for some who are less active or susceptible to weight gain.
If you are comfortable with a higher fat recipe, we'd recommend considering their Beef or Lamb recipes, while those looking for a higher protein, lower fat recipe could consider their Venison or Mackerel & Lamb recipe.
Ziwi Peak's wet dog food recipes offer similarly impressive nutrition and that is extremely high in animal-based protein and fat. However, these recipes contain significant moisture making them less nutritionally dense per gram.
If you'd like to learn more about canine nutrition, we'd highly recommend you check out our Dog Food Guide for an in-depth discussion on all aspects.
Cat Food
The nutrition provided by Ziwi Peak cat food recipes is extremely similar to their dog food recipes, which is no surprise given how similar the recipes are.
Their nutritional profile includes extremely high proportions of animal and fished-based protein and fat.
You can see an example of this below, which is the nutritional profile of one of Ziwi Peak's air-dried cat food recipes.
While dogs can safely consume moderate proportions of carbohydrates, cats are obligate carnivores and thrive on a diet without notable plant material.
For this reason, and the fact that their ingredient quality is second to none, Ziwi Peak cat food can provide some of the best nutrition of any cat food brand.
It is also worth pointing out the potential of Ziwi Peak's wet cat food recipes. Many cats struggle to take on sufficient moisture, which can cause health problems.
The combination of Ziwi Peak's excellent ingredients and nutritional content with the added moisture of wet cat food can be an extremely effective combination and something to consider.
If you'd like to learn more about feline nutrition, head on over to our Cat Food Guide. In this guide, we discuss various topics in-depth, including cat food types, nutrition, and ingredients.
Ziwi Peak Ingredients
Ziwi Peak only uses ingredients sourced from New Zealand in its products. Avoiding outside sources helps Ziwi Peak maintain very high-quality standards and reliability.
All of Ziwi Peak's Beef, Lamb, and Venison ingredients are from free-range sources and aren't kept in barns, cages, or feed-lots.
High-Quality Meat & Fish Ingredients
Beef
Beef Heart, Kidney, Tripe, Lung & Liver
Lamb
Lamb Heart, Kidney, Lung, Tripe & Liver
Venison
Venison Tripe & Liver
Mackerel
Chicken
Chicken Liver
Duck
Turkey
Mutton
Goat
New Zealand Green Mussel
All of the above meat and fish ingredients used in Ziwi Peak recipes are high-quality sources of animal-based protein and fat, making them ideal components of a pet food recipe.
Some of these ingredients, like Beef and Chicken, are extremely popular across the industry and see widespread use thanks to their low cost and high availability.
However, others like Venison and Lamb are far less common. This is due to the fact that these ingredients are far more difficult or costly to source, especially in the United States.
However, these ingredients can be used in some specialized pet food recipes for those with severe allergies. Commonly known as 'Novel Meats', these ingredients can be less likely to trigger a reaction in some.
You can learn more about hypoallergenic dog food and novel meat diets in the below articles.
Best Hypoallergenic Dog Foods Guide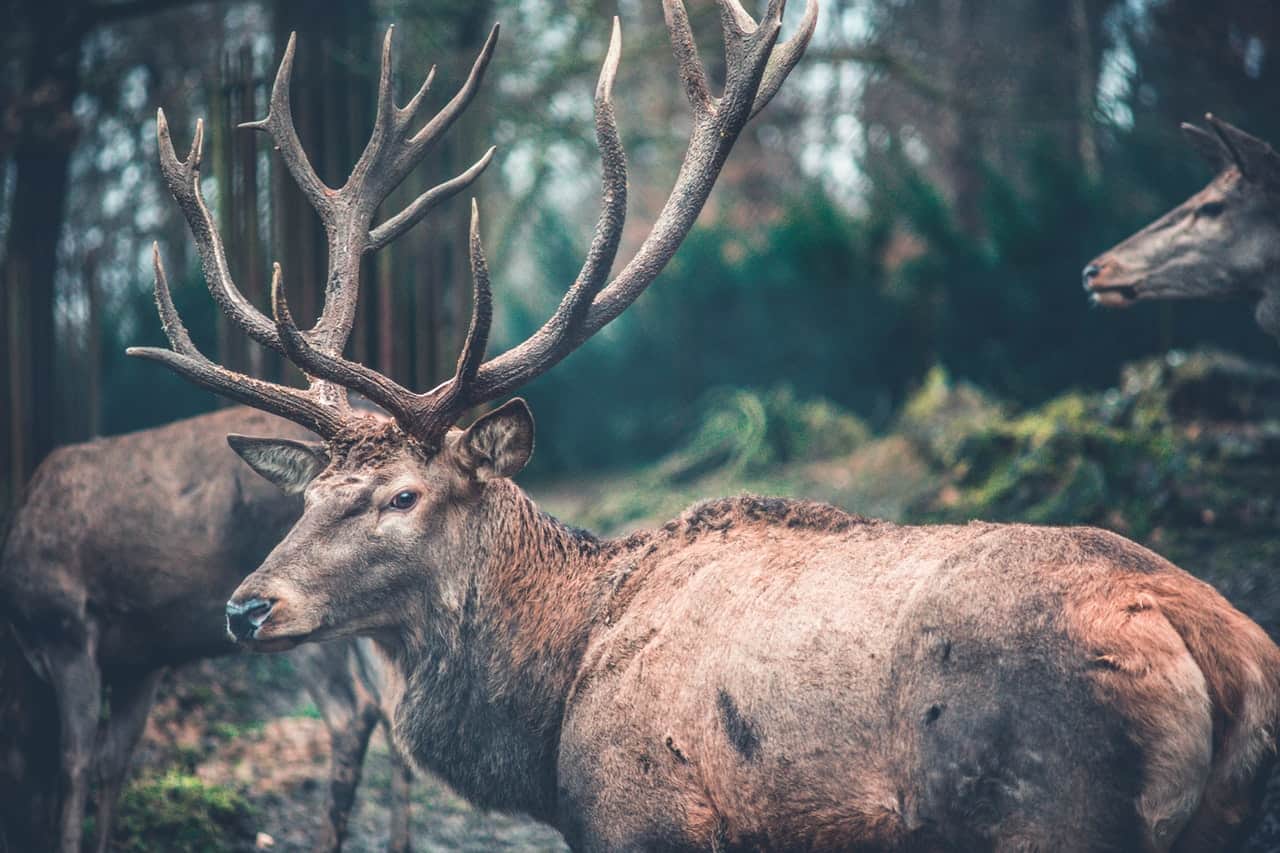 Other Notable Ingredients
Some of Ziwi Peak's latest Provenance recipes utilize Eggs as a minor ingredient. Eggs are extremely underutilized in pet food and can provide impressive nutrition, including protein, fat, and more.
What makes Eggs stand out even more is that they are one of the most bioavailable ingredients, which means the vast majority of their nutrition can be absorbed by a dog or cat's digestive system.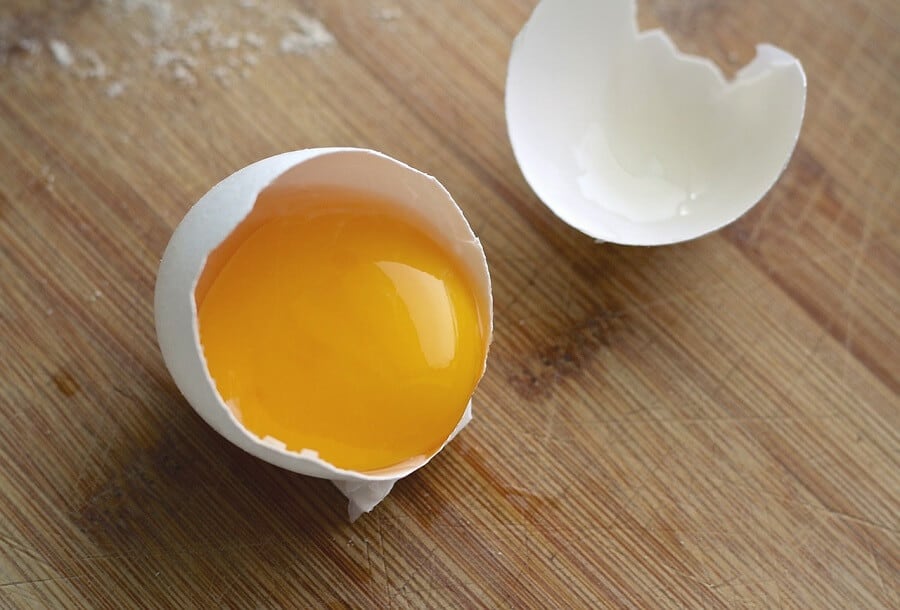 Chicory Root is one of a few minor plant-based ingredients found in Ziwi Peak air-dried dog food.
Chicory is used by a large number of pet food brands thanks to the micronutrients it can provide and because many believe it can provide additional health benefits.
Learn more about Chicory Root in our article, Dried Chicory Root In Dog Food.
Kelp is not as commonly used as Chicory Root but is present in many premium pet food brands in tiny quantities.
Once again, it is added to provide micronutrients and not provide overall nutrition such as carbohydrates, protein, or fat.
Ziwi Peak goes in-depth on their site about why they use Kelp (which you can find here).
However, in short, Kelp can provide health benefits such as reduced dental plaque, reduced risk of hypothyroidism, reduced itchiness and skin conditions, and providing vitamins and minerals like Iron and Calcium.
If you want a more detailed look at Kelp and its use in pet food, take a read of our article Kelp In Pet Food.
Ziwi Peak Animal Testing
Ziwi Peak has a strong statement on their website regarding animal testing. They say that they would not involve or affiliate themselves with anyone that engages in the inhumane treatment of animals.
Ziwi Peak states that they only participate in feeding trials or research in an in-home environment. Many of the pets involved in these in-home trials are volunteers or customers of Ziwi Peak.
Ziwi Peak also insists that it never has, nor will it ever partake in invasive animal testing.
This is a relief and a noteworthy positive of Ziwi Peak. Animal testing is an outdated and cruel practice, and we hope that over the coming years, it will be severely reduced or eliminated.
Ziwi Peak Recalls
Based on our research (FDA, AVMA, DogFoodAdvisor), Ziwi Peak has no recorded recalls in its past, making it a recall-free pet food brand.
This is a fantastic record from a brand that has been producing pet food for a lengthy period of time and shows that they take the safety and quality processes of their manufacturing seriously.
Despite serious incidents over the last two decades, many larger pet food brands still have to issue recalls for issues like contamination or incorrect formulation.
Despite their recall-free record, we always suggest that pet owners remain vigilant of any future recalls of Ziwi Peak pet food or any other pet food brand to ensure their pets remain healthy and safe.
Best of Ziwi Peak
Dog Food
Air Dried Mackerel and Lamb Review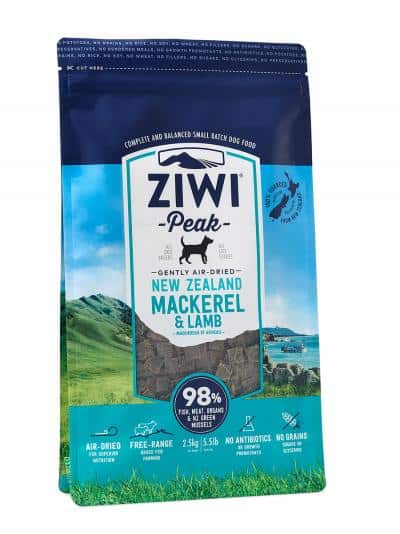 ㅤ
While all of Ziwi Peak's classic air-dried dog food recipes provide excellent nutrition from high-quality ingredients, we have chosen the only recipe that features a fish ingredient as our favorite.
We feel as if this Mackerel & Lamb recipe is more unique and can provide a slightly different balance of nutrition than the other Ziwi Peak recipes.
The overall proportion of protein and fat comes in at a minimum of 43% and 25%. This ratio of protein to fat is far higher than most of Ziwi Peak's recipes, making this an excellent choice for dogs who are not extremely active or youthful.
The presence of Mackerel is also beneficial as it is an excellent source of the Omega 3 Fatty Acids, which are known to provide a number of health benefits to dogs.
Classic examples of health benefits include a reduction in the risk of certain diseases and an improvement in the condition of a dog's skin and coat.
As with all Ziwi Peak air-dried recipes, there is no notable plant matter present outside of a tiny portion of Kelp which is present for its vitamins/minerals and beneficial properties.
Beef Recipe Review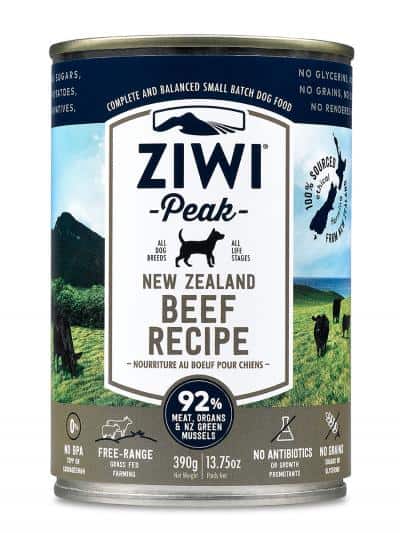 ㅤ
Ziwi Peak's offering of wet dog food is probably one of the best, if not the best on the market, thanks to its extremely high ingredient quality and irresistible nutrition.
The Beef used in this wet dog food recipe is from free-range, grass-fed cows without the use of antibiotics. This high-quality Beef provides excellent nutrition, high in protein and fat.
With protein and fat proportions of 8% and 5.5%, respectively, this recipe will be extremely palatable and enticing to many dogs, which is often the aim of dog owners who feed their canine friends wet dog food occasionally.
However, the generous portion of Beef is also joined by smaller portions of Beef Lung, Beef Kidney, and other Beef organ meat ingredients.
These organ meats are excellent additions and further enhance the flavor as well as boost the levels of several beneficial vitamins and minerals.
Lastly, the recipe contains a tiny portion of Chickpeas which are likely present to help bind the Beef ingredients together rather than for their carbohydrate content.
Cat Food
Air Dried Lamb Review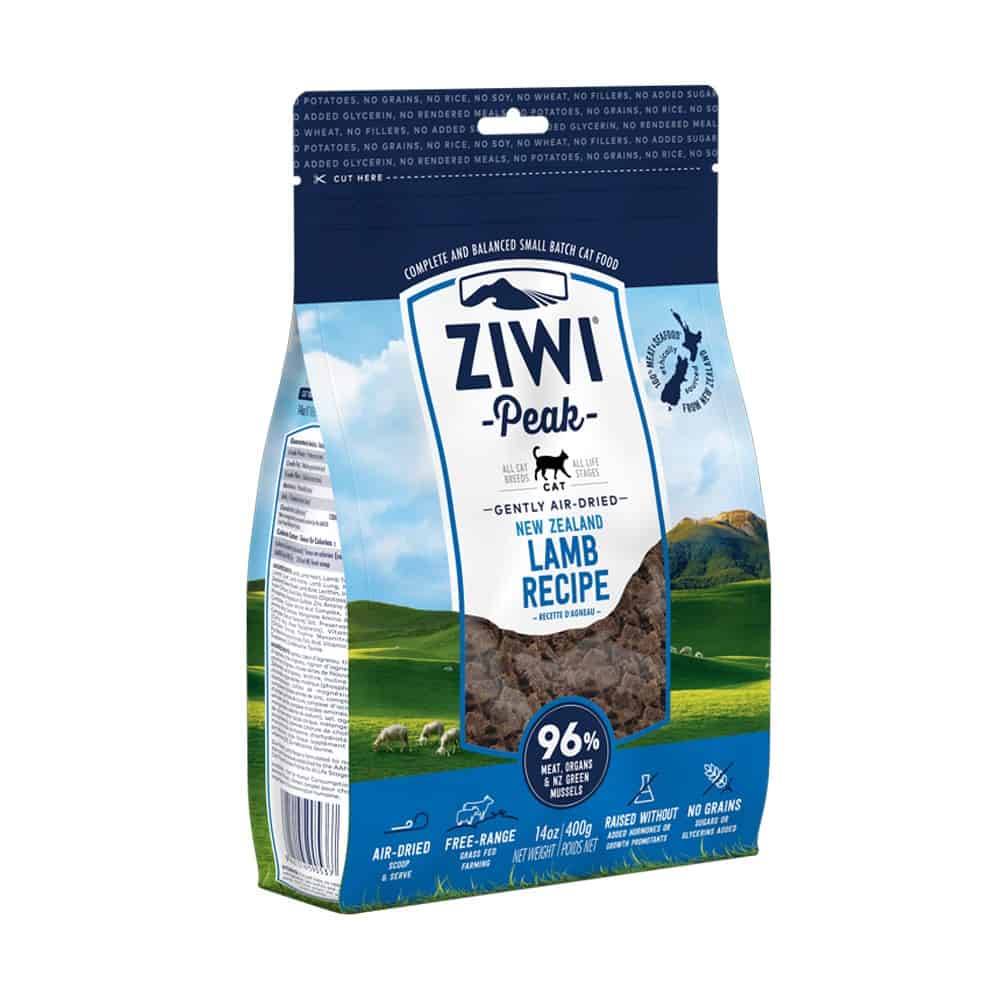 ㅤ
We've chosen Ziwi Peak's classic Air Dried Lamb Recipe to highlight for cats, thanks to its simplicity and longstanding reputation.
While Lamb is sometimes seen in dog food recipes, it is quite rare to find in cat food recipes where poultry or fish is usually favored.
This large portion of Lamb contributes to an impressive proportion of protein and fat at 35% and 33%, which is the vast majority of the recipe and aligns this recipe with a cat's natural diet.
As with all of Ziwi Peak's air-dried recipes, this one is joined by several organ meat ingredients such as Lamb Heart, Lamb Tripe, and Lamb Liver.
Organ meat such as this would be eaten regularly in a cat's natural diet and provide a rich flavor and plentiful supply of beneficial micronutrients.
Mackerel & Lamb Recipe Review
ㅤ
Fish is an extremely common inclusion in wet cat food recipes, and these recipes often utilize fish like Tuna, Salmon, or Whitefish.
Mackerel isn't quite as popular but does still see varied use, and the familiarity of Mackerel and fish is why we've chosen the above Mackerel & Lamb recipe to recommend from Ziwi's wet cat food range.
Mackerel is the recipe's primary ingredient and makes up the bulk of the recipe. As we mentioned earlier, Mackerel and other oily fish are excellent sources of the beneficial Omega 3 Fatty Acids.
The portion of Lamb is far smaller, but once it is combined with the various Lamb organ meats present is sums to a respectable portion size.
Lastly, Ziwi Peak's wet cat food recipes still contain a considerable amount of moisture, with this recipe having 78% moisture.
This is one of the key benefits of wet cat food that many neglect and is important as many cats struggle to take on sufficient moisture in their diet, especially when they are fed dry cat food.
Ziwi Peak Featured Articles
Best Dog Foods Without Peas – Thanks to its almost complete lack of plant-based material, Ziwi Peak has a well-earned place in our article discussing the concerns about Peas and legumes and the best alternatives to them.
With growing concerns over the effects of high levels of legumes in dog food, the search for alternatives will continue to grow, and Ziwi Peak will remain a reliable option. Be sure to check out this article to discover who else made the cut.
Best Hypoallergenic Dog Food Guide – Hypoallergenic dog food is a growing and evolving niche with many different types of food and approaches.
The simplicity of Ziwi Peak's Air-Dried recipes makes them a noteworthy option, especially for those dogs that suffer from allergies to plant-based ingredients.
However, there are other options, including recipes from much larger brands with years of research and development.
Best Canned Dog Food – While Ziwi Peak is best known for its air-dried dog food, its canned dog food is also of excellent quality.
This article explains all that a dog owner needs to know about canned dog food and then highlights several of our favorite brands and recipes, including some from brands like Merrick, Open Farm, and American Journey.
Best Dog Foods With Venison – Venison is a rare ingredient to find in dog food, but many premium brands, such as Ziwi Peak, are using it and seeing great success.
As we mentioned earlier, Venison is often found in "Novel Meat" recipes, and this article discusses these and their advantages along with other important information about Venison.
Best Dog Food In Canada – Ziwi Peak's worldwide success is highlighted in our article looking into the best dog food available in Canada.
Here it outcompetes many local brands and imports from the United States and stands alongside other impressive Canadian brands like Orijen and Kabo.
Ziwi Peak Full Products Range
Air Dried Dog Food
Air Dried Mackerel and Lamb
Air-Dried Lamb
Air-Dried Venison
Air-Dried Beef
Air-Dried Tripe & Lamb
Air-Dried Chicken
Provenance East Cape Recipe
Provenance Hauraki Plains Recipe
Provenance Otago Valley Recipe
Moist Dog Food
Mackerel & Lamb Recipe
Venison Recipe
Tripe & Lamb Recipe
Lamb Recipe
Beef Recipe
Chicken Recipe
Provenance East Cape Recipe
Provenance Hauraki Plains Recipe
Provenance Otago Valley Recipe
Dog Treats
Good Dog Rewards Beef Recipe
Good Dog Rewards Venison Recipe
Good Dog Rewards Lamb Recipe
Venison Hoofer
Venison Shank Bone
Lamb Green Tripe
Beef Weasand
Lamb Trachea
Lamb Ears – Liver Coated
Venison Lung & Kidney
Venison Green Tripe
Air Dried Cat Food
Air-Dried Venison
Air-Dried Mackerel & Lamb
Air-Dried Lamb
Air-Dried Beef
Air-Dried Chicken
Provenance East Cape Recipe
Provenance Hauraki Plains Recipe
Provenance Otago Valley Recipe
Moist Cat Food
Mackerel & Lamb Recipe
Venison Recipe
Lamb Recipe
Rabbit & Lamb Recipe
Beef Recipe
Chicken Recipe
Mackerel Recipe
Hoki Recipe
Provenance East Cape Recipe
Provenance Hauraki Plains Recipe
Provenance Otago Valley Recipe