Ziwi Peak Information
Ziwi Peak brought together the best ingredients from the green, free-range farms and blue, pristine Southern oceans of New Zealand. The recipes mirror the whole-prey, meat-rich, diet that cats require for a long, happy, healthy life. ZiwiPeak advocates fresh, all-natural raw meat for your pets. All ingredients are listed as 100 percent fresh and the best diet for your pet.
In addition to raw meat, ZiwiPeak adds natural carbohydrates from sources such as kelp, green tripe, and chicory to aim for a well-balanced and natural, nutritious diet. For cats, they offer a range of Air-Dried and Moist food. 100% Sourced From New Zealand Ethical Farming, Air-Dried For Superior Nutrition, Free Range, Grass Fed Farming. Products have no Grains, Sugars or Glycerin, no Antibiotics Or Growth Promotants.
Ziwi Peak is free from of any fillers designed to reduce its cost
98% of Ziwi Peaks ingredients are fresh meat, seafood, organ meat or bone.
Their slow twin stage air drying process aims to remove moisture with minimal consequence.
100% of Ziwi Peaks ingredients are sourced from New Zealand farms that practice Ethical Farming.
Ziwi Peak believes that smaller quantities of high-quality dog food are more beneficial than high quantities of low-quality food.
Ziwi Peak Product Range
Ziwi Peak Nutrition
Ziwi Peak Ingredients
High-Quality Ingredients
Beef
Beef Liver
Beef Heart, Kidney, Tripe & Lung
Lamb
Lamb Liver
Lamb Heart, Kidney, Lung, Tripe
Venison
Venison Tripe
Venison Liver
Mackerel
New Zealand Green Mussel
Ziwi Peak only uses ingredients sourced from New Zealand in its products. Avoiding outside sources helps Ziwi Peak maintain very high-quality standards and reliability.
All of Ziwi Peak's Beef, Lamb, and Venison is from free-range sources and aren't kept in barns, cages or feed-lots.
Ziwi Peak Animal Testing
Ziwi Peak has a strong statement on their website regarding animal testing. They say that they would not involve or affiliate themselves with anyone that engages in the inhumane treatment of animals.
Ziwi Peak states that they only participate in feeding trials or research in an in-home environment. Many of the pets involved in these in-home trials are volunteers or customers of Ziwi Peak. Ziwi Peak also insists that it never has nor will it ever partake in invasive animal testing.
This is a relief and a noteworthy positive of Ziwi Peak. Animal testing is an outdated and cruel practice and we hope that over the coming years, it will be severely reduced or eliminated.
Ziwi Peak Recalls
No Recalls To Date
Ziwi Peak Featured Articles
Best Hypoallergenic Dog Food Guide –
Best of Ziwi Peak
Air Dried Dog Food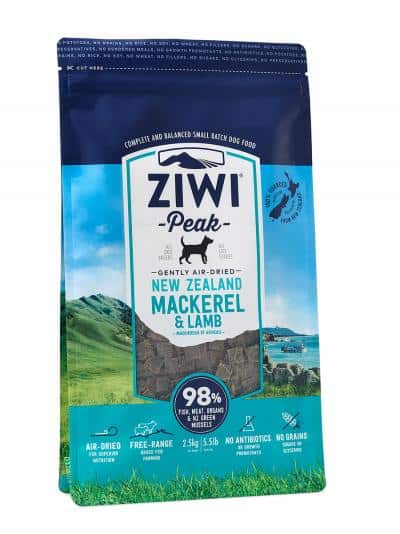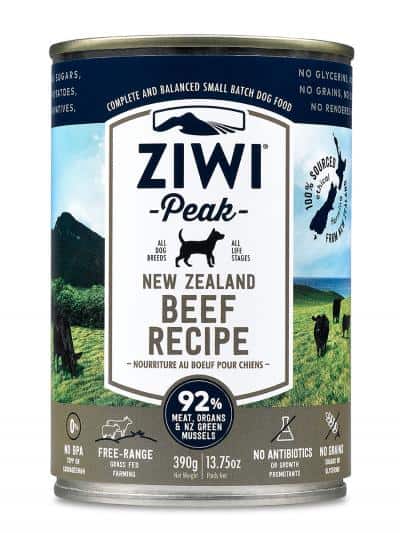 Ziwi Peak Full Products Range
Air Dried Dog Food
Air Dried Mackerel and Lamb for Dogs
Ziwi Peak Air-Dried Lamb For Dogs
Ziwi Peak Air-Dried Venison For Dogs
Ziwi Peak Air-Dried Beef For Dogs
Ziwi Peak Air-Dried Tripe & Lamb For Dogs
Moist Dog Food
Ziwi Peak Moist Mackerel & Lamb For Dogs
Ziwi Peak Moist Venison For Dogs
Ziwi Peak Moist Tripe & Lamb For Dogs
Ziwi Peak Moist Lamb For Dogs
Ziwi Peak Moist Rabbit & Lamb For Dogs
Dog Treats
Deer Shank Dog Bone
Deer Hoofer Dog Bone
Beef Dog Rewards
Venison Dog Rewards
Lamb Dog Rewards
Air Dried Cat Food
Ziwi Peak Air-Dried Venison For Cats
Ziwi Peak Air-Dried Mackerel & Lamb For Cats
Ziwi Peak Air-Dried Lamb For Cats
Ziwi Peak Air-Dried Beef For Cats
Moist Cat Food
Ziwi Peak Moist Mackerel & Lamb For Cats
Ziwi Peak Moist Venison For Cats
Ziwi Peak Moist Lamb For Cats
Ziwi Peak Moist Rabbit & Lamb For Cats
Ziwi Peak Moist Beef For Cats