Ziwi Peak Information
Ziwi Peak is a New Zealand based brand that specializes in air-dried pet food. Many consumers will be familiar with freeze-dried pet food, but not many will have heard of air-dried food or understand the difference. Ziwi Peak explains Air-dried food on the site, which you can find here.
Ziwi Peak is 100% New Zealand owned, which places them as one of the few pet food brands not to be swallowed up by larger conglomerates.
Ziwi Peak sources all of its ingredients from humane, ethical, and sustainably managed farms. This is one of the key selling points of a premium brand such as Ziwi Peak, whose customers are informed and concerned about animal welfare.
Ziwi Peak's air-dried dog and cat food contains 96% fresh meat, organs, bone & seafood, which is unprecedented when compared to their competitors and traditional dry dog food.
Ziwi Peak Product Range
Dog Food
Ziwi Peak has a modest range of air-dried and moist dog food products. This includes six air-dried recipes and six moist recipes. These recipes share common ingredients and compliment each other.
Ziwi Peak also produces a small range of dog treats.
Cat Food
The cat food range from Ziwi Peak is extremely similar to their dog food range but has slightly fewer recipes. There are five air-dried cat food recipes and six moist cat food recipes.
Ziwi Peak Nutrition
Dog Food
Due to the fact that Ziwi Peak's air-dried recipes contain almost entirely meat and fish ingredients, the nutrition they provide is excellent.
It is extremely high in protein and fat, both of which should be at the core of every dog's diet.
However, the proportion of fat is so high that it could be troublesome for some dogs with large appetites. Owners must be careful with portion control to avoid dogs becoming overweight or obese.
Below is an example of the nutritional profile provided by a Ziwi Peak recipe.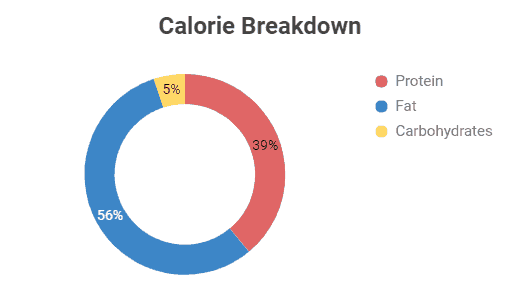 Cat Food
The nutrition provided by Ziwi Peak cat food recipes is extremely similar to their dog food recipes.
This includes extremely high proportions of animal and fished-based protein and fat.
While dogs can safely consume moderate proportions of carbohydrates, cats are obligate carnivores and thrive on a diet without notable plant material. For this reason, Ziwi Peak cat food can provide some of the best nutrition of any cat food brand.
Ziwi Peak Ingredients
High-Quality Meat & Fish Ingredients
Beef
Beef Heart, Kidney, Tripe, Lung & Liver
Lamb
Lamb Heart, Kidney, Lung, Tripe & Liver
Venison
Venison Tripe & Liver
Mackerel
Chicken
Chicken Liver
New Zealand Green Mussel
Ziwi Peak only uses ingredients sourced from New Zealand in its products. Avoiding outside sources helps Ziwi Peak maintain very high-quality standards and reliability.
All of Ziwi Peak's Beef, Lamb, and Venison ingredients are from free-range sources and aren't kept in barns, cages, or feed-lots.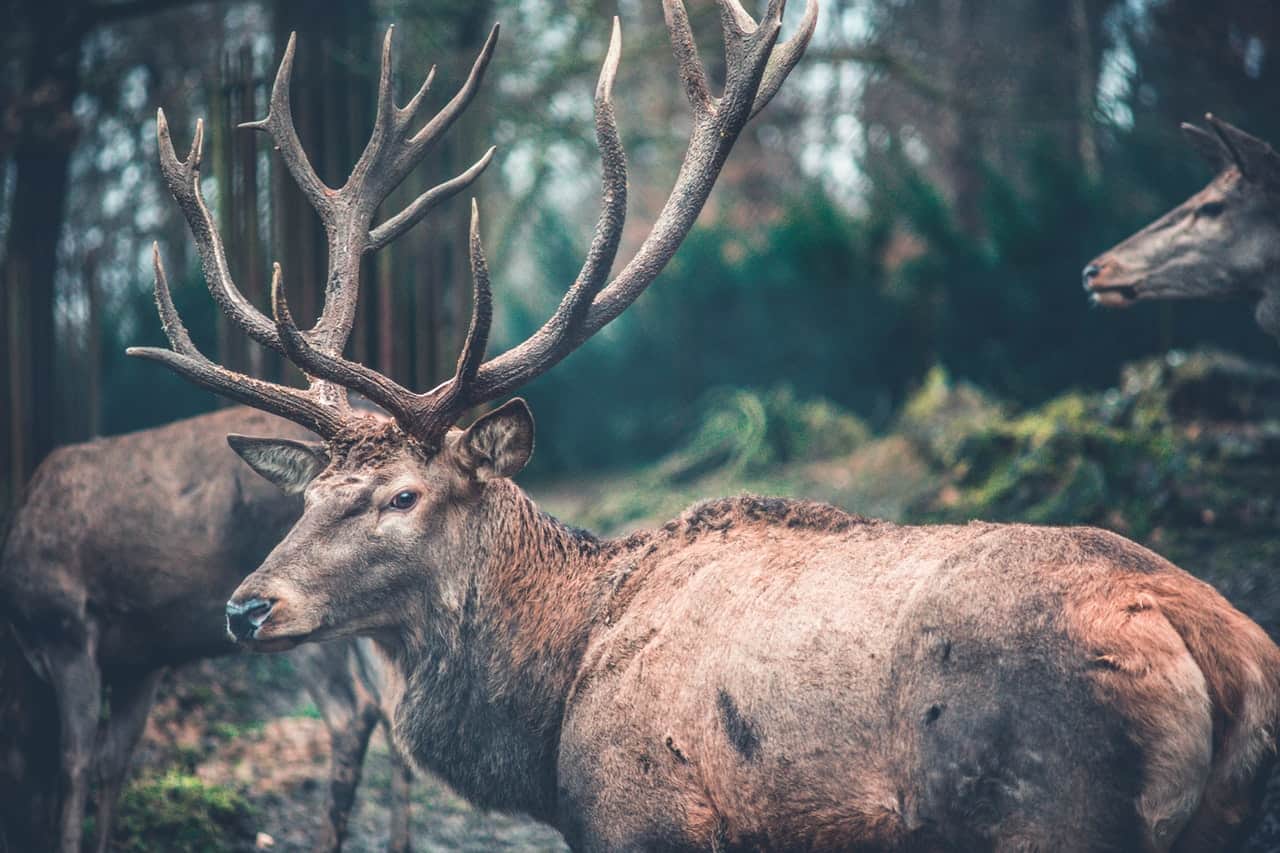 Other Notable Ingredients
Chicory Root is one of a few minor plant-based ingredients found in Ziwi Peak air-dried dog food. Chicory is used by a large number of pet food brands thanks to the micronutrients it can provide and because many believe it can provide additional health benefits. Learn more about Chicory Root in our article, Dried Chicory Root In Dog Food.
Kelp is not as common as Chicory Root but is present in many premium pet food brands. Once again, it is added to provide micronutrients and not provide nutrition such as carbohydrates, protein, or fat.
Ziwi Peak Animal Testing
Ziwi Peak has a strong statement on their website regarding animal testing. They say that they would not involve or affiliate themselves with anyone that engages in the inhumane treatment of animals.
Ziwi Peak states that they only participate in feeding trials or research in an in-home environment. Many of the pets involved in these in-home trials are volunteers or customers of Ziwi Peak. Ziwi Peak also insists that it never has, nor will it ever partake in invasive animal testing.
This is a relief and a noteworthy positive of Ziwi Peak. Animal testing is an outdated and cruel practice, and we hope that over the coming years, it will be severely reduced or eliminated.
Ziwi Peak Recalls
Based on our research (FDA, AVMA, DogFoodAdvisor), Ziwi Peak has no recorded recalls in its recent past making it a recall-free brand.
This is a fantastic record from a brand that has been producing pet food for a lengthy period of time.
Despite their recall-free record, we always suggest that pet owners remain vigilant of any future recalls of Ziwi Peak or any other pet food brand.
Best of Ziwi Peak
Air Dried Dog Food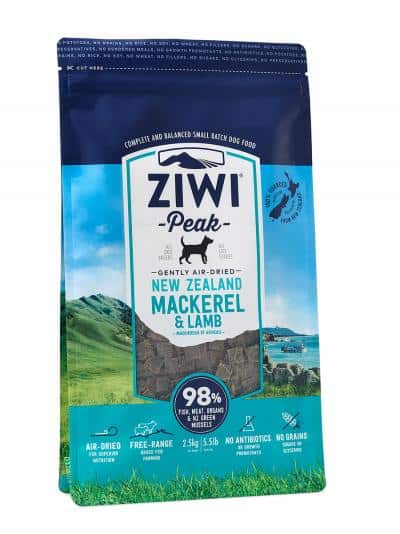 While all of Ziwi Peak's air-dried dog food recipes provide excellent nutrition from high-quality ingredients, we have chosen the one recipe that features a fish ingredient as our favorite.
We feel as if this recipe is more unique and can provide a slightly different balance of nutrition than the other Ziwi Peak recipes. Mackerel is an excellent source of the Omega 3 Fatty Acids, which are known to provide a number of health benefits.
As with all Ziwi Peak air-dried recipes, there is no notable plant-matter present outside.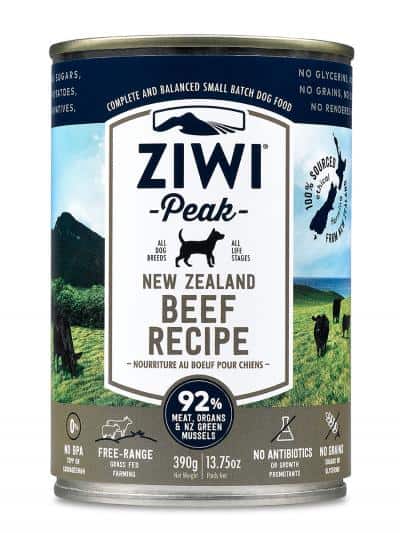 Ziwi Peak's offering of moist dog food is probably one of the best, if not the best on the market.
The Beef used in this recipe is from free-range, grass-fed cows without the use of antibiotics. This high-quality Beef provides excellent nutrition, high in protein, and fat.
The only downside to Ziwi Peak's moist recipes is that they are towards the higher end of the price range, which makes them non-viable for many. But for those with the money to spare, they are a no-brainer.
Ziwi Peak Featured Articles
Best Dog Foods Without Peas – Thanks to its almost complete lack of plant-based material, Ziwi Peak has a well-earned place in our article discussing the concerns about Peas and legumes, and the best alternatives to them.
Best Hypoallergenic Dog Food Guide – Hypoallergenic dog food is a growing and evolving niche with many different types and approaches. The simplicity of Ziwi Peak's Air-Dried recipes makes them a noteworthy option, especially for those dogs that suffer from allergies to plant-based ingredients.
Best Canned Dog Food – While Ziwi Peak is best known for its air-dried dog food, their canned dog food is also of excellent quality. This article explains all that a dog owner needs to know about canned dog food, and then highlights are favorites.
Best Dog Foods With Venison – Venison is a rare ingredient to find in dog food, but many premium brands, such as Ziwi Peak, are using it. Venison is often found in "Novel Meat" recipes, and this article discusses these and their advantages.
Ziwi Peak Full Products Range
Air Dried Dog Food
Air Dried Mackerel and Lamb for Dogs
Air-Dried Tripe & Lamb For Dogs
Air-Dried Chicken For Dogs
Moist Dog Food
Moist Mackerel & Lamb For Dogs
Moist Venison For Dogs
Moist Tripe & Lamb For Dogs
Moist Lamb For Dogs
Moist Chicken For Dogs
Air Dried Cat Food
Air-Dried Venison For Cats
Air-Dried Mackerel & Lamb For Cats
Air-Dried Lamb For Cats
Air-Dried Beef For Cats
Air-Dried Chicken For Cats
Moist Cat Food
Moist Mackerel & Lamb For Cats
Moist Venison For Cats
Moist Lamb For Cats
Moist Rabbit & Lamb For Cats
Moist Beef For Cats
Moist Chicken For Cats