Merrick Information
Merrick was founded in 1988 by Garth Merrick and is one of the largest players in the United States dog food market. Merrick is owned by Merrick Pet Care. Merrick Pet Care also produces brands such as Castor and Pollux and Whole Earth Farms.
However, Merrick Pet Care was bought by Nestle Purina Petcare in 2015. Nestle Purina Petcare owns brands such as Purina Pro Plan, Purina Beneful, and Fancy Feast. While Purina was adamant that Merrick would continue to run independently, it is not clear what effect this purchase has had on Merrick's products.
Garth Merrick founded Merrick in Hereford, Texas, and produced their first products there. Merrick pet food products continue to be produced in Texas but now in a 195,000 square feet facility that is much more advanced and sophisticated.
Merrick products are available to purchase across the United States at thousands of retail pet food stores. You can also purchase Merrick online at several of the large pet food websites such as Chewy, Amazon, and Petflow.
Merrick Product Range
Dog Food
Merrick has an extremely large product range. This product range can be split into a number of distinct categories. These include Grain Free dog food, Semi Raw, dog food, Raw dog food, Limited Ingredient dog food, traditional non-grain-free dry dog food, canned dog food, and dog treats.
This huge variety covers almost all of the dog food niches, and there is bound to be a number of recipes that Merrick produces that are suitable for every dog.
Merrick's Grain-Free range is probably their most popular and is the one that we are the biggest fan of. What makes the range fantastic is that there is a huge range of meat and fish ingredients offered.
This means that there is bound to be an ingredient that appeals to almost any dog. In addition, the proportion of protein and fat in the Grain Free range is very satisfactory and significantly above average.
Raw & Semi Raw dog food is a growing niche and one that is being pounced upon by many of Merrick's competitors. Merrick, however, has been established in this niche for a number of years, which could give it an advantage.
The Limited Ingredient Range from Merrick is also large and contains a variety of formulas. While these formulas aren't quite as restrictive and specialized as some other brands, they do contain a fairly short ingredient list.
The variety of meat and fish ingredients means those dogs with sensitivities to most meat and fish ingredients could find a viable option within this range.
While Canned Dog Food is often shunned by many, it is extremely nutritious and could offer dogs some much-needed variety and enjoyment. What makes Merrick's range of canned dog food different from others is that they have some specialty and novelty formulas.
This includes formulas that mimic Christmas or Thanksgiving dinner. In addition to these specialty formulas, the sheer quantity of Merrick canned recipes available is staggering, and you'd need a pack of dogs to try them all.
Cat Food
Merrick's range of cat food is significantly smaller than its range of dog food, but it is still quite expansive. There are similar categories available such as dry cat food, limited ingredient cat food, raw infused cat food, and canned cat food.
Merrick Nutrition
Dog Food
Given the huge range of products produced and sold by Merrick, the nutrition provided varies significantly. That being said, the average nutrition provided by Merrick recipes is above average and contains a satisfactory proportion of protein and fat.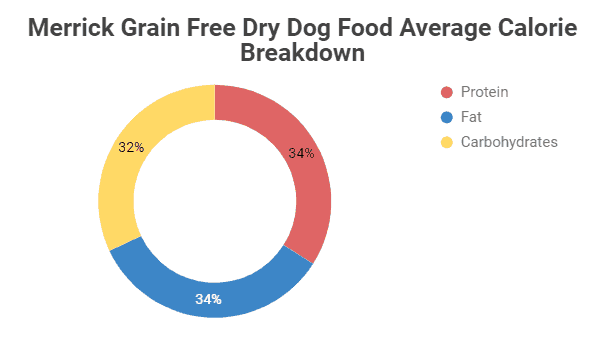 Above is the average calorie breakdown of Merrick's Grain Free dog food range. As you can see, the proportion of protein and fat is significantly above average when compared to other dog food brands and would be suitable for dogs of all activity levels, including those who are very active.
The proportion of carbohydrates is slightly above ideal for some dogs but is still satisfactory and significantly below average.
It is important to note that even within the grain-free range, the nutrition provided varies significantly. Therefore it is important to investigate the particular formula you are considering to fully understand its nutrition.
If you are interested in learning more about canine nutrition, we highly recommend you read our Dog Food Guide.
Cat Food
The nutrition provided by Merrick's cat food recipes is similar to their dog food range is generally above-average or significantly above-average when compared to other brands.
This nutritional profile includes high proportions of protein and fat and smaller proportions of carbohydrates.
A diet high in animal or fish-based protein and fat is incredibly important to cats as they are obligate carnivores. This means their digestive system is not well suited to a diet high in plant matter.
If you are interested in learning more about feline nutrition, head on over to our Cat Food Guide.
Merrick Ingredients
High-Quality Ingredients
Beef
Chicken
Lamb
Buffalo
Turkey
Salmon
Duck
Rabbit
Venison
Due to Merrick's huge product range, they make use of a tremendous number of meat and fish ingredients. Some of these are listed above.
All of these meat and fish ingredients are either whole meat ingredients or named meat meals. These are the two preferred varieties, and Merrick does not use unnamed meat by-products like Meat Meal or Poultry Meal.
Some of these ingredients, such as Venison or Rabbit, could be considered to be exotic or novel meats. These are often used in food aimed at dogs with severe allergies, as they are less likely to have been exposed to them in the past.
You can learn more about food for dogs with allergies in the below articles.
Best Hypoallergenic Dog Foods Guide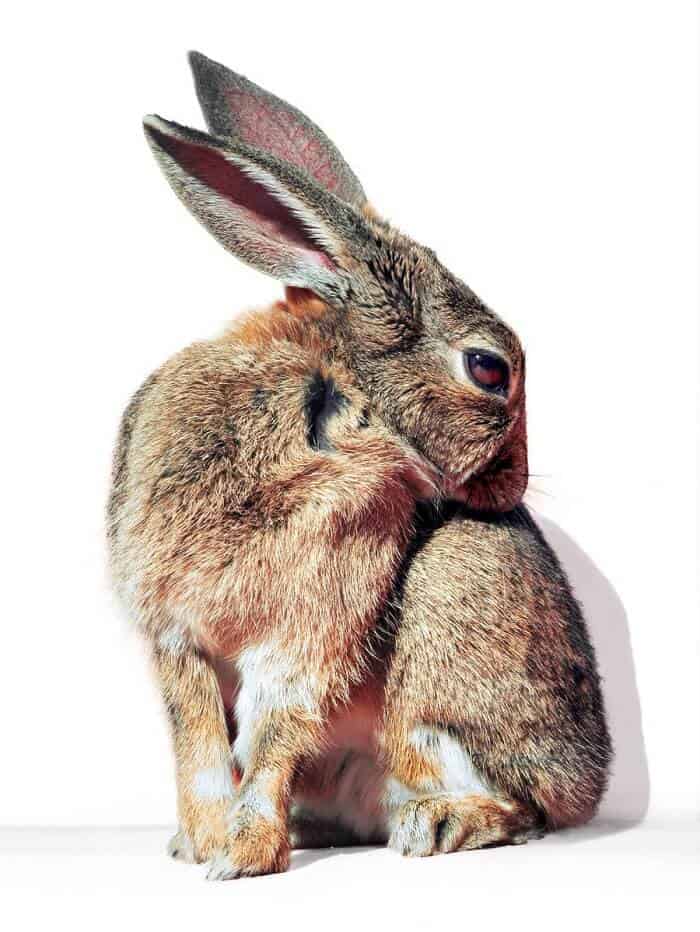 Low-Quality Ingredients
Pea Protein
Potato Protein
Sadly, Merrick, alongside many of its competitors, makes extensive use of Pea Protein, Potato Protein, and other vegetable by-products. These are low-quality ingredients that are often included to inflate the overall level of protein in dog food formulas.
In addition, they can also be used in a sinister technique known as Ingredient Splitting. This involves splitting a less desirable ingredient into sub ingredients to make it appear further down the ingredient list.
Find out more about Pea Protein in our article Peas, Pea Protein, Pea Flour, and Pea Fiber in Dog Food.
Find out more about Potato Protein in our article Potatoes, Potato Protein & Potato Starch in Dog Food.
Find out more about Ingredient Splitting in our article Ingredient Splitting in Pet Food – Exposed.
Other Notable Ingredients
Merrick makes extensive use of whole legume ingredients in its recipes, such as Peas and Chickpeas. Legumes can provide a mixture of carbohydrates, plant-based protein, and fiber.
Legumes are so popular among pet food manufacturers as they are easy to source, relatively affordable, and offer favorable nutrition.
However, in recent years there have been concerning links between the extensive use of legumes in dog food and an increased rate of Canine Heart Disease.
You can learn more about this link in our article Best Dog Foods Without Peas.
Merrick Animal Testing
While it is not clear whether Merrick directly participates in Animal Testing, it is known that its parent company, Purina PetCare, has and continues to do so.
Many pet food brands avoid disclosing details on their animal testing regimes for fear of customer backlash.
Some believe that some of the testing done by Purina is invasive and stressful, which could cause the animals involved in serious distress.
Invasive or laboratory animal testing for pet food is a cruel and outdated practice and one which we believe should be heavily reduced or eliminated.
Merrick Recalls
Based on our research (FDA, AVMA, DogFoodAdvisor), Merrick has had a number of recalls, which is not a good sign. If any dog food brand has multiple recalls within a short period, this should trigger alarm bells.
However, if you look more closely, all these recalls are for dog treats. While this is still very concerning, dog treats are recalled more often than traditional dry dog food. The majority of these recalls were for the potential risk of Salmonella contamination.
Salmonella is a serious concern and affects both humans and pets. It is most commonly found in Eggs, Meat, and Poultry. In serious cases, Salmonella can cause death. Learn more about the risks of Salmonella in pet food in this article by Banfield Pet Hospital.
The only good sign from this is that Merrick's dry and wet food ranges have yet to be recalled, which shows they take the production of those products more seriously.
It also appears that since this period of multiple recalls, Merrick has cleaned up its act and has had no recalls since 2012. Nevertheless, it is very important to be cautious and stay vigilant for any future recalls that could affect the health of your dog.
August 2012 – All-Natural Beef Chew dog treats withdrawal.
August 2011 –  Doggie Wishbone pet treats withdrawal – possible Salmonella contamination.
January 2011 – Junior Texas Taffy dog treats withdrawal – possible Salmonella contamination.
January 2010 & July 2010 – Beef Filet Squares – possible Salmonella contamination.
Best of Merrick
Real Rabbit + Chickpeas Review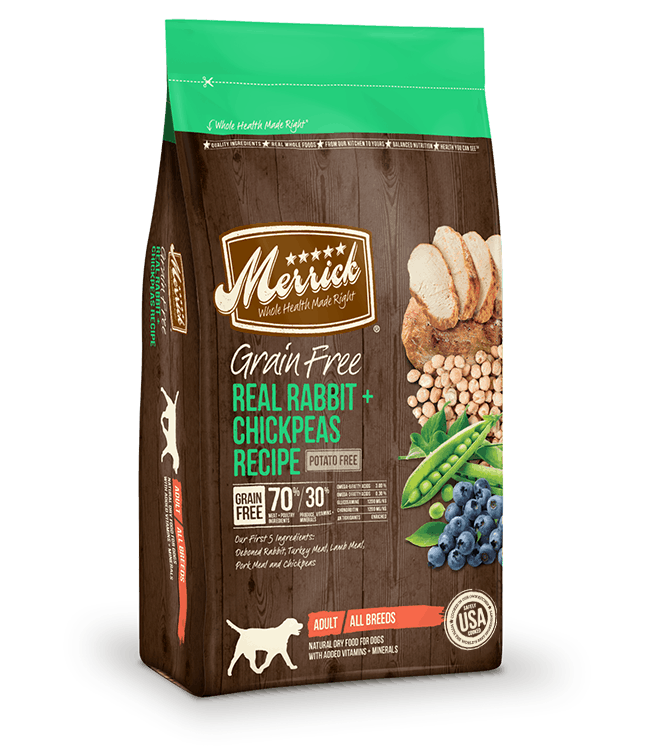 ㅤ
As we mentioned earlier, Merrick's grain-free range is probably our favorite and is self-explanatory. It only uses vegetable ingredients like Peas and Chickpeas with high-quality meat and fish ingredients.
One of the most notable advantages of Merrick's grain-free range is that it contains a vast range and variety of formulas, so there is almost always one that would appeal to your dog.
The grain-free range also includes small portions of fruit ingredients like Apples and Blueberries. Fruit such as Blueberries can provide beneficial antioxidants and vitamins to aid your health.
Merrick's Rabbit recipe is somewhat unique in that it uses Chickpeas as its primary source of carbohydrates rather than the vast majority of grain-free recipes from Merrick that make use of Peas and Sweet Potatoes. Pea allergies are a growing problem, so having alternatives such as this is advantageous.
While Rabbit may be the primary meat source present, other meat ingredients are also present. Examples of some of these ingredients include Pork, Lamb, and Turkey.
These additional meat ingredients alongside Rabbit are all ideally suited to a dog's diet and are highly digestible. However, the large number and variety of meat ingredients present may make this formula unsuitable for those looking to counter severe allergies or sensitivities.
Limited Ingredient Diet – Chicken Review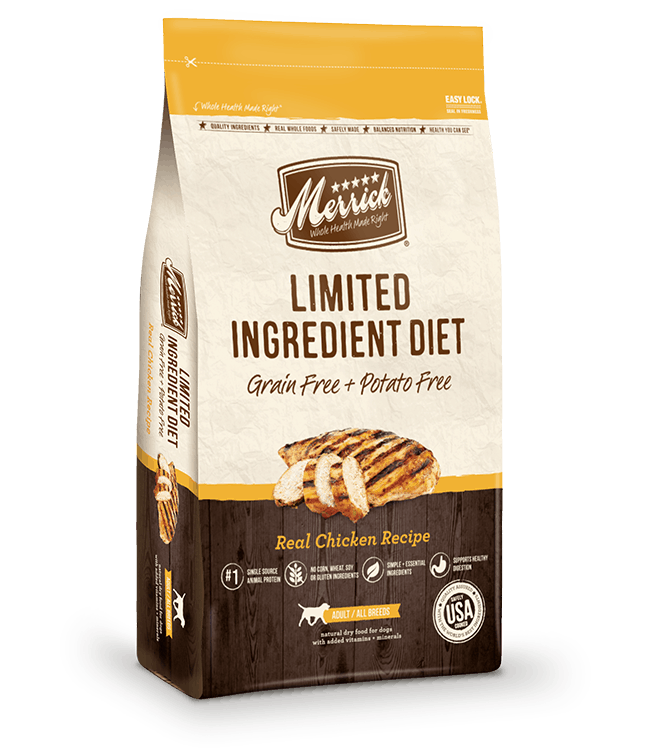 ㅤ
While Merrick's limited ingredient range isn't quite as nutritious as some of their other ranges, the Chicken formula is by far the best within the range and comes pretty close.
This recipe follows the limited ingredient mold and contains a very select number of ingredients that can be easily split into two categories.
Firstly a number of Chicken ingredients are present, including Chicken, Chicken Meal, and Chicken Fat. Secondly, vegetable ingredients, in particular, legumes. This includes Peas, Chickpeas, and Flaxseed.
What makes the Chicken formula stand out in comparison to the other limited ingredient formulas offered by Merrick is the much more satisfactory nutrition it provides.
This nutritional profile includes a more than satisfactory portion of protein and fat without an excessive portion of carbohydrates. This balance of nutrition closely matches a dog's ancestral diet.
Grain-Free 96% Real Beef + Lamb + Buffalo Review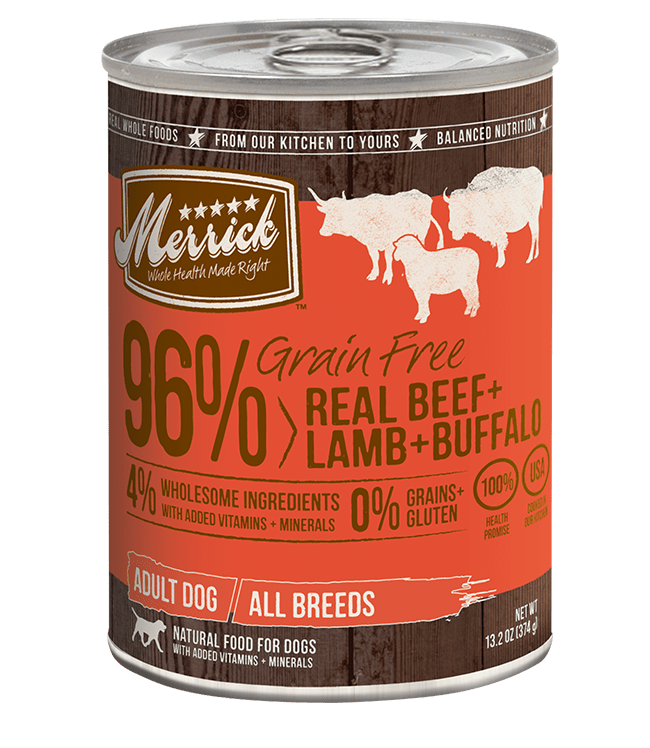 ㅤ
Canned dog food tends to contain far fewer vegetable ingredients such as Peas and other legumes, which can make it an appealing option.
This lack of vegetable ingredients in canned dog food often means there is a greater variety of formulas available that could be suitable for your dog's unique allergies and sensitivities.
The reason that Merrick is one of our favorite canned dog food brands is that they produce an enormous range of canned dog food formulas that utilize a variety of meat and fish ingredients such as Buffalo, Lamb, Duck, Salmon, and many more.
They also produce unique holiday-themed recipes, including Christmas and Thanksgiving formulas.
While not holiday-themed, the Real Beef + Lamb + Buffalo formula contains a core of highly nutritious red meat ingredients that provide a very healthy portion of protein and fat.
While a little obvious, these include Beef, Lamb, and Buffalo. The only other ingredients in the recipe are a small number of gems and minerals.
Backcountry Raw Infused Pacific Catch Recipe Review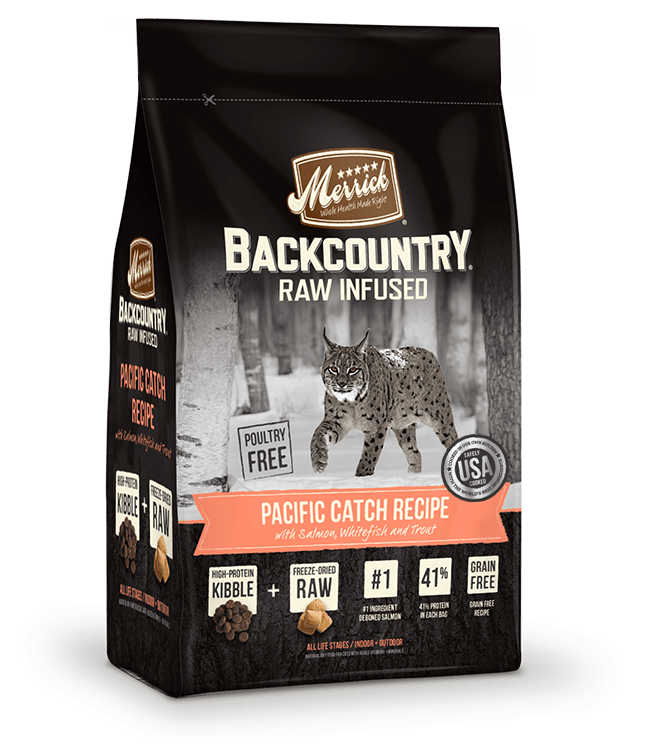 ㅤ
Limited Ingredient Diet – Real Salmon Recipe Review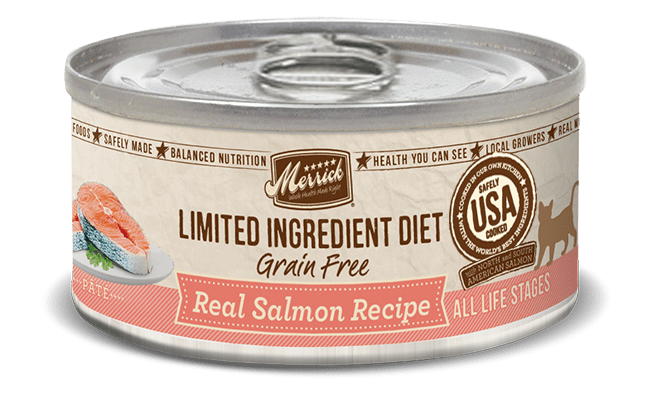 ㅤ
Merrick Featured Articles
Alfalfa In Dog Food – Alfalfa is a supplement added to dog food recipes from select brands.
It contains a number of vitamins and minerals and can have beneficial qualities, although this is disputed by some. Merrick is highlighted in this article as one of the brands that regularly use Alfalfa.
Best Senior Dog Food – Many dog owners choose not to transition their elderly dogs to Senior Dog Food, but in this article, we go in-depth on what makes Senior Dog Food tick and explain why you should consider it.
Merrick's Grain-Free Senior dog food earns its place in our recommendations thanks to its ingredient and nutritional quality.
Best Dog Food For Great Danes –
Best Dog Food For Dalmatians –
Best Dog Food for Rhodesian Ridgebacks –
Ingredient Splitting in Pet Food – Exposed –
Merrick Full Product Range
Dry Dog Food
Grain Free Range
Real Buffalo + Sweet Potato
Real Buffalo, Beef + Sweet Potato
Real Duck + Sweet Potato
Real Lamb + Sweet Potato
Real Rabbit + Chickpeas
Real Texas Beef + Sweet Potato
Real Turkey + Sweet Potato
Real Venison + Chickpeas
Large Breed With Real Chicken + Sweet Potato
Healthy Weight
Senior With Real Chicken + Sweet Potato
Grain Free Puppy Range
Real Chicken + Sweet Potato Puppy
Real Texas Beef + Sweet Potato Puppy
Lil Plates Range
Lil' Plates Real Chicken + Sweet Potato With Raw Bites
Lil' Plates Real Chicken + Sweet Potato
Lil' Plates Real Lamb + Sweet Potato
Lil' Plates Real Salmon + Sweet Potato
Lil' Plates Real Texas Beef + Sweet Potato
Lil' Plates Real Texas Beef + Sweet Potato With Raw Bites
Lil' Plates Puppy Real Chicken + Sweet Potato
Limited Ingredient Diet
Real Chicken Recipe
Real Chicken Recipe
Real Lamb + Chickpeas Recipe
Real Lamb and Sweet Potato Recipe
Real Salmon and Chickpeas Recipe
Real Salmon and Sweet Potato Recipe
Real Turkey and Chickpeas Recipe
Real Turkey and Sweet Potato Recipe
Real Duck and Chickpeas Recipe
Real Duck and Sweet Potato Recipe
Backcountry Raw Infused Range
Big Game Recipe
Game Bird Recipe
Grain Plains Red Recipe
Hero's Banquet Recipe
Large Breed Recipe
Pacific Catch Recipe
Puppy Recipe
Backcountry Freeze-Dried Raw Meal Mixer Range
Real Chicken Recipe
Real Beef Recipe
Real Salmon Recipe
Classic Recipe Range
Real Beef + Green Peas Recipe With Ancient Grains
Real Chicken + Green Peas Recipe With Ancient Grains
Real Lamb + Green Peas Recipe With Ancient Grains
Classic Puppy Recipe
Classic Small Breed Recipe
Canned Dog Food
Grain Free Range
Real Beef + Lamb + Buffalo
96% Real Beef + Lamb + Buffalo
Real Chicken
96% Real Chicken
Real Duck
96% Real Duck
Real Texas Beef
96% Real Texas Beef
Brauts-N-Tots
Brauts-N-Tots Classic Recipe
Cowboy Cookout In Gravy
Cowboy Cookout Classic Recipe
Gracies Favourite Stew Classic Recipe
Grammys Pot Pie In Gravy
Grammys Pot Pie Classic Recipe
Smothered Comfort In Gravy
Smothered Comfort Classic Recipe
Thanksgiving Day Dinner In Gravy
Thanksgiving Day Dinner Classic Recipe
Turducken In Gravy
Turducken Classic Recipe
Venison Holiday Stew In Gravy
Venison Holiday Stew Classic Recipe
Wilderness Blend In Gravy
Wilderness Blend Classic Recipe
Wingaling In Gravy
Wingaling Classic Recipe
Puppy Plate Beef Recipe In Gravy
Puppy Plate Beef Recipe
Puppy Plate Chicken Recipe In Gravy
Puppy Plate Classic Recipe
Christmas Day Dinner Seasonal Recipe In Gravy
Howl O' Ween Stew Seasonal Recipe
New Years Eve Paw-ty Seasonal Recipe
Speciality Occasion Birthday Paw-ty
Chunky Big Texas Steak Tips In Gravy
Chunky Big Texas Steak Tips
Chunky Carvers Delight Dinner In Gravy
Chunky Carners Delight Dinner
Chunky Colossal Chicken Dinner In Gravy
Chunky Colossal Chicken Dinner
Pappys Pot Roast Dinner In Gravy
Pappys Pot Roast Dinner
Earth Day Delight Seasonal Recipe
Easter Brunch Seasonal Recipe
Forever Home Holiday Recipe
Hero's Banquet Classic Recipe In Gravy
Holly Jolly Pot Roast Seasonal Recipe
Kiss Me I'm Irish Stew Seasonal Recipe
Pawlicious Picnic Seasonal Recipe
Pugs N' Kisses Seasonal Recipe
Sizzlin' Summer Supper In Gravy Seasonal Recipe
Star Spangled Supper Seasonal Recipe
Winner Winner Chicken Dinner Seasonal Recipe
Presidential Platter Seasonal Recipe In Gravy
Lil' Plates Grain Free
Lil' Plates Dainty Duck Medley
Lil' Plates Itsy Bitsy Beef Stew
Lil' Plates Lil Lamb Chop Stew
Lil' Plates Petite Pot Pie
Lil' Plates Pint-Sized Puppy Plate In Gravy
Lil' Plates Teensy Turducken
Lil' Plates Tiny Thanksgiving Day Dinner
Lil' Plates Rascally Rabbit Stew
Lil' Plates Small Surfin + Turfin Supper In Gravy
Lil' Plates Teeny Texas Steak Tips Dinner In Gravy
Limited Ingredient Range
Real Chicken Stew
Real Chicken Stew
Real Duck Recipe
Real Duck Recipe
Real Lamb Recipe
Real Lamb Recipe
Real Turkey Recipe
Real Turkey Recipe
Real Beef Recipe
Real Salmon Recipe
Backcountry Range
Chunky Beef Dinner In Gravy
Chunky Chicken Dinner In Gravy
Chunky Lamb Dinner In Gravy
Chunky Venison + Beef Dinner In Gravy
Hero's Banquet Stew
96% Real Beef
96% Real Chicken
Alpine Rabbit Stew
Hearty Beef Stew
Hearty Chicken Thigh Stew
Hearty Duck + Venison Stew
Hearty Salmon Stew
Dog Treats
Fresh Kisses
Coconut Oil For Extra Small Dogs
Mint Breath Strips For Extra Small Dogs
Coconut Oil For Small Dogs
Mint Breath Strips For Small Dogs
Coconut Oil For Medium Dogs
Mint Breath Strips For Medium Dogs
Coconut Oil For Large Dogs
Mint Breath Strips For Large Dogs
Lil' Plates
Bitty Beef Recipe
Lil' Chunky Chicken Recipe
Small Salmon Recipe
Teensy Turducken Recipe
Backcountry Freeze Dried Raw Treats
Real Beef Recipe
Real Chicken Recipe
Real Salmon Recipe
Hero's Banquet
Pacific Catch Salmon Jerky
Wild Fields Real Chicken Jerky
Great Plains Real Beef Sausage Cuts
Wild Fields Real Chicken Sausage Cuts
Great Plains Real Steak Patties
Wild Fields Real Turkey + Sweet Potato Patties
Jerky Chip Treats
Real Beef Recipe
Real Chicken Recipe
Real Salmon Recipe
Kitchen Bites
Brauts-N-Tots
Cowboy Cookout
Grammy's Pot Pie
Turducken
Wingalings Applewood Bacon
Big Bites
Real Beef
Real Chicken
Power Bites
Real Beef
Real Chicken
Real Rabbit + Sweet Potato
Real Salmon
Turducken Recipe
Dry Cat Food
Purrfect Bistro Grain Free Range
Complete Care Sensitive Stomach Recipe
Complete Care Weight Control Recipe
Indoor Adult Recipe
Indoor Senior Recipe
Real Chicken Recipe
Real Salmon Recipe
Real Turkey + Duck Recipe
Healthy Kitten Recipe
Healthy Senior Recipe
Healthy Weight Recipe
Limited Ingredient Range
Real Chicken Recipe
Real Salmon Recipe
Real Turkey Recipe
Real Tuna + Chickpeas Recipe
Backcountry Raw-Infused Range
Game Bird Recipe
Kitten Recipe
Mature Recipe
Pacific Catch Recipe
Canned Cat Food
Purrfect Bistro
Gourmet Shreds Braised Beef Recipe
Gourmet Shreds Ocean Whitefish + Tuna Recipe
Gourmet Shreds Oven Roasted Chicken Recipe
Gourmet Shreds Savoury Duck Recipe
Gourmet Shreds Tender Turkey Recipe
Indoor Adult Pate
Indoor Senior Pate
Chicken & Vegetables Recipe
Grilled Beef & Vegetables Recipe
Grilled Mixed Seafood Recipe
Grilled Salmon & Vegetables Recipe
Beef Pate
Chicken Pate
Duck Pate
Minced Grammys Pot Pie
Minced Thanksgiving Day Dinner
Minced Turducken
Morsels Beef Wellington
Morsels Chicken Casserole
Morsels Chicken Divan
Morsels Cowboy Cookout
Morsels In Gravy – Savoury Trout Dinner
Morsels Tuna Nicoise
Rabbit Pate
Salmon Pate
Surf + Turf Pate
Tuna + Tilapia Pate
Tuna Pate
Turkey Pate
Kitten Dinner Pate
Limited Ingredient Range
Real Chicken Recipe Pate
Real Duck Recipe Pate
Real Salmon Recipe Pate
Real Tuna Recipe Pate
Real Turkey Recipe Pate
Real Duck Recipe
Real Salmon Recipe
Real Turkey Recipe
Real Chicken Recipe
Backcountry Range
Kitten Chicken Recipe Pate
Mature Chicken Recipe Pate
Real Beef Recipe Pate
Real Chicken Recipe Pate
Real Duck Recipe Pate
Real Rabbit Recipe Pate
Real Salmon Recipe Pate
Real Turkey Recipe Pate
Real Beef Recipe Cuts
Real Chicken + Trout Recipe Cuts
Real Duck Recipe Cuts
Real Rabbit Recipe Cuts
Real Turkey Recipe Cuts
Real Whitefish Recipe Cuts
Real Chicken Recipe Cuts
Kitten Recipe Cuts