When many people picture Venison, they think of men wearing camouflage hunting in the woods. But while Venison may not be traditionally farmed on the scale of other animals, like Cattle or Chicken, it is still a very viable source of meat, especially in dog food.
This viability is as Venison can be used as an ingredient in dog food for those dogs with severe allergies or sensitivities.
Also, Venison provides a different nutritional profile than traditional red meats such as Beef and Lamb that may be beneficial or more appealing to certain dogs.
So should you be exploring the dog food recipes with Venison? What kind of nutrition can Venison meat provide, and is it worth all the fuss? Let's find out.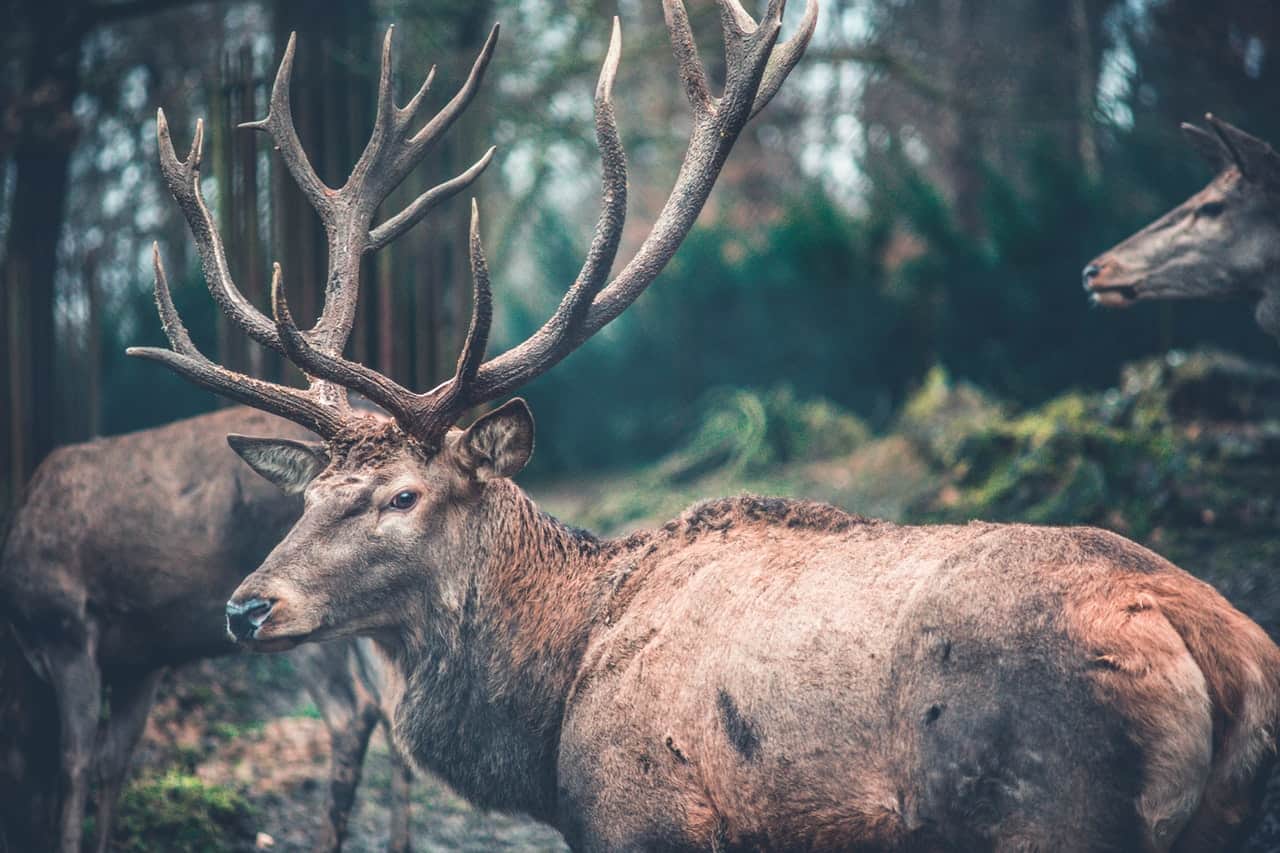 Venison Nutrition For Dogs
The first notable nutritional fact about Venison is that it is far lower in fat than other red meats such as Beef or Lamb.
This can be as extreme as Venison containing five times less fat than Beef and, more importantly, significantly less saturated fat.
While dogs need fat in their diet, some dogs need lower levels than others. Examples of dogs that need less fat in their diet include dogs attempting weight loss, dogs are relatively inactive, or senior dogs who are less active.
Therefore a dog food recipe with a focus on Venison could be better suited for them than other more traditional recipes.
Unsurprisingly, Venison is rich in protein. Animal protein such as that from Venison meat is considered superior to a plant-based protein such as those from legumes like Peas.
Protein is incredibly important in a dog's diet and is used for the repair, growth, and maintenance of their cells. Excess protein is not wasted and is used as an energy source.
Venison meat is high in the mineral Zinc. Small quantities of Zinc can have a wide range of health benefits.
These benefits include an improved immune system, a more efficient digestive system, and Zinc that can aid in the production of essential hormones.
Niacin, which is also known as Vitamin B3, is another micronutrient that is abundant in Venison meat. Niacin has been shown to increase cardiovascular health and help maintain a healthy metabolism. Also, it can also have other beneficial effects on brain function and a dog's skin and coat.
However, Niacin is commonly found in poultry like Chicken and Turkey, so most dogs have a plentiful supply.
You can read a comprehensive list of benefits of a range of vitamins and minerals in this pamphlet by the National Academy of Sciences.
Venison is also high in a little-known compound called L-carnitine. There are some inconclusive links between this compound and an increased risk of heart disease.
However, it is also important to note that other red meats such as Beef and Lamb are also high in this nutrient and so feeding your dog Venison is unlikely to increase any risk.
Limited Ingredient Dog Food With Venison
As mentioned previously, Venison is often used in Limited Ingredient dog food formulas. Limited Ingredient dog food formulas aim to use a minimal range of ingredients.
This approach allows dog owners to narrow down what ingredients their dogs are experiencing an allergic reaction to, as well as later provide their dog with a dog food recipe without any of those allergens.
The use of Venison in Limited Ingredient formulas stems from the fact that Venison is quite rarely used in dog food and so a dog is less likely to suffer an allergic reaction from it as they would not have been previously exposed.
A lack of previous exposure to an ingredient does not guarantee that a dog will not be allergic to it, but it does increase the likelihood that they can consume it without issue.
The use of uncommon meat ingredients such as Venison in dog food has a particular classification. These are known as Novel Meat formulas, and other examples of meat ingredients used in Novel Meat formulas are Rabbit, Alligator, and Kangaroo.
A dog food formula can be both a limited ingredient and novel meat formula, and many that use Venison would be categorized as both.
Check out our Best Dog Food With Rabbit article for more information on the use of Rabbit in dog food.
Check out our Best Dog Food With Kangaroo article for more information on the use of Kangaroo in dog food.
For more information about Limited Ingredient dog food formulas as well as an overview of hypoallergenic dog food and dietary allergies for dogs, check out our Best Hypoallergenic Dog Food Guide.
Is Venison Meat an Expensive Dog Food Ingredient?
The cost of Venison is tough to reliably gauge as Venison isn't farmed in a quite as intensive manner that other animals are.
The price of a few pounds of Venison from a local hunter is going to be significantly cheaper than a similar quantity from a specialist meat seller.
However, there are Venison farms, and they have come into the mainstream due to the increased demand for Venison over the last decade.
This is almost certainly where the Venison used in dog food is sourced from as dog food manufacturers need a reliable and plentiful supply in order to maintain production.
One of the largest suppliers of Venison meat is New Zealand, which also produces a large portion of the world's demand for Lamb.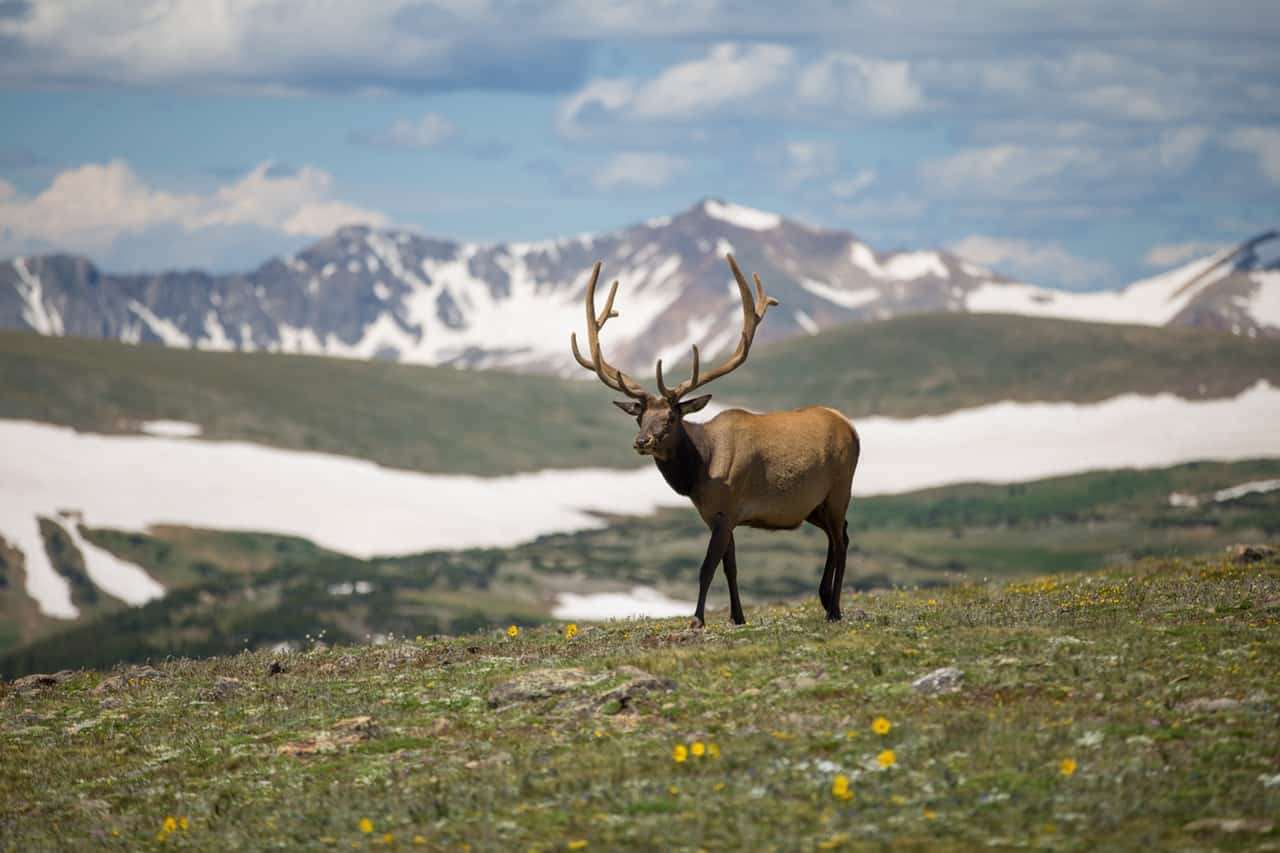 While this meat is unlikely to be as cheap as other meats such as Chicken or Pork, it is often reasonably priced.
While none of the recipes we will discuss shortly are cheap, we do not believe they are extortionate. However, as we will discuss later in this article, the price has increased in recent years.
Many people in more rural locations often acquire a substantial quantity of Venison from their own or their friends or family hunting efforts.
While you need to do some research on how to prepare homemade dog food, there is little reason why you couldn't use some of this Venison to supplement your dog's diet or even be used as a treat.
Worldwide Venison Shortage
While there is a significant effort to increase the output of venison meat worldwide, it appears not to be sufficient as many pet food manufacturers are experiencing serious shortages in supply due to herd shortages.
For many, this has meant that they have had to cut production of that particular recipe and, in addition, raise their prices to match the increase in cost that they are facing.
However, even worse, some producers have had to temporarily or permanently discontinue their Venison products as they are unable to produce them reliably.
As many of us will be familiar, changing a dog's diet in a drastic fashion, such as moving from a Venison-based diet to an alternative meat ingredient, can be challenging.
This can be compounded when the dog in question has severe allergies or sensitivities that limit the alternatives.
If you believe the supply of your dog's current food, whether it be Venison based or any other composition, may be in danger, then it may be wise to start transitioning your dog early before you run out of that dog food.
This will allow your dog to adapt and will give you a chance to find another alternative if your first-choice replacement isn't suitable.
Best Dry Dog Food with Venison
Merrick Real Venison + Chickpeas Review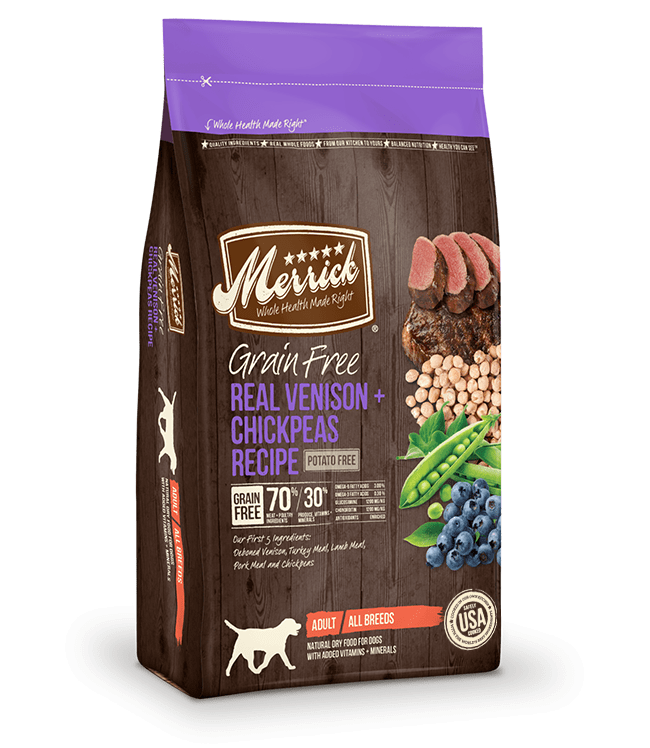 ㅤ
For those of you who have read some of our other best of articles, you'll know that Merrick's Grain-Free range is one of our favorites.
The majority of the formulas in this range provide excellent nutrition from a range of high-quality ingredients.
Merrick's Grain-Free range includes common meat and fish ingredients such as Chicken or Beef but also contains less common ingredients such as Rabbit or Venison.
In total, there is a vast number of formulas, and there is a significant likelihood that there are many or some that will appeal to your canine friend.
Their Venison formula doesn't just contain Venison and has quite a few meat ingredients, including Turkey, Pork, and Lamb.
These meat ingredients are combined with the ever-common Peas and Chickpeas, which provide a satisfactory proportion of carbohydrates and dietary fiber.
However, due to the broad range of meat ingredients present, this formula is most definitely not a Limited Ingredient formula, which is the most widespread use of Venison meat and, therefore, may not be suitable for dogs with severe allergies.
For those without allergies, this formula is one of the best available, with a strong focus on Venison.
 Zignature Venison Formula Review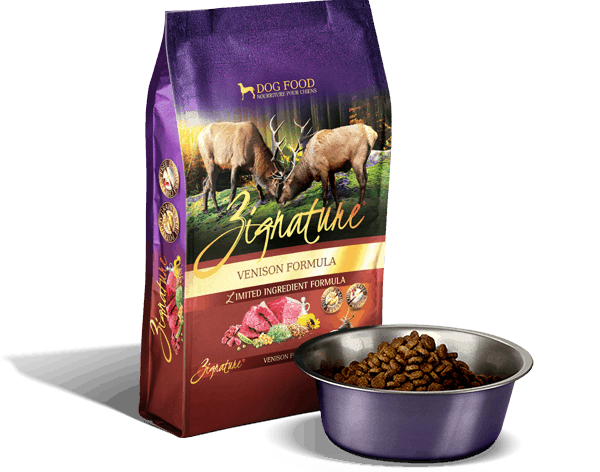 ㅤ
Zignature produces probably the most extensive range of limited ingredient formulas of any sizeable commercial dog food brand.
Each of their formulas combines a single source of meat or fish with a small variety of high-quality vegetable ingredients.
There are some less common ingredients offered by Zignature, including Goat, Guinea Fowl, Kangaroo, and Catfish.
Goat and Guinea Fowl, which were recently released, are exceedingly rare, and you would struggle to find another formula that uses them as their primary meat source.
Their Venison Formula is a prime example of the quality of their limited ingredient formulas. It combines whole Venison and Venison Meal with a small range of vegetables, including Peas and Chickpeas.
While some consider meat meals like Venison Meal to be inferior to whole cuts, it can be advantageous as it is more much dense in protein and fat than whole meat.
The formula also includes Flaxseed, which can provide an increase in the level of the Omega 3 Fatty Acids, among other benefits.
Unfortunately, the formula does make use of Pea-byproducts like Pea Flour, which we frown upon.
These are often used in a technique known as Ingredient Splitting, which is designed to mislead consumers. While worth noting, the proportion of Pea Flour in this formula is not enormous.
Weruva Harmony – Venison and Salmon Meal Dinner with Pumpkin Review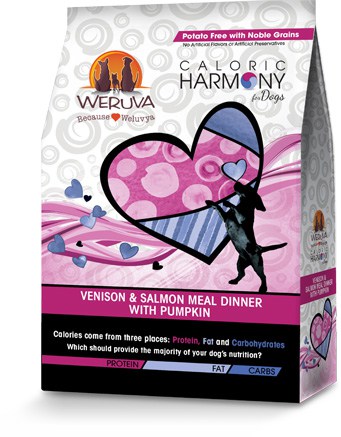 ㅤ
Weruva, which is better known for its cat food, produces a small range of dry dog food. Their Harmony range is our favorite of the two available and has some extremely satisfactory nutrition levels from a range of high-quality ingredients.
The nutrition includes significantly above-average proportions of both protein and fat.
As you might have guessed, Weruva's Venison & Salmon Meal Dinner with Pumpkin doesn't only contain Venison but also includes Salmon Meal as well as a small proportion of Herring Meal and Eggs.
For this reason, this formula may not be suitable for those of you who are searching for a Limited Ingredient formula with Venison.
Nevertheless, all the ingredients mentioned are of a very high-quality and, when combined, provide an excellent nutrient profile.
In particular, eggs are very nutritionally dense and can be very efficiently utilized by dogs and humans alike.
The proportion of protein in this formula is unusually high and would be very suitable for dogs of all activity levels.
It is important to note that this formula includes a small range of grains. Grains are generally frowned upon by are a realistic choice for some dogs with special dietary needs.
Also, some grains are better than others, and this formula includes Oatmeal, which is considered one of the best grain ingredients and far superior to others like Corn or Wheat.
Crave With Protein From Lamb + Venison Review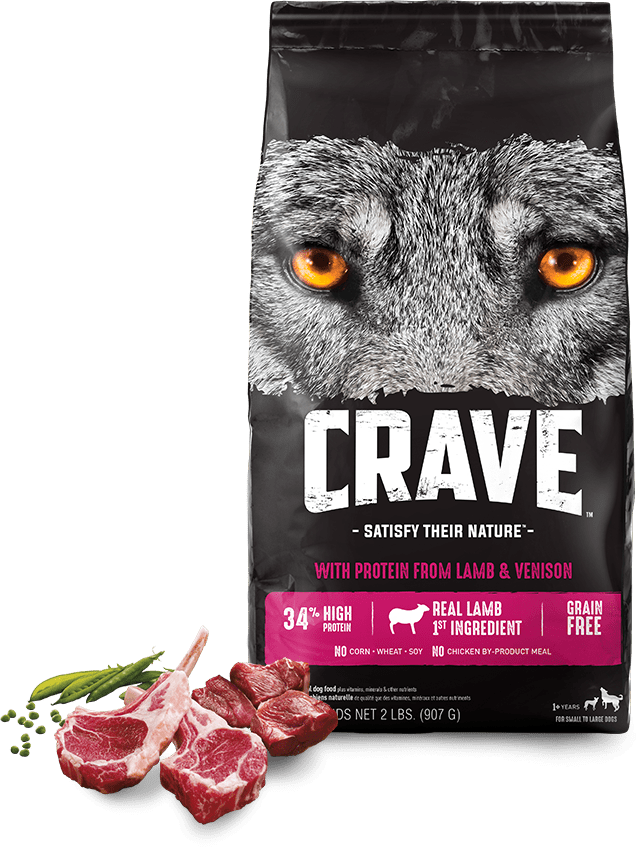 ㅤ
Crave is a relatively new brand that was launched by Mars Petcare back in 2017. Crave is a relatively low-cost brand and aims to fill the niche of affordable yet nutritious pet food.
Crave is significantly cheaper than the other brands discussed in this article. Crave is available at large retail stores like Walmart as well as online on sites like Amazon and Chewy.
Crave's dry dog food formulas contain very satisfactory proportions of protein and fat without excessive carbohydrates. This level of nutrition could be easily compared to other brands that are far more costly.
It is even more surprising that Crave manages to maintain low prices when using more costly meat ingredients such as Lamb or Venison, which are contained in the above-mentioned formula.
However, this mix of Lamb and Venison may not appeal to those dog owners who are looking for a recipe that only contains Venison.
The formula contains a modest carbohydrate proportion with a number of ingredients contributing to it, including Peas, Chickpeas, and Potatoes.
Whole Peas and Chickpeas are considered higher-quality ingredients in dog food due to their low-glycemic index and the dietary fiber they provide.
Sadly, there is one downside to Crave's dry dog food in that it contains vegetable by-products such as Potato Protein or Pea Protein.
These less desirable ingredients are used to increase the overall proportion of protein in dog foods without splashing out on more expensive meat ingredients.
They are also often used as part of a sinister technique known as Ingredient Splitting. Despite this, there isn't a significant quantity of these ingredients present, and overall the ingredient quality is still high.
Ziwi Peak Air-Dried Venison Review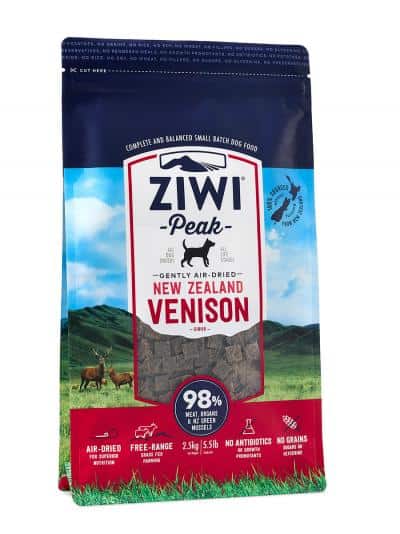 ㅤ
An often-overlooked form of dog food is air-dried recipes. Ziwi Peak is one of the most popular brands that produce air-dried dog food, and they have a small range of formulas with a variety of meat and fish ingredients.
As the packaging proudly displays, these formulas contain 98% meat and almost no plant or vegetable material of any significance.
The downside of air-dried dog food is that it is extremely expensive. For this reason, it is suggested to combine it with fresh ingredients or to use it sparingly unless you can afford to splash out.
Alternatively, you can use air-dried or freeze-dried food as a treat in addition to traditional dog food.
Ziwi Peak's Venison formula is one of their best. It combines whole Venison with a vast range of Venison organ meats including Liver, Kidneys, and Heart.
These organ meats provide significant quantities of beneficial nutrients and minerals, far more than more traditional meat cuts. They are also likely to be incredibly appealing and tasty for your canine friend.
Nature's Logic Canine Venison Meal Feast Review
ㅤ
Nature's Logic is one of our favorite dog food brands that uses grain ingredients. Most brands that utilize grains are lower-quality or contain poor nutrition.
However, Nature's logic bucks the trend. In addition to their use of grains, Nature's Logic includes a number of products with less common meat and fish ingredients such as Venison or Rabbit.
The above-mentioned venison formula contains Venison Meal as its primary ingredient. Venison Meal is Venison meat that has had its moisture removed and is, therefore, a much denser ingredient.
This density provides very satisfactory proportions of protein and fat. The formula also includes a smaller portion of Lamb Meal and Pork Liver.
As we mentioned, Nature's Logic uses grains in its formulas. The grain ingredient that it uses is Millet. Millet isn't a common grain ingredient in dog food but is considered more beneficial when compared to others like Corn or Wheat.
Dog foods with grains can be a lifeline for those dogs who do not cope well with legumes or starches. In addition, grains such as Millet do not inflate the overall protein levels, as many other vegetable ingredients do.
However, it appears that Nature's Logic is one of the brands that has suffered due to the worldwide venison shortage.
This has meant that their dry food range has, at times, been unavailable. Be sure to check out the pricing links above to see the current status.
Best Canned Dog With Venison
Ziwi Peak Moist Venison For Dogs Review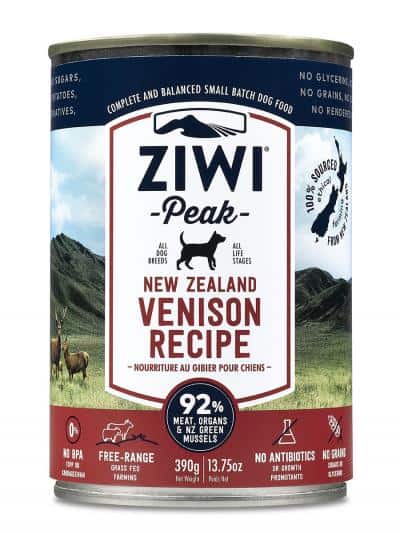 ㅤ
Ziwi Peak is the first of a number of brands to feature twice in this article. While Ziwi Peak is best known for its air-dried dog food, it also produces traditional canned dog food.
Their range of canned dog food is very similar to their air-dried dog food range is includes ingredients such as Lamb, Venison, Beef, and Mackerel.
The nutrition provided by these canned recipes, including the above mentioned Venison recipe, is fantastic. This is thanks to an abundance of meat ingredients and a complete lack of any significant plant material.
The Venison formula has a lower proportion of fat in comparison to some of the others, but it is still very satisfactory.
The canned recipes from Ziwi Peak retain the organ meat ingredients that the air-dried range is famous for.
These organ meat ingredients will provide beneficial minerals and vitamins that many dog food recipes will lack.
Zignature Venison Formula Review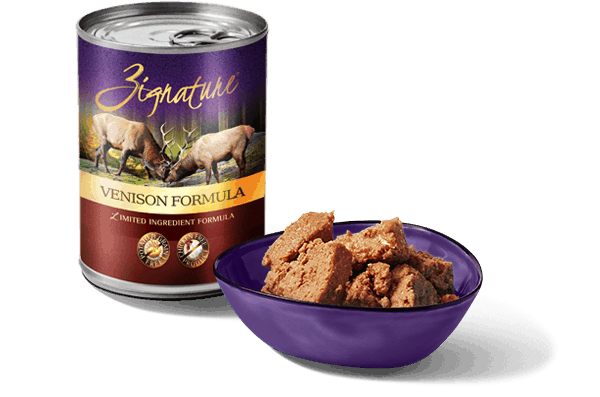 ㅤ
Zignature is another no-brainer to feature in this article twice. This is as all of Zignature's dry food recipes have a corresponding canned recipe.
This model allows dog owners to easily provide their pups with both dry and canned dog food without having to worry about unfamiliar ingredients or other differences.
The Venison formula is incredibly simple and only has three main ingredients, Venison, Peas, and Broth.
This combination provides satisfactory proportions of protein and fat, a small proportion of carbohydrates, and a large portion of moisture.
There are some other minor ingredients present, such as Alfalfa, Chickpeas, and Agar-Agar.
These ingredients are present to provide additional supplementation and aren't present in high enough quantities to provide significant nutrition.
You can find out more about Chickpeas in our article Chickpeas In Dog Food and Alfalfa, in our article Alfalfa In Dog Food.
Nature's Logic Canine Venison Feast Review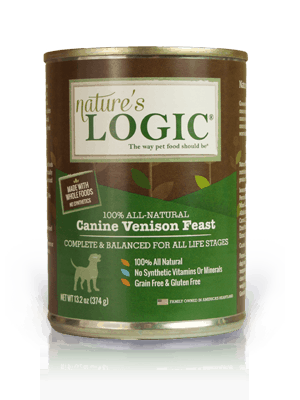 ㅤ
Just like Zignature, Nature's Logic's canned dog food recipes also align perfectly with their dry dog food recipes.
This includes all of the recipes with uncommon meat and fish ingredients like Venison, Rabbit, and Sardines.
Nature's Logic canned dog food recipes contain very little plant material, and the Venison Feast formula is a prime example of this.
Its primary ingredients are Venison, Venison Broth, and Venison Liver. As we discussed in relation to Ziwi Peak, organ meat, such as Liver can provide unique minerals and vitamins, so it is a positive addition.
As we discussed with Nature's Logic's dry dog food recipe with Venison, they have had shortages, which have meant that the product was, at times, unavailable.
It appears that the canned version has had more consistent production and availability than the dry, which could help you avoid left scrambling for an alternative.
Merrick Venison Holiday Stew Review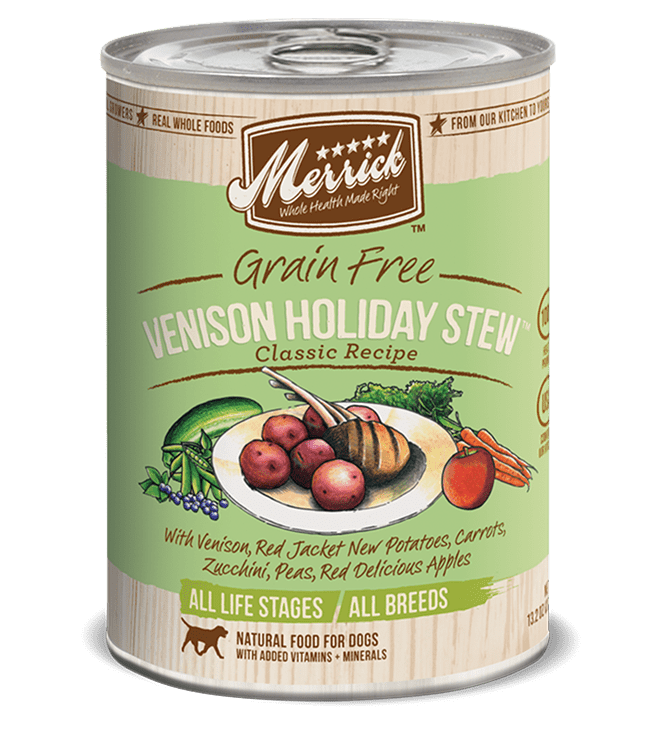 ㅤ
One of Merrick's unique selling points is its genuinely enormous range of canned dog food recipes. Not only is this range huge, but it contains a number of novelty and holiday-themed recipes.
Examples include Christmas and Thanksgiving recipes as well as some with puns related to tv shows and games.
While the above-mentioned Venison Holiday Stew may not be quite as big an occasion as Christmas, it is a unique formula that could provide a dog with some much-needed variety, especially as Venison is an uncommon and often unfamiliar meat ingredient.
While many of the above formulas contain minimal vegetables, this formula is a stew, so it contains quite a few. Examples include Carrots, Potatoes, and Peas.
Despite the vast range of vegetables present, the nutrition offered by this formula is still very satisfactory.