Nature's Logic Information
Nature's Logic was founded by Scott Freeman in 2005 with the aim to provide pet food that focuses on whole food nutrition and one which does not use synthetic supplements.
Nature's Logic products are produced in the United States in a number of 3rd party facilities. While it's not clear which facilities are currently in use, Nature's Logic has used those owned by Simmons and Mid American Pet Food. These manufacturers produce other recognizable brands such as Victor.
There are also reports that Nature's Logic produces its raw products in its own facilities.
Nature's Logic Product Range
Nature's Logic has a diverse yet modest range of dog food products. This includes a reasonable variety of traditional dry dog food recipes and a similarly sized range of canned dog food recipes. Each of these ranges includes a number of meat and fish ingredients, some of which are uncommon or unique.
Nature's Logic also has a very small range of raw frozen dog food. Raw and Frozen dog food is becoming increasingly popular in recent years and is often used as a treat and as an alternative to traditional kibble.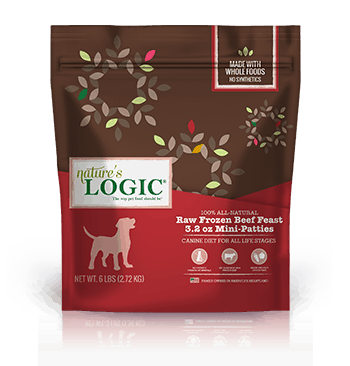 Nature's Logic cat food range is smaller than it's dog food range. It includes a very small selection of dry cat food recipes and a slightly larger collection of canned cat food. While small, the range of meat and fish ingredients in the cat food range is still diverse.
Nature's Logic Nutrition
Nature's Logic's dry dog food recipes provide excellent nutrition, high in protein and fat. This is very appropriate for the majority of dogs and will provide them with the sustenance required to feed their active lifestyles.
One important trait that differentiates Nature's Logic from its competitors is that its products are not high in plant-based protein. Many brands make extensive use of legumes and even legume by-products like Pea Protein. Nature's Logic products do not contain any legumes or legume by-products.
These ingredients are very high in plant-based protein which in course inflates the overall level of protein, despite unimpressive levels of animal or fish protein. Find out more about Pea Protein in our article Peas, Pea Protein, Pea Flour and Pea Fiber in Dog Food.
Nature's Logic Ingredients
High-Quality Ingredients
Chicken

Pork
Beef
Rabbit
Venison
Sardine
Duck
Salmon
Turkey
Lamb
Sardine
Nature's Logic dog food formulas include a very wide range of meat and fish ingredients. Some of these are unique or uncommon and could be considered novel meats. Examples include Venison, Rabbit, and Sardine. Novel Meat formulas are often sought out by dog owners whose dogs have severe allergies or sensitivities. Find out more about Novel Meat dog food in our article Best Hypoallergenic Dog Foods Guide.
One of the most important discussion points around ingredients in Nature's Logic products is the use of the grain millet. Most brands steer clear of any grains but Nature's Logic embraces millet. Millet is one of the better grain ingredients, alongside Brown Rice and Oatmeal. It is far superior to lower-quality grain ingredients like Corn or Wheat.
Nature's Logic makes specific reference on their website that cats are Obligate Carnivores and must eat a diet consisting of primarily meat and fish. This is a fact that many cat food brands choose to ignore and instead they load up their products with high proportions of plant matter.
Nature's Logic Animal Testing
We have little information on whether Nature's Logic takes part in animal testing but we believe that they do not. They do mention conducting feeding trials on their website, which is a common approach to test dog food in a non-invasive or cruel manner.
Animal testing for the purposes of testing dog food is a cruel and outdated practice and one which we hope will be severely reduced or eliminated.
Nature's Logic Recalls
We have no information that leaves us to believe that any Nature's Logic products have been recalled to date. While Nature's Logic is still quite a small brand in comparison to some of its competitors, a lack of recalls is a great trait and is likely due to strict and more through safety and quality controls put in place at the manufacturing facilities they use.
However, as we mentioned earlier, Nature's Logic does not manufacture its own food. Instead, it is produced by third parties such as Simmonds Pet Food. Some may argue that this style of indirect production comes with certain risks, however, others would counter that there are dozens of brands produced in this manner, all of which are recall free.
Nature's Logic Featured Articles
Best Hypoallergenic Dog Foods Guide – Finding a suitable dog food for a dog with severe allergies or sensitivities can be an incredible challenge. This article dives into common causes, symptoms, and approaches to dietary allergies for dogs. Nature's Logic is featured in this article as a recipe that is free of legumes or starches.
Best Dog Foods Without Peas – Nature's Logic recipes take a well-deserved place in this article, which discusses the options for those dogs who can not eat Peas because of allergies or concerns around dilated cardiomyopathy in dogs. This is as Nature's Logic produces high-quality and nutritious recipes that make use of the grain Millet and do not contain peas or any other legumes.
Best High Protein Dog Food – Despite not marketing itself as high-protein dog food, Nature's Logic manages to land a place in our article exploring the rise of high-protein dog food, what kind of dogs benefit the most from it, and showcasing the best recipes on the market. This is thanks to the very high proportions of meat and fish ingredients used in Nature's Logic dog food formulas.
Best Dog Foods Without Potatoes – Potatoes, alongside legumes, are a problem ingredient for many dogs. This article suggests some alternatives to Potatoes as well as some formulas that use these ingredients. As you'd expect, Nature's Logic features thanks to its use of Millet.
Best Dog Food Without Chicken – Chicken is one of the most common meat allergies alongside Beef which presents a problem as it is also the most popular meat ingredient. This article explores alternatives, ranging from the obvious to the exotic. Nature's Logic is a brand with a number of uncommon meat ingredients which is how it earns its place in this discussion.
Best Dog Foods With Rabbit – As we mentioned earlier, Nature's Logic makes use of some less common meat and fish ingredients, one of which is Rabbit. Rabbit is a viable solution to certain dogs with dietary issues and the formula from Nature's Logic is one of the best available.
Best Dog Food For Dalmatians – Dalmatians are one of the most recognizable dog breeds thanks to the hit movie 101 Dalmatians. However, Dalmatians have some unique dietary requirements which make choosing an appropriate diet very important. This article digs into those requirements and suggests a number of formulas, including one from Nature's Logic.
Best Dog Food For Great Danes – Great Danes are one of the largest dog breeds and can weight more than an adult man. Their huge size demands a large volume of food to maintain. This article highlights how to feed a Great Dane puppy and how to afford to satisfy their appetite without resorting to low-quality kibble.
Alfalfa In Dog Food – Alfalfa is a little-known ingredient but one that is seeing increasing use in dog food as a supplement or additional ingredient. Nature's Logic is mentioned in this article as one of the brands that are using it regularly.
Dried Chicory Root In Dog Food – Dried Chicory Root is another ingredient that most consumers will not be familiar with. It is usually in dog food in very small quantities, but some believe it provides noticeable health benefits. Nature's Logic is one of a number of brands to include it in their products.
Best of Nature's Logic
Dog Food

As we discussed earlier, Nature's Logic's dry dog food recipes make use of the grain Millet. While we don't consider Millet to be quite as advantageous as other grains like Brown Rice and Oats, we believe it is far superior to the other grains such as Wheat and Corn which are low-quality fillers.
The Duck & Salmon Meal Formula featured above contains a mix of Duck, Turkey, and Salmon ingredients along with Pork Liver. Liver can provide many minerals and vitamins that traditional meat cuts can not. The proportion of protein and fat in this formula is extremely satisfactory and suitable for dogs of all activity levels.
Nature's Logic has a number of other dry dog food formulas including a Pork Formula which is worth mentioning for those dogs who do not react well to multiple meat and fish ingredients. Its nutritional profile is identical, but it only contains Pork Meal and Pork Liver alongside the everpresent Millet. Be sure to check out its review here.
Canine Sardine Feast

Cat Food
Feline Sardine Meal Feast Review

Feline Rabbit Feast Review
Nature's Logic Full Product Range
Dry Dog Food
Canine Beef Meal Feast
Canine Chicken Meal Feast
Canine Duck & Salmon Meal Feast
Canine Lamb Meal Feast
Canine Sardine Meal Feast
Canine Turkey Meal Feast
Canine Venison Meal Feast
Canned Dog Food
Canine Beef Feast
Canine Chicken Feast
Canine Duck & Salmon Feast
Canine Lamb Feast
Canine Pork Feast
Canine Rabbit Feast
Canine Sardine Feast
Canine Turkey Feast
Canine Venison Feast
Raw Frozen Dog Food
Raw Frozen Beef Feast
Raw Frozen Chicken Feast
Raw Frozen Pork Feast
Raw Frozen Rabbit Feast
Raw Frozen Venison Feast
Dry Cat Food
Feline Chicken Meal Feast
Feline Rabbit Meal Feast
Feline Sardine Meal Feast
Feline Turkey Meal Feast
Canned Cat Food
Feline Beef Feast
Feline Chicken Feast
Feline Duck & Salmon Feast
Feline Rabbit Feast
Feline Sardine Feast
Feline Turkey Feast