Crave Brand Information
The Crave Brand was launched in 2017 by Mars Petcare. This was an attempt by Mars to break into the premium pet food market by providing grain-free formulas with higher proportions of protein than traditional dog food.
Many people do not realize that Mars produces pet food, but in fact, they own many popular brands, including Whiskas, IAMS, Eukanuba, Pedigree, Cesar, and Royal Canin.
Mars also produces non-pet products such as confectionery and coffee. Popular examples include Galaxy Chocolate and Malteasers.

Most of Mars's brands are not considered premium or high-cost and are generally sold in large commercial pet food stores or grocery stores such as Walmart or Petsmart.
The launch of the Crave brand is a sign that pet owners are becoming more aware of appropriate nutrition for cats and dogs, thanks to websites like ours. The Crave brand, therefore, allows Mars to gain a foothold in this fast-growing group.
Mars Petcare is based in Tennessee, and their Crave brand is produced in the United States. However, their ingredients are not necessarily sourced from the United States, and some are sourced from abroad.
Much of Crave's marketing features around the fact that their recipes always have a meat ingredient at the top of their ingredient lists.
Meat should always be at the core of any dog and cat food, and so this reflects well upon their formulas.
Crave Product Range
As Crave is a very young brand, its product range is fairly limited, and they have yet to branch out into some of the more niche varieties of cat and dog food.
However, their core product range is quite expansive, and there is a large variety of different formulas to appeal to a wide range of cats and dogs.
In addition to this, they appear to be expanding their product range at a noteworthy speed, which has included the recent addition of a kitten recipe.
Dog  Food
The dog food product range from crave consists of four dry food formulas, each with a different selection of meat and fish ingredients. While this range is modest in size, there is enough variety to appeal to a large portion of dogs.
However, the vegetable ingredients used in these formulas are consistent across the board, so if legumes do not appeal to your dog, then Crave may not be suitable.
In addition to their dry food range, Crave produces a number of wet dog food recipes in Pate form. These are available in traditional cans as well as sealed plastic containers most commonly used for cat food.
Cat Food
The cat food product range is similar to the dog food range but with some slight differences. There are five different dry food formulas, each with a diverse selection of meat, poultry, and fish ingredients.
However, Crave recently launched a specially designed kitten formula that mimics an adult recipe. This can allow cat owners to transition their kittens between a kitten and adult food without trouble.
In addition to the dry cat food range, Crave has an extensive selection of wet cat food, which is in two distinct forms. The first is the Pate form, which is similar to the wet dog food range.
These are available in portioned packaging for ease of use. In addition, they recently launched a similar set of formulas that instead are cuts of meat in gravy. These recipes will have a different texture and slightly different nutritional makeup.
Crave Dog and Cat Food Nutrition
Crave's dry dog food range is small but very consistent. It provides significantly above-average proportions of both fat and protein. Its carbohydrate proportion is very satisfactory although it could be lower.
We consider a proportion of calories from protein over 30% and a proportion of fat from calories over 34% to be significantly above average and crave fills both of these criteria. This overall nutrition profile is suitable for the majority of dogs, including those who are more active.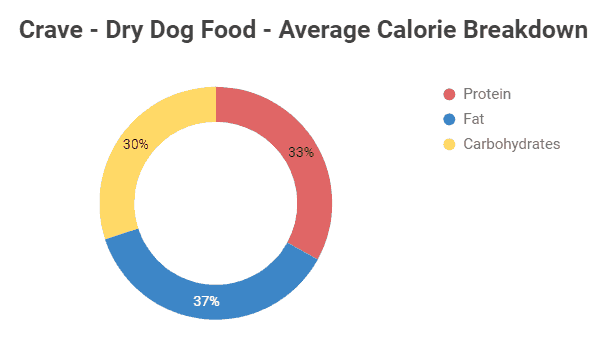 Please note, the above chart is based on Craven's Guaranteed Analysis. This is an estimate, and the true values are likely to include a slightly higher proportion of protein and fat.
Craves dry cat food range is also very satisfactory. It contains a proportion of protein and fat far higher than the average dry cat food.
While this doesn't perfectly match a cat's natural carnivorous diet, it is quite close, and if combined with a high-quality wet cat, food would more than adequate for most cats.
The carbohydrate proportion is higher than ideal, but producing dry cat food with very low carbohydrate content is challenging due to the dry food needing a binding agent.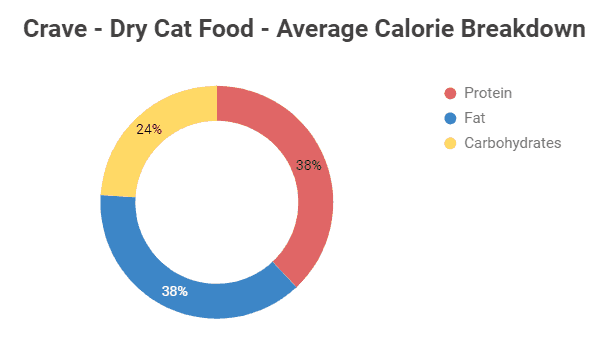 Please note, the above chart is based on Crave's Guaranteed Analysis. This is an estimate, and the true values are likely to include a slightly higher proportion of protein and fat.
Crave Dog and Cat Food Ingredients
The overall nutrition and, more specifically, the protein level of high-quality dog foods tend to get the most focus.
However, ingredients should be just as carefully analyzed else; you could be providing your pets with recipes full of fillers and junk.
Crave uses a wide range of high-quality meat and fish ingredients to provide a significant proportion of its protein and fat nutrition.
High-quality Meat & Fish Ingredients
Chicken

Chicken Meal
Salmon
Salmon Meal
Beef
Lamb
Lamb Meal
Venison Meal
Crave's wide range of meat ingredients includes some that are far less common and thought to be more expensive than traditional meat ingredients like Chicken and Beef.
Examples of such ingredients include Lamb and Venison. While not quite as exotic or rare as Kangaroo or Alligator, these are still worth noting.
If you are interested in feeding your dog a novel diet, we would recommend checking out our articles Best Hypoallergenic Dog Foods Guide, Best Dog Foods With Venison, and Best Dog Foods With Rabbit.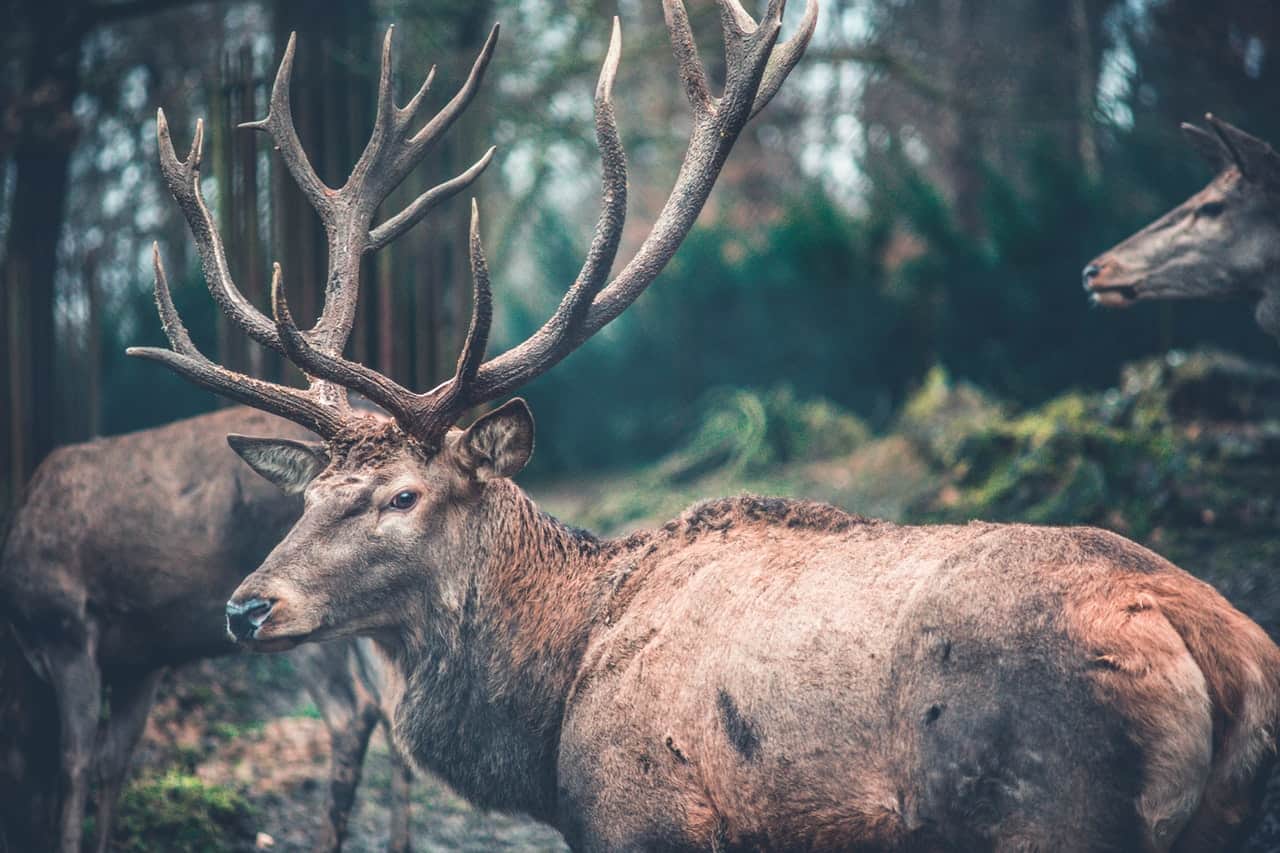 Don't be put off by meat meal such as Chicken Meal and Lamb Meal. Meat and fish meal are meat that has it the majority of its moisture removed in a process known as rendering.
This process allows a small portion of meat meal to provide a very generous proportion of protein and fat as most meat and fish cuts contain as much as 80% water content. To learn more about fish meal, check out our articles on Ocean Fish Meal and Menhaden Fish Meal.
Special attention and praise should be placed on Crave's use of Salmon. Salmon is a fantastic inclusion in dog food as it is one of the best sources of the Omega 3 Fatty Acids.
These Fatty Acids can provide a range of health benefits to dogs and humans alike, including improved cognitive function and healthier skin and coat.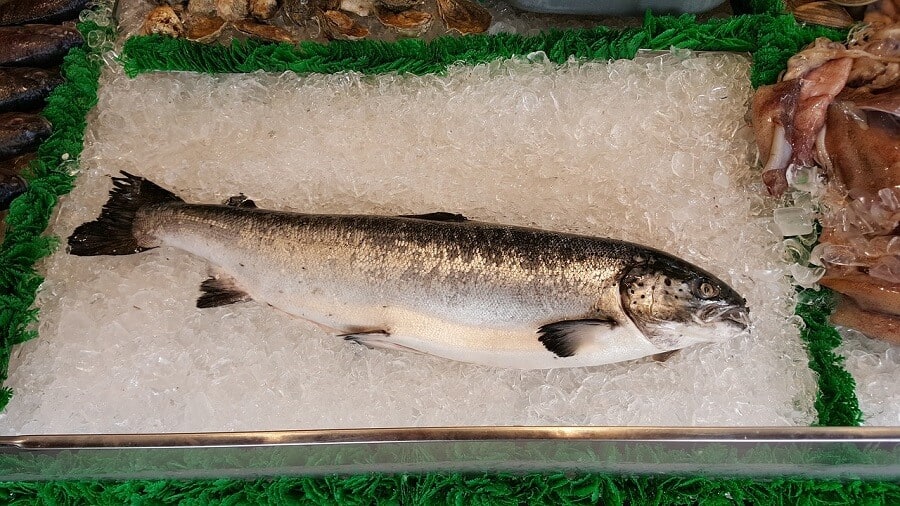 Low-quality Ingredients
Pea Protein
Potato Protein
Fish Meal
Unfortunately, Crave makes heavy use of a select number of vegetable by-products, specifically Pea Protein and Potato Protein.
These ingredients are processed by-products containing a very high proportion of plant-based proteins.
While plant-based proteins are not harmful, they are inferior and less preferred to animal or fish-based proteins.
Pet food brands often use ingredients such as these to increase the overall protein levels of a formula without having to spend additional money on expensive meat and fish ingredients.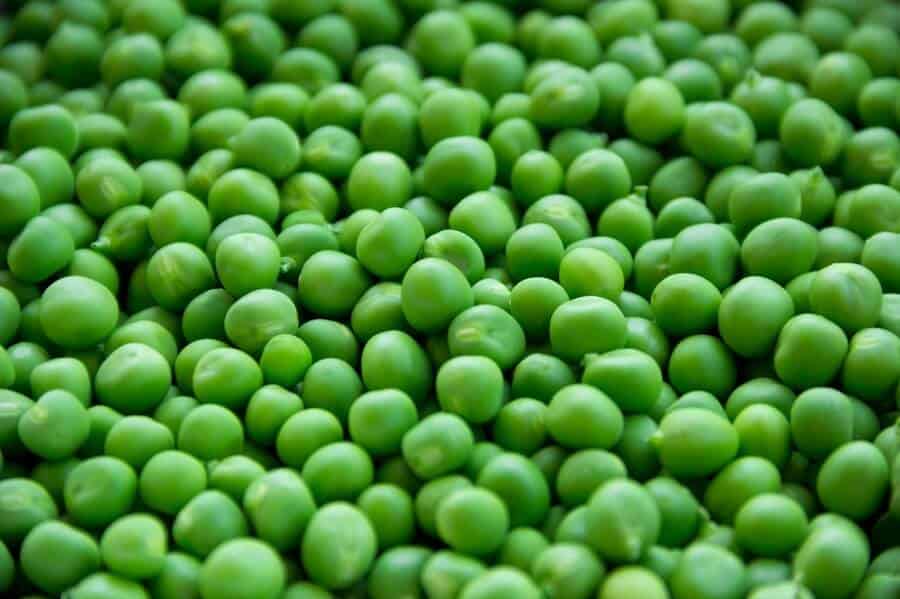 Ingredients such as Pea Protein or Potato Protein are also commonly used in a technique called Ingredient Splitting, which allows brands to manipulate the order of their ingredient list to mislead consumers and make their formula appear to be of a higher quality.
While this is the main reason that Crave's products do not achieve a perfect score, it is an understandable trait given that Crave aims to appeal to consumers who can afford the lower to mid-cost pet food products.
Crave Animal Testing Information
We have no information at this time to judge whether Crave products as directly tested on animals and what type of animal testing is this is.
However, Crave's parent brand Mars Petcare do make a brief statement about animal testing on their website. It states that they do not undertake, support, or sponsor testing that harms animals.
Also, they state, "On very rare occasions, we need to introduce a new raw material that has not been used in foods before. Legal and regulatory requirements compel us to demonstrate the safety and efficacy of this new raw material. In these isolated instances, we may sponsor a limited number of studies involving rats, mice, fish, and other aquatic species."
While quite vague, this could be perceived as a positive statement and shows that Mars, at the very least, acknowledge the growing discussion and opposition to widespread testing on animals.
Crave Expertise
We have no specific information on if crave employs or makes use of any qualified and credible vet nutritionists.
There has been increasing pressure on pet food brands to ensure they are formulating their products appropriately, and this includes consulting with vet nutritionists.
However, given that Crave is backed by Mars Petcare, they likely employ a group of nutritionists to develop their formulas. However, information on this group is unknown.
Crave Recall History
At this time, based on our research (FDA, AVMA, DogFoodAdvisor), Crave pet food products are a recall-free brand.
This is somewhat expected as the brand is only in its infancy. However, if Crave manages to stay recall-free over the coming years, this will strongly boost its reputation and be a good sign of a high-quality manufacturing process.
However, Crave's parent brand Mars Petcare has had some of its products recalled in the past. Whether this reflects poorly on Crave's products is a matter of opinion.
Example brands, owned by Mars Petcare that have been recalled in the past include Cesar's, Pedigree, and Royal Canin.
It is important to note that the majority of these calls were a substantial time ago, and so could be considered less relevant.
The Best of Crave
Below are some of our favorite recipes from Crave Pet food. These formulas deliver great nutrition from high-quality ingredients, all at an affordable price. Be sure to check out their full reviews for all the details.
However, it is important to note that Crave's formulas are all very similar in nutrition and ingredient quality. The full range of the Crave's products that we have currently reviewed is listed at the end of this page.
Dry Dog Food
With Protein From Lamb + Venison Review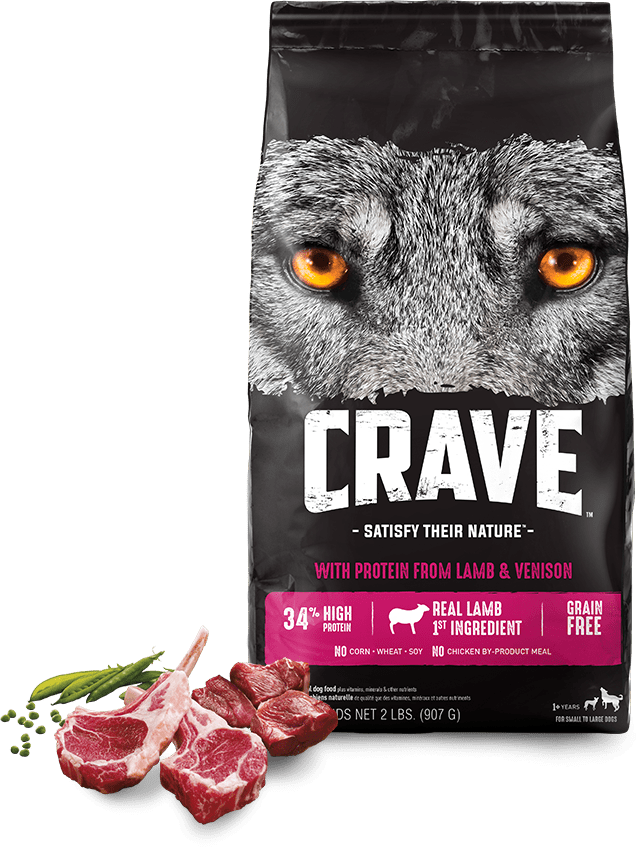 ㅤ
Crave's dry dog food formulas contain very satisfactory proportions of protein and fat without excessive carbohydrates. This level of nutrition could be compared to other brands that are far more costly.
The majority of this protein and fat within these formulas is provided by high-quality meat ingredients such as Lamb, Chicken, and Venison.
Our favorite dry food formula by Crave is the above-mentioned Crave With Protein From Lamb + Venison.
The modest carbohydrate proportion has a number of ingredients contributing towards it, including Peas, Chickpeas, and Potatoes.
Whole Peas and Chickpeas are considered higher-quality ingredients in dog food due to their low-glycemic index and the dietary fiber they provide.
Sadly, there is one downside to Crave's dry dog food in that it contains vegetable by-products such as Potato Protein or Pea Protein.
These less desirable ingredients are used to increase the overall proportion of protein in dog foods without splashing out on more expensive meat ingredients.
They are also often used as part of a sinister technique known as Ingredient Splitting. Despite this, there isn't a significant quantity of these ingredients present, and overall the ingredient quality is still high.
Wet Dog Food
Chicken & Beef Pate Review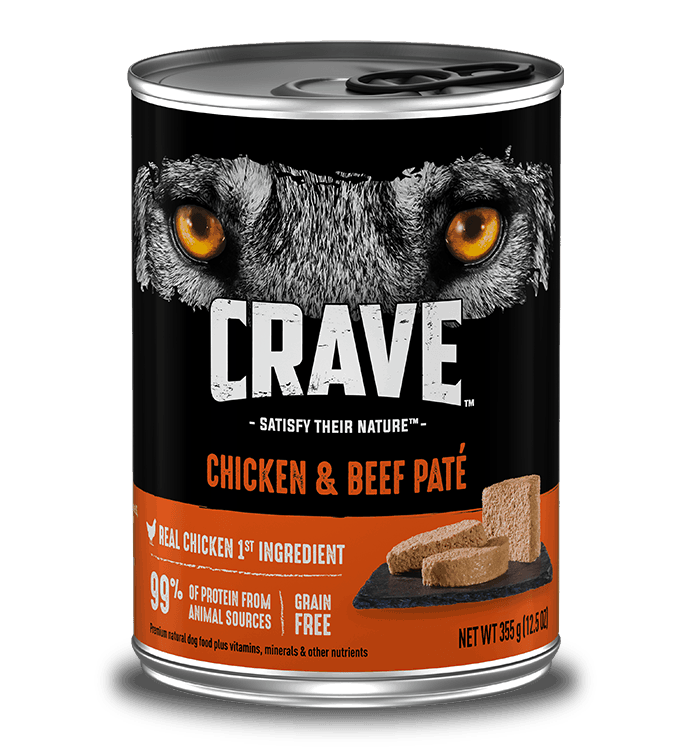 ㅤ
While wet dog food is far more expensive than dry food, Crave's wet dog food products won't break the bank and could allow you to provide your canine friend with some much-needed variety.
Crave's Pate range offers a small yet varied collection of wet dog food formulas. While our most preferred recipe may be the featured Chicken & Beef Pate, each formula contains both traditional meat cuts alongside organ meat.
This organ meat provides beneficial Vitamins and Minerals that standard meat cuts lack. This combination of meat ingredients offers fantastic nutrition, high in protein and fat.
Finally, none of their Pate recipes contain a significant amount of vegetable ingredients, let alone frowned upon by-products or grains.
This lack of significant vegetable products means that the carbohydrate proportion of this formula is very low and satisfactory for the vast majority of dogs.
Dry Cat Food
 Indoor With Protein From Chicken + Salmon Review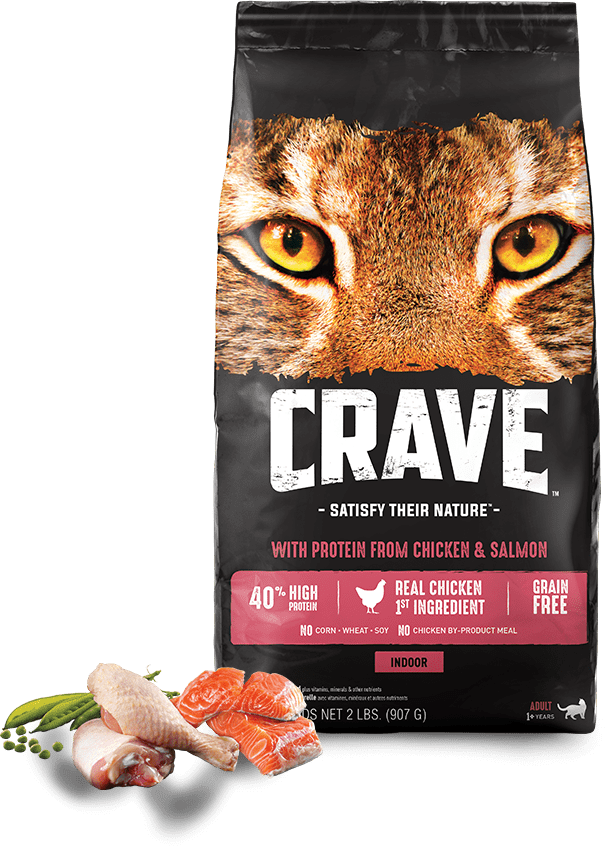 ㅤ
Crave's dry cat food products build on the success of their dry dog counterparts and provide very satisfactory nutrition for their price range.
Once again, it is meat and fish ingredients that provide the bulk of this protein and fat, which is critical in cats as they are obligate carnivores. Examples include Chicken, Salmon, and Turkey.
These high-quality meat and fish ingredients are combined with a mix of vegetables and starches. Sadly, these kinds of ingredients are not preferred cat food ingredients, especially in higher proportions.
Despite this, the quantity of these ingredients is noticeably lower than other dry cat food formulas, especially those priced similarly to Crave's products.
Wet Cat Food
Salmon & Trout Pate Review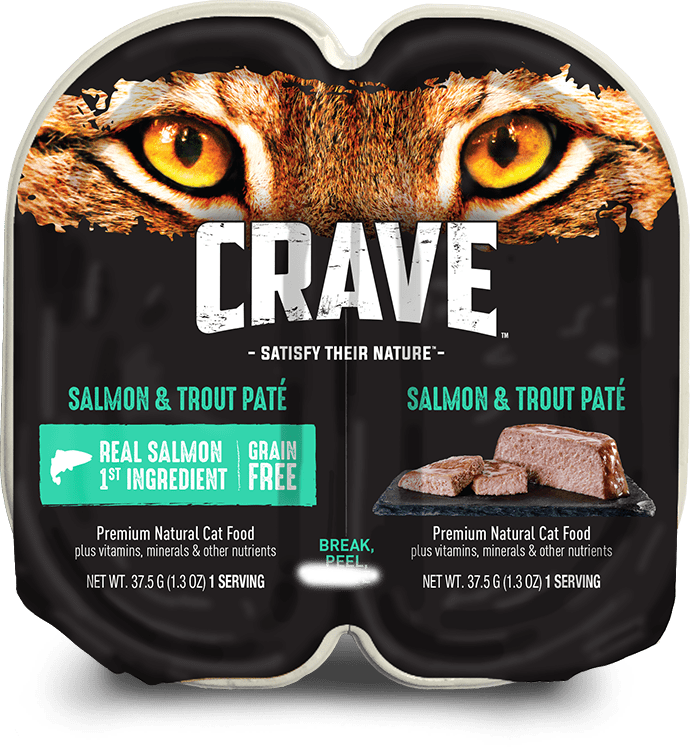 ㅤ
Crave's wet cat food products are probably the best low-cost formulas currently available. They very closely mimic a cat's natural diet with very satisfactory proportions of protein and fat and a complete lack of any notable portion of carbohydrates.
Wet cat food is the preferred diet to ensure cats do not suffer from dehydration or other health issues, so, having affordable formulas such as this is fantastic news.
One of our favorite of the Pate range is Salmon & Trout Pate. This formula includes a mix of Chicken and fish ingredients like Trout and Salmon.
These fish ingredients will provide an increased level of the Omega Fatty Acids, which can provide a range of health benefits.
The formula also includes some organ meat like Heart and Liver, which can provide vitamins and minerals that aren't common in traditional meat cuts.
Crave's Featured Articles
Best Dog Food At Walmart – Given that Crave could possibly be the best dog and cat food available at large retail stores like Walmart, it won't come as a surprise that Crave's formulas are featured in this article, which digs into the best food offered in Walmart stores.
Best Canned Dog Food – Crave takes a well-deserved place in our in-depth review of canned dog food. This article explores the differences between dry and canned dog food as well as some advantages and disadvantages.
One of Crave's formulas features in the value section for those consumers on a tight budget.
Best Cheap Dog Food – Many dog owners are desperate to get their hands on a cost-effective or affordable source of dog food.
Therefore it will come as no surprise that both Crave's dry and wet dog food ranges feature within this article alongside some other worthy contenders.
Best Dog Food At PetSmart – Similar to the Best Dog Food At Walmart article mentioned previously, Crave is one of the best brands available to purchase at large retail stores like PetSmart, and this article showcases a Crave Recipe and a number of other brands recipes.
Best High Protein Dog Food –  Is high protein dog food a marketing ploy, or can it offer some real benefits to dogs? In this article, we dig into the facts and discuss the potential benefits and drawbacks.
The most famous high protein brands are often considered to be premium or higher-cost but Crave manages to sneak into this article. It does so as a canned dog food recipe, and it stands its own against the big boys.
Best Dog Food With Venison – It may come as a surprise to many that Crave uses Venison in some of its formulas. Many consumers picture Venison as rare or expensive.
However, its use as a novel meat ingredient is growing, and Crave is one of many brands to capitalize on this.
Best Dog Food With Salmon – Salmon is one of the most nutritious ingredients that can be present in dog food. This is thanks to its high proportions of protein and fat, and the high levels of the Omega 3 Fatty Acids it contains.
Read this article to learn more about Salmon's use in dog food and some of the best Salmon formulas, including one from Crave.
Crave Full Product Range Reviews
Dry Dog Food
With Protein From Beef
With Protein From Chicken
With Protein From Lamb + Venison
With Protein From Salmon + Ocean Fish
Wet Dog Food
Beef Pate with Shreds of Real Chicken
Chicken Pate with Shreds of Real Chicken
Turkey and Lamb Pate with Shreds of Real Chicken
Turkey Pate with Shreds of Real Chicken
Beef Pate
Chicken & Beef Pate
Chicken Pate
Turkey Pate
Dry Cat Food
Indoor With Protein From Chicken + Salmon
With Protein From Chicken
With Protein From Salmon + Ocean Fish
With Protein From Turkey, Chicken & Duck
Kitten With Protein From Chicken
Wet Cat Food
Salmon Pate
Chicken Pate
Salmon & Trout Pate
Turkey Pate
Chicken + Beef Pate
Turkey and Duck Pate
Turkey and Duck Recipe Cuts In Gravy
Chicken Recipe Cuts In Gravy
Turkey Recipe Cuts In Gravy
Chicken and Beef Recipe Cuts In Gravy