Walmart is one of the undisputed kings of the retail world. From groceries, clothes, home furnishing, and tools. Walmart sells almost everything, including Dog Food.
One of if not the most powerful selling points of Walmart is its affordable prices. Whether you are feeding your 100 pound Great Dane or a 5 pound Chihuahua, consumers want to get the best bang for their buck, and Walmart is happy to fill this desire.
However, while everyone enjoys saving a few dollars, you need to be careful of what you feed your dog, or you could face the disastrous consequences.
Is the dog food at Walmart safe? Will it provide your dog with adequate nutrition, and is it made with high-quality ingredients? Or should you avoid Walmart altogether and stick to a local pet store? All will be revealed.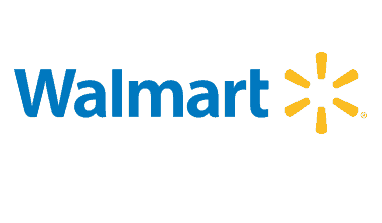 Is The Dog Food Sold At Walmart Safe?
The safety of the dog food is probably the most common concern when purchasing from low-cost stores such as Walmart. Walmart sells some of the lowest-cost dog food products on the market, and its safety and quality are often brought into question.
Have dog food products sold at Walmart been recalled? Yes, far too many to count or list in this article. Recalls are surprisingly prevalent even among some of the most high-quality and premium brands.
But lower cost dog food products that are often sold at stores like Walmart are especially susceptible as their producers try desperately to cut their costs to stay competitive. I'd recommend checking our brand-specific pages for more specific details about any recent or past recalls.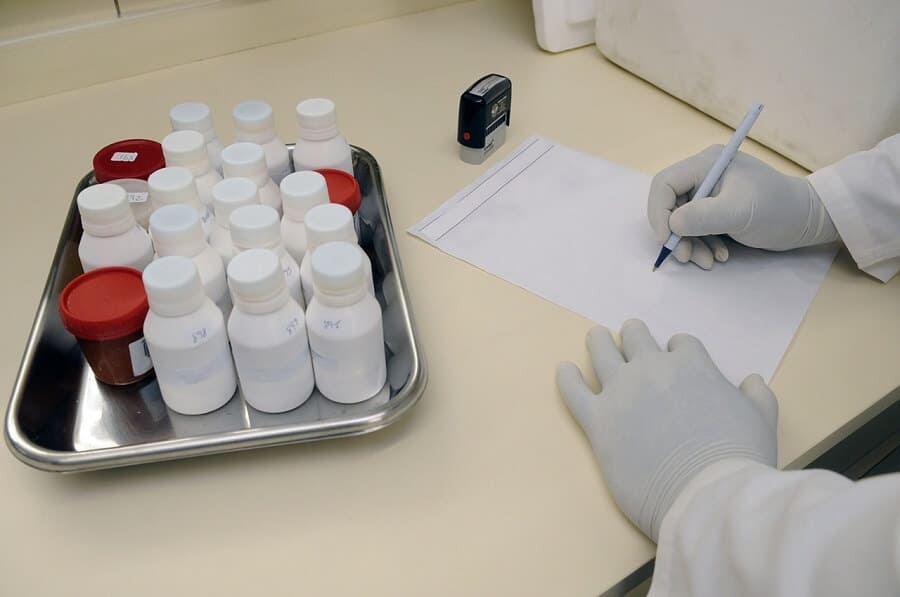 However, on the flip side, many dog food brands and ranges that have never been recalled are also sold at Walmart. It would be unfair to judge or bundle these brands with others just because they are sold at Walmart when many of them take the safety and quality of their products very seriously.
It is also important to remember that Walmart is extremely conscious of the safety of the products that are sold at its stores. If the safety of any product or brand is called into question, you can bet it will be pulled from the shelves before you can even mutter the words recall.
In this regard, you can trust that as far as Walmart or yourself is concerned, all of the products sold in Walmart are currently considered safe.
Does Walmart Sell High-Quality Dog Food?
Contrary to popular belief, yes, Walmart does sell some high-quality dog food products. Walmart, just like all other major dog food retailers, has clued in on the increased consumer demand for higher quality dog food.
This increase in consumer awareness has to lead to the inclusion of brands or ranges of products that appeal to these knowledgeable consumers who want to provide their dogs with appropriate nutrition from high-quality ingredients.
Are some of the most popular and highly rated premium brands such as Orijen, Acana, Instinct, or Merrick sold at Walmart? Sadly not.
These premium brands don't appeal to Walmarts customers who can not afford dog food brands such as these. Also, many of these brands attempt to support small local retailers and avoid partnering with large brands or stores such as Walmart or PetSmart.

However, there are some, what can be best described as affordable or medium-priced yet reasonably high-quality dog food brands that are sold at Walmart.
While not all of these brand's recipes may be rated as highly as other brands by reviewers such as ourselves, some do, in fact, provide excellent nutrition from high-quality ingredients and deserve to be brought into the limelight.
What Dog Food Should I Avoid At Walmart?
The subject of the "worst" dog food brands or brands that you should avoid is a delicate subject. Not only will many consumers or the brands themselves disagree, but the formulas produced by some brands vary in quality tremendously, and therefore it may be unfair to label the whole brand as junk when some of their recipes are satisfactory.
That being said, there are certainly some trends that are worth noting. Very low-cost brands such as Pedigree, Ol Roy, and Kibbles N Bits are safe bets on the list of dog food brands that you should avoid unless absolutely necessary.
These ultra-low-cost brands tend to use inferior quality ingredients, including meat by-products, grains such as Corn or Wheat, and ingredients like Bone Meal and Soy.
None of these ingredients are considered average-quality, let alone high-quality, and are not appropriate for a dog's diet. Also, they provide a poor overall nutrition profile that is high in carbohydrates and low in protein and fat. This balance of nutrients poorly reflects a dog's ancestral diet.
Furthermore, many of these ingredients can cause or worsen allergies or intolerances. These allergies and intolerances can cause symptoms such as rashes, bloat, and diarrhea, which could cause a dog great discomfort.
Should I Buy My Dog Food At Walmart?
There is not necessarily a right or wrong answer to this question. Some people will tell you that buying pet food at a major store, such as Walmart or Petsmart, is an awful thing and that you are destroying small independent businesses.
But for many others, such as those on a tight budget or those in more rural communities, stores such as Walmart may be the only available choice to source their dog food without having to travel long distances or spend money they don't have.
However, in the digital world of today, many dog owners neglect to explore the opportunity to buy their dog food online. Many online retailers offer free or affordable shipping and even subscriptions that will deliver dog food on a scheduled basis, such as monthly or bi-monthly.
Big online retailers in the pet food world include Walmart, Amazon, Chewy, and others. Many consumers enjoy the convenience of scheduled deliveries of dog food as it avoids last-minute trips to the store or running out of dog food altogether.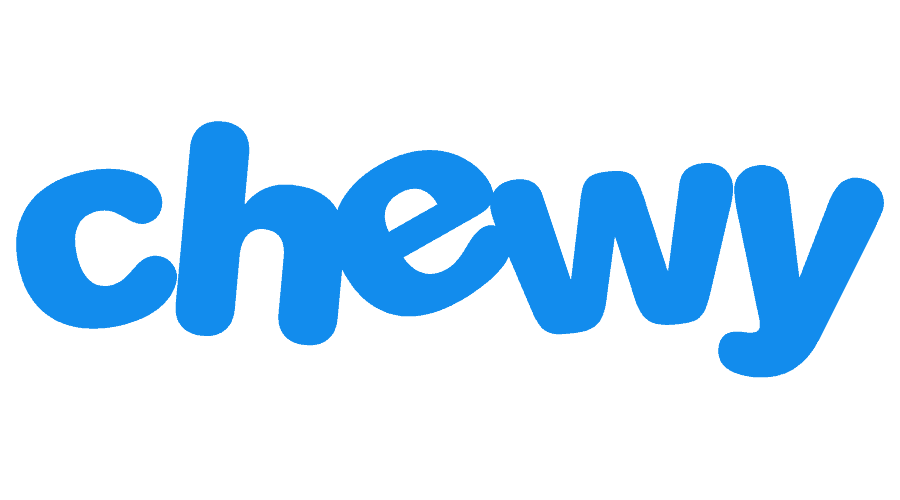 While purchasing your dog food online still negatively affects local pet stores, it does provide consumers with a much more extensive range of dog food formulas to choose from as online retailers stock hundreds or even thousands of varieties due to the economies of scale they can leverage.
Many brands produce specialized forms of dog food. Previously, these may not have been easy to obtain but can now be acquired with just a few clicks and a credit card.
Examples could include kibble that is smaller than usual to better accommodate small breeds like Pomeranians and Chihuahuas or Limited Ingredient dog food for those with severe allergies.
A 2018 study by the Association for Pet Obesity Prevention shows that the most popular response to the question "Where do you purchase pet food most often?" was online with a whopping 23.7%. This proves how much of an effect the convenience and choice are having on consumer spending habits.
If you are interested in affordable or cheap dog food beyond those recipes sold at Walmart, be sure to check out our in-depth guide to the Best Cheap Dog Food.
Best Dry Dog Foods At Walmart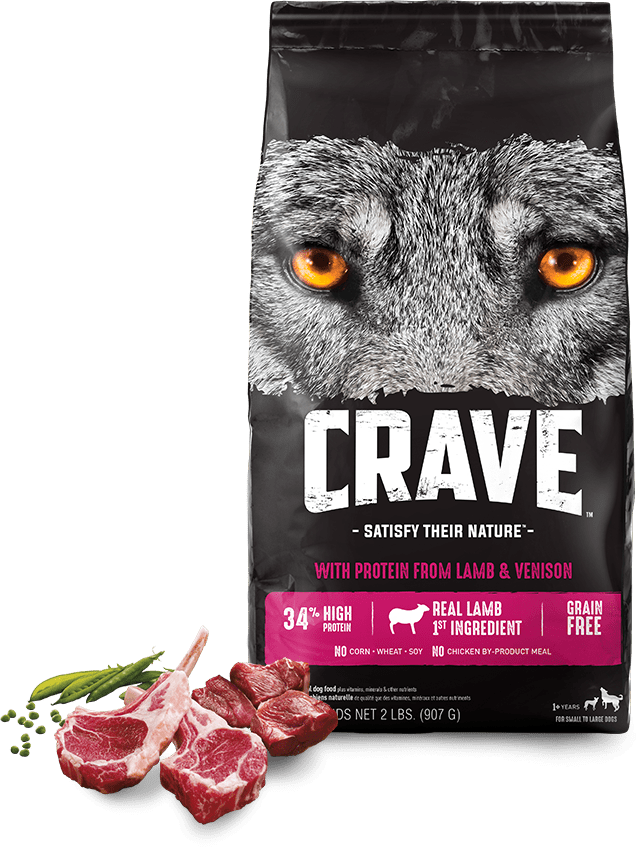 Many dog owners will be unfamiliar with the brand Crave. The brand was launched back in 2017 by Mars Petcare. For those of you who are not familiar with Mars Petcare, they own some other pet food brands such as Pedigree and Whiskas.
Crave is a perfect example of dog food manufacturers creating a new brand to appeal to more knowledgeable consumers who demand better quality ingredients and more appropriate nutrition.
Crave dog food formulas contain very satisfactory proportions of protein and fat and do not make use of an excessive proportion of carbohydrates. This satisfactory nutrition profile could be compared to other brands that are far more costly. The majority of this protein and fat is provided by high-quality meat ingredients such as Lamb, Chicken, and Venison.
Sadly, there is one downside to Crave's dog food in that it contains vegetable by-products such as Potato Protein or Pea Protein. These are used to increase the overall proportion of protein in dog foods without splashing out on more expensive meat ingredients.
These ingredients are also often used in a sinister technique known as Ingredient Splitting. Despite this, there isn't a significant quantity of these ingredients present, and overall the ingredient quality is still high.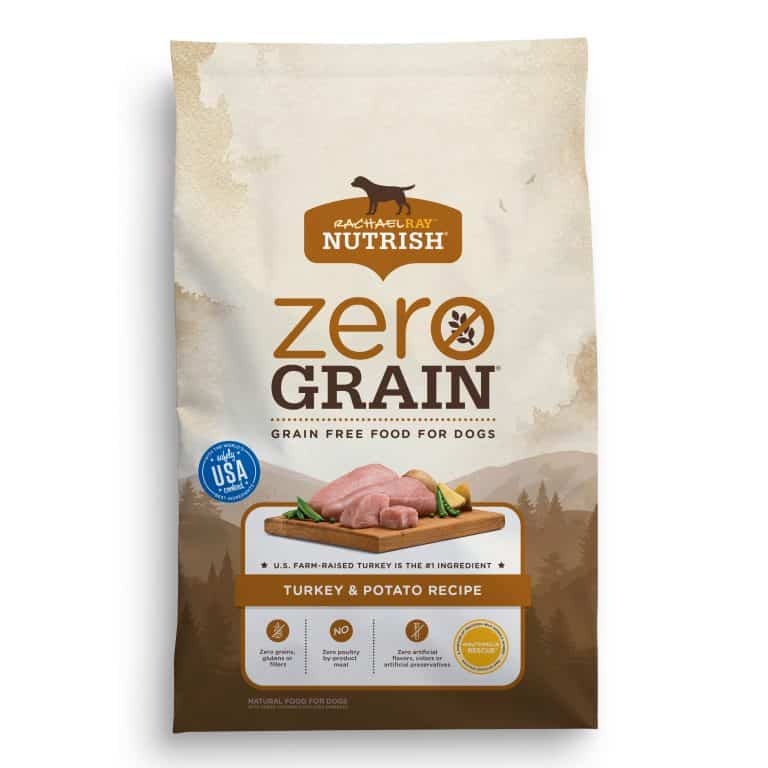 Rachel Ray Nutrish may be a more familiar brand and has been available at Walmart and other large retailers for some time. Rachel Ray Nutrish has a number of ranges, including Super Premium, Just 6, Zero Grain, and Peak.
While their Zero Grain range may not have the highest level of protein or fat amongst all the ranges from Rachel Ray Nutrish, it has by far the highest-quality ingredient list. Their Turkey & Potato formula, in particular, contains no grains or by-products.
Low-cost grains or vegetable by-products such as Pea Protein are commonplace in lower-cost dog foods and are considered a low-quality ingredient to the lack of any of these makes this recipe stand out.
Sadly, the nutrition of this recipe isn't fantastic and may not be suitable for a more active dog who demands high levels of protein and fat. But for those dogs who are less active and don't require a high intake of protein, this formula may be appropriate and is worth consideration.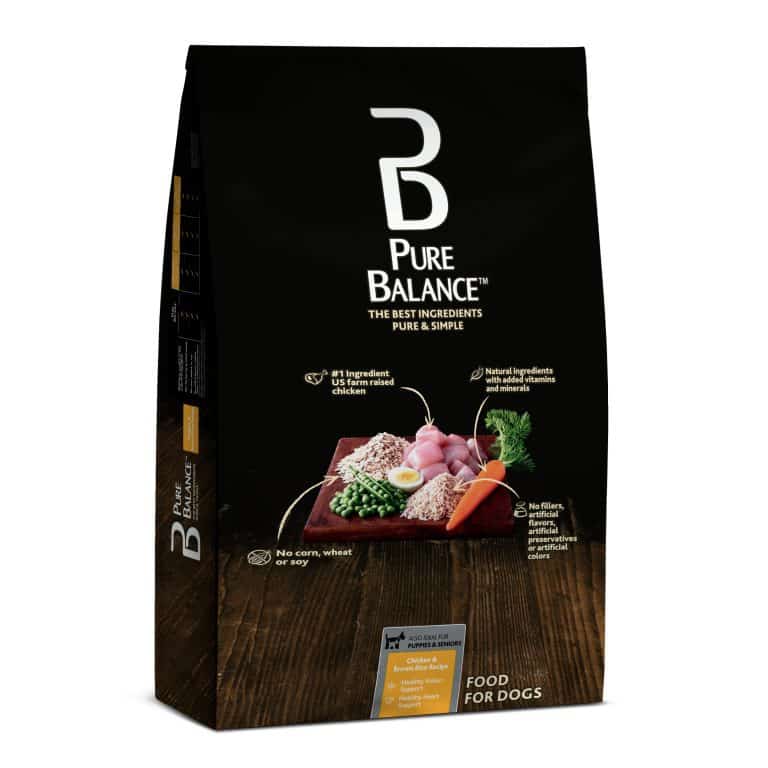 .
Pure Balance is a Walmart exclusive brand that many regular shoppers of the store will be familiar with. It is Walmart's attempt at selling affordable dog food that has reasonable ingredient quality and nutrition and could be easily compared to Crave from Mars Petcare.
Pure Balance has a wide range of dog and cat food products, including both dry and wet food. The recipes within these ranges include a variety of conventional meat and fish ingredients that are combined with vegetables such as Peas or grains such as Brown Rice.
While we generally frown upon the use of grains, Pure Balance's formulas are far from the worst offenders. Brown Rice alongside Oatmeal are considered some of the better grains and shouldn't be cast out.
Sadly, the recipes from Pure Balance often contain Pea By-products like Pea Protein, and the overall nutrition level is not up to our high standards as it contains excessive carbohydrates.
Despite this, Pure Balance is a very reasonable option for those on a tight budget and a big step up above the bargain-priced and almost dangerous brands of old.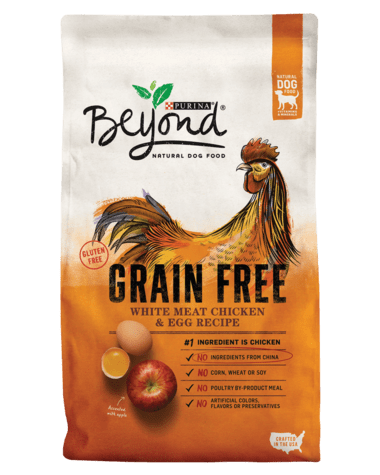 .
Many of you may be familiar with Purina, who produces a range of popular brands such as Beneful and Purina One. Purina Beyond is a relatively new addition to their selection of brands, and it has also jumped on the bandwagon of higher quality ingredients and nutrition at affordable prices like some of the other brands in this article.
While we don't rate this formula as highly as some of the others in this article, it is still a very viable brand that can be quickly picked up from your local Walmart store. Price is another important consideration, and Purina Beyond's products are incredibly affordable, even more, so that other comparable products at Walmart.
Our favorite recipe from the Purina Beyond range is their Chicken & Egg formula, which contains a healthy proportion of Chicken and Chicken Meal.
Many consumers are often put off by Meat meals such as Chicken Meal, but it can be advantageous as it contains a much higher proportion of animal protein and fat than traditional meat.
Eggs are also worth noting as they are very easily digested by humans and dogs alike and are full of high-quality nutrition. The Chicken and Egg ingredients are then combined with a range of vegetable by-products such as Pea Starch, Pea Protein, and Cassava Root Flour. We won't discuss these in great detail again, as you will already be familiar with our opinion of them.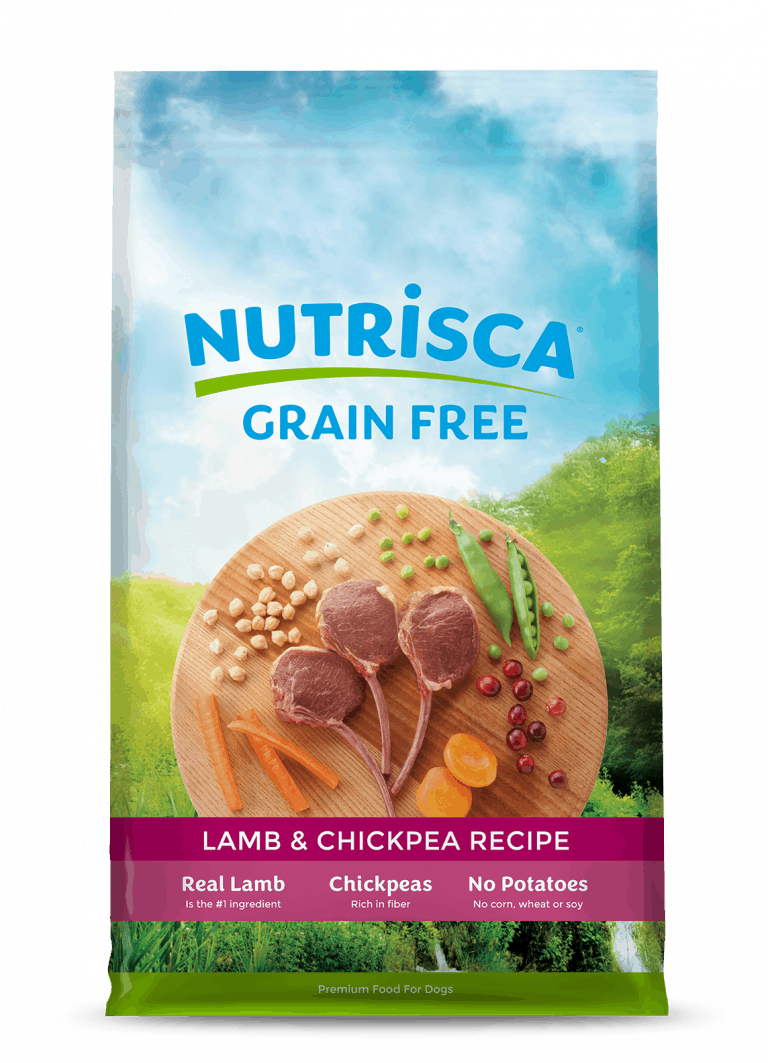 .
Nutrisca by Dogswell is a smaller brand with a select range of formulas. We believe that Nutrisca's formulas may provide the best nutrition available for any dry dog food sold at Walmart. They have three dry dog food recipes available with Lamb, Chicken, and Salmon being each recipe's core ingredient.
Of the three recipes, we are a particular fan of their Lamb and Chickpea formula. While it does not offer quite the proportion of protein and fat as the Chicken recipe, its ingredient quality appears to be significantly superior.
This superiority is as the recipe contains a much smaller proportion of pea by-products such as Pea Protein and Pea Starch. These are considered lower-quality ingredients and are often used to inflate the protein levels in dog food.
Find out more about Pea Protein in our article Peas, Pea Protein, Pea Flour, and Pea Fiber in Dog Food.
While we'd prefer if these ingredients weren't included at all, they could be considered an acceptable evil among almost all affordable dog food recipes with robust nutrition.
Best Wet Dog Foods At Walmart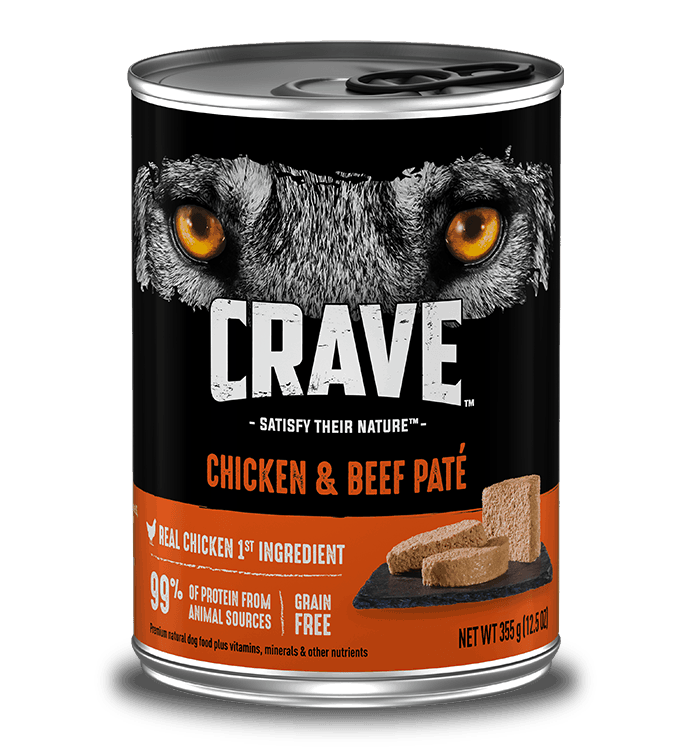 As we discussed earlier in this article, Crave is a relative newcomer to the pet food market and is owned by Mars Petcare. The brand was launched to cater to the higher-quality pet food market fueled by smarter and more aware consumers. Crave is available at Walmart and other large retail pet stores.
While we praised Craven's dry food range, Crave's Pate range is also worth discussing. Each formula within the Pate range contains both traditional meat cuts alongside organ meat. T
his organ meat provides beneficial Vitamins and Minerals that standard meat cuts lack as well as being a very appetizing and enjoyable addition.
This combination of meat ingredients offers fantastic nutrition, high in protein and fat. Finally, none of their Pate recipes contain a significant amount of vegetable ingredients, let alone frowned upon by-products or grains.
Wet or canned dog food is often unaffordable to many, but Crave's price range may make it viable even if it's only occasionally.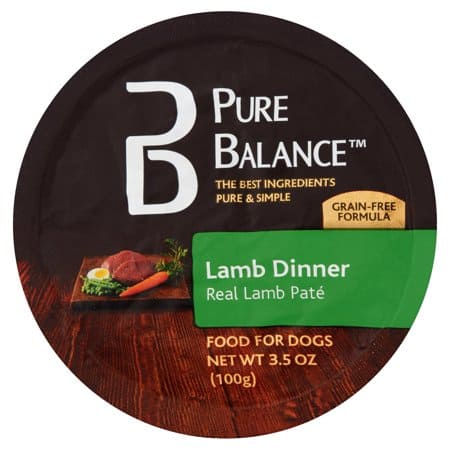 Pure Balance's wet dog food recipes are also worth mentioning in this article and share many of the positive traits of their dry food range. They all contain a relatively minimal proportion of vegetable ingredients, which correlates to a high proportion of fat and protein. There is a small variety of formulas that use a selection of named meat and fish ingredients.
One particularly unique formula is Lamb Dinner. It has a very high proportion of fat. This will make the formula very appealing and enjoyable to a dog and can provide them with a significant amount of energy. Therefore this could be suitable as a treat or before a dog is going to be taking part in a significant amount of exercise.
The flip side of this is that if fed regularly and unmonitored this formula could cause weight gain, so it's essential to correctly portion and monitor your dog's food intake.
This high-fat proportion is derived from a small selection of lamb ingredients, including Lamb and Lamb liver. In addition to these lamb ingredients, the recipe contains Peas and Flaxseed.
Flaxseed is the best non-meat or fish source of the Omega 3 Fatty Acids and is a regular addition to higher-quality dog food. Find out more about Flaxseed in our article Flaxseed In Dog Food.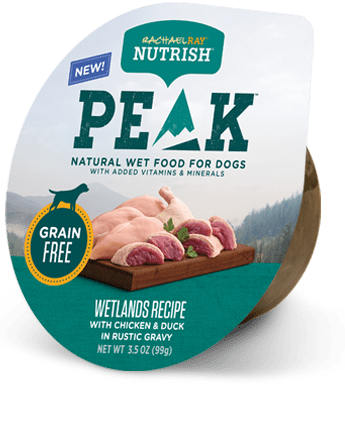 Just like the above two formulas, Rachel Ray Nutrish features in both the dry and wet sections of this article due to the fact it is one of the few higher-quality dog food brands available at Walmart. While not perfect, Rachel Ray Nutrish's wet formulas share many of the positive features of their dry formulas.
One particular recipe that we like is the Wetlands Recipe. It has a focus on poultry, such as Chicken and Duck. Meat from poultry is a high-quality ingredient that can provide a plentiful supply of protein and fat to fuel dogs' growth and activity. Duck is less common in dog food than Chicken or Turkey but can provide very similar nutrition with slightly more fat.
Sadly, the formula also contains Pea Protein, which is a less desirable ingredient but one which we have discussed previously and is common in lower-cost dog food.