Blue Buffalo Information
Blue Buffalo is one of the largest and well-known pet food brands in the United States. It was founded by Bill Bishop in 2002 and was named after Bill's Airedale Terrier, Blue.
Their products are an almost guaranteed feature at any large chain pet-food store such as PetSmart or Petco. Sometimes there are so many types of Blue Buffalo food available that they can consume an entire shelf. Blue Buffalo is also available at the large online pet food retailers like Chewy.
However, Blue Buffalo has come under criticism for focusing their efforts on marketing their products rather than improving their nutrition, quality, or safety.
Blue Buffalo Product Range
Dog Food
Blue Buffalo has one of the largest, if not the largest, range of dog food products available in the United States. This includes hundreds of individual recipes across a number of unique ranges.
The dog food ranges include Life Protection, Blue Freedom, Blue Basics, Blue Wilderness, Carnivora, and a Veterinary Diet range. Blue Wilderness used to be Blue Buffalo's premium range, but with the recent release of the Carnivora line, it is now pegged back to second place.
Cat Food
Blue Buffalo's cat food range is also extremely large although not quite as large as their dog food range.
It includes a huge number of niche and specialty recipes including grain-free foods, grain-inclusive foods, kitten food, senior cat food, and food for cats with sensitivities.
Blue Buffalo Nutrition
Dog Food
Given the huge size of Blue Buffalo's product range, it is no surprise that the nutrition that their recipes offer varies.
Some of Blue Buffalo's recipes offer excellent nutrition with significantly above-average proportions of protein and fat and significantly below-average proportions of carbohydrates.
However, other Blue Buffalo recipes offer average nutrition with modest proportions of protein and fat and significant proportions of carbohydrates.
Below is an example of the nutrition offered by a Blue Buffalo recipe.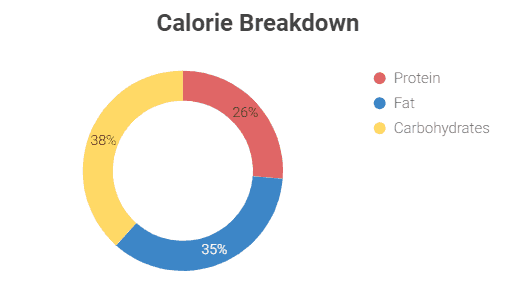 Cat Food
Much like Blue Buffalo's dog food range, its cat food recipes provide a mixed bag of nutrition. Some recipes provide excellent nutrition that is high in protein and fat and has a modest proportion of carbohydrates.
However, there are others with an extremely high proportion of carbohydrates. This can be especially damaging as cats are obligate carnivores and do not require plant-based material in their diet.
Blue Buffalo Ingredients
High-Quality Meat & Fish Ingredients
Chicken
Turkey
Duck
Beef
Lamb
Salmon
Rabbit
Venison
Alligator
Bison
Given the extraordinary size of Blue Buffalo's product range, it will come as no surprise that they utilize a vast range of meat and fish ingredients. This includes all of the staples such as Chicken, Turkey, Beef, and Salmon.
These regulars can provide a plentiful supply of high-quality animal-based protein and fat.
However, Blue Buffalo also use some unique and rare ingredients in their product range. This includes ingredients like Venison, Rabbit, Alligator, and Bison. These ingredients are usually found in recipes for pets with allergies. Learn more about these in our article Best Hypoallergenic Dog Foods Guide.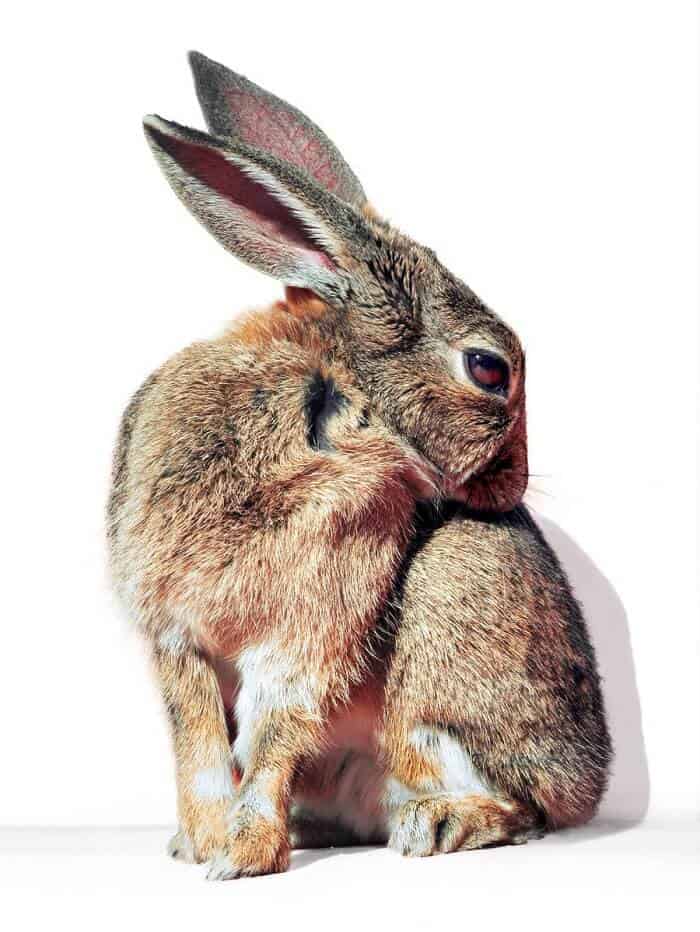 Other Notable Ingredients
Many Blue Buffalo recipes include Pea Protein. Pea Protein is a pea-byproduct and is a favorite of pet food manufacturers thanks to its low-cost and high protein proportion. It is often used to inflate the level of protein in a recipe with including additional meat and fish ingredients. Learn more about Pea Protein in our article Peas, Pea Protein, Pea Flour, and Pea Fiber in Dog Food.
Blue Buffalo offers many grain-inclusive recipes. These recipes include grain ingredients such as Brown Rice, Barley, and Oatmeal. While not all of the grain ingredients used by Blue Buffalo are optimal, many of these grain ingredients are considered to be the preferred choices. You can read about one of these, Barley, in our article Barley In Dog Food.
Flaxseed is probably the best plant-based source of the Omega 3 Fatty Acids which is why it is regularly added to dog food recipes. However, Flaxseed can provide other benefits beyond its Omega Fatty Acids. Learn more about Flaxseed in our article Flaxseed In Dog Food.
Chicken Fat
Tomato Pomace is a regular addition to dog food. Its purpose is to provide soluble fiber. Soluble fiber can very important for many dogs in order to facilitate regular and stable digestion and stools. Beyond its fiber content, Tomato Pomace provides very little nutrition. Learn more about Tomato Pomace in our article Tomato Pomace as a Pet Food Ingredient?.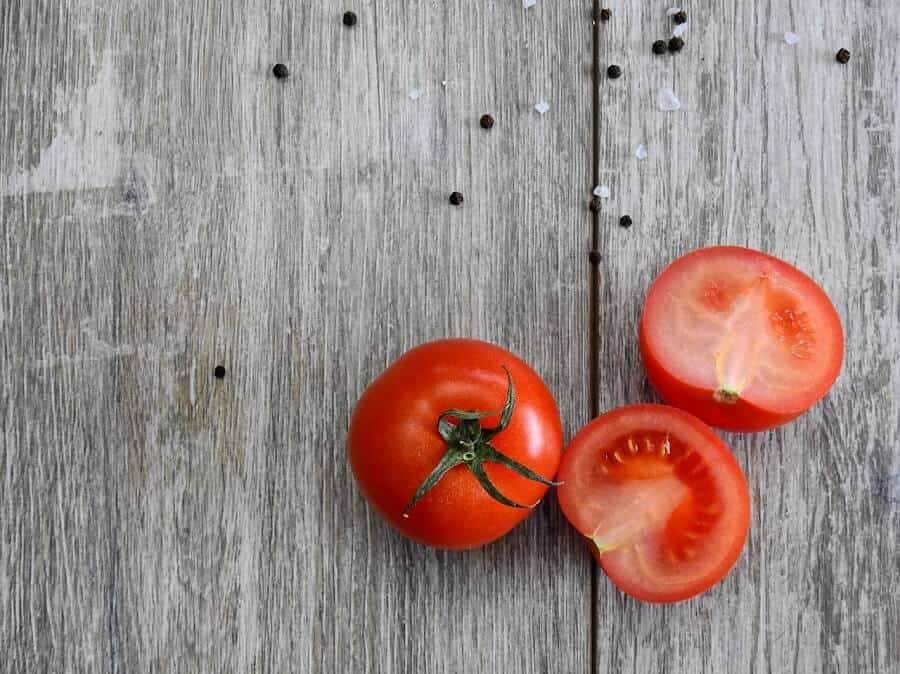 Alfalfa
Chicory Root
Blue Buffalo Animal Testing
Blue Buffalo is one of the few pet food brands to discuss what type of testing they participate in.
Blue Buffalo's site states, "Blue Buffalo does not do any invasive animal testing. Our company was founded on the basis of providing the best possible nutrition for dogs and cats, and we treat our pets like family members. We do conduct trials in which our products are fed to pets, but only under conditions that are healthy and comfortable for the animals."
While the details are scarce, Blue Buffalo's confirmation that they do not participate in invasive testing is crucial. We strongly believe that invasive or laboratory-style testing of animals is a cruel and outdated practice.
Blue Buffalo Recalls
Sadly, Blue Buffalo has had a number of recalls and is not a recall-free brand.
March 2017 – Elevated Levels Of Beef Thyroid Hormone – A single wet dog food recipe was recalled due to the potential for elevated levels of a thyroid hormone.
February 2017 – Poor Packaging Quality – A broad range of wet dog food products were recalled due to inadequate packaging quality.
February 2017 – Potential Aluminium Contamination – A wet dog food recipe was recalled due to possibly dangerous levels of a metal.
May 2016 – Possible Mold – A single batch of a dry dog food recipe was recalled due to possible contamination of mold.
November 2015 – Potential Salmonella – A single batch of chew treats were recalled due to potential Salmonella contamination.
Salmonella is considered to be a severe risk due to the fact it can affect humans and pets. Learn more about the dangers of Salmonella in pet food in this article by Banfield Pet Hospital.
November 2015 – Propylene Glycol – Select cat treat recipes may have contained low levels of a dangerous compound.
October 2010 – Excess Vitamin D – Select dry dog food recipes contained potentially dangerous levels of Vitamin D.
April 2007 – Melamine Contamination – Much of Blue Buffalo's canned dog and cat food along with some treats and dry cat food was recalled for fear of Melamine contamination.
Blue Buffalo Featured Articles
Best Dog Food With Chicken And Rice –
Best Puppy Food – New puppy owners take their puppy's health very seriously which is why the puppy food space is so competitive. Our article goes into all the details a new puppy owner needs to know and we make a large range of recommendations.
Best Dog Foods With Rabbit – Blue Buffalo is one of a select number of dog food brands to produce a Rabbit themed recipe. This article goes into depth on the use of Rabbit in dog food and some of the best recipes available.
Best of Blue Buffalo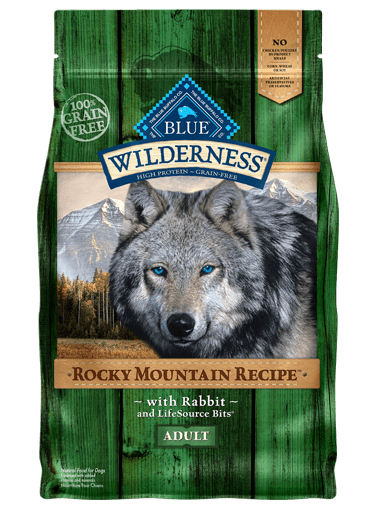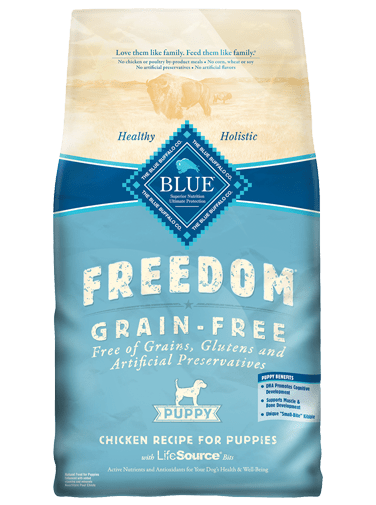 Blue Buffalo Full Product Range
Dog Food
Dry Dog Food
Life Protection Range
Puppy Chicken & Brown Rice Recipe
Puppy Lamb & Oatmeal Recipe
Puppy Grain Free Chicken
Small Breed Puppy Chicken & Oatmeal Recipe
Puppy Large Breed Chicken & Brown Rice Recipe
Adult Chicken & Brown Rice Recipe
Adult Fish & Brown Rice Recipe
Adult Lamb & Brown Rice Recipe
Adult Healthy Weight Chicken & Brown Rice Recipe
Adult Small Bite Chicken & Brown Rice
Adult Grain Free Chicken Recipe
Toy Breed Adult Chicken & Brown Rice Recipe
Adult Small Breed Chicken & Brown Rice Recipe
Small Breed Adult Fish & Brown Rice Recipe
Adult Small Breed Lamb & Brown Rice Recipe
Small Breed Adult Healthy Weight Chicken & Brown Rice
Adult Large Breed Chicken & Brown Rice Recipe
Large Breed Adult Fish & Oatmeal Recipe
Large Breed Adult Lamb & Brown Rice Recipe
Large Breed Adult Healthy Weight Chicken & Brown Rice
Senior Chicken & Brown Rice Recipe
Small Breed Senior Chicken & Brown Rice Recipe
Large Breed Senior Chicken & Brown Rice Recipe
Blue Freedom Range
Grain Free Chicken Puppy Recipe
Grain Free Small Breed Puppy Chicken Recipe
Grain Free Large Breed Puppy Chicken Recipe
Grain Free Adult Beef Recipe
Grain Free Adult Chicken Recipe
Grain Free Adult Lamb Recipe
Grain Free Adult Healthy Weight Chicken Recipe
Grain Free Small Breed Adult Chicken Recipe
Grain Free Large Breed Adult Beef Recipe
Grain Free Large Breed Adult Chicken Recipe
Grain Free Large Breed Adult Lamb Recipe
Grain Free Senior Chicken Recipe
Blue Basics Range
Puppy Turkey & Potato Recipe
Adult Turkey & Potato Recipe
Adult Salmon & Potato Recipe
Adult Healthy Weight Turkey & Potato Recipe
Adult Grain Free Duck & Potato Recipe
Adult Grain Free Lamb & Potato Recipe
Adult Grain Free Turkey & Potato Recipe
Adult Grain Free Salmon & Potato Recipe
Small Breed Adult Turkey & Potato Recipe
Small Breed Grain Free Adult Lamb & Potato Recipe
Large Breed Adult Turkey & Potato Recipe
Large Breed Adult Grain Free Lamb & Potato Recipe
Senior Turkey & Potato Recipe
Blue Wilderness Range
Puppy Chicken
Large Breed Puppy Chicken
Puppy Red Meat
Adult Chicken
Adult Duck
Adult Salmon
Adult Healthy Weight Chicken
Adult Small Bite chicken
Toy Breed Adult Chicken
Small Breed Adult Chicken
Adult Small Breed Healthy Weight
Large Breed Adult Chicken
Adult Large Breed Healthy Weight Chicken
Adult Bison
Adult Red Meat
Adult Healthy Weight Red Meat
Small Breed Adult Red Meat
Large Breed Adult Bison
Large Breed Adult Salmon
Large Breed Adult Red Meat
Adult Alligator & Catfish
Adult Wild Salmon Venison & Halibut
Adult Trout Venison & Rabbit
Adult Turkey Quail & Duck
Senior Chicken
Senior Red Meat Dinner
Blue Carnivora Range
Adult Protein-Rich Prairie Blend Recipe
Adult Protein-rich Coastal Blend Recipe
Adult Protein-rich Woodland Blend Recipe
Adult Protein-rich Woodland Blend Weight Control Recipe
Adult Small Breed Protein-rich Woodlan dBlend Recipe
Adult Large Breed Protein-rich Woodland Blend Recipe
Blue Natural Veterinary Diet
W + M Weight Management + Mobility Support
KS Kidney Support
NP Novel Protein
HF Hydrolyzed For Food Intolerance
GI Gastrointestinal Support
GI Gastrointestinal Support Low Fat
W + Weight Management & Urinary Care
Wet/Canned Dog Food
Blue Life Protection Range
Puppy Chicken Dinner With Garden Vegetables
Hearty Beef Stew
Country Chicken Stew
Hunter's Stew
Irish Lamb Stew
Tasty Turkey Stew
Braised Beef Dinner With Green Beans, Carrots & Wild Rice
Hearty Beef Stew With Potatoes, Carrots & Peas
Country Chicken Dinner With Green Beans, Carrots and Wild Rice
Homestyle Chicken Stew With Potatoes, Carrots & Peas
Savory Lamb Stew With Potatoes, Carrots & Peas
Roast Turkey Dinner With Wild Rice & Peas
Backyard BBQ
Shepherd's Pie
Sunday Chicken Dinner
Mom's Chicken Pie
Turkey Day Feast
Turducken
Beef Dinner With Garden Vegetables
Chicken Dinner With Garden Vegetables
Fish and Sweet Potato Dinner With Garden Vegetables
Lamb Dinner with Garden Vegetables
Turkey Meatload Dinner Garden Vegetables
Healthy Weight Chicken Dinner With Garden Vegetables
Grain Free Beef Dinner
Grain Free Chicken Dinner
Small Breed Chicken Dinner With Garden Vegetables
Toy Breed Chicken Dinner With Garden Vegetables
Small Breed Lamb Dinner With Garden Vegetables
Large Breed Chicken Dinner With Garden Vegetables
Top Sirloin Flavor In Savory Juices
Rotisserie Chicken Flavor In Hearty Gravy
Prime Rib Flavor In Hearty Gravy
Steak and Egg Flavor Breakfast Bites
Filet Mignon Flavor In Savory Juices
Porterhouse Flavor In Savory Juices
Angus Beef Flavor In Savory Juices
Filet Mignon Flavor In Hearty Gravy
New York Strip Flavor In Hearty Gravy
Grilled Chicken Flavor In Savory Juices
Bacon, Egg and Cheese Flavor Breakfast Bites
Sausage, Egg and Cheese Flavor breakfast Bites
Roasted Turkey Flavor In Savory Juices
Senior Chicken Dinner With Garden Vegetables
Blue Freedom Range
Puppy Grain Free Chicken Recipe
Adult Grain Free Beef Recipe
Grain Free Chicken Recipe
Adult Grain Free Lamb Recipe
Grain Free Small Breed Chicken Recipe
Grain Free Grillers Beef
Grain Free Grillers Chicken
Grain Free Grillers Lamb
Grain Free Grillers Turkey
Senior Grain Free Chicken Recipe
Blue Basics
Grain Free Adult Duck & Potato Recipe
Grain Free Whitefish & Potato Recipe
Grain Free Adult Lamb & Potato Recipe
Grain Free Turkey & Potato Recipe
Grain Free Large Breed Turkey & Potato Recipe
Grain Free Adult Small Breed Lamb & Potato Recipe
Grain Free Adult Small Breed Turkey & Potato Recipe
Grain Free Senior Turkey & Potato Recipe
Blue Wilderness
Puppy Turkey & Chicken Grill
Puppy Red Meat
Beef & Chicken Grill
Duck & Chicken Grill
Salmon & Chicken Grill
Trout & Chicken Grill
Adult Healthy Weight Turkey & Chicken Grill
Small Breed Adult Turkey & Chicken Grill
Turkey & Chicken Grill
Beef Grill
Chicken Grill
Turkey Grill
Duck Grill
Beef Stew
Red Meat Stew
Chicken Stew
Duck Stew
Turkey Stew
Adult Rabbit
Adult Red Meat Dinner
Alligator & Catfish
Wild Salmon, Venison & Halibut
Trout, Venison & Rabbit
Turkey, Quail & Duck
Hearty Beef Stew
Chunky Chicken Stew
Hearty Duck Stew
Savory Salmon Stew
Chunky Beef Bites
Chunky Chicken
Chunky Duck Bites
Chunky Salmon Bites
Senior Turkey & Chicken Grill
Senior Red Meat
Blue Carnivora
Adult Protein-rich Coastal Blend Recipe
Adult Protein-rich Woodland Blend Recipe
Adult Protein-rich Coastal Blend Recipe
Cat Food
Dry Cat Food
Wet/Canned Cat Food