The Purpose Of Lamb And Rice Dog Food
Chicken and Rice dog food has been a staple for decades, but Lamb and Rice comes a close second and has been fed to dogs for almost as long.
Lamb and Rice can thank its popularity to its simplicity. Many modern dog foods combine dozens of ingredients in a way that is often confusing to dog owners and can lead to a higher chance of an allergenic or adverse reaction.
If you are interested in Chicken and Rice dog food, we recommend you check out our popular article – Best Dog Food With Chicken and Rice.
Lamb And Rice Nutrition
Protein
The Lamb ingredients present in a Lamb and Rice recipe should provide the bulk of the protein a dog requires.
Protein is vital for dogs as it is necessary to repair, maintain, and grow a dog's muscles and tissues.
Also, protein from animal sources, such as Lamb, is considered to be superior to protein from plant-based ingredients.
The reason it is considered superior is that protein from animal sources contains the full range of amino acids required and is more easily absorbed by a dog's digestive system.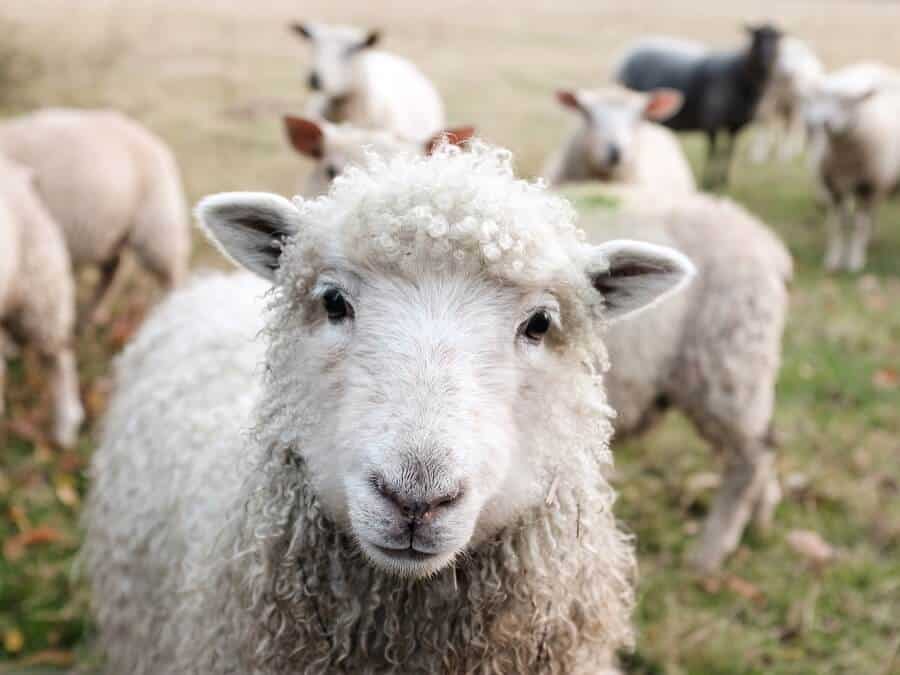 Fat
Fat is an essential nutrient for a number of dogs' bodily functions and can be used as a concentrated source of energy.
Fat should also be the preferred energy source for dogs who are very active such as puppies and working dogs.
However, many dogs need to be careful about how much fat they consume as they may be more prone to weight gain or obesity. This is true for dogs who are not able to exercise enough.
Sadly, Lamb isn't as high in the Omega Fatty Acids compared to other meat and fish ingredients like Salmon. These Fatty Acids are believed to provide a range of health benefits, which is why they are discussed so often by us and others.
Carbohydrates & Fiber
The Rice finds its way into dog food should serve two purposes. Firstly, it should provide a modest sum of carbohydrates. These carbohydrates can be utilized as an energy source.
While we have discussed that fat should be a dog's primary energy source, carbohydrates can serve a similar function. Dogs have adapted over time to be able to consume a more significant portion of carbohydrates than their ancestor's thousands of years ago.
Carbohydrates only become a problem when the portion size becomes excessive, or they are from very dense sources such as by-products.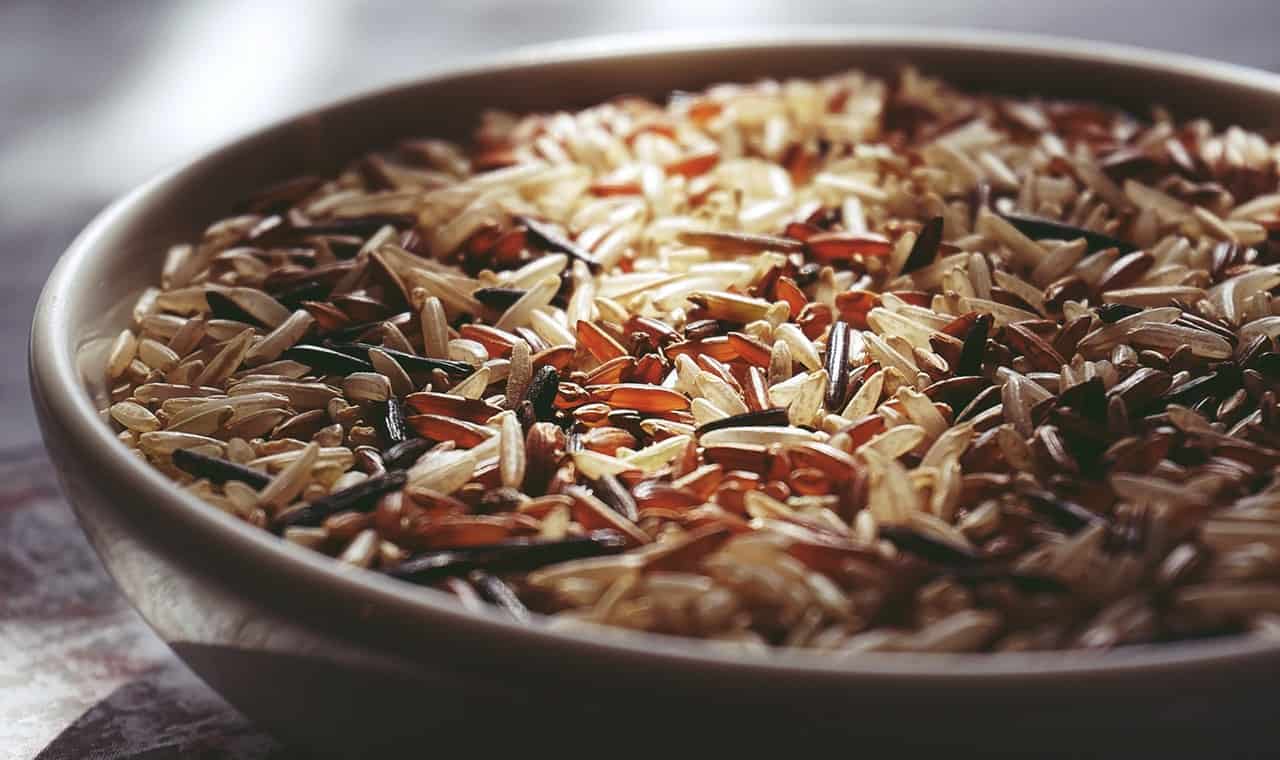 Secondly, Rice should provide a reasonable portion of dietary fiber to aid digestion.
While dogs do not need a large portion of fiber in their diet, a stable and consistent amount can be beneficial to ensure that their digestion and stools are regular.
Vitamins & Minerals
Brown Rice contains several vitamins and minerals that are beneficial to dogs. Examples include the B Vitamins (B1, B3, and B6), Manganese, Magnesium, and Selenium.
The B Vitamins that can be found in Rice are vital for a dog's metabolism, which ensures they can adequately break down the nutrients they digest.
Manganese, Magnesium, and Selenium can improve bone health, reduce the risk of Diabetes, act as powerful antioxidants, and boost a dog's immune system, among many other benefits.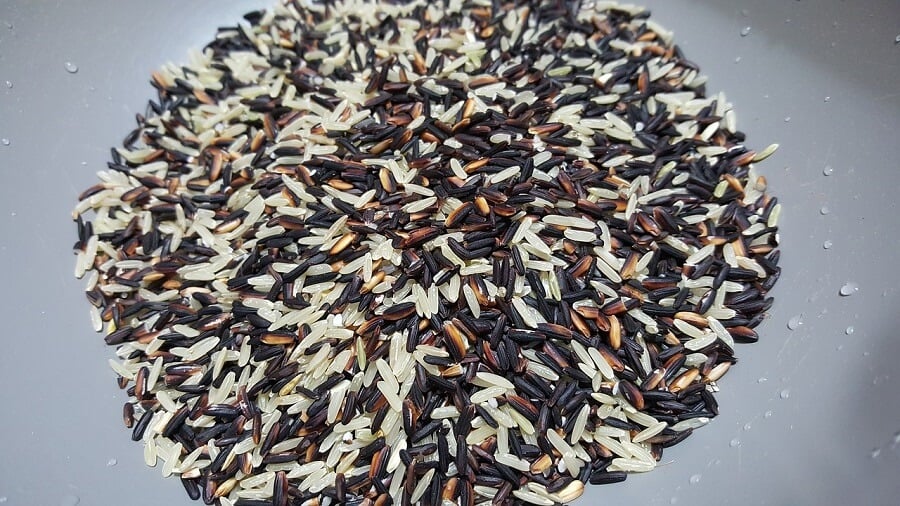 Brown Rice vs. White Rice
Often dog owners query what variety of Rice is preferable to be fed to dogs or to be present in a Lamb and Rice dog food formula.
Brown Rice
Brown Rice is Rice that still has its fibrous and nutritious shell. This outer shell can provide many vitamins and minerals that can improve a dog's health.
While it is true that dogs could get fiber and these vitamins and minerals from other sources, if they are on a strict Lamb & Rice diet, there are unlikely to be other sources in their diet. This could lead to them being malnourished or experiencing irregular bowel movements.
Therefore, Brown Rice should be the preferred rice ingredient present in commercial and homemade dog food.
White Rice
White Rice is Rice that has had its nutritious shell removed. What is left behind is a very dense source of carbohydrates. Unfortunately, there is little fiber, vitamins, or minerals left in White Rice.
However, some dogs react better to White Rice in comparison to Brown Rice. This is especially true for dogs who have very sensitive stomachs. While it's not clear exactly why this is, it could be a valid reason to use White Rice.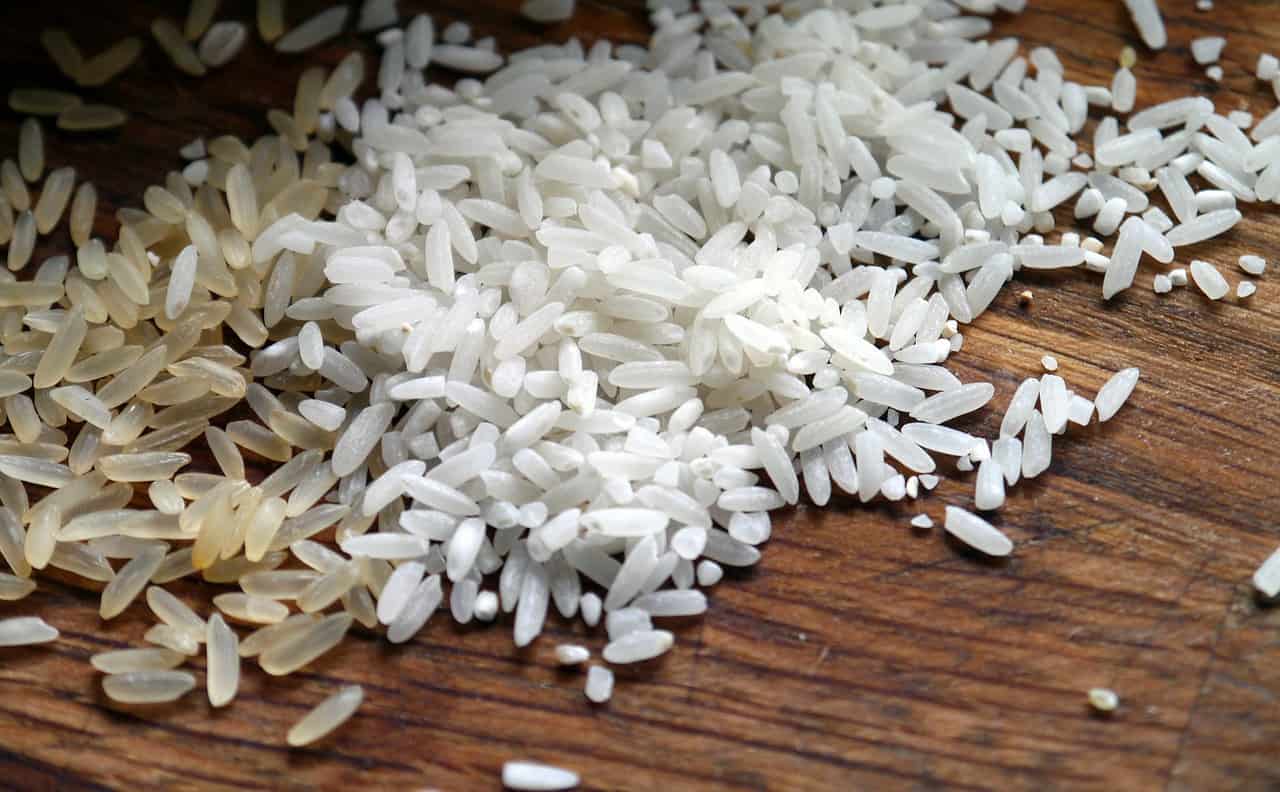 Other Rice Ingredients
Some other Rice-based ingredients can sometimes be found in dog food such as Rice Bran and Brewers Rice. We consider these to be low-quality ingredients as they are by-products of Rice Milling or Rice Processing.
While these are technically fragments of Rice, they often provide inferior nutrition and would typically be thrown out or fed to livestock. Pet food brands use ingredients like these to keep their costs low and not to provide suitable nutrition to dogs.
Find out more about Rice Bran in our article Rice Bran In Dog Food.
Find out more about Brewers Rice in our article Brewers Rice In Dog Food.
Best Dog Food With Lamb And Rice
Spot & Tango Lamb & Brown Rice Review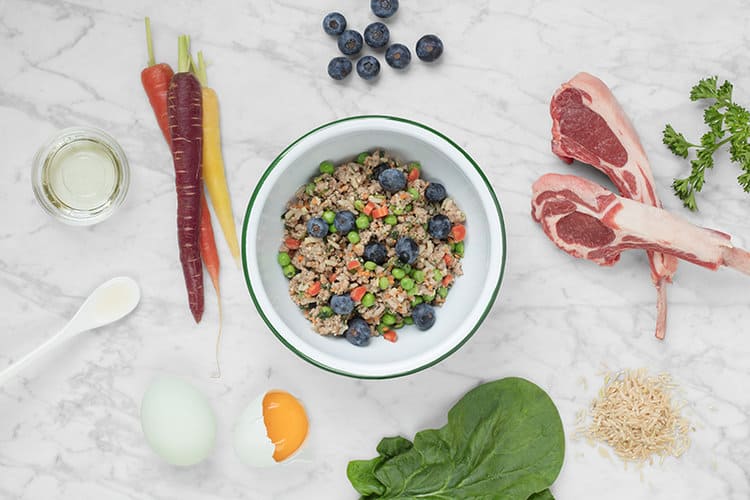 ㅤ
Spot & Tango are a growing player in the Fresh Home-Delivered dog food market. The basic concept is that they produce food from fresh and often raw ingredients, freeze it and then ship it directly to dog owners' doors in pre-portioned packaging.
Other popular players in the market include The Farmer's Dog, Ollie, and Nom Nom, several of which have seen explosive growth over the last five years.
Spot & Tango is able to do this effectively thanks to a slick sign-up process that asks questions to prospective customers such as the age, weight, breed, and activity level of their dogs. You can see a snippet from this process below.
Fresh dog food companies tend to have reasonably limited product ranges. However, we are fortunate as one of Spot & Tango recipes is a Lamb & Rice recipe.
The Lamb & Rice recipe provides an excellent overall nutritional profile with a finely tuned balance of protein, fat, and carbohydrates.
This balance is thanks to the generous portion of Lamb, which will not only be enjoyable for your dog but can provide them with the nutrition they require.
The recipe also makes use of a broad range of plant-based ingredients, including Brown Rice, Spinach, Carrots, Peas, and Blueberries. This mix contains some regulars but also some more unusual ingredients.
The core benefit of this broad mix is the range of vitamins and minerals it can provide, which are sure to ensure your dog remains healthy and active.
If you'd like to learn more about Spot & Tango, including information on the nutrition of its recipes, their ingredient selection and recall history, head on over to our Spot & Tango Brand Review.
Health Extension Lamb & Brown Rice Review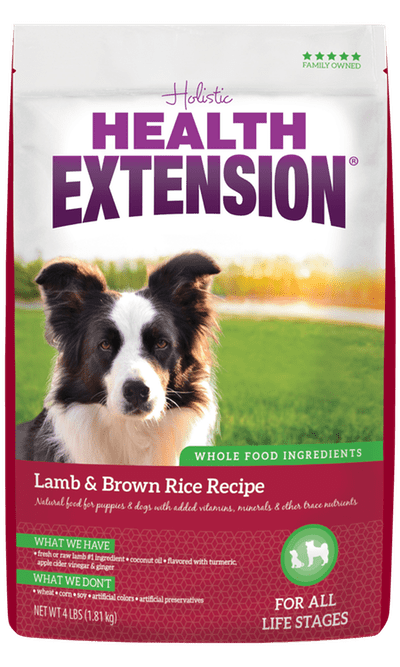 ㅤ
Health Extension is a family-owned pet food company based in the United States. Health Extension has very impressive transparency about the source of its ingredients, including an interactive map for visitors to their site to explore.
This level of transparency is unprecedented in the pet food industry and is something that many brands could learn from.
Health Extension has a moderately sized product range, which includes some popular recipes, like Lamb & Rice, but also some less common ones.
Health Extensions Lamb and Rice recipe makes use of a mix of Lamb ingredients, including Lamb and Lamb Meal.
The recipe's primary plant-based ingredient is Brown Rice. As we have discussed earlier in this article, Brown Rice is preferred to White Rice or cheaper rice-based ingredients.
However, Health Extensions Lamb & Brown Rice recipe does contain some other meat and non-meat ingredients in notable portions. Examples of these ingredients include Salmon Meal, Pearled Barley, and Oatmeal.
While all three of these ingredients could be considered high-quality to most dogs, they may not be suitable for those who need a stringent Lamb & Rice diet.
American Journey Lamb & Brown Rice Review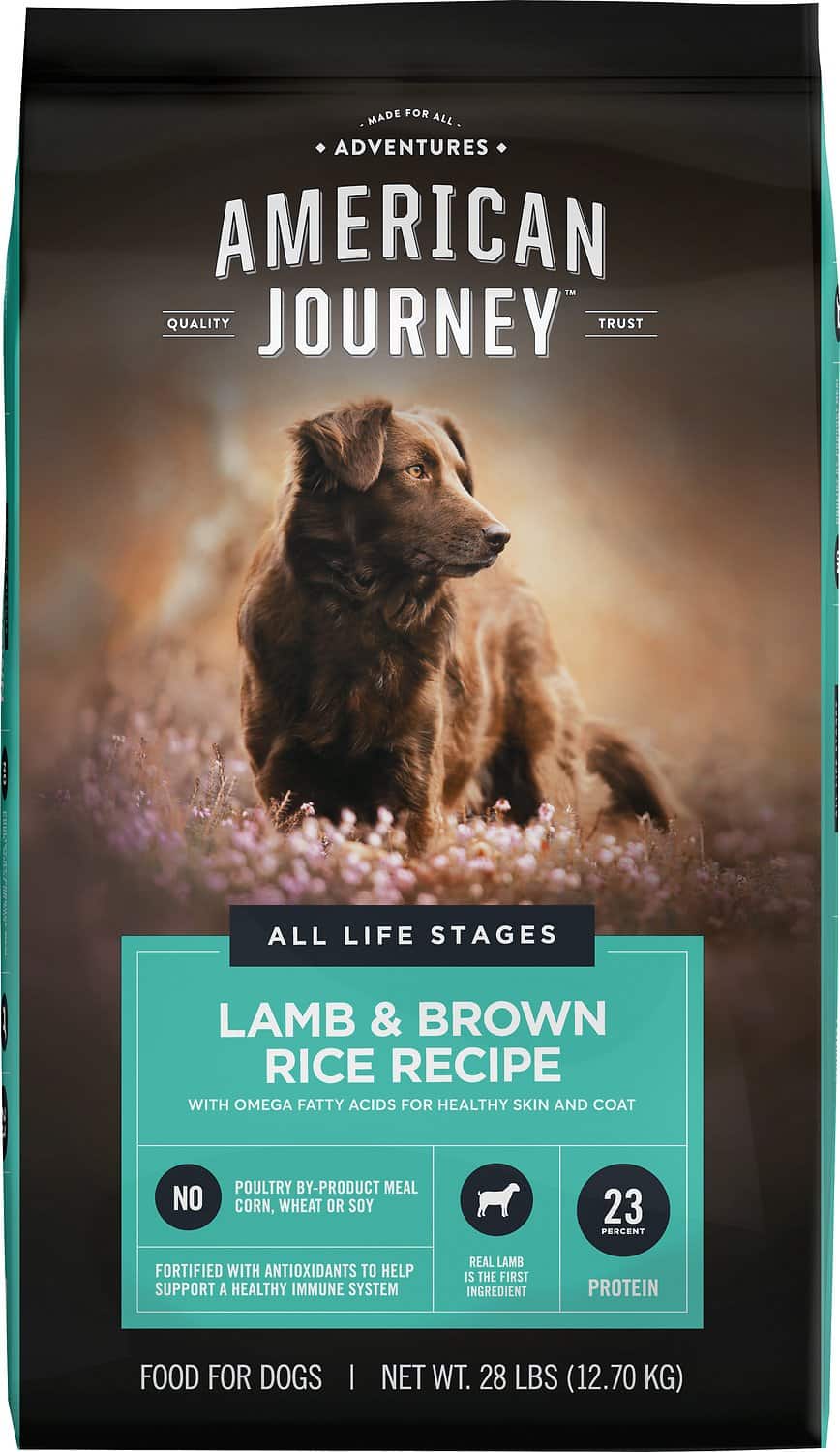 ㅤ
American Journey is a brand owned by the online pet food distributor Chewy. Until recently, American Journey products were only available on their website, but they have recently become available in PetSmart stores after PetSmart acquired the site.
American Journey doubles up on the low cost of shipping offered by Chewy by also making the formulas they produce very affordable.
The brand has a moderately sized range of products, including dry dog food, canned dog food, and limited-ingredient dog food. Their Lamb & Brown Rice recipe is one of their most popular.
A mix of Lamb and Lamb Meal are the recipe's primary ingredients and provide a satisfactory proportion of protein and fat.
Brown Rice is the primary plant-based ingredient and can provide carbohydrates and dietary fiber. As we discussed earlier, Brown Rice is preferred to White Rice. However, there is a notable portion of Peas present that provide similar nutrition.
Sadly, this formula makes use of Rice Bran and Pea Protein, which we consider to be lower-quality rice-based ingredients. We would prefer to have seen a more substantial portion of Brown Rice instead.
Diamond Naturals Lamb Meal & Rice Recipe Review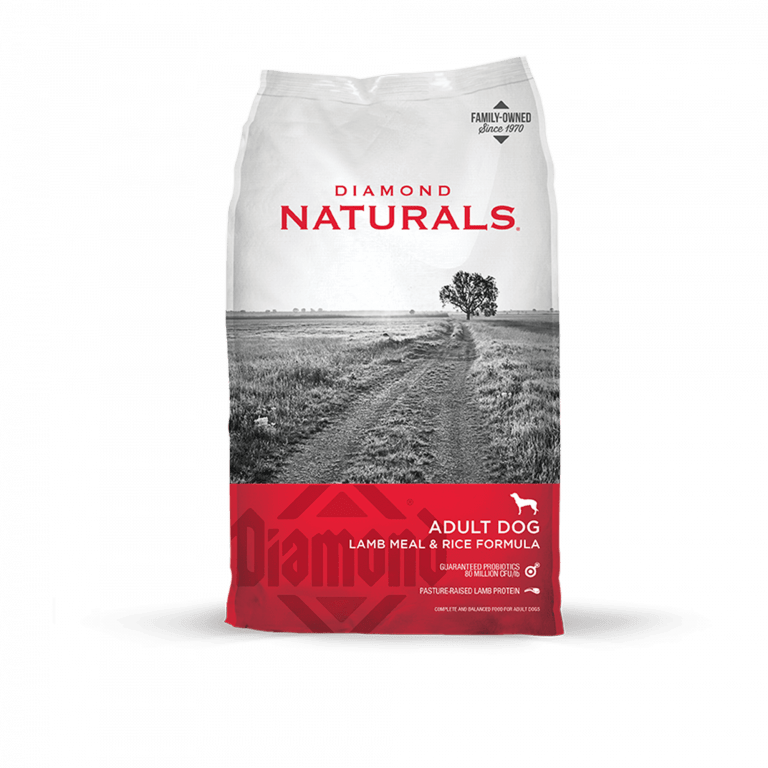 ㅤ
Diamond is a well-known pet food brand and is a popular choice for those with little cash to spare. One of the reasons that Diamond recipes are a popular choice among those on a tight budget is that Diamond formulas are sold in enormous quantities such as 35lb or 40lb bags.
Buying in bulk is more cost-effective as long as your dog(s) can consume all of the food within a reasonable time frame before it can go bad or stale.
Diamond Naturals is one of the sub-brand of Diamond and contains some of its better recipes. Most of the formulas within this range make use of named meat ingredients, which are then combined with Rice and other less abundant ingredients. As you can imagine, one of these recipes focuses on Lamb and Rice.
The Lamb & Rice formula makes use of Lamb Meal as its source of protein and fat. Along with Rice, the formula also includes Sorghum and Barley.
Barley is a frequent partner to Brown Rice, but some don't consider it to be as beneficial or nutritious. You can read more about Barley in our article Barley In Dog Food.
The formula is finished off with some Dried Beet Pulp, which adds soluble fiber to aid digestion. Find out more about Dried Beet Pulp in our article Dried Beet Pulp In Dog Food.
Blue Buffalo Adult Lamb & Brown Rice Review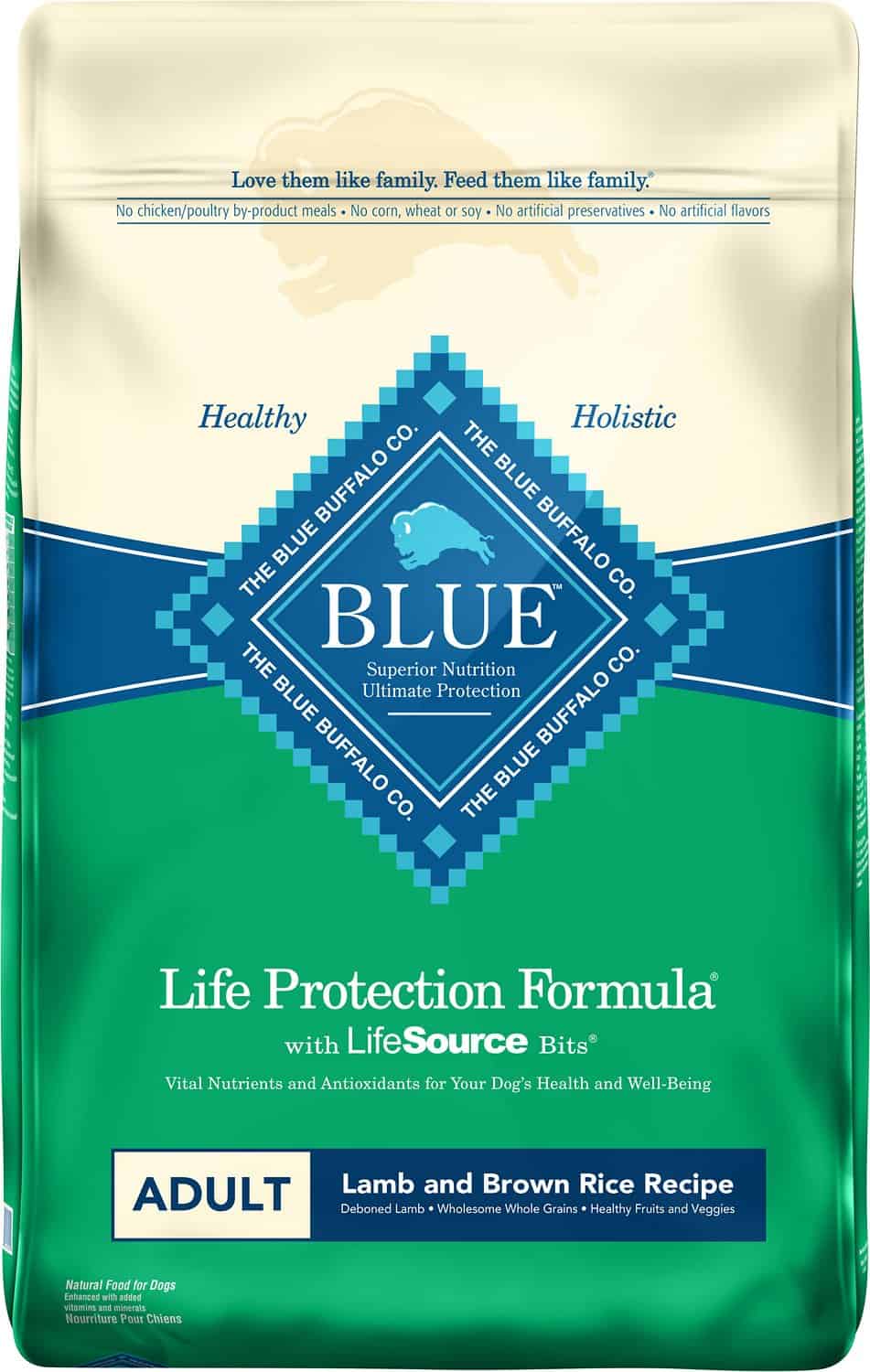 ㅤ
Blue Buffalo is a staple of chain or large pet stores like PetSmart. Blue Buffalo has a vast range of products and formulas that can often occupy an entire aisle in a single store.
While not all of Blue Buffalo's recipes are considered high-quality by our and others' high standards, some do make the cut. This is especially true when the price is taken into consideration as Blue Buffalo formulas are very affordable.
Life Protection is one of Blue Buffalo's core ranges and includes some grains but not Corn, Wheat, or Soy.
The result of this absence is several recipes that focus on a meat ingredient and Brown Rice. The formula referenced above can be thought of as the standard adult version of this that uses Lamb.
Lamb is the primary ingredient and can provide animal protein and fat. However, there is also a notable portion of Menhaden Fish Meal, which you can read about here. Brown Rice, Oatmeal, and Barley are the core grain ingredients and provide carbohydrates and fiber.
Small portions of Peas, Pea Protein, and Pea Starch are present. While normally we would be concerned by this, the portion sizes of these ingredients are not significant.
Blue Buffalo formulas regularly make use of Tomato Pomace as a source of soluble fiber. Find out more about Tomato Pomace in our article Tomato Pomace as a Pet Food Ingredient?.
Rachael Ray Nutrish Just 6 Lamb & Brown Rice Review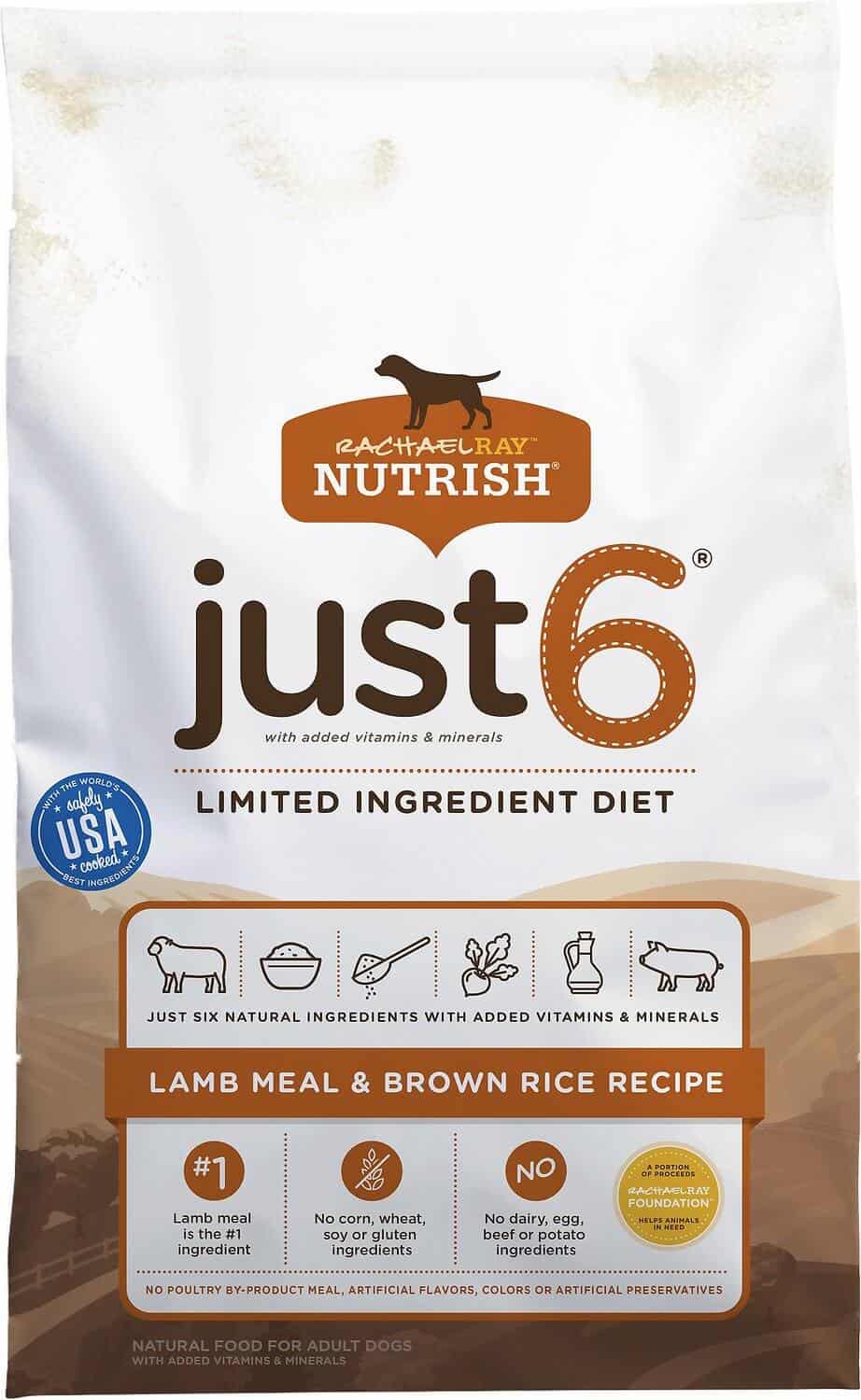 ㅤ
Rachael Ray Nutrish has featured in several of our articles, especially those that focus on lower-cost pet food. The brand is sold at many large retail and pet stores like Walmart and PetSmart.
Their Just 6 range is an appealing option to those consumers wishing to simplify their pet's diet. As the name gives away, each recipe has six core ingredients, which is significantly fewer than most dog food recipes.
This approach is commonly known as a Limited Ingredient diet, which you can read more about in our article Best Hypoallergenic Dog Foods Guide.
Lamb Meal is used as the primary ingredient and is a dense source of animal-based protein and fat.
The recipe then uses a mix of Brown Rice and Ground Rice to provide carbohydrates.
The only other notable ingredients are Beet Pulp, which we've already discussed, and Chicken Fat, which is often added to pet food to improve its flavor and overall fat proportion. You can read more about this in our article, Chicken Fat In Dog Food.
Victor Lamb Meal & Brown Rice Review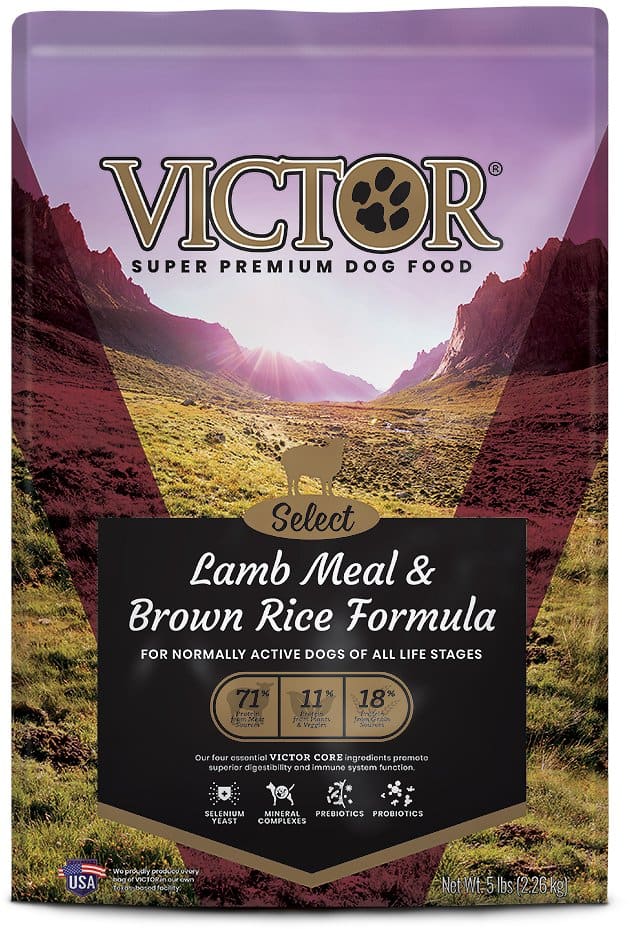 ㅤ
Victor is a popular brand among dog owners with multiple dogs, larger breed dogs, or for those owners on a tight budget.
This popularity is because Victor recipes are sold in large volumes at very affordable prices. In addition to this, Victor's lower cost does not mean they sacrifice on quality or nutrition, and they maintain a reasonable level of quality and nutrition throughout their product range.
Their Lamb Meal & Brown Rice formula is a prime example of this. While its nutrition might not be quite as impressive as some of the other recipes highlighted in this article, it is still satisfactory for most dogs that are not very active.
Lamb Meal is the only meat ingredient that features, and it provides the bulk of the recipe's protein and fat.
The Lamb Meal is joined by Brown Rice, Millet, and Sorghum. While we are very familiar with Brown Rice by now, Millet and Sorghum are less common ingredients.
However, they shouldn't be frowned upon and very viable grain ingredients preferred to others. Learn more about them in our articles Millet In Dog Food, and Sorghum In Dog Food.
Blackwood Lamb Meal & Brown Rice Review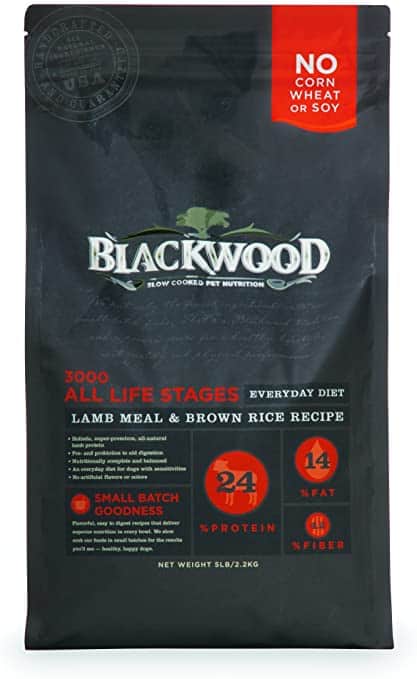 ㅤ
Blackwood describes itself as a super premium pet food brand. One of the unique traits of Blackwood is that they slow cook their dog food recipes which is not something that the majority of dog food brands do.
They claim that this slow cooking process maintains more of the ingredients nutrition than traditional cooking, although others would question this.
Blackwood has a small range of recipes, but they do have a Lamb and Rice recipe. The primary ingredient, like many in this article, is Lamb Meal which is a dense source of protein and fat. The only other meat or fish ingredient present is a small portion of Salmon Meal.
The bulk of the recipes plant matter is in the form of whole grains such as Millet, Brown Rice, and Sorghum.
As we discussed earlier, these grains are considered by many to be superior to their highly processed alternatives.
Some other pet food regulars are also present, including Beet Pulp and Tomato Pomace.