Rachael Ray Nutrish Information
As the name gives away, Rachael Ray Nutrish was designed by famous celebrity chef Rachael Ray. Ainsworth Pet Nutrition then manufactures the brand. Ainsworth Pet Nutrition is well established and has been producing pet food for over 80 years.
Rachael Ray Nutrish is widely available in most physical pet food stores, such as PetSmart. They are also available at the large online pet food retailers like Chewy, Amazon, and Petco.
Rachael Ray Nutrish foods are produced in the United States in a facility in Meadville, PA, while their wet/canned food products are made in Thailand.
We do not have definitive or explicit information on where Rachael Ray Nutrish sources their ingredients, but we presume many of them are also sourced in the United States or Canada.
Rachael Ray Nutrish Product Range
Dog Food
Rachael Ray Nutrish has a large product range of dog food recipes. This range includes both dry dog food and wet/canned dog food.
In addition, Rachael Ray Nutrish produces some niche recipes, such as limited ingredient recipes and high protein recipes.
Rachael Ray Nutrish does not produce any age-specific recipes at this time, such as puppy food or senior dog food.
Cat Food
Rachael Ray Nutrish's cat food range is of a similar size to their dog food range and includes a mix of dry food and wet/canned food.
Similar to their dog food range, they do not produce age-specific cat food such as kitten food or senior dog food.
However, they produce a variety of recipes, including limited ingredient recipes, grain-free recipes, and grain inclusive recipes.
Rachael Ray Nutrish Nutrition
Dog Food
Given the price range that most Rachael Ray Nutrish products are in, the nutrition they provide is impressive. It is usually above-average, with some recipes being significantly above-average.
This nutritional profile is thanks to the quantity of meat ingredients found in these recipes.
Cat Food
The nutrition offered by Rachael Ray Nutrish cat food is similar to its dog food in that it is impressive given its price range.
Most recipes include above-average nutrition, which includes an above-average proportion of protein and fat. However, the proportion of carbohydrates is still significant.
In an ideal world, cats would not consume large portions of carbohydrates. This is as they are obligate carnivores, and their digestive system is designed to eat a diet of meat and fish.
Rachael Ray Nutrish Ingredients
High-Quality Meat & Fish Ingredients
Chicken
Turkey
Duck
Beef
Lamb
Salmon
Rachael Ray Nutrish uses all of the common meat and fish ingredients that are found in pet food.
Ingredients such as Chicken and Beef are so popular as they are easy to source and extremely nutritious. They can provide protein and fat that should be at the core of every dog's and cat's diet.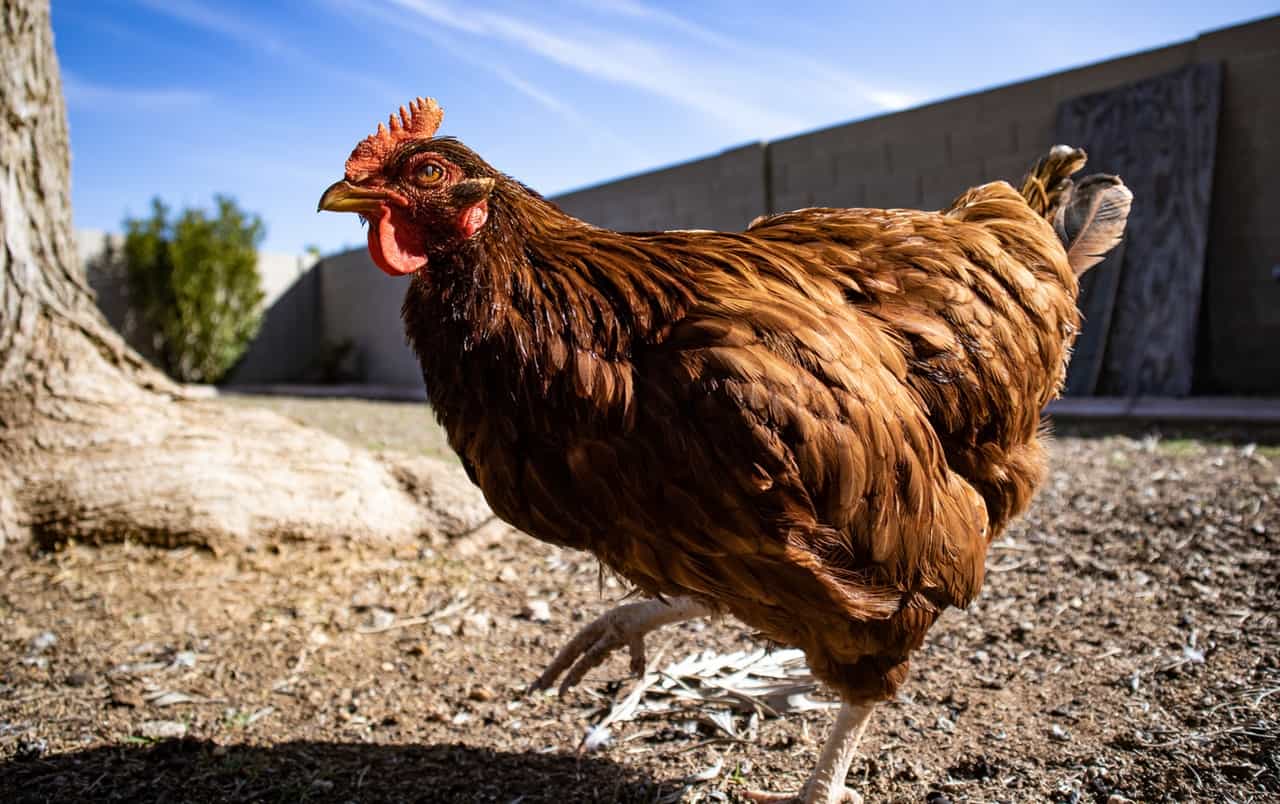 Rachael Ray Nutrish does not extensive use of more exotic or uncommon ingredients like Venison, Kangaroo, or Bison.
These ingredients are often used in Hypoallergenic dog food. You can learn more about this in our article Best Hypoallergenic Dog Foods Guide.
Other Notable Ingredients
Rachael Ray Nutirish uses the two most common legume ingredients in some of its recipes. These are Peas and Chickpeas.
These ingredients are so common as they are abundant and very cost-effective. They also provide favorable nutrition that is high in protein for a plant-based ingredient.
Potatoes and Sweet Potatoes are the two most common starch ingredients found in pet food, and they both featured in Rachael Ray Nutrisih recipes.
These ingredients are incredibly dense sources of carbohydrates, which means their portion size needs to be monitored.
Brown Rice, Corn, and Barley all feature in Rachael Ray Nutrish recipes. These are all whole grain ingredients.
Grain ingredients are quite controversial among certain circles. However, some grain ingredients such as Brown Rice are looked at more favorably by most.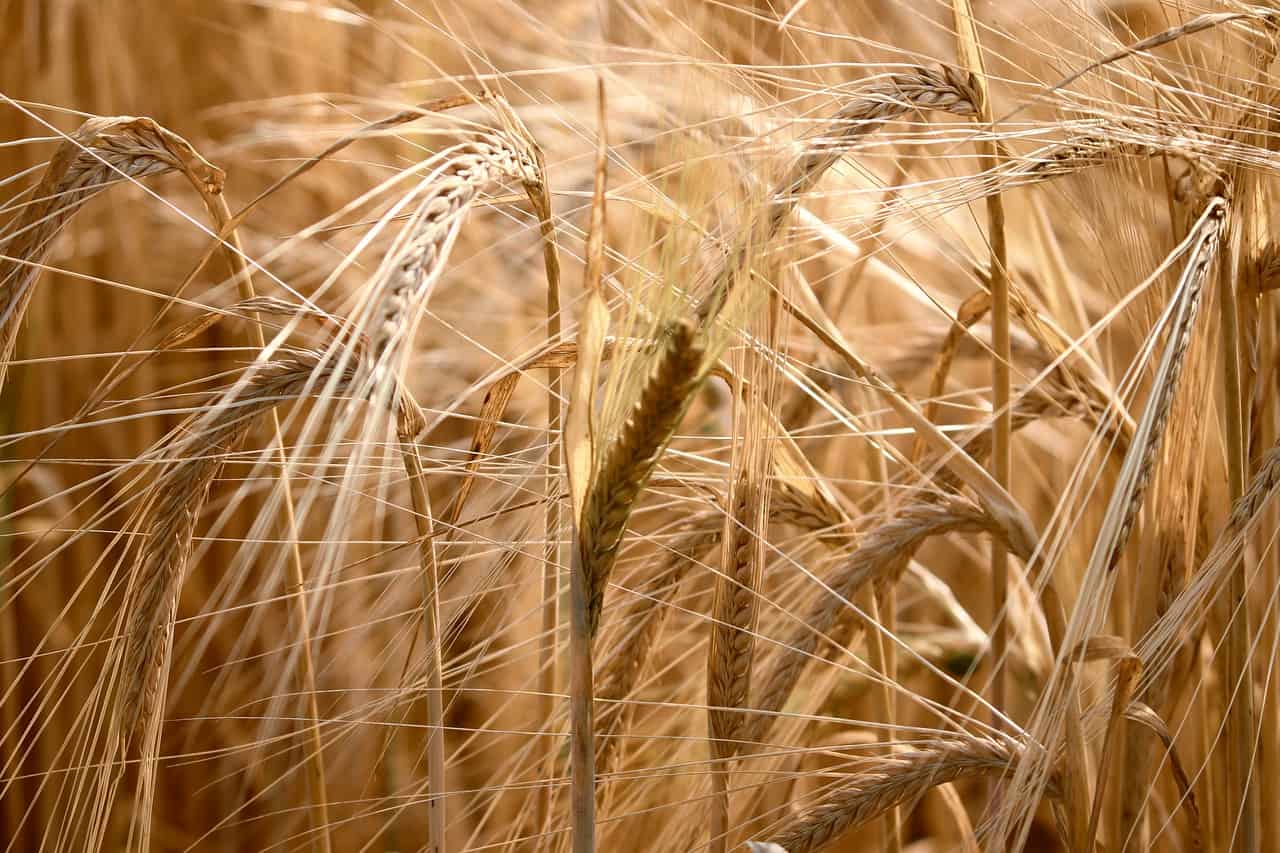 Sadly, Rachael Ray Nutrish uses a number of processed grain ingredients such as Soybean Meal, Ground Rice, Corn Gluten Meal. While there are supporters of these ingredients, most brands avoid them as most consumers do not agree with their use.
Sadly, Rachael Ray Nutrish uses some Pea By-products in its recipes, such as Pea Starch and Pea Protein.
These ingredients are not beneficial additions to dog food but are a reality of lower-cost recipes. You can learn more about these in our article Peas, Pea Protein, Pea Flour, and Pea Fiber in Dog Food.
Chicken Fat is added to pet food to improve its flavor and taste as well as boost the levels of animal-based fat found in the recipe.
It is chosen over alternatives thanks to its low price and the fact it is easy to source. Read more about Chicken Fat in our article, Chicken Fat In Dog Food.
Flaxseed is one of the best plant-based sources of the Omega 3 Fatty Acids. Many believe these fatty acids can provide several benefits to pets and humans alike. Learn more about these benefits in our article, Flaxseed In Dog Food.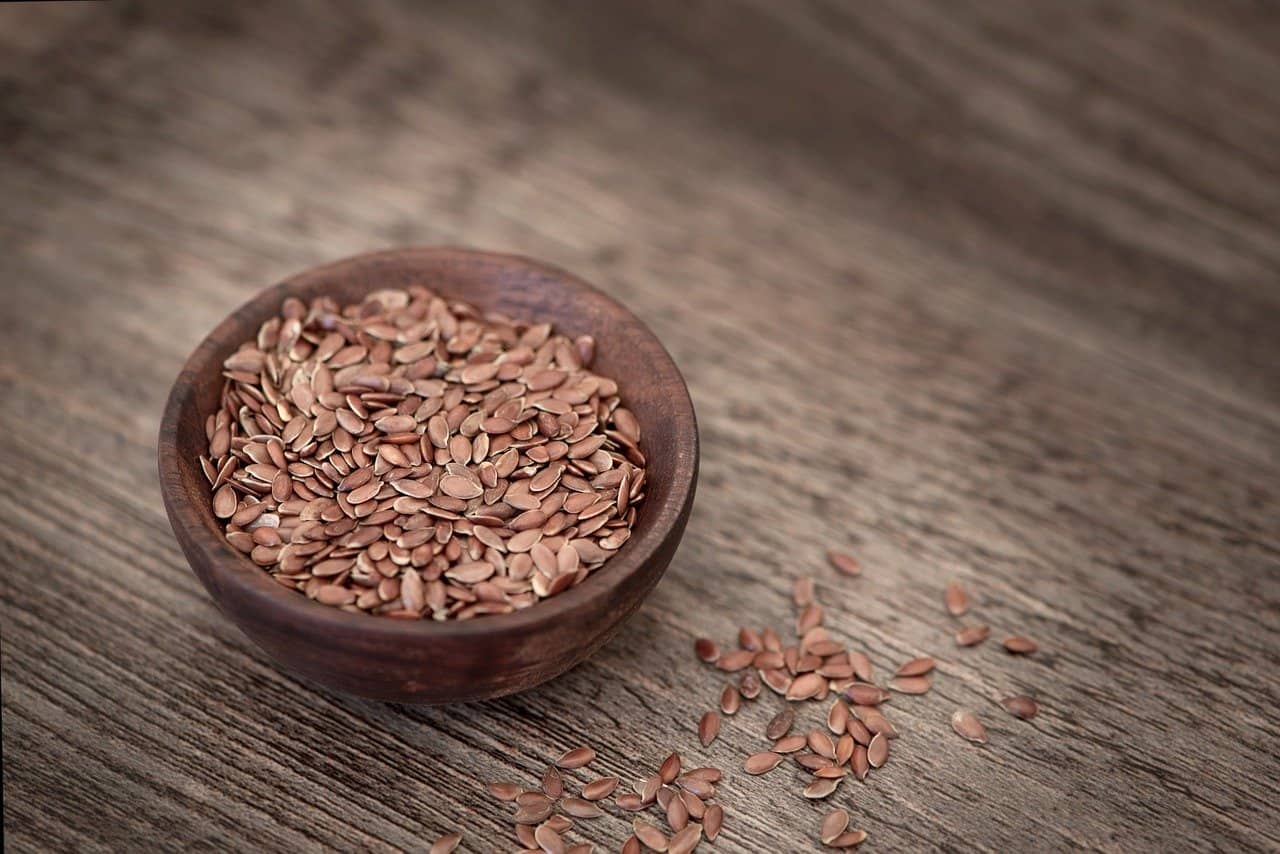 Menhaden Fish Meal is not a well-understood ingredient, but it should not be feared. Menhaden Fish are small oily fish found in the ocean. They are processed for their fish oil, and the fish left behind is an incredibly dense source of nutrition.
Many pet food brands use this to boost levels of animal-based protein and fat in their recipes. Read more about Menhaden Fish in Menhaden Fish Meal in Dog Food.
Dried Beet Pulp is added to pet food as it is an excellent source of soluble fiber. This fiber can be important for dogs to ensure they keep regular digestion and stools.
Beyond this fiber content, Beet Pulp provides very little nutrition. Learn more in Dried Beet Pulp In Dog Food.
Rachael Ray Nutrish Animal Testing
At this time, we have no information on what type of animal testing, if any, that Rachael Ray Nutrish participates in.
We strongly believe that laboratory and invasive testing of animals is a cruel and outdated practice and one which should be eliminated.
Rachael Ray Nutrish Recalls
Based on our research (FDA, AVMA, DogFoodAdvisor), Rachael Ray Nutrish is not a recall-free brand.
We always suggest that pet owners remain vigilant of any future recalls of Rachael Ray Nutrish or any other pet food brand.
Rachael Ray Nutrish Featured Articles
Best of Rachael Ray Nutrish
Peak Wetlands Recipe With Chicken, Duck & Pheasant Review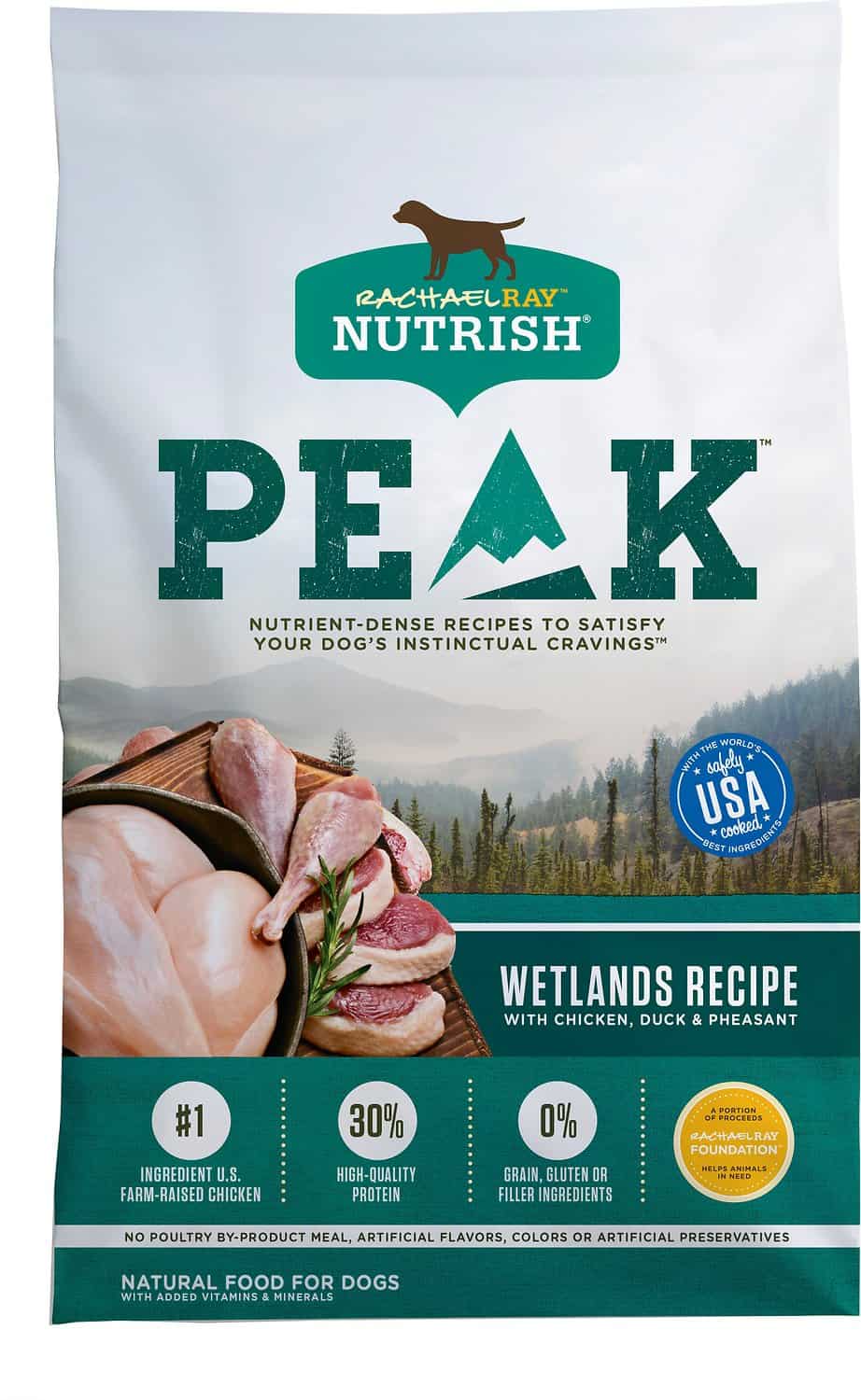 Rachael Ray Nutrish's Peak range is our favorite by far, thanks to the excellent nutrition it provides. The above Wetlands Recipe is one of the best dry food recipes available.
It makes use of a mix of poultry ingredients such as Chicken, Chicken Meal, and Turkey Meal. These ingredients are dense sources of protein and fat, which are exactly what dogs need in their diet.
The recipe then uses a mix of Pea ingredients and Potatoes. These provide a modest proportion of carbohydrates and some dietary fiber.
Peak Wild Streams Recipe With Duck & Salmon In Rustic Gravy Review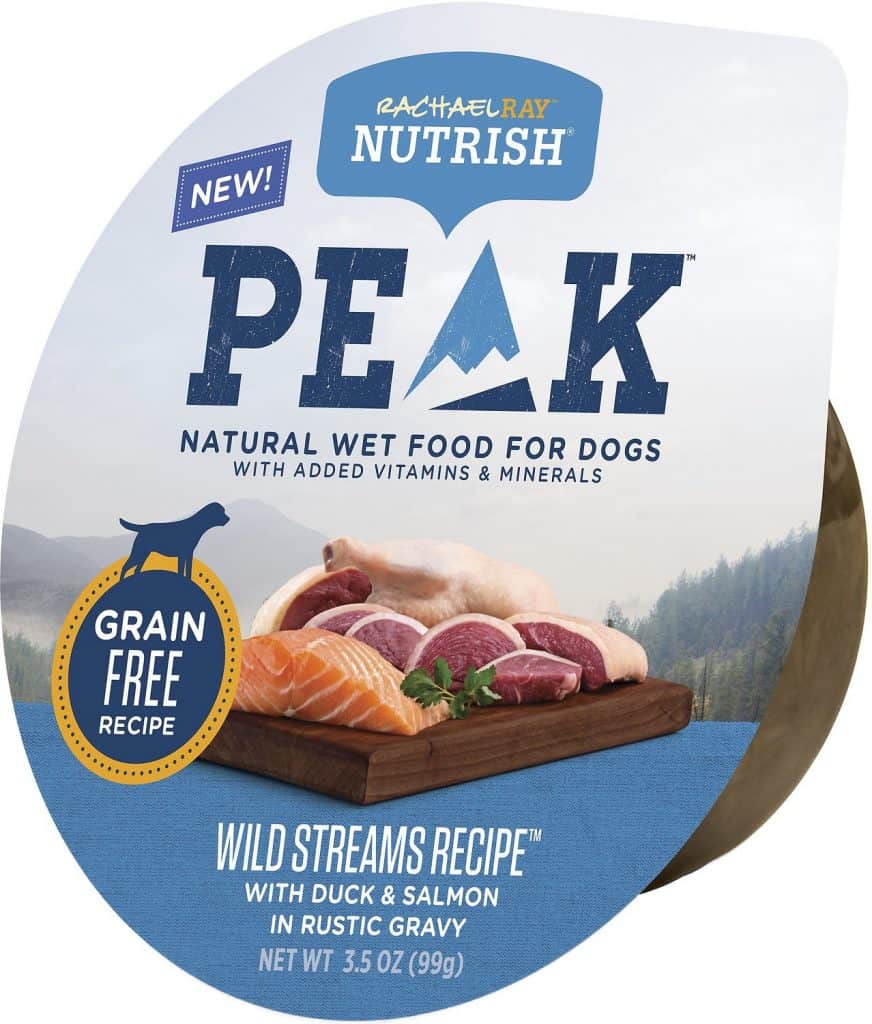 Wet dog food can be a well-deserved treat for many dogs, with them enjoying their taste and texture.
The above Peak Wild Streams recipe is bound to be appealing thanks to meat and fish ingredients, including Duck, Chicken, and Salmon.
The Chicken and Duck provide the bulk of the recipe's protein and fat, but the Salmon is a notable inclusion.
Salmon is one of the best sources of the Omega 3 Fatty Acids, which many believe can provide health benefits to dogs.
Examples of potential benefits, including healthier skin and coat and reduced risk to some health problems.
Peak Open Water Recipe With Salmon, Atlantic Cod & Mackerel Review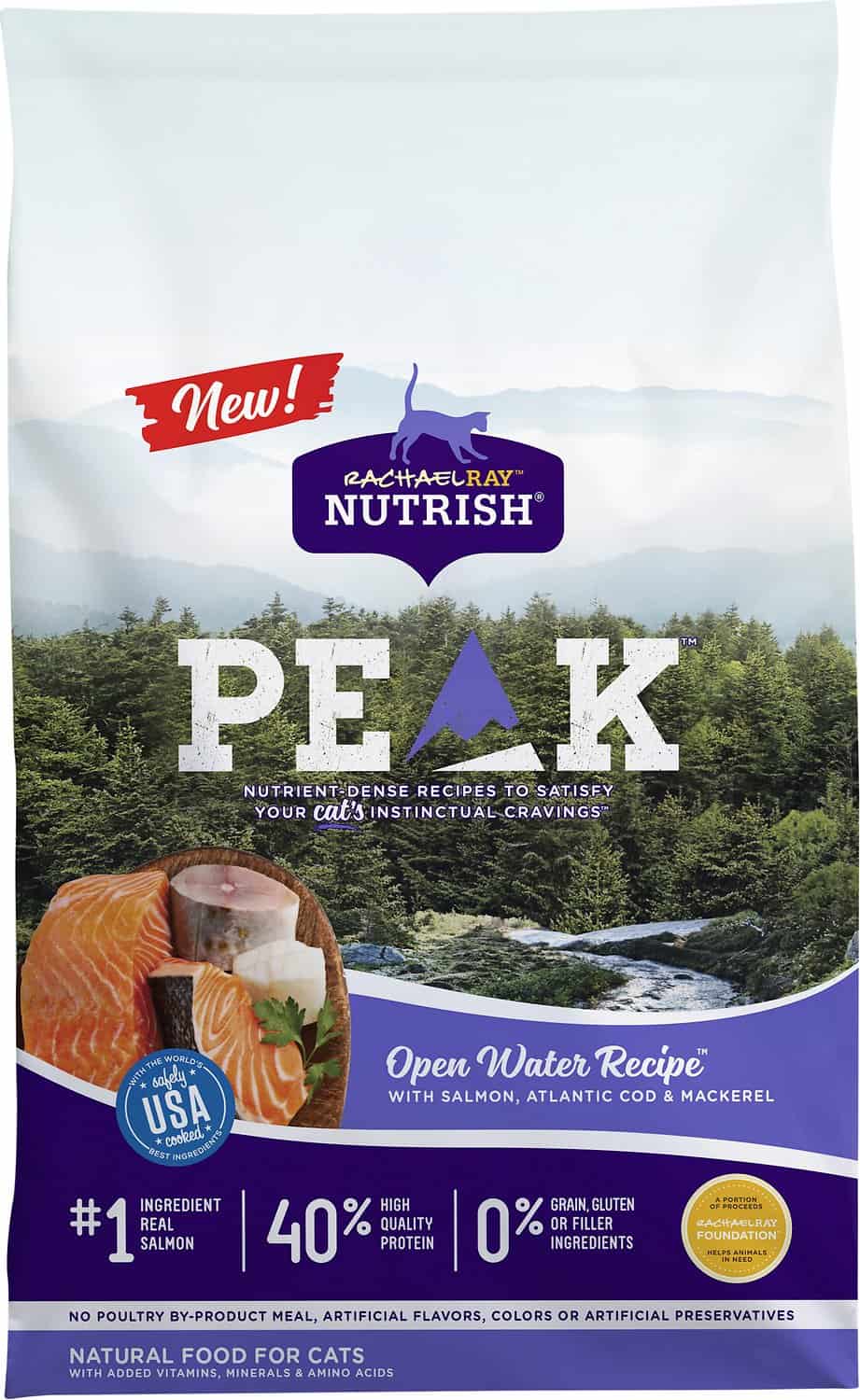 Peak Coastal Range Recipe With Real Tuna & Beef In Savory Sauce Review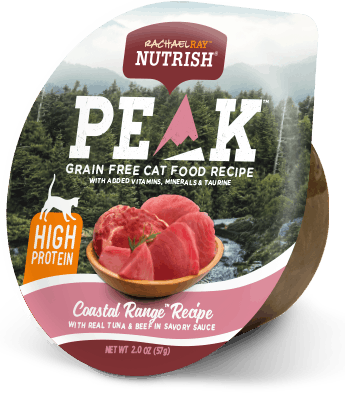 Rachael Ray Nutrish Full Product Range
Dry Dog Food
Super Premium Supermedleys Wellness Blend Superfoods & Chicken Recipe
Super Premium Supermedleys Vitality Blend Superfoods & Beef Recipe
Super Premium Real Chicken & Veggies Recipe
Super Premium Turkey, Brown Rice, & Venison Recipe
Super Premium Real Beef, Pea, & Brown Rice Recipe
Super Premium Bright Puppy Real Chicken & Brown Rice Recipe
Super Premium Little Bites Real Chicken & Veggies Recipe
Super Premium Large Breed Real Chicken & Veggies Recipe
Nutirsh Dish Chicken & Brown Rice Recipe With Veggies & Fruit
Nutrish Dish Beef & Brown Rice Recipe With Veggies, Fruit & Chicken
Nutrish Dish Grain Free Chicken & Potato Recipe With Veggies & Fruit
Just 6 Lamb Meal & Brown Rice Recipe
Just 7 Grain Free Turkey Meal & Pea Recipe
Zero Grain Turkey & Potato Recipe
Zero Grain Beef, Potato & Bison Recipe
Zero Grain Salmon, Sweet Potato & Pea Recipe
Zero Grain Chicken & Sweet Potato Recipe
Peak Open Range Recipe With Beef, Venison & Lamb
Peak Northern Woodlands Recipe With Turkey, Duck & Quail
Peak Wetlands Recipe With Chicken, Duck & Pheasant
Wet/Canned Dog Food
Peak Open Range Recipe With Chicken & Beef In Hearty Gravy
Peak Wetlands Recipe With Chicken & Duck In Rustic Gravy
Peak Wild Ridge Recipe With Chicken & Lamb In Savory Gravy
Peak Red Range Recipe With Lamb & Beef In Hearty Gravy
Peak Woodland Ranch Recipe With Beef & Duck In Savory Gravy
Peak Wild Streams Recipe With Duck & Salmon In Rustic Gravy
Super Premium Rustic Duck Stew
Super Premium Beef Stroganwoof
Super Premium Chicken Muttballs With Pasta
Super Premium Hearty Beef Stew
Super Premium Savory Lamb Stew
Super Premium Chicken Paw Pie
Dry Cat Food
Peak Indoor Formula Rustic Woodlands Recipe With Chicken, Turkey & Duck
Peak Woodland Catch Recipe With Chicken, Trout & Salmon
Peak Open Water Recipe With Salmon, Atlantic Cod & Mackerel
Zero Grain Chicken & Potato Recipe
Zero Grain Whitefish, Pea & Potato Recipe
Super Premium Real Chicken & Brown Rice Recipe
Super Premium Real Salmon & Brown Rice Recipe
Super Premium Indoor Complete Chicken With Lentils & Salmon Recipe
Super Premium Longevity Chicken With Chickpeas & Salmon Recipe
Super Premium Inner Health Turkey With Chickpeas & Salmon Recipe
Wet/Canned Cat Food
Purrfect Entrees Fin-Tastic Primavera
Purrfect Entrees Sea-Sational Florentine
Purrfect Entrees Cravin' Chicken Dinner
Peak Coastal Range Recipe With Real Tuna & Beef In Savory Sauce
Peak Wetlands Recipe With Real Chicken & Duck In Hearty Gravy
Peak Woodland Catch Recipe With Real Chicken & Trout In Savory Sauce
Purrfect Broths Savory Seafood
Purrfect Broths Classic Salmon
Purrfect Broths Creamy Seafood Bisque
Purrfect Broths Tasty Tuna
Purrfect Broths Classic Chicken
Purrfect Broths Creamy Chicken Bisque
Grain Free Beef And Chicken Catterole
Grain Free Tuna Purrfection
Grain Free Chicken & Shrimp Pawttenesca
Grain Free Paw Lickin Chicken & Liver Recipe
Grain Free Chicken Purrcata
Grain Free Ocean Fish-A-Licious
Grain Free Lip Smackin Sardine 'N Mackerel Recipe
Grain Free Ocean Fish & Chicken Catch-Iatore
Grain Free Chicken & Salmon Catterole