American Journey Information
American Journey is Chewy's own brand of pet food. American Journey is a relatively young brand and was created and distributed after Chewy has experienced success and growth by selling other brands' products.
Chewy offers some considerable discounts on American Journey, which can make it extremely affordable. These discounts can also be combined with further discounts such as Autoship and free delivery. You can learn more about Chewy's Autoship offer here.
For these reasons, American Journey is very popular among dog owners on a tight budget or dog owners with multiple large breed dogs who require a substantial volume of dog food.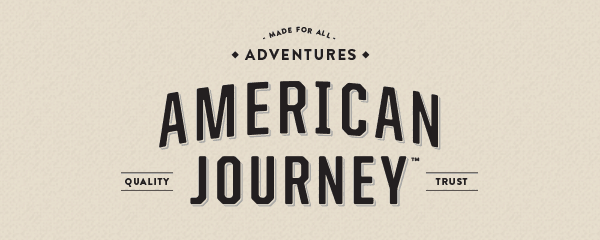 Sadly,  there is limited information on who manufacturers American Journey products; however, it is known that some of their recipes are produced in a facility in Kansas. Most of their ingredients are also sourced from within the United States, but a select few are sourced from other countries.
American Journey used to be sold exclusively on Chewy's website. However, recently, Chewy was acquired by PetSmart, and as a consequence, some of American Journey's recipes are now sold on the PetSmart website as well as in select stores.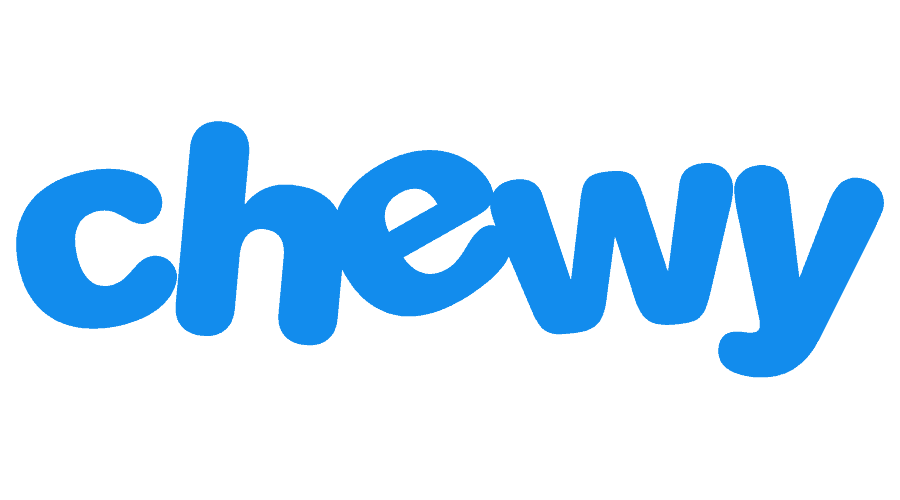 The purchase of Chewy was controversial and led to some brands such as Acana, Orijen, and Fromm to pull their products from Chewy. This withdrawal was as these brands did not want to support or have their products associated with large brands and retail stores.
American Journey Product Range
Dog Food
Given the relatively short period that American Journey has been in production, its dog food product range is quite substantial.
The bulk of American Journey's recipes consist of traditional dry dog food, some of which are grain-free and some of which are not. There is also limited ingredient dog food, puppy food, large breed dog food, and senior dog food, among a few other niche ranges.

By hitting all of niche markets and groups, American Journey can appeal to almost all dogs regardless of age, size, or activity.
In addition to dry dog food recipes, American Journey produces a smaller selection of canned dog food and dog treats. Many of the canned dog food recipes mimic or are similar to dry food recipes, which may enable you to pair them up.
Cat Food
American Journey's cat food product range is noticeably smaller than its dog food range but still has some variety.
It includes a moderate selection of dry food recipes and a more extensive selection of canned cat food recipes. The canned recipes are split between a number of styles, including stews, pate's, and "in gravy" recipes.

American Journey recently expanded this cat food range to include some niche recipes such as those for Kittens and for Indoor cats. We strongly believe that American Journey will continue this expansion in the future to other niche products.
American Journey Nutrition
Dog Food
The nutrition offered by American Journey's dry dog food products varies but is generally above average when compared to other brands.
Some of their lower-cost formulas have a nutritional profile that is acceptable to lesser or average activity dogs, but some of their premium and grain-free formulas have excellent nutrition, which is high in protein and fat.
This kind of nutritional profile would be suitable for dogs of all activity levels, including those who are very active.
This nutrition is especially impressive when you consider the price point of American Journey, which is significantly lower than many of its competitors.
The below example is the calorie breakdown of their Grain-Free Salmon & Sweet Potato recipe.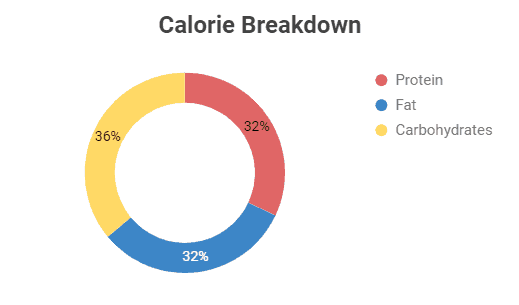 However, American Journey does use some less than ideal or favored ingredients in order to achieve this nutritional profile. Some of these will be discussed in our Ingredient Section.
If you would like to learn more about canine nutrition, we highly recommend you read our Dog Food Guide.
Cat Food
The nutrition offered by American Journey cat food also varies, in a similar fashion to the dog food range, but is generally above average.
This is especially true of their canned cat food products, which are very high in protein and fat.
This kind of nutritional profile is appropriate for cats who are obligate carnivores and do best on a diet high in animal or fish-based ingredients with minimal plant-matter.
If you are interested in learning more about feline nutrition, head over to our Cat Food Guide.
American Journey Ingredients
American Journey uses a variety of high-quality meat and fish ingredients. Some of these are listed below.
High-Quality Meat & Fish Ingredients
Chicken
Beef
Salmon
Lamb
Turkey
Duck
Venison
Tuna
While this list is not as expansive as some of American Journey's competitors, it is still varied and includes all the typical meat and fish ingredients used in dog food.
These sources can provide high-quality and highly digestible protein and fat, which is a vitally important component of a dog or cat's diet.
Some of these ingredients, such as Duck or Venison, could be considered uncommon and are used by some brands as novel meats. Novel meat diets are given to dogs with severe allergies who can not cope with traditional meat and fish ingredients.
Learn more about novel meat diets in our article Best Hypoallergenic Dog Foods Guide.

American Journey makes use of Menhaden Fish Meal. This is a common ingredient in dog food and is used to boost the proportion of animal protein and fat without splashing out on more expensive ingredients.
Find out more about Menhaden Fish Meal in our article Menhaden Fish Meal in Dog Food.
Chicken Fat is being commonly added to many dog food recipes, including those that do not contain whole chicken or chicken meal. The primary reasons for its inclusion are to boost the proportion of animal fat and to improve the taste and palatability of a dog food recipe.
Learn more in our article, Chicken Fat In Dog Food.
Low-Quality Plant-Based Ingredients
Pea Protein
Rice Bran
Brewers Rice
Sadly, American Journey makes use of Pea Protein in some of its formulas. Pea Protein is the most common low-quality or controversial ingredient that is used in dog food. It is a by-product and has a very high proportion of plant-based protein.
It is often used by manufacturers to boost the overall proportion of protein in a formula without requiring additional meat or fish ingredients.
Find out more about Pea Protein and other Pea By-products in our article Peas, Pea Protein, Pea Flour, and Pea Fiber in Dog Food.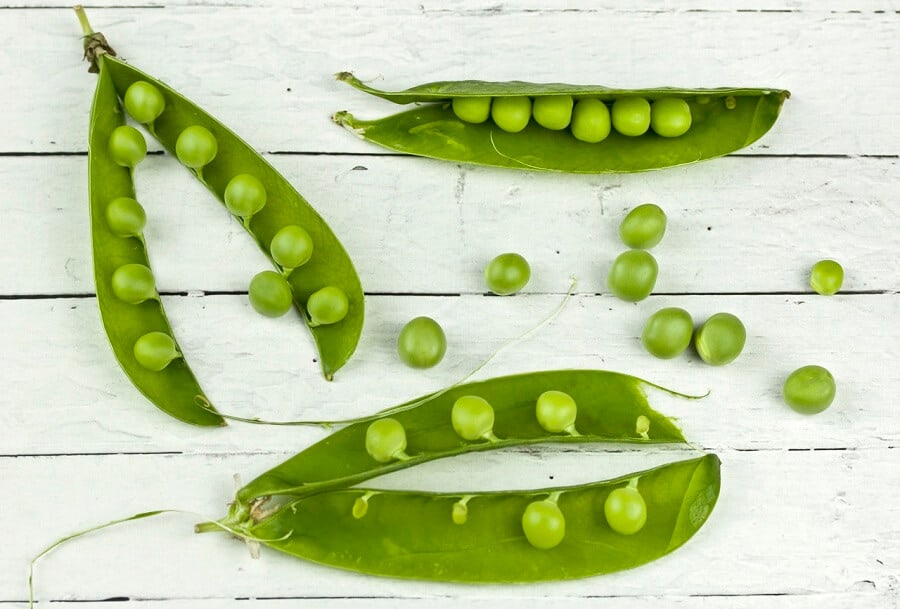 A small number of American Journey products use Rice Bran and Brewers Rice. Rice Bran and Brewers Rice are low-cost, low-quality, rice-based ingredients that are commonly found in cheap dog food. Unfortunately, they do not provide much nutritional value and are described by some as floor sweepings.
Find out more about these two ingredients in our articles Brewers Rice In Dog Food & Rice Bran In Dog Food.
Other Notable Ingredients
Tomato Pomace
Alfalfa
Beet Pulp
Flaxseed
Tomato Pomace is a common ingredient in dog food but is one that is considered by some to be controversial. It is included to add soluble fiber, which can aid a dog's digestion to make it more regular and consistent. However, some think it is a filler and are concerned about pesticides.
Find out more in Tomato Pomace as a Pet Food Ingredient?.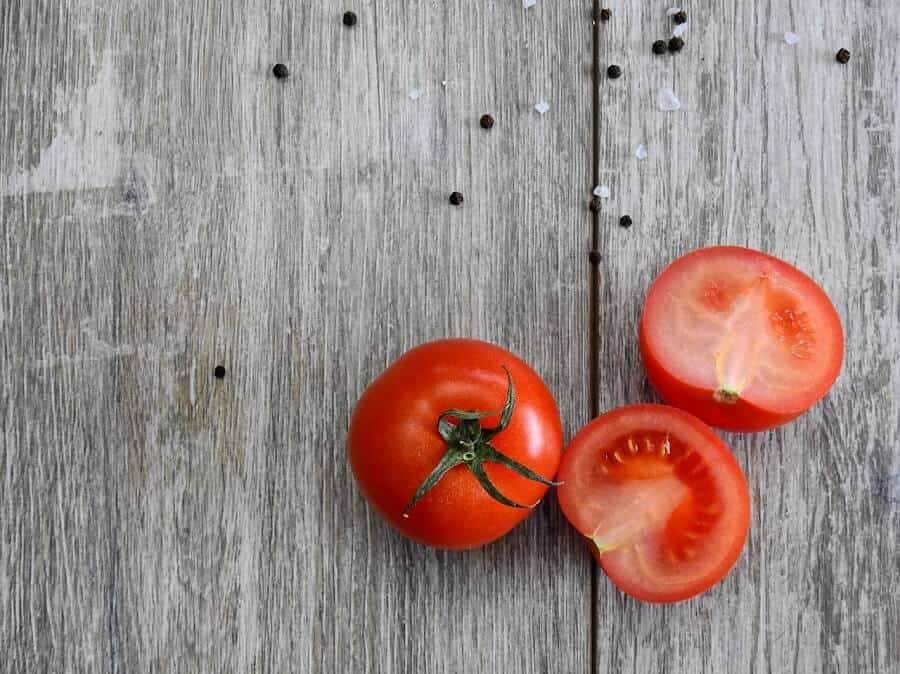 Beet Pulp is less common than Tomato Pomace but is used for the same purpose. It can provide dietary fiber for digestion. Beet Pulp is very misunderstood and actually has had all its sugar content removed.
Read more about Beet Pulp in Dried Beet Pulp In Dog Food.
Alfalfa and Flaxseed are two dietary supplements that are commonly used in dog food, and American Journey uses them throughout their product range. They can provide some health benefits and nutrients, including the Omega Fatty Acids and some vitamins and minerals.
Learn more about these in our articles Flaxseed In Dog Food & Alfalfa In Dog Food.
American Journey Animal Testing
We currently have no information on whether American Journey participates in the testing of their products on animals in a laboratory or in an intrusive manner.
However, it is likely that American Journey participates in some type of feeding trials to test their products. The treatment and welfare of animals involved in feeding trials vary, which can make it a concern.
We strongly believe that invasive or laboratory testing of animals is an outdated and cruel practice and one which we hope will be eliminated or severely reduced in the coming years.
American Journey Recalls
Based on our research (FDA, AVMA, DogFoodAdvisor), we have no information that leads us to believe that any American Journey products have ever undergone a recall.
Given the young age of the brand, this does not represent a significant trend or pattern, but we hope that American Journey takes the safety and quality control of their products seriously, especially given how fast the brand and its product range has grown over the last few years.
To keep up to date on recalls, regularly check reputable pet food sites that list and detail recall.
Despite American Journey's recall-free record, we always recommend that pet owners remain vigilant of any future recalls of American Journey or any other brand.
Best of American Journey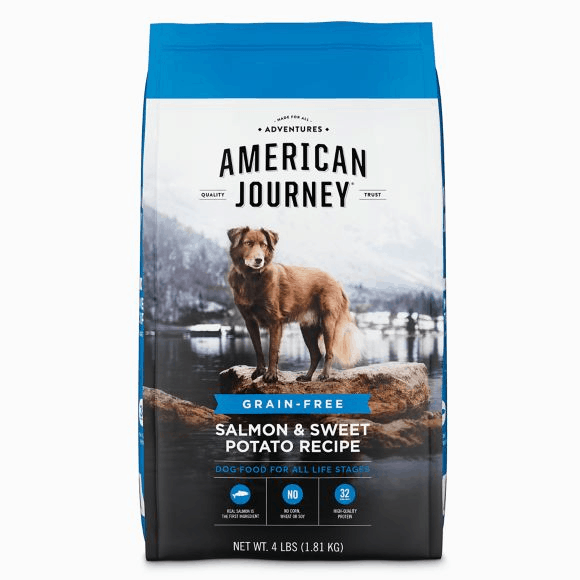 One of American Journey's best dry dog food recipes is Grain-Free Salmon & Sweet Potato. As the name might suggest, the formula's primary ingredient is Salmon, but it also makes use of poultry ingredients like Chicken and Turkey.
This mix of poultry and fish provides a satisfactory proportion of protein, and fat, in particular, the Omega 3 Fatty Acids. Salmon is a fantastic source of these fatty acids, which can provide a range of health benefits that should not be ignored.
Sweet Potatoes are the primary vegetable ingredient and are a very dense source of carbohydrates. However, they are not the only vegetable ingredient present as Peas and Chickpeas are also present.
Sadly, this formula, like many others by American Journey, makes use of Pea Protein. Pea Protein inflates the overall level of protein in a dog food formula and is inferior to animal or fish-based protein.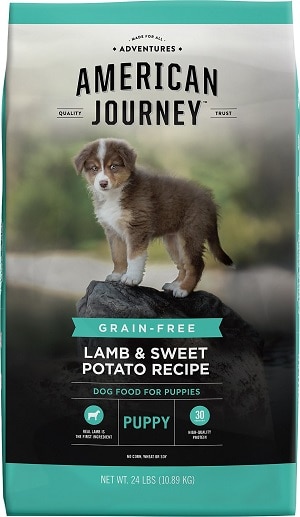 American Journey has two very similar puppy recipes, Turkey & Sweet Potato and Lamb & Sweet Potato. Both recipes provide a very satisfactory proportion of protein, which will be used to enable a puppy's growth.
This protein is from the generous portions of meat ingredients present, such as Turkey, Lamb, and Chicken. The formulas also contain Sweet Potatoes, Peas, and Chickpeas, which are all considered high-quality carbohydrate providing ingredients.
Unfortunately, American Journey's puppy recipes have a low proportion of fat in comparison to their rivals. While a high portion of fat isn't needed in a puppy's diet, it is preferred to excessive levels of carbohydrates.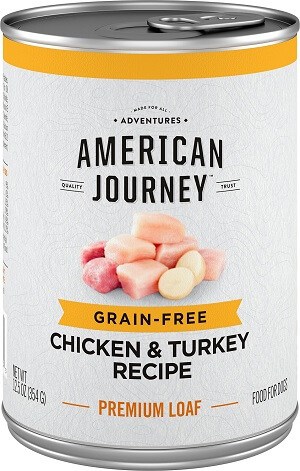 The above mentioned Chicken & Turkey recipe is straightforward and only contains a few notable ingredients. The majority of the formula is made up of poultry ingredients such as Whole Chicken, Whole Turkey, and Chicken Liver. This Chicken and Turkey provide the bulk of the recipes protein and fat content, while the Chicken Liver can provide some vitamins and minerals that traditional meat cuts lack.
The formula also includes a small portion of White Potatoes. We don't believe that White Potatoes are the most appropriate carbohydrate ingredient for dog food, but given the small portion size here, you should not be overly concerned.
Potatoes can offer a small number of other micronutrients and dietary fiber and should, therefore, be considered a step up from low-quality fillers.
Salmon Recipe Review

The four dry cat food recipes from American Journey are incredibly similar. They all offer identical nutrition, which is high in protein as well as providing a moderate proportion of fat. The only difference between them is what meat or fish ingredients they choose to utilize.
This is where the Salmon recipe comes out slightly ahead. As discussed in relation to dog food, Salmon can provide a high level of the Omega 3 Fatty Acids. These fatty acids offer a number of health benefits. The level of these fatty acids in the salmon recipe compared to the other recipes is as much as three times more concentrated.
The dry cat food recipes also include Tapioca, Peas, Menhaden Fish Meal, Canola Oil, and Flaxseed. All of these ingredients are very regular features in dog and cat food.
Sadly some of these ingredients are vegetable by-products such as Pea Protein. These are not ideal ingredients in a cat's diet. However, their inclusion is not surprising given American Journey's price range.
Minced Turkey Recipe In Gravy Review

There is more variety available in American Journey's wet cat food range. This variety includes "in gravy" recipes, which come out as our favorite of the bunch.
The nutrition offered by the above-mentioned Turkey Recipe In Gravy is fantastic and is almost entirely protein and fat, which is the ideal nutritional profile for a cat.
This protein and fat in this recipe is provided by Turkey, Turkey Liver, and Egg Whites. These are high-quality sources of nutrition, especially the Turkey Liver, which can provide additional nutrition in the form of less common vitamins and minerals.
The recipe does contain a small portion of Peas, but this portion is small enough that it is not worthy of concern or worry.
American Journey Featured Articles
Best Dry Dog Food – In one of our most in-depth articles, we discuss dry dog food, which is the most popular variety. We discuss the advantages and disadvantages, along with key traits.
Finally, we recommend a large range of dry dog recipes, including one from American Journey.
Best Cheap Dog Food – Many dog owners are on a tight budget but don't want to have to feed their canine friend low-quality or junk dog food.
This article discusses what to look out for and makes some recommendations, including some American Journey products.
Best Puppy Food – A nutritious and high-quality diet during the puppy stage of a dog's life is critical to their long term health and happiness.
This article discusses the differences between adult and puppy food before it suggests some of the best puppy food recipes on the market.
Best Canned Dog Food – Canned food is often neglected by many dog owners but can be used as a dog's primary food source or as a treat or reward.
This article discussed the differences between dry and canned food and showcases a variety of recipes.
Best Senior Dog Food – While not all dog owners opt to transition their dogs to a senior recipe, it is a growing trend. Senior recipes are tailor-made to aid aging dogs and some of the health issues they encounter.
Be sure to check this article out if you think your senior dog could benefit from a switch.
Best Dog Food With Salmon – Salmon is a fantastic ingredient that can provide dogs with high-quality protein and fat and a high portion of the Omega 3 Fatty Acids.
This article discusses this and highlights some of the best Salmon focused formulas on the market.
Best Non-Grain Free Dog Foods – While grain-free dog food has seen a huge surge over the last two decades, there are many dog owners who wish to stick with grain ingredients.
In this article, we discuss this and recommend some grain-inclusive dry dog food recipes from several brands, including American Journey.
Best Dog Food Made In The USA – Many Americans are looking to purchase US-based products wherever possible, and dog food is no exception.
In this article, we discuss the benefits of dog food made in the USA and recommend our favorite recipes. American Journey recipes are made in the USA, which earns them a spot here.
Best Cat Food Made In The USA – Similar to above, consumers are also looking to purchase US-made cat food recipes.
There is a huge number of US-based cat food brands, including American Journey, and we recommend a variety of recipes.
Best Dog Food With Chicken and Rice – Chicken and Rice dog food recipes have been a staple for decades. They are often given to dogs who need simple diets or who have digestive issues.
In this article, we discuss the benefits and uses of Chicken and Rice recipes and give a lengthy list of recommended recipes from a number of brands.
Best Dog Food With Lamb And Rice – Similar to above, Lamb and Rice is another staple of the industry, although not as popular as Chicken and Rice.
American Journey, along with several other brands, features in our recommendations of high-quality Lamb and Rice recipes.
Best Dog Food With Lamb – Lamb is a relatively uncommon food in many parts of North America, but it does consistently feature in dog food recipes.
It offers a rich flavor and excellent nutrition, which can make it a good choice for some dogs. In this article, we discuss Lamb and showcase a number of Lamb recipes, including one from American Journey.
Best Dog Food With Duck – Similar to above, Duck is another ingredient that is rarely eaten in North America but is often seen in dog food recipes.
American Journey is one of a select number of brands to use Duck, and their Duck recipe features here.
Best Dog Food For Border Collies – Border Collies are a distinctive dog breed that is best known for herding Sheep. They are often extremely active and so need an appropriate diet high in protein and fat.
In this article, we discuss the nutritional needs of Border Collies and recommend some dog food recipes, including a high protein recipe from American Journey.
American Journey Full Product Range
Dog Food
Dry Dog Food
Chicken & Sweet Potato Recipe
Beef & Sweet Potato Recipe
Lamb & Sweet Potato Recipe
Large Breed Chicken & Sweet Potato Recipe
Large Breed Salmon & Sweet Potato Recipe
Lamb & Sweet Potato Puppy Recipe
Chicken & Sweet Potato Puppy Recipe
Chicken & Sweet Potato Large Breed Puppy Recipe
Healthy Weight Chicken & Sweet Potato Recipe
Chicken & Sweet Potato Senior Recipe
Active Life Chicken, Brown Rice & Vegetables Recipe
Active Life Salmon, Brown Rice & Vegetables Recipe
Active Life Beef, Brown Rice & Vegetables Recipe
Active Life Lamb, Brown Rice & Vegetables Recipe
Active Life Large Breed Chicken, Brown Rice & Vegetables Recipe
Active Life Large Breed Salmon, Brown Rice & Vegetables Recipe
Active Life Large Breed Chicken, Brown Rice & Vegetables Puppy Recipe
Active Life Large Breed Salmon, Brown Rice & Vegetables Puppy Recipe
Active Life Small Breed Chicken, Brown Rice & Vegetables Recipe
Active Life Small Breed Salmon, Brown Rice & Vegetables Recipe
Active Life Chicken, Brown Rice & Vegetables Puppy Recipe
Active Life Salmon, Brown Rice & Vegetables Puppy Recipe
Active Life Healthy Weight Chicken, Brown Rice & Vegetables Recipe
Active Life Healthy Weight Salmon, Brown Rice & Vegetables Recipe
Active Life Chicken, Brown Rice & Vegetables Senior Recipe
Active Life Salmon, Brown Rice & Vegetables Senior Recipe
Limited Ingredient Salmon & Sweet Potato Recipe
Limited Ingredient Duck & Sweet Potato Recipe
Limited Ingredient Lamb & Sweet Potato Recipe
Limited Ingredient Turkey & Sweet Potato Recipe
Limited Ingredient Venison & Sweet Potato Recipe
Landmark Plateau Blend With Angus Beef and Pork
Landmark Delta Blend With Rainbow Trout and Herring
Landmark Trailhead Blend With Cage-Free Chicken & Turkey
Canned Dog Food
Chicken & Vegetable Stew
Beef & Vegetable Stew
Beef & Chicken Recipe
Limited Ingredient Lamb & Sweet Potato Recipe
Limited Ingredient Duck & Sweet Potato Recipe
Limited Ingredient Chicken & Sweet Potato Recipe
Dog Treats
Beef Recipe Training Bits
Salmon Recipe Training Bits
Chicken Recipe Training Bits
Oven Baked With Peanut Butter
Oven Baked Lamb Recipe
Oven Baked Chicken Recipe
Oven Baked Salmon Recipe
Oven Baked Turkey Recipe
Snacking Sticks Lamb Recipe
Snacking Sticks Chicken Recipe
Snacking Sticks Beef Recipe
Soft Baked Beef Recipe
Soft Baked Chicken Recipe
Soft Baked Turkey Recipe
Beef Jerky
Chicken Jerky
Turkey Jerky
Limited Ingredient Salmon & Sweet Potato Recipe
Limited Ingredient Duck & Sweet Potato Recipe
Limited Ingredient Turkey & Sweet Potato Recipe
Limited Ingredient Lamb & Sweet Potato
Limited Ingredient Lamb Recipe
Limited Ingredient Duck Recipe
Limited Ingredient Salmon Recipe
Trail Bites Peanut Butter Flavor
Trail Bites Salmon Recipe
Trail Bites Chicken Recipe
Large Dental Treats Mint Flavor
Medium Dental Treats Mint Flavor
Extra Small Dental Treats Mint Flavor
Small Dental Treats Mint Flavor
Large Dental Treats Original Flavor
Medium Dental Treats Original Flavor
Small Dental Treats Original Flavor
Extra Small Dental Treats Original Flavor
Landmark Beef Recipe
Landmark Lamb Recipe
Landmark Salmon Recipe
Landmark Chicken Recipe
Landmark Freeze-Dried Chicken Treats
Landmark Freeze-Dried Beef Treats
High-Protein Biscuits Chicken Recipe
Cat Food
Dry Cat Food
Turkey & Chicken Recipe
Salmon Recipe
Chicken Recipe
Duck Recipe
Kitten Chicken Recipe
Indoor Recipe With Chicken
Indoor Recipe With Turkey & Chicken
Canned Cat Food
Chicken Pate Recipe
Turkey Pate Recipe
Salmon Pate Recipe
Chicken & Tuna Pate Recipe
Beef & Chicken Pate Recipe
Turkey & Salmon Pate Recipe
Kitten Chicken Pate Recipe
Indoor Chicken Pate Recipe
Minced Salmon & Tuna Recipe In Gravy
Minced Chicken Recipe In Gravy
Minced Chicken & Tuna Recipe In Gravy
Minced Chicken & Turkey Recipe In Gravy
Minced Chicken & Salmon Recipe In Gravy
Minced Turkey Recipe In Gravy
Minced Turkey & Salmon Recipe In Gravy
Minced Kitten Chicken Recipe In Gravy
Minced Indoor Chicken Recipe In Gravy
Landmark Chicken & Turkey Recipe In Broth
Landmark Chicken Recipe In Broth
Landmark Tuna & Tilapia Recipe In Broth
Landmark Mackerel & Tuna Recipe In Broth
Landmark Chicken & Vegetables Recipe In Broth
Landmark Salmon Recipe In Broth
Cat Treats
Landmark Broths Chicken, Carrots, and Pumpkin Recipe
Landmark Broths Tuna, Shrimp and Whitefish Recipe
Landmark Broths Tuna Anchovies and Whitefish Recipe
Landmark Broths Salmon, Tomatoes & Kale Recipe
Freeze-Dried Chicken Treats
Freeze-Dried Salmon Treats