What Is Lamb?
Lamb is produced from domesticated sheep. However, not all sheep meat is Lamb. Usually, only meat from sheep under the age of one is considered to be Lamb.
Meat from older sheep is called Hogget or Mutton. While Mutton is far less common than Lamb, it is available.
The vast majority of LambLamb that is sold for human or pet use in the western world is from New Zealand, Australia, or the UK.
These countries have ideal conditions for sheep, as well as a tradition of farming them. While some sheep are farmed in the United States, it is a tiny amount when compared to Chicken, Beef, or Pork.
Generally speaking, Lamb is more expensive than most other meats, especially poultry. This higher cost is as Lamb cannot be intensively farmed to the extent that other animals can be.
Sheep are often left to roam vast hillsides and do not have their diets supplemented with calorie-dense foods such as grains.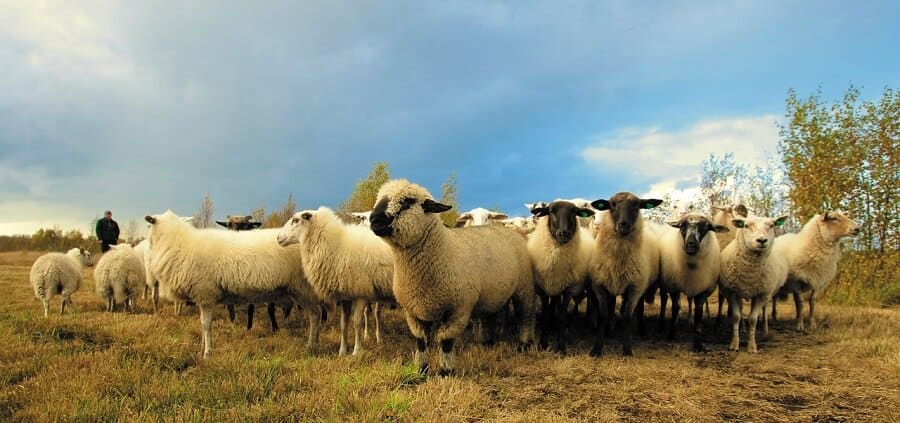 Lamb In Dog Food
While Lamb is certainly not as commonly used in dog food as Chicken or Beef, it is still a regular feature, and most of the big brands have at least one recipe that utilizes Lamb.
Lamb is sometimes used in dog food recipes that are aimed at dogs with severe allergies or sensitivities.
This use of LambLamb is as many dogs do not react well to the most common meat ingredients like Chicken and Beef.
In addition, many dog food brands produce red-meat-themed recipes that feature Lamb alongside other red meat ingredients. An example of this could be a recipe with Beef, Lamb, and Pork.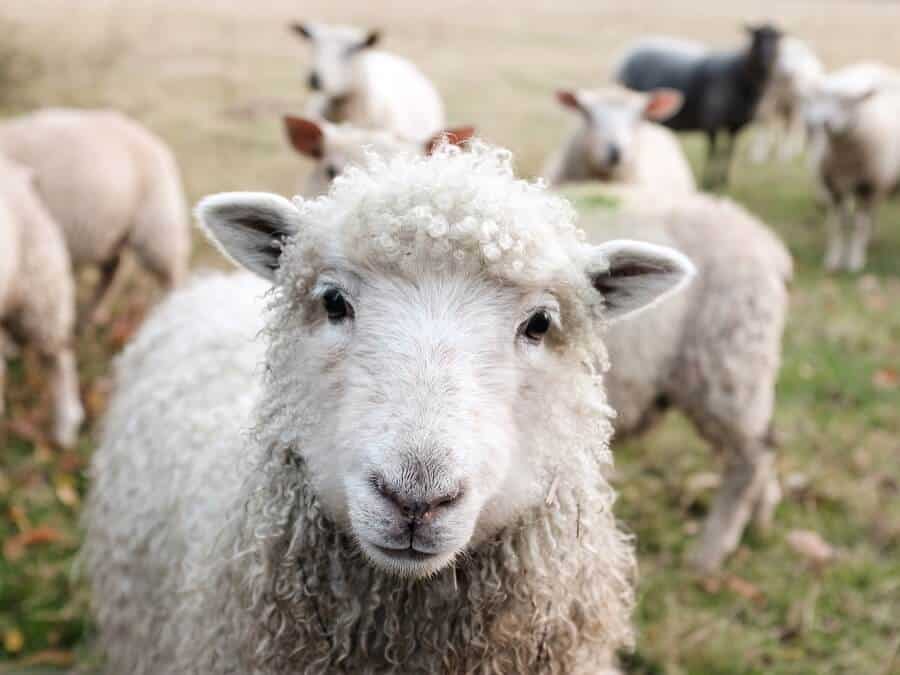 Lamb Nutrition
Lamb is a fantastic source of animal protein, just like other red meat ingredients. Protein is vital to dogs as it is required to repair, build, maintain their bodies, muscles, and tissues.
In particular, more active dogs need a higher quantity of protein in their diet to recover from such activity quickly.
Lamb can contain higher levels of fat than other red meats such as Beef. However, this heavily depends on the cut of Lamb used.
It is likely that less desirable cuts of Lamb are used in dog food, which is more often those with a higher proportion of fat.
However, Animal fat is not a negative addition to a dog's diet and can act as a concentrated source of energy.
Once again, dogs with higher levels of activity may need additional fat to provide them with sufficient energy. Some dogs, such as those who are senior or inactive, may need to restrict how much fat they consume to avoid obesity or weight gain.
Lamb contains a variety of Vitamins and Minerals, and some of the more prominent of these include Vitamin B12, Iron, Zinc.
While these vitamins and minerals are not unique to Lamb and are found in other meat ingredients, they are essential for healthy blood, nerves, and hormones.
Best Dog Food With Lamb
Ziwi Peak Air-Dried Lamb For Dogs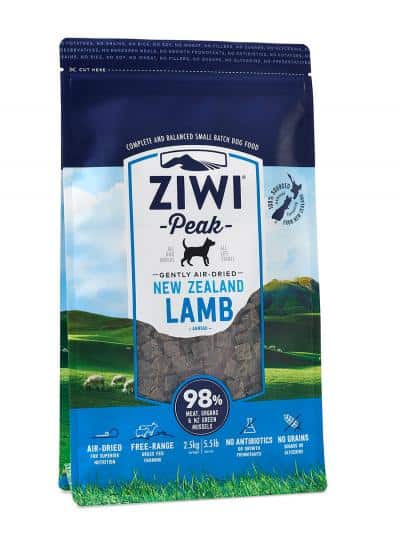 ㅤ
Ziwi Peak produces a fantastic quality air-dried dog food range and is one of the leaders in this niche market.
The brand is based in New Zealand, so it will come as no surprise that Lamb features prominently. However, they do have some non-Lamb recipes, including a recently launched Chicken recipe.
The most notable advantage of air-dried dog food is that it consists entirely of meat and has no significant vegetable, grain, or fruit ingredients.
By eliminating these plant-based ingredients, you can reduce the risk of your dog experiencing allergies or sensitivities to plant-based material.
The other core advantage of air-dried dog food is that it can provide excellent nutrition. Thanks to a lack of plant-based material, the portion of protein and fat is immense and sufficient for dogs of all activity levels.
The unfortunate disadvantage of Air Dried Dog Food is that it is costly and, therefore, might not be a realistic solution for the majority of dog owners.
If you are looking for more cost-effective lamb recipes, then keep reading, but if, however, you are determined to make air-dried food viable, you could consider feeding your dog a mixture of Air Dried Dog Food and fresh ingredients.
This approach could be a lot more realistic in cost. Ingredients such as fresh fruit and vegetables are ideal to combine with a diet of air-dried dog food.
Ollie Tasty Lamb Fare Review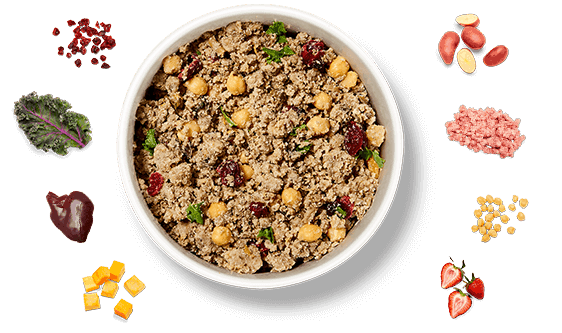 ㅤ
Ollie is a fresh, home-delivered dog food company. This niche of dog food has picked up some serious steam recently, and Ollie is one of the leaders.
Their recipes are shipped frozen to ensure they stay safe to consume. In addition, they offer subscription services to ensure you always have a plentiful supply of their food.
Fortunately for us, one of Ollie's four recipes is Lamb-themed. The recipe's primary ingredients are a  variety of Lamb ingredients, including Lamb, Lamb Heart, and Lamb Liver. This mix of ingredients provides a very large and satisfactory proportion of protein and fat.
In addition, the organ meat ingredients such as Lamb Heart and Lamb Liver can provide additional vitamins and minerals that traditional meat cuts lack.
The core vegetable ingredients of the recipe are Butternut Squash, Rutabaga, Chickpeas, and Potatoes.
This large portion of Squash is very unusual when compared to most dog food recipes, but it could be beneficial to dogs who need assistance with their digestion.
For a full list of ingredients found in this recipe and the Guaranteed Analysis, check out Ollie's recipe page, which can be found here.
Zignature Lamb Formula Review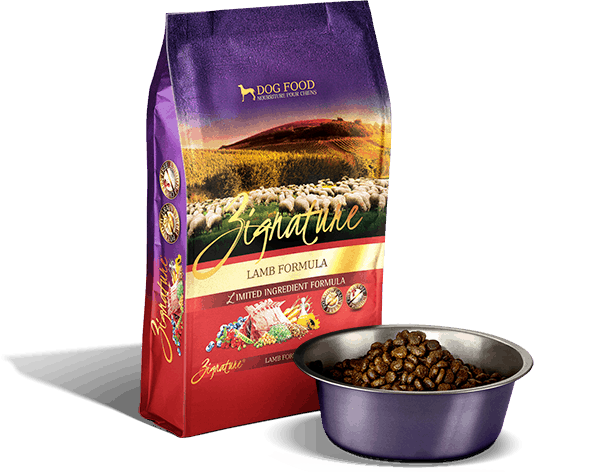 ㅤ
Zignature believes that all dog food should be based on a limited-ingredient diet. The most significant advantage of their approach is it gives them a vast range of limited ingredient formulas, far more than any other brand.
There are thirteen formulas in total, and we consider all but one of them to be a limited ingredient formula.
A number of these formulas could be regarded as Novel Meat formulas, which are those that use unusual or unique meat ingredients like Kangaroo or Venison.
It will come as no surprise that we are going to discuss the Lamb Formula from Zignature. It maintains a high proportion of protein and fat, while many of its competitors can only ensure a high ratio of just one of these vital nutrients.
This excellent nutrition is thanks to the recipe's use of a large portion of Lamb and Lamb Meal.
The recipe also contains Peas and Chickpeas, which are utilized as a source of carbohydrates and fiber.
Sadly, the recipe does make use of Pea By-products like Pea Protein and Pea Flour. These are not considered to be high-quality ingredients.
Learn more about these in our article Peas, Pea Protein, Pea Flour, and Pea Fiber in Dog Food.
American Journey Lamb & Sweet Potato Review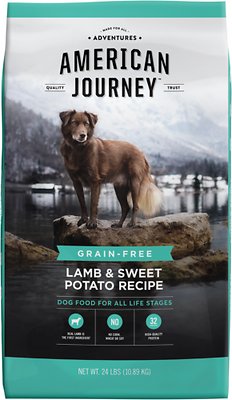 ㅤ
American Journey is a brand owned by the online pet food distributor Chewy and is only available from their website.
American Journey doubles down on the low cost of shipping offered by Chewy by also making the formulas they produce very affordable.
The brand produces a moderately sized range of products, including dog treats, dry dog food, wet dog food, and limited ingredient dog food.
One of American Journey's most popular recipes is Lamb & Sweet Potato. The recipe provides a very satisfactory proportion of protein for its price range, and this protein can be used to enable growth, repair, and maintenance.
This protein is from the generous portions of meat ingredients present such as Lamb, but also poultry such as Turkey and Chicken.
The formulas also contain Sweet Potatoes, Peas and Chickpeas, which are some of the most popular carbohydrate-providing ingredients.
Unfortunately, American Journey's recipes have a lower proportion of fat in comparison to some of their rivals.
While a high portion of fat isn't needed in a dog's diet, it is preferred to excessive levels of carbohydrates.
If Crave and American Journey aren't enough and you are interested in other cheap/affordable dog food recipes, be sure to check out our Best Cheap Dog Food article.
Crave With Protein From Lamb + Venison Review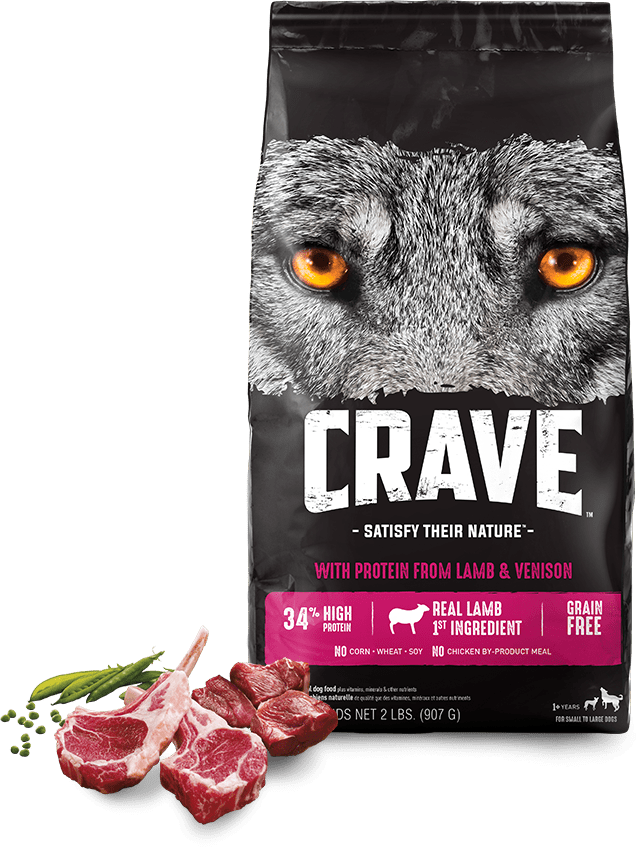 ㅤ
Crave is a relatively new brand that was launched by Mars Petcare back in 2017. Crave is a low-cost brand and aims to fill the niche of affordable yet nutritious pet food.
Crave is significantly cheaper than the other brands discussed in this article. Crave is available at large retail stores like Walmart as well as online on sites like Amazon and Chewy.
Crave's dry dog food formulas contains very satisfactory proportions of protein and fat without the inclusion of excessive carbohydrates. This level of nutrition could be easily compared to other brands that are far more costly.
It is even more surprising that Crave manages to maintain low prices when using more costly meat ingredients such as Lamb or Venison, which are contained in the above-mentioned formula.
However, this mix of Lamb and Venison may not appeal to those dog owners who are looking for a recipe that only contains Lamb.
The formula contains a modest carbohydrate proportion with a number of ingredients contributing to it, including Peas, Chickpeas, and White Potatoes.
Whole Peas and Chickpeas are considered higher-quality ingredients in dog food due to their low-glycemic index and the dietary fiber they can provide.
Sadly, there is one downside to Crave's dry dog food recipes in that they contain vegetable by-products such as Potato Protein or Pea Protein.
These less desirable ingredients are used to increase the overall proportion of protein in dog foods without splashing out on more expensive meat ingredients.
Sadly, ingredients such as these are a necessary evil in order to provide optimal nutrition at a low price point. Despite this, the portion of these ingredients is still low and is not worthy of serious concern.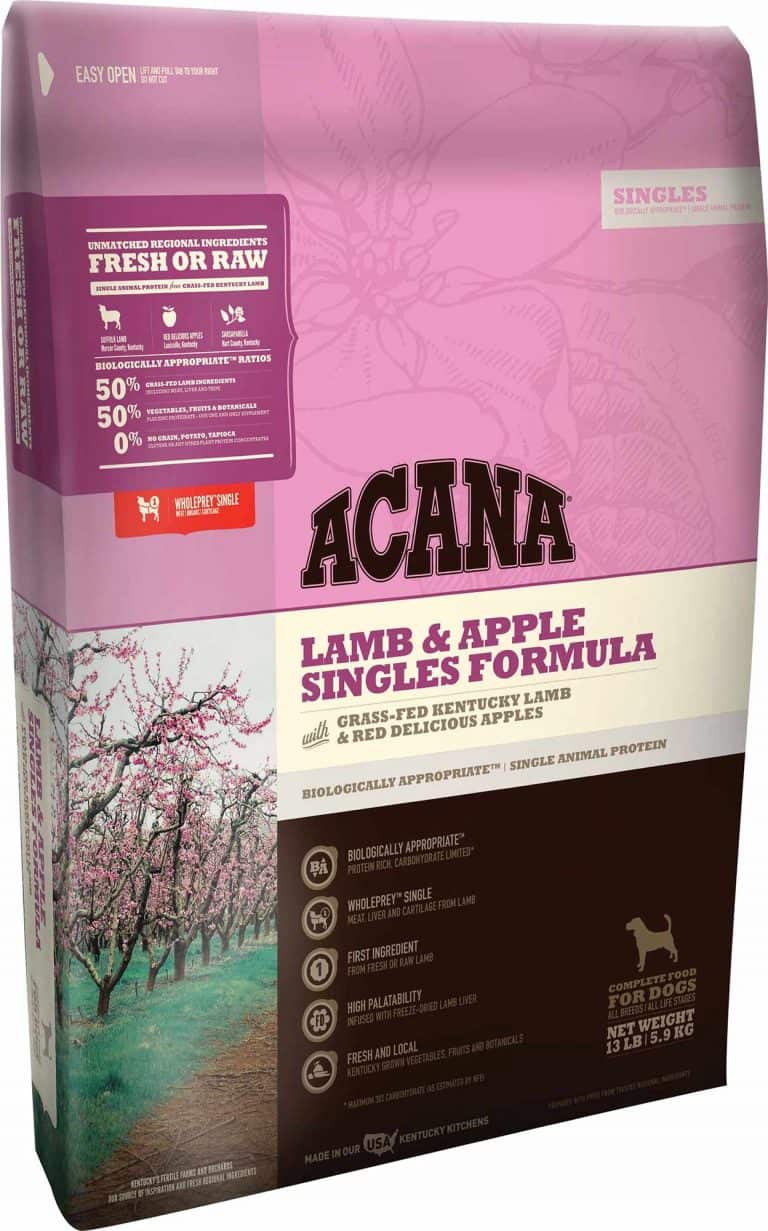 ㅤ
Acana is the sister brand of Orijen, and they share many of their high-quality ingredients and nutrition.
Acana is designed to be more affordable than Orijen and, as a consequence, does not contain quite as many high-quality meat and fish ingredients.
However, they do have some more specialist formulas such as Limited Ingredient formulas, Puppy formulas, and a low-fat formula.
Acana's Singles range is specially designed for dogs with allergies and sensitivities. There are five formulas in the Singles range, including a Lamb-based formula – Lamb and Apple.
The Singles recipes combine a less commonly used fruit or vegetable ingredients with a combination of other vegetables. The Lamb formula uses Apples, which can be a beneficial addition to a dog's diet in moderation.
However, Acana singles recipes do use a large number of vegetable ingredients, including legumes, which may make them unsuitable for dogs who suffer from allergies associated with plant material.
Nulo Freestyle Lamb & Chickpeas Review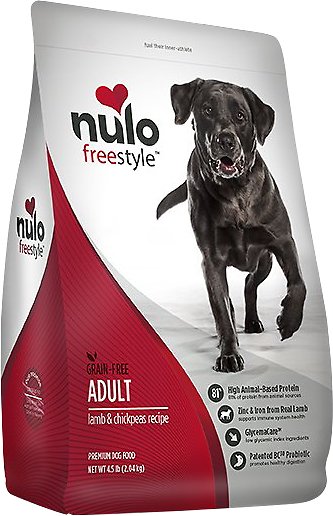 ㅤ
Nulo is an established brand in the pet food world and has a number of product ranges available for dogs of all shapes and sizes. This includes recipes geared toward adult dogs, senior dogs, and puppies.
Nulo produces some formulas that are very similar and are often split between their sub-brands freestyle and medal series.
The formula shown above is the freestyle recipe that features Lamb. It also contains some other meat and fish ingredients such as Turkey Meal and Salmon Meal.
As expected, these named meat and fish ingredients are highly nutritious and provide valuable protein and fat to help your dog maintain their health and energy. In particular, the Salmon Meal likely boosts the level of the beneficial omega three fatty acids.
The regulars of Peas, Sweet Potatoes, and Chickpeas are present in reasonable proportions. These provide a fair proportion of carbohydrates and dietary fiber.
Nature's Logic Canine Lamb Meal Feast Review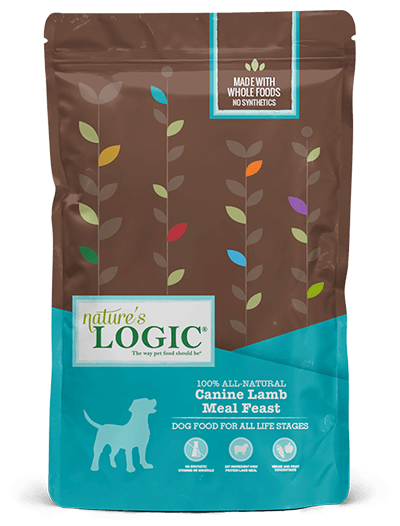 ㅤ
Nature's Logic is a lesser-known dog food brand, but that shouldn't and doesn't diminish the strength of its formulas.
Nature's Logic produces a wide range of formulas, including some that make use of less common meat and fish ingredients such as Sardine, Venison, Lamb, and Rabbit. Some of these ingredients could be considered Novel Meat formulas.
One of the most significant advantages of Nature's Logic is that they very clearly display a vast range of nutritional and Ingredient information on their website, which is far more information than most of their competitors are willing to make public.
This array of information includes accurate levels of a wide variety of micronutrients, vitamins, and minerals. They also show you exactly where their ingredients are sourced on an easy-to-understand visual map.
This approach shows they are passionate about dog nutrition and not ashamed of the nutrition their formulas provide or the source of their ingredients.
Their Lamb Formula is very high in protein, which should be at the core of every dog's diet. The formula does not contain any other meat or fish ingredients, which is ideal for a dog who is looking to narrow its potential allergens. The formula does use a single grain as its source of carbohydrates.
However, the grain isn't one of the usual suspects and is instead Millet. Millet isn't considered quite as favorably as some other grains such as Brown Rice or Oatmeal, but it is a vast improvement on others such as Corn or Wheat.
Grains such as Millet can be a vital lifeline for those dogs with severe allergies of vegetable and starch ingredients like Peas and Potatoes and should, therefore, not be immediately dismissed.
Canidae Grain Free Pure Elements Review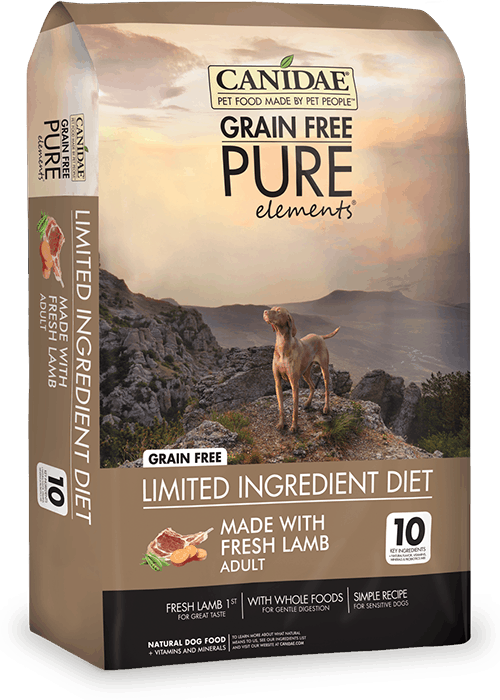 ㅤ
Canidae is a widely available and high-quality dog food brand. They have an extensive selection of products spread among several ranges.
Their Grain Free Pure range is one that we have analyzed in exquisite detail, and we have rated a number of its formulas very highly.
The Elements formula is one of the ranges best. The recipe's primary meat ingredient is Lamb, but it also contains a number of other meat and fish ingredients, including Chicken, Turkey, and Menhaden Fish. All of these are high-quality and natural sources of protein and fat for an active dog.
The formula also includes Chickpeas, Peas, and Sweet Potatoes, which provide a modest portion of carbohydrates and dietary fiber.
Sweet Potatoes sometimes get a bad reputation, but they are considered to be more advantageous than traditional White Potatoes as they offer a more comprehensive range of vitamins and minerals.
The formula doesn't have quite the impressive levels of the Omega 3 Fatty Acids that some of its competitors do, but it is entirely free of any by-products or less preferred carbohydrate ingredients such as Grains.
Merrick Real Lamb + Sweet Potato Review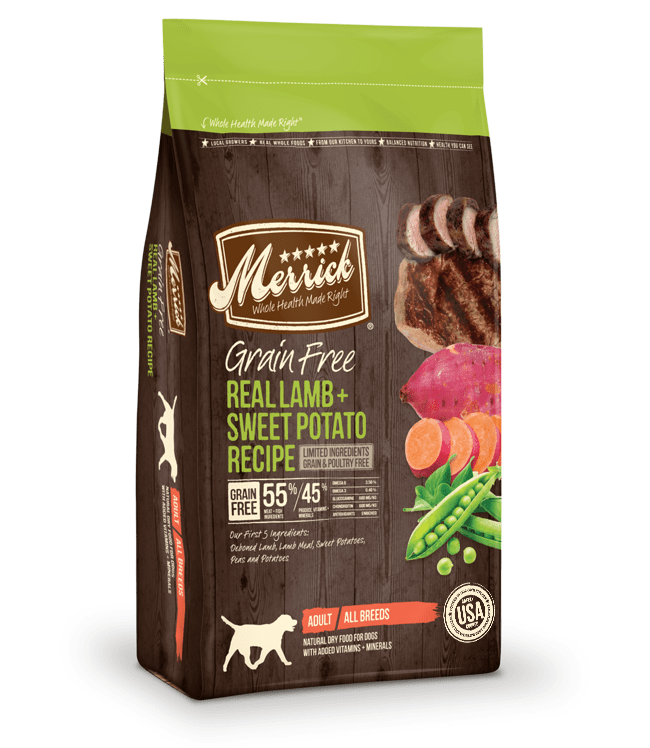 ㅤ
Many pet owners will be familiar with Merrick, and it is another brand that produces many highly rated recipes.
One of Merrick's most significant advantages is the sheer size of their product range with most of their competitor's paling in comparison.
While not revolutionary, their Grain Free range focuses on a core meat or fish ingredient and a mix of Sweet Potatoes, Legumes, and small amounts of other vegetables. These ingredients form a reliable template.
While the nutrition provided by the Lamb recipe is not quite as impressive as some of the other recipes in the range, it is still very satisfactory and suitable for the majority of dogs.
However, the formula doesn't just include whole Lamb and also contains Lamb Meal and a small portion of Salmon Meal.
While this mix may put off those looking for a lamb-only recipe, it does provide optimal nutrition and a unique taste.
Farmina ND Ancestral Grain Lamb Formula Review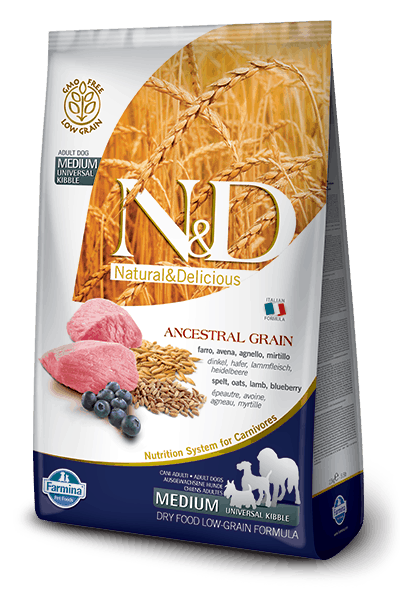 ㅤ
Farmina is a premium dog food brand, and its N&D range contains some extremely high-quality and nutritious formulas. We are particular fans of their puppy recipes, but their adult recipes are not to be brushed aside.
They make use of a select few meat and fish ingredients, including Chicken, Cod, Duck, and Lamb.
The Lamb formulas use a mix of whole Lamb and dehydrated Lamb to ensure that the total proportion is significant. This Lamb provides an ample portion of protein and fat that is significantly above average.
However, Farmina's plant-based content is very different from the norm and is almost entirely Pea Starch. Pea starch is a vegetable by-product that we discuss regularly.
Pea Starch acts as a source of carbohydrates and as a binding agent to hold the kibble together. There is also a notable portion of Pumpkin present, which can aid digestion in some dogs.
Farmina recipes also contain much smaller portions of a large range of fruit and vegetables. Examples include Blueberries, Carrots, Apples, and Pomegranate. These could give the kibble a unique flavor and provide some less abundant micronutrients.
Instinct Raw Boost Real Lamb Review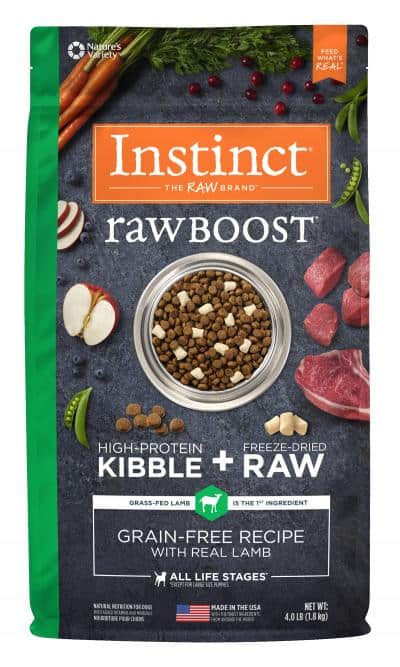 ㅤ
It wouldn't be a "Best X" article without the inclusion of a formula from Nature's Variety Instinct, which, as many of you will know, is one of our favorite brands both regarding quality and price.
However, the above-suggested formula breaks the mold from the recipes we usually suggest from Instinct. It is one of their raw or semi-raw formulas, which is what Instinct is probably best known for.
While the idea of raw ingredients may scare many dog owners, especially those with new puppies, it is not something to be deeply afraid of and can be advantageous.
Advantages include cleaner teeth, more energy, and improved skin and coat. However, there are risks that are discussed in the American College of Veterinary Nutrition's FAQ page.
Also, Instinct Raw Boost with Real Lamb is only a semi-raw formula and still contains a significant portion of pre-cooked ingredients.
The formula contains Lamb, Salmon, and Whitefish, which are all high-quality meat and fish ingredients that can provide a plentiful supply of protein and fat.
Also, the formula contains the ever staple Peas for carbohydrates and fiber alongside a smaller portion of Tapioca. Finally, the formula also includes Flaxseed to help boost the level of the Omega Fatty Acids.