Nature's Variety Information
Nature's Variety is a privately-held, natural pet food company located in St Louis which is in the Midwest of the United States. They have two sub-brands, Instinct and Prairie.
Instinct is often known for its raw or semi-raw dog food products, but also produces traditional dry dog food, limited ingredient formulas, and wet dog food. Prairie, on the other hand, does not produce any raw recipes but does have the traditional types of dog foods and treats.
Nature's Variety Instinct is manufactured at a privately owned site in Lincoln Nebraska.
Nature's Variety Product Range
Dog Food
Cat Food
Nature's Variety Nutrition
Dog Food
Nature's Variety provides some of the best nutrition of any dog food brands let alone those that it competes within its price range. High levels of Protein and Fat are at the core of every one of Nature's Variety's recipes but in particular their Original and Ultimate Protein range.
Their Limited Ingredient range does have slightly inferior nutrition in comparison but this is understandable given the context and despite this, it is still far above average.
Cat Food
Nature's Variety Ingredients
High-Quality Ingredients
Chicken
Turkey
Beef
Pork
Lamb
Salmon
Rabbit
Venison
Nature's Variety formulas contain a wide range of ingredients, with a majority of these being considered high-quality. They use most of the common meat and fish ingredients including Chicken, Turkey, Salmon, and Beef. But they also have recipes that have less common meat or fish ingredients such as their Rabbit Formula.
Other Notable Ingredients
Nature's Variety Instinct is one of a few brands that makes extensive use of Tapioca as a source of carbohydrates and as a binding agent. Tapioca is a root vegetable similar to Potatoes or Sweet Potatoes and is commonly found and consumed in Southern America. Find out more about Tapioca in our Tapioca In Dog Food article.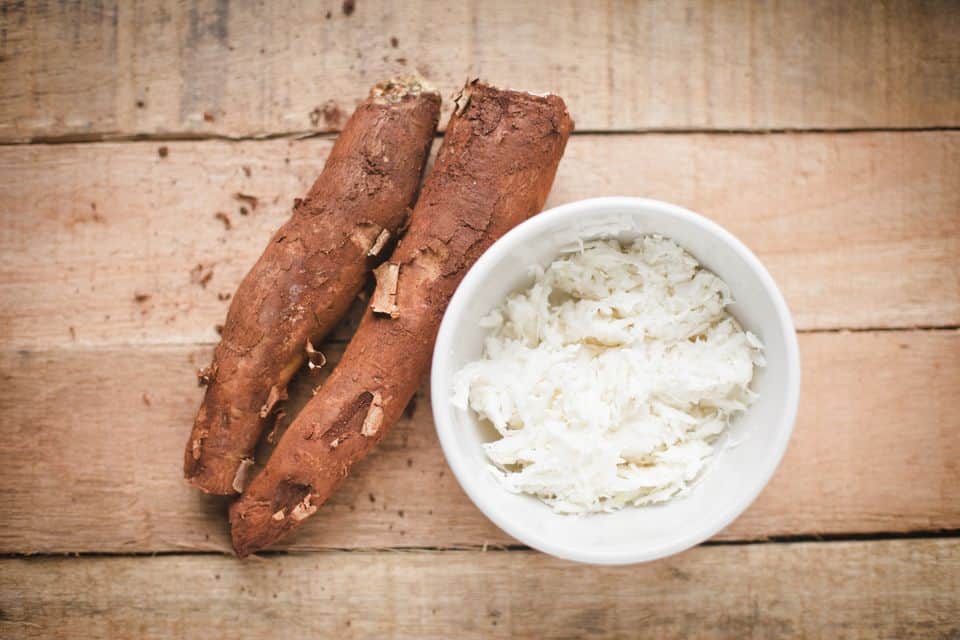 Another ingredient commonly found in Nature's Variety Instinct's recipes is Menhaden Fish Meal. Menhaden Fish Meal is a regular ingredient in premium dog food products and is often used to provide additional protein and fat without splashing out on more expensive whole ingredients. Find out more about Menhaden Fish Meal in our Menhaden Fish Meal in Dog Food article.
Nature's Variety Animal Testing
On Nature's Variety Instinct's website, they state that passionate about the health and wellbeing of all pets and that they wish for all animals to be treated with compassion.
They also state that all testing facilities that they use are under federal inspection and that all the animals are cared for within the appropriate legislation around sanitation and welfare.
Finally, they insist that use voluntary or at home testing from volunteers and loyal customers whenever possible. While we would prefer that Nature's Variety does not conduct any animal testing, this statement at least acknowledges some of the opposition to animal testing and Nature's Variety's interest in minimizing their impact.
Nature's Variety Recalls
Our research has found that Nature's Variety has three recorded recalls. While this might sound low, even a single recent recall is worrying and could suggest that Nature's Variety's production and manufacturing processes are not adequately safe and thorough.
In addition, some brands have a large list of recalls but the majority of them are a significant length of time ago, however, all three of Nature's Variety's recalls are within the last decade and therefore cannot be dismissed so easily as no longer relevant.
July 2015 – Potential Salmonella Contamination
February 2013 – Potential Foreign Body / Choking Hazard
February 2010 – Potential Salmonella Contamination
Nature's Variety Featured Articles
Best Dog Food Without Potatoes –
Best Dog Food Without Chicken –
Best Dog Food With Chicken & Rice –
Best Dog Food For Border Collies –
Best Dog Food For Great Danes –
Best Dog Food For Dalmatians –
Best Dog Food For Rhodesian Ridgebacks –
Best Hypoallergenic Dog Food –
Best of Nature's Variety
Dry Dog Food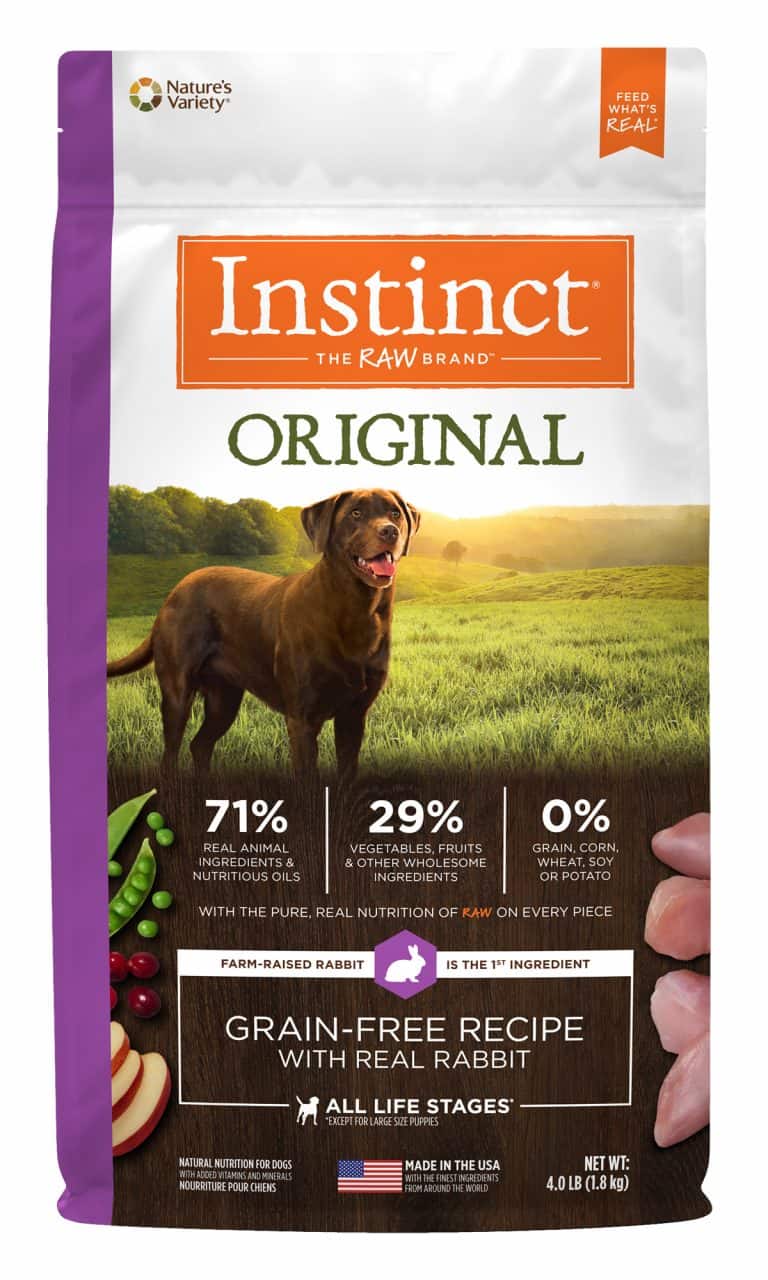 Limited Ingredient Dog Food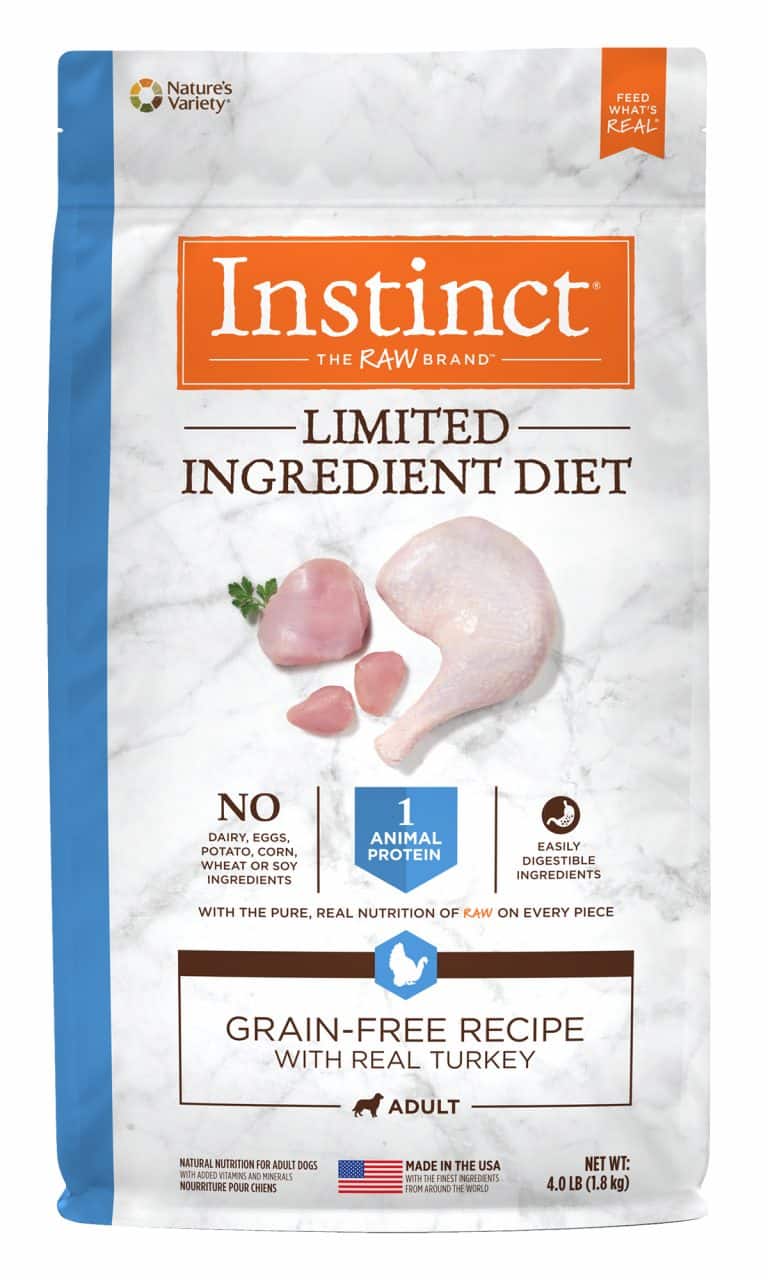 Raw Dog Food
Canned Dog Food
Dry Cat Food
Nature's Variety Full Products Range
Dry Dog Food
Limited Ingredient Diet Range
Instinct – Limited Ingredient Diet – Turkey for Small Breed Dogs
Instinct – Limited Ingredient Diet – Duck
Instinct – Limited Ingredient Diet – Turkey
Instinct – Limited Ingredient Diet – Lamb
Instinct – Limited Ingredient Diet – Salmon
Ultimate Protein Range
Instinct – Ultimate Protein – Chicken
Instinct – Ultimate Protein – Duck
Instinct – Ultimate Protein – Chicken for Small Breed Dogs
Original Range
Original Chicken for Small Breed Dogs
Raw Boost
Instinct Raw Boost With Real Chicken For Large Breed Puppies
Instinct Raw Boost With Real Chicken For Senior Dogs
Wet Dog Food
Original Chicken for Small Breed Dogs
Original Beef for Small Breed Dogs
Beef Stew
Chicken Stew
Lamb Stew
Turkey and Cod Stew
Turkey and Duck Stew
Original Chicken
Original Duck
Original Lamb
Original Rabbit
Original Venison
Limited Ingredient Diet – Duck
Limited Ingredient Diet – Lamb
Limited Ingredient Diet – Rabbit
Limited Ingredient Diet – Turkey
Ultimate Protein – Chicken
Healthy Cravings Pouch – Beef
Healthy Cravings Pouch – Chicken
Healthy Cravings Pouch – Lamb
Healthy Cravings Pouch – Salmon
Dog Treats
Original Biscuits – Chicken
Original Biscuits – Rabbit
Original Biscuits – Duck