What Are Border Collies?
Border Collies are a dog breed that was first bred for the purpose of herding sheep in the hilly environment of England & Scotland. Many Border Collies still work on farms to herd sheep today. Their continued use is thanks to the unique traits and characteristics that Border Collies possess.
Border Collies excel at their specialization thanks to a number of traits, but the primary of these is their intelligence. They are capable of learning complex tasks and concepts, which makes them stand out in comparison to other dog breeds. In addition to their intelligence, Border Collies have high levels of endurance, which is another valuable trait when herding sheep.
Some of the typical visual characteristics of Border Collies include a black and white coat and a distinctive stare. Male Border Collies are usually between 19 to 22 inches tall and weigh in at between 35 to 45 pounds. Female Border Collies are slightly smaller than their male counterparts and stand at 18 to 21 inches tall and weigh in at 30 to 40 pounds.
For more information on Border Collies and their history, we recommend the American Kennel Clubs breed page.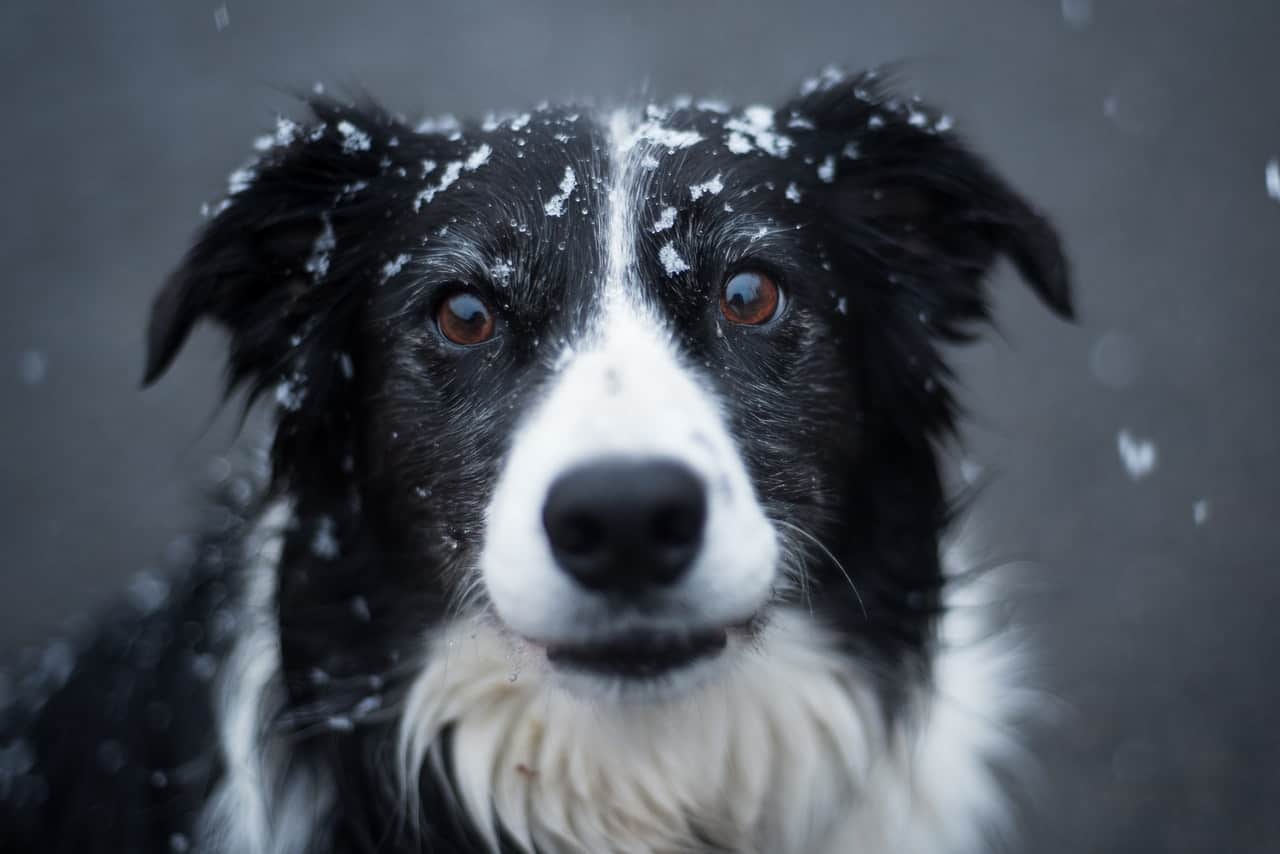 Common Health Problems For Border Collies
Border Collies are one of the healthiest breeds of dogs and do not have nearly as many health concerns as other breeds. However, there are still a number of conditions and issues to watch out for to ensure that your new friend remains as healthy and happy as possible.
Mental Health
While it may be a difficult concept to grasp, Border Collies can experience mental health issues just like humans can. The risk of mental health issues is because of Border Collies high level of intelligence. They need to be mentally stimulated and challenged on a regular basis, or they can become unhappy or depressed.
Border Collies who are left isolated or alone for long periods of time are the most likely to suffer from Mental Health issues. For this reason, border collies are not recommended to dog owners who spend long periods away from home or at work.
Seizures
Seizures may seem like a human-like condition, but dogs can also experience them. One of the most common causes of seizures is epilepsy, but there are other causes of seizures.
While the seizures themselves may be very frightening to witness, with proper medical attention and diagnosis, there is no reason that an epileptic dog cannot lead a normal life. If your border collie has a seizure or starts exhibiting unusual behavior, we highly advise you to seek assistance from a veterinary professional.
For more information on seizures, check out this detailed piece by pets.webmd.com.
Collie Eye Anomaly & Other Eye Conditions
The last condition that we will mention is a common problem for Border Collie health is a condition called Collie Eye Anomaly. This condition is an inherited defect that can, in some cases, lead to blindness. How severe the condition is will vary from dog to dog, and sadly there is no effective treatment for the condition. However, the disease is not progressive or degenerative, which means the dog's vision should not further worsen over time.
There are other eye conditions that can affect Border Collies that are less common than Collie Eye Anomaly. Examples include juvenile cataracts and glaucoma, both of which are usually treatable. In extreme cases, these conditions may accompany Collie Eye Anomaly and further complicate matters.
Conclusion
Sadly, none of the above-mentioned conditions can be combated or affected by diet. However, that does not mean that you should neglect your Border Collies diet as this could still lead to other health problems that are not specific to Border Collies.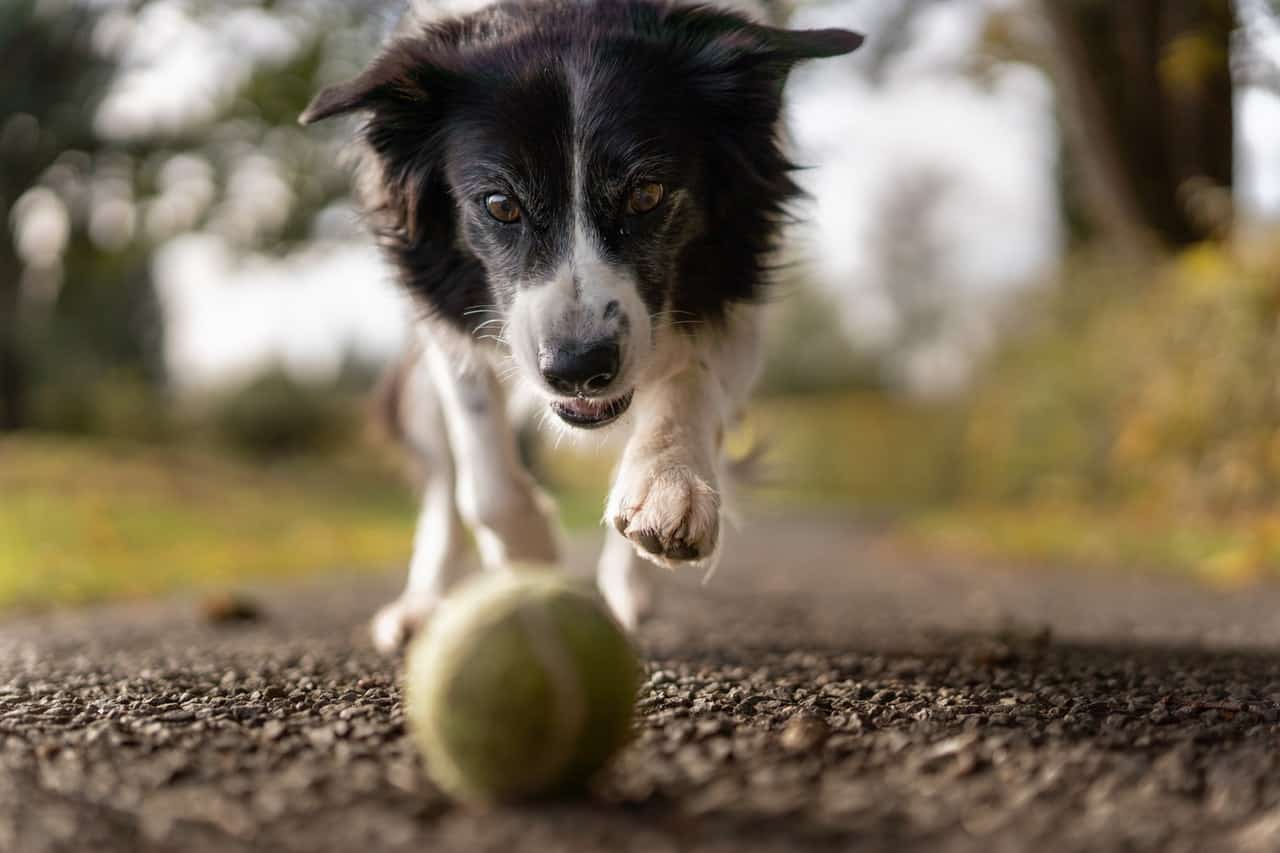 Border Collies – Nutrition & Diet
The extremely high levels of activity that many Border Collies partake in on a regular basis strongly dictates what type of nutrition and diet they require.
Fat Proportion & Calorie Density
Border Collies are more than capable of consuming higher levels of fat in their diet than other, less active, breeds. This is as they will have no difficulty utilizing this nutrition effectively thanks to their activity.
Many dog breeds must avoid dog food recipes with a high proportion of fat as it can cause weight gain or obesity. However, this is unlikely to be the case for an active border collie.
However, it is important to note that Border Collies do not need to eat a higher proportion of fat, and this is optional. Border Collies will cope well with a diet that has more of its calories from protein or carbohydrates.
However, an essential consideration for Border Collies is the calorie density of the food they are consuming. If a Border Collie is taking part in high levels of activity, it may be wise to feed them a kibble that is very calorie-dense.
This approach will allow them to more quickly and effectively take in the calories they need on a daily basis without eating a large volume of weight of food. This ties into what we discussed above as Calorie Density has a strong correlation to fat proportion. This is as fat contains more than twice as many calories per gram than protein or fat.
Protein Proportion
Working dogs such as Border Collies and German Shepards require a different kind of nutritional balance to non-working dogs. As we mentioned above, breeds such as border collies are capable of eating a higher proportion of fat. However, while eating a higher proportion of fat is an optional consideration, consuming a higher proportion of protein is not.
Protein is critical to maintain, repair, and grow a dog's muscles and tissues. Dogs who are active in a working environment are likely to require more upkeep on their bodies. While Border Collies will not need extreme levels of protein like working Huskies, they should consume more than average.
In addition, the protein that border collies consume should be animal or fish protein. Animal and fish protein is preferred to plant-based protein as it contains the full range of amino acids and is more bioavailable. This means that dogs can more easily digest and absorb it.
Plant-based protein concentrates such as Pea Protein, and Potato Protein are not effective sources of protein and should be avoided if possible.
Find out more about Pea Protein in our article Peas, Pea Protein, Pea Flour, and Pea Fiber in Dog Food.
The Omega 3 Fatty Acids
An important consideration for all dogs, but some more than others, is the level of the Omega 3 Fatty Acids present in their diet. Consumers have become aware of the benefits of these fatty acids in humans for a number of years, but these also apply to dogs. They can have a positive effect on dogs skin and coat, as well as improve heart and brain health.
The best sources of the Omega 3 Fatty Acids are fish ingredients. Examples include Salmon, Mackerel, and Herring. While non-fish formulas can still provide a satisfactory level, the most reliable source is undoubtedly one with a large portion of fish.
Best Dog Food For Adult Border Collies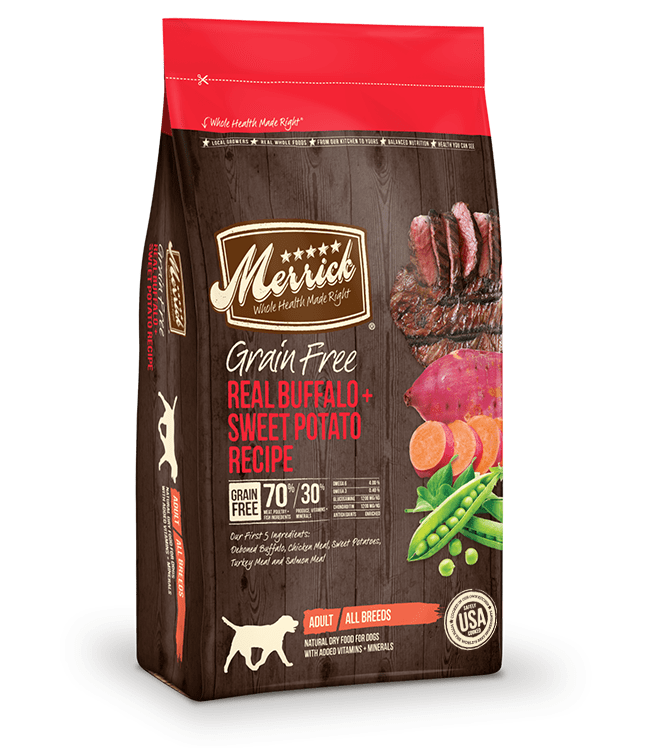 Merrick's Grain-Free range is a regular feature in a variety of the best of articles we've produced. Merrick's recipes in this range provide excellent nutrition from a range of high-quality ingredients. In addition to this, there is a huge variety of meat and fish ingredient-based formulas to choose from, so there is almost certainly one that would appeal to even the pickiest of dog.
Some examples of Ingredients that are used within this range include regulars such as Chicken or Beef. But there is also much less common ingredients such as Rabbit or Venison. Some of these more unusual formulas have been highlighted in our articles Best Dog Food With Rabbit and Best Dog Food With Venison.
While not exotic, Merrick's Buffalo formula is a reliable and consistent choice and contains some of the best nutrition in the range. Meat and fish ingredients such as Buffalo, Chicken, and Salmon are combined with Sweet Potatoes, Potatoes and Peas. These meat ingredients are the sources of the formulas protein and fat, while the starches and vegetables provide a modest portion of carbohydrates.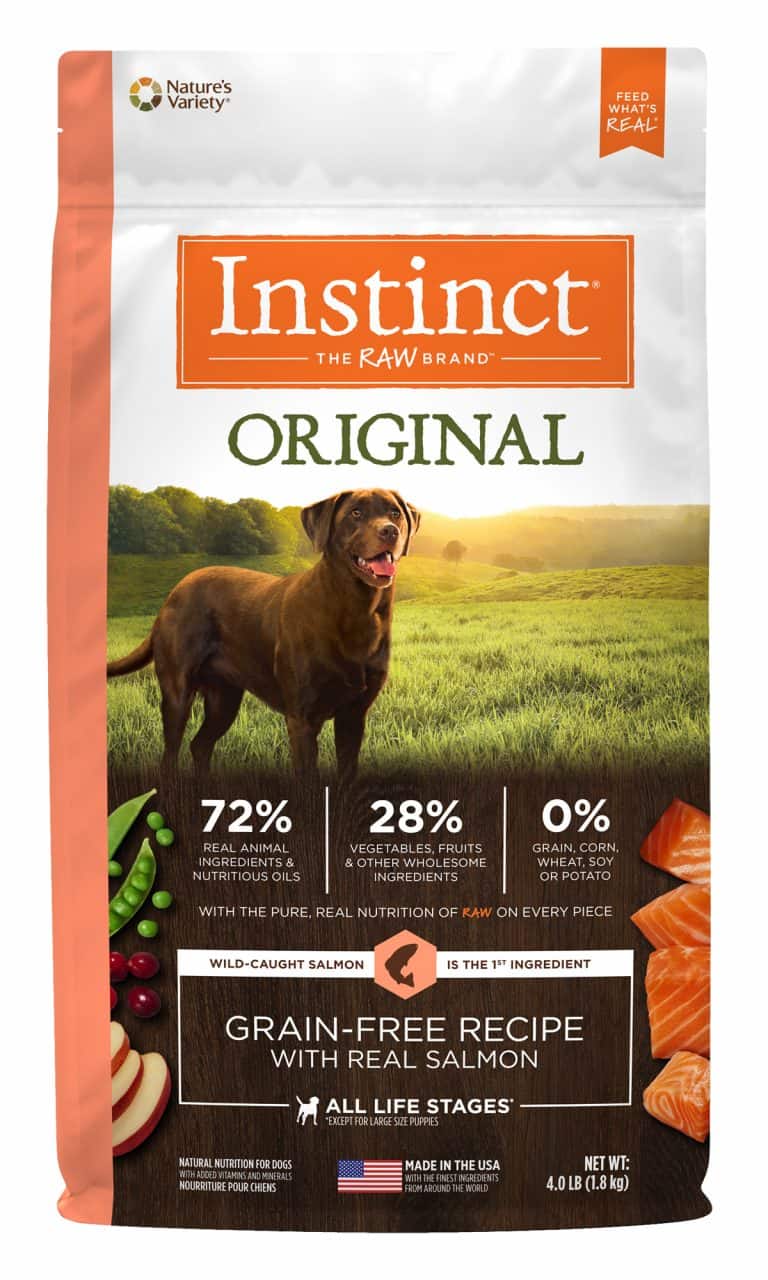 Nature's Variety Instinct is one of our favorite players in the premium pet food market. They are best known for their raw and semi-raw products. Instinct is found in a variety of pet food stores, including some of the retail giants like PetSmart.
While not as well known as their raw products, their Original dry dog food range uses high-quality ingredients to provide top-notch nutrition, all while remaining available at an affordable price range. There is quite a wide selection of formulas offered by instinct, including recipes that utilize Rabbit, Salmon, Beef, and Chicken. This variety of meat and fish ingredients means there is likely to be a formula that appeals to a dog's tastes or tolerances.
However, of all the original formulas, we believe the Salmon Formula would be the most advantageous to a breed like Border Collies. The Salmon Formula is very high in the Omega 3 Fatty Acids, which we discussed earlier in this article. As we pointed out, they are crucial to maintaining healthy skin and coat as well as preventing heart disease.
The formula also includes some other minor fish ingredients in addition to Salmon, such as Menhaden Fish Meal and Herring. Menhaden Fish are small oily fish from the Atlantic ocean and commonly found in dog food due to their low cost and high nutritional value. Find out more about this in Menhaden Fish Meal In Dog Food.
These fish ingredients are combined with Peas and Tapioca, which provide a satisfactory proportion of carbohydrates and Fiber. Tapioca is not well known in the western world and is a root vegetable popular in South America. Find out more about Tapioca in our article Tapioca In Dog Food.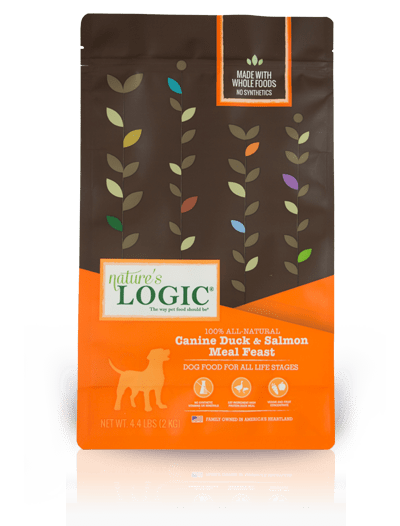 Nature's Logic may be a brand that many consumers are unfamiliar with, but their product range fills an essential niche in the premium and hypoallergenic dog food market and is worthy of mention.
At PetFoodReviewer, we try not to suggest dog food formulas that contain a significant quantity of grain ingredients as we believe them to be low-quality. However, for those dogs who do react poorly to other vegetable and starch ingredients, there is a genuine place for them. An example of a dog who could benefit from grains in their diet could be a dog with a severe Pea and Legume allergy.
Nature's Logic's dry dog food recipes make use of the grain Millet. Brown Rice and Oats are usually our first suggestion when it comes to grains, but Millet is not far behind, and we believe it is far superior to the other less desirable grains such as Wheat and Corn. Many believe that Corn and What are low-quality fillers.
The Duck & Salmon Meal Formula featured above contains a mix of Duck, Turkey, and Salmon ingredients along with Pork Liver. Liver can provide many minerals and vitamins that traditional meat cuts can not. This mix of ingredients is unusual, but the proportion of protein and fat supplied by them is extremely satisfactory and suitable for dogs of all activity levels.
Nature's Logic has a number of other dry dog food formulas, including a Pork Formula, which is worth mentioning for those dogs who do not react well to multiple meat and fish ingredients. Its nutritional profile is almost identical to the Salmon and Duck formula, but it only makes use of Pork Meal and Pork Liver alongside the everpresent Millet. Be sure to check out its review here.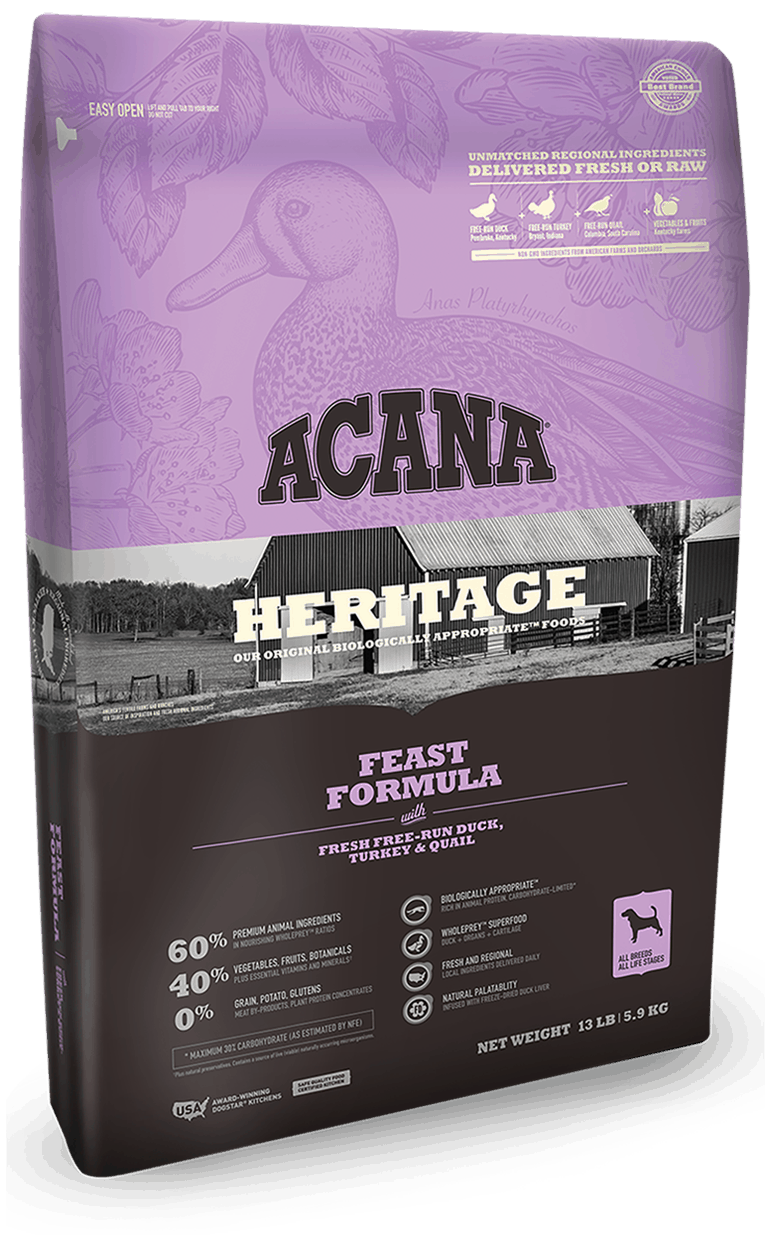 Acana is a brand that many readers will be familiar with. Acana is the sister brand to Orijen, which is considered to be one of the best premium brands around. However, Acana is more affordable while still providing great nutrition from high-quality ingredients.
The Heritage range from Acana was recently expanded and given a facelift. One of the new recipes created during this expansion was Heritage Feast. Heritage Feast has a core of poultry ingredients but doesn't use Chicken. It instead uses Duck and Turkey, among others.
Beyond its poultry content, Heritage Feast uses the same vegetable ingredients as the rest of its range. This includes common legumes like Peas, Lentils, and Chickpeas.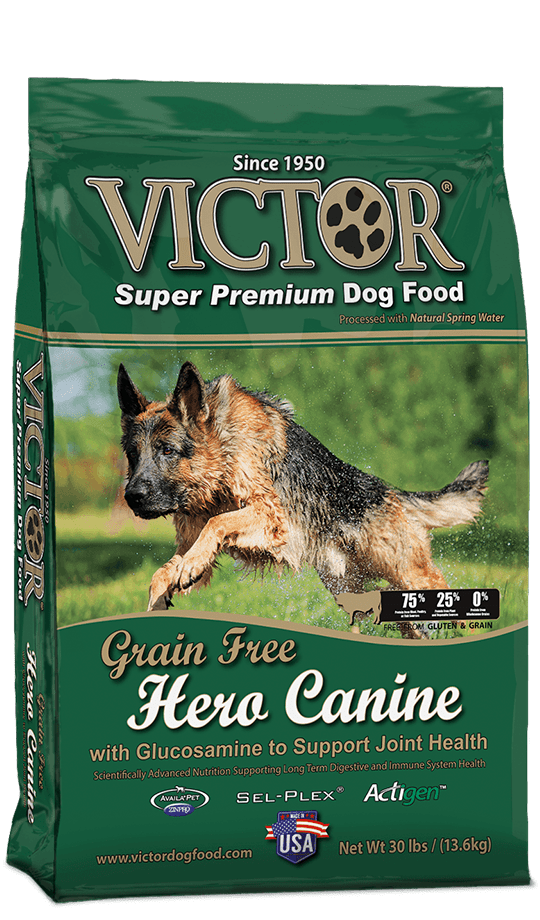 Victor is a well known and popular brand. They sell a variety of dog food formulas, including some that are grain-free and some that use grains. One of Victor's greatest traits is that they are very cost-effective. This is in part thanks to the large volume they sell their products in.
Hero Canine is one of our preferred formulas and provides very satisfactory nutrition. It's nutritional profile includes an above-average proportion of protein and fat and a modest proportion of carbohydrates.
This nutrition is thanks to a variety of meat and fish ingredients. This includes Beef Meal, Chicken Meal, Menhaden Fish Meal, and Pork Meal. While there isn't a significant portion of any of these ingredients by themselves, their combined portion is substantial.
The carbohydrates are provided by a portion of Sweet Potatoes and Peas. Both of these ingredients are considered to be preferred vegetables and can provide other benefits beyond their carbohydrate content.
Best Dog Food For Border Collie Puppies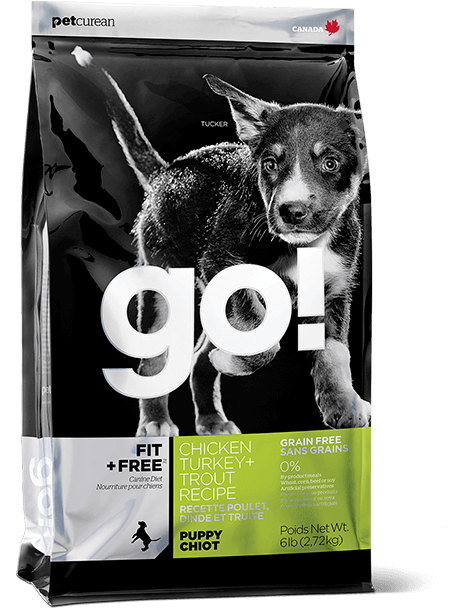 Go! is one of a number of brands owned by Petcurean. Other examples include Gather and Now. The Go! range includes a range of mixers, dry dog food, and wet dog food. They also have formulas for puppies, senior dogs, and dogs attempting weight loss. The above-mentioned Fit + Free Puppy Recipe is their only dry puppy formula but is, without a doubt, one of their best.
Fit + Free Puppy Recipe contains an extensive range of poultry and fish ingredients, including Chicken, Turkey, Salmon, and Trout. These ingredients provide an abundance of high-quality protein and fat, which is perfect for a growing young pup.
The Salmon and Trout provide a satisfactory level of the Omega Fatty Acids. As we discussed earlier, these fatty acids can improve the skin and coat of a puppy as well as brain function and heart health. Being able to supply these fatty acids from an early age should be a strong consideration for any new dog owner.
The formula also includes a broad range of vegetable and fruit ingredients. The majority of this content is made up of Peas and Chickpeas, but there are smaller portions of others like Blueberries and Bananas. These fruits can supply less common vitamins and minerals as well as antioxidants.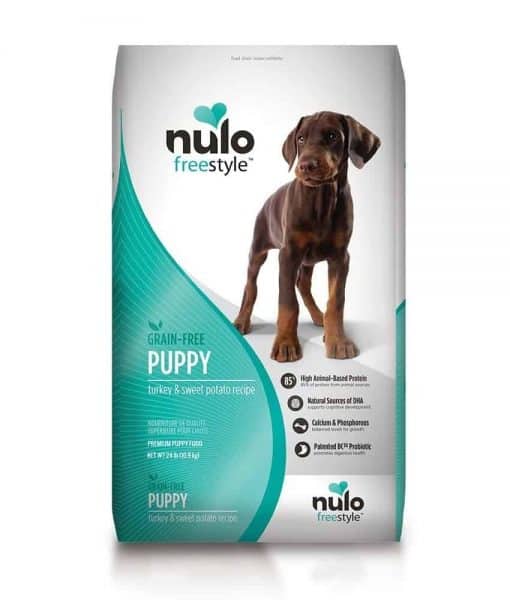 After seeing the disproportionate quantity of carbohydrates used in modern dog food, Michael Lander created the brand Nulo, in an attempt to produce a more balanced type of dog food. Thankfully, Nulo hasn't strayed from this idea since its inception almost two decades ago and produces a range of formulas for puppies, adult dogs, and senior dogs that have a balanced and satisfactory nutrition profile.
Nulo's puppy range is relatively small, but the recipes that they do produce align with all the principles we've aligned in this article. Turkey & Sweet Potato is our favorite of the bunch due to it's significantly above average nutrition, which could prove crucial during a Border Collie puppy's growth stage.
The formula includes a mix of poultry and fish ingredients such as Turkey and Salmon. As we discussed with the previous article, this mix of poultry and fish ingredients can provide a plentiful supply of protein and fat, as well as the Omega 3 Fatty Acids.
The formula also contains a range of vegetable ingredients, including Chickpeas, Peas, and Sweet Potatoes. None of these are unique, and you should be well familiar with them by now. The portion of each is small, but and their combination is modest.