What Is WSAVA?
WSAVA stands for the World Small Animal Veterinary Association and was formed in 1961 when a group of Veterinary professionals chose to re-brand their existing group – the International Association of Small Animal Specialists (IASAS).
The organization currently has more than 200,000 members that are a part of 113 member organizations. Their goals include advancing companion animal welfare, creating industry guidelines providing education.
The group has a high reputation, and many veterinary professionals in the western world are supporters or members of the group.
What Are The WSAVA Guidelines?
The WSAVA has many guidelines for the wellbeing of pets, but their most well known and controversial are those on the topic of dog food.
The guidelines lay out some strict and challenging criteria, including the use of educated and established nutritionists, feeding trials, and nutritional analysis of the food.
The full WSAVA Guidelines document can be found here, and I highly recommend you check them out. WSAVA also produced an FAQ document which you can read here. This FAQ page discusses many "myths" around the topic.
The WSAVA guidelines have seen a surge in popularity and discussion since the discovery of links between the consumption of legumes and other ingredients and Canine Heart Disease.
We've covered this topic in great detail on this site, and I recommend you check out our articles Best Dog Foods Without Peas & Peas, Pea Protein, Pea Flour, and Pea Fiber in Dog Food if you want to learn more.
Since this explosion in awareness around WSAVA guidelines, some brands have chosen to tackle the issue head-on and have pages on their websites discussing it. You can check one of these by the Brand Wellness here.
However, other brands disagree with the guidelines and have chosen not to attempt to meet them. Only time will tell whether this decision is wise.
WSAVA Sponsors
Critics of WSAVA and its guidelines will point out that WSAVA is funded by many of the "big" dog food brands, including Purina, Hill's, and Royal Canin. Based on this, they believe that their guidelines are tailor-made to promote these brands and their foods and dissuade consumers from considering smaller pet food brands.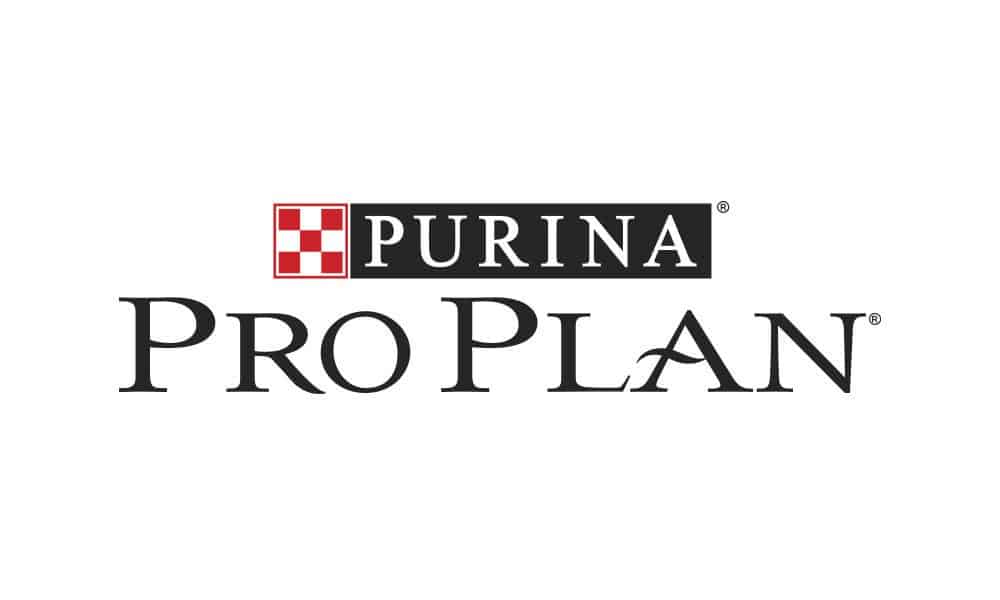 However, supporters of WSAVA would argue that it makes perfect sense for these brands to support the association as they also want to promote their beliefs on testing, standards, and the use of nutritionists.
You can see all of WSAVA's industry partners on this page.
Why Most Dog Food Brands Are Not WSAVA Compliant
The section of the guidelines that most dog food brands struggle with is the use of a full time qualified nutritionist, especially one with a Ph.D. in animal nutrition. As you can imagine, for a lot of the smaller brands, this role would be challenging to fulfill, not to mention there is a minimal number of qualified nutritionists available to begin with.
Also, many dog food brands do not do extensive feeding trials, and instead, choose to do smaller-scale trials. Feeding Trails can be a very controversial subject, as many consumers are against animal testing, especially in an invasive or laboratory setting.
However, it is essential to point out that some of the WSAVA guidelines are met by almost all dog food brands. An example of this would be the section on nutrient analysis and quality control standards.
Best WSAVA Approved Dog Food
Purina Pro Plan All Life Stages Performance 30/20 Chicken & Rice Review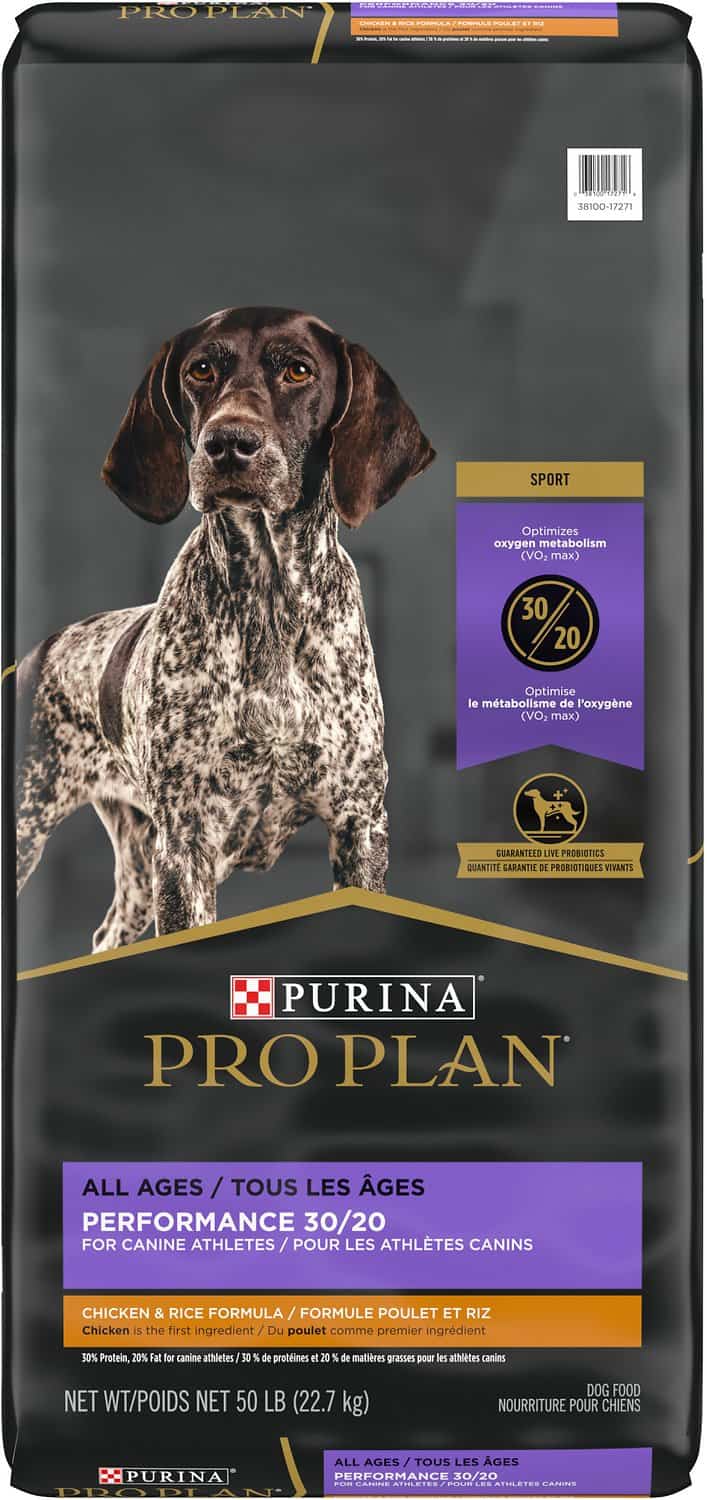 Purina Pro Plan is the favorite brand of most WSAVA supporters. It has been a behemoth of the dog food industry for decades, and millions of dogs eat their food every day.
Purina Pro Plan has a broad range of recipes, including those for different life stages and sizes. However, Purina Pro Plan does not focus on breed-specific formulas as much as some of its competitors.
The above Performance recipe is one of their best and is suited for dogs that are very active. It's most abundant ingredient is Chicken, which can provide a suitable portion of animal-based protein and fat.
The other main ingredients in the recipe are a mix of Corn ingredients, Rice, and by-products. While many frown upon ingredients such as these, fans of Purina Pro Plan believe they are well suited to dogs.
Hill's Science Diet Adult Chicken & Barley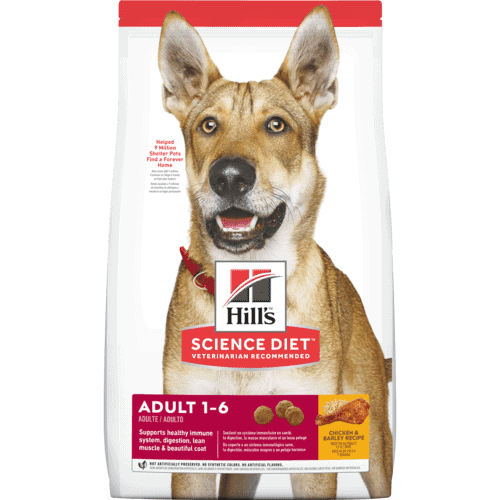 Hill's Science Diet is another giant of the industry and a familiar sight on the shelves of pet food stores and veterinary offices.
Hill's has a huge product range that includes many niche and specialty formulas. Examples of these include recipes for Sensitive Skin, Urinary Care, Weight Management, Joint Health, and more. These recipes are often recommended or prescribed by veterinary professionals to dogs with special circumstances.
For obvious reasons, we can not recommend one of these recipes to the majority of dogs, so we've gone with one of their more generic recipes.
Chicken is once again the core ingredient of the recipe thanks to its low price point and excellent nutrition. However, this recipe uses a mix of Barley, Wheat, Corn, and Sorghum, and Soybean to provide carbohydrates. This is quite a large range of grain ingredients compared to many.
Royal Canin Sporting Life Trail 4300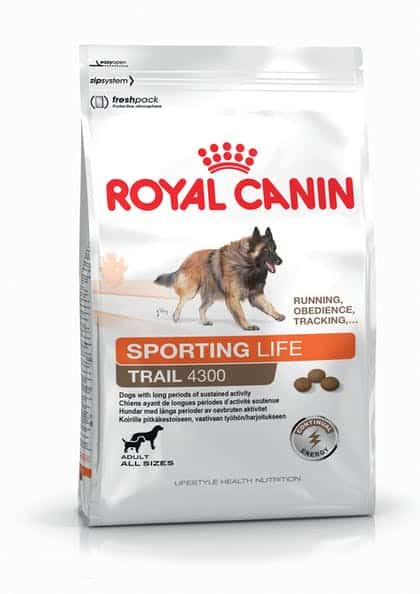 Royal Canin is the last of big three pet food brands that can be found in almost all large pet food stores like Petsmart.
Once again, their product range is huge and includes recipes for dogs of all shapes and sizes. However, as we mentioned earlier, Royal Canin is one of the brands with a focus on breed-specific recipes.
This means that as long as your dog isn't a part of a very unusual breed, Royal Canin will have a recipe tailor-made for them. Examples include German Shepherds, Labrador Retrievers, Bulldog's, Boxer's, Yorkshire Terriers, and more.
We recommend you check out the full range of Royal Canin recipes here to see if there is one for your dog's breed.
Alternatively, we've recommended one of our favorite Royal Canin generic recipes, which is best suited to working dogs or those that are very active.
This recipe includes a very high proportion of protein and fat thanks to a large portion of Chicken By-Product Meal. The recipe also includes Brewers Rice, Corn, Wheat, and more.
Eukanuba Premium Sport 28/18 Condition Adult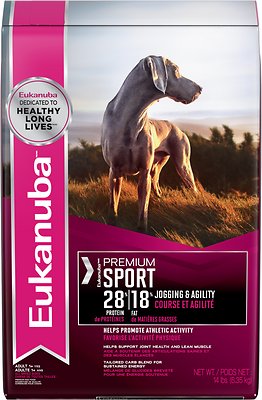 Eukanuba is not as large as the previous three brands, but it is still well known and established. They produce a mix of breed-specific recipes and generic formulas. Their recipes aimed at large breed dogs and puppies are incredibly popular among dog owners.
We've selected another high activity dog food recipe because of its superior nutrition. As the name gives away, the above recipe includes 28% protein and 18% fat, which is far above average.
This protein is thanks to a mix of Chicken and Chicken By-Product Meal. The fact that these two ingredients are the first two listed shows that they make up the bulk of the recipe.
The recipe also includes Corn, Sorghum, Brewers Rice, and more. These provide carbohydrates, fiber, and select micronutrients.
Iams Proactive Health High Protein Chicken & Turkey Adult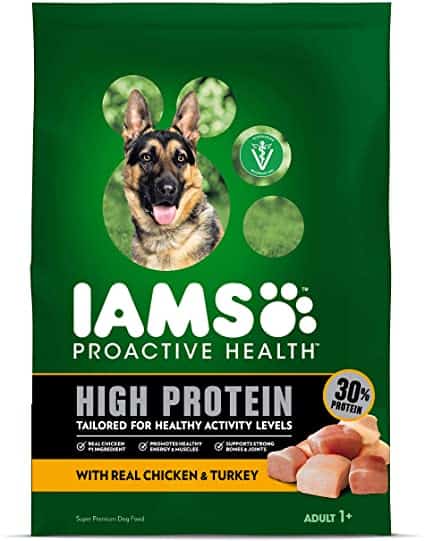 While the previous four brands are those that many dog owners would have imagined following the WSAVA guidelines, Iams is one that most would miss or not think of. Despite this, they need the guidelines comfortably and so earn a place on our list.
Iams is best known for featuring on the shelves of grocery stores rather than pet food stores. Walmart, in particular, is a massive seller of Iams products.
Their product range is far smaller but includes some of the obvious niche products. Our favorite recipe from their range is the High Protein formula. This recipe contains the highest portion of meat, which translates into 30% protein and 18% fat.
This meat is a mix of Chicken and Turkey ingredients. The recipe also includes grain ingredients like Sorghum and Corn. Another inclusion is Brewers Yeast, which you can learn about in our article Brewers Yeast In Dog Food.