Purina Beyond Information
Purina is a brand that needs no introduction and is a behemoth of the industry.
However, Purina isn't just a single brand, and it has many sub-brands, including Purina Beyond. Purina Beyond is quite a new addition to this range of brands and has only been available for the last few years.
The brand focuses on using a minimal list of ingredients compared to most pet food recipes while still maintaining satisfactory nutrition and quality.
Purina Beyond recipes are manufactured in the United States in one of Purina's dedicated facilities. It is not clear which of Purina's factories is used to produce the Beyond range.
Purina Beyond is widely available and can be purchased at many large pet food stores such as PetSmart and at grocery stores like Walmart. You can also purchase Purina Beyond online from almost all of the large pet food websites like Chewy, Amazon, and Petflow.
Purina Beyond Product Range
Dog Food
Purina Beyond has a modest product range of dog food recipes. This range is a mix of dry dog food recipes and wet/canned dog food recipes.
Within these ranges, there is a mix of grain-free and grain-inclusive recipes as well as some niche recipes such as one for small breed dogs.
However, Purina Beyond does not produce any age-specific dog food, such as recipes for puppies or senior dogs. Instead, much of their food is rated for all life stages.
Lastly, it is worth pointing out that Purina Beyond has some Organic dog food recipes. Organic dog food is extremely uncommon and the fact that a mainstream brand like Purina has entered this space is notable.
Cat Food
The cat food range from Purina Beyond is of a similar size to their dog food range and is also a mix of dry cat food recipes and wet/canned recipes.
Most of Purina Beyond's cat food recipes are grain-free, but there are two grain-inclusive recipes.
There are no niche recipes from Purina Beyond for cats, such as those for Kittens or Senior cats.
Similar to what we discussed above, Purina Beyond has some Organic cat food recipes. Organic cat food is even less common than organic dog food and Purina Beyond's position in this space is worth pointing out.
Purina Beyond Nutrition
Dog Food
Despite its low price point, Purina Beyond often provides nutrition that is above-average. This above-average nutrition includes satisfactory proportions of protein and fat and proportions of carbohydrates that are not overly excessive.
When this nutritional profile is compared to other brands that are at a similar price, Purina is far superior in most cases.
Below is an example of the nutrition provided by a Purina Beyond dry dog food recipe.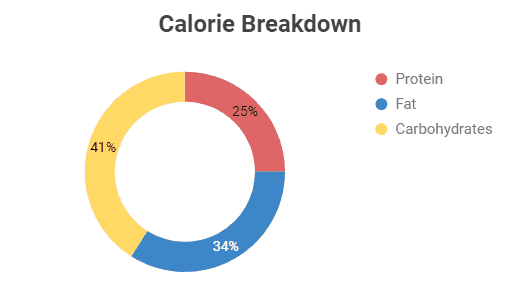 If you are interested in learning more about Canine nutrition, we highly recommend you read our Dog Food Guide.
Cat Food
The nutrition profile offered by Purina Beyond cat food recipes is similar to their dog food recipes and would be considered by most to be above-average.
This above-average nutrition consists of above-average proportions of protein and fat and below-average proportions of carbohydrates.
It is critical that cats consume a diet that is high in animal or fish-based protein and fat and low in plant-based ingredients. This critically is as cats are obligate carnivores.
If you would like to learn more about feline nutrition and what an obligate carnivore means, head on over to our Cat Food Guide.
Purina Beyond Ingredients
High-Quality Meat & Fish Ingredients
Chicken
Turkey
Duck
Lamb
Beef
Salmon
Whitefish
Trout
Tuna
Purina Beyond makes use of a moderate range of high-quality meat and fish ingredients in its recipes. All of the above-listed ingredients can provide vital protein and fat to a dog or cat's diet.
Purina Beyond, like many other brands, favors select ingredients like Chicken and Salmon. These ingredients are so popular among pet food manufacturers as they are affordable and easy to source.
Some of Purina Beyond's wet food recipes contain a small portion of Liver. Organ meat ingredients such as the liver are excellent additions and can boost the levels of protein and fat, as well as greatly enhance flavor.
In addition, organ meat ingredients are often concentrated sources of vitamins and minerals that may not be abundant in traditional meat cuts.
Other Notable Ingredients
Eggs feature in multiple Purina Beyond recipes and are a welcome addition. Eggs can provide the full spectrum of nutrition, including protein, fat, carbohydrates, and select vitamins and minerals.
Also, Eggs are extremely bioavailable when compared to other pet food ingredients, which means it is easy to digest their nutrition, and little is wasted.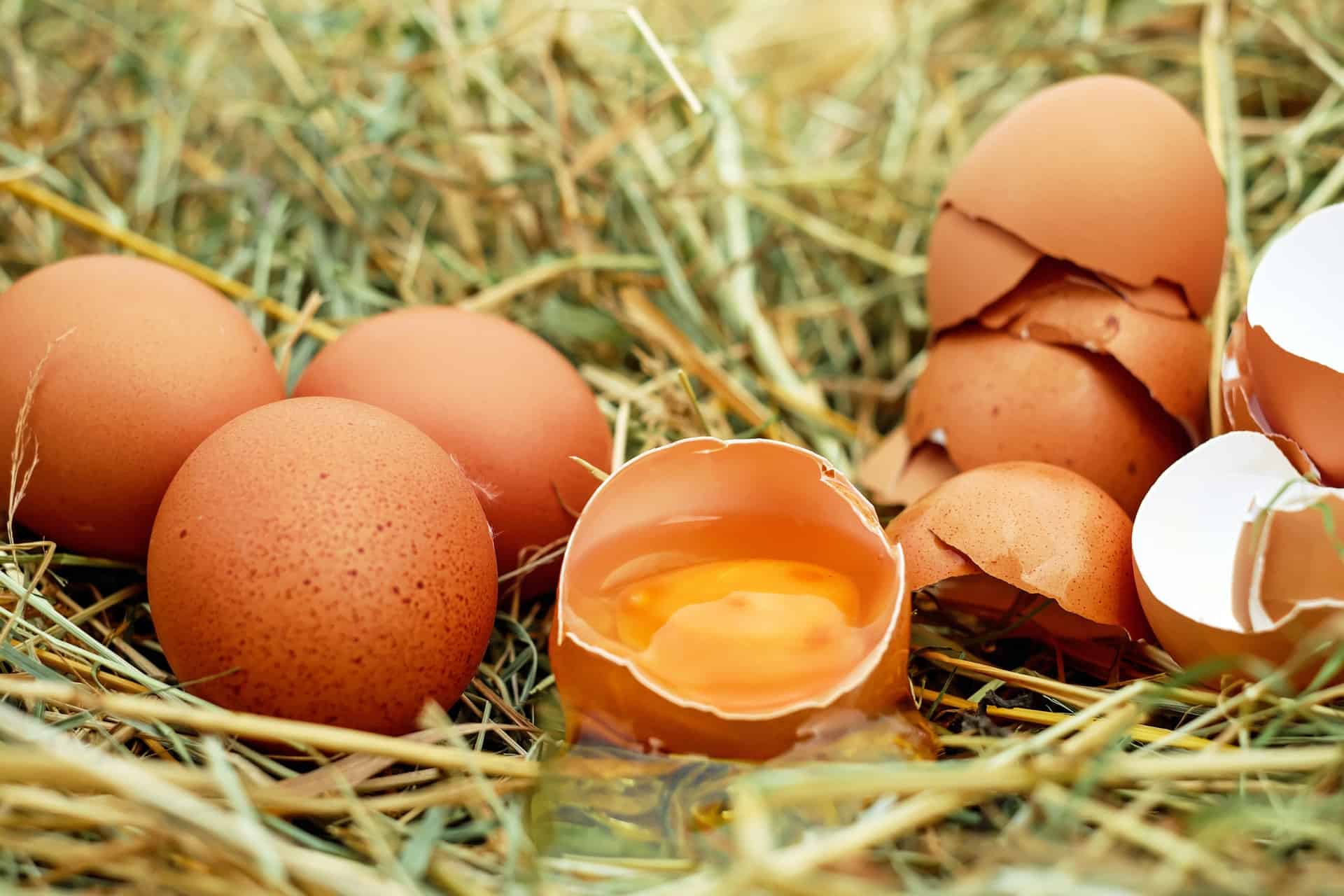 Purina Beyond's grain inclusive recipes make use of grains like Barley, Oatmeal, and Rice. Grain ingredients such as these are often controversial additions to pet food recipes, with many pet owners refusing to feed grain-inclusive recipes.
However, there another large group of pet owners who are strong supporters of grain ingredients. Many of these pet owners are lifelong fans of the Purina brand.
Regardless of opinion, grain ingredients can provide a mix of carbohydrates, fiber, and select vitamins and minerals.
You can read more about Barley and its use in dog food in Barley In Dog Food.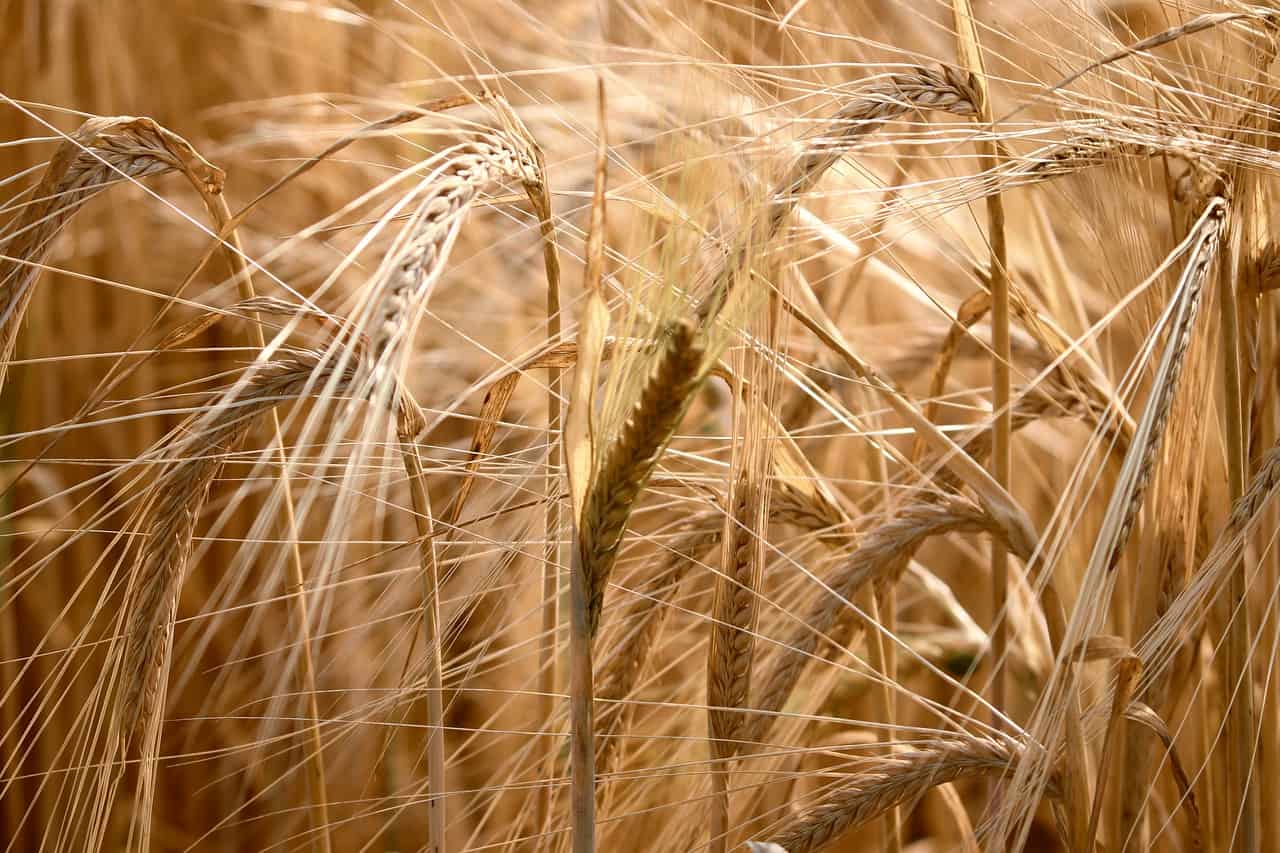 Some Purina Beyond recipes do not use grains and instead make use of starch ingredients like Sweet Potatoes or Tapioca.
Sweet Potatoes are an incredibly dense source of carbohydrates, which means their portion size must be tightly controlled.
Tapioca, which is also known as Cassava, provides very similar nutrition to Sweet Potatoes but is far less understood by western consumers. Despite this, it is extremely popular in other regions such as South America.
You can learn more about Tapioca in our article Tapioca In Dog Food.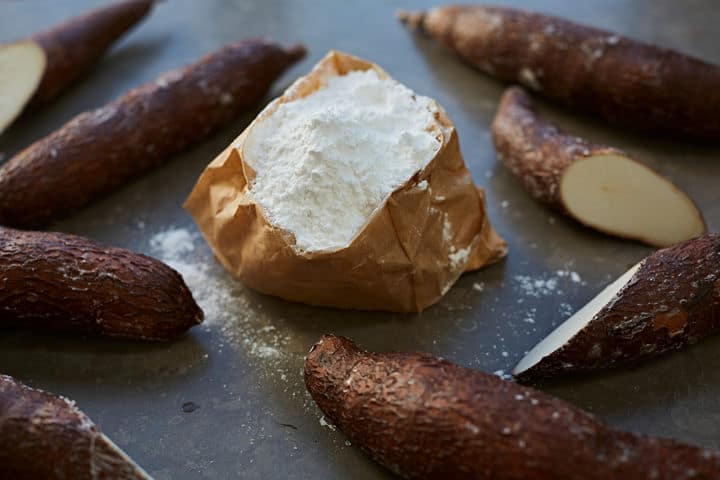 Pumpkin is an excellent addition to a pet food recipe and one that is underutilized in the industry. It is best known for being an excellent source of dietary fiber, but that isn't its only trait as it can also provide carbohydrates and beneficial vitamins and minerals like Beta Carotene.
The dietary fiber provided by Pumpkin can be a critical component of some dog's diet and helps them keep regular stools and digestion.
You can learn more about Pumpkin and some of the best Pumpkin recipes in our article Best Dog Food With Pumpkin.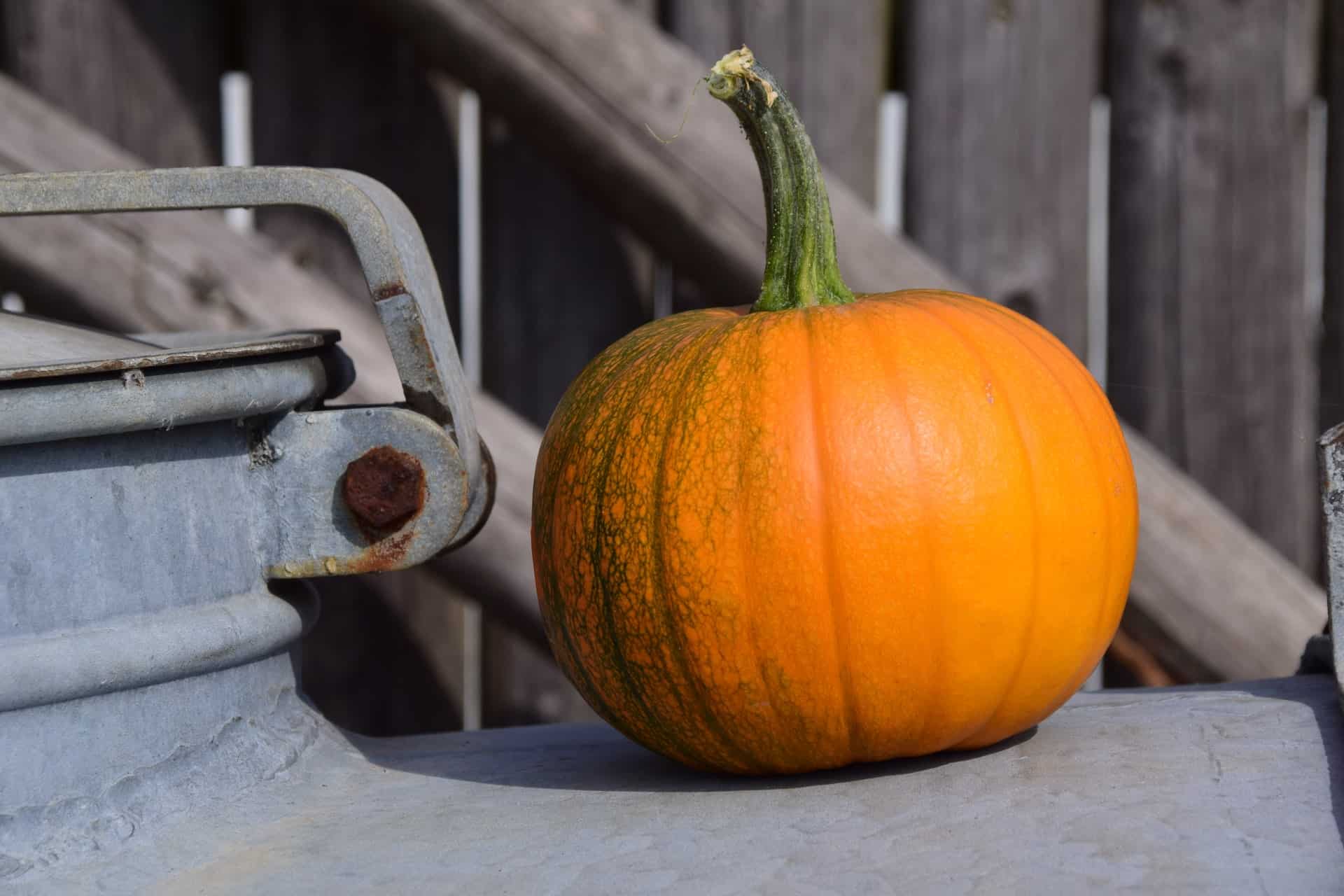 Some Purina Beyond recipes contain a small portion of Pea Protein or Pea Starch. Pea Protein is a vegetable by-product and popular addition to pet food recipes.
Sadly, Pea Protein is not usually a positive addition and is often used to boost the levels of protein in a recipe without including additional meat or fish ingredients.
These by-products can also be used to mislead consumers about the total portion of Peas present in a recipe.
You can read more about Pea Protein and Pea Starch in our article Peas, Pea Protein, Pea Flour, and Pea Fiber in Dog Food.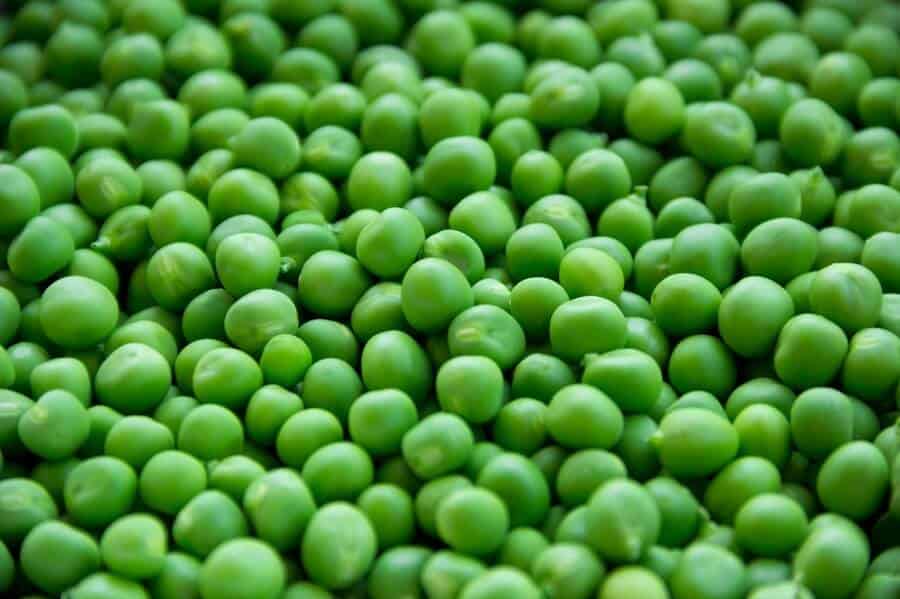 Dried Beet Pulp is another source of soluble fiber, but unlike Pumpkin, it does not provide any other notable nutrition.
Dried Beet Pulp is a consistent feature throughout the industry and is used as a safe and simple source of fiber.
Read more about Beet Pulp in Dried Beet Pulp In Dog Food.
Sunflower Oil is sometimes found in pet food recipes and is seen in some Purina Beyond formulas.
Sunflower Oil is a vegetable oil and can be used to increase the proportion of fat in a recipe. It can also be used as a binding agent to help give food a consistent texture.
Read more about Sunflower Oil in Sunflower Oil In Dog Food.
Carrageenan is a popular addition to wet pet food recipes and is used in Purina Beyond recipes. Carrageenan is made from Seaweed and is used as a binding agent to give food a consistent look and feel.
Learn more about Carrageenan in our article Carrageenan In Dog Food.
Purina Beyond Animal Testing
At this time, we have no information on whether the Purina Beyond sub-brand participates in invasive or laboratory testing of animals.
However, given that Purina Beyond is a Purina brand, it likely follows the same animal testing regime as other Purina brands.
Purina is well-known for undertaking some of the more thorough and large-scale testing of pet food products. However, there are some that disagree with the testing that Purina performs.
We strongly believe that laboratory or invasive testing of animals is a cruel and outdated practice. We hope that in the future, it will be eliminated.
Purina Beyond Recalls
Based on our research (FDA, AVMA, DogFoodAdvisor), Purina Beyond products have never been recalled, which makes Purina Beyond a recall-free brand.
This may not be surprising given the sub-brands young age and relatively small product range.
However, many other Purina brands have been recalled over the last few decades. Examples of these brands include Purina Pro Plan, Purina Dog Chow, and Purina Alpo.
We'd recommend checking out the below review pages on Purina brands for more information on these recalls
Despite Purina Beyond's recall-free record, we always suggest that pet owners remain vigilant of any future recalls of Purina Beyond or any other pet food brand.
Best of Purina Beyond
Grain Free With Chicken & Egg Review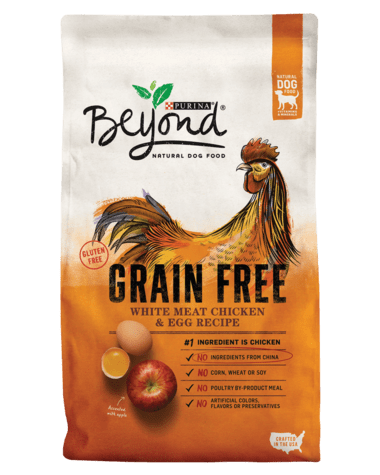 ㅤ
Our favorite recipe from the Purina Beyond dry dog food range is their Chicken & Egg formula, which contains a healthy proportion of Chicken and Chicken Meal.
Many consumers are often put off by Meat meals such as Chicken Meal, but it can be advantageous as it contains a much higher proportion of animal protein and fat than traditional meat.
Eggs are also worth noting as they are very easily digested by humans and dogs alike and are full of high-quality nutrition in the form of protein, fat, carbohydrates, and more.
The Chicken and Egg ingredients are then combined with a range of vegetable by-products such as Pea Starch, Pea Protein, and Cassava Root Flour.
We won't discuss these in great detail again, as you will already be familiar with our opinion of them.
Purina Beyond Ocean Whitefish, Salmon & Sweet Potato Canned Review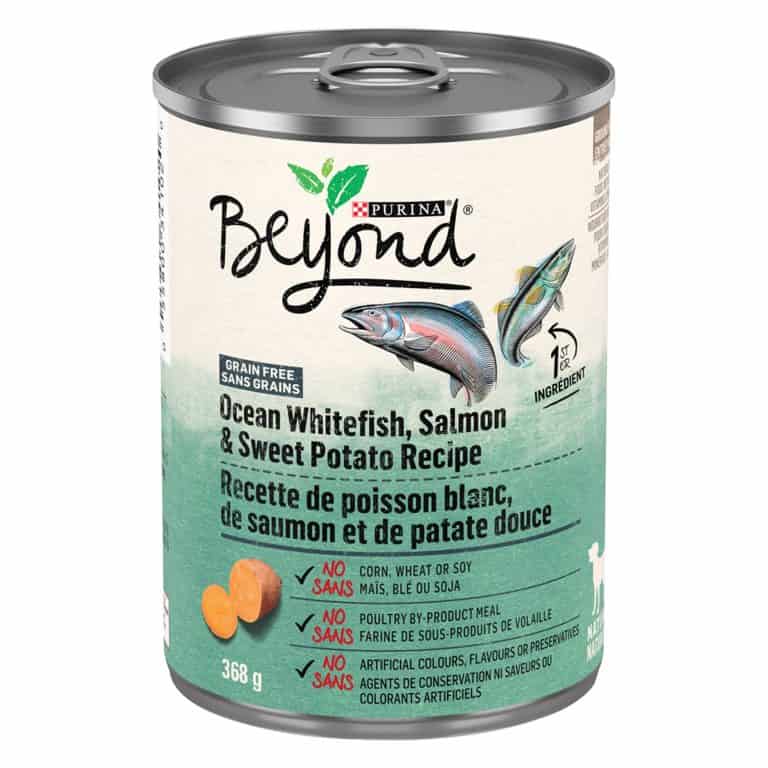 ㅤ
The above wet dog food formula from Purina Beyond uses Ocean Whitefish, Chicken, Liver, Turkey, Salmon as its meat and fish ingredients.
This mix of staple ingredients provides a satisfactory proportion of protein and fat that will it make it appealing to eat and ensure that dogs satisfy their dietary requirements.
Liver is an interesting addition and one that is welcome. Organ meat such as Liver can enhance flavor and provide vitamins and minerals that traditional meat cuts lack.
Lastly, the recipe uses a small portion of Sweet Potatoes to provide a modest proportion of carbohydrates.
Grain Free Ocean Whitefish & Egg Review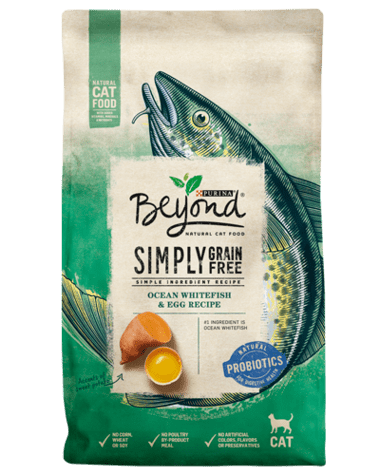 ㅤ
The above Whitefish recipe from Purina Beyond is our top pick from their small dry food range.
The recipe's primary ingredients are Hake and Chicken Meal, which are both high-quality sources of protein and fat and well suited to a cat's diet.
Outside of these ingredients, the recipe utilizes a mix of Peas, Tapioca, and other minor ingredients. These provide a mix of plant-based protein, carbohydrates, and fiber.
While we would prefer that Purina Beyond didn't use vegetable by-products like Pea Protein, it may be an unfortunate reality in order to keep the recipe affordable.
Grain Free Duck & Sweet Potato Review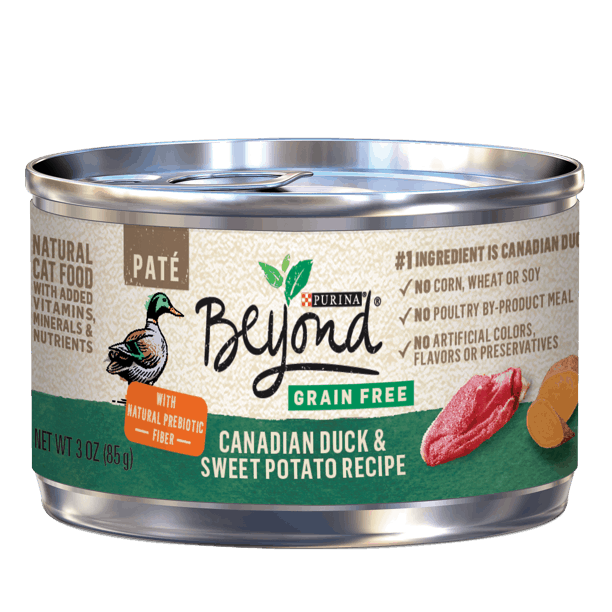 ㅤ
Most cats go crazy over the prospect of wet cat food, and the above Duck recipe from Purina Beyond is likely to have a similar effect.
The recipe uses a mix of Duck, Liver, and Fish as its primary ingredients. This mix of meat and fish ingredients makes up the bulk of the recipe and provides a satisfactory proportion of protein and fat.
Outside of these ingredients, there is a small portion of Sweet Potatoes and Carrots. These ingredients provide a modest proportion of carbohydrates and fiber.
Purina Beyond Featured Articles
Best Cheap Dog Food – Cost is hugely important to many dog owners, and finding the most cost-effective or affordable dog food is an arduous task.
In this article, we discuss the consequences of lower-cost dog food and highlight some of the best cheap recipes available, including one from Purina Beyond.
Best Dog Food At PetSmart – PetSmart is a behemoth of the industry that almost all dog owners in the United States will be familiar with. However, it is hard to decipher which dog food brands and recipes to choose when browsing their huge stores.
In this article, we discuss PetSmart and put forward our favorite recipes sold at the store.
Best Dog Food At Walmart – Walmart is another giant seller of pet food in the United States. While it doesn't stock the same variety that stores like PetSmart do, it still has a significant choice.
Purina Beyond is a regular feature in Walmart, which earns it a place in this article.
Best Dog Food With Whitefish – Whitefish is an often overlooked ingredient in dog food, and others like Salmon are favored over it. However, it shouldn't be and can be a fantastic option, especially for dogs with an easily upset stomach.
One of Purina Beyond's recipes makes fantastic use of Whitefish, which is why it features here.
Purina Beyond Full Product Range
Dog Food
Dry Dog Food
Grain Free Simply White Meat With Chicken & Egg Recipe
Simply White Meat Chicken & Whole Barley Recipe
Small Dog White Meat Chicken, Barley & Egg Recipe
Superfood Blend Wild Caught Salmon, Egg & Pumpkin Recipe
Grain Free Simply Beef & Egg Recipe
Simply Ranch Raised Lamb & Whole Barley Recipe
Organic Chicken, Egg & Sweet Potato Recipe
Small Dog Organic Chicken, Egg & Carrot Recipe
Wet Dog Food
Grain Free Chicken, Carrot & Pea Recipe
Grain Free Chicken, Lamb & Spinach
Grain Free Chicken & Sweet Potato
Grain Free Ocean Whitefish, Salmon & Sweet Potato
Grain Free Turkey & Sweet Potato Recipe
Grain Free Beef, Potato & Green Bean Recipe
Grain Free Turkey, Liver & Duck Recipe
Grain Free Turkey & Green Bean Recipe
Grain Free Beef & Spinach Recipe
Grain Free Beef, Liver & Lamb Recipe
Grain Free Texas Beef Recipe
Organic Chicken & Sweet Potato Recipe
Organic Chicken & Carrot Recipe
Cat Food
Dry Cat Food
Grain Free Ocean Whitefish & Egg Recipe
Grain Free White Meat Chicken & Egg Recipe
Simply Indoor Salmon, Egg & Sweet Potato Recipe
Simply Salmon & Whole Brown Rice Recipe
Simply White Meat Chicken & Whole Oat Meal Recipe
Organic Chicken, Egg & Sweet Potato Recipe
Wet Cat Food
Grain Free Turkey, Sweet Potato & Spinach Recipe
Grain Free Chicken & Sweet Potato Recipe
Grain Free Duck & Sweet Potato Recipe
Grain Free Trout & Catfish Recipe Recipe
Grain Free Tuna, Mackerel & Carrot Recipe
Grain Free Wild Salmon Pate Recipe
Grain Free Salmon, Liver & Arctic Char Pate Recipe
Grain Free Chicken, Beef & Carrot Recipe
Grain Free Salmon & Sweet Potato Recipe
Grain Free Arctic Char & Spinach Pate Recipe
Grain Free Ocean Whitefish & Spinach Pate Recipe
Grain Free Turkey, Liver & Quail Pate Recipe