Eukanuba Information
Eukanuba was founded in 1969 by Paul Iams. The brand was produced by Proctor and Gamble until 2014, when it was sold to Mars.
Mars is a large conglomerate that owns several other pet food brands, including Pedigree, Nutro, Royal Canin, Iams, and more.
Eukanuba owns a manufacturing facility in Ohio, which is where most of its products are made. It is not clear where any products that aren't produced at this facility are made.
While Eukanuba states that most of its key ingredients are sourced from western countries like the United States, New Zealand, and Europe, it does not guarantee that all of its ingredients are. It is unknown if any of their ingredients are sourced from further afield, such as China.
Eukanuba is widely available at both large retail stores like PetSmart and Petco, as well as online sellers such as Chewy and Amazon.
Eukanuba Product Range
Eukanuba has a large range of dog food products. This range includes dry dog food, wet/canned dog food, and dog treats.
Eukanuba produces breed-specific recipes. Very few brands do this, with the others being giants like Royal Canin and Hill's Science Diet. Examples of Eukanuba's breed-specific recipes include Rottweiler, Boxer, and German Shepherd.
Eukanuba also has other niche recipe types such as large breed recipes, senior dog food recipes, and puppy food recipes.
Eukanuba Nutrition
The nutrition offered by Eukanuba recipes varies significantly. There are Eukanuba recipes that offer significantly above-average nutrition, and there are others that offer average to below-average nutrition.
For example, Eukanuba's performance range offers excellent nutrition. This is as the recipes contain a large portion of meat content.
We recommend you check the nutritional values of the specific recipe you are interested in.
Eukanuba Ingredients
High-Quality Meat & Fish Ingredients
Given their large product range, Eukanuba uses a relatively small number of meat ingredients. The majority of their recipes stick to Chicken as their core ingredient, probably as it is the most cost-effective meat ingredient.
There is nothing wrong with this, though, as Chicken is highly nutritious and a great source of animal-based protein.
Some Eukanuba recipes feature Liver ingredients such as Beef Liver. Organ meat such as this is a great addition to dog food and can boost the levels of otherwise sparse Vitamins and Minerals as well as improve the flavor of a formula.
Other Notable Ingredients
Corn, Wheat, Sorghum are just some of the grain ingredients found in Eukanuba recipes. Some of these grain ingredients, mainly Corn and Wheat, are very controversial, and many dog owners will refuse to feed any food that contains them.
Despite this, Eukanuba and other large breeds like Purina are big supporters of these grains, and they believe they are suitable for dogs.
Brewers Rice is a less desirable addition to dog food than whole rice ingredients like Brown Rice. It is essentially the broken rice kernels that are left over after processing.
While the ingredient still provides nutrition, many consider it to a cheaper alternative than whole rice. Learn more about Brewers Rice in our article Brewers Rice In Dog Food.
Chicken Fat
Dried Beet Pulp is a regular addition to dog food. It is added as it is a very cost-effective source of soluble fiber.
Fiber can be important to some dogs to help regulate digestion and stools. Read more about Beet Pulp in our article Dried Beet Pulp In Dog Food.
Peas, Carrots, Tomato
Eukanuba Animal Testing
At this time, we have no information on what type of animal testing, if any, that Eukanuba participates in.
We strongly believe that laboratory and invasive testing of animals is a cruel and outdated practice and one which should be eliminated.
Eukanuba Recalls
Based on our research (FDA, AVMA, DogFoodAdvisor), Eukanuba is not a recall-free brand.
We always suggest that pet owners remain vigilant of any future recalls of Eukanuba or any other pet food brand.
Eukanuba Featured Articles
Best WSAVA Approved Dog Food – The WSAVA guidelines on dog food have become a popular topic of discussion and many are interested to know which brands follow these guidelines.
While many expect brands like Purina and Royal Canin to meet them with ease, many forget or do not expect Eukanuba. We discuss the guidelines and suggest a Eukanuba recipe in this article.
Best of Eukanuba
Eukanuba Premium Sport 28/18 Condition Adult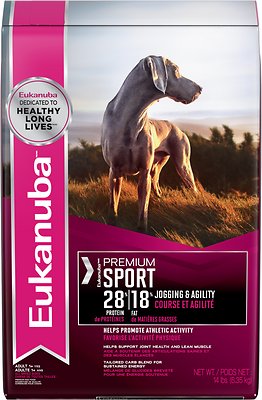 We've selected a high activity dog food recipe because of its superior nutrition. As the name gives away, the above recipe includes 28% protein and 18% fat, which is far above average.
This protein is thanks to a mix of Chicken and Chicken By-Product Meal. The fact that these two ingredients are the first two listed shows that they make up the bulk of the recipe.
The recipe also includes Corn, Sorghum, Brewers Rice, and more. These provide carbohydrates, fiber, and select micronutrients.
Adult Mixed Grill Chicken & Beef Dinner In Gravy
Eukanuba Full Product Range
Dog Food
Dry Dog Food
Fit Body Weight Control Small Breed
Fit Body Weight Control Medium Breed
Fit Body Weight Control Large Breed
Breed Specific Boxer Adult
Breed Specific German Shepherd Adult
Breed Specific Labrador Retriever Adult
Breed Specific Rottweiler Adult
Breed Specific Chihuahua Adult
Breed Specific Dachshund Adult
Breed Specific Yorkshire Terrier Adult
Excel Adult Large Breed Salmon
Excel Adult Salmon
Premium Performance Active Adult 28/18
Premium Performance Adult 30/20
Adult Large Breed Dog Food
Adult Small Breed Dog Food
Adult – Lamb 1st Ingredient Dog Food
Puppy Large Breed Dog Food
Puppy Small Breed Dog Food
Senior Small Breed Dog Food
Senior Medium Dog Food
Senior – Lamb 1st Ingredient Dog Food
Senior Large Breed Maintenance
Lifestage Formula Adult Maintenance
Lifestages Formula Puppy Medium Breed
Lifestages Formulas Lamb & Rice Adult Large Breed
Lifestages Formulas Lamb & Rice Puppy
Wet Dog Food
Adult Chicken, Rice & Vegetables Dinner
Puppy With Lamb & Rice
Adult With Lamb & Rice
Adult Chicken & Vegetable Stew
Puppy Mixed Grill Chicken & Beef Dinner In Gravy
Adult Beef & Vegetable Stew
Adult Mixed Grill Chicken & Beef Dinner In Gravy