Orijen Information
Orijen is one of the most famous premium dog food brands in the world. If you are familiar with Orijen, you are also likely to be familiar with their sister brand, which is called Acana. Acana is very similar to Orijen but is designed to be more affordable.
The brands Orijen and Acana are produced exclusively by Champion Pet Foods. Champions Pet Food is based in Canada, but they have recently expanded production to the United States, and their products are sold worldwide.

Orijen does not outsource any of its pet food production to third parties and maintains rigorous and thorough safety and quality standards.
While Orijen is considered by many to be a very high-quality brand, there are many others who are not a fan of the Canadian brand and believe that their products are controversial or that the brand is too heavily focused on marketing.
Orijen Product Range
Dog Food
Orijen has a broad product range but does choose not to produce certain ranges or niche products. Their dog food range includes dry dog food, freeze-dried dog food, freeze-dried dog treats. Their cat food range consists of dry cat food, freeze-dried cat food, and freeze-dried cat treats.
Their dry food range is their most expansive and has niche products such as puppy food and senior dog food. There are dry food recipes that contain a variety of meat and fish ingredients to suit the tastes and needs of almost every dog. This includes products with red meat, poultry, fish, and uncommon meat ingredients like Goat or Char.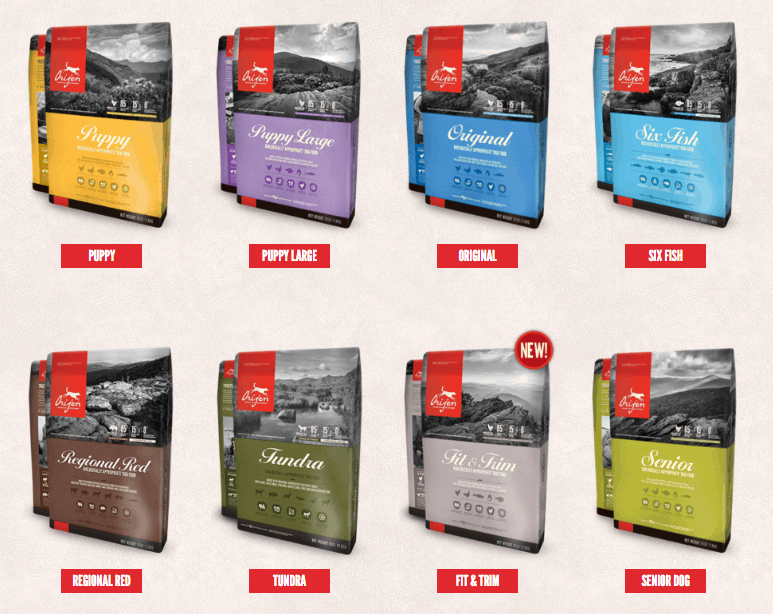 Their freeze-dried range is smaller than their dry food range but does have some variety and has recipes that share themes with dry food recipes. This includes recipes with poultry, red meat, game, and fish.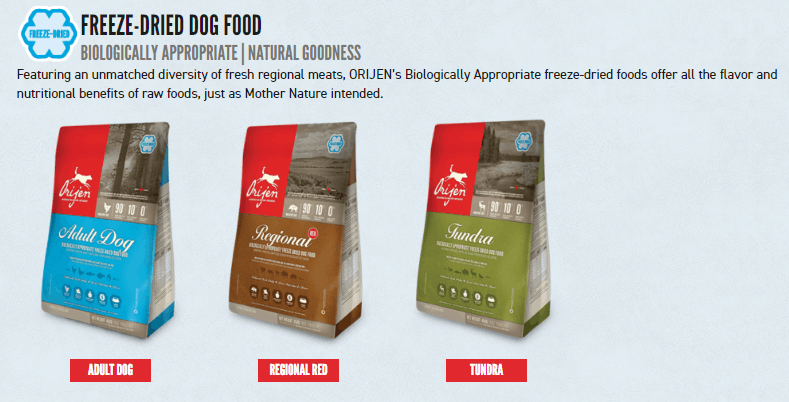 Orijen does not produce canned or wet dog food. They state their motivation behind this is ensuring that they do not have to outsource their production. See below for the full statement.

Orijen also does not produce limited ingredient dog food or anything specifically targeted in the hypoallergenic market. While this is a disappointment for those dogs with allergies, Orijen's sister brand, Acana, does produce limited ingredient dog food.
Cat Food
Orijen's cat food range consists of dry cat food and freeze-dried cat treats.
While at one point in time, this range was quite small, it has expanded and now includes five dry food recipes that are similar in name and ingredients to dry dog food recipes.
Once again, Orijen does not produce any canned or wet products or anything for cats with allergies or sensitivities.
Orijen Nutrition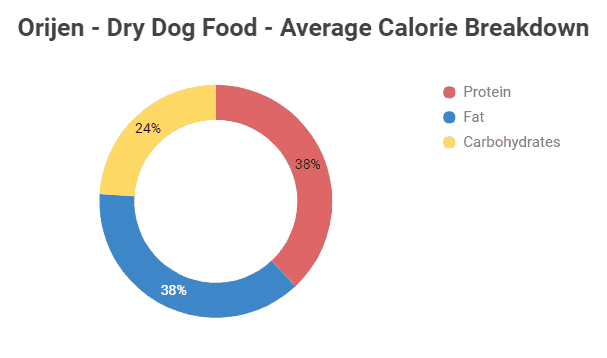 Please note, the above chart is based on Orijen's Guaranteed Analysis. This is an estimate, and the true values are likely to include a slightly higher proportion of protein and fat.
Orijen's dry dog food range provides excellent nutrition. As you can see above, the proportion of protein and fat is, on average, 38% of the total calories. This proportion is unprecedented and is significantly above average.
The proportion of protein would be suitable for dogs of all activity levels, including those who are extremely active. While it is true that many dogs do not need this much protein, it will not necessarily be wasted and can instead be used as an energy source.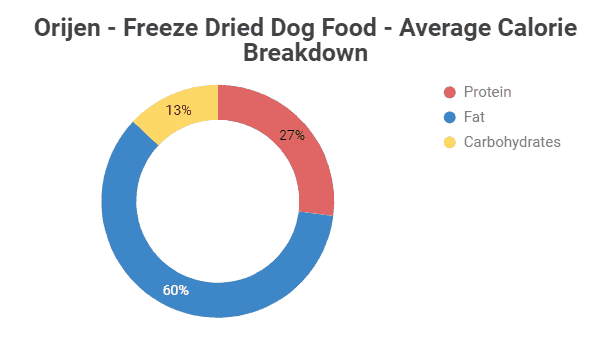 Please note, the above chart is based on Orijen's Guaranteed Analysis. This is an estimate, and the true values are likely to include a slightly higher proportion of protein and fat.
The nutrition provided by Orijen's freeze-dried dog food is also very satisfactory. However, it is less balanced than dry food and is extremely fat heavy. While this isn't a problem for all dogs, it may not be suitable for those who are prone to weight gain or obesity.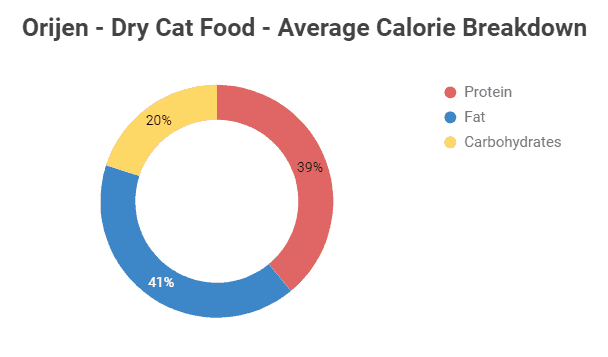 Please note, the above chart is based on Orijen's Guaranteed Analysis. This is an estimate, and the true values are likely to include a slightly higher proportion of protein and fat.
The nutrition provided by Orijen's dry cat food is very satisfactory. While cats do not require any carbohydrates in their diet, due to the fact they are obligate carnivores, the proportion provided by Orijen formulas is far below average and superior when compared to other cat food brands.
The proportion of protein and fat is also satisfactory and will be suitable for bodily functions and activity.
Orijen Ingredients
High-Quality Meat & Fish Ingredients
Chicken
Turkey
Mackerel
Beef
Turkey
Lamb
Whole Eggs
Lamb
Wild Boar
Sardines
Orijen makes use of a huge variety of meat and fish ingredients, some of which are listed above. Named ingredients such as this are perfect for a dog's diet and can provide them with high-quality and easily digestible protein and fat.
In addition to traditional meat and fish ingredients, such as Beef, Chicken, and Turkey, Orijen also makes use of some very uncommon and unusual meat and fish ingredients.
Some examples of these include Char, Goat, Venison, Wild Boar, Monkfish, Redfish, and Hake. While these ingredients may not provide noticeably better nutrition than the usual suspects, they could provide some added variety or uniqueness in the taste of palatability of your dog's food.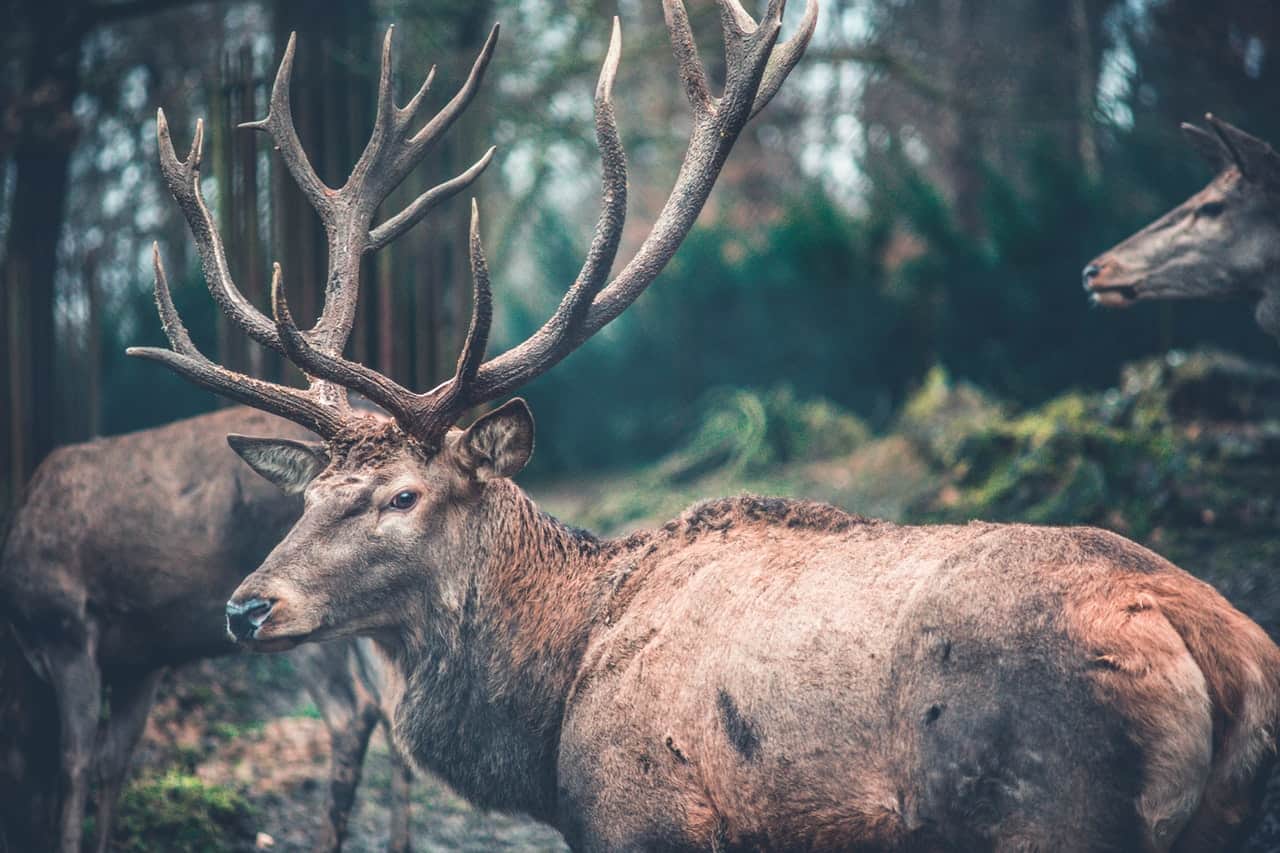 In addition, some of these ingredients may contain a different mix of vitamins and minerals, which could provide some small health benefits.
Orijen makes use of organ meat ingredients such as Liver, Heart, and kidney. These organ meats can provide dogs with an extremely dense and rich source of some vitamins and minerals. They are an excellent addition to the diet of the vast majority of dogs, and Orijen's use of them can allow you to provide them with consistency.
Orijen And Dilated Cardiomyopathy
In July 2018, the FDA (the Food and Drug Administration)announced that it had received reports about a type of heart disease called Canine Dilated Cardiomyopathy, which can cause an enlarged, weakened heart and eventual heart failure in dogs. These reports suggested a link between grain-free dog foods, high in Potatoes, Peas, and other Legumes could be the cause.
The heart disease occurred in select breeds such as Golden Retrievers and Labrador Retrievers, Whippets, Shih Tzus, Bulldogs, and Miniature Schnauzers. None of these dog breeds are genetically prone to the disease, which suggests that there must be another cause, and the reports pointed the finger at legumes like Peas.
Many dog owners were quick to notice that Orijen formulas contain a large variety of legumes such as Peas, Lentils, and Chickpeas. Some went as far as to immediately transition their dogs to an alternative recipe that did not use legumes and instead makes use of grains.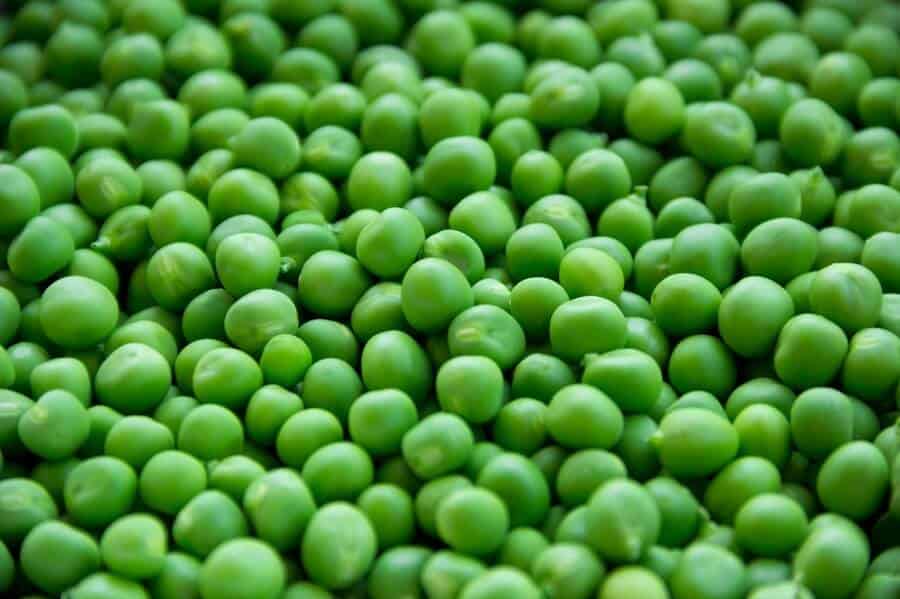 However, what many dog owners do not take into account is that while Orijen contains a large number of legumes, the quantity or proportion of these legumes is still relatively low (roughly 10%). It is especially low when it is compared to many of its competitors who use as much as 40-50% legumes in their recipes.
However, for those who took a more in-depth look at this issue, they were more concerned with Orijen's sister brand – Acana's use of legumes as it is far more substantial.
Champion Pet Foods, who own Acana and Orijen, have disputed this link and have made repeated statements in emails and on social media that state that all of their products are carefully formulated to meet industry guidelines.
Despite the low proportion of legumes in Orijen formulas, if this link between legumes and Dilated Cardiomyopathy is substantiated, then there will be serious consequences for Orijen and many other brands. This will likely lead to reformulations and ingredient modifications.
In late 2019, Acana released a number of grain-inclusive formulas to appeal to consumers that are concerned about DCM and the use of legumes in dog food. However, to date, Orijen has yet to give any indication that they are going to produce grain-inclusive dog food. This could leave them exposed if a link between DCM and legumes is proven.
Orijen Recalls
Sadly, despite its fantastic nutrition and high-quality ingredients, Orijen is not recall-free. However, this was quite a unique recall and not due to contamination like many others.
When Orijen was first imported to Australia, Orijen failed to make public the fact that their food was treated with Gamma Radiation. This contradicted its biologically appropriate label. While not compulsory, Orijen made the decision to provide a voluntary recall of its products. Since then, Orijen has had no further recalls.
Based on our research (FDA, AVMA, DogFoodAdvisor), outside the above-mentioned incident, Orijen products have not been recalled.
In March 2018, a lawsuit was filed against Champion Pet Foods, the manufacturer of Acana and Orijen pet products. The lawsuit claims that Champion Pet Foods failed to disclose harmful levels of heavy metals and toxins such as Arsenic and Lead in their products.
Champion Pet Foods quickly responded, claiming the lawsuit was meritless and had misrepresented the data. It is important to understand this is merely an accusation at this stage, and until any conclusive judgment or evidence is made public, we will not advise against any of Champion Pet Foods products.
Orijen Animal Testing
Orijen, along with its sister brand Acana, proudly states that it does not perform any testing or trials on animals that they would not feel comfortable being performed on their own pets. See below.

This is an excellent approach to animal testing and shows that they care about the wellbeing of all animals. Orijen does state that they participate in palatability and digestibility testing, which is vital to ensure that they can both enjoy and digest Orijen's products.
We firmly believe that animal testing to test pet food is a cruel and outdated practice. We hope over the coming years that it will be significantly reduced or preferably eliminated.
Orijen Featured Articles
Acana vs. Orijen – Dog Food Brand Comparison – Acana and Orijen are the primary discussion point in this article as we outline the core similarities and differences between the brands such as nutrition, product range, and ingredients.
Best Senior Dog Food – While many dog owners choose to skip out on senior dog food, it is an emerging niche. Orijen has an excellent senior dog food recipe, and it features as one of our recommendations.
Best Dog Food For Great Danes – Great Danes are one of the largest breeds of dogs, and as a consequence of their size, they need a specially formulated recipe for when they are puppies. Orijen's Puppy Large formula is one of the best large breed puppy recipes available and features accordingly.
Best Puppy Food – Correct nutrition for a puppy is critical, and this article will provide you with everything you need to make an informed decision. Both of Orijen's puppy food formulas feature as potential options thanks to their excellent nutrition and ingredient quality.
Best Dog Food For Rhodesian Ridgebacks – Rhodesian Ridgebacks are a distinctive breed, but they do suffer from a number of health problems. Some of these problems can be countered by diet. This article discusses these health problems and what kind of diet and dog food recipes could be a solution.
Best Dog Food Without Chicken – Chicken is the most common meat allergy for dogs, and as a consequence, many dog owners are on the hunt for chicken-free recipes. Orijen has a number of recipes that do not use Chicken, and one is featured here.
Best Dog Foods Without Potatoes – Potatoes are another common allergy for dogs, and there is concern that they could be related to Cardio Myopathy. If you are in either of these camps, then you should check out this article and some of the formulas it recommend This includes some from Orijen, Acana, and other big brands.
Best High Protein Dog Food – It will come as no surprise that Orijen features in our high protein article. This is thanks to the huge proportion of meat and fish contained within Orijen recipes. Orijen, alongside a number of other brands, is discussed here as well as the benefits and risks of a high protein diet.
Best of Orijen
Orijen's products are extremely nutritious and contain ingredients of very high-quality, perhaps even higher-quality than we consume ourselves. As a consequence choosing the best of their products was a very difficult process. Nevertheless, these are some of our favorites.
Dry Dog Food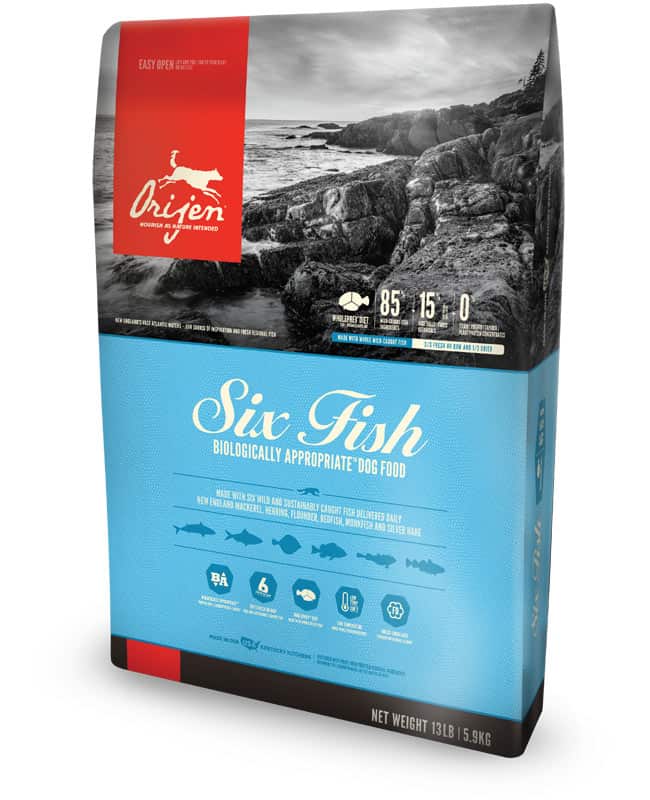 Deciding which of Orijen's dry dog food formulas was our favorite was a tough decision, but in the end, Six Fish was the comfortable winner.
The huge variety of fish ingredients present within the recipe is unprecedented in commercial dog food and has no equal.
These fish ingredients provide a very satisfactory proportion of protein and fat, which would be suitable for dogs of all activity levels, including those who are extremely active.
However, what makes Six Fish stand out compared to other Orijen formulas is its level of the Omega 3 Fatty Acids. Thanks to all those oily fish ingredients, the level is outstanding and could provide your dog with noticeable health benefits such as improved skin and coat health, improved cognitive function and a reduced risk of heart disease.
Puppy Food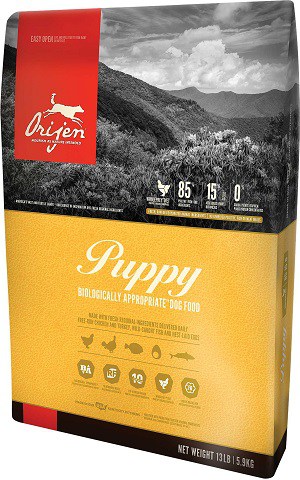 Orijen produces two puppy recipes, their standard Puppy Formula, and their Puppy Large Formula. While they do have some nutritional differences, they are very similar.
These puppy formulas from Orijen have excellent nutrition and make use of an enormous range of high-quality poultry and fish ingredients. The Puppy formula contains over fifteen different meat and fish ingredients, whereas most of Orijen's competitors have less than five. These ingredients provide a proportion of protein and fat that is significantly above average and can help fuel a puppy's activity and growth.
Examples include Chicken, Turkey, Mackerel, Herring, and some Organ meats like Liver and Heart. The fish ingredients help boost the levels of the Omega Fatty Acids, which can provide a range of health benefits. The organ meats can provide high levels of vitamins and minerals that aren't as abundant in traditional meat cuts.
Freeze Dried Dog Food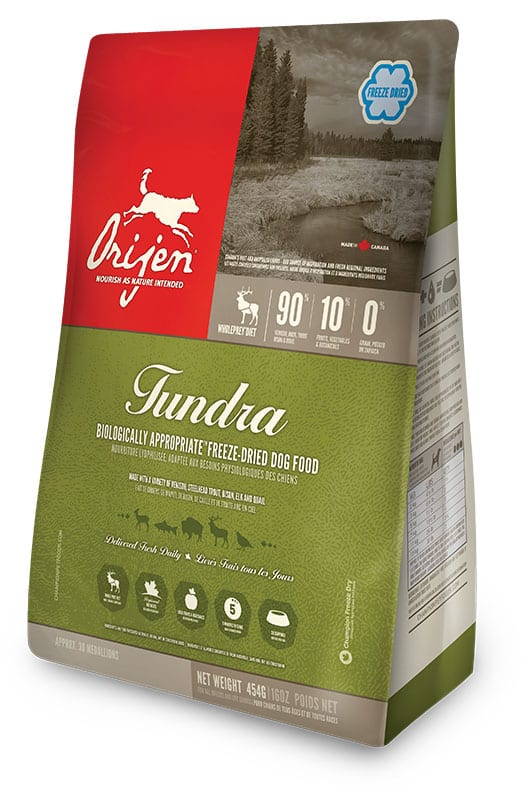 Orijen's dry food recipes are a premium product, but their freeze-dried range takes this premium to new heights. But for those of you who demand only the best for your pup, the freeze-dried product range is phenomenal in quality and nutrition.
The above-mentioned Tundra recipes use a number of uncommon and unique meat and fish ingredients such as Elk, Venison, Quail, and Bison. It is highly unlikely that your dog would have experienced such tastes, which could make this an enjoyable reward and add some much-needed variety.
The freeze-dried recipes may be an excellent choice for those dog owners who do not their dogs eating a large volume of vegetable ingredients as they only contain a very small portion.
Dry Cat Food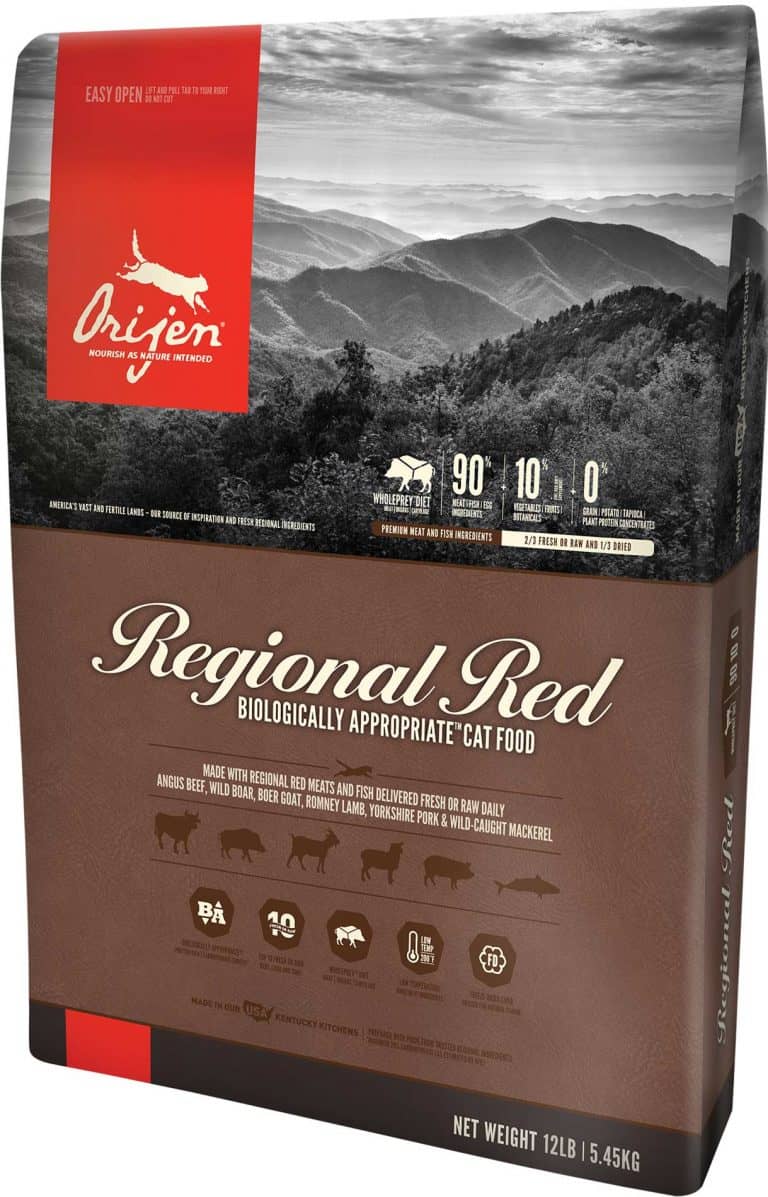 Orijen's dry cat food range is very impressive when compared to some of its competitors. This is thanks to the extremely high proportion of meat and fish found in their recipes. Cat's are obligate carnivores, and therefore the vast majority of their diet should be made up of meat and fish.
Regional Red mimics its dry dog food equivalent and has a strong focus on traditional red meat ingredients. These red meat ingredients include Beef, Pork, Lamb, Goat, and more.
These red meat ingredients are combined with a large range of legumes. While legumes are not an ideal part of a cat's diet, the proportion found in this formula is very low and far lower than most cat food recipes.
Orijen Full Product Range
Dry Dog Food
Puppy Food
Senior Dog Food
Freeze Dried Dog Food
Freeze Dried Food – Regional Red
Freeze Dried Dog Treats
Freeze Dried Treats – Original
Freeze Dried Treats – Six Fish
Freeze Dried Treats – Regional Red
Freeze Dried Treats – Tundra
Freeze Dried Treats – Angus Beef
Freeze Dried Treats – Grass-Fed Lamb
Freeze Dried Treats – Free-Run Duck
Freeze Dried Treats – Wild Boar
Freeze Dried Treats – Kentucky Bison
Dry Cat Food
Freeze Dried Cat Food Treats
Original
Six Fish
Regional Red
Tundra
Grass-Fed Lamb
Wild Boar