Farmina Information
The brand that Farmina originated from was founded in 1965 in Italy by Francesco Russo. In the 1990s, the brand shifted its focus and merged with a UK brand known as Farmina. Since this merger, the brand has produced the Farmina pet food recipes that fans will be familiar with.
Farmina recipes are not made in a single country. Instead, they are produced in various countries such as Brazil, Italy, and Serbia.
Many European brands that sell their pet food in the United States choose to use a US-based manufacturing facility, but Farmina bucked this trend.
However, in 2020, the company announced the building of a new US headquarters in North Carolina.
This headquarters will include manufacturing facilities, although it is not clear if all Farmina recipes sold in the United States will be shifted to this facility.
Farmina recipes are available at thousands of retail pet food stores across the United States and Europe. We recommend checking out this page on their website for a full list of stockists.
Farmina is also available from massive online pet food sellers such as Chewy, Amazon, and Petflow.
However, the range of products available on these sites is not always Farmina's full range, so you may need to shop around to find the recipe you are interested in.
Farmina Product Range
Dog Food
Farmina has a truly enormous range of dog food products, including a mix of dry dog food and wet/canned dog food.
This dog food range is split into several sub-ranges, which are VetLife, N&D Quinoa, N&D Prime, N&D Ocean, N&D Pumpkin, and N&D Ancestral Grain.
As you might have guessed, the VetLife sub-range produces veterinarian diets for dogs with specific and severe health issues.
The other N&D ranges from Farmina focus on specific ingredients or blends of ingredients. For example, the Ancestral Grain range has its focus pointed at grain-inclusive recipes, while the Pumpkin range has a consistent use of Pumpkin.
In addition to food for dogs with health problems, Farmina also produces dog food for different age ranges, such as puppies and senior dogs, as well as size-specific food such as recipes for large breed dogs and puppies.
Cat Food
Farmina's cat food range isn't as large as its dog food range but is still significant. It shares the same sub-brands as the dog food range, which are VetLife, N&D Quinoa, N&D Prime, N&D Ocean, N&D Pumpkin, and N&D Ancestral Grain.
As you would expect, these sub-brands include a mix of dry cat food and wet/canned cat food.
The cat food range has several speciality recipes, such as those for kittens and those cats with severe health issues. Niche cat food recipes like these are less common and widespread than dog equivalents.
Farmina Nutrition
Dog Food
Farmina dog food recipes offer an excellent nutritional profile when compared to other similar dog food brands.
However, given the huge size of their product range, there are some recipes that offer less satisfactory nutrition.
We always recommend checking our the guaranteed analysis of any dog food recipe you are considering to better understand its nutritional profile.
Below is an example of the nutrition offered by a typical Farmina dog food recipe.
As you can see, the proportion of protein and fat is exceptionally high. This kind of nutrition is suitable for most dogs, and those dogs who are more active will thrive on this more so.
If you want to better understand dog nutrition, we recommend checking out our Dog Food Guide.
Cat Food
The nutrition offered by Farmina cat food is similar to their dog food range and is significantly above average.
This above-average nutrition consists of extremely high proportions of protein and fat, which aligns with a cat's natural diet.
Cats are obligate carnivores and so do not require a large portion of plant-based food in their diet. Instead, they thrive best on a diet high in animal-based protein and fat.
You can learn more about a cat's diet in our Cat Food Guide.
Farmina Ingredients
High-Quality Meat & Fish Ingredients
Chicken
Duck
Lamb
Venison
Herring
Cod
Salmon
Trout
Farmina uses a large range of high-quality meat and fish ingredients in its recipes. This range includes many industry favorites like Chicken and Salmon.
These ingredients are industry favorites, as they are relatively inexpensive and can provide excellent nutrition.
However, Farmina also uses some much less common ingredients in its recipes. Examples of these include Venison, Cod, and Trout. Unique ingredients like these are often used in dog food focused on dogs with allergies and sensitivities.
Read more about these ingredients and that type of dog food in the below articles.
Best Hypoallergenic Dog Foods Guide
Other Notable Ingredients
Farmina makes extensive use of Eggs in its recipes. Eggs are a fantastic addition to any pet food recipe. This is because they can provide protein, fat, and beneficial micronutrients.
In addition, Eggs are extremely digestible when compared to other ingredients, which ensures that the nutrition can be absorbed by a pet's digestive system.
Starch ingredients such as Sweet Potatoes feature in some Farmina recipes. Starch ingredients are incredibly dense sources of carbohydrates, which means their portion size needs to be tightly controlled.
Outside of this carbohydrate content, they can provide some additional nutrition in the form of fiber, vitamins, and minerals.
While most Farmina recipes do not use grain ingredients, they do have a grain-inclusive range that utilizes ingredients like Spelt and Oats.
Spelt, in particular, is an unusual addition that isn't commonly seen in dog food. Grain ingredients such as these are preferred by some to others as they are seen as less processed.
Sadly, Farmina makes quite extensive use of some vegetable by-products such as Pea Starch and Pea Fiber.
These ingredients can often confuse or mislead consumers when they are reading the ingredient list.
You can read more about this subject in our article Peas, Pea Protein, Pea Flour, and Pea Fiber in Dog Food.
Pumpkin features in select Farmina recipes. Pumpkin is best known for aiding the digestion of dogs thanks to its high concentration of dietary fiber.
However, Pumpkin can also provide beneficial nutrition in the form of select vitamins and minerals.
Read more about Pumpkin in our article Best Dog Food With Pumpkin.
Chicken Fat is a regular addition to many dog food brands' recipes. It is added to improve the flavor and taste of recipes as well as boosting the proportion of animal-fat present.
Chicken Fat is chosen thanks to its low cost and its high availability.
Learn more about Chicken Fat in Chicken Fat In Dog Food.
Alfalfa is utilized by a broad range of pet food brands and is included in dog food for its supposed health benefits.
Alfalfa can provide several beneficial vitamins and minerals that could boost the health and well-being of some dogs.
You can learn more about Alfalfa in Alfalfa In Dog Food.
Farmina Animal Testing
Farmina provides a wealth of information regarding its testing and research, which is far and above the information provided by most pet food brands.
Farmina states that they have a long working relationship with the Chair of Animal Nutrition at the University of Naples, Federico II.
This relationship with the University has enabled several lines of research on their food led by impartial public entities.
Farmina also mentions information on their palatability trials, including that they meticulously monitor hundreds of pets during these trials to ensure there is minimal risk.
For those of you who are not familiar with palatability trials, they are designed to test how appealing and flavorful a pet food is.
Lastly, Farmina collaborates with dozens of independent veterinarians in Italy to offer nutritional solutions to cats and dogs that are affected by a disease.
If you'd like to read more about Farmina's approach to research and testing, we'd recommend reading this page on their website.
We strongly believe that laboratory and invasive testing of animals is a cruel and outdated practice and one which should be eliminated.
Farmina Recalls
Based on our research (FDA, AVMA, DogFoodAdvisor), Farmina is a recall-free pet food brand. We could find no information that their products have been recalled in the United States or Europe.
Given that Farmina is an established pet food brand that has been in operation for decades, a recall-free record is impressive and noteworthy.
This shows that they take their safety and quality processes during manufacturing seriously to ensure there is no contamination or other risks.
We hope that Farmina can maintain this recall-free record in the coming years and further advance its safety procedures.
Despite this recall-free record from Farmina, we always suggest that pet owners remain vigilant of any future recalls of Farmina or any other pet food brand to ensure your pets remain healthy and safe.
Best of Farmina
N&D Ocean Cod, Spelt, Oats & Orange Review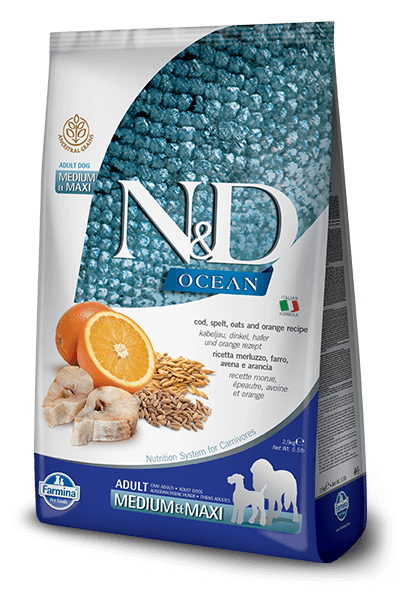 ㅤ
The Cod formula from Farmina's Ocean range uses a mix of whole Cod and dehydrated Cod to ensure that the total proportion is significant.
This Cod provides an ample portion of protein and fat that is significantly above average when compared to most dog food recipes.
Many of Farmina's dog food range makes extensive use of the legume by-product: Pea Starch. Pea starch is a vegetable by-product that we discuss regularly. It acts as a source of carbohydrates and as a binding agent to hold the kibble together.
However, this particular recipe from Farmina is Pea and Legume-free. Instead, it makes use of a range of grain ingredients, including Spelt and Oats. These provide carbohydrates and fiber.
Most Farmina recipes also contain much smaller portions of a large range of fruit and vegetables.
Examples of these ingredients include Blueberries, Carrots, Apples, and Pomegranate. These could give the kibble a unique flavor and provide some less abundant micronutrients.
N&D Prime Chicken & Pomegranate Adult Wet Review
ㅤ
While Farmina's hugely expansive dry dog food range gets most of the attention, its wet/canned recipes are worth looking into.
The above Chicken & Pomegranate is one of our top picks from the range and uses a blend of Chicken, Herring, and Eggs as its primary meat and fish ingredients. Both of these ingredients are high-quality additions to a dog's diet.
The only major plant-based ingredient in the recipe is a small portion of Sweet Potatoes.
Starch ingredients such as Sweet Potatoes can provide dogs with a mix of carbohydrates, fiber, and select micronutrients.
N&D Prime Chicken & Pomegranate Adult Review
ㅤ
The above N&D Prime recipe from Farmina is their most popular dry cat food recipe, and for good reason.
A huge portion of Chicken is at the center of the recipe, which is sourced from a mix of Boneless Chicken, Dehydrated Chicken, and Chicken Fat.
However, there are also small portions of Eggs and Herring present, which boost the nutrition this Chicken can provide.
There is a small range of plant-based ingredients present, including Sweet Potatoes, Pea Fiber, Carrots, and more. These provide a modest proportion of carbohydrates and fiber.
N&D Ocean Trout, Salmon & Shrimp Recipe Review
ㅤ
Most cats will go crazy over wet/canned food, and the above fish-centered recipe from Farmina is likely to amplify this effect.
The recipe includes several fish ingredients, including Trout, Salmon, Cod, Herring, and Shrimp. This large range of high-quality ingredients combines to provide a very satisfactory proportion of protein and fat.
Also, these fish ingredients are excellent sources of the Omega 3 Fatty acids, which many believe can provide cats with several health benefits.
There is very little plant-based material present outside of a small portion of Sweet Potatoes. It is likely that these are present to act as a binding agent and to give the food a consistent texture and consistency.
Farmina Featured Articles
Best Dog Food With Lamb – Lamb is a less common addition to dog food recipes, but that does not mean it should be discounted.
It is a rich meat ingredient and can be very appealing to dogs. Farmina has several Lamb-focused recipes, and one of these features here.
Best Dog Food Without Flaxseed – Flaxseed is an extremely common addition to dog food recipes thanks to the high levels of the Omega 3 Fatty Acids it can provide.
However, some dogs react poorly to Flaxseed, which can make finding a flax-free recipe very difficult. Fear not, as we have searched far and wide for the best dog food recipes with Flaxseed.
The 10 Most Expensive Dog Foods – While most dog owners stick to reliable and moderately priced dog food, there are some who demand only the best food available for their canine friends.
In this article, we discuss what makes dog food expensive and go through some of the world's most expensive dog food recipes. While not all Farmina dog food is in this ultra-premium bucket, some recipes are eye-watering.
Best Dog Food For Dalmatians – In this article, which is one of our most popular, we discuss Dalmatians and their dietary requirements.
Dalmatians have very specific requirements compared to most breeds, which is why it is critical to feed an appropriate food. We highlight a number of recipes that would be well-suited to a Dalmatian's needs.
Best Puppy Food – New puppy owners are desperate to feed their new friends the best food they can get their hands on.
In this article, we discuss the dietary needs of puppies, the differences between puppy and adult dog food, and finally, showcase some of our favorite puppy food recipes.
Farmina's large range of puppy food, including those for large and small breed dogs, earns them a well-deserved place in our list.
Best Dog Food For Great Danes – Great Danes are one of the largest breeds of dogs, and with that comes a range of health challenges. A suitable diet is critical to ensuring a Great Dane stays happy and healthy.
Check out this article if you want to see our recommendations of food suitable for giant-breed dogs like Great Danes.
Best Dog Food With Pumpkin – Pumpkin is a food that many dog owners add to their pet's diet as a supplement, but many do not realize there are dog food recipes that include Pumpkin.
In this article, we go through the benefits and uses of Pumpkin and then recommend a number of Pumpkin focused dog food recipes, including one from Farmina's N&D Pumpkin range.
Best Dog Foods Without Peas – In one of our most popular articles, we go in-depth to discuss the recent concerns around the use of Peas and other legumes in dog food and a rise in instances of dogs with Canine Heart Disease.
We then go on to recommend the best pea and legume-free recipes available, including one from Farmina.
Best High Protein Dog Food – Protein content is a huge focus for many dog food brands that are in a constant battle for supremacy. In this article, we discuss whether dogs need a high-protein diet and the best sources for this protein.
After this, we showcase some of the highest protein dog food recipes that money can buy, including some of Farmina's best recipes.
Best Dog Food for Rhodesian Ridgebacks – While Rhodesian Ridgebacks may be a niche dog breed, they are growing in popularity and have a group of die-hard supporters.
In this article, we discuss the dietary requirements of Rhodesian Ridgebacks as well as some health problems they encounter due to diet. Based on this discussion, we recommend some recipes that we believe would be well-suited.
Farmina Full Product Range
Dog Food
Vetlife Range
Gastrointestinal Puppy
Joint
Convalescence
Gastrointestinal
Hepatic
Struvite
Struvite Management
Oxlate
Renal
Cardiac
Obesity
Diabetic
UltraHypo
Hypoallergenic – Fish & Potato
Hypoallergenic – Egg & Rice
Neutered 1-10kg
Neutered +10kg
N&D Quinoa Range
Digestion Lamb
Skin & Coat Herring
Skin & Coat Quail
Skin & Coat Venison
Skin & Coat Duck
Weight Mangement Lamb
Digestion Mini Wet
Skin & Coat Duck Mini Wet
Skin & Coat Herring Mini Wet
Skin & Coat Quail Mini Wet
Skin & Coat Venison Mini Wet
Weight Management Mini Wet
Digestion Wet
Skin & Coat Duck Wet
Skin & Coat Herring Wet
Skin & Coat Quail Wet
Skin & Coat Venison Wet
Weight Management Wet
N&D Prime Range
Chicken & Pomegranate Puppy Mini
Chicken & Pomegranate Puppy Mini & Medium
Chicken & Pomegranate Puppy Maxi
Chicken & Pomegranate Adult Mini
Chicken & Pomegranate Adult Medium
Boar & Apple Adult Mini
Boar & Apple Adult Medium
Lamb & Blueberry Adult Mini
Lamb & Blueberry Adult Medium
Chicken & Pomegranate Puppy Mini Wet
Chicken & Pomegranate Adult Mini Wet
Boar & Apple Adult Mini Wet
Lamb & Blueberry Adult Mini Wet
Chicken & Pomegranate Puppy Wet
Chicken & Pomegranate Adult Wet
Boar & Apple Adult Wet
Lamb & Blueberry Adult Wet
N&D Ocean Range
Herring & Orange Adult Mini
Herring & Orange Adult Medium & Maxi
Cod, Pumpkin & Orange Adult Mini
Cod, Pumpkin & Orange Adult Medium & Maxi
Cod, Spelt, Oats & Orange Adult Mini
Cod, Spelt, Oats & Orange Adult Medium & Maxi
Cod & Pumpkin Puppy Mini Wet
Cod & Pumpkin Adult Mini Wet
Herring & Shrimp Adult Mini Wet
Salmon & Cod Adult Mini Wet
Sea Bass & Squid Adult Mini Wet
Trout & Salmon Adult Mini Wet
Cod & Pumpkin Puppy Wet
Cod & Pumpkin Wet
Herring & Shrimp Wet
Salmon & Cod Wet
Sea Bass & Squid Wet
Trout & Salmon Wet
N&D Pumpkin Range
Lamb & Blueberry Puppy Mini
Lamb & Blueberry Puppy Medium & Maxi
Chicken and Pomegranate Adult Mini
Chicken And Pomegranate Adult Medium & Maxi
Lamb & Blueberry Adult Mini
Lamb & Blueberry Adult Medium & Maxi
Boar And Apple Adult Mini
Boar And Apple Adult Medium & Maxi
Lamb, Pumpkin & Blueberry Starter Mini Wet
Lamb, Pumpkin & Blueberry Puppy Mini Wet
Lamb, Pumpkin & Blueberry Adult Mini Wet
Chicken, Pumpkin & Pomegranate Adult Mini Wet
Boar, Pumpkin & Apple Adult Mini Wet
Duck & Pumpkin Adult Mini Wet
Quail & Pumpkin Adult Mini Wet
Venison & Pumpkin Adult Mini Wet
Lamb, Pumpkin & Blueberry Starter Wet
Lamb, Pumpkin & Blueberry Puppy Wet
Lamb, Pumpkin & Blueberry Adult Wet
Chicken, Pumpkin & Pomegranate Adult Wet
Boar, Pumpkin & Apple Adult Wet
Duck & Pumpkin Adult Wet
Quail & Pumpkin Adult Wet
Venison & Pumpkin Adult Wet
N&D Ancestral Grain Range
Chicken & Pomegranate Puppy Mini
Lamb & Blueberry Puppy Mini
Chicken & Pomegranate Puppy Medium & Maxi
Lamb & Blueberry Puppy Medium & Maxi
Chicken & Pomegranate Adult Mini
Chicken & Pomegranate Adult Medium & Maxi
Chicken & Pomegranate Light Mini
Chicken & Pomegranate Light Medium & Maxi
Chicken & Pomegranate Senior Mini
Chicken & Pomegranate Senior Mini & Medium
Chicken & Pomegranate Senior Medium & Maxi
Lamb & Blueberry Adult Mini
Lamb & Blueberry Adult Medium & Maxi
Cat Food
VetLife Range
Gastrointestinal Feline
Hepatic Feline
Struvite Feline
Struvite Management Feline
Renal Feline
Cardiac Feline
Obesity Feline
Diabetic Feline
UltraHypo Feline
Neutered Male Feline
Neutered Female Feline
Hairball Feline
N&D Quinoa Range
Digestion Wet Food
Skin & Coat Duck Wet Food
Skin & Coat Herring Wet Food
Skin & Coat Quail Wet Food
Skin & Coat Venison Wet Food
Urinary Wet Food
Weight Management Wet Food
Digestion
Skin & Coat Herring
Skin & Coat Quail
Urinary Duck
Weight Management Lamb
N&D Prime Range
Chicken & Pomegranate Kitten Wet Food
Boar And Apple Wet Food
Chicken And Pomegranate Wet Food
Lamb And Blueberry Wet Food
Chicken & Pomegranate Kitten
Chicken & Pomegranate Adult
Chicken & Pomegranate Neutered
Boar & Apple Adult
Lamb & Blueberry Adult
N&D Ocean Range
Cod, Shrimp & Pumpkin Kitten Wet Food
Cod, Shrimp & Pumpkin Adult Wet food
Salmon, Cod & Shrimp Adult Wet Food
Sea Bass Sardine & Shrimp Adult Wet Food
Sea Bass, Squid & Shrimp Adult Wet Food
Tuna & Shrimp Adult Wet Food
Tuna, Cod & Shrimp Adult Wet food
Trout, Salmon & Shrimp Adult Wet Food
Herring & Orange Adult
Herring, Pumpkin & Orange Adult
Cod, Spelt, Oats & Orange Adult
N&D Pumpkin Range
Boar, Pumpkin & Apple Wet Food
Chicken, Pumpkin & Pomegranate Wet Food
Duck & Pumpkin Wet Food
Lamb, Pumpkin & Blueberry Wet Food
Quail & Pumpkin Wet Food
Venison & Pumpkin Wet Food
Quail & Pomegranate Adult
Venison & Apple Adult
Duck & Cantaloupe Adult
Quail & Pomegranate Neutered
N&D Ancestral Grain Range
Chicken & Pomegranate Adult
Lamb & Blueberry Adult
Chicken & Pomegranate Neutered