Canidae Information
Canidae is an independent, family-owned pet food company that was launched in 1996. 
Canidae was originally based in California, and it still maintains its offices there. However, their products are currently produced in a privately owned facility in Brownwood, Texas.
However, there is regular rumors and discussion that Canidae does not produce all of their products themselves.
It is known that in the past that some of their products were produced by Diamond Pet Foods. Diamond Pet Foods produce their own ranges as well as Taste of the Wild and Nutra Gold brands. Some consumers are not fans of Diamond, so they shunned Canidae as a result.
However, whether Diamond or another large pet food manufacturer like American Nutrition still produces some of Canidae's formulas is difficult to say.
Canidae is widely available to purchase throughout the United States at thousands of retail pet food stores. In addition, you can also purchase Canidae from all of the popular online suppliers of pet food like Chewy, Amazon, and Petflow.
Canidae Product Range
Dog Food
Canidae's range of dog food products is extremely large. This range includes traditional dry dog food, canned dog food, dog treats, puppy food, and more.
The dry dog food is notably varied and includes grain-free recipes, grain inclusive recipes, Limited Ingredient recipes, and specialized recipes for niches such as small breed dogs, weight loss, and senior dogs.
Many of the canned recipes mirror dry food equivalents and use the same ingredients. The canned selection isn't quite as large as the dry food range but is far larger than most brands.
Canidae also recently released a "Raw Coated" range. While many think that this type of product is just marketing and hype, it has become quite popular among consumers.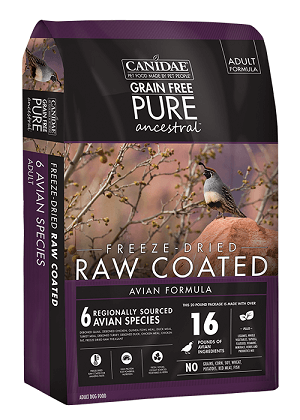 Cat Food
Canidae's cat food range is not as large as its dog food range but is still significant. The range includes dry cat food, canned cat food, and kitten food.
The dry food range includes grain-free and grain inclusive food. However, there are less specialized and niche recipes than the dog food range, but there are some such as Senior Cat and Kitten food.
However, the canned and wet cat food product range is much more expansive and includes all the usual sub-varieties such as pate's and "in gravy" recipes.
This is a common trait among large cat food brands as wet/canned cat food is extremely popular.
Canidae Nutrition
Dog Food
Due to Canidae's very large dog food range, it is understandable that the nutrition offered varies tremendously.
Some of their products, such as their "Raw Coated" or Pure range, provide excellent nutrition with significantly above average protein and fat proportions and a significantly below average carbohydrate proportion.
More importantly, this excellent nutrition is provided by animal and fish sources and not vegetable by-products or other lower-quality sources.
Below is an example of the nutrition provided by one of their Pure recipes.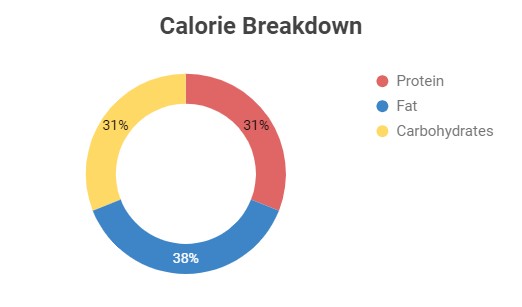 However, some of Canidae's other recipes provide less stellar nutrition, such as their all life stages range.
Instead, they provide nutrition, which is either above average or average. Despite this, this nutrition is still superior to many of Canidae's competitors and quite reasonable for its price point.
If you'd like to learn more about dog food nutrition, head on over to our Dog Food Guide.
Cat Food
Just like the dog food product range, the nutrition offered by Canidae cat food varies significantly.
The nutrition provided by Canidae dry cat food is above average with above-average proportions of protein and fat.
Below is an example of the nutrition provided by a Canidae dry cat food recipe.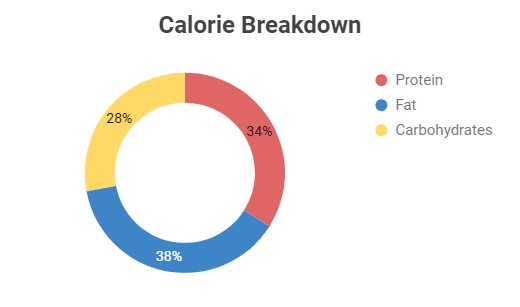 However, this nutritional profile is still unsatisfactory. This is as cats are obligate carnivores and do not need a notable proportion of carbohydrates in their diet.
You can learn more about cat nutrition in our Cat Food Guide.
The nutrition offered by Canidae's canned or wet cat food is far better. While there is variation, it tends to be significantly above average, with significantly above average proportions of protein and fat.
Canidae Ingredients
High-Quality Meat & Fish Ingredients
Chicken
Bison
Beef
Lamb
Duck
Mackerel
Rabbit
Trout
Salmon
Turkey
Canidae makes use of a huge range of high-quality meat and fish ingredients, some of which are listed above.
These ingredients can provide dogs and cats with high-quality and easily digestible protein and fat. This protein and fat can fuel their growth, repair, and activity.
Canidae does make use of some less common meat and fish ingredients. Examples include Rabbit, Bison, and Guinea Fowl.
These kinds of ingredients are often part of limited ingredient diets aimed at dogs with severe allergies or sensitivities.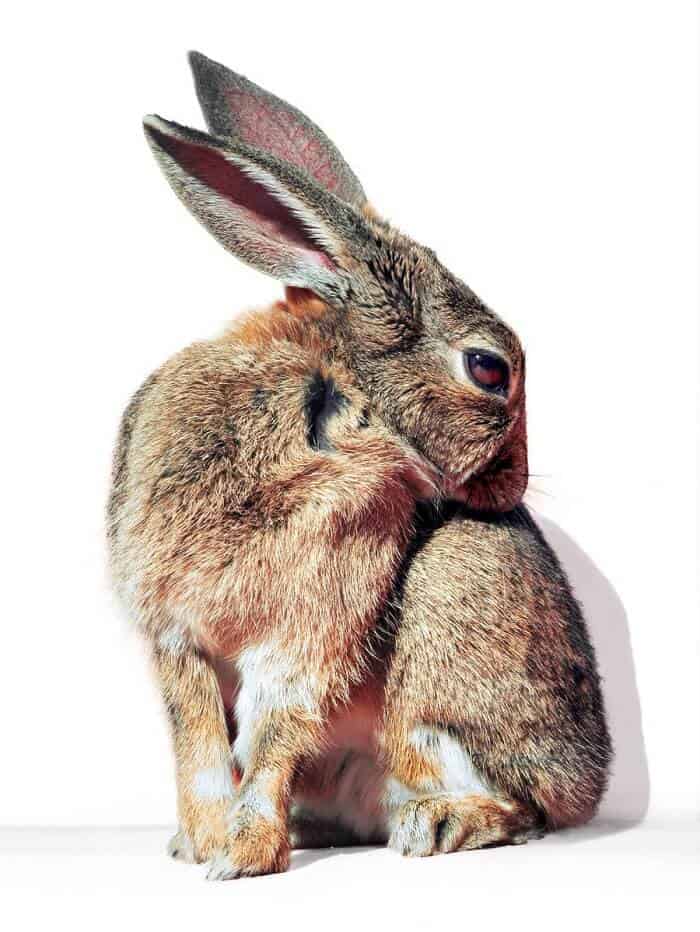 However, it appears that many of Canidae's recipes that contain these less common ingredients also contain the usual meat and fish ingredients like Chicken and Beef. This may negate the benefits of their rarity.
Learn more about these ingredients and their use in dog food in the following articles
Low-Quality Ingredients
The only controversial or low-quality ingredient included in Canidae's formulas is Rice Bran. Rice Bran is the outer shell of a Rice Kernel. It contains dietary fiber and some micronutrients.
However, some believe that Rice Bran is included in dog food as a cheap filler and that it provides minimal nutrition.
Learn more about Rice Bran in our article Rice Bran In Dog Food.
Other Notable Ingredients
A select number of Canidae formulas make use of the grains Brown Rice, Oatmeal & Millet. While many in the dog food world are completely opposed to the use of grains, they do have a place in dog food, and there are many strong supporters of their use.
However, some grains ingredients are preferred to others. Brown Rice, Oatmeal, and Millet would be included in this list of preferred grains by many.
This is thanks to the additional nutrition they can provide beyond their carbohydrate content, which includes vitamins, minerals, and dietary fiber.
Discover what Millet is and why it's used in dog food in our article Millet In Dog Food.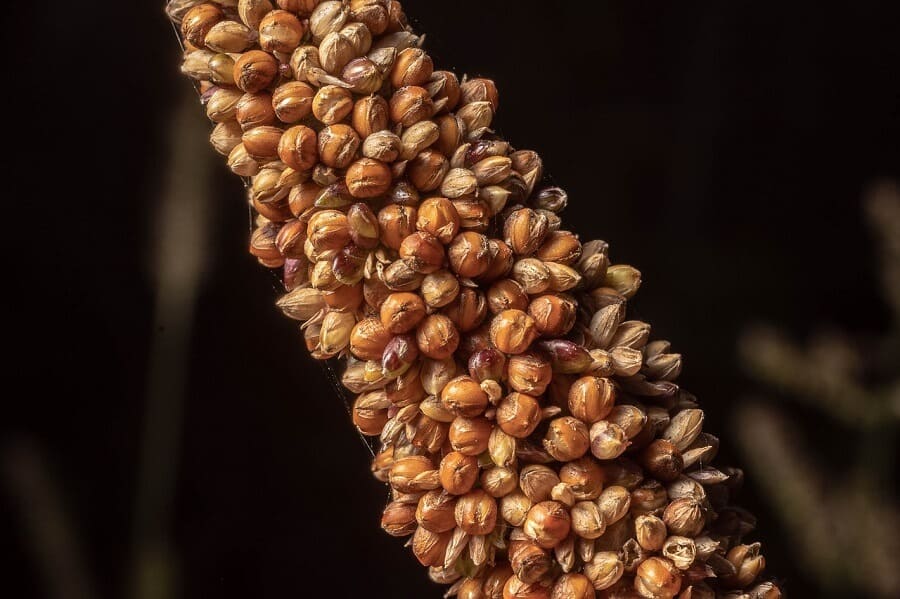 Menhaden Fish Meal is becoming more commonly included in dog food. It is a by-product of extracting oil from small oily fish and is nutritious, and has a high proportion of animal-based protein.
Menhaden Fish Meal is often preferred to plant-based sources, like vegetable by-products, as an affordable ingredient to boost the overall proportion of protein in a formula.
Learn more about Menhaden Fish Meal in our article Menhaden Fish Meal in Dog Food.
Many of Canidae's grain-free recipes utilize legume ingredients such as Peas. Legumes like Peas are some of the most popular non-grain ingredients to be found in pet food recipes.
They are so popular among manufacturers as they are easy to source, high in plant-based protein, and relatively low cost.
However, in recent years, there have been links between the high use of legumes in dog food by some brands and an increased rate of Canine Heart Disease.
You can learn more about this concerning link here.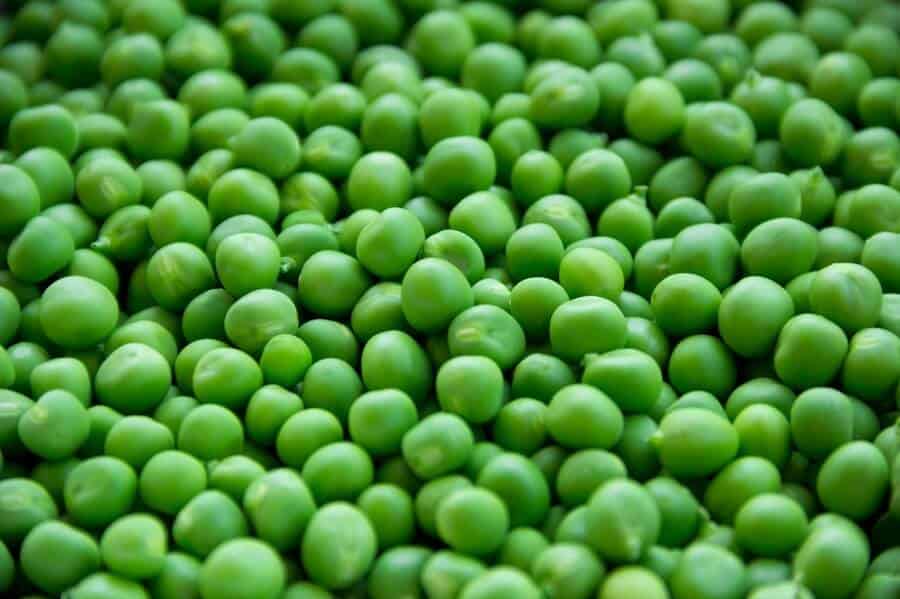 Chicken Fat is another ingredient seeing increased use in dog food recipes. It is present for two reasons, firstly to add additional animal fat, which is a dog's primary energy source. Secondly, it is included to improve the taste and palatability of dog food.
Animal fat, such as Chicken Fat is extremely appealing to dogs and can make a kibble much more enticing. Chicken Fat is often chosen over alternatives as it is low-cost and easy to source.
Read more about Chicken Fat in our article, Chicken Fat In Dog Food.
Tapioca is not an ingredient that many dog owners will be familiar with. It is a root vegetable that is popular in South America and also goes by the name of Cassava Root.
It provides similar nutrition to Potatoes or Sweet Potatoes and is most commonly used in dog food for dogs with allergies or sensitivities.
Read more about Tapioca in our article Tapioca In Dog Food.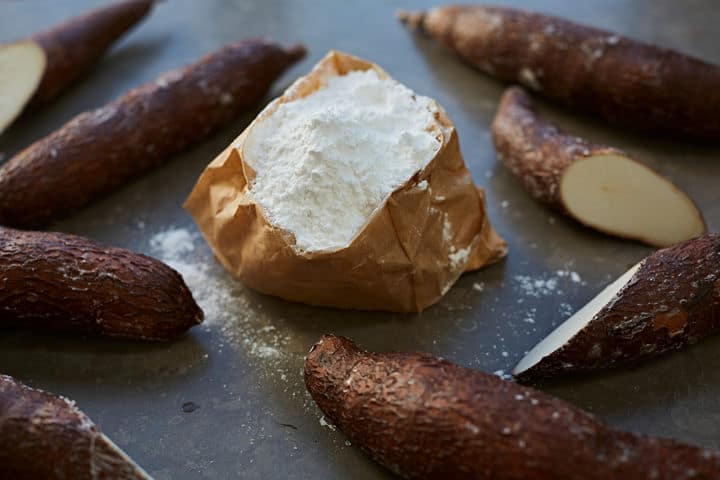 Flaxseed is commonly known as the best plant-based source of the Omega 3 Fatty Acids. It is added to a large number of dog food recipes because of this trait. However, there are other benefits it can provide that are not as well known.
You can learn more about these additional benefits of Flaxseed in Flaxseed In Dog Food.
Tomato Pomace is found in a huge number of dog food recipes from a number of brands. Its inclusion is due to the soluble fiber it can add to a dog's diet.
Soluble fiber can play an important role in aiding some dog's digestive system and will make their stool more regular and consistent.
However, some dog owners are concerned about the levels of pesticides in Tomato By-products such as Tomato Pomace and whether these can be harmful.
Learn more about Tomato Pomace in our article, Tomato Pomace, as a Pet Food Ingredient?.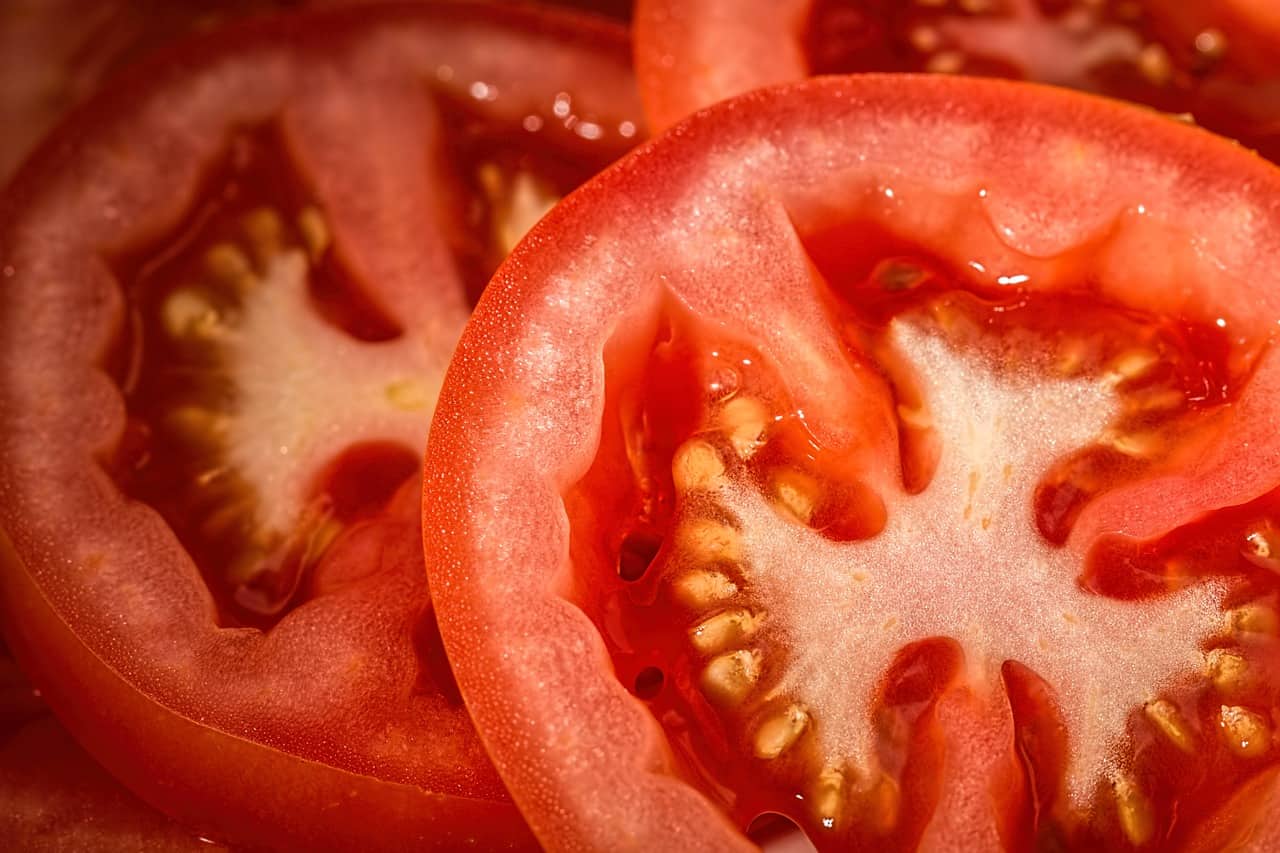 Canola Oil, alongside Sunflower Oil, is one of the two oils that is commonly added to dog food. They are added to boost the overall level of fat and because they can provide beneficial fats such as the Omega Fatty Acids.
However, some dog owners are concerned about the long-term health effects of Canola and how ethically it is produced.
Learn more about Canola Oil in our article Canola Oil In Dog Food.
Canidae Animal Testing
While we have limited information on whether Canidae conducts any kind of animal testing, they have, in the past, made the following statement.
"CANIDAE neither conducts nor condones any inhumane laboratory live animal testing. After many years of making pet food and over a million tons a month being fed without incident worldwide, we have passed the real world test without harming or inhumanely caging a single dog or cat."
We strongly believe that laboratory or invasive testing on animals is a cruel and outdated practice and one which we hope will decline.
Canidae Recalls
Unfortunately, based on our research (FDA, AVMA, DogFoodAdvisor), Canidae is not a recall-free brand. We could find information related to a single recall, which is detailed below.
May 2012 – Potential Salmonella Contamination
This recall took place when Canidae was still produced at a Diamond Pet Food facility. Salmonella is a serious concern, and pet food products are regularly recalled if there is a risk of contamination.
The main reason behind this severity is that Salmonella poses a risk to humans and pets. Learn more about the risks of Salmonella in pet food in this article by Banfield Pet Hospital.
Since then, Canidae's products are now produced at a privately owned facility in Brownwood, Texas. They claim this has allowed them to enhance their production and safety standards.
One would hope that these enhanced safety and production standards will limit any future risk of contamination or recalls.
However, it is important to remain vigilant of any future recalls by Canidae or any other pet food company.
Best of Canidae
Avian Raw Coated Dry Formula With Quail, Chicken, & Turkey Review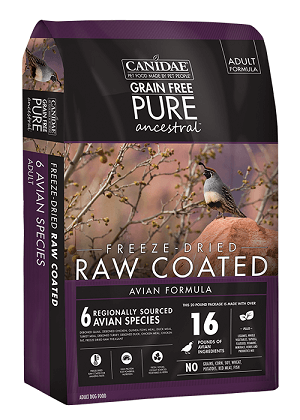 ㅤ
While Canidae's Raw Coated range is a relatively new addition, it is fast becoming popular among dogs and owners.
It has found a sweet spot in the market where it can offer a mix between ultra-premium freeze-dried food and traditional kibble.
The range of recipes available is so far quite modest, and our favorite of the bunch is the above-mentioned Avian Formula.
As one might have guessed, it focuses on poultry birds. It does this by including high-quality meat ingredients such as Quail, Chicken, Duck, Guinea Fowl, and Turkey.
While some of these, such as Chicken and Turkey, are commonplace in dog food, others, such as Quail and Guinea Fowl, are not and could be considered novel or exotic meat ingredients.
While the large variety of ingredients would stop this formula from being classed as a limited ingredient diet, they may provide dogs with some variety and unique tastes.
The formula is rounded off with the usual vegetable ingredients. This includes Peas, Chickpeas, and Tapioca. They provide carbohydrates and dietary fiber.
Grain Free Pure – Sea Review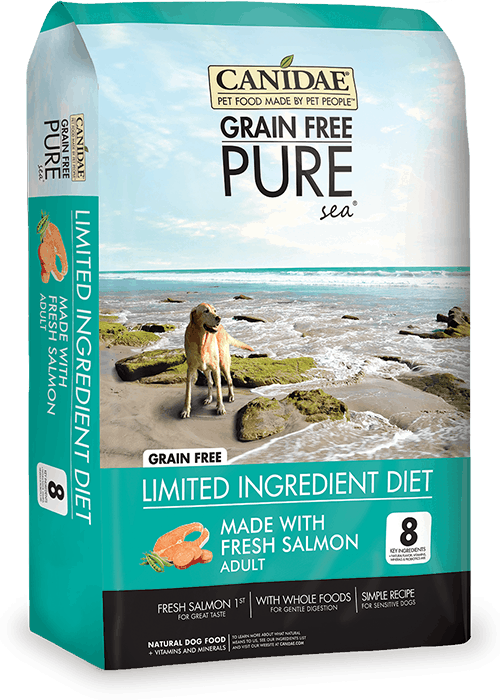 ㅤ
The Sea formula from Canidae is one of the Pure range's best. It contains several fish ingredients, including Salmon and Menhaden Fish Meal.
These fish ingredients would be considered high-quality and highly digestible sources of protein and fat for a dog.
The portion size is sufficient to provide a proportion of protein and fat that is comfortably above-average.
The formula also includes Sweet Potatoes, Peas, and White Potatoes. These three ingredients provide a mix of carbohydrates, plant-based protein, and fiber.
Starch ingredients such as Potatoes and Sweet Potatoes need to have their portion size tightly monitored to avoid excessive proportion of carbohydrates. Thankfully the portion size in this recipe is not overly large.
Lastly, it is worth noting that due to Salmon being the primary ingredient of the recipe, the formula has a very impressive level of the Omega 3 Fatty Acids. This is a trait that many of the other recipes in the Grain Pure Range do not possess.
Grain Free Pure Elements Dog Wet Formula with Lamb, Turkey & Chicken Review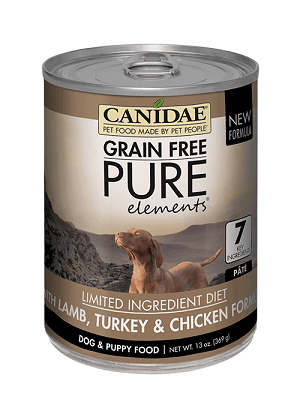 ㅤ
As we mentioned earlier, many of Canidae's canned dog food recipes mirror dry dog food recipes. This is the case for Grain Free Pure Elements that is featured above.
The elements recipe focuses on Lamb, Turkey, and Chicken. Each of these meat ingredients features on the ingredient list before any plant-based ingredients.
As a consequence, the formula has a very satisfactory proportion of protein and fat to fuel a dog's growth, repair, and maintenance.
The very small portion of plant-based material present is in the form of Sweet Potatoes and Peas. These will provide a modest portion of carbohydrates and fiber.
Grain-Free Pure Elements Chicken Recipe Review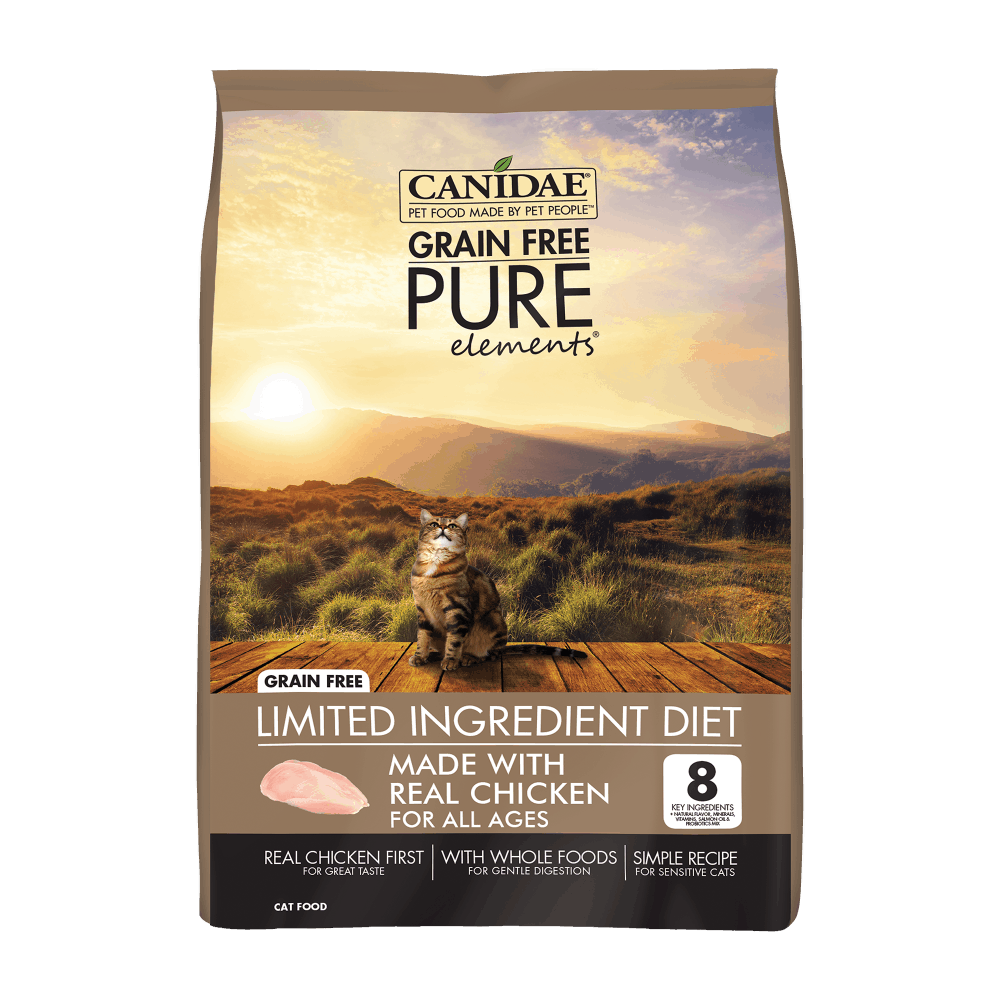 ㅤ
The Pure range from Canidae has been a staple for years and is a reliable choice for those who are indecisive.
The elements recipe focuses on Chicken as its primary ingredient, including a portion of Chicken and Chicken Meal.
This is then combined with smaller portions of Turkey Meal, Lamb Meal, and Menhaden Fish Meal to provide a satisfactory proportion of animal-based protein and fat.
A mix of Potatoes and Peas make up the rest of the recipe and are a popular choice among manufacturers to supply carbohydrates, plant-based protein, and fiber.
Grain Free Adore With Salmon & Whitefish Review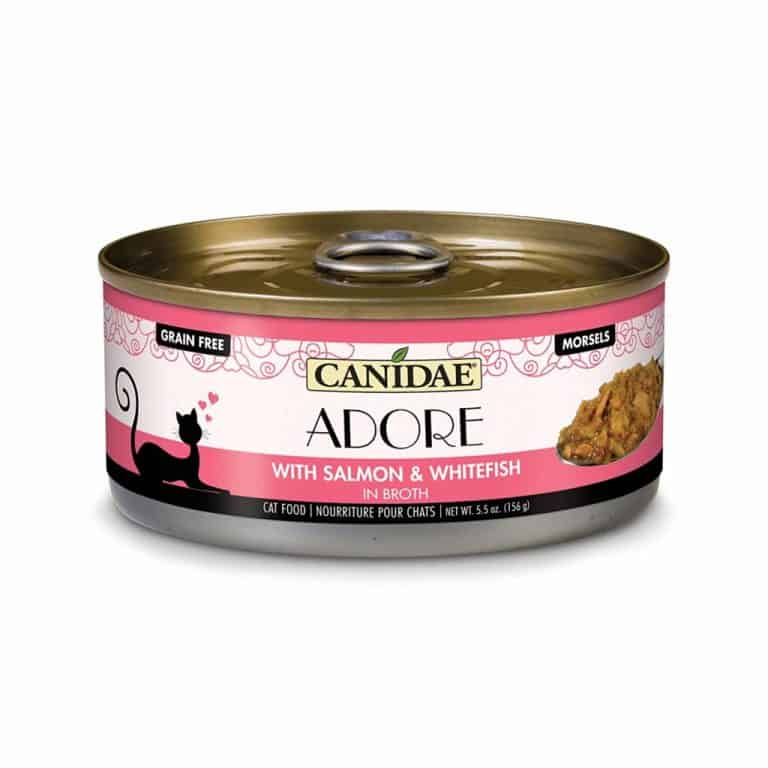 ㅤ
The Adore sub-brand from Canidae is exclusive to its wet/canned cat food range, unlike most of the other sub-brands.
The above Salmon & Whitefish recipe includes a mix of Salmon, Tuna, and Whitefish as its primary ingredients. All three of these fish ingredients are high-quality additions and sources of protein and fat.
The recipe then includes small portions of Sweet Potatoes, Carrots, and Peas. These vegetable ingredients provide a modest proportion of carbohydrates and some fiber.
Canidae Featured Articles
Best Puppy Food – Dog Owners are desperate to provide their new puppies with the best diet money can buy.
But what exactly is the difference between adult food and puppy food? Do large breed puppies need a different diet to small breed puppies?
Our article answers these questions and more and suggests some exceptional formulas, including one from Canidae.
Best Canned Dog Food – While it may not be as popular as traditional dry kibble, canned dog food is still an important niche and one which many owners use to treat their dogs or add variety to their diet.
This article explores the key differences between canned dog food and dry dog food, some unique ingredients that canned dog food tends to contain, and finally, it suggests some of the best recipes on the market.
Best Dog Food for Rhodesian Ridgebacks – Rhodesian Ridgebacks might not be the most popular dog breed, but they are one of the most distinctive thanks to their ridge.
However, they can experience a number of health problems over their lifetime, some of which can be prevented or minimized by diet. This article breaks these down and suggests some high-quality recipes.
Best Hypoallergenic Dog Food Guide – An increasing number of dogs are becoming allergic to certain ingredients. In serious cases, these allergies require a shift to hypoallergenic dog food.
This article explains what hypoallergenic dog food is, what dogs it is suitable for, as well as common allergies and symptoms. Canidae's Limited Ingredient range features as a viable option for some dogs.
Best Dog Food Without Chicken – Chicken is the most common meat allergy for dogs. Because of this, there is a high demand for chicken-free recipes. This article explores chicken allergies and suggests some high-quality formulas without Chicken.
Best Dog Foods Without Potatoes – Potatoes are another common allergy among dogs, and there may also be a link to Dilated Cardiomyopathy from high consumption. As a consequence, dog owners are looking for recipes free from Potatoes. This article highlights some of those that use high-quality ingredients and provide excellent nutrition.
Ingredient Splitting in Pet Food – Exposed – Ingredient Splitting is a sinister technique that some pet food brands take part in.
It involves splitting an undesirable ingredient into multiple sub-ingredients in order for it to appear lower down the ingredient list. Thankfully Canidae does not take part in Ingredient Splitting, as discussed in this article.
Menhaden Fish Meal in Dog Food – Menhaden Fish Meal is a by-product of removing oils from small oily fish. It is a very dense, affordable source of fish-based protein.
It is considered to be a superior alternative to using plant by-products to add protein to dog food. Canidae is one of a number of brands that are using Menhaden Fish Meal.
Alfalfa In Dog Food – Alfalfa is a plant that is closely related to Peas and has seen increasing popularity in human food.
However, many dog food brands have started to include it in small quantities in dog food due to its potential benefits.
Canidae Full Products Range
Dry Dog Food
Grain Free Pure Range
Grain Free Pure – Sea
Grain Free Pure – Elements
Grain Free Pure – Sky
Grain Free Pure – Land
Grain Free Pure – Wild
Grain Free Pure – Ridge
Grain Free Pure – Range
Grain Free Pure – Fields – Small Breed Formula
Grain Free Pure – Foundations – Puppy Formula
Grain Free Pure – Meadow – Senior Formula
Grain Free Pure – Resolve – Weight Management Formula
Grain Free Pure Petite Range
Grain Free Pure Petite – Small Breed Raw Coated Lamb Formula
Grain Free Pure Petite – Small Breed Raw Coated Salmon Formula
Grain Free Pure Petite – Small Breed Raw Coated Chicken Formula
Grain Free Pure Petite – Small Breed Raw Coated Salmon Formula For Puppies
Grain Free Pure Ancestral – Freeze-Dried Raw Coated
Raw Coated Red Meat Formula With Lamb, Goat & Wild Boar
Raw Coated Dry Fish Formula With Salmon, Mackerel, Pollock, Whitefish & Tuna
Avian Raw Coated Dry Formula With Quail, Chicken, & Turkey
Avian Raw Coated Dry Formula With Quail, Chicken, Turkey, & Duck For Puppies
Under The Sun – Grain Free Range
Under The Sun Grain Free Adult Dog Food With Lamb
Under The Sun Grain Free Adult Dog Food With Chicken
Under The Sun Grain Free Adult Dog Food With Whitefish
Under The Sun Grain Free Small Breed Adult Dog Food With Chicken
Under The Sun Grain Free Large Breed Adult Dog Food With Chicken
Under The Sun Grain Free Puppy Food With Chicken
Under The Sun Original Adult Dog Food With Chicken
All Life Stages Range
All Life Stages Dog Dry Food Chicken, Turkey, Lamb & Fish Meals Formula
All Life Stages Dog Dry Food Chicken Meal & Rice Formula
All Life Stages Dog Dry Food Lamb Meal & Rice Formula
All Life Stages Platinum Less Active Dog Dry Food Multi-Protein Formula
All Life Stages Large Breed Dog Dry Food Turkey Meal & Brown Rice Formula
Wet Dog Food
Grain Free Pure Range
Grain Free Pure Land Dog Wet Formula with Lamb
Grain Free Pure Sea Dog Wet Formula with Salmon & Mackerel
Grain Free Pure Elements Dog Wet Formula with Lamb, Turkey & Chicken
Grain Free Pure Foundations Puppy Wet Formula with Chicken
Grain Free Pure Sky Dog Wet Formula with Duck & Turkey
Grain Free Pure Petite Range
Grain Free Pure Petite Small Breed Dog Cup Bolognese Style Dinner Minced with Beef & Carrots
Grain Free Pure Petite Small Breed Dog Cup Terrine Style Dinner Pâté with Chicken & Peas
Grain Free Pure Petite Small Breed Dog Cup Cacciatore Style Dinner Morsels with Lamb & Carrots
Grain Free Pure Petite Small Breed Dog Cup Escalloped Style Dinner Pâté with Salmon & Shrimp
Grain Free Pure Petite Small Breed Dog Cup Pottage Style Dinner Minced with Duck & Pumpkin
Grain Free Pure Petite Small Breed Dog Cup Fricassée Dinner Morsels with Turkey & Green Beans
Under the Sun – Grain Free Range
Under The Sun Grain Free Dog Cup Pâté with Chicken & Peas
Under The Sun Grain Free Dog Cup Morsels with Lamb & Carrots in Gravy
Under The Sun Grain Free Dog Cup Morsels with Turkey & Green Beans in Gravy
Under The Sun Grain Free Dog Cup Pâté with Salmon & Shrimp
Under The Sun Grain Free Dog Wet Food Salmon Formula
Under The Sun Grain Free Dog Wet Food Lamb Formula
Under The Sun Grain Free Dog Wet Food Duck Formula
Under The Sun Grain Free Puppy Wet Food Chicken Formula
All Life Stages Range
All Life Stages Dog Wet Food Chicken, Lamb & Fish Formula
All Life Stages Dog Wet Food Chicken & Rice Formula
All Life Stages Dog Wet Food Lamb & Rice Formula
All Life Stages Platinum Less Active Dog Wet Food Chicken, Lamb & Fish Formula
Dog Treats
Grain Free Pure Range
Grain Free Pure Heaven Dog Biscuits with Salmon & Sweet Potato
Grain Free Pure Heaven Dog Biscuits with Duck & Chickpeas
Grain Free Pure Heaven Dog Biscuits with Bison & Butternut Squash
Grain Free Pure Chewy Dog Treats with Sweet Potato & Duck
Grain Free Pure Chewy Dog Treats with Wild Boar & Cherry
Grain Free Pure Chewy Dog Treats with Turkey & Apple
Grain Free Pure Chewy Dog Treats with Bison & Pumpkin
Grain Free Pure Chewy Dog Treats with Rabbit & Kale
Grain Free Pure Chewy Dog Treats with Trout & Pomegranate
All Life Stages Range
All Life Stages Bakery Snacks for Dogs with Turkey, Quinoa & Butternut Squash
All Life Stages Bakery Snacks for Dogs with Lamb, Wild Rice & Sweet Potato
All Life Stages Bakery Snacks for Dogs with Wild Boar & Kale
Dry Cat Food
Grain Free Pure
Grain Free Pure – Elements
Grain Free Pure – Sea
Grain Free Pure – Ocean
Grain Free Pure – Stream
Grain Free Pure – Control
Grain Free Pure – Foundations
Under The Sun
Under The Sun – Adult With Turkey
Under The Sun – Adult With Salmon
Under The Sun – Kitten, Adult, Senior Indoor With Chicken
Under The Sun – Kitten Food With Chicken
All Life Stages
All Life Stages – Chicken, Turkey, Lamb & Fish Formula
All Life Stages – Chicken Meal & Rice Formula
All Life Stages – Indoor Adult Cat – Turkey, Lamb & Fish Formula
Wet Cat Food
Grain Free Pure Wild
Grain Free Pure Wild – Chaparral Canyon
Grain Free Pure Wild – Frontier Trail
Grain Free Pure Wild – Redwood Summit
Grain Free Pure Wild – Rocky Creek
Grain Free Pure Wild – Rushing River
Grain Free Pure Wild – Wildwood Fields
Grain Free Pure Adore
Grain Free Pure Adore – Catch Me If You Can
Grain Free Pure Adore – Decadent Delight
Grain Free Pure Adore – Enchanted Evening
Grain Free Pure Adore – Falling For You
Grain Free Pure Adore – Love At First Sight
Grain Free Pure Adore – Sea Of Love
Grain Free Pure Limited Ingredient Diet
Grain Free Pure Limited Ingredient Diet – Pate With Chicken
Grain Free Pure Limited Ingredient Diet – Slices With Chicken
Grain Free Pure Limited Ingredient Diet – Morsels With Cod
Grain Free Pure Limited Ingredient Diet – Pate With Duck
Grain Free Pure Limited Ingredient Diet – Morsels With Duck
Grain Free Pure Limited Ingredient Diet – Slices With Salmon
Grain Free Pure Limited Ingredient Diet – Slices With Trout
Grain Free Pure Limited Ingredient Diet – Pate With Tuna
Grain Free Pure Limited Ingredient Diet – Morsels With Turkey
Under The Sun
Under The Sun – Witty Kitty: A Fish Story
Under The Sun – Witty Kitty: The Big Catch
Under The Sun – Witty Kitty: Birds Of A Feather
Under The Sun – Witty Kitty: Duck & Cover
Under The Sun – Witty Kitty: Hooked On You
Under The Sun – Witty Kitty: Rockin & Reelin
Under The Sun – Witty Kitty: Ruffle My Feathers
Under The Sun – Witty Kitty: Wingin' It
Under The Sun – Witty Kitty: Wish Upon A Fish