Taste of the Wild Information
Taste of the Wild is a relative newcomer to the pet food market, having launched back in 2007. While this might seem like a long time, some of Taste of the Wild's main competitors have been in business for over 30 years or longer.
Their products are produced by Diamond Pet Foods Inc, which is owned by Schell & Kampeter Inc. Diamond Pet Foods Inc also produces other dog and cat food ranges such as NutraGold and Diamond Naturals.
Taste of the Wild Pet Food is produced solely in the United States, in five separate facilities. These facilities include two in California, one in Missouri, one in South Carolina, and the final one in Arkansas.
All of Taste of the Wild's traditional recipes are based on the natural diet of a region and ecosystem of the United States. Examples include Pacific Stream Formula, which is based on the ecosystem of the North-Western United States. Another example could be the Southwest Canyon Formula, which closely resembles the natural diet of the Canyons of Arizona, New Mexico, and California.
Taste of the Wild Product Range
Dog Food
Taste of the Wild has a reasonably broad product range and produces formulas for all the core varieties of dog food. Dry dog food gets the strongest focus with a large range of adult formulas and a select number of puppy formulas. These puppy formulas are very close in ingredients and nutrition to their adult counterparts, which will make transitioning a newly adult dog a simple task.
Taste of the Wild also produces a select number of canned dog food formulas. Just as the puppy formulas mimic their adult versions, the canned dog food recipes all have a dry food equivalent. While their ingredients and nutrition are drastically different from their dry counterparts, the core meat or fish ingredients used remains the same.
Prey is Taste of the Wild's limited ingredient range and is designed for dogs with severe allergies or sensitivities. There are three formulas within this range, and they are almost identical except for the single source of meat or fish they utilize. They have a very limited number of vegetable ingredients, far less than many other limited ingredient ranges.
In September 2019, Taste of the Wild launched its first grain-inclusive range called Ancient Grains. This is likely a reaction to the fears surrounding Legumes, Potatoes, and other non-grain carbohydrate ingredients.

Cat Food
Taste of the Wild's cat food range is a lot smaller than its dog food range. However, there is still some variety to choose from. There are a small number of dry food formulas designed for adult cats, each with its own theme.
In a similar fashion to the wet dog food offered by Taste of the Wild, the wet cat food recipes are closely linked to the dry food counterparts in ingredients and themes.
The Prey range also has two cat food formulas, and they are very similar to their dog food counterparts with a single source of meat and a limited number of vegetable ingredients to help prevent allergies or sensitivities.
Taste of the Wild Nutrition
At PetFoodReviewer, we believe that Nutrition is one of the two core factors that should affect your choice of pet food. We break down the nutrition of pet foods based on calorific proportions. This calorie breakdown allows you to see what percentage your pet's nutrition is coming from Protein, Fat, and Carbohydrates.
As a rule of thumb, pet foods with higher proportions of protein and fat are considered more nutritious than those high in carbohydrates. Below we have averaged the nutrition of all Taste of the Wild's products based on the product type.

Taste of the Wild's dry dog food range features above-average proportions of protein and significantly above average proportions of fat. The proportion of carbohydrates is below average.
For the price range that Taste of the Wild competes in, this nutrition is satisfactory. There are other brands that can boast higher levels of protein, but that level of protein may only be required for dogs who are very or extremely active.

Taste of the Wild's canned dog food range features significantly above average proportions of protein and fat. This is combined with a significantly below-average proportion of carbohydrates.
This overall nutritional profile is very satisfactory and suitable for the vast majority of dogs. While there are brands that have a negligible portion of carbohydrates, a small portion such as that in Taste of the Wild formulas, is perfectly acceptable.

Taste of the Wild's dry cat food range features above-average proportions of protein and fat and a below-average proportion of carbohydrates.
While above average, the nutrition offered by Taste of the Wild's dry cat food products is not particularly satisfactory. Cats are obligate carnivores and do not need to consume a higher proportion of carbohydrates such as this.

Taste of the Wild's canned cat food range features an above-average proportion of protein, an average proportion of fat, and an average proportion of carbohydrates.
Once again, while the nutrition offered by Taste of the Wild's canned cat food products is above average, it is not satisfactory. The proportion of carbohydrates present is too high, especially for a canned recipe, and would be better replaced with additional protein and fat.
Taste of the Wild Ingredients
We consider Taste of the Wilds ingredient range to be above average. Named meats are present in every one of its formulas, and in most cases, their recipes contain multiple named meat ingredients in the first five listed ingredients.
Not only are these meats and fish placed high up on the ingredient list, but there is a wide variety available. This variety allows owners to find a recipe that their dog enjoys, even if they are a particularly picky dog. Below is a selection of the high-quality meat and fish ingredients used in Taste of the Wild recipes.
High-Quality Meat & Fish Ingredients
Beef
Pork
Lamb
Buffalo
Venison
Chicken
Turkey
Duck
Trout
Salmon
Some of these ingredients are worthy of highlighting. Uncommon meat ingredients like Venison and Buffalo can be an option for dogs with severe or multiple allergies. This is as a dog is less likely to have consumed them in the past and so is less likely to have a reaction.
Salmon is also worthy of mention. Salmon can provide some of the highest levels of the Omega 3 Fatty Acids of any meat or fish. These Omega Fatty Acids can provide a range of health benefits such as improving the health of a dog's skin and coat and improved cognitive function.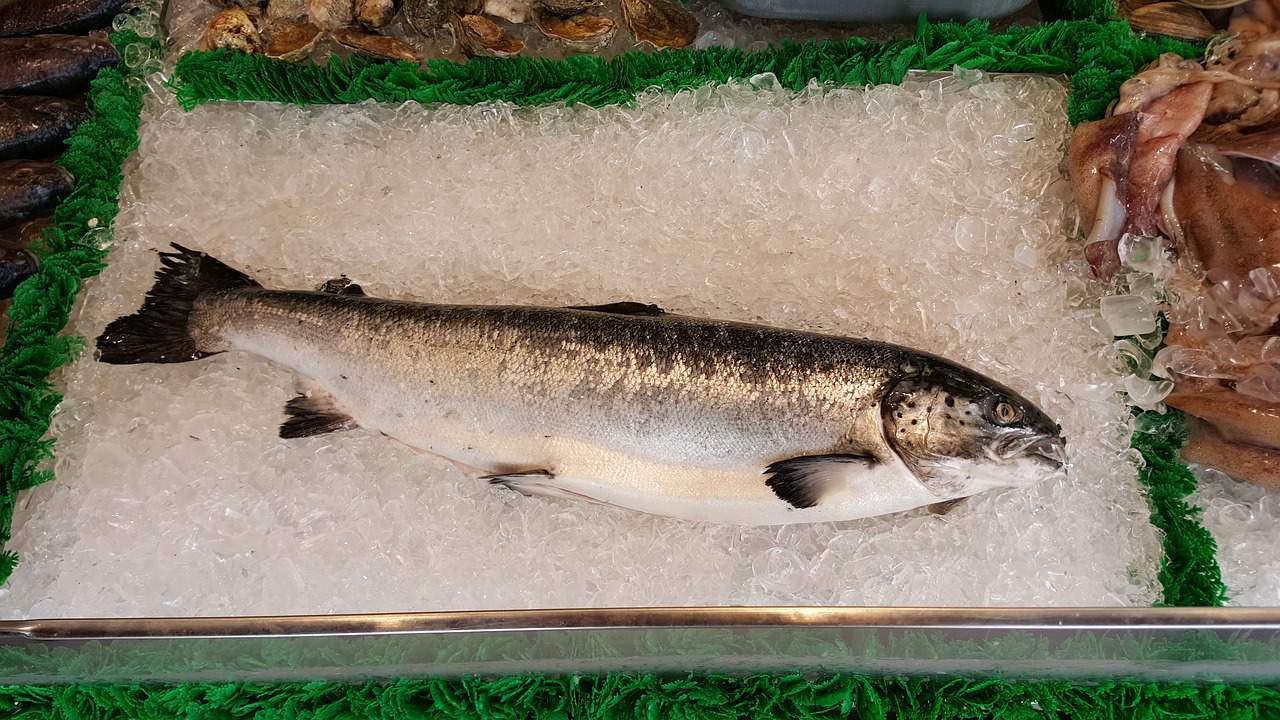 Low-Quality Ingredients
Sadly, Taste of the Wild makes use of two of the most common Pea By-products in Pea Protein and Pea Flour. We consider these ingredients to be of lower quality when compared to whole vegetables.
Find out more about Pea Protein and Pea Flour in our article Peas, Pea Protein, Pea Flour, and Pea Fiber in Dog Food.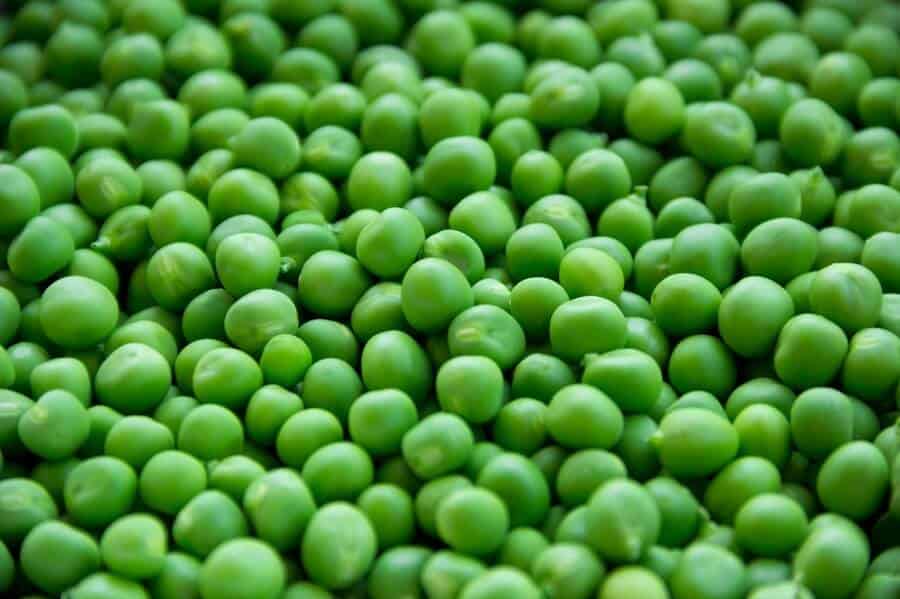 In addition, they are often used in a technique known as Ingredient Splitting.
Ingredient Splitting involves dividing a single plant-based ingredient into multiple sub-ingredients such as Peas, Pea Protein, and Pea Flour. By doing this, they will appear further down the ingredient list and mislead consumers about the overall proportion of meat and vegetable ingredients.
Find out more about Ingredient Splitting in our article Ingredient Splitting in Pet Food – Exposed.
Taste of the Wild Animal Testing
Testing of pet food on animals is a controversial subject and rightly so. Taste of the Wild states that it does conduct feeding trials. However, they argue that these tests are observational and non-invasive.
They allow the animals to choose between two foods to find out their preference. We do not believe such testing is anything to be concerned about and will not harm or distress the animals involved.
Taste of the Wild Recalls
Based on our research (FDA, AVMA, DogFoodAdvisor), we believe that Taste of the Wild has a very limited recall history. This could be correlated to the fact that Taste of the Wild is a relatively new brand, as mentioned earlier in this article.
However, this could also be a sign of the quality of their production, manufacturing, and the thoroughness of their testing processes. Despite this, Taste of the Wild is not recall-free and has the following recall history.
May 2012 – Potential Salmonella Contamination
Salmonella poses a serious risk to both pets and humans, which is why products are regularly recalled if there is a hint of risk. Learn more about the risks of Salmonella in pet food in this article by Banfield Pet Hospital.
This recall affected a number of dry food recipes for both dogs and cats. In addition, there was a class-action lawsuit related to this recall, which was settled in 2014 with those dog owners who were affected.
As this recall is over six years old, you need not overly concern yourself as its effects have likely long past. However, this does not mean you should look out for any future recalls on Taste of the Wild products or any other brand.
Taste of the Wild Related Articles
Best of Taste of the Wild
Dry Dog Food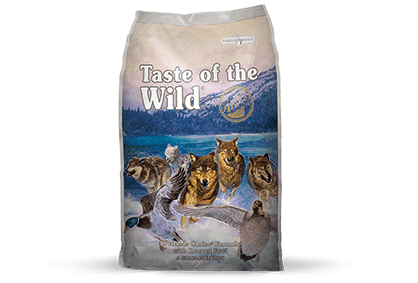 While most of the dry food recipes from Taste of the Wild provide very similar nutrition, the Wetlands Formula edges out the rest due to its superior protein and fat proportions. The nutrition provided by this formula is ideal for the majority of dogs, including those who are active.
This satisfactory proportion of protein and fat are sourced from the large range of poultry ingredients present in the formula. Examples include Duck, Chicken, and Turkey. The formula also includes a mix of legumes, such as Peas and Sweet Potatoes. These sum to a satisfactory proportion of carbohydrates, which is not overly excessive. These ingredients also offer a modest sum of dietary fiber to aid digestion.
Wet Dog Food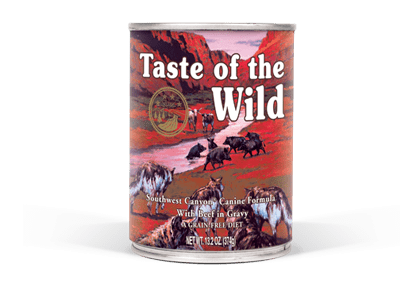 As we mentioned earlier, Southwest Canyon Wet Dog Food Formula featured within our Best Canned Dog Food article as one of the most nutritious formulas available at an affordable price. While there are other canned formulas by Taste of the Wild, Southwest Canyon is by far the best.
The principal ingredients of the formula are Beef, Beef Broth, and Beef Liver. There are some other ingredients, including Egg Product, Lamb, Wild Boar, and Peas. These red meat ingredients are ideally suited to a dog's diet. The formula also contains Potato Starch, which can be considered a low-quality ingredient in large portions but doesn't appear to be significant in this recipe.
Limited Ingredient Dog Food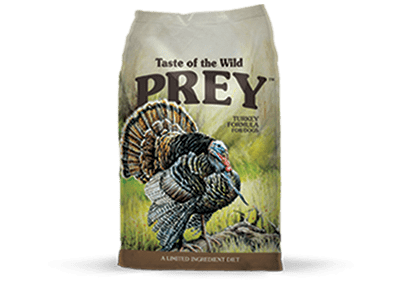 Prey is quickly establishing itself as an excellent quality Limited Ingredient dog food. Currently, there are three varieties available, Beef, Turkey, and Trout. Each of these formulas is very similar and contains a simple mix of ingredients.
They contain a single source of meat or fish, Lentils, Tomato Pomace, and Canola Oil. Although each of these meat or fish ingredients may be common allergens, it is very likely that at least one of them is suitable. The nutrition of these formulas is above average, but it is likely that a significant proportion of their protein content is derived from Lentils, which some would argue is inferior to animal protein.
Due to the three different recipes that Prey offers, it could be suitable for dogs that suffer from a range of meat and fish allergies. However, the dogs must be able to consume a large portion of lentils without suffering an intolerance.
Dry Cat Food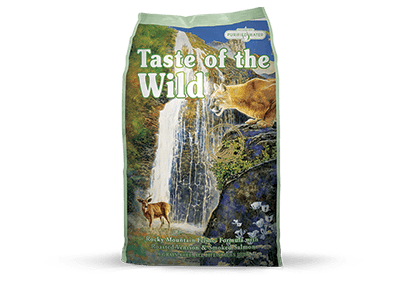 Taste of the Wild's dry cat food range is very small, but of the two recipes within it, our favorite is Rocky Mountain Feline Formula.
Rocky Mountain's nutritional profile is what gives it an edge. It has a significantly above-average proportion of protein and fat when compared to other dry cat foods. This balance of nutrition is an accurate depiction of a cat's natural diet.
The high levels of protein and fat within the formula are thanks to an ample portion of Chicken Meal, Salmon, and Venison. Chicken Meal is the most abundant of the three, but the portion of Salmon is still significant. Sadly, there isn't enough to provide a satisfactory level of the Omega Fatty Acids.
These meat and fish ingredients are combined with a mix of whole Sweet Potatoes, Peas, and some vegetable by-products. Sadly, none of these ingredients are ideal for a cat's diet. The saving grace is that the portion of these ingredients present in the rocky mountain formula is quite low.
Wet Cat Food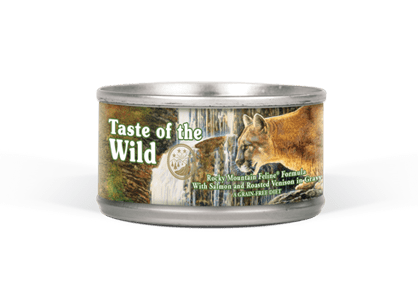 The canned version of Rocky Mountain Formula also features as our favorite canned cat food recipe from Taste of the Wild.
It may surprise some to discover that the canned version of this recipe actually provides a worse nutritional profile than the dry equivalent. While the portions of protein and fat are still above average, they are not quite as impressive.
However, the source of this protein and fat remains the same. Chicken, Salmon, and Venison all feature again.
The source of the formula's carbohydrates also remains constant. There are Peas, Pea Flour, and Potato Starch present. Sadly, these are not high-quality ingredients, especially for a canned recipe.
Limited Ingredient Cat Food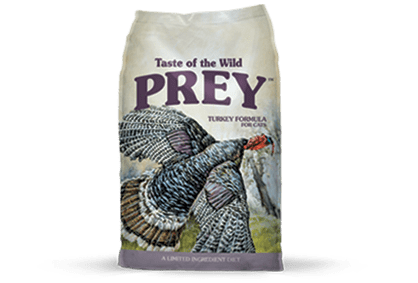 Taste of the Wild Full Product Range
Dry Dog Food (Kibble)
Appalachian Valley Small Breed Formula Review
High Prairie Puppy Formula Review
Pacific Stream Puppy Formula Review
Prey – Angus Beef Limited Ingredient Formula Review
Prey – Trout Limited Ingredient Formula Review
Prey – Turkey Limited Ingredient Formula Review
Ancient Mountain Canine Recipe
Ancient Wetlands Canine Recipe
Wet Dog Food (Canned)
Wetlands Review
Dry Cat Food (Kibble)
Angus Beef Limited Ingredient Formula Review
Turkey Limited Ingredient Formula Review
Lowland Creek Feline Recipe
Wet Cat Food (Canned)