Kirkland Information
Kirkland is a brand that is owned and sold by Costco. Costco is known for its membership stores where consumers can pick up items in bulk at fantastic prices, and Costco's venture into pet food follows this model.
Kirkland Product Range
Dog Food
Kirkland has a moderately sized product range of dog food products. This range includes both dry dog food and wet/canned dog food.
In addition, there are also some specialty recipes such as those for puppies, small breed dogs, and senior dogs.
Cat Food
Kirkland's range of cat food products is notably smaller than its dog food range. Despite this, there is still some variety with the range offering both dry cat food and wet/canned cat food.
Kirkland Nutrition
Dog Food
The nutrition provided by Kirkland dog food recipes varies but is generally average to above-average.
The nutritional profile consists of moderate proportions of protein and fat and modest to somewhat excessive proportions of carbohydrates.
Below is an example of the nutrition provided by a Kirkland dog food recipe.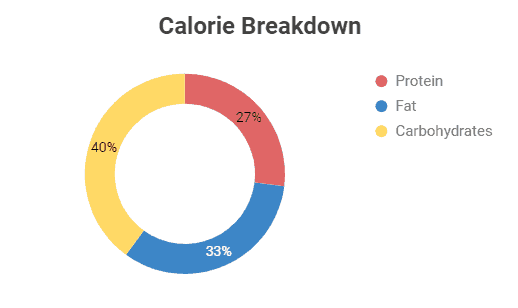 Cat Food
The nutrition offered by Kirkland cat food is similar to its dog food recipes in that it is average to above-average.
This includes acceptable proportions of protein and fat but portions of carbohydrates that are still excessive for cats who are obligate carnivores.
Kirkland Ingredients
High-Quality Meat & Fish Ingredients
Chicken
Turkey
Salmon
Lamb
Beef
Kirkland uses most of the common meat and fish ingredients found in pet food. This includes favorites like Chicken, Salmon, and Beef. These ingredients are common because they are relatively inexpensive yet can provide excellent nutrition, high in protein, and fat.
Other Notable Ingredients
Brown Rice, Barley, and Millet are some of the grain ingredients used in Kirkland recipes. Grains have been a staple of the industry for decades despite the mixed feelings in recent years.
In addition, all three of these grains are considered to be some of the superior grains when compared to others like corn or wheat.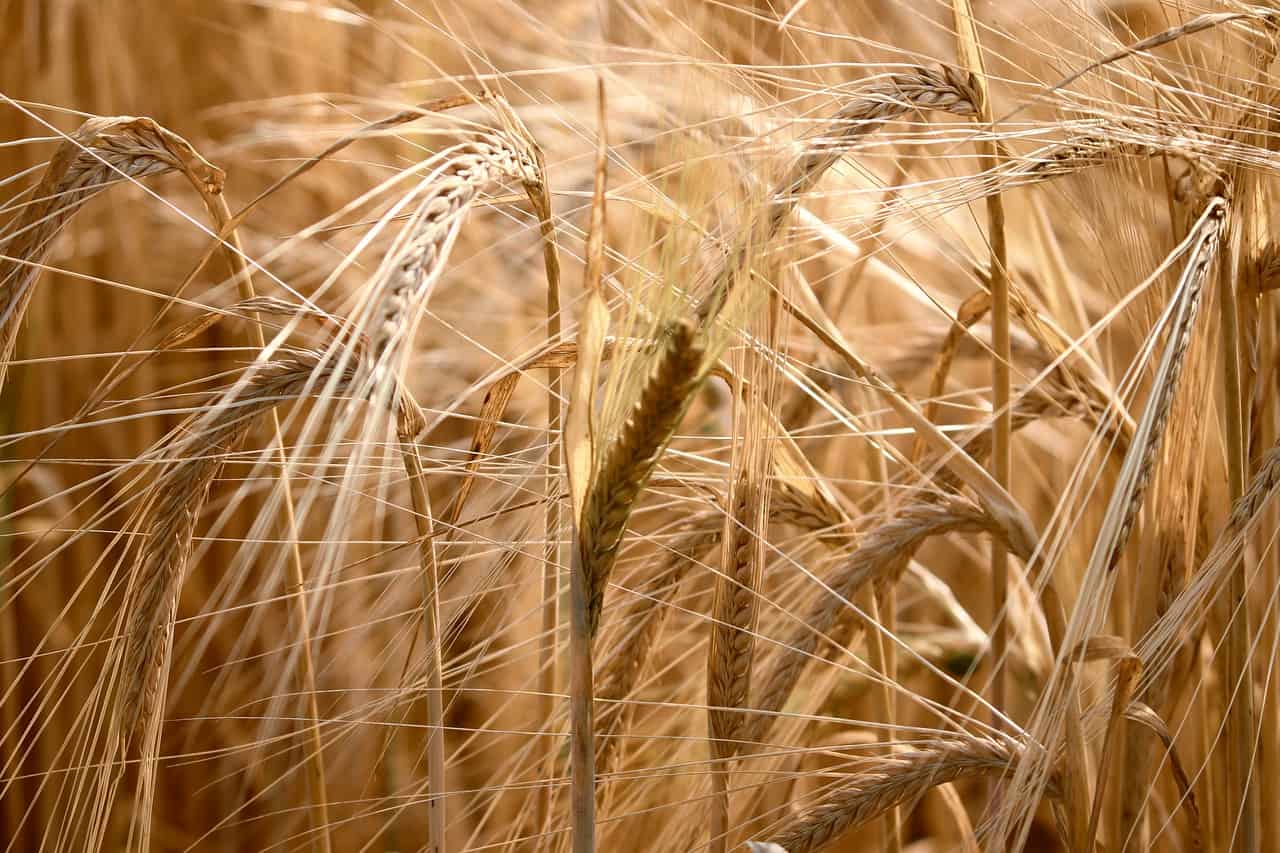 Pea Protein is a vegetable by-product and is added to pet food to increase the overall proportion of protein in the recipe without adding additional animal or fish-based protein. Pea Protein is not a high-quality ingredient but is commonplace in recipes that are lower-cost.
Learn more about Pea Protein and other Pea By-products in our article Peas, Pea Protein, Pea Flour, and Pea Fiber in Dog Food.
Sweet Potatoes and Potatoes are regular additions to many dog food recipes. They are extremely dense sources of carbohydrates. This means that it is important that the portion present in recipes is not too high else the overall proportion of carbohydrates will become excessive.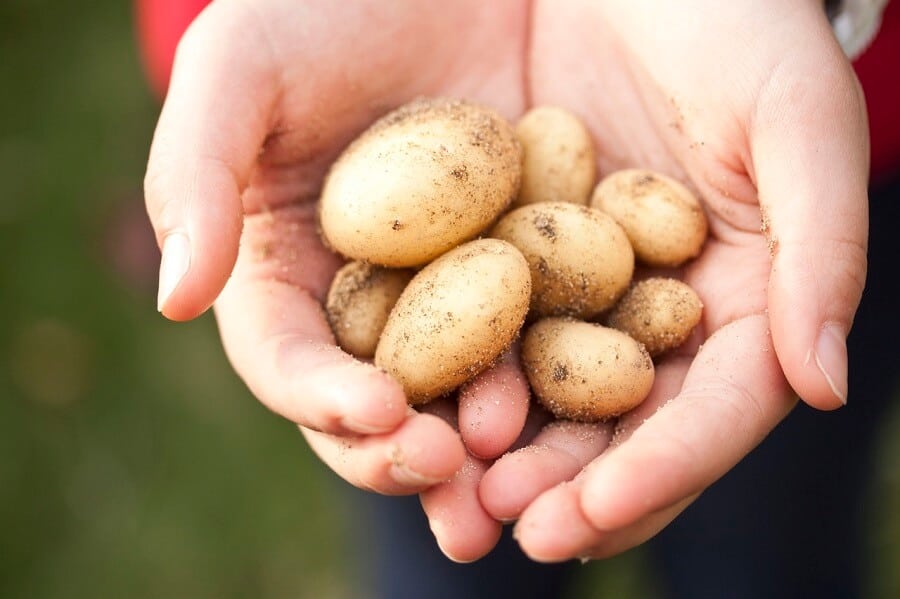 Peas, Lentils, and Chickpeas are all legumes and are some of the most common plant-based ingredients in premium dog food recipes. This is because they are relatively inexpensive yet can provide nutrition that is high in protein.
However, in recent years there has been growing concern caused by a link between legumes and canine heart disease. You can learn more about this in our article Best Dog Foods Without Peas.
Dried Beet Pulp is added to dog food to provide soluble fiber. Fiber can be important to many dogs to ensure regular digestion and stools. Beet Pulp provides little to no nutrition beyond its fiber content. Learn more about Beet Pulp in our article Dried Beet Pulp In Dog Food.
Chicken Fat is used in dog food recipes to improve its flavor and increase the proportion of animal fat in a recipe. Chicken Fat is used as opposed to other animal fats, as it is relatively inexpensive. Learn more about
Chicken fat, in our article Chicken Fat In Dog Food.
Flaxseed
Brewers Yeast
Ocean Fish Meal
Kirkland Animal Testing
We have no information on what type of testing, if any, that Kirkland participates in relation to their pet food products.
We strongly believe that laboratory or invasive style testing of animals for pet food is a cruel and outdated practice and one which we hope will see a significant decline.
Kirkland Recalls
Based on our research (FDA, AVMA, DogFoodAdvisor), we have information that leads us to believe that Victor is not a recall-free brand. There are two instances where Kirkland products have been recalled.
April 2007 – A recall was issued by the FDA for Kirkland Signature Premium Dog 2-Flavor Variety Packs. This recall was due to potential melamine contamination.
May 2012 – Another recall was issued by the FDA for several Kirkland pet food products due to potential salmonella contamination.
This recall for potential salmonella contamination included products such as Super Premium Adult Dog food, Super Premium cat food, and one Nature's Domain recipe.
Kirkland Featured Articles
Best Dog Food With Chicken And Rice –
Best of Kirkland
Nature's Domain Salmon Meal & Sweet Potato Review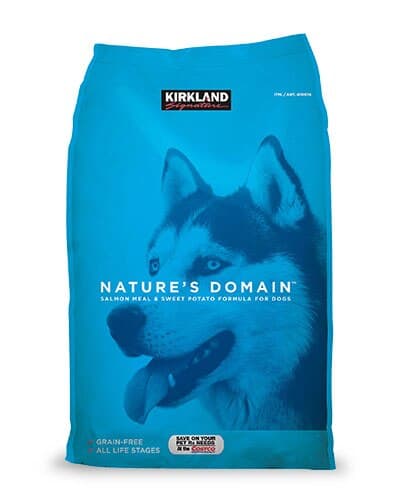 Check Price On Amazon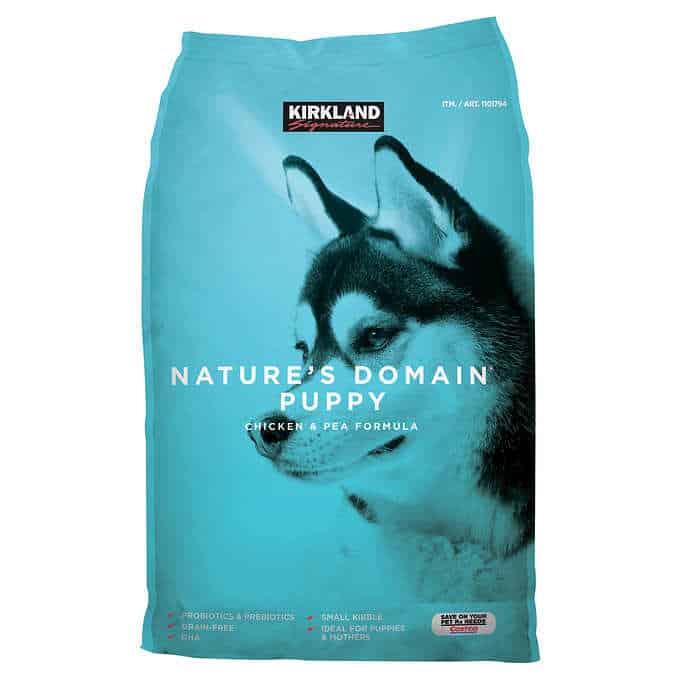 Check Price On Amazon
Kirkland Full Product Range
Dry Dog Food
Adult Formula Chicken, Rice And Vegetable
Puppy Formula Chicken, Rice And Vegetable
Adult Formula Lamb, Rice And Vegetable
Small Formula Chicken & Vegetable
Mature Dog Chicken, Rice, And Egg Formula
Healthy Weight Dog Formula
Nature's Domain Organic Chicken & Pea Recipe
Nature's Domain Salmon Meal & Sweet Potato
Turkey Meal & Sweet Potato
Nature's Domain Beef Meal & Sweet Potato
Nature's Domain Puppy Chicken & Pea Recipe
Wet/Canned Dog Food
Chicken With Vegetables
Turkey & Pea Stew
Dry Cat Food
Salmon Meal & Sweet Potato
Super Premium Healthy Weight Indoor Adult
Super Premium Maintenance Chicken & Rice
Wet/Canned Cat Food
Nature's Domain Grain Free Organic Chicken & Chicken Liver
Nature's Domain Grain Free Organic Chicken & Turkey