4Health Information
4Health is the store brand of the popular retailer Tractor Supply Company. Tractor Supply Company is best known for its home improvement, lawn & garden maintenance, and agriculture products, but it does sell some products for pets and animals.
Tractor Supply Company has over 1700 stores across the United States and has been in operation for over 75 years. The company is headquartered in Nashville, Tennessee.
The 4Health brand is not a new addition to Tractor Supply Stores and has been available in some form for over a decade.
Given that 4Health is a store brand, it is only available from Tractor Supply Company's stores or their website. This means it is not available from many large pet food websites, such as Chewy and Petflow, like other brands.
4Health Product Range
Dog Food
4Health has an extensive range of dog food recipes that are categorized within several sub-ranges. These are the Original range, the Grain-Free range, the Untamed range, the Special Care range, and the Strive range.
Within these ranges, 4Health offers a mix of dry dog food products, including grain-inclusive recipes, grain-free recipes, as well as specialized recipes.
Some of the specialized recipes include those for puppies, senior dogs, or those dogs with sensitive skin or a sensitive stomach.
4Health's canned dog food range is also broad, and it closely mirrors the dry food range to include recipes for senior dogs, puppies, and others.
Cat Food
4Health's cat food range is smaller than its dog food range but is still of substantial size.
It comprises a mix of dry cat food recipes and wet/canned cat food recipes. This includes a range of meat and fish ingredient themed recipes as well as grain-free and grain-inclusive recipes.
4Health also produces a small number of recipes for specific health problems like weight management and urinary health.
4Health Nutrition
Dog Food
The nutrition offered by 4Health dog food recipes varies significantly. It is simpler to bucket 4Health's nutritional value by their sub-ranges as they tend to be similar.
The nutrition offered by 4Health's original range and some of their grain-free recipes is average. The proportion of carbohydrates in these recipes is often high.
However, the nutrition offered by their untamed or strive recipes is above-average to significantly above-average and contains generous proportions of protein and fat.
This difference in nutrition is not surprising, given that these recipes are more costly and contain far more meat and fish ingredients.
Below is an example of the nutrition provided by a 4Health Untamed recipe.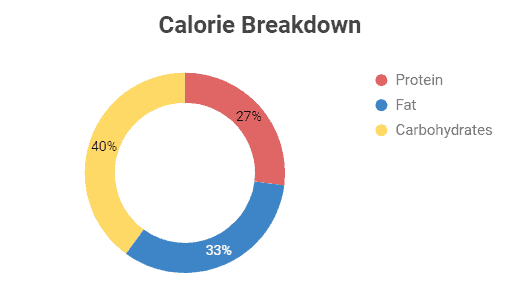 You can learn more about dog nutrition in our Dog Food Guide.
Cat Food
All of the points mentioned when discussing the nutrition provided by 4Health dog food also apply to their cat food products.
The lower-cost Original and Grain-Free recipes offer nutrition that is average when compared to their competitors.
However, the Untamed cat food range is above-average to significantly above-average and offers a generous protein and fat percentage.
A diet high in animal and fish-based ingredients is critical for cats, given that they are obligate carnivores. They will not thrive on a diet high in plant-based ingredients that are often seen in lower-cost cat food.
You can learn more about cat nutrition in our Cat Food Guide.
4Health Ingredients
High-Quality Meat & Fish Ingredients
Chicken
Turkey
Duck
Beef
Lamb
Pork
Salmon
Whitefish
Venison
Kangaroo
Wild Boar
Buffalo
4Health uses a massive range of meat and fish ingredients in its recipes. All of the above ingredients are high-quality sources of animal and fish-based protein and fat.
Many of the above, like Chicken, Beef, and Salmon, are industry favorites thanks to their low-cost and high availability. Despite this, they are not inferior to any of the more premium ingredients.
Some of the ingredients listed above, like Venison and Kangaroo, are often used in niche recipes for dogs with allergies or sensitivities. These meat ingredients are chosen for this purpose as many dogs have not been exposed to them previously.
You can learn more about this concept and some of these ingredients in the below articles.
Best Hypoallergenic Dog Foods Guide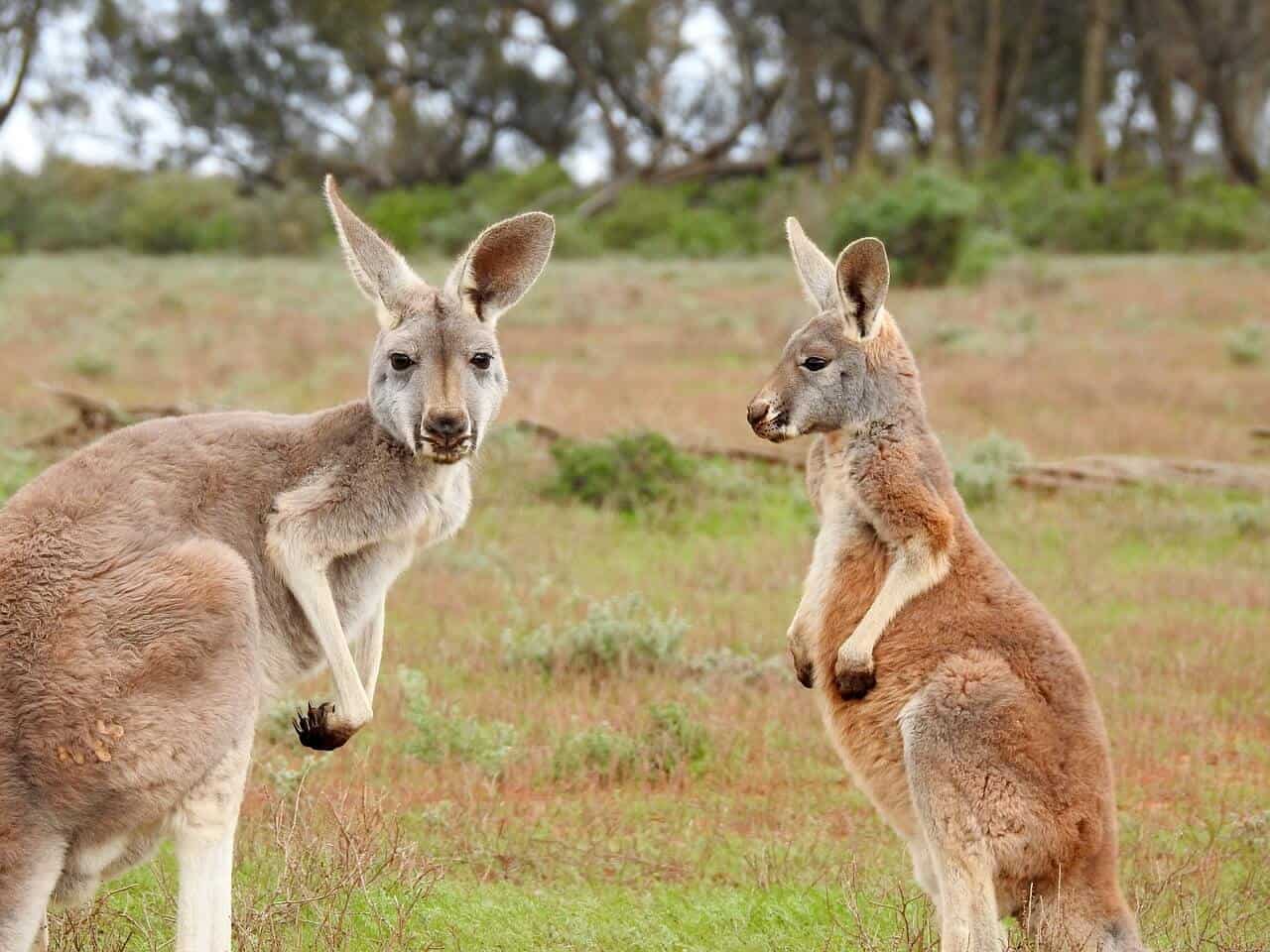 Other Notable Ingredients
Many of 4Health's grain-free recipes make extensive use of the three most popular ingredients found in pet food – Peas, Lentils, and Chickpeas. These ingredients are extremely widespread, especially within the smaller brands.
They are chosen other alternatives as they are affordable and can offer favorable nutrition in the form of carbohydrates and a high level of protein for a plant-based ingredient.
However, there are growing concerns by some because of links between high legume consumption and an increased rate of Canine Heart Disease. We recommend you check out our discussion of this topic here.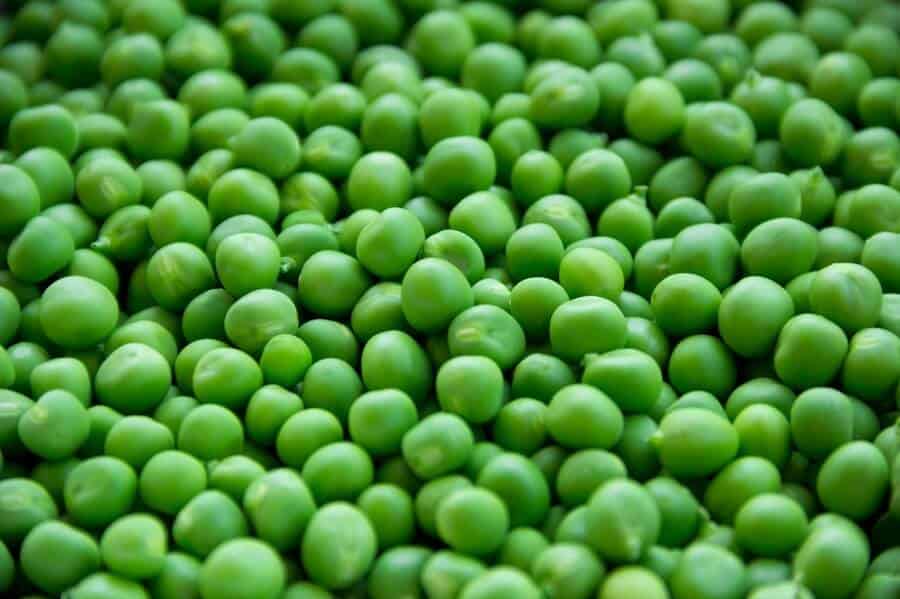 Sadly, 4Health chooses to use a number of legume by-products such as Pea Flour and Pea Protein. These ingredients are generally not considered to be high-quality ingredients.
They are often used in a sinister technique known as ingredient splitting, which involves breaking down an ingredient into sub-ingredients to mislead consumers about the quantity present. You can learn more about this technique in our article Ingredient Splitting in Pet Food – Exposed.
You can also learn more about these specific Pea By-products in our article Peas, Pea Protein, Pea Flour, and Pea Fiber in Dog Food.
Some 4Health recipes make use of Potatoes. Potatoes are an incredibly dense source of carbohydrates, which means that their portion size must be tightly controlled to ensure the proportion of carbohydrates is not excessive. Outside of their carbohydrate content, Potatoes do not produce notable nutrition.
4Health's grain-inclusive recipes make use of grain ingredients such as Barley, Brown Rice, and Sorghum. Grain ingredients such as these provide carbohydrates, fiber, and select micronutrients.
Grain ingredients are controversial additions to pet food recipes, with many pet owners refusing to feed their pets food that contains grains. However, there are also others who swing the other way and swear by grains as an ideal ingredient.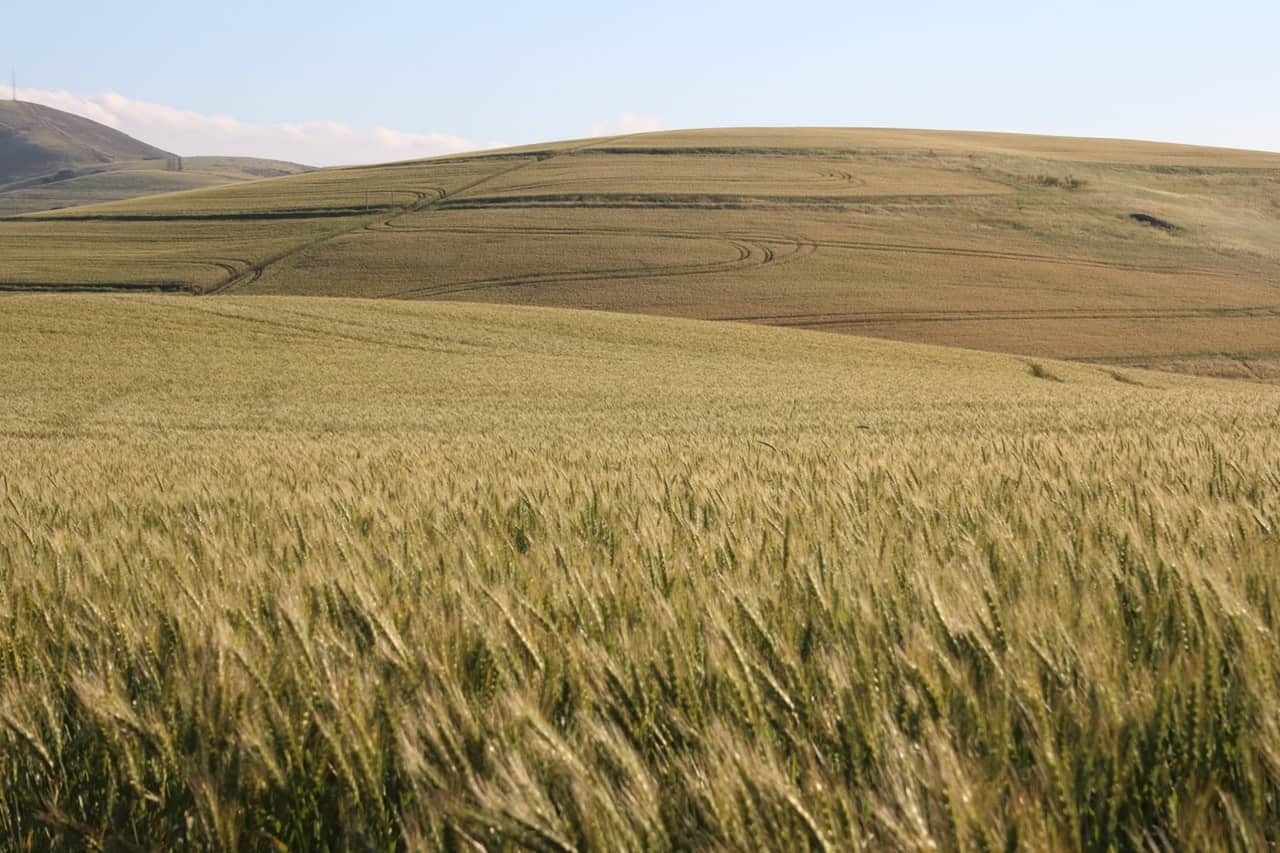 Chicken Fat is found in pet food recipes by many brands and is included to improve the recipe's flavor and boost the overall levels of animal fat. Chicken Fat is chosen as it is relatively inexpensive and is easy to source.
Learn more about Chicken Fat in Chicken Fat In Dog Food.
Tomato Pomace and Dried Beet Pulp are two favorites of the industry, and they serve the same purpose. They are both excellent sources of soluble fiber, which can be critical to some dogs to ensure they have regular digestion and stools.
Outside of this fiber content, these ingredients do not provide significant nutritional value.
You can read more about these ingredients in our articles Tomato Pomace as a Pet Food Ingredient? & Dried Beet Pulp In Dog Food.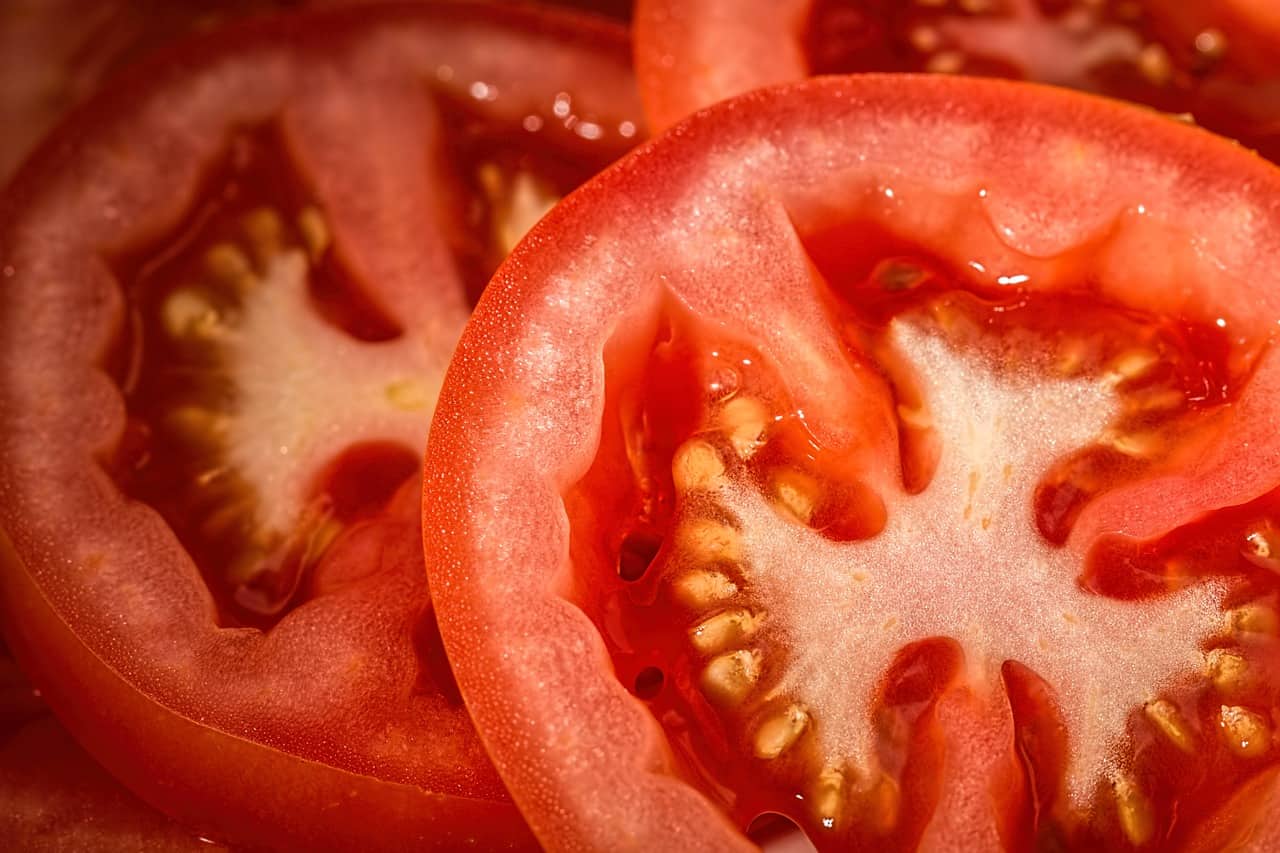 Flaxseed is well known as an excellent source of the Omega 3 Fatty Acids, which is one reason it features so regularly in pet food recipes.
These fatty acids are believed to provide several health benefits, including an improvement in the condition of skin and fur and a reduction in the risk of certain health problems.
Learn more about Flaxseed in Flaxseed In Dog Food.
Brewers Yeast is usually far down the ingredient list in a pet food recipe and is only present in tiny quantities. Its purpose is to provide beneficial vitamins and minerals to enhance a pet's health. An example of this is the B Vitamins, which are abundant in Brewers Yeast.
Learn more about Brewers Yeast and its benefits in Brewers Yeast In Dog Food.
4Health Animal Testing
We have no information on what type of animal testing 4Health participates in.
Many pet owners are concerned about a lack of in-depth testing or feeding trials of their pet's food. However, there are also others who are concerned about the welfare of pets that are a part of these trials.
We strongly believe that invasive and laboratory testing of animals is an outdated and cruel practice and one which we hope will see a significant decline or complete elimination.
4Health Recalls
Based on our research (FDA, AVMA, DogFoodAdvisor), 4Health has had two recalls in its past. This is not a positive trait, as recalls are often a sign of poor safety and quality control.
It is important to note that both of these recalls were from food produced by Diamond on 4Health's behalf. However, outsourcing production is not an excuse for lapses in quality and safety.
Both of these recalls were over six years ago. The lack of recent recalls may be a sign that 4Health or its outsourcing partners have improved its production quality.
March 2013 – Low Thiamine Levels – This recall was due to low thiamine levels, which is an important nutrient for cats.
The recall was for a single recipe of cat food – 4health All Life Stages Cat Formula, 5 lb. and 18 lb. bags, Product Code #NGF0802, and "Best by" dates of either Aug. 14, 2013, or Aug. 18, 2013.
May 2012 – Potential for Salmonella – This recall was due to potential salmonella contamination in a large number of dry dog food recipes.
The specific batch was – All brands of 4health dry pet foods with a "Best Before" date of Dec. 9, 2012, through April 7, 2013.
Salmonella is one of the most common motivations behind recalls of pet food recipes. Salmonella can be dangerous to both pets and humans, which is why it is taken so seriously.
Learn more about the risks of Salmonella in dog food in this article by Banfield Pet Hospital.
4Health Featured Articles
Best Dog Food At Tractor Supply –  In this article, we discuss what dog food is available from Tractor Supply Company and highlight our favorite recipes. It goes without saying that Tractor Supply's store brand features here.
Best of 4Health
4Health Untamed Red Canyon Recipe Review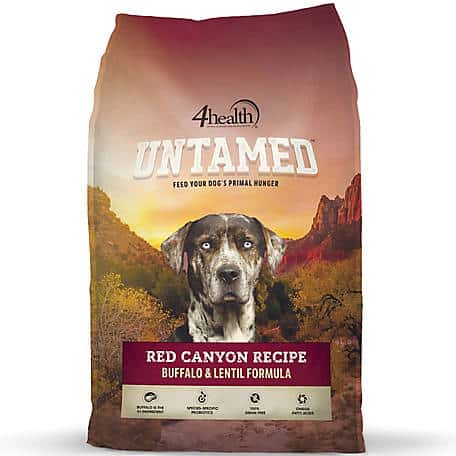 The Untamed sub-brand of 4Health is a limited ingredient range for dogs with dietary sensitivities and allergies. Despite the aim of the range, this recipe could also be suitable for dogs with no issues thanks to the above-average nutrition it can provide.
The recipe has high proportions of both protein and fat. This impressive nutritional profile is thanks to the generous portion of Buffalo and Beef Meal, which is at the core of the recipe. Meat Meals such as these have had their moisture removed, making them dense sources of nutrition.
The plant-based ingredients present are a mix of legumes such as Lentils, Chickpeas, and Peas. These three ingredients are regular features in many dog food recipes thanks to their relatively low cost and high nutritional value.
Some other ingredients are present in tiny quantities, including Dried Yeast, Tomato Pomace, and Flaxseed. These ingredients are present to provide fiber and beneficial micronutrients.
Untamed Farm & Stream Recipe Review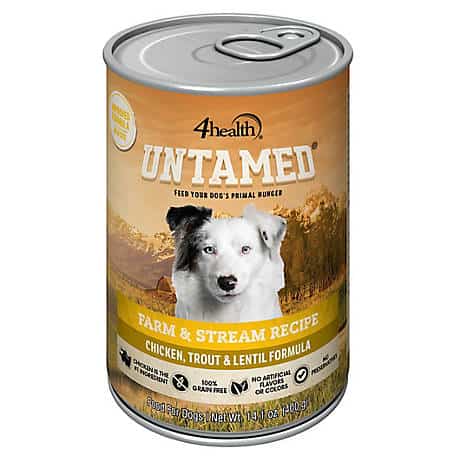 The Untamed range also includes our favorite wet dog food recipes from 4Health, including the above Farm & Stream.
This recipe mixes Chicken ingredients, like Chicken, and Chicken Liver, and Trout into a notable sum. This mix of poultry and fish ingredients provides a plentiful supply of animal-based protein and fat.
Past this animal content, the recipe includes a small portion of Lentils, which are a legume ingredient. These Lentils provide a modest portion of carbohydrates and fiber.
Lastly, the recipe includes a mix of Carrageenan, Cassia Gum, and Locust Bean Gum. All three of these ingredients are included as binding agents to help produce a content texture and appearance.
Untamed Glacial Stream Recipe Review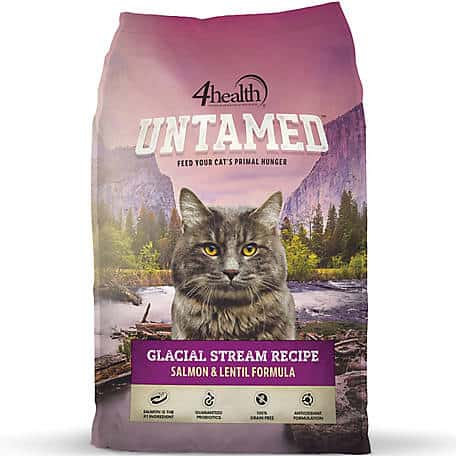 The Untamed range also includes many cat food recipes, including a selection of dry at food formulas. Glacial Stream is one of these and focuses on Salmon and other fish ingredients.
Salmon is an excellent addition to a cat's diet and is one of the best fish ingredients. In addition to its core protein and fat content, Salmon one of the best sources of the Omega 3 Fatty Acids.
These fatty acids are believed by many to provide several health benefits, including a reduced risk of certain health risks and improved skin and fur health.
Lastly, the recipe uses a mix of all three of the core legume ingredients used in pet food – Lentils, Chickpeas, and Peas. These legumes provide the recipe with a portion of carbohydrates and fiber.
Untamed Stillwater Marsh Recipe Review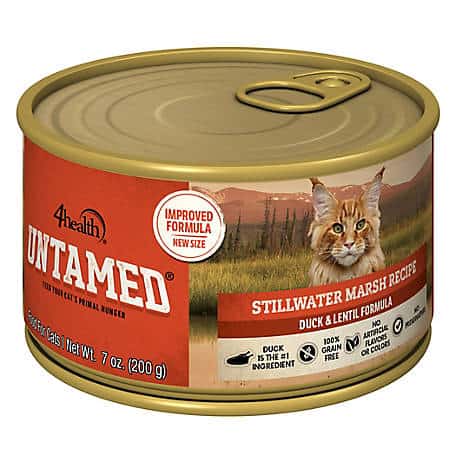 Countless cats go crazy over wet/canned cat food, and the above recipe from 4Health is likely to have that effect.
Stillwater marsh focuses on Duck as its primary ingredient. Duck is surprisingly common in pet food recipes and is a reliable source of protein and fat.
The recipe includes a small portion of Lentils and Peas, which provide some carbohydrates and fiber.
4Health Full Product Range
Dog Food
Dry Dog Food
Original Salmon & Potato
Original Chicken & Rice
Original Lamb & Rice
Original Large Breed Adult
Original Performance
Original Puppy
Original Small Bites
Original Healthy Weight
Original Mature Adult
Grain Free Beef & Potato
Grain Free Whitefish & Potato
Grain Free Large Breed
Grain Free Chicken & Vegetables
Grain Free Duck & Potato
Grain Free Turkey & Potato
Grain Free Puppy
Grain Free Pork & Vegetables
Grain Free Small Breed
Grain Free Organic Chicken and Lentil
Special Care Sensitive Skin
Special Care Sensitive Stomach
Special Care Weight Management
Untamed Red Canyon With Buffalo & Lentil
Untamed Wild River With Trout & Lentil
Untamed Southern Bayou With Wild Boar & Lentil
Untamed Open Highland With Lamb & Lentil
Strive Hi-Energy 83
Strive Performance 87
Strive Endurance 90
Canned Dog Food
Original Beef & Vegetable Stew
Original Chicken Vegetable Stew
Original Chicken & Rice
Original Lamb & Rice
Original Salmon & Potato Dinner
Original Senior Chicken & Rice
Grain Free Chicken
Grain Free Chicken & Vegetable Stew
Grain Free Turkey & Sweet Potato Stew
Grain Free Lamb Dinner
Grain Free Beef & Vegetable Stew
Grain Free Beef & Chicken
Grain Free Chicken Dinner
Grain Free Beef Stew With Carrots
Grain Free Chicken Stew With Peas & Swee Potatoes
Special Care Weight Management
Untamed Great Outback With Chicken, Kangaroo, and Lentil
Untamed Open Highland With Lamb & Lentil
Untamed Deep Woods With Turkey & Lentils
Untamed Farm & Stream With Chicken, Trout & Lentil
Untamed Wild Timber With Beef, Venison & Lentil
Untamed Western Fields With Beef & Lentil
Cat Food
Dry Cat Food
Original All Life Stages
Original Indoor Cat
Original Salmon & Rice Adult
Grain Free Indoor Cat
Grain Free Whitefish, Pea & Potato With Real Turkey
Untamed Glacial Stream Recipe Salmon & Lentil
Untamed Stillwater Marsh Recipe Duck & Lentil
Untamed Deep Woods Recipe Turkey & Lentil
Special Care Urinary Tract Health
Special Care Weight Management Formula
Wet Cat Food
Original Cat Turkey & Salmon
Original Chicken & Brown Rice
Original Chicken & Beef Dinner
Original Turkey & Salmon
Original Chicken Formula
Original Indoor Cat Chicken Formula
Grain Free Shredded Salmon Dinner In Gravy
Grain Free Shredded Chicken Dinner In Gravy
Grain Free Turkey & Giblet Dinner
Grain Free Chicken & Whitefish Dinner
Grain Free Chicken Recipe In Broth
Grain Free Salmon Recipe In Broth
Grain Free Tuna Recipe
Grain Free Chicken Recipe
Special Care Sensitive Stomach Formula
Special Care Weight Management Formula
Untamed Deep Woods Recipe Turkey & Lentil
Untamed Stillwater Marsh Recipe Duck & Lentil
Untamed Glacial Stream Recipe With Salmon In Savory Juices
Untamed Stillwater Marsh Recipe With Duck In savory Juices